National Headquarters
National Headquarters
5757 Wilshire Blvd.
Los Angeles , California 90036
United States
New York
New York
1900 Broadway, 5th Floor
New York , New York 10023
If you believe you have experienced workplace harassment or unlawful discrimination, call your union at (855) SAG-AFTRA/(855) 724-2387 and press 1.
In addition, SAG-AFTRA and the SAG-AFTRA Foundation have partnered with The Actors Fund to offer workplace harassment support services including counseling and referrals. Call the office nearest you.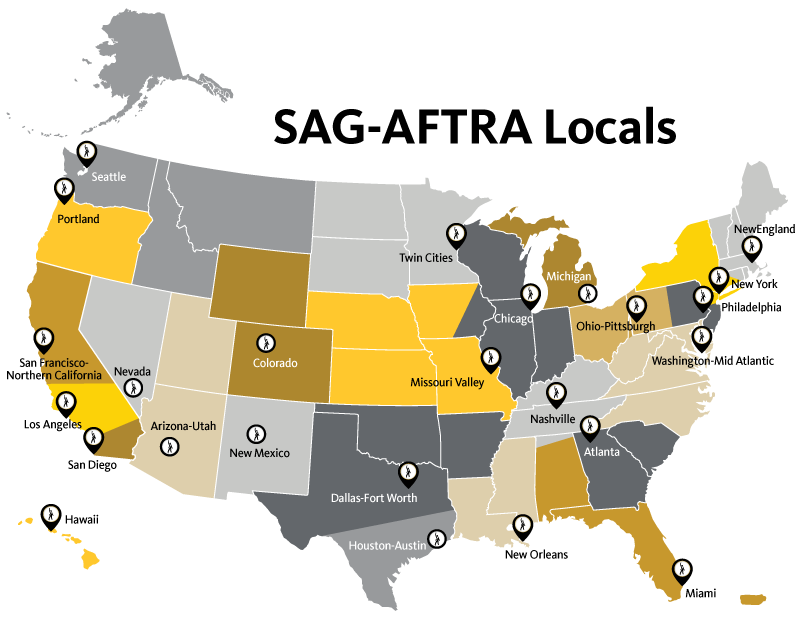 | How To: | Phone Number |
| --- | --- |
| Join SAG-AFTRA Recorded Information | (323) 549-6772 |
| Change Address/ Phone Number | (323) 549-6776 |
| Department | Phone Number | Email |
| --- | --- | --- |
| | | |
| Background Actors | | |
| | | |
| | | |
| | | |
| | | |
| | | |
| | | |
| | | |
| | | |
| | | |
| | | |
| | | |
| Department | Fax Number |
| --- | --- |
| Agency Contracts | |
| Awards Show | |
| Career Transition For Dancers | |
| Cast Clearance (Station 12) Principal Fax Number | |
| Cast Clearance (Station 12) Background Fax Number   | |
| Commercial & Industrial Contracts | |
| Communications & Marketing Office | |
| Emergency Fund | |
| Facilities Management/Office Services | |
| Film Society (Los Angeles) | |
| Finance | |
| Governance | |
| Human Resources | |
| Industrial/Education/Interactive Media Contracts | |
| Information Technology | |
| Legal Office | |
| Membership Services | |
| Music Entertainment Contracts | |
| Planning and External Affairs | |
| President's Office | |
| Production Services | |
| Purchasing/Office Services | |
| Research Office | |
| Residuals Claims | |
| Residuals Processing, Trusts & Estates | |
| Special Projects | |
| Station 12 | |
| Stunt and Safety | |
| Television Contracts | |
| Theatrical Contracts | |