Industry Relations interfaces with the entertainment and media communities on behalf of SAG-AFTRA with the mandate of initiating, nurturing and sustaining relationships with executives, innovators and entrepreneurs in service of our membership.
That means when an individual or an organization is engaged in a pursuit that impacts any member of our union the Industry Relations Department is there to know and understand  that individual or organization and to make sure that the needs and concerns of our members are first and foremost in the minds of those who employ or could potentially employ or impact the lives of our members.
In addition to interfacing with the Industry, we engage the Industry and its key players by hosting and facilitating events on behalf our members.
Our goal in hosting these events which are populated by our members and individuals who work in the industry: producers, casting directors, talent agents, managers, company heads and the like is to inspire and facilitate introduction to those who could change the lives of members.  We hope that an idea or story that is related on stage motivates someone in the audience to try something they have never done  or to see the world in a new and constructive way.  We hope that the person sitting next to you is the one who changes your life.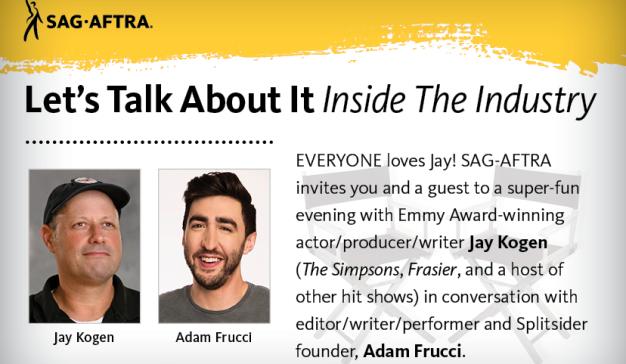 The Industry Relations department produces a talks series LET'S TALK ABOUT IT: INSIDE THE INDUSTRY in which interesting and talented figures from all areas of the entertainment and media industries come and talk about what's on their mind, what work they are doing, and what the future holds.
Participants have included, Seinfeld showrunner , comedian/journalist Peter Mehlman, screenwriter/actor/producer, Jim Piddock, digital maverick, Keith Richman of DEFY MEDIA, actor, writer, producer, director, Eugenio Derbez, and his producing partner Ben Odell, Head of Creative at Warner Bros Music, John Beug who screened the documentary, CHASING TRAIN,  Producers, Midge Sanford and Sarah Pillsbury and digital entrepreneur, SARAH PENNA who founded BIG FRAME and AWESTRUCK TV, legendary voice over actor , Nancy Cartwrigtht( best known as the voice of BART SIMPSON) who screened her original film IN SEARCH OF FELLINI and GRAMMNET President, Tom Russo who ran current programming for Paramount for fifteen years… we have worked with journalists from The LA TIMES, THE WALL STREET JOURNAL and VOX MEDIA.
The Industry Relations department has hosted events at the YOUTUBE Space LA and at the YouTube Space NYC, has screened the film INSTRUCTIONS NOT INCLUDED, the largest grossing Spanish Film ever  distributed in North America, has premiered the trailer for HOW TO BE A LATIN LOVER and hosted a preview of indie film IN SEARCH OF FELLINI. We have facilitated events with YOUTUBE,  SPOTIFY, BUZZFEED, ICM Digital, LEGENDARY and such leading female figures  as producer  Lynda Obst and writer/producer/director Nancy Meyers.