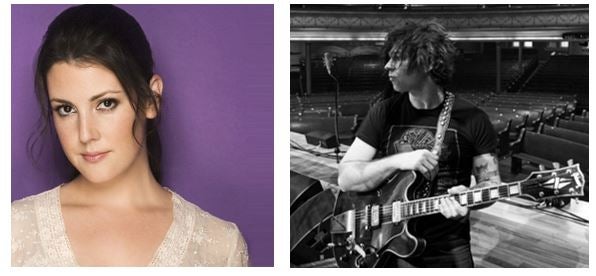 SAGindie, SAG-AFTRA FOUNDATION EVENTS INCLUDE A CONVERSATION WITH MELANIE LYNSKEY
SAG-AFTRA & BMI CO-PRESENT RYAN ADAMS SHOWCASE
LOS ANGELES (March 10, 2017) –  SAG-AFTRA, SAGindie and the SAG-AFTRA Foundation return to Austin with an exciting schedule of events at this year's South by Southwest (SXSW) interactive, film and music conference.
Events include a featured Conversation with actress Melanie Lynskey, a filmmaker happy hour and networking event co-hosted by SAGindie and the Directors Guild of America (DGA), and the highly-anticipated Ryan Adams showcase. Adams has been a SAG-AFTRA member for more than 15 years and his appearance marks the second time that the union co-sponsors a showcase with BMI for its members. Recording artists are eligible for SAG-AFTRA membership — and the benefits of a union membership —  after signing a recording contract with a SAG-AFTRA signatory record label. 
"We are excited about participating in this year's SXSW and are proud of the work our members in the film and music industries will showcase during the conference," said SAG-AFTRA President Gabrielle Carteris. "Melanie Lynskey's work as an actor in television and film and Ryan Adam's work as a recording artist and producer are inspiring and speaks to the excellence of their craft."
"South by Southwest is one of the most creative and diverse conferences in the nation and it is important for us to be present and show our support to all of our participating and attending members," adds SAG-AFTRA National Executive Director David White. "This year, we have events that showcase two members from different aspects of the entertainment industry highlighting the variety of talent that SAG-AFTRA represents."
"I'm excited to come to SXSW and be a part of this creative collective with the SAG-AFTRA Foundation. The Foundation is such a valuable resource for actors and I'm happy to have the chance to give back," said Melanie Lynskey. "I've been so fortunate to have worked with incredible independent artists throughout my career – actors, directors, producers – so SXSW feels like the right venue to talk about all I've learned from working with them."
Melanie Lynskey's appearance is presented by the SAG-AFTRA Foundation, which provides the most comprehensive, educational and state-of-the-art resources to SAG-AFTRA members, and promotes education and giving back to local communities. Ryan Adams' showcase was co-sponsored by SAG-AFTRA and BMI.
---
Schedule of Events
SAG-AFTRA Foundation Presents A Conversation with Melanie Lynskey
WHEN: Saturday, March 11, at 2 p.m.
WHERE: Austin Convention Center, Room 16AB
Entry requirements:Platinum Badge, Film Badge, Interactive Badge, Music Badge
The SAG-AFTRA Foundation proudly presents a conversation with actress Melanie Lynskey. Moderated by filmmaker Megan Griffiths, the discussion will reflect on Lynskey's creative process as well as lessons learned in a career spanning more than 20 years starring in film and television. From working with directors like Peter Jackson, Sam Mendes, Steven Soderbergh and Clint Eastwood to supporting roles opposite George Clooney, Matt Damon and Edward Norton, Lynskey has appeared in various critically-acclaimed films like Heavenly Creatures, Intervention, and Togetherness. Her next film, I Don't Feel At Home In This World Anymore, co-starring Elijah Wood will air on Netflix. Griffiths recently directed Lynskey in the upcoming film, Sadie.
---
SXSW Trade Show booth featuring SAGindie
WHEN: Sunday, March 12 – Tuesday, March 14  from 10 a.m. – 6 p.m.
Wednesday, March 15 from 10 a.m. – 2 p.m.
WHERE: Austin Convention Center, Trade Show Exhibition Hall, Booth 119
Entry requirements:Platinum Badge, Film Badge, Interactive Badge, Music Badge
---
SXSW Film Conference: Happy Hour hosted by SAGindie and the DGA
WHEN: Monday, March 13, 5 p.m.-7 p.m.
WHERE: Intercontinental Hotel Austin, Stephen F. Austin Bar, 701 N. Congress Ave.
Entry requirements: Platinum Badge, Film Badge, Interactive Badge, Music Badge, Artist Wristband
SAGindie and the Directors Guild of America host a film industry happy hour, celebrating the films, filmmakers, and performances of SXSW.
---
SAG-AFTRA and BMI Present: Ryan Adams
WHEN: Friday, March 17, 6 p.m.
WHERE: ACL Live at the Moody Theater, 310 Willie Nelson Blvd.
Entry requirements:Platinum Badge, Music Badge, Interactive Badge, Film Badge, Artist Wristband, Music Festival Wristband
SAG-AFTRA recording artist member Ryan Adams returns to SXSW to perform songs from his new album Prisoner, which recently debuted at a career high #3 on the U.S. album chart. The event will also feature Portland-based rock band Summer Cannibals, Los Angeles indie trio Cherry Glazerr, Austin singer-songwriter Emily Wolfe and Nashville garage-rocker Ron Gallo before Adams takes the stage for a two-hour set. Doors open at 6:30 p.m. with opening performances beginning at 7:45 p.m. Add the SAG-AFTRA and BMI Showcase to your SXSW schedule. Listing: https://www.sxsw.com/artist/bmi-sag-aftra/
About SAG-AFTRA
SAG-AFTRA represents approximately 160,000 actors, announcers, broadcast journalists, dancers, DJs, news writers, news editors, program hosts, puppeteers, recording artists, singers, stunt performers, voiceover artists and other entertainment and media professionals. SAG-AFTRA members are the faces and voices that entertain and inform America and the world. A proud affiliate of the AFL-CIO, SAG-AFTRA has national offices in Los Angeles and New York and local offices nationwide representing members working together to secure the strongest protections for entertainment and media artists into the 21st century and beyond. Visit SAG-AFTRA online at SAGAFTRA.org.
About the SAG-AFTRA Foundation
The SAG-AFTRA Foundation is a 501(c)(3) non-profit organization that provides vital assistance and free educational programming to the professionals of SAG-AFTRA while serving the public at large through its signature children's literacy programs. The Foundation, independent of SAG-AFTRA, relies solely on support from gifts, grants and sponsorships to maintain its free programs. Visit www.sagaftra.foundation.
About SAGindie
SAGindie promotes the working relationship between professional actors and passionate independent filmmakers. Since its formation in 1997, SAGindie has been traveling to film festivals, trade shows, and conventions spreading the word: Just because your film isn't produced by a studio doesn't mean you can't use professional talent. As a free resource, SAGindie offers filmmakers clarity and kinship by guiding them through the SAG-AFTRA signatory process, making it even easier to hire professional actors, regardless of budget. SAGindie is made possible by a grant from the Screen Actors Guild-Producers Industry Advancement & Cooperative Fund. Visit www.sagindie.org
###