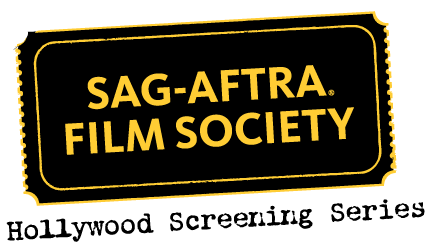 Registration Now Available For SAG-AFTRA Film Society - Season 2016! 
Still Only $115 to join!   
Space is very limited.  Sign up today and pay with a credit card!   
Screenings begin on Friday, May, 27, 2016 at the Directors Guild of America!
You must be logged in and be a paid up member to view and complete the online application below and pay by credit card. Note: credit card payment is only offered with the online application. Please follow the steps below for successful online registration.
 

Please follow the steps below to facilitate a successful registration. Apply now before registration closes for the 2016 season!

Step One: Click on https://www.sagaftra.org/registration and log in using your existing username and password, or choose "Createan Account" if not already registered.

Step Two: Click on the yellow Film Society "ticket" logo.

Step Three: Scroll to the bottomof the page to viewthe online application and start the registration process.You should now be on the SAG-AFTRA Film Society "Application tab" page (logged in) and ready to start the online application.

Note: you must be current on dues, in good standing with the union and logged into the website, otherwise you will not be able to view the online application and register online.  
Membership in the Film Society is the best deal in town!   
For only $115.00 members have an opportunity to view about 60 films per season at the state-of-the-art Directors Guild of America as well as numerous off-site bonus screenings and cast Q&As.  
Film Society members enjoy discounts at local restaurants and have a great movie-going experience:  no ads, no trailers!   
The Film Society's new season begins in May 2016 runs through April 2017.
Sign up now online using a credit card!
Parking in the theater lot is available for an additional fee.
Don't delay, space is limited! Film Society members and guests displaying a DMV disabled placard will be permitted to park in the DGA parking structure for free for Film Society events.  
In addition to the approximately 60 films screened at the Directors Guild of America last season, Film Society members were also invited to numerous "bonus screenings" and bonus events that featured Q&A's with many distinguished performers and filmmakers such as:  Elizabeth Banks, Danny Boyle, Albert Brooks, W. Earl Brown, Patricia Clarkson, Rory Cochrane, Scott Cooper, Bryan Cranston, RJ Cyler, Jeff Daniels, Paul Dano, Johnny Depp, Brie Larson, Ian McKellen, Carey Mulligan, Julianne Nicholson, Eddie Redmayne, Seth Rogen, Saoirse Ronan, Jason Segel, Michael Shannon, Sarah Silverman, Will Smith, Aaron Sorkin, Kate Winslet and Alicia Vikander 
Note: credit card payment is
only

offered with online application. We encourage all members to enjoy the convenience of completing an online application and paying by credit card.  If you'd prefer to apply by mail, please download and complete the 2016 application by clicking HERE. 
Please check back with the website frequently for the latest updates and announcements about Season 2016-17 of the SAG-AFTRA Film Society!
For Film Society information, call (323) 549-6658 or email filmsociety@sagaftra.org.
The latest information can also be obtained from the Film Society 24-hour hotline at (323) 549-6657.
The Basics
Season Parking Passes and Parking Coupons will go on sale beginning Friday, May 13 at the Cashiers Window at 5757 Wilshire Blvd. Members who order parking when they sign up will receive their parking order (coupons or a  parking voucher) via U.S. mail, along with their Film Society membership card, about one week before the start of the screenings, which will begin on Memorial Day weekend, May 27 & May 28, 2016 at the Directors Guild of America.
Parking Passes and Coupons
Parking is available beneath the DGA building, 7920 Sunset Blvd. (enter on Hayworth Ave. near Sunset) and directly across Hayworth beneath the DGA Sunset-Lofts, 7950 Sunset Blvd. Beginning Friday, May 13, Season Parking passes can be purchased for $90.00 from the Cashiers Window.  Parking coupon books, which contain 10 coupons per book, can also be purchased from the SAG-AFTRA Cashiers Window, which is located inside the Membership office (see hours, below) for $40. Without a pass or coupon, DGA will charge $8 cash per car. Parking passes, coupon books, and extra guest passes are valid for one season; they are not refundable and they expire at the end of the season—April 30, 2017. Please note that members are responsible for their parking passes and coupons. The Film Society cannot replace lost or stolen parking passes or coupons. 
Extra Guest Passes
The Film Society membership card allows the member to enter the screenings with one free guest on their card. On specific films, however, extra guest passes will be sold and accepted on an extremely limited basis.  When available, the passes are sometimes offered on the late screenings, such as the 9 p.m. and 9:30 p.m. screenings. Members should be aware that the extra guest passes are generally not made available until Film Society is well beyond the halfway point of the season. If you have any questions about the extra guest passes, please contact the Film Society office at filmsociety@sagaftra.org, (323) 549-6658, or watch for email announcements regarding the use or restriction of the extra guest passes. When available, extra guest passes are sold for $10 per extra guest pass from the Cashiers Window only – they are not sold at the theater Extra guest passes are not accepted at bonus screenings, or any of the special event or limited-seating opportunity screenings. Extra guest passes are not film-specific, but please keep in mind that extra guest passes expire at the end of the season, April 30, 2017.  (Note: Members who bring unpaid extra guests to the theater will be fined $17.50 per extra guest. A second occurrence will result in the cancellation of the membership.)
Cashiers Window
The SAG-AFTRA Cashiers Window, which is located at 5757 Wilshire Blvd. on the 1st floor Membership Office, is open Monday-Friday, 9 a.m.– 4:30 p.m., excluding holidays. The Cashiers Window accepts cash, checks or money orders.
DGA Parking
REMINDER: The DGA garage opens 45 minutes prior to each screening. Members should not attempt to enter the parking lot prior to this time as the City will be citing vehicles that line up early and impede traffic flow. Upon completion of the screening, members and guests have 30 minutes to exit the parking lot. Members and guests may not park in any surrounding residential or permit parking areas, unless they have a valid permit to do so. (Please note: the City of West Hollywood Sheriff's Department will be citing any vehicles in the vicinity of the DGA that do not obey all traffic laws and street signs.) As a condition of admittance to the DGA property, members and guests consent to a search of their vehicle, belongings and person. SAG-AFTRA Film Society members and their guests who fail to comply with the parking rules risk the cancellation of their membership. 
Important Parking Notice:
The DGA will provide free parking in its facilities for all SAG-AFTRA members and their guests who display a DMV issued disabled person placard. 
Furthermore, we wanted to remind all of our members the following when using the DGA parking facilities:
Film Society members and their guests should have their current season pass, parking coupon, or $8 cash payment ready when pulling into the DGA lots to avoid delays in entering the parking facilities. Please provide exact change if possible as a courtesy to your fellow members. 
Please obey all signage especially when entering and exiting the DGA parking structures. Please be advised when exiting the west DGA parking structure, members must adhere to the posted "No Right Turn" directional signage. 
Patrons wishing to discuss accommodations for a disability should contact the Film Society office in advance.
Please contact the Film Society office at filmsociety@sagaftra.org if you have any questions.
2016/17 Season Upcoming Films
SAG-AFTRA FILM SOCIETY SEASON 2016/17
Please mark your calendar. The SAG-AFTRA Film Society returns for an exciting new season of films beginning May 27 at the Directors Guild of America.
Presenting Our Season-Opening Films: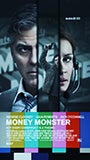 MONEY MONSTER (5/27 & 5/28)
Screening Times TBA


CAPTAIN AMERICA: CIVIL WAR (in 3D)(5/28)   
Screening Times TBA