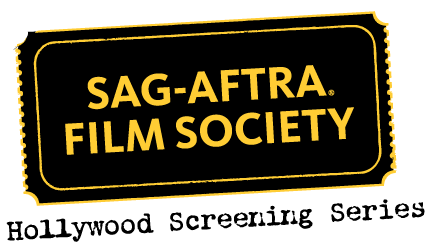 Registration for SAG-AFTRA Film Society's 2015/16 Season is now closed.
WAITING LIST: If you would like to be placed on the waiting list, please send us an email at filmsociety@sagaftra.org. In the subject line please write: "2015 WAITING LIST" and follow that with your membership ID number and your name. Note: Your membership ID number is mandatory. We will not be able to add you to the waiting list unless you include your SAG-AFTRA ID number. Emails will be processed in the order received.
If you cannot contact us by email, please contact the Film Society Office at (323) 549-6658 and request to be added to the waiting list. As with the email notice, members must include their member ID number and their name. Please leave a contact phone number in the voicemail message as well.
Please check back with the website frequently for the latest updates and announcements about Season 2015-16 Season!
For Film Society information, call (323) 549-6658 or email filmsociety@sagaftra.org The latest information can also be obtained from the Film Society 24-hour hotline at (323) 549-6657.
2015/16 Season Upcoming Films
Information about the extra bonus screenings will be sent via email only.  Bonus screenings normally start up in the fall.
---

Sunday, July 5
3 p.m., 6 p.m., 9 p.m.
Starring: Joaquin Phoenix, Emma Stone, Parker Posey, Jamie Blackley
Written & Directed by: Woody Allen
Produced by: Letty Aronson, Stephen Tenenbaum, Edward Walson
Running Time: 96 Minutes
Rated: R
Courtesy of: Sony Pictures Classics
Release: 7/17/2015 (limited)
---

Sunday, July 5 (in 2D)
11:30 a.m.
Monday, July 6 (in 3D)
6:30 p.m., 9:45 p.m.
Note: Both screenings on Monday will be in 3D.
Starring: Chris Pratt, Bryce Dallas Howard, Vincent D'Onofrio, Ty Simpkins, Nick Robinson, Omar Sy, BD Wong, and Irrfan Khan
Directed by: Colin Trevorrow
Screenplay by: Rick Jaffa & Amanda Silver and Derek Connolly & Colin Trevorrow
Story by: Rick Jaffa & Amanda Silver
Based on Characters Created by: Michael Crichton
Produced by: Frank Marshall, Patrick Crowley
Running Time: 123 Minutes
Rated: PG-13
Courtesy of Universal Pictures
Release: 6/12/2015
---

Sunday, July 26
Noon
Monday, July 27
6:30 p.m., 9:30 p.m.
Starring: Jesse Eisenberg, Jason Segel, Anna Chlumsky, Mamie Gummer, Mickey Sumner, Joan Cusack, Ron Livingston, Becky Ann Baker
Directed by: James Ponsoldt
Screenplay by: Donald Margulies, based on the book Although of Course You End Up Becoming Yourself: A Road Trip With David Foster Wallace by David Lipsky
Produced by: David Kanter, Matt DeRoss, James Dahl, Mark Manuel, Ted O'Neal
Running Time: 106 Minutes
Rated: R
Courtesy of: A24
Release: 7/31/2015
---

Sunday, July 26
3 p.m., 6 p.m., 9 p.m.
Starring: Ian McKellen, Laura Linney, Milo Parker, Hiroyuki Sanada
Directed by: Bill Condon
Screenwriter: Jeffrey Hatcher
Produced by: Ann Carey, Iain Canning, Emile Sherman
Running Time: 105 Minutes
Rated: PG
Courtesy of Roadside Attractions
Release: 7/17/2015
---

MISSION IMPOSSIBLE: ROGUE NATION
Saturday, Aug. 8
3 p.m., 6:15 p.m., 9:30 p.m.
Starring: Tom Cruise, Jeremy Renner, Simon Pegg, Rebecca Ferguson, Ving Rhames, Sean Harris and Alec Baldwin
Directed by: Christopher McQuarrie
Screenwriter: Christopher McQuarrie
Produced by: Tom Cruise, J.J. Abrams, Bryan Burk. Based on the Television Series Created by Bruce Geller
Running Time: 131 Minutes
Rated: PG-13
Courtesy of: Paramount Pictures
Release: 7/31/2015
---
SAG-AFTRA FILM SOCIETY 2015/16 SCREENING DATES
July 26/July 27*
Aug. 7/8
Aug. 21/22
Sept. 4/5
Sept. 18/19
Oct. 2/3
Oct. 9/10
Oct. 16/17
Nov. 13/Nov. 14
Nov. 20/21
Nov. 27/28
Dec. 6/7*
Dec. 13/14*
Dec. 18/19
*indicates screening date that falls on a Sunday/Monday.
Screening dates for the remainder of the season will be sent by email, posted to website, and updated on the 24-hour hotline when they become available. Reminder: the Film Society Season ends in April 2016.