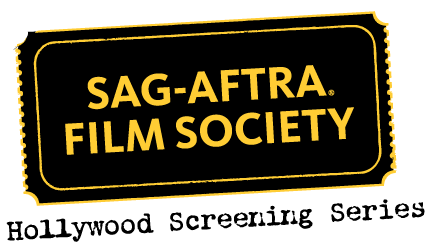 Registration for SAG-AFTRA Film Society's 2016/17 Season is now closed.
WAITING LIST: If you would like to be placed on the waiting list, please send us an email at filmsociety@sagaftra.org. In the subject line please write: "2016 WAITING LIST" and follow that with your membership ID number and your name. Note: Your membership ID number is mandatory. We will not be able to add you to the waiting list unless you include your SAG-AFTRA ID number. Emails will be processed in the order received.
If you cannot contact us by email, please contact the Film Society Office at (323) 549-6658 and request to be added to the waiting list. As with the email notice, members must include their member ID number and their name. Please leave a contact phone number in the voicemail message as well.
Please check back with the website frequently for the latest updates and announcements about Season 2016-17 Season!
For Film Society information, call (323) 549-6658 or email filmsociety@sagaftra.org The latest information can also be obtained from the Film Society 24-hour hotline at (323) 549-6657.
2016/17 Season Upcoming Films
SAG-AFTRA FILM SOCIETY SEASON 2016/17
Please mark your calendar. The SAG-AFTRA Film Society returns for an exciting new season of films beginning May 27 at the Directors Guild of America.
2016 Screening Dates
May 27/May 28
June 3/June 4
June 17/June 18
July 1/July 2  
July 24/July 25*
August 5/August 6 
August 19/August 20 
September 2/September 3
September 16/September 17
October 7/October 8
October 14/October 15
October 28/October 29
November 11/November 12
November 18/November 19
November 25/November 26
December 4/December 5*
December 11/December 12*
December 16/December 17
*indicates screening dates that fall on a Sunday/Monday.

Friday, September 16
6:30 p.m., 9:45 p.m.
Saturday, September 17
11:30 a.m.
Cast: Joseph Gordon-Levitt, Shailene Woodley, Melissa Leo, Zachary Quinto, Tom Wilkinson, Rhys Ifans, Nicolas Cage, Timothy Olyphant
Directed by: Oliver Stone
Screenplay by: Kieran Fitzgerald, Oliver Stone (Based on The Snowden Files by Luke Harding, Time of the Octopus by Anatoly Kucherena)
Produced by: Moritz Borman, Eric Kopeloff, Philip Schulz-Deyle, Fernando Sulichin
Running Time: 134 Minutes
Rated: R
Courtesy of: Open Road Films
Release Date: 9/16/2016

Saturday, September 17
3 p.m., 6:15 p.m., 9:30 p.m.
Cast: David Oyelowo, Lupita Nyong'o, Madina Nalwanga
Directed by: Mira Nair
Screenplay by: William Wheeler (Based on: The Queen of Katwe: A Story of Life, Chess, and One Extraordinary Girl's Dream of Becoming a Grandmaster by Tim Crothers)
Produced by: John B. Carls, Lydia Dean Pilcher
Running Time: 124 Minutes
Rated: PG
Courtesy of: Walt Disney Studios Motion Pictures
Release Date: 9/30/2016

Friday, October 7
6:30 p.m., 9:30 p.m.
Saturday, October 8
Noon
Cast: Tom Hanks, Aaron Eckhart, Laura Linney
Directed by: Clint Eastwood
Screenplay by: Todd Komarnicki (based on the book Highest Duty by Chesley "Sully" Sullenberger and Jeffrey Zaslow)
Produced by: Clint Eastwood, Frank Marshall, Allyn Stewart and Tim Moore
Running Time: 96 Minutes
Rated: PG-13
Courtesy of: Warner Bros. Pictures
Release Date: 9/9/2016

Saturday, October 8
3 p.m., 6 p.m., 9 p.m.
Cast: Rachel Weisz, Tom Wilkinson, Timothy Spall
Directed by: Mick Jackson
Written by: David Hare
Produced by: Gary Foster and Russ Krasnoff
Running Time: 110 Minutes
Rated: PG-13
Courtesy of: Bleecker Street
Release Date: 9/30/2016