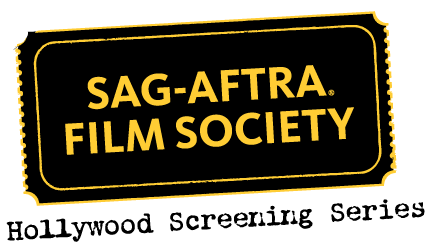 SAG-AFTRA FILM SOCIETY SEASON 2015/16!  Registration for Season 2015 Will Close Soon!
Registration Now Available for SAG-AFTRA Hollywood Film Society - Season 2015!
Only $115 to join!
Space is very limited. Sign up today and pay with a credit card!
You must be logged in and be a paid up member to view and complete the online application below and pay by credit card. Note: credit card payment is only offered with the online application. Please follow the steps below for successful online registration.
Membership in the Film Society is the best deal in town!
For only $115.00 members have an opportunity to view about 60 films per season at the state-of-the-art Directors Guild of America as well as numerous off-site bonus screenings and cast Q&As.
Film Society members enjoy discounts at local restaurants and have a great movie-going experience: no ads, no trailers!
The Film Society's new season began in May 2015 runs through April 2016.
Sign up now online using a credit card!
Parking in the theater lot is available for an additional fee.
Parking in the DGA lot is available for an additional fee:
$40 - One Book of 10 Parking Coupons
$80 - Two Books of 10 Parking Coupons
$90 - A Season Parking Pass (covers all 26 weeks at the DGA)
Without a pass or coupon, the DGA will charge $8 (cash only) per screening.
If parking is not purchased when the membership is purchased, either online or by mail, members can always purchase parking coupon books from the SAG-AFTRA Membership Office (Cashiers Window) throughout the season on an as-needed basis beginning on Monday, May 11, 2015. Note: season parking passes are limited and can sell out. Members and guests displaying a valid DMV disabled placard will receive free parking.
Don't delay, space is limited! Members and guests displaying a valid DMV disabled placard will receive free parking.
In addition to the approximately 60 films screened at the Directors Guild of America for Season 2014-15, Film Society members were also invited to numerous "bonus screenings" and bonus events that featured Q&A's with many distinguished performers such as: Jennifer Aniston, Jessica Chastain, Kevin Costner, Benedict Cumberbatch, Ansel Elgort, Mackenzie Foy, Felicity Jones, Alfred Molina, Eddie Redmayne, Rene Russo, Henry G. Sanders and Shailene Woodley.
 

Please follow the steps below to facilitate a successful registration. Apply now before registration closes for the 2015/16 season!

Step One: Click on https://www.sagaftra.org/registration and log in using your existing username and password, or choose "Createan Account" if not already registered.

Step Two: Click on the yellow ticket logo button toward bottom of the page.

Step Three: Scroll to the bottomof the page to viewtheonline applicationand start the registration process.You should now be on the SAG-AFTRA Film Society "Application tab" page (logged in) and ready to start the online application.
Note: you must be current on dues, in good standing with the union and logged into the website, otherwise you will not be able to view the online application and register online.
Please check back with the website frequently for the latest updates and announcements about Season 2015-16 of the SAG-AFTRA Film Society!
For Film Society information, call (323) 549-6658 or email filmsociety@sagaftra.org The latest information can also be obtained from the Film Society 24-hour hotline at (323) 549-6657.
The Basics
Season Parking Passes and Coupons will go on sale by mid-May (please watch for updates and announcements on the website). Members who ordered parking when they signed up will receive their parking order (or parking voucher) via U.S. mail, along with their Film Society membership card about one week before opening night.
Parking Passes and Coupons
Parking is available beneath the DGA building, 7920 Sunset Blvd. (enter on Hayworth Ave. near Sunset) and directly across Hayworth beneath the DGA Sunset-Lofts, 7950 Sunset Blvd. Season Parking passes will be available for purchase for $90.00 from the Cashiers Window; please note the season parking passes tend to sell out. Parking coupon books, which contain 10 coupons per book, can also be purchased from the SAG-AFTRA Cashiers Window, which is located inside the Membership office (see hours, below) for $40. Without a pass or coupon, DGA will charge $8 cash per car. Parking passes, coupon books, and extra guest passes are valid for one season; they are not refundable and they expire at the end of the season—April 30, 2016. Please note that members are responsible for their parking passes and coupons. The Film Society cannot replace lost or stolen parking passes or coupons.
Extra Guest Passes
The Film Society membership card allows the member to enter the screenings with one free guest on their card. On specific films, however, extra guest passes will be sold and accepted on an extremely limited basis. When available, the passes are sometimes offered on the late screenings, such as the 9 p.m. and 9:30 p.m. screenings. Members should be aware that the extra guest passes are generally not made available until Film Society is well beyond the halfway point of the season. If you have any questions about the extra guest passes, please contact the Film Society office at filmsociety@sagaftra.org, (323) 549-6658, or watch for email announcements regarding the use or restriction of the extra guest passes. When available, extra guest passes are sold for $10 per extra guest pass from the Cashiers Window only – they are not sold at the theater Extra guest passes are not accepted at bonus screenings, or any of the special event or limited-seating opportunity screenings. Extra guest passes are not film-specific, but please keep in mind that extra guest passes expire at the end of the season, April 30, 2016. (Note: Members who bring unpaid extra guests to the theater will be fined $17.50 per extra guest. A second occurrence will result in the cancellation of the membership.)
Cashiers Window
The SAG-AFTRA Cashiers Window, which is located at 5757 Wilshire Blvd. on the 1st floor Membership Office, is open Monday-Friday, 9 a.m.– 4:30 p.m., excluding holidays. The Cashiers window accepts cash, checks or money orders.
DGA Parking
Reminder: The DGA garage opens 45 minutes prior to each screening. Members should not attempt to enter the parking lot prior to this time as the City will be citing vehicles that line up early and impede traffic flow. Upon completion of the screening, members and guests have 30 minutes to exit the parking lot. Members and guests may not park in any surrounding residential or permit parking areas, unless they have a valid permit to do so. (Please note: the City of West Hollywood Sheriff's Department will be citing any vehicles in the vicinity of the DGA that do not obey all traffic laws and street signs.) As a condition of admittance to the DGA property, members and guests consent to a search of their vehicle, belongings and person. SAG-AFTRA Film Society members and their guests who fail to comply with the parking rules risk the cancellation of their membership.
Important parking notice:
The DGA will provide free parking in its facilities for all SAG-AFTRA members and their guests who display a DMV issued Disabled Person placard.
Furthermore, we wanted to remind all of our members the following when using the DGA parking facilities:
Film Society members and their guests should have their current season pass, parking coupon, or $8 cash payment ready when pulling into the DGA lots to avoid delays in entering the parking facilities. Please provide exact change if possible as a courtesy to your fellow members.
Please obey all signage especially when entering and exiting the DGA parking structures. Please be advised when exiting the new DGA parking structure, members must adhere to the posted "No Right Turn" directional signage.
Patrons wishing to discuss accommodations for a disability should contact the Film Society office in advance.
Please contact the Film Society office at film.society@sagaftra.org if you have any questions.
2015/16 Season Upcoming Films
Information about the extra "bonus screenings" will be sent via email only.  Bonus screenings normally start up in the fall.
---

Friday, June 5
6:30 p.m., 9:30 p.m.
Saturday, June 6
Noon
Starring: Melissa McCarthy, Jason Statham, Rose Byrne, Miranda Hart, Bobby Cannavale, Allison Janney, Peter Serafinowicz, Morena Baccarin, Jude Law
Written and Directed by: Paul Feig
Produced by: Peter Chernin, Paul Feig, Jessie Henderson, Jenno Topping
Running Time: 115 Minutes
Rated: R
Courtesy of Twentieth Century Fox
Nationwide Release: 6/5/2015
---


Saturday, June 6
3 p.m., 6:15 p.m., 9:30 p.m.
Starring: George Clooney, Hugh Laurie, Britt Robertson
Directed by: Brad Bird
Screenplay by: Damon Lindelof and Brad Bird
Story by: Damon Lindelof, Brad Bird and Jeff Jensen
Produced by: Damon Lindelof, Brad Bird and Jeff Chernov
Running Time: 130 Minutes
Rated: PG
Courtesy of: Walt Disney Studios
Nationwide Release: 5/22/2015
---

Friday, June 19
6:30 p.m., 9:30 p.m.
Saturday, June 20
11:30 a.m.
Starring: John Cusack, Paul Dano, Elizabeth Banks and Paul Giamatti
Directed by: Bill Pohlad
Screenplay by: Oren Moverman, Michael Alan Lerner
Produced by: Bill Pohlad, John Wells, Claire Rudnick Polstein
Running Time: 120 Minutes
Rated: PG-13
Courtesy of Roadside Attractions
Release Date: 6/5/2015
---


Saturday, June 20
3 p.m., 6 p.m., 9 p.m.
Starring: Kevin Connolly, Adrian Grenier, Kevin Dillon, Jerry Ferrara and Jeremy Piven
Written and Directed by: Doug Ellin
Story by: Doug Ellin and Rob Weiss, based on characters created by Doug Ellin
Produced by: Mark Wahlberg, Stephen Levinson and Doug Ellin
Running Time: 104 Minutes
Rated: R
Courtesy of: Warner Bros. Pictures
Nationwide Release: 6/3/2015
---


Sunday, July 5
3 p.m., 6 p.m., 9 p.m.
Starring: Joaquin Phoenix, Emma Stone, Parker Posey, Jamie Blackley
Written & Directed by: Woody Allen
Produced by: Letty Aronson, Stephen Tenenbaum, Edward Walson
Running Time: 96 Minutes
Rated: R
Courtesy of: Sony Pictures Classics
Release: 7/17/2015 (limited)
---
SAG-AFTRA FILM SOCIETY – 2015/16 SCREENING DATES
July 5/6*
July 26/July 27*
Aug. 7/8
Aug. 21/22
Sept. 4/5
Sept. 18/19
Oct. 2/3
Oct. 9/10
Oct. 16/17
Nov. 13/Nov. 14
Nov. 20/21
Nov. 27/28
Dec. 6/7*
Dec. 13/14*
Dec. 18/19
*indicates screening date that falls on a Sunday/Monday.
Screening dates for the remainder of the season will be sent by email, posted to website, and updated on the 24-hour hotline when they become available. Reminder: the Film Society Season ends in April 2016.