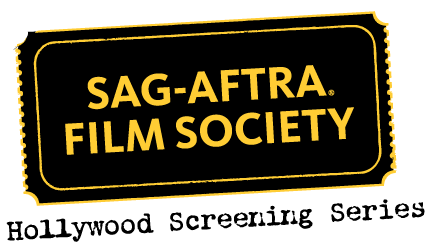 Registration for SAG-AFTRA Film Society's 2015/16 Season is now closed.
WAITING LIST: If you would like to be placed on the waiting list, please send us an email at filmsociety@sagaftra.org. In the subject line please write: "2015 WAITING LIST" and follow that with your membership ID number and your name. Note: Your membership ID number is mandatory. We will not be able to add you to the waiting list unless you include your SAG-AFTRA ID number. Emails will be processed in the order received.
If you cannot contact us by email, please contact the Film Society Office at (323) 549-6658 and request to be added to the waiting list. As with the email notice, members must include their member ID number and their name. Please leave a contact phone number in the voicemail message as well.
Please check back with the website frequently for the latest updates and announcements about Season 2015-16 Season!
For Film Society information, call (323) 549-6658 or email filmsociety@sagaftra.org The latest information can also be obtained from the Film Society 24-hour hotline at (323) 549-6657.
2015/16 Season Upcoming Films
Information about the extra bonus screenings will be sent via email only. Bonus screenings normally start up in the fall.
---

Saturday, Sept. 5
3 p.m., 6 p.m., and 9 p.m.
Starring: Andrew Garfield, Michael Shannon, Laura Dern, Noah Lomax
Directed by: Ramin Bahrani
Screenplay by: Ramin Bahrani, Amir Naderi
Story by: Ramin Bahrani, Bahareh Azimi
Produced by: Ashok Amritraj, Ramin Bahrani, Kevin Turen, Justin Nappi
Running Time: 112 Minutes
Rated: R
Courtesy of: Broad Green Pictures
Release: 9/25/2015 (limited)
---
SAG-AFTRA FILM SOCIETY 2015/16 SCREENING DATES
Sept. 4/5
Sept. 18/19
Oct. 2/3
Oct. 9/10
Oct. 16/17
Nov. 13/Nov. 14
Nov. 20/21
Nov. 27/28
Dec. 6/7*
Dec. 13/14*
Dec. 18/19
*indicates screening date that falls on a Sunday/Monday.
Screening dates for the remainder of the season will be sent by email, posted to website, and updated on the 24-hour hotline when they become available. Reminder: the Film Society Season ends in April 2016.