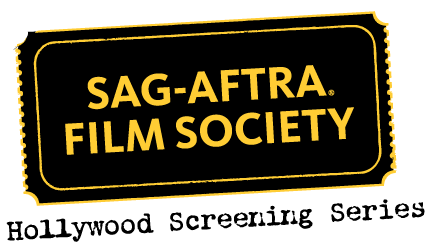 Registration for SAG-AFTRA Film Society's 2015/16 Season is now closed.
WAITING LIST: If you would like to be placed on the waiting list, please send us an email at filmsociety@sagaftra.org. In the subject line please write: "2015 WAITING LIST" and follow that with your membership ID number and your name. Note: Your membership ID number is mandatory. We will not be able to add you to the waiting list unless you include your SAG-AFTRA ID number. Emails will be processed in the order received.
If you cannot contact us by email, please contact the Film Society Office at (323) 549-6658 and request to be added to the waiting list. As with the email notice, members must include their member ID number and their name. Please leave a contact phone number in the voicemail message as well.
Please check back with the website frequently for the latest updates and announcements about Season 2015-16 Season!
For Film Society information, call (323) 549-6658 or email filmsociety@sagaftra.org The latest information can also be obtained from the Film Society 24-hour hotline at (323) 549-6657.
2015/16 Season Upcoming Films
Information about the extra bonus screenings will be sent via email only. Bonus screenings normally start up in the fall.
---
2016 SCREENING DATES:  Please mark your calendar for our remaining screening dates at the DGA: January 8/9, January 15/16, January 24/25,* February 12/13, February 26/27, March 11/12, March 25/26, April 1 and April 2, 2016
---

HAIL, CAESAR!
Friday, February 12 
6:30 p.m., 9:30 p.m.
Saturday February 13 
12 noon
Starring: Josh Brolin, George Clooney, Alden Ehrenreich, Ralph Fiennes, Jonah Hill, Scarlett Johansson, Frances McDormand, Tilda Swinton and Channing Tatum
Written, Produced and Directed by: Joel Coen & Ethan Coen
Produced by: Tim Bevan, Eric Fellner
Running Time: 100 Minutes 
Rating: PG-13
Courtesy of: Universal Pictures

RACE
Saturday February 13 
3 p.m., 6:15 p.m., 9:30 p.m.
Starring: Stephan James, Jason Sudeikis, Jeremy Irons, Carice van Houten, Shanice Banton, and William Hurt
Directed by: Stephen Hopkins
Written by: Joe Shrapnel & Anna Waterhouse
Produced by: Karsten Brünig, Luc Dayan, Kate Garwood, Stephen Hopkins, Jean-Charles Levy, Nicolas Manuel, Louis-Philippe Rochon, Dominique Séguin
Running Time: 134 Minutes 
Rating: PG-13
Courtesy of: Focus Features
---
*indicates screening date that falls on a Sunday/Monday.
Screening dates for the remainder of the season will be sent by email, posted to website, and updated on the 24-hour hotline when they become available. Reminder: the Film Society Season ends in April 2016.