The Official E-Newsletter of the Washington-Mid Atlantic Local
WETA, WBAL PICK UP JOURNALISM AWARDS
Columbia University's Graduate School of Journalism announced 16 winners of the 2016 Alfred I. DuPont-Columbia University Awards.
Established in 1942, by Jessie Ball DuPont in memory of her husband, Alfred I. DuPont, the awards honor excellence in broadcast, digital and documentary journalism.
Among the winners was WBAL-TV's lead investigative reporter, Jayne Miller, who led the way locally and nationally on the investigation into what happened to Freddie Gray, the 25-year-old Baltimore man critically injured while in police custody, who died one week later.  
WETA was also honored for its documentary Cancer: The Emperor of All Maladies, which was described as "a thoroughly researched and beautifully produced documentary series which explored the scourge of cancer from every angle." 
SAG-AFTRA is proud to congratulate WBAL-TV, Jayne Miller and WETA for their hard work to keep the public informed on important topics.
SAG-AFTRA Hosts a Celebration of Journalism 
On April 29, SAG-AFTRA, in partnership with the SAG-AFTRA Foundation, Variety and The Washington Post, honored journalists at a reception on the eve of the annual White House Correspondents' Association Dinner. 
"Journalists bring us the stories we need to make judgments and decisions about our government and they routinely put themselves in harm's way to report the news," praised SAG-AFTRA President Gabrielle Carteris. SAG-AFTRA is profoundly grateful for their efforts and honored to recognize them and the importance of their work."
The event was held at the headquarters for The Washington Post. Guests included the legendary Nina Totenberg, award-winning legal affairs correspondent for National Public Radio, Dule' Hill and Allison Janney (both of The West Wing), Constance Zimmer (House of Cards) and Jeff Goldblum (Independence Day: Resurgence).
"The Foundation is excited to be adding professional and educational programming geared toward the broadcast journalism community to our current slate of no-cost programs for SAG-AFTRA members," said JoBeth Williams, president of the SAG-AFTRA Foundation. "We are thrilled to honor the broadcast journalists who are critical pillars of our society by educating us about the world around us, and the current events that deeply affect our lives."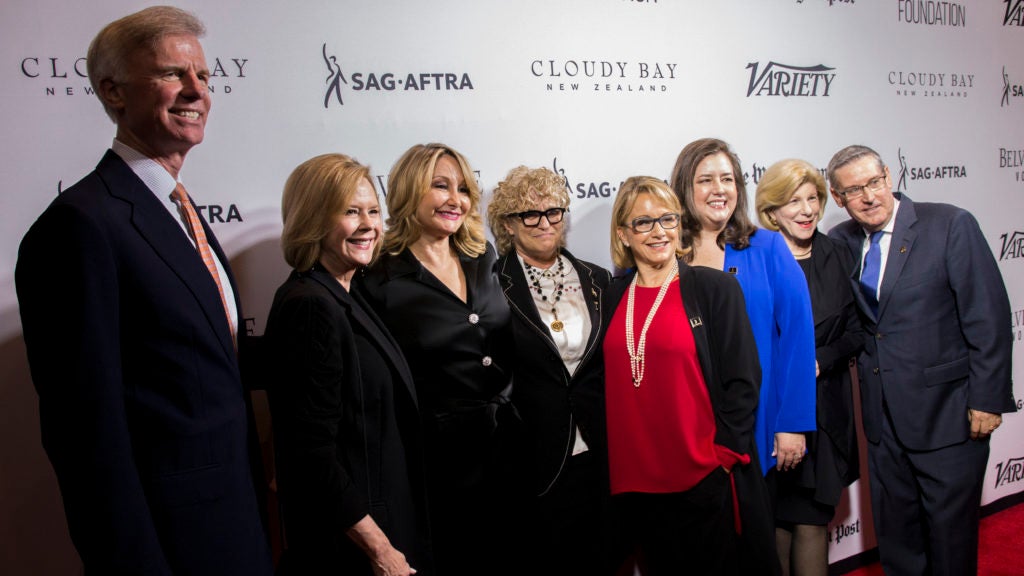 Leaders from SAG-AFTRA, SAG-AFTRA Foundation, Variety, The Washington Post and members at A Celebration of Journalism.
SAG-AFTRA President and EVP Visit Local
On Monday, May 2, the Washington-Mid Atlantic Local welcomed SAG-AFTRA President Gabrielle Carteris and National Executive Vice President Rebecca Damon as guest speakers for our membership meeting. 
The National Board elected Carteris president of SAG-AFTRA following the death of Ken Howard on March 23. The board also elected Rebecca Damon as executive vice president.
The meeting began with a video presentation honoring the life and legacy of Howard, along with another video presentation from Carteris about her vision for the future. Topics included an upcoming rollout of a SAG-AFTRA mobile app for members, upcoming outreach programs, organizing initiatives and updates about the President's Task Force on Education, Outreach and Engagement.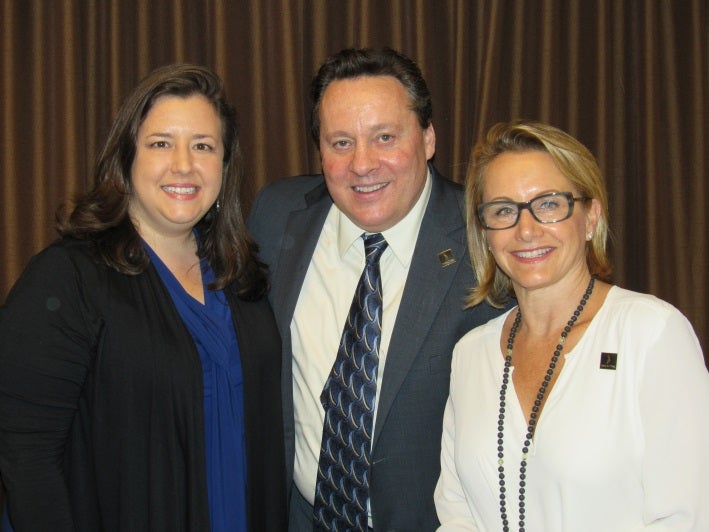 From left, SAG-AFTRA Executive Vice President Rebecca Damon, Washington-Mid Atlantic Local President Lance Lewman and SAG-AFTRA President Gabrielle Carteris at the Washington-Mid Atlantic Local membership meeting.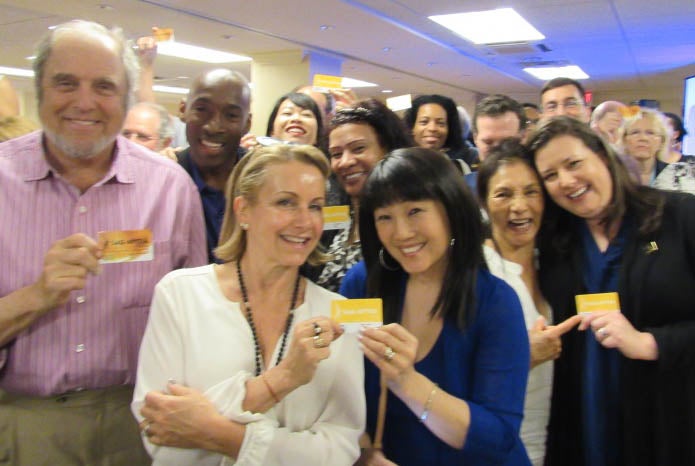 Members of the Washington-Mid Atlantic Local, President Gabrielle Carteris and Executive Vice President Rebecca Damon show their SAG-AFTRA cards.
Corporate/Educational & Non-Broadcast Waiver
We're proud to offer the new Corporate/Educational & Non-Broadcast waiver. The waiver is a new organizing tool available within the Washington Mid-Atlantic Local that empowers professional performers by providing producers with flexible hiring, faster production, simplified rates, and easier payments. 
Staff and members have been hard at work promoting and explaining the details of the waiver via email, mailing postcards to hundreds of producers and making phone calls and personal visits to casting professionals, pay services and interested producers. The postcard also refers to sagaftra.org/WMA, where more information can be found. We have also been distributing the information via industry resources such as the Actors Center, WIFV, TIVA and others.
But we still need your help to make this effort succeed. Submit yourselves for corporate video work that is advertised as non-union. Market yourselves and the availability of the waiver widely to producers in the Washington-Mid Atlantic Local. And, finally, share your success stories with us by sending information about the jobs you win (including your production report) to WMAWaiver@sagaftra.org so that we can track the value of the waiver.
Please note that the waiver is experimental and is effective until April 30, 2018, at which time the Local Board and National Contract Standing Committee will review the results and consider an extension.  
If you would like more information or would like to volunteer to assist in our promotional efforts, please contact WMAWaiver@sagaftra.org, and congratulations in advance on your next role!
TV Newsman Jack Bowden Dies at 82
Jack Bowden, a former Baltimore news anchor and reporter at WMAR-TV for more than two decades, died Jan. 20 at a hospice facility in Towson, Maryland. He was 82.
Many of us remember Jack for his dedicated service in fighting for a law to prohibit non-compete clauses in the state of Maryland for all broadcasters. Unfortunately, this provision failed in Maryland following passage in Washington, D.C. Jack will always be remembered for walking the halls on behalf of all journalists. We will miss him dearly.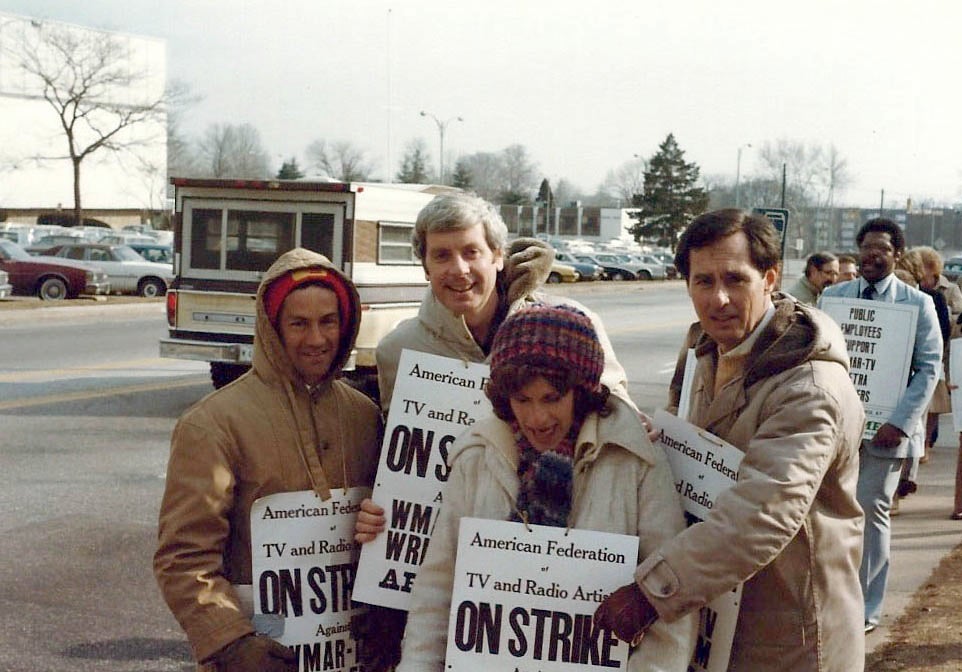 Jack Bowden, right, at the 1982 WMAR-TV strike.
Craig Windham, Award-Winning NPR Journalist, Dies at 66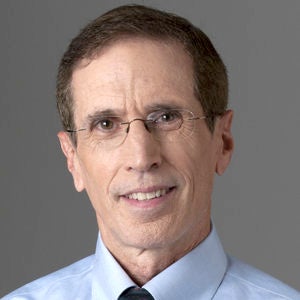 Craig Windham, an award-winning journalist, SAG-AFTRA member and newscaster/reporter for National Public Radio news, died unexpectedly of a pulmonary embolism on Feb. 28. He was 66.
During his more than two decades at NPR, he delivered newscasts during Morning Edition and All Things Considered. Prior to joining NPR in 1995, he worked as a national correspondent for the Unistar/RKO radio networks and was a news director at WASH 97.1. Windham was also an adjunct professor at George Washington University, where he taught classes on counseling and human development. He will be greatly missed.
WTOP Wins Murrow Awards
Congratulations to WTOP/WFED (Hubbard Broadcasting), which picked up five regional Edward R. Murrow Awards from the Radio Television Digital News Association. The news team was recognized in the Overall Excellence category for the fifth time in the past seven years for its coverage in the D.C. region. WTOP's entire staff was also recognized with a regional award for Best Website. 
Film/TV Tax Incentive Roundup
The legislative session wrapped up in Maryland on April 13, and while there was no film incentive bill this year, film industry advocates, including SAG-AFTRA members and staff, spent March 15 visiting lawmakers in Annapolis to keep the film industry alive in their hearts and minds. The governor's budget included $11.5 million for the Film Production Activity Tax Credit and the good news is that the budget for our program was passed. The not-so-good news is that this amount will likely only be enough for House of Cards, so we need to do better to attract additional production. The Maryland Film Industry Coalition works with lawmakers all year long in this regard and plans to author and lobby for new legislation next session.
Thanks to Local President Lance Lewman, Local Board members Towanda Underdue and Jack Jenkins, and members-at-large Kim Mallory, Bernie Cavanaugh and Maxwell Mines for their significant contribution to our efforts in Annapolis.
Virginia's General Assembly session ended on March 11 and the effort there, spearheaded by the Virginia Production Alliance and the Virginia Film Office, was successful. After surviving the budget amendment process, the various film and TV funding vehicles ended up with roughly $22 million over the two-year budget. Again, much of this is dedicated to TURN and Mercy Street, which was renewed for a second season, but in this climate, the infusion of an additional $4.2 million in grant funding over the biennium is a remarkable victory.
Virginia Production Alliance Chair of Legislative Activity Terry Stroud is urging VPA members and all Virginians to contact their lawmakers and thank them for their support. 
"The fact that we received this increase is a direct result of their belief in our industry," he said. "They need to hear from you in the near future." Further, Stroud asked friends of the industry to "continue to support the VPA and the legislative work we do every year on your behalf. Tell your friends that this work impacts our entire industry's well-being and vibrancy."
Well done!
In North Carolina, the $30 million-per-year grant program seems to be attracting the attention of producers lately as, at the time of publication, several productions are filming in the state, including a basic cable series shooting entirely in Wilmington; a network series shooting in Charlotte; a theatrical motion picture based in Raleigh, North Carolina; and a network TV remake of Dirty Dancing calling Asheville, North Carolina, home.
West Virginia's program is currently capped at $5 million per year but boasts a low "minimum spend" of $25,000 in order to qualify and up to 31 percent in transferable tax credits. Sad news on the West Virginia front: The state has voted to adopt a so-called "right-to-work" statute to be effective July 1 of this year.    
D.C.'s program is also generous in terms of the credit percentage rate but suffers from low funding. The legislation sets an annual cap of $4 million dollars.
Please heed calls to action as often as possible; this is your industry!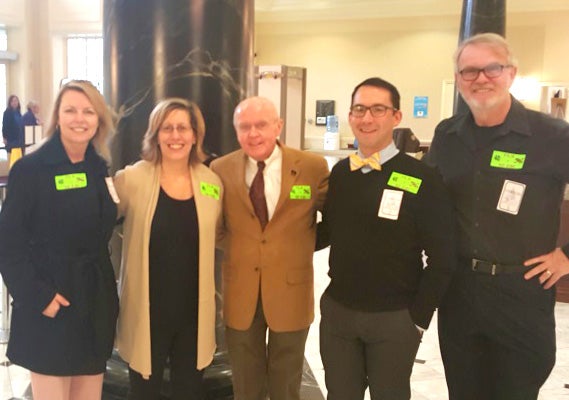 From left, SAG-AFTRA member Kim Mallory, WMA Local Associate Executive Director Jane Love, WMA Local Board member Jack Jenkins, WMA Local Business Representative Ryan Hastings and SAG-AFTRA member Bernie Cavanaugh visit lawmakers at the Maryland General Assembly in Annapolis on March 15. Photo: David O'Ferrall
VPA's State of the Industry Gathering
On Thursday evening Feb. 18, the Virginia Production Alliance held its annual State of the Industry gathering at WCVE TV in Richmond, Virginia. More than 200 film industry professionals and supporters gathered to talk with exhibitors and celebrate film and TV in Virginia. Virginia's Film Office Director Andy Edmunds addressed the crowd, reporting on the current climate of the industry, specifically the wide variety of opportunities that exist in the state, and to thank the VPA for its activism. The Washington-Mid Atlantic Local is a proud member of the VPA and was pleased to be among the exhibitors at this annual event. Members of your local staff handed out information on the benefits and mechanics of membership to pre-members as well as information on our contracts, particularly the low budget film and new media contracts, to local filmmakers. Special thanks to the many SAG-AFTRA members in attendance who introduced staff to performers interested in joining the union and to filmmakers for whom our members would like to work.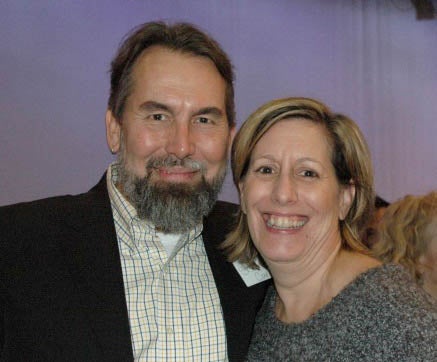 SAG-AFTRA member Scott Carter and Washington-Mid Atlantic Associate Executive Director Jane Love.
Actor/Performer New Member Orientation
On March 2, the Entertainment Contracts department of the Washington-Mid Atlantic Local debuted a workshop designed to guide new actor/performers through the benefits of membership.  
An Introduction to SAG-AFTRA for the Actor/Performer is a new and improved version of the new member orientation the local has presented in the past. The new workshop, created by Ryan Barrett Hastings, is presented in two parts. The first part, Your Union, guides members through what it means to be a member of a union and what SAG-AFTRA can do for its members. Staff explains the basic protections of the SAG-AFTRA agreements and other programs and organizations that aim to assist entertainment professionals and members of our union. The second part of the workshop, Your Work, gives a basic overview of what you need to know when you are on the job, such as what you will be paid and when, what types of work are covered and what paperwork to expect on set.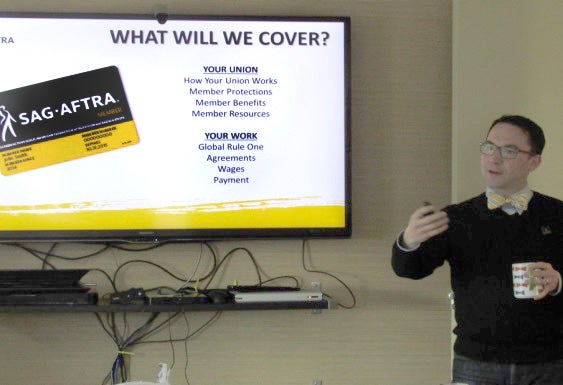 Actor/Performer Staff Representative Ryan Hastings presents a new member orientation.
Call to Arts Collaboration
Are you a mentor? Do you coach young performers and broadcasters? If so, make sure that time is counted for A Call to Arts!
What is A Call to Arts? In response to President Obama's national call to service and mentoring, SAG-AFTRA and the American Film Institute are collaborating to mentor aspiring storytellers and creative and performing artists interested in pursuing careers in the cinematic arts. 
The A Call to Arts collaboration enlists the arts community to join in and help nurture creativity in the next generation, whether it's other SAG-AFTRA members, pre-members or students ranging from elementary through college. By sharing your knowledge of the creative arts and your passion for artistic expression, you can help an inspired mentee develop this craft into a career. Every one of us has unique insight that can influence future generations. 
Visit the website to register and tell us about how you are inspiring the next generation of storytellers. For some, this may simply be registering your existing and ongoing programs so that these mentoring hours are captured. Others may want to find ways to mentor young and emerging storytellers.
You can also report your mentoring hours by emailing the local staff. Send an email to anita.garcia@sagaftra.org and tell her about your mentoring. Include the number of people mentored and the amount of time spent working with them.
What are some examples of mentoring you may already be doing?
• Mentoring new or future members of SAG-AFTRA
• Reading to school children
• Giving station tours
• Visiting an acting or journalism class
• Teaching young photographers, artists, news editors, dancers, singers or any other kind of artists.
For more information, visit the website or email acalltoarts@sagaftra.org.