The Official E-Newsletter for the Washington — Mid Atlantic Local
SAG AWARDS® A HUGE SUCCESS
The 19th Annual Screen Actors Guild Awards was held on the evening of Sunday, Jan. 27, 2013, and broadcast live on both TNT and TBS, drawing in 5.2 million viewers domestically and more than 3 million internationally. The star-studded event honored members for their achievement in film and television over the past year. Members of SAG-AFTRA in good standing who had paid their dues by Nov. 30 voted on the recipients of each award, after having the opportunity to view the nominated films on DVDs or through online streaming. This was the first SAG Awards under the merged union, giving many members the opportunity to participate in the voting process for the first time.
While it may be too late to view the nominated films and vote for this year's awards, make sure you don't miss out for next year's awards! We encourage you to make sure that you are a member in good standing, pay your dues on time and that SAG-AFTRA has your most up-to-date contact information, which you can view and change by logging in to your account and clicking "My Information" under the "Member Services" drop-down menu. For more information on the SAG Awards, go to www.sagawards.org.
UPCOMING EVENTS
Conservatory Workshops:
• 7-9 p.m., Monday, March 11: Let Me Tell You a Story – Commercial Audiobook Narration presented by Sean Pratt
• 7-9 p.m., Thursday, March 14: Meisner Technique for Film Acting presented by Robert Epstein
• 7-9 p.m., Monday, March 18: Leave Rejection in the Past presented by Jane Beard
• 7-9 p.m., Tuesday, March 19: Building Your Voice for Endurance presented by Chrissellene Petropoulos
• 10 a.m.- 12:30 p.m., Saturday, March 23: The Beginner's Guide to Setting Up a Home Studio on a Budget presented by Craig Klein
Click here for details on how to register for these workshops and the full Spring 2013 Conservatory calendar.
Check out our Local Events page for updates on other SAG-AFTRA events.

SAG-AFTRA Says Goodbye to George Wright
On Feb. 27, the SAG-AFTRA office staff came together for a festive breakfast to celebrate the retirement of George Wright, who is leaving after 18 years of services as deputy executive director.
George has helped many members with his hard work and innovative ideas. He started both dues-check-off and premium conversion in our local, which has now been adopted by many stations and locals throughout the country. George, along with Pat O'Donnell, Joe Krebs and Terrie Bjorklund worked tirelessly to ban noncompete clauses in Washington, DC. Over the past 18 years, George has helped to recover more than 2 million in pay and benefits for our members.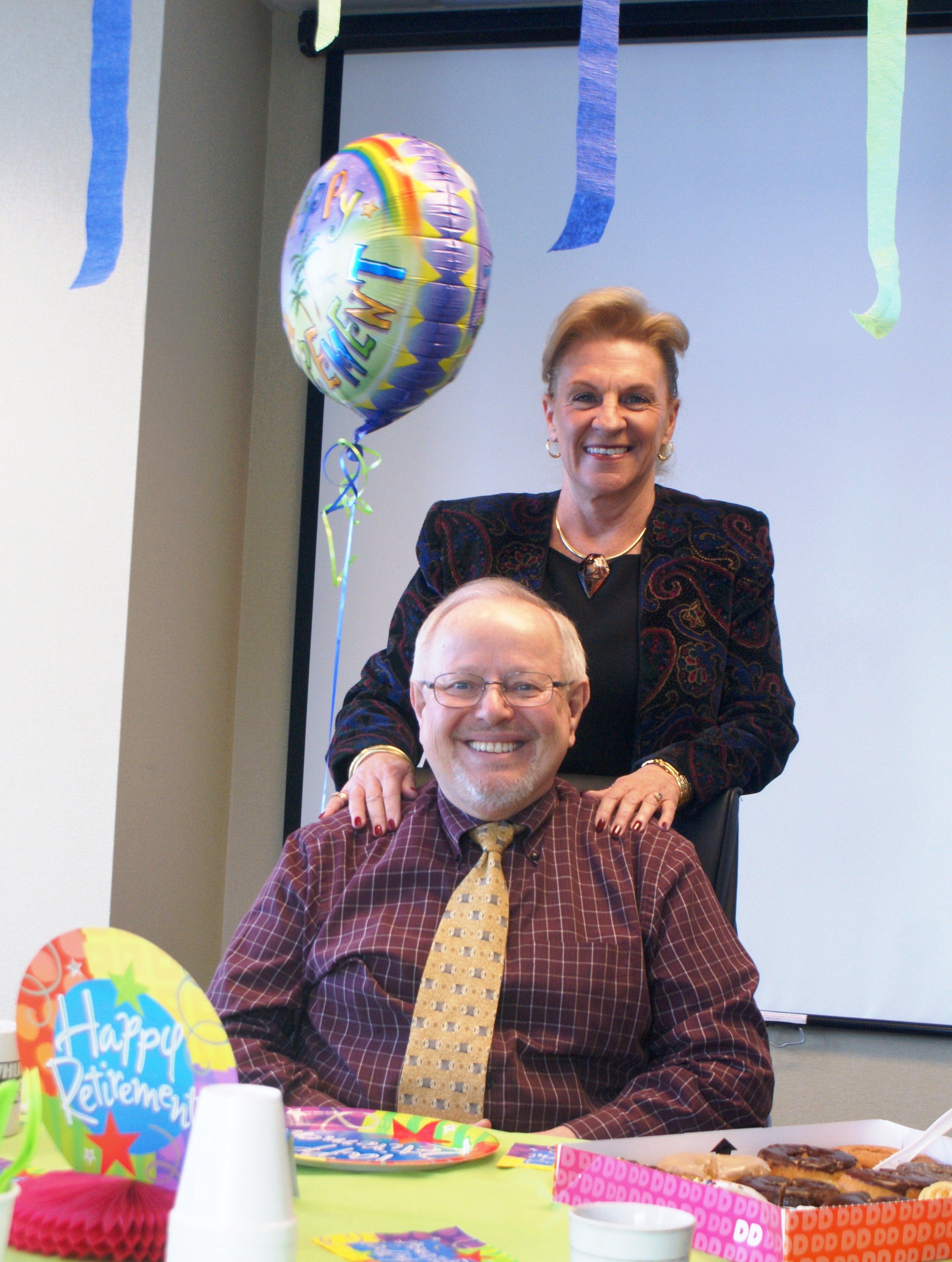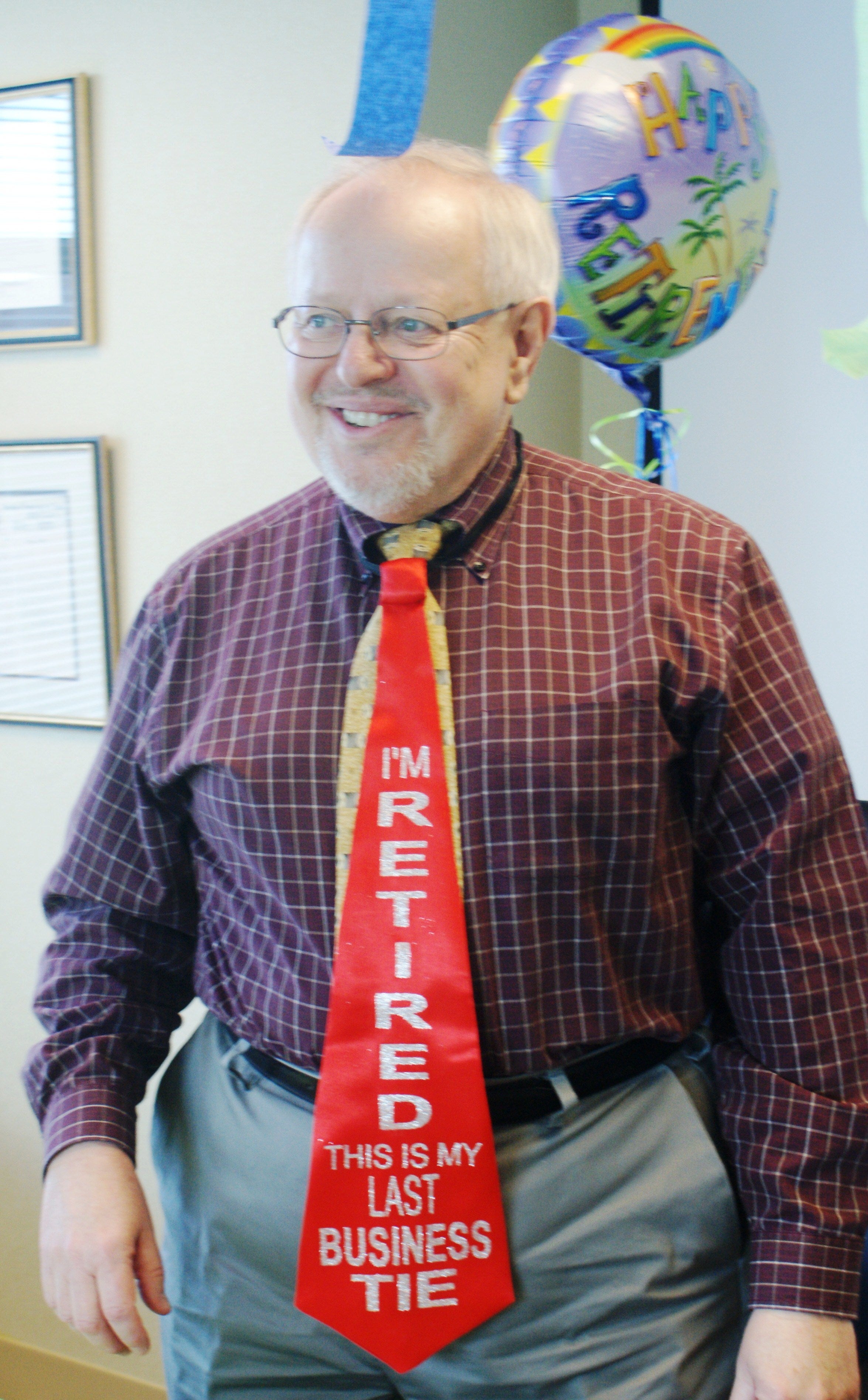 George hails from the great state of Texas. He received his degree from the University of Texas, and did post-graduate work at the University of Texas at El Paso. Before joining the SAG-AFTRA staff, he was the director of human resources for the Postal Service in Washington, D.C., and went on to be the director of employee and labor relations at Howard University. George currently resides in northern Virginia with Sandy, his wife of 45 years. He has three children, three granddaughters and last year became a great-grandfather. George's plans for retirement include traveling, spending time with friends and family, and completing the long list of chores his wife has for him.
George will be truly missed by both staff and members. We wish him all the best in his retirement!  
Local Members Nominated for Audie Awards
By Don Hagen
Congratulations to the SAG-AFTRA narrators from the Washington – Mid Atlantic Local who have been nominated for Audie Awards, the prestigious yearly award given by the Audiobook Publishers Association:
• Ralph Cosham
• Michael Kramer
• Jennifer Mendenhall (Kate Reading)
• Sean Pratt (Lloyd James)
The Audies, sponsored by the Audio Publishers Association (APA), is the premier awards program in the United States recognizing distinction in audiobooks and spoken-word entertainment. Through the Audie Awards competition, publishers are able to enter titles in various categories for recognition of achievement. Finalists are selected and, from that group of finalists, one winner receives the award. Winners will be recognized at the exciting Audies gala in New York City on May 30, 2013.
Bravo and Brava to our local nominees!
Commercials Contract Negotiations Begin
Representatives of SAG-AFTRA and the Joint Policy Committee commenced negotiations on Feb. 14 on successor agreements to the commercials contracts.
The talks, which took place in New York City, were cordial and positive, and both groups released a joint statement saying they look forward to productive bargaining under a jointly agreed-upon media blackout already in effect.

Member Spotlight: Richard Day Retires
SAG-AFTRA member and WTOP news anchor Richard Day signed off for his final time on Jan. 27, as he journeys into retirement. He had been with WTOP in Washington, D.C. since 1985, though his first job in radio was in 1958 in his hometown of York, Penn. He also worked at NBC in Washington, D.C., WCBM in Baltimore, and as a reporter/producer for syndicated television.
Day is also an accomplished musician and actor. He was in a band before he was old enough to drive, and worked in amateur theater before attending the American Academy of Dramatic Arts in New York, where he trained in Shakespearean theater. While there, he was a page for CBS, before pursuing a career in advertising. The world of broadcasting beckoned him back after a three-year stint in the Navy.
Day will be spending his retirement doing the things he loves, like playing tennis, skiing, reading, playing piano, and taking in concerts and the theater. Jim Farley, WTOP's VP Programming, said in an email to the station that "Day is a class act and I will sorely miss his quiet professionalism."
We wish him the best in this next chapter in life, and congratulate Richard Day on his retirement.
Six Inducted into the NABJ Hall of Fame
The National Association of Black Journalists inducted six journalists into its Hall of Fame on Jan. 17. Each year, the NABJ pays tribute to legendary African-American journalists who made exceptional contributions to journalism. The ceremony was held at The Newseum in Washington, DC. Among the inductees was Sue Simmons, who worked at WBAL-TV and WRC-TV in the 1970s, before moving to New York to anchor at WNBC-TV for 32 years. While she was unable to attend the ceremony, she sent a videotaped speech in which she spoke highly of her time in both Baltimore and D.C. Also of note, the founder of the NABJ and chair of the Hall of Fame board is WJLA-TV evening news anchor and local SAG-AFTRA member Maureen Bunyan.
The other inductees were Betty Winston Bayé, a columnist from the Courier-Journal in Louisville, Ky.; Simeon Booker, the first black reporter for the Washington Post; Alice Dunnigan, the first black woman to receive credentials to cover the White House; Cynthia Tucker, a Pulitzer-winning columnist; and Wendell Smith, a legendary sportswriter who helped desegregate baseball. Read more about each inductee here.
We congratulate all of the inductees, who have lead remarkable careers and contributed greatly to their field.