The Official E-Newsletter of the SAG-AFTRA Seattle Local
SEATTLE LOCAL
The SAG-AFTRA Seattle Local represents members working in Alaska, Idaho, Montana and the state of Washington.
2015-2017 Local Board

Rik Deskin – President
Laura Kenny – Vice President (Actor-Performer)
Karen O'Leary – Vice President (Broadcast)
Maggie Stenson - Secretary
Dick Arnold
Daniel Brockley 
Abby Dylan
Adam Gehrke 
Rachel Glass
Scott Goldman 
Yulia Hancheroff
Ron Holmstrom
Cole Hornaday
Deborah Horne
Linda Kennedy 
John Patrick Lowrie
Steven Reeder
Local Staff
Shellea Allen - Local Executive Director
Chris Comte - Contracts Administrator
Chelsea Harris - Membership Administrator
123 Boylston Avenue East, Suite A    
Seattle, WA 98102    
O (206) 282-2506    
F (206) 282-7073
Message from Local President Rik Deskin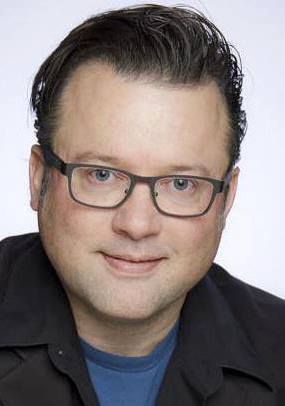 Hello Sisters and Brothers,
This past week, I had the privilege of working on a commercial as an extra. Since I normally book work as a principal performer, I needed to review the new Commercial Performer's Agreement that we all have access to at the SAG-AFTRA website in the Production Center.
I did some review, and then arrived on set, receiving my contract and support documents to sign, and when I got down to the wardrobe section, I marked "3" since I had been asked to bring three items of wardrobe by the production supervisor, and I remembered having marked "3" the last time I worked as an extra under this agreement. 
As I was filling it out, the first AD noticed that I had marked "3" and then said I had to white it out. I told him I thought that since we brought three items with us, that we were then compensated for three items per the contract. At that time, I second-guessed myself and wanted to confirm my info, and a fellow actor from L.A. said that she was fairly sure that we all needed to mark "3," so we were both looking up the info on our smartphones, and about a minute later the first AD came back and said that we were correct. 
I still wanted to be sure that we were all correct and then found the info, verifying what I thought I knew in the FAQ section of the commercials page. I was correct! There is a very helpful 55-second video featuring one of my fellow SAG-AFTRA colleagues that says that we do get paid a wardrobe allowance for every full set of wardrobe we are asked to bring in, which is typically three.
At the end of the day, I had another item to follow up on. One of my Portland colleagues was also on the shoot, engaged as a principal for two non-consecutive days plus a third-day fitting. They thought that they were hired in Seattle as a "local hire." That was a red flag for me, as the issue of "local hires" has been a topic of conversation of late. I called staff and then emailed back and forth until everyone had the proper info, which was as I thought: She would be due travel pay on top of her scale (minimum per contract) rate. They were technically not a "local hire."
Being a vigilant member, knowing our contracts and where to look is a benefit to all of us performers, regardless of your classification or which SAG-AFTRA agreement you are employed under. 
When you have time, explore the SAG-AFTRA website. You never know who you might be able to help with that knowledge.
In solidarity,
Rik Deskin
President, SAG-AFTRA Seattle Local
Message From the Seattle Local Executive Director
By Shellea Allen
Happy Summer, SAG-AFTRA members!
This spring and summer has been full of exciting SAG-AFTRA union events. It is very important to me to directly engage with members as much as possible. You are the union. I have spent much of my first three months getting to know members in the different areas of the union, including acting, broadcasting and radio. In May, I was able to visit the set of Z Nation filmed in Spokane, Washington, and chat with actors about the union as well as watch our members in action. I was also able to visit Alaska and spend time with our board member Ron Holmstrom, Alaskan actors, and filmmakers at the Machetanz Film Festival.
In June, we had our mid-year membership and new member orientation meeting where we talked about a vision of growing as a union as well as being more visible in our community. We have already started this by participating in Seattle and Portland Pride as well supporting organizing efforts on the picket line with our IATSE union brothers and sisters. 
With the passage of the Corporate/Educational Waiver by the Seattle and Portland boards, the staff at SAG-AFTRA in Seattle have been working with our members to roll out an organizing plan to create more work opportunities for our members in the corporate/educational category. This will be an ongoing three-year organizing plan with the goal of doubling the amount of work in Co/Ed for members. 
In July, the SAG-AFTRA Foundation organized two days of workshops for members in Seattle. Participants got the scoop on casting with Nike Imoru, an audiobook workshop with Paul Liberti, and learned how to "go beyond your brand" with writer/producer Bonnie Gillespie. Our goal is to keep bringing popular events like this to Seattle for our members. 
On July 16, The SAG-AFTRA National Board of Directors approved the establishment of the TV/Theatrical/New Media Wages & Working Conditions and Negotiations Committee and appointed President Gabrielle Carteris as chair. Please stay tuned for dates for wages and working condition meetings this fall, as we prepare for negotiations in the New Year. 
In June and July, we witnessed attacks that affected our membership personally and professionally. From Orlando to Dallas to Minneapolis to Baton Rouge to Afghanistan, our members are often the first ones publically discussing the current events. Whether you are an actor or broadcaster, Americans look to you for information and, often, empathy. It is important that we continue to work together as a union family to create a world of social and economic justice. We will continue these important conversations with local union leadership, members and the larger labor community. Our diversity committee is currently planning an event in October that will focus on African-Americans and opportunity in the film and broadcast industry.  
As the new local executive director, it is my goal to provide a high level of service to our members, empower our members through education and engagement, and raise the standards in our industry by organizing more members into the union. Together, we are strong.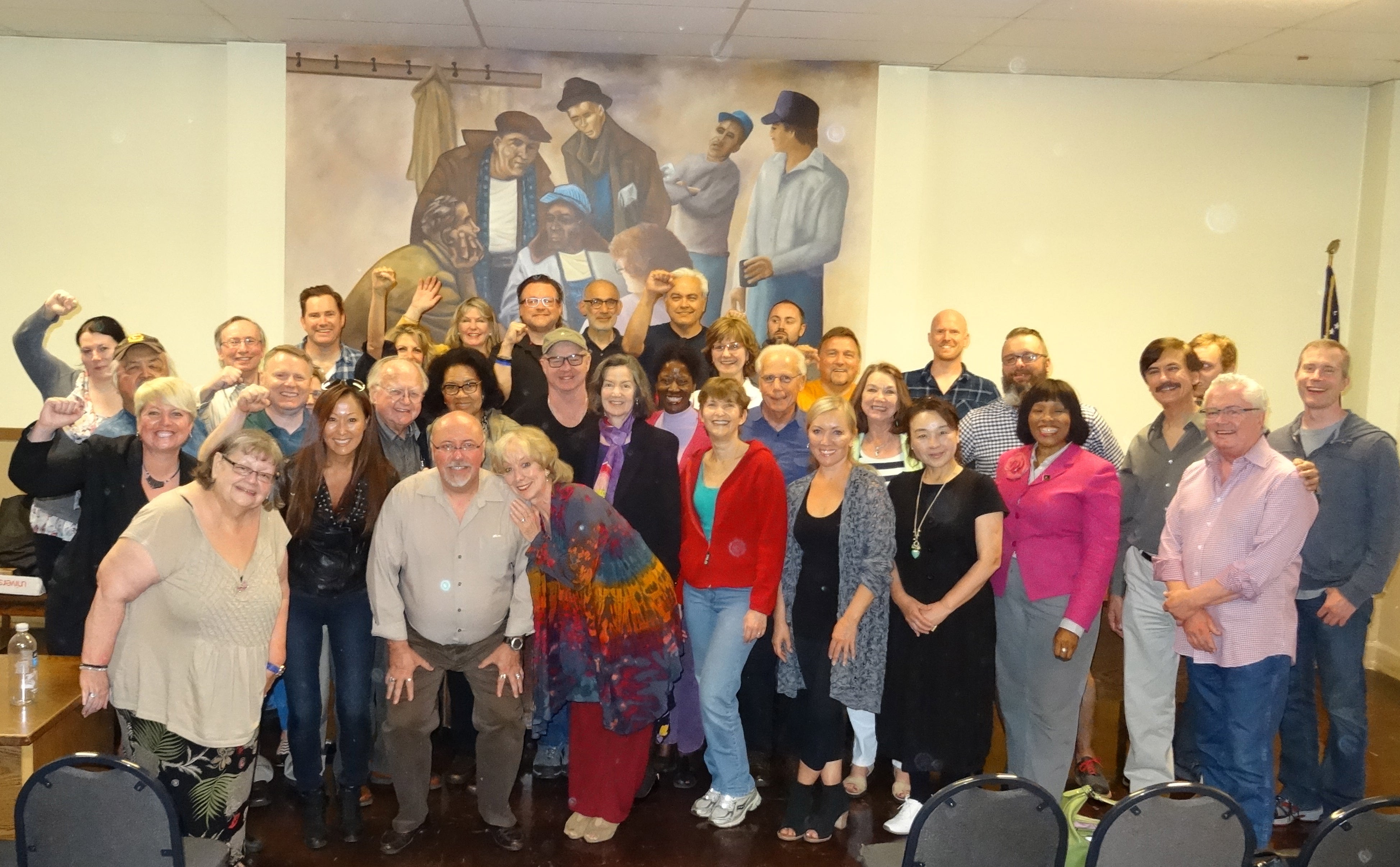 Members at the June membership meeting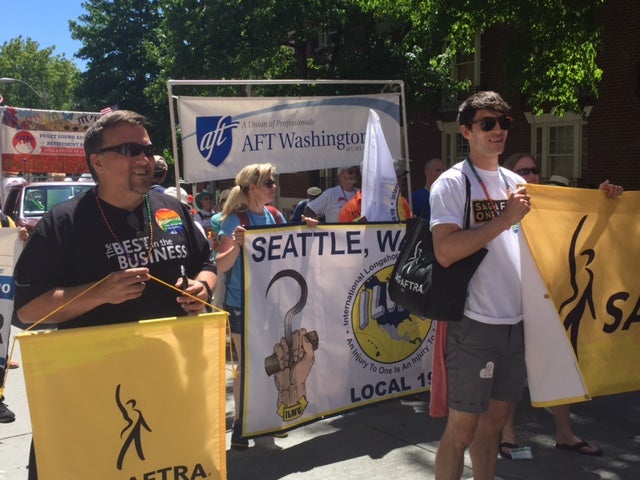 Seattle Local elected leaders, members and SAG-AFTRA staff joined forces with the local labor movement, including ILWU and AFT union members, at the 42nd Annual Seattle Pride Parade on June 26 in downtown Seattle.
With Groundswell of Community Support, KPLU Hits Target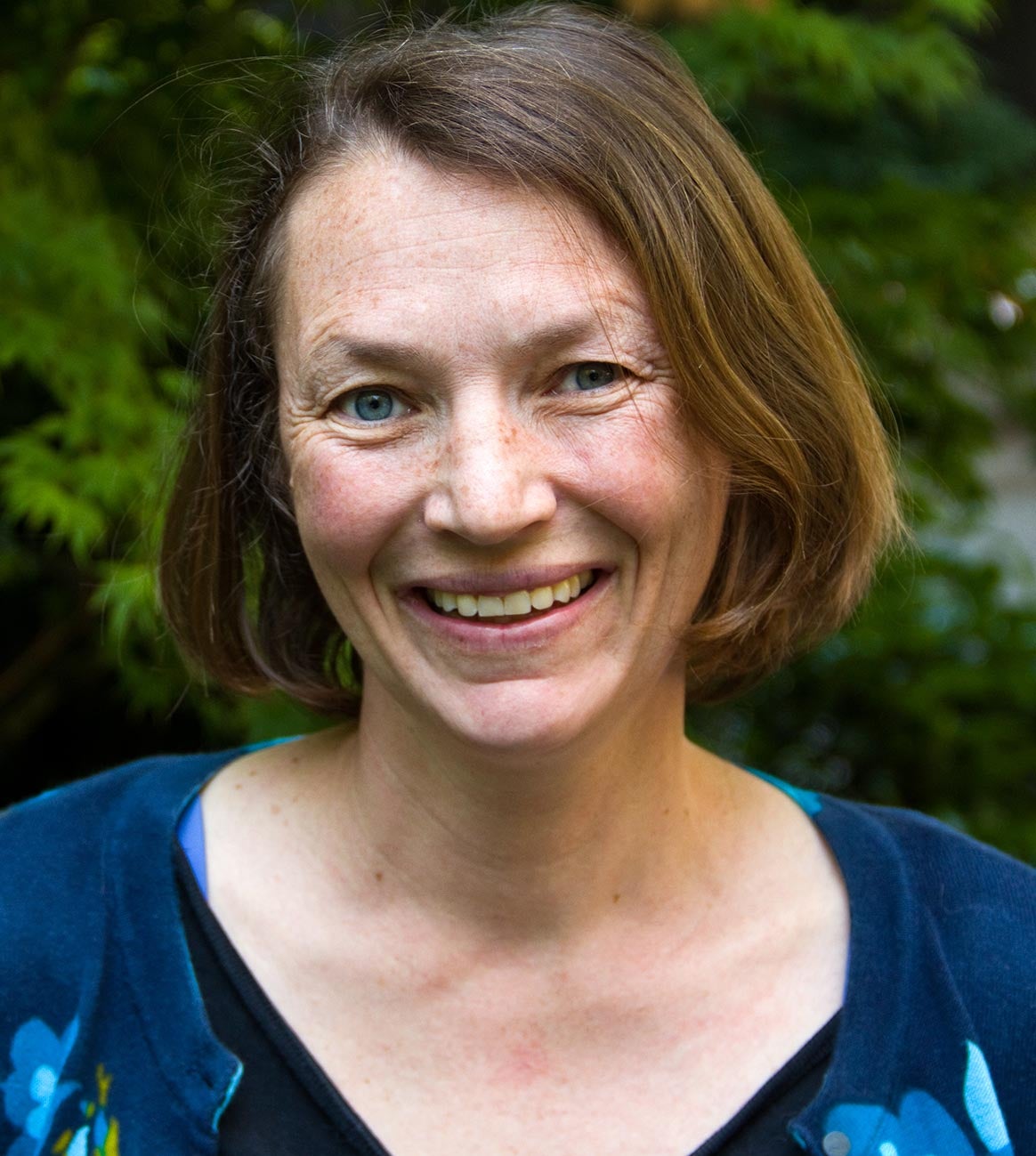 By Ashley Gross
Business and Labor Reporter at KPLU
On May 26, at 3:30 p.m., KPLU General Manager Joey Cohn went live on the air with host Ed Ronco to make a big announcement. The studio was packed with staff members and television cameras. 
"We reached our goal of $7 million!" Cohn said with a huge smile on his face as he pumped his fists in the air. People in the studio clapped and cheered. A jazz ensemble played in the station's newsroom to celebrate the historic achievement — never before has a public radio station raised that amount of money in such a short time to buy its independence. 
The station was fighting for its very existence after KPLU's owner, Pacific Lutheran University, reached an agreement to sell the station to the University of Washington, which operates rival NPR affiliate KUOW. KUOW planned to close KPLU's newsroom and replace 88.5 FM programming with an all-music format. That would mean the loss of Washington state's only unionized NPR station. SAG-AFTRA represents 17 KPLU reporters, producers and hosts at the station. 
But the community rallied to block the deal and raise enough money to make a counter-offer. The universities agreed that if the community group raised an equivalent amount of money, the University of Washington would step aside and allow PLU to sell the station to the community group to continue operating the station as an independent nonprofit.
More than 24,000 donations streamed in over four-and-a-half months to preserve the current format of 88.5 FM, with its mix of news from NPR and a team of local reporters as well as internationally renowned jazz and blues programming. 
And while there were some large gifts totaling hundreds of thousands of dollars, there were also plenty of small but memorable donations. A 4-year-old named Phoebe, who has been listening to jazz on KPLU since she was a baby, sent in half the contents of her piggy bank — 46 cents — along with a handwritten letter that said, "Dear KPLU – I don't want you to run out of business."
People organized house parties to get their friends to contribute. Businesses in Seattle, Bellevue, Tacoma and all around the region held Save KPLU events, including many jazz performances. The entire downtown of Poulsbo organized a fundraising event with live music and galleries, shops and restaurants kicking in a share of their evening's revenue to help keep the station on the air.
The nonprofit community group Friends of 88-5 FM, which is headed by Cohn, is negotiating the terms of the purchase with the administration of PLU. If all goes well, Friends of 88-5 FM will then file with the FCC to transfer the license of the station and get new call letters. The hope is for the station to be operating as an independent nonprofit by this coming fall. 
It was not always easy for staff to ride the wave of uncertainty over the past half year. But it's been an amazing experience to witness this extraordinary community outpouring in support of local news coverage and unique jazz and blues shows in a time of so much media consolidation. Everyone at KPLU is deeply humbled and grateful to the community for such a showing of support, and the SAG-AFTRA members at KPLU also want to express deep gratitude to the leaders of the Seattle Local who helped get the word out about the campaign through this newsletter and on social media. 
Seattle's Broadcast Steering Committee Takes Off!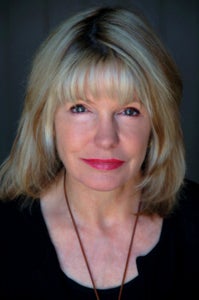 By Karen O'Leary
SAG-AFTRA Seattle Local Vice President, Broadcast
Members of Seattle's Broadcast Community have always compared notes in an informal way. We've discussed newsroom trends while waiting behind yellow tape at a crime scene, or over a drink at a going away party for a retiring colleague.
Now there is a more formal outlet for our radio and TV news members, one in which we not only trade gossip and complaints but, more importantly, seek solutions to common problems and concerns. It's SAG-AFTRA Seattle Local's Broadcast Steering Committee.
Our second meeting was held May 3, and it was enthusiastically attended by shop stewards from KING-FM, KPLU and the three organized TV stations.
We spent a lot of time talking about the dangers faced by field crews. Our meeting came just two days after May Day, when at least one reporter and several photographers were injured while covering the downtown Seattle protests. 
We discussed ongoing safety concerns in the field: interference with live shots, harassment from unfriendly citizens, even threats of violence. Our members have so far not experienced the assaults and robberies that have plagued news crews in California, but it is getting more dangerous out there.
SAG-AFTRA Seattle will host a safety summit this coming September. We will focus on how best to protect our members as they do an increasingly dangerous job. Once details of the summit are finalized, we'll send out an email.
Meanwhile, the next Seattle BSC meeting will be held in August, date to be determined.
Times Are Changing at KING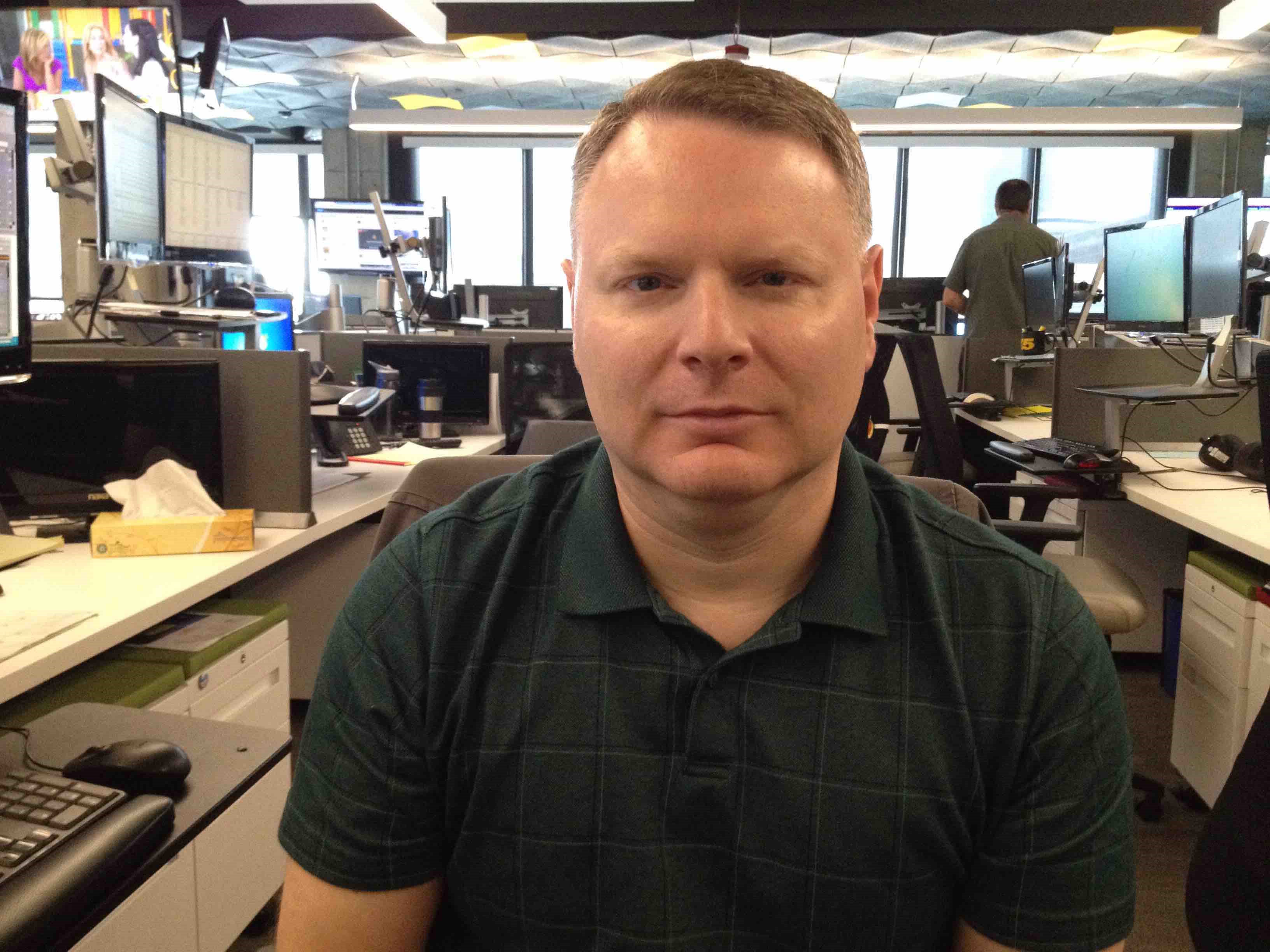 By Scott Goldman
KING 5 News, SAG-AFTRA Seattle Local Board Member
When I started working at KING-TV, I was 26. Back then, that was kind of a big deal for someone so young to get a job in this market. Things have changed and a 20-something starting at the Big 5 isn't so strange. What made me feel really strange — and old — was what happened at KING a few months ago.
Our company, Tegna, implemented an early-retirement policy. Anyone 55 years old or older with 15 years at the company could qualify. This was not just for KING. It was companywide. We got the notice, however, just a couple of weeks after we moved into our new building. That put a big wet blanket over what's been a very positive experience. A month or so later, our executive producer told us he was going to take the early retirement. I felt that loss deeply, as he's been a mentor to me for my entire career. Then we got word just how many people, on-air and off-air, were leaving us. It numbered in the dozens. Part of what makes KING great was just how much talent and experience we could bring to bear to the everyday task at hand. A lot of that experience was walking out the door.
It became hardest for me during that final week. On Monday, I made it through my workday with a big lump in my throat. I could have lost it at any moment. As the week went by, my emotions went on a rollercoaster ride. Then came Friday. I looked around the newsroom and I realized that in one fell swoop, I was certainly no longer the kid. With just a handful of exceptions, I was the most tenured newsroom employee. That hit me. And that lump in my throat felt like a boulder.
Just recently, our local SAG-AFTRA chapter held a goodbye party for the on-air talent. I had missed the previous celebrations and it gave me a chance to honor all those great people. While it was just a few weeks after they left, I gave them all this standard and horrible joke: "You haven't changed a bit!" 
I want to thank everyone who put that together to give me one last opportunity to bid farewell to all those great professionals. As for the 20-somethings that I work with now, I really enjoy them. Those millennials are smart and hard-working and are carrying on the KING tradition very well.