The Official E-Newsletter of the Seattle Local
SEATTLE LOCAL
The SAG-AFTRA Seattle Local represents members working in Alaska, Idaho, Montana and the state of Washington.
2015-2017 Local Board

Rik Deskin – President
Laura Kenny – Vice President (Actor-Performer)
Karen O'Leary – Vice President (Broadcast)
Maggie Stenson - Secretary
Abby Dylan
Ron Holmstrom
Cole Hornaday
Deborah Horne
John Patrick Lowrie
Steven Reeder
Local Staff
Brad Anderson - Local Executive Director
Chris Comte - Contracts Administrator
Allison Harger - Membership & Organizing Coordinator
123 Boylston Avenue East, Suite A   
Seattle, WA 98102   
O (206) 282-2506   
F (206) 282-7073
A Letter from Your New President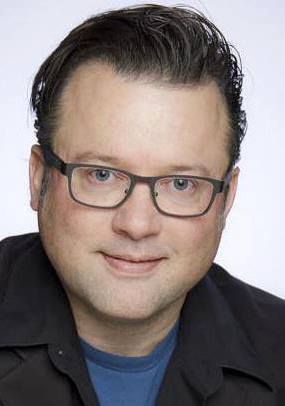 Hello, Fellow Members!
In case you are not aware, I am Rik Deskin, your new SAG-AFTRA Seattle Local president, honored to fill this position for our union. I look forward to representing you: union members from Alaska, Idaho, Montana and Washington.
My ideal is to see that we are all employed professionals in our chosen fields: acting, broadcast journalism, recording artistry and other media areas. We have work to do. 
As SAG-AFTRA members, each of you can organize work opportunities and influence work conditions. My tenure will offer you workshops to hone your various skills, forums to discuss your individual fields and discussions to improve your union knowledge.
With National Board member Abby Dylan, I intend to represent each state and professional field equally in regional and national forums. Under SAG-AFTRA agreements, we proudly advocate for actors, announcers, broadcast journalists, dancers, DJs, news writers, news editors, program hosts, puppeteers, recording artists, singers, stunt performers, voiceover artists and other media professionals. Please let me know of your concerns.
Again, I look forward to representing you and all of our brothers and sisters in union solidarity.
Thanks for your support,
Rik Deskin
Election Results Announced
The results of the Seattle election are in. Click here to read all about it. 
SAG-AFTRA Committed to Seattle Broadcasting
By Karen O'Leary
Seattle Local Vice President (Broadcast)
Seattle is an important market for SAG-AFTRA for many reasons. We are an important media market, with three organized TV stations, three radio stations and a traffic reporter unit, and a total of nine collective bargaining agreements. In the coming months, the union will be assisting in providing additional leadership training, support for the local broadcast steering committee, broadcast-oriented seminars and national support for local negotiations.
You may know that SAG-AFTRA president Ken Howard visited Seattle in May, where he met with members and visited television stations KIRO, KING and KOMO. More recently, two national staff representatives traveled to Seattle. They, too, met with members and spent time at Seattle television and radio stations.
We'll have updates on these broadcast initiatives in future newsletters and through the new local Broadcast Steering Committee. Through this process, we hope to become more united, more knowledgeable and to gain more control over our work lives. We have a great opportunity to help improve our future.
Violence and Threats of Violence for News Crews
By Deborah Horne
Seattle Local Board Member
The news reports out of Northern California and Roanoke, Virginia, were ominous: "In the early morning of July 2, 2015, two news crews were on the Embarcadero covering a homicide that occurred the night before. As the crews were getting ready for a live shot, they were robbed at gunpoint of their camera equipment. One camera man was struck with the pistol and sustained a head injury. The other three victims were not injured."
That was on the San Francisco Police Department's Facebook page. My KIRO 7 news director, Jake Milstein, once worked with the photographer who was pistol-whipped.
Then, nearly eight weeks later, the morning of Aug. 26, 2015, the truly unthinkable happened in my home state. On live television, a "disgruntled former employee" of WDBJ TV cut down two young people, a reporter and a photographer, in the bloom of their careers. 
It sent a chill through newsrooms across the country. Many of my colleagues initially worried the killer might be a terrorist. There was some relief when he turned out to be someone who was known to the television station. But then came the realization that one of our own was the lethal threat.
We have, thankfully, not faced that kind of violence here in the Pacific Northwest. But it certainly gives pause to any of us who cover the news.
Most of us and our stations gear up when we cover stories that we can anticipate will be violent, like the WTO anniversaries and, more recently, the May Day riots. But the greatest fear is when we are covering a story that devolves to violence in the most unexpected place and at the most unexpected times. My photographers and I have been threatened from Mount Vernon to South Tacoma and nearly everywhere in between. And it happened most often when we least expected it. Usually someone had died violently and we, the easiest and most universally despised target, took the brunt of their anger.
How did we escape without injury? Luck, was part of it. Perhaps the person wasn't going to attack us after all. And especially, since many of us have been in the field for a long time, we usually resort to our wits, judge how dangerous the situation is and, when necessary, leave.
But Roanoke raises new concerns: How does one protect oneself from a former colleague, who knows our vulnerabilities, our Achilles' heel, who knows how we operate? No one wants to be injured covering the news. No story is worth our lives.
SAG-AFTRA is committed to the safety of its news and broadcast members. Last year, the union launched its Safety4Media campaign to provide important tips and information to keep safe on the job. Additionally, S4M catalogs news stories regarding violence against reporters in the United States and abroad. Members can also report confidentially any safety issues and concerns they have on the job at info@safety4media.org. If safety is a concern, members should always first contact their news director, assignment desk and union representative. SAG-AFTRA also maintains a 24-hour, toll-free safety hotline for all members at (844) SAFER-SET/(844) 723-3773.
The Benefits of Membership
When the legacy AFTRA Seattle Local office moved to our Capitol Hill location five-and-a-half years ago, one of the first things we considered was converting the space to make it more functional, not only for day-to-day operations, but in ways that would directly benefit members. Working with our landlords, we made alterations to allow for the build-out of our Members Resource Center. This space, available free for use by SAG-AFTRA members in good standing on a first-come-first-served basis, is designed to assist you with improving skills, facilitating work opportunities, and maintaining professional credentials.
Since then, the Seattle Local has invested in an impressive array of technical gear: audio/video recording and playback equipment, lighting, computers, digital recording, editing and conversion software, even a portable sound booth. It's basically everything you need to record, edit and archive audition submissions; recordings of prior work from a variety of formats, including U-Matic (yes, I'm looking at you broadcasters); sizzle reels — you name it! In addition, the MRC is available for use as a rehearsal space, for coaching, workshops and seminars, or just to brush up on your performance or technical skills.
If you are interested in learning more about this valuable benefit of membership, please give us a call at (206) 282-2506.
But, wait — there's more!
In addition to ongoing events, such as the annual SAG Awards Screening Party, workshops and training opportunities — many conducted in partnership with the SAG Foundation — the Seattle Local also offers members discount vouchers to local movie theatres. These vouchers are good for ALL screenings at participating AMC, Regal and Landmark Theatres, so there's no worrying about blackout dates or other restrictions. Just come by the office, purchase your vouchers (cash or check only, please), and present them at the box office for an up to 35-percent discount over full-priced, online-purchased tickets.
You may also recall that, through our annual sponsorship of the Seattle International Film Festival, we receive a quantity of vouchers good for admission to Festival screenings. This is a very popular annual benefit, and our allotment generally runs out within a few minutes after the notification hits inboxes. So, if you've missed out in the past, please remember to look for that email early next May.
Last, but certainly not least, here's a great benefit for members who live in the Greater Puget Sound region: Cinemark Cinemas has a standing offer of free movie passes. Just present your SAG-AFTRA card at the box office and receive two free admissions (subject to seating availability) to any regular screening. The offer is good at Lincoln Square Cinemas in Bellevue and Cinemark Century Theatres in Federal Way and Olympia.
While all of this is nice — and helpful, both to your skillset and to your wallet — please remember: The greatest benefit you, as a SAG-AFTRA member, have at your disposal is the solidarity of your fellow members and the resources available from your local staff. If you need quick information about contracts or rates, have questions about membership, want an expert review of your Personal Services Contract — whatever it is, please make us your first stop. We are here to serve you!
A Note on the Investment of Time
By Rik Deskin
Seattle Local President
Good communities know that volunteering is important. Foster kid clothing banks, holiday food drives, public libraries — all of these nonprofit organizations rely on individuals dedicating a few hours, now and again, to the cause. SAG-AFTRA is no different; the opportunities, however, are.
Recently you received an email from SAG-AFTRA (by the way, a nonprofit organization) requesting your volunteer service.
I encourage you to consider investing a few hours a month to a committee that interests you. Time is basically invested in a conference call or two, plus dedication to the cause at hand. It's not much of an effort, but it can make a big difference.
In the last decade, I voluntarily served on committees from Low Budget (film) to Commercial Performers, and Military Personnel and Families Support (which offered me the opportunity to travel to Washington, D.C., for a sponsored film festival). I appreciate the value of being able to contribute to, and reap benefits from, the national efforts. Further, as a representative on negotiating committees for the Animation Agreement and for the Interactive Media Agreement, I saw firsthand that individual investment can impact the livelihoods of thousands.
I know that the contribution you could make is huge. Review the list and volunteer. (Don't overlook the networking opportunities that committee work can offer you. Industry professionals remember invested people.) 
Let SAG-AFTRA know that you are interested in volunteering for national committees. The deadline is noon PDT on Monday, Sept. 14, 2015.
Further, reach out to the Seattle Local office. Let us know of your talents and ways you might serve. If you have special performance skills or might want to lead a free workshop, let us know. Our members can benefit from your talent. Any member, from Alaska, Idaho, Montana, or Washington, can share their skills! Email Allison at allison.calvert@sagaftra.org.
Knowledge Is Power for Seattle Broadcasters
New BSC to be a valuable tool
By Karen O'Leary
Seattle Local Vice President (Broadcast)
Seattle now has a Broadcast Steering Committee, modeled after the national BSC. The idea behind the committee is that more information is always better. How many of us really know what is going on at the other stations? Or nationally? Business and ownership changes are hard to keep up with. We may not know all that is happening in our own newsrooms. The BSC will help.
Sharing information about working conditions, management demands, safety issues, wages and technology advances will empower us all. We'll know if our concerns are isolated or part of significant trends and patterns.
In addition to being a forum for information exchange, the BSC will also be a means of outreach. We plan presentations on topics ranging from how to best negotiate a PSC to social networking tips and pitfalls, to the legal rights of crews in the field. The BSC will be holding quarterly meetings, and we'll supplement information exchange through email. This is a member-driven committee. We need your involvement to make it work.
Please consider joining. Please give us your ideas and feedback. Contact Allison Calvert at the Seattle Local or Seattle Local Vice President (Broadcast) Karen O'Leary care of seattle@sagaftra.org.
MPFS Goes to Washington, D.C.
Seattle Local President Rik Deskin is a member of SAG-AFTRA's Military Personnel and Families Support Committee (MPFS). The Committee was started as a national veterans task force in 2011. After the SAG-AFTRA merger in 2012, it evolved into the MPFS Committee. Rik is an Air Force veteran and he knew that there had to be other like-minded SAG-AFTRA members. He was right.
One of the big projects for the MPFS to sponsor is the GI Film Festival, which takes place every year in Washington, D.C. As a member of the committee, Rik attended the festival this year, along with the New York and L.A. co-chairs, Gene DeFrancis and Connie Palmisano, and Washington-Mid Atlantic Local Committee member Susan Snyder. The festival took place May 18–24.
The first evening was a special screening of Doolittle's Raiders in the Congressional Atrium, with a reception that included guest speakers Gary Sinise and Lt. Colonel Dick Cole (now 99), one of the last surviving members of the 80 pilots and crew from that mission.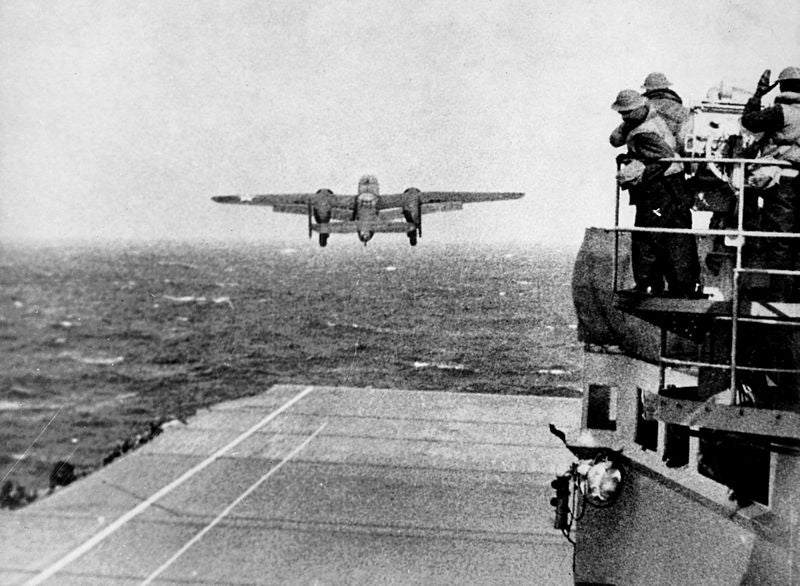 A B025B Mitchell bomber takes off during Doolittle's Raid in April 1942.
The next day was full of visits to various defense fellows of both the Senate and the House as well as key legislators. For Rik, the committee visited Washington Sen. Patty Murray's defense fellow. That evening was the international block of films at the Canadian Embassy.
The third day, Rik visited the Washington-Mid Atlantic office in Bethesda, Maryland, for a Commercial Performers Committee follow-up meeting.
The third evening was a special screening of Casablanca at the Angelika Film Center in Fairfax, Virginia. The MPFS Committee stayed just a block away for the entirety of the trip.
The fourth evening was Wounded Warrior Appreciation Night, with an advanced screening of Spy.
On the fifth through seventh days, the festival ran from morning until night, with screenings of both short and feature documentary and narrative films, and the first two nights were capped with parties.
The MPFS Committee mission statement is "Military Personnel and Families Support Committee is committed to supporting veterans and their families, as they have committed their service to our country, protecting our freedom to assemble and form this great union SAG-AFTRA. With equal dedication and honor, our goal is to create unique and innovative programs and events to showcase and support our country's veterans, including men and women currently serving, honorably discharged, along with veterans who are members of our union."
Keep Film In Washington
Abby Dylan
National and Local Board Member and FilmWorks Board Member
As most of you have heard by now, SB 6027, the bill to increase funding and extend the sunset on the Washington state film incentive, was not included in the Legislature's final budget. In fact, the only tax preferences included were those that were set to expire.  
We found this year's legislative session to be extremely challenging — with a Republican-led Senate requiring no new revenue and a Democratic House calling for the closure of over $350 million in tax preferences. However, we did raise the profile of our industry in Olympia with a surge of grassroots support led by the entertainment unions in conjunction with business partners throughout the state.
Washington Filmworks will be regrouping to strategize our next steps. Certainly, this will include outreach to the greater creative community and looking to strengthen ties with our legislative allies. The incentive is not set to expire until 2017, so we will continue to support projects that want to shoot in Washington and carefully record their economic impact. SAG-AFTRA will continue to support these efforts locally and nationally; these are the jobs that provide the wages and benefits union performers rely on. Thank you all for your time and energy these last six months. The work we all did only made us stronger as a community. I will be sure to keep you up to date on what comes next!