The Official E-Newsletter of the San Diego Local
MEMBERSHIP MEETING
Thursday, June 4  
6-9 p.m.
IBEW #569
4545 Viewridge Avenue
San Diego, CA  92123
The special order of business will be 2015 San Diego Local election nominations. Nominations will be accepted from the floor at the membership meeting.  Candidates may also run by petition.  Positions up for election this year are: National Board member (4 year term); President (2 year term); Vice President (2 year term); 2nd Vice President (2 year term); Secretary (2 year term); Five Local Board members (2 year term); Six (6) Convention Delegates (2 year term). For more information, send an email here.
2013-2015 LOCAL BOARD
Martin Alvillar – President
Thomas Wirth – First Vice President
Veronica Kahn – Second Vice President
Ruben Chato Hinojosa – Secretary
Leticia Cannon
Bobbi Lange
Jim Morrison
Casey Robinson
Ruth Stehle
Don Ahles – National Board Member
From the Local President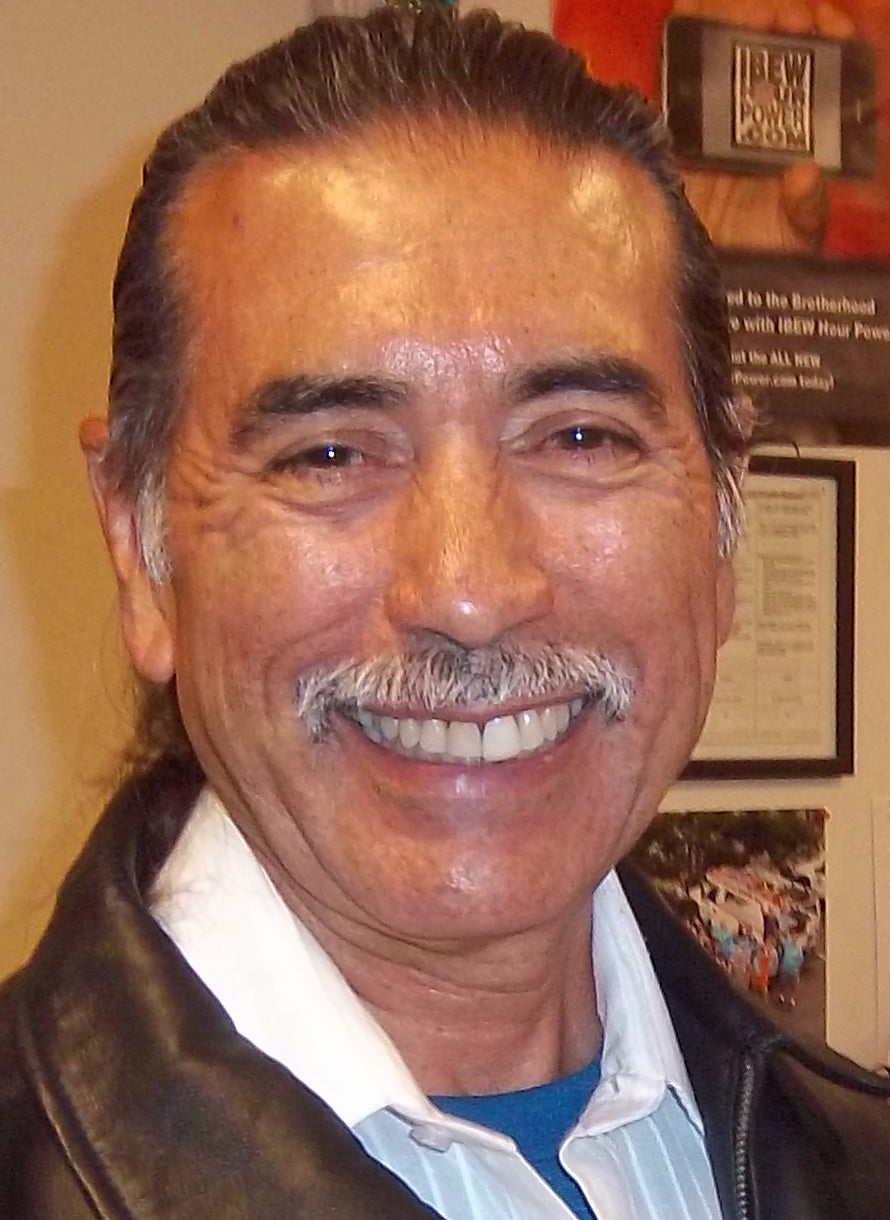 Hello SAG-AFTRA San Diego Local Members:
The first quarter of 2015 has seen an increase in productions in Southern California. Even though no tax incentives have been allocated yet, the outlook for the rest of the year looks even better. I expect the tax incentives to boost employment for the remainder of the year.
SAG-AFTRA is here for you. The union represents you in negotiations and ensures your wages and working conditions adhere to the negotiated contracts. Your rights are protected, and being a member of SAG-AFTRA is more than just being a union member. You are a part of a family of performers, recording artists and broadcasters, a network of people with common interests and a variety of talents. The union is large and yet is representative of every person.
In San Diego, we are fortunate that the SAG Foundation presented Casting Access workshops for our local members on May 9. Several casting directors from Los Angeles presented the workshops. These individuals have impressive backgrounds in the industry and notable credits. They are currently working on TV series, pilots and other productions. I want to thank everyone involved in making this SAG Foundation event a success for San Diego Local members.
We also had a voiceover workshop in March (brought to us in Spanish and English by the SAG-AFTRA National Spanish Language Media Committee, and open to all members) titled So You Think You Can VO? Lo Que Puedes Hacer Con Tu VOz! It was a great success and many of you attended. We continue to have social mixers on the third Tuesday of every month for members to network and get to know each other.
There will be a semi-annual membership meeting on June 4. I hope to see all of you there!
Best wishes,
Marty  
National Board Member Report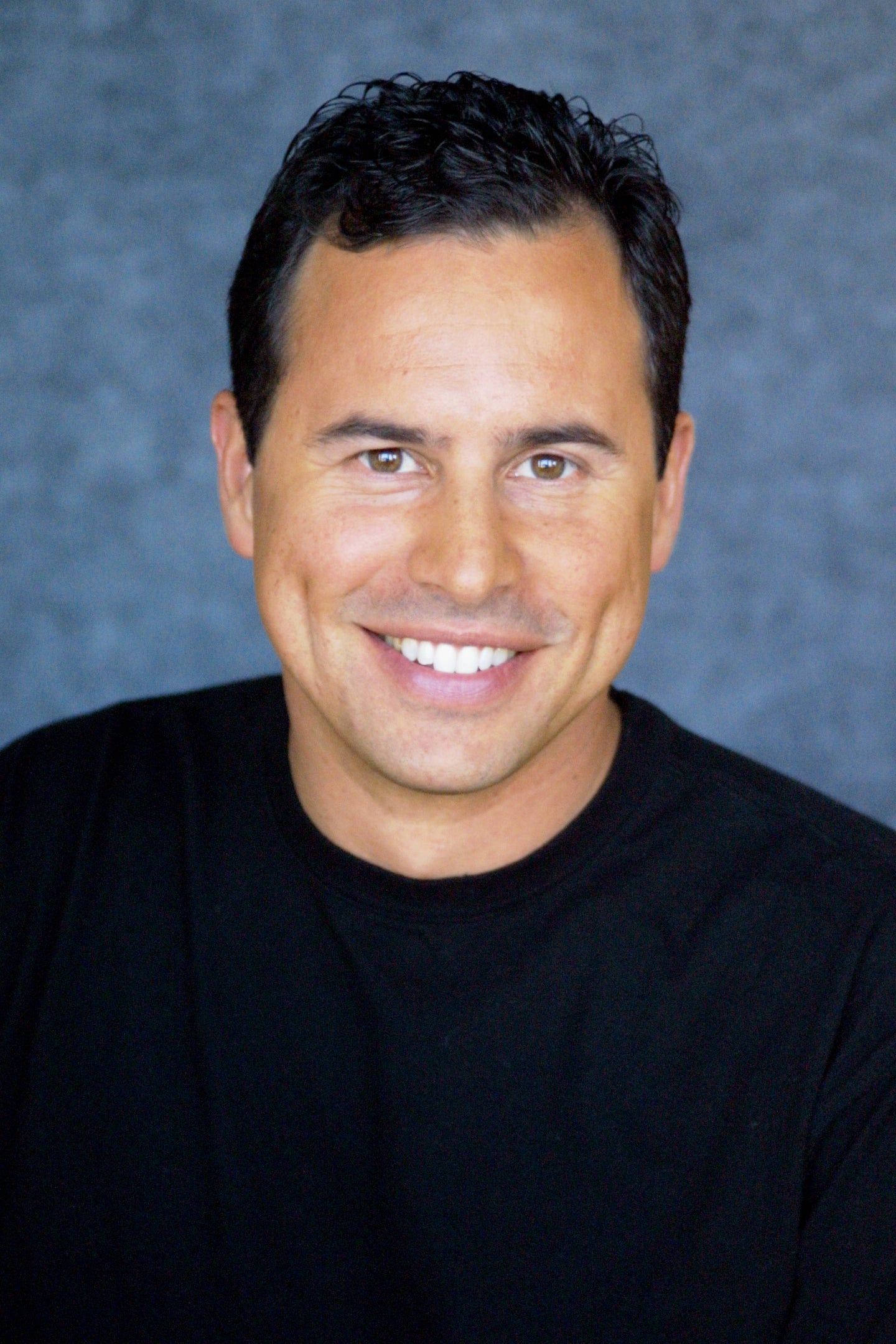 By Don Ahles
Dear SAG-AFTRA San Diego Local Members,
I hope everyone is doing well. It's an exciting time in our union. We are starting to see the strength in numbers as our "new joins" rate continues to grow, month after month, and higher than expected. I am constantly proud to see performers of all types in the national boardroom, covered by this new union called SAG-AFTRA. As we tackle each performer's unique needs for representation, I realize there truly is power in numbers. Whether you are a dancer or sound recording artist, a broadcaster or actor, a stunt performer or voiceover performer, SAG-AFTRA has got your back.
Recently, I listened to a presentation about recording artists and their lack of compensation for their work on terrestrial radio (AM and FM). It's hard to believe that so many of the great performers who sing the hits are not paid for airplay. New federal legislation called the Fair Play Fair Pay Act of 2015 covers just this issue (by closing the AM/FM performance rights loophole). Check it out for yourself at SAGAFTRA.org, and write your representatives now through our partners at musicfirstcoalition.org to tell them to support the Fair Play Fair Pay Act. 
Thank you for your support of State Assembly Bill 1839, the Expanded Film and Television Job Creation Act. Its passage should help production return to California to take full advantage of film incentives. Most of the actors I have spoken to in L.A. agree that it's just a matter of time before producers plan to bring back production to our home state. They also believe the additional 5-percent bump for productions shot in California outside the L.A. zone should benefit San Diego as well.
I was excited to attend the dedication of our offices at 5757 Wilshire Blvd. on April 16, renaming the historic L.A. building SAG-AFTRA Plaza. Our iconic symbol of unity is displayed proudly for all to see as they travel on the Miracle Mile in Los Angeles. At a reception following the dedication, I spoke to President Ken Howard, who was so thrilled to see the new SAG-AFTRA logo perched high above L.A.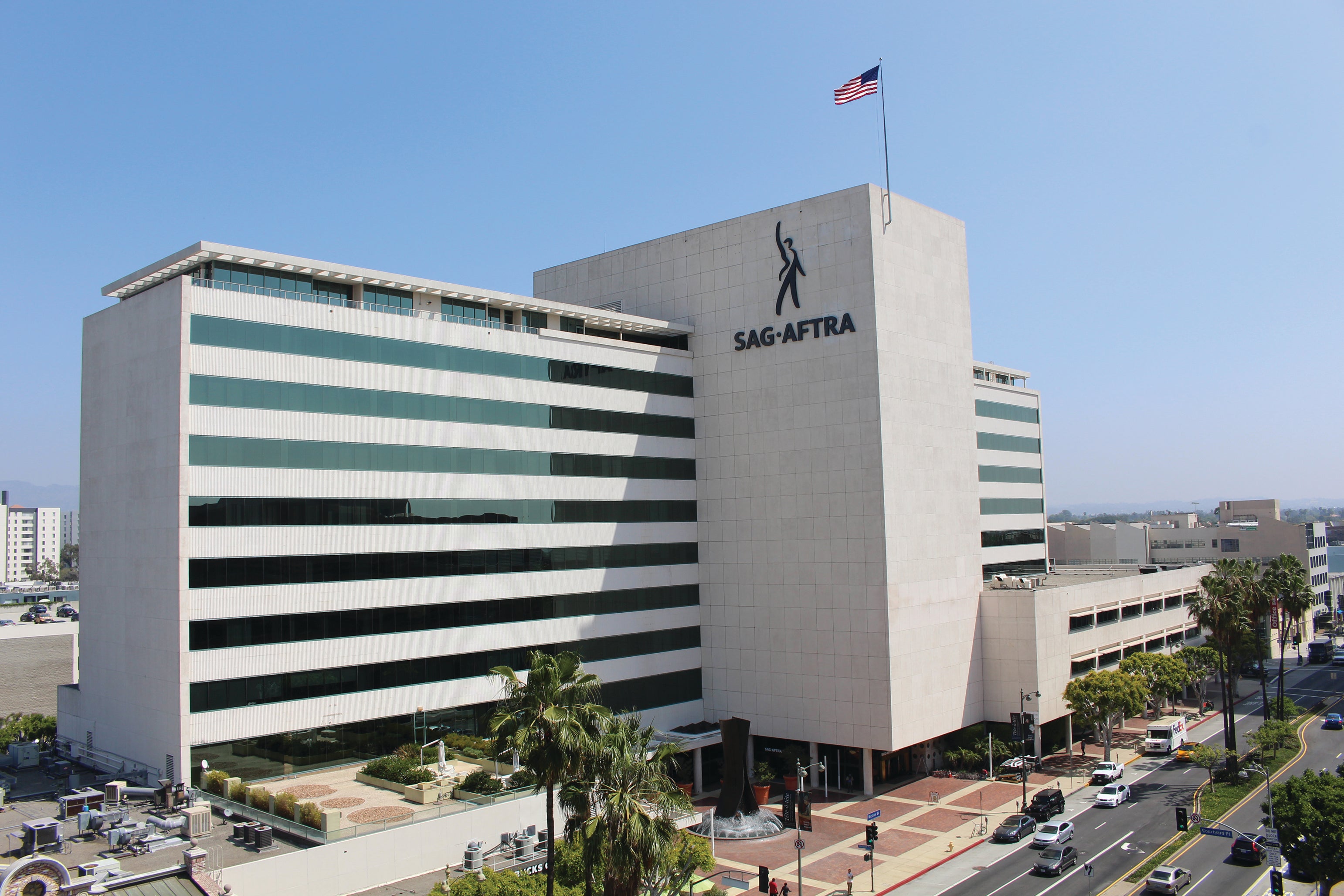 SAG-AFTRA headquarters on Wilshire Boulevard displaying the new sign.
After the event, I was pleased to meet Rochelle Rose, national director of performers programs for the SAG Foundation. She told me about all the great programs available for performers, free of charge, as a benefit of membership in SAG-AFTRA. I said, great, "When can we have an event in San Diego?" Rochelle told me they were trying to schedule something in early May, however, they had no success in securing the preferred venue at San Diego State University. The next day, I was able to make some phone calls and gather some information. With a little clever conversation, and some luck, the "closed" doors turned into an opening for us! The SAG Foundation Casting Access program came to SDSU on May 9, and I hope many of you took advantage to attend the SAG Foundation's first event in San Diego!
Until next time, take care and keep smiling San Diego.
Don
From the Editor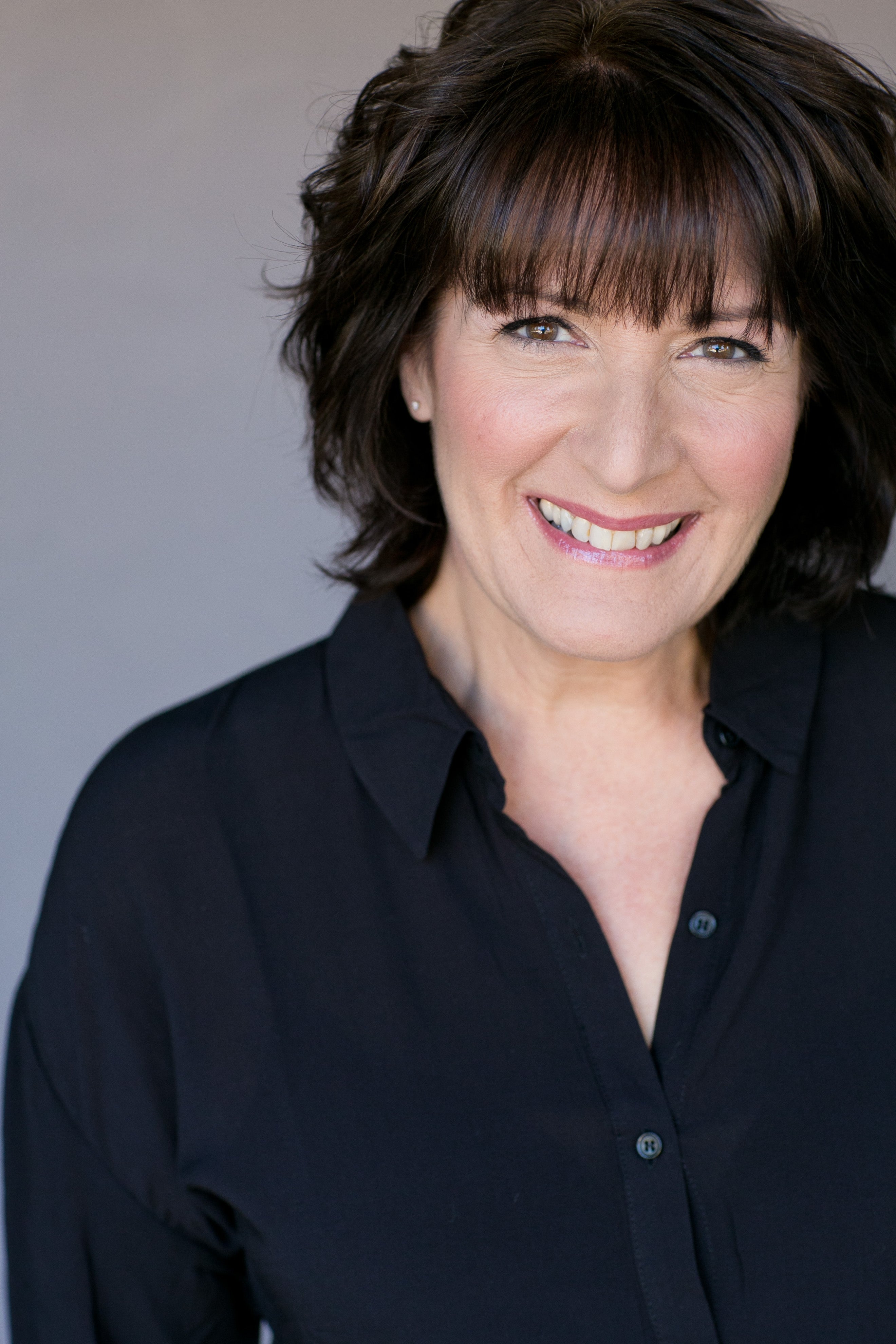 By Casey Robinson
Hi everyone! There have been so many exciting things happening in our local since our last newsletter. Here's a recap:
•    We kicked off our first-ever SAG-AFTRA San Diego Local Mixer on Sept. 16, 2014, and I'm happy to say it has been well attended each month. We meet at the Studio Diner the third Tuesday of each month, and it has been great networking and making new friends. Some come for dinner, some for drinks and some just come for a quick chat. I think I can speak for some of our regulars that it is fun to see some familiar faces and get to meet some other industry members — actor/performers, stunt workers, musicians, broadcasters — who we may not have met otherwise. If you haven't already, come join us. I'd love to meet you! And just to help you remember, we're changing the name to the Third Tuesday Mixer. So no excuses. Hope to see you at the regular monthly 3TM, the third Tuesday of every month, at the Studio Diner back patio at 4701 Ruffin Road, San Diego, CA 92123.
•     For the first time, the SAG-AFTRA San Diego Local became a sponsor of the San Diego Film Festival, which ran from Sept. 24 – 28. This was a relationship that seemed destined to happen, and we are looking forward to becoming more involved with the festival each year. I hope you will put this year's SDFF on your calendar and take advantage of the opportunity to screen fabulous independent films before they hit the theaters. In addition to the film screenings, there are also filmmaker events, parties, award presentations and much more. The SDFF offers members the chance to network with peers, up-and-coming filmmakers and some well-established heavy-hitters. Come be a part of the SDFF this year, which runs from Sept. 30 – Oct. 4, and you might make some valuable career connections. Click here for the latest information.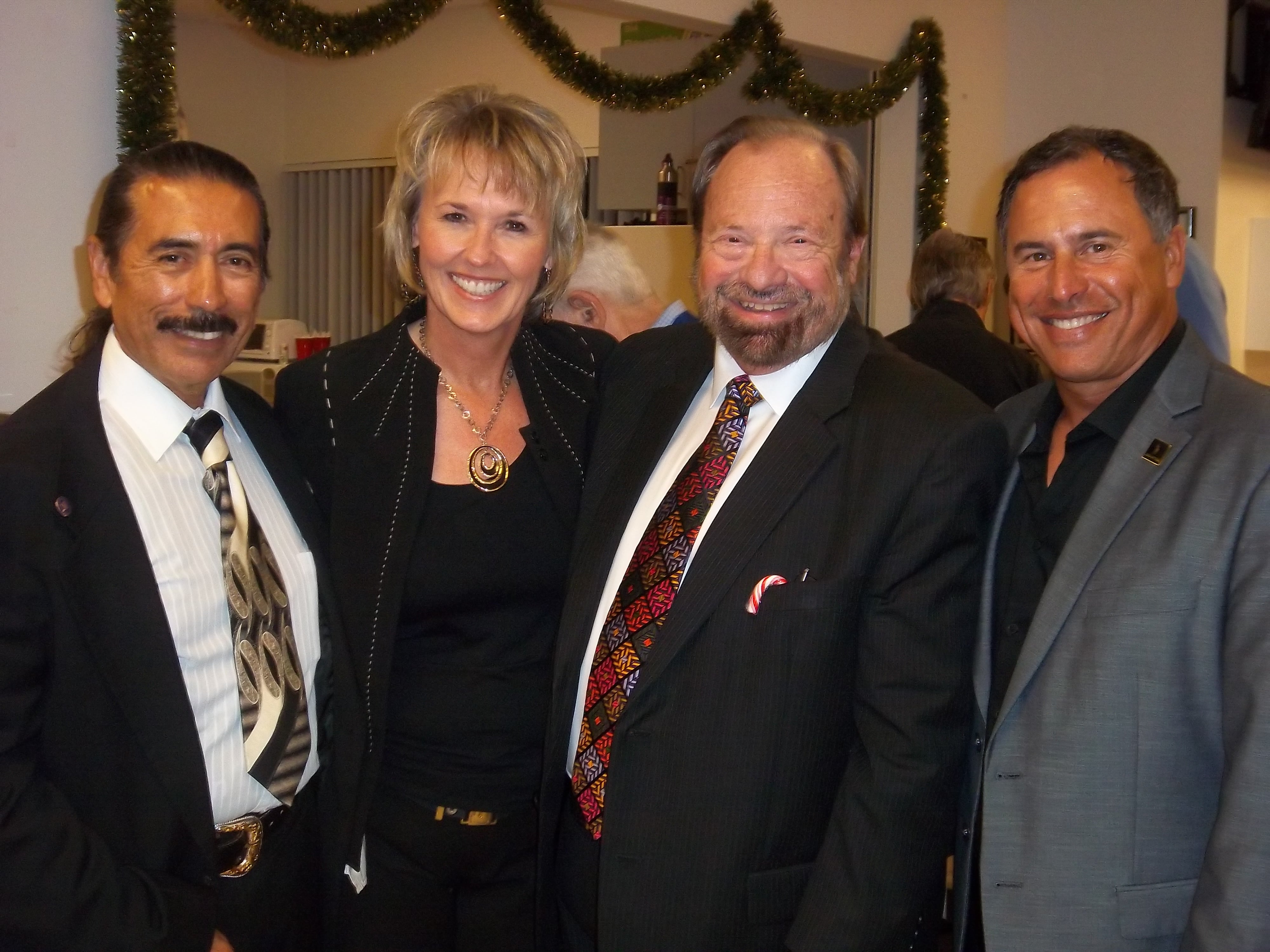 From left, Local President Martin Alvillar, San Diego Film Festival Vice President Tonya Mantooth, San Diego Film Festival Chairman Dale Strack and National Board member Don Ahles.
•     We had a fun general membership meeting on Dec. 4. Those in attendance enjoyed a delicious catered meal while listening to information from Local President Martin Alvillar and National Board member Don Ahles, a presentation by special guest Dale Strack, chairman of the San Diego Film Festival board, along with our usual fun holiday door prize giveaways. We'd love to see more members in attendance. With approximately 1,300 members in the San Diego Local, we really could have had quite a party. Please plan to attend the next general membership meeting on June 4, where you will hear updates from your elected leaders, and where nominations will be accepted from the floor for Local Board, National Board and convention delegate positions in the upcoming local elections.
•     We hope many of you were able to make the May 9 casting access workshops presented by the SAG Foundation at San Diego State. Your attendance at these events is important; we need to demonstrate that we are as serious about our craft as the members of bigger locals in larger cities are. We may be small, but our desire to work and thrive as industry artists is great. If you haven't already, make sure to set up a SAG Foundation account at sagfoundation.org to make it easy to RSVP for future events. We hope to see many more events and workshops come our way — watch for emails. 
So here we are, almost halfway through the year. I hope the year has been going well for you so far. Please be sure to take advantage of all the opportunities that come our way so that we can continue to grow and thrive in beautiful San Diego. Check your email for upcoming events, and I look forward to seeing you at one of them soon.
Yours in San Diego solidarity,
Casey
Local Member Creates San Diego Film Festival Award
Local Secretary Ruben Chato Hinojosa is an artist and tribal-enrolled member of the Lipan Apache Nation. Last year, the San Diego Film Foundation chose him as their awards artist for the San Diego Film Festival Award sculpture, and he produced a stunning nalwodi (Apache word for strength or power) golden eagle figure. 
According to Hinojosa, "I am a traditional sculptor, which means I work in the methods of the old masters. I love feeling my fingers in the plaster and armature … my goal with the patina on this sculpture was to have the bronze color effect along with a saltwater ocean effect of marine life on the water portion of the sculpture. The Film Festival Award sculpture had me fired up since I had never sculpted a full ocean wave. Wow! Now that's powerful! This sculpture reflects both strength and peacefulness. Everyone knows that the eagle is powerful, so what a great harmonious combination in sculptural art!"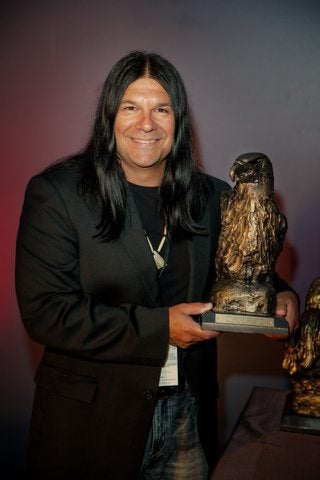 Ruben Chato Hinojosa with the San Diego Film Festival Award nalwodi sculpture he created.
National Spanish Language Media Committee Event a Success
By Lorenzo Rodriguez
There is an old saying about the month of March: "When March comes in like a lion, it goes out like a lamb." On March 18, in San Diego, local SAG-AFTRA members who participated in the Spanish language voice over workshop So You Think You Can VO? Lo Que Puedes Hacer Con Tu VOz! came out roaring like lions and not lambs!
This was a free educational event provided by the SAG-AFTRA National Spanish Language Media Committee (SLMC), conducted in English and Spanish, with a Q&A-based panel format. Attendees enjoyed the superb guitar music of San Diego Local Board member Ruth Stehle as they arrived, which elevated the mood and inspired attendees.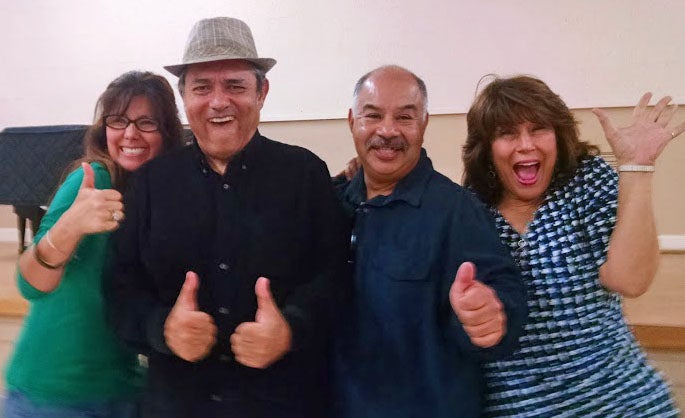 From left, panelists Raquel Elizabeth Ames and Hernán de Béky, moderator Lorenzo Rodriguez, and panelist Candy Silva
The featured guest was Hernán de Béky, longtime Spanish language voiceover performer and National SLMC Chair. The expert panel also included two local SAG-AFTRA voiceover performers, Raquel Elizabeth Ames and Candy Silva, joined by moderator Lorenzo Rodriguez. The panelists agreed they met their goal of educating the membership about the basics of rates and training, and also provided a professional understanding of the business of voiceover, whether in Spanish, English or any language. One member who attended, who is fluent in German and wants to do voiceover work in German, stated, "The class gave me a better view of the market." The well-attended event was clearly a success.
Local member and panel moderator Lorenzo Rodriguez commented, "It was an honor to moderate a panel so committed to making the event engaging, interesting and enriching." de Béky noted that the vibe and attitude of the members was "full of positive energy." Panelists Ames and Silva were pleased to pass on their in-depth knowledge of voiceover in Spanish and English to the attendees.
The SLMC thanks the panelists and Stehle for their participation in the event and wishes the attendees success in their artistic voiceover endeavors.
To my SAG-AFTRA Local Brothers and Sisters: Get Involved!
By Tom Wirth
I would like to share a few thoughts, as we don't always have time to cover everything within the confines of the general membership meeting. We are trying different avenues or venues where your questions can be brought out in the form of networking. I want to make you aware of a few benefits the local offers you. You can bring your questions and feedback to the next membership meeting coming up on June 4. 
SAG-AFTRA is entering its fourth year since the merger and is growing stronger. I'm not being critical, but even with the merger doing well, we, as members, must continue to work as professionals on and off the set. You must get involved and be aware of the rules and regulations of our SAG-AFTRA Constitution, from the audition process to the actual job as a professional artist.
The job market has stepped down here in San Diego as well as in other filming areas of California, because other states and countries lure production into their backyard through incentives to film. Let me assure you, SAG-AFTRA is constantly looking for solutions to bring production back to California. 
We are fortunate here in San Diego that we are able to audition for work in the Hollywood area, as it is only a few hours away.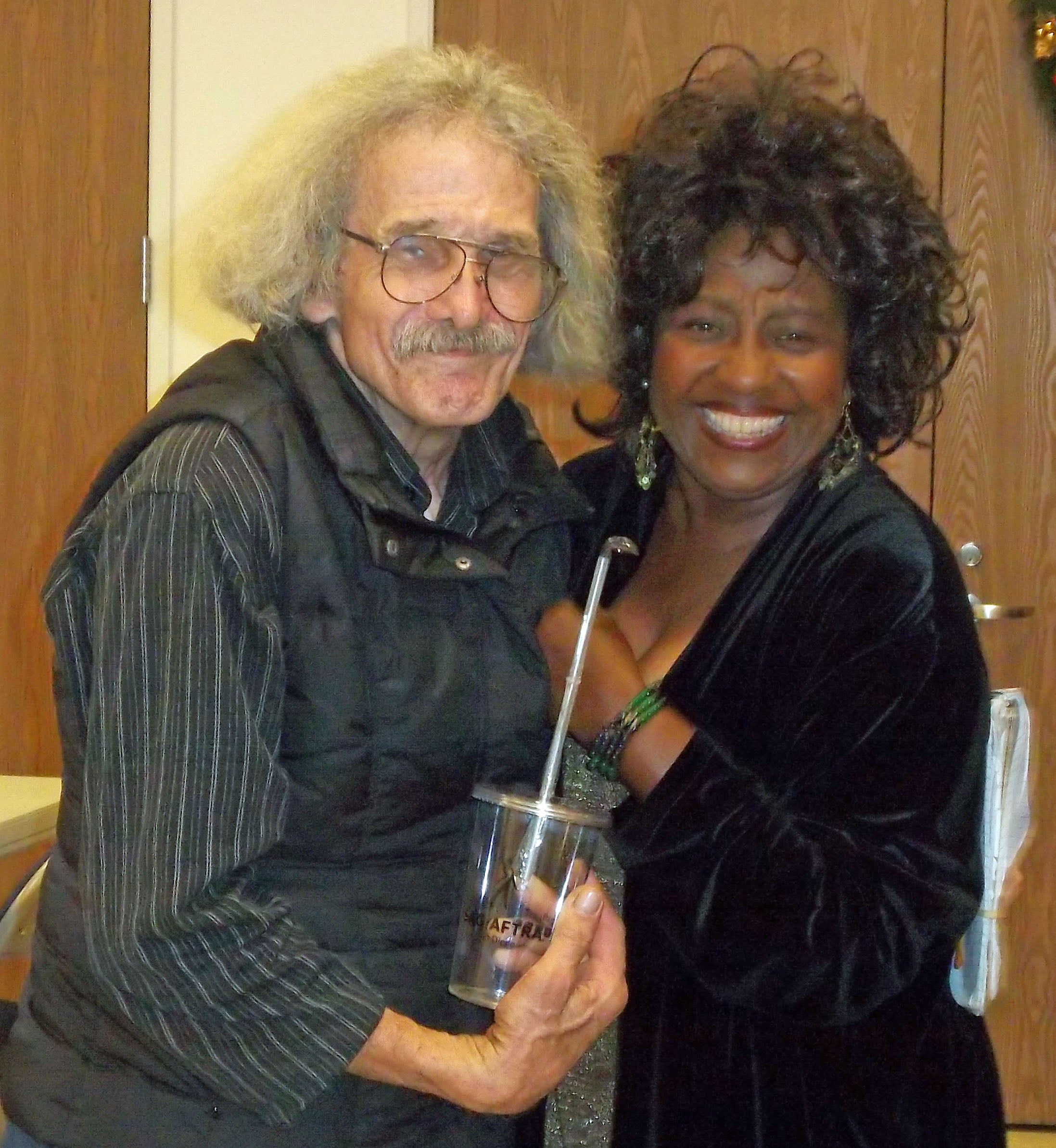 Local Board members Tom Wirth and Ruth Stehle.
Since the last quarter of 2014, your San Diego board has initiated a monthly SAG-AFTRA membership mixer where members can congregate and talk shop and share job information. The mixer meets every third Tuesday of the month (check your email and just show up — no RSVP needed). Thanks to Casey Robinson for getting it going. The local also benefited from a SAG-AFTRA National Spanish Language Media Committee voiceover workshop in March, with a panel organized and moderated by Lorenzo Rodriguez, who is a member of the committee. I attended and found it very informative and educational. Make sure to check your email often to be aware of benefits available to local members, and be sure to attend the membership meeting on June 4.
In closing, I want to remind you that this your union and the more you get involved, the more you will understand your rights and benefits — and it's even possible your blood pressure will be lowered!
Thank you,
Tom Wirth
Vice President, San Diego Local