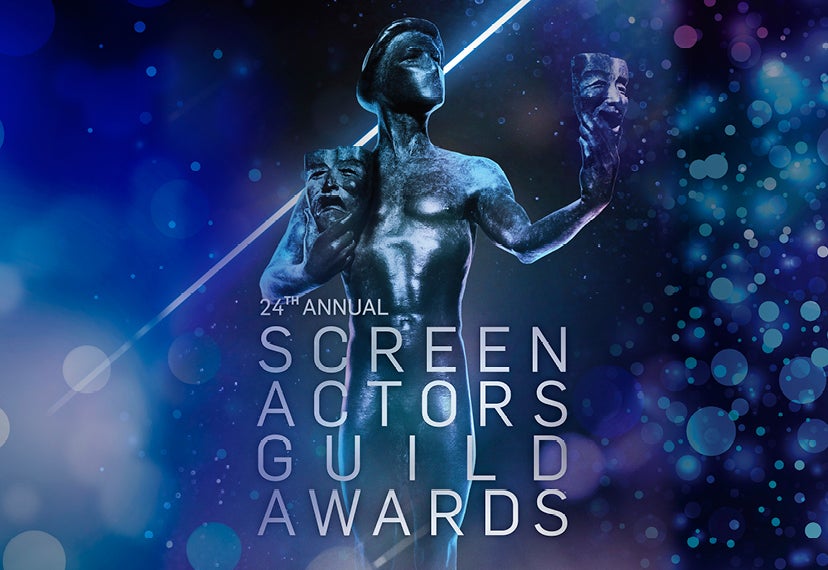 Online auction runs through Jan. 28 and benefits SAG-AFTRA Foundation's emergency assistance and children's literacy programs
LOS ANGELES (January 18, 2018) – The SAG Awards® Ceremony Auction begins Thursday, January 18 at 9 p.m. (ET) / 6 p.m. (PT) atsagawards.org/auction. The SAG Awards Ceremony Auction offers movie and television fans the chance to win autographed collectibles signed by many of this year's nominated actors and casts including an Ouiji Board signed by the cast of "Stranger Things," a women's ice skate signed by "I, Tonya" stars Margot Robbie and Alison Janney, film and art books signed by the casts of "The Shape of Water" and "Get Out," posters signed by the casts of "Lady Bird," "The Big Sick," "The Handmaid's Tale," "GLOW" and more. Also up for bid are set visits and tapings to "American Idol" and "E! News," as well as premium items and exclusive experiences provided by the networks, studios, and SAG Awards sponsors. The auction closes Sunday, January 28 at 9 p.m. (ET) / 6 p.m. (PT). 
Proceeds from the SAG Awards Ceremony Auction support the SAG-AFTRA Foundation's signature children's literacy program Storyline Online (storylineonline.net) where beloved actors read to more than 6 million children in classrooms and online every month. The auction also supports the Foundation's Catastrophic Health Fund, Scholarship Program for SAG-AFTRA members and their families in need.
The following is a list of items up for bid at the SAG Awards Ceremony Auction organized by experiences, autographed collectibles and memorabilia, and premium items.
Experiences, Tapings and Packages
Exclusive All Expenses Paid Cooper's Hawk Dinner Experience for 6 in Chicago (includes airfare, hotel and car rental)
Two Tickets to Tour E! News!
2 VIP Tickets to "American Idol" Experience
4 VIP Tickets to "2018 Passport to Wine" in Orange County
Autographed Collectibles and Memorabilia
Individual women's ice-skate signed by Margot Robbie and Allison Janney
"I, Tonya" poster signed by cast and creators
"Stranger Things" Ouija Board signed by cast
"Stranger Things" promotional items
"Shape of Water" film book signed by cast and creators
"The Big Sick" screenplay signed by cast and creators
"The Big Sick" poster signed by cast
"Get Out" art book signed by cast
"Get Out" poster signed by cast
"Lady Bird" poster signed by cast
"The Florida Project" poster signed by cast
"The Disaster Artist" poster signed by cast plus promotional tuxedo t-shirt
"The Crown" hardcover book signed by Claire Foy and Matt Smith
"The Crown" Season One Blu-ray signed by Claire Foy and Matt Smith
"The Handmaid's Tale" poster signed by cast members and producers
"The Handmaid's Tale" paperback book signed by author Margaret Atwood
"GLOW" poster signed by cast
"Mudbound" poster signed by Mary J. Blige and Dee Rees
"black-ish" script signed by cast
24th Annual SAG Awards poster signed by Olivia Munn and Niecy Nash
Premium Items
6L Methuselah Bottle of Champagne Taittinger signed by 24th Annual SAG Awards Attendees
One Year Home Delivery of FIJI Water
Cooper's Hawk Grapevine Decanter + 6 Bottles of Wine