March 9, 2009


Members at the viewing party
PHILADELPHIA MEMBERS GATHER TO VIEW THE SAG AWARDS

Philadelphia Branch SAG actors, family and friends attended a SAG Awards viewing party on January 25 at the Pop Shop Diner in Collingswood, N.J. In a very crowded restaurant, viewers cheered for their Guild brothers and sisters as they watched them accept the prestigious Actor award. The atmosphere was festive with a unique and varied menu, giant balloons and SAG posters lining the walls.

Bill "Stink" Fisher, SAG member and owner of the retro-style Pop Shop, enthusiastically remarked, "Coming together to enjoy this event with other actors from the region made the night even more special."

Those in the packed diner roared as door prizes were awarded and, as the curtain closed on the evening, many began to plan for a repeat in 2010!

EMPLOYEE FREE CHOICE ACT - WHAT IS IT?
By Marcia Fishman
Philadelphia Branch Executive Director

Many of us have heard the buzz on the Employee Free Choice Act legislation. This crucial legislation will assure that workers have the full right to form unions that can represent their interests and negotiate on their behalf. One might assume this is a given, i.e., that workers' rights are fully protected by the law. Check out these staggering facts from the Center for Urban Economic Development, University of Illinois:
Every 23 minutes a U.S. worker is fired or discriminated against for trying to form a union.
51 percent of employers threaten to close a worksite if a union is victorious.
More than 20,000 workers were fired or victimized annually for union activity for the decade ending in 2003.
92 percent of employers force employees to attend mandatory anti-union meetings on paid time.

The Employee Free Choice Act is bipartisan legislation that will remove unfair barriers to union representation and collective bargaining. The current federal labor law—the National Labor Relations Act—does not prevent companies from intimidating, harassing or even firing people who try to organize unions. The labor law gives employers control over union elections. The legal system designed to protect workers has no teeth.

The Employee Free Choice Act will give workers a fair chance to form unions and strengthen penalties against companies that willfully violate employees' rights during an organizing campaign or first contract negotiation. It also guarantees union workers a contract—if workers are unable to bargain a first contract within 90 days, either party can request mediation and eventual binding arbitration if necessary.

I encourage our members to become familiar with the content and potential impact of the Employee Free Choice Act. Watch for possible calls for action. There is comprehensive, yet concise, information on the national AFL-CIO website at AFLCIO.org or FreeChoiceAct.org. When I am out and about and discussing the act, I try to remember to use language that will develop a more positive mindset regarding unions, such as "workers" instead of "unions," "companies or corporations" instead of "management" and "Employee Free Choice Act" instead of "EFCA." Screen Actors Guild supports this act. As an individual, please do the same.

REMARKS FROM THE NORTH REGION EXECUTIVE
By Rick McKiddy
North Region Executive

I've now been working as your North Region executive for four months, and I still continually am asked, "How does this job compare to that of being a union rep for the UAW?" And my answer is always the same, "Same game, different jersey."

While employed by the UAW, I worked as a health and safety representative ensuring members were not exposed to hazardous situations. I also worked to encourage workers to join the union and used the collective bargaining process to bring resolution to their issues. Other responsibilities included working with representatives from other unions to strengthen and secure solidarity and meeting with elected leaders, from city to federal, so our members' concerns could be heard.

Since I have been with SAG, I have met with numerous elected city officials of Philadelphia in an effort to educate them on issues and elicit their support. I have visited auditions and sets, ensuring our members are working safely and according to contractual regulations. Set visits have provided me the opportunity to meet with many of our members, while encouraging SAG-eligible performers to join SAG. Right on the spot, I also provide them with the information they need to start the process.

When I am not with members, rest assured I am talking with elected officials, casting directors, franchised agents and members of other unions. In fact, as I am preparing this article, I am sitting at the AFL-CIO headquarters, waiting to meet with its director and talk about how unions can support turning non-union commercial work into SAG work. And of course, we will discuss how SAG may be helpful to other unions.

Together we can and we will make a difference.

KEEP YOUR INFORMATION UP TO DATE
iActor can only be as good as your profile allows. Casting directors are continually frustrated with the fact that contact information is missing from many of the members' listings. You cannot be called for a job if you cannot be contacted.

Please update your iActor profile and add current contact information. Don't deny yourself work because you cannot be located. And make sure SAG membership has your current address, phone number and e-mail address.

Questions regarding iActor? Find out more at iActor.org. You also may ask for assistance at
(323) 549-6451or info@iactor.org.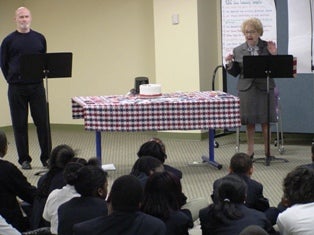 SAG members Barry Brait and Sylvia Kauders
presenting Lincoln's birthday program to sixth
graders.

SAG MEMBERS HELP TO CELEBRATE LINCOLN'S BIRTHDAY
Forty-five sixth graders from Russell Byers Charter School in center city Philadelphia had a bicentennial birthday party for Abraham Lincoln on February 12. Coordinated by Branch Vice President Sylvia Kauders, SAG members read a story and discussed Lincoln, helping to bring his story to life.

"Actors enjoy the positive reputation of giving back to the community," Kauders said. "Reading to children is one way we can use our talents to help educate our students. To read using different voices to define the characters allows us to practice and further develop our skills while providing an added dimension of pleasure for the children."

The Philadelphia Branch is investigating the possibility of doing more readings in the community. If this is of interest to you, please e-mail North Region Executive Rick McKiddy at rick.mckiddy@sag.org.

PRODUCTION ACTIVITY IN THE PHILADELPHIA BRANCH
The Guild has been contacted by the following productions about becoming signatory to one of Screen Actors Guild's collective bargaining agreements. Please be advised these producers may not have completed the signatory process at this time. It is the responsibility of each member to confirm each producer has signed the applicable contract before making an agreement to render services. Failure to confirm the signatory status before rendering services may lead to disciplinary charges being filed.

TITLES AND THEATRICAL CONTRACT

Philadelphia

The Last Airbender—Theatrical (Active)

Saddle up with Dick Wrangler and Injun Jow—Ultra Low Budget (Active)

Socially Registered—Ultra Low Budget (Pending)

Law Abiding Citizen—Theatrical (Active)

Pittsburgh

Deviant Behavior—Theatrical (Pending)

Ghost in the Ring—Theatrical (Pending)

We Need to talk About Kevin—Theatrical (Pending)

Widow's Broom—Theatrical (Pending)

Stone—Theatrical (Pending)

Warriors—Theatrical (Pending)

DUES REMINDER
If you haven't done so already, please pay your dues today. If you are not an active, paid-up member in good standing, you may not be able to vote in Guild elections or contract referenda or be eligible to serve on the council or committees. You also must be paid to date to register on iActor, the Guild's online casting program, which is now being used by casting directors nationwide. If you have any questions regarding your dues, please contact the Cashiers Department at (800) SAG-0767, prompt 2,
(323) 549-6752 or (212) 944-6243.

PHILADELPHIA BRANCH CONTACT INFORMATION
Rick McKiddy
North Region Executive
Screen Actors Guild
1800 JFK Boulevard
Suite 300
Philadelphia, PA 19103
(215) 760-8535
Fax: (866) 226-6983
rick.mckiddy@sag.org

Marcia Fishman
Philadelphia Branch Executive Director
(800) SAG-0767 or (248) 351-2678
Fax: (248) 351-2679
mfishman@sag.org

Philadelphia Hot Line
(212) 827-1420

Questions?
Contact the Philadelphia Branch executive director at (800) SAG-0767 or (248) 351-2679 or mfishman@sag.org.

---

For address changes, removals, and misdeliveries, please follow the procedures at:
http://www.sag.org/Content/Public/Email_OptOut.htm