The Official E-Newsletter of the SAG-AFTRA New Mexico Local
PROFESSIONAL REPRESENTATIVES COMMITTEE REPORT
By Cliff Gravel
SAG-AFTRA New Mexico Local 2nd Vice President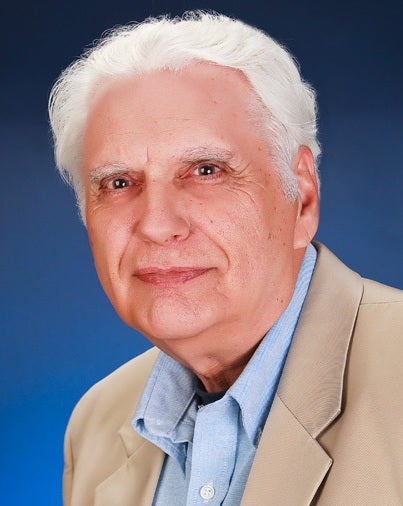 At a recent film and television conference in Albuquerque, one of our national SAG-AFTRA staff said they felt New Mexico has some of the best talent agents in the country. Yay for us! But, it is important that you know New Mexico currently has only three SAG-AFTRA-franchised talent agencies, and that — as required under SAG-AFTRA membership rules — you may only be represented by a SAG-AFTRA-franchised agency.
As of this writing, the three agencies authorized to represent you in New Mexico are the O'Agency, A&M Talent House, and Mitchell & Presley Talent Group. Choosing to be represented by any other agency in this market could lead to a violation of SAG-AFTRA membership rules.  
If you have questions or concerns about your representation or need clarification on your contract or any other agency-related issues, please feel free to contact the SAG-AFTRA Professional Representatives department at (323) 549-6745.
2015-2017 NEW MEXICO LOCAL BOARD
Tom Schuch – President
Mel MacKaron – National Board Member and 1st Vice President
Cliff Gravel – 2nd Vice President
Karen Cotter – Secretary
Paul Blott
Marc Comstock 
Roy Costley
Frances Lee McCain
Diane Villegas
Local President's Report
Dear SAG-AFTRA New Mexico Members,
Happy New Year! Another year around the sun and here we are beginning a new year, which, I believe, will be a fruitful one for our members. We expect the return of several strong TV series, including Manhattan, The Night Shift, Longmire, Better Call Saul and a new and exciting addition to the list, The Preacher. Films big and small will pepper the calendar throughout the year. Plus, legislation that makes it easier for commercial advertisers to take advantage of the tax incentive programs took effect Jan. 1. As you know, union commercial work can be a very important part of an actor's career. Residuals!
A quick recap of 2015: In late May, the local held its annual membership meeting, encouraging members to get involved with committees and to run for offices. The centerpiece of the meeting was a presentation from the President's Taskforce on Education, Outreach & Engagement (PTEOE) featuring special guests SAG-AFTRA Executive Vice President Gabrielle Carteris and New York Local Board member Jamal Story. They shared their experiences and emphasized that we are one union, all with the same goal. Their message: Just by being here, you are already leaders.
In early June, SAG-AFTRA hosted two panels at the Albuquerque Film & Music Experience. Fatna Sallak-Williams and Ellen Huang (national staff) presented workshops on the theatrical and new media contracts and the business of acting. 
This past fall, the union participated in two additional industry panels: the New Mexico Film & Media Industry Conference's SAG-AFTRA New Mexico Franchised Talent Houses with special guest Xochitl Cerda, SAG-AFTRA senior manager, professional representatives and, in December, SAG-AFTRA was part of a casting panel during the Santa Fe Film Festival.
There are a couple of important events coming up soon.
1) On Saturday, Jan. 30, we will be celebrating the SAG Awards with a big viewing party. This year we are moving the party to a bigger location at Sadie's Restaurant at the Santa Ana Star Casino. It has a beautiful, private event room that will be ours exclusively that evening. Sadie's is setting up a buffet with their excellent New Mexican food and a cash bar will be available. It will be a fun night with a "guess-the-winners" ballot contest, and a selfie booth! Plus, you get to network and chat with your fellow SAG-AFTRA members.
2) SAG-AFTRA New Mexico will once again have a presence at Film & TV Day on Monday, Feb. 8, at the Roundhouse in Santa Fe. The legislature will be in session. We'll be at the Roundhouse all day, so stop by and say hello.
If you haven't been to this event, it's a great opportunity to network with folks from all aspects of the New Mexico film and TV business. And, very importantly, it's an opportunity to introduce yourself to your legislators and talk about the disadvantages of "right-to-work-for-less" laws. Oh yes, more on that subject ...
You may have heard that right-to-work-for-less is rearing its ugly head once again at this year's legislative session. We are on it. We will be supporting efforts to make sure that that type of union-weakening (busting) legislation doesn't get through, and we ask that all SAG-AFTRA New Mexico members be in communication with their local legislators regarding this effort. (Stay tuned for more details on this.) New Mexico and Colorado are surrounded by right-to-work states, so it is important that we continue to be aware of what is happening at a state level. Keep your eyes and ears open!
That's all for now. See you on the set! Be ready, be professional, be proud!
Sincerely,
Tom Schuch
SAG-AFTRA New Mexico Local President
SAG-AFTRA National Convention Recap and National Board Report
By Mel MacKaron
National Board Member and New Mexico Local 1st Vice President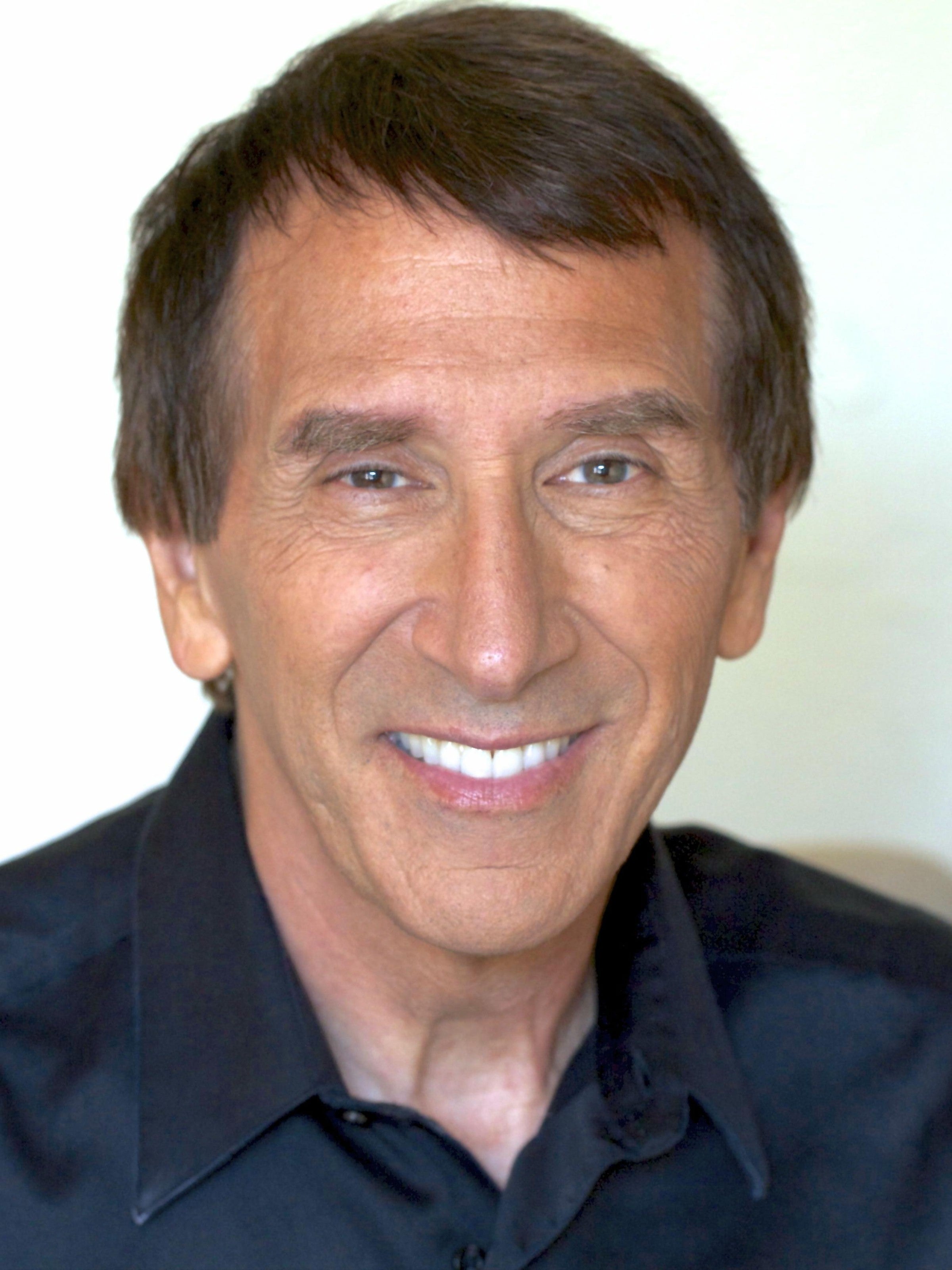 In early October, SAG-AFTRA held its second biennial convention. You were well represented by Tom Schuch, Diane Villegas, Roy Costley and me. It was an excellent three-day event, where we had the opportunity to interact with fellow delegates from around the country and to have our voices heard on a wide range of issues that affect you, the members.
We also had the opportunity to socialize and to recognize individuals whose contributions to your union have been significant and profound. On Oct. 2, SAG-AFTRA hosted a gala and awards event at the Warner Bros. backlot. Receiving the George Heller Memorial Award (often referred to as a gold card) were Ken Howard (SAG-AFTRA president), Dave Corey (longtime Miami Local Board member), David White (national executive director) and Mathis Dunn (associate national executive director).
On the business end of things, the union has a few initiatives underway:
• We are exploring the feasibility of direct deposit of residuals payments. Members are sometimes frustrated that it takes time to get their residuals, so this is desirable. However, making this transition is challenging.
• A big priority right now is recapturing commercials. In New Mexico, we used to have a robust commercials market, and we are working to reestablish this. You can help by encouraging advertisers — local, regional and national — to hire SAG-AFTRA performers and to make them aware that in New Mexico they can get state rebate money for commercials, just as they can for television and theatrical productions.
• Merger of the legacy SAG and AFTRA health and retirement plans. This has been a challenge and a priority since the two organizations merged four years ago, and we are now close to making it a reality as far as the health plans are concerned.
We also considered a variety of resolutions and constitutional amendments. You can learn more about them on the SAG-AFTRA website or in SAG-AFTRA magazine.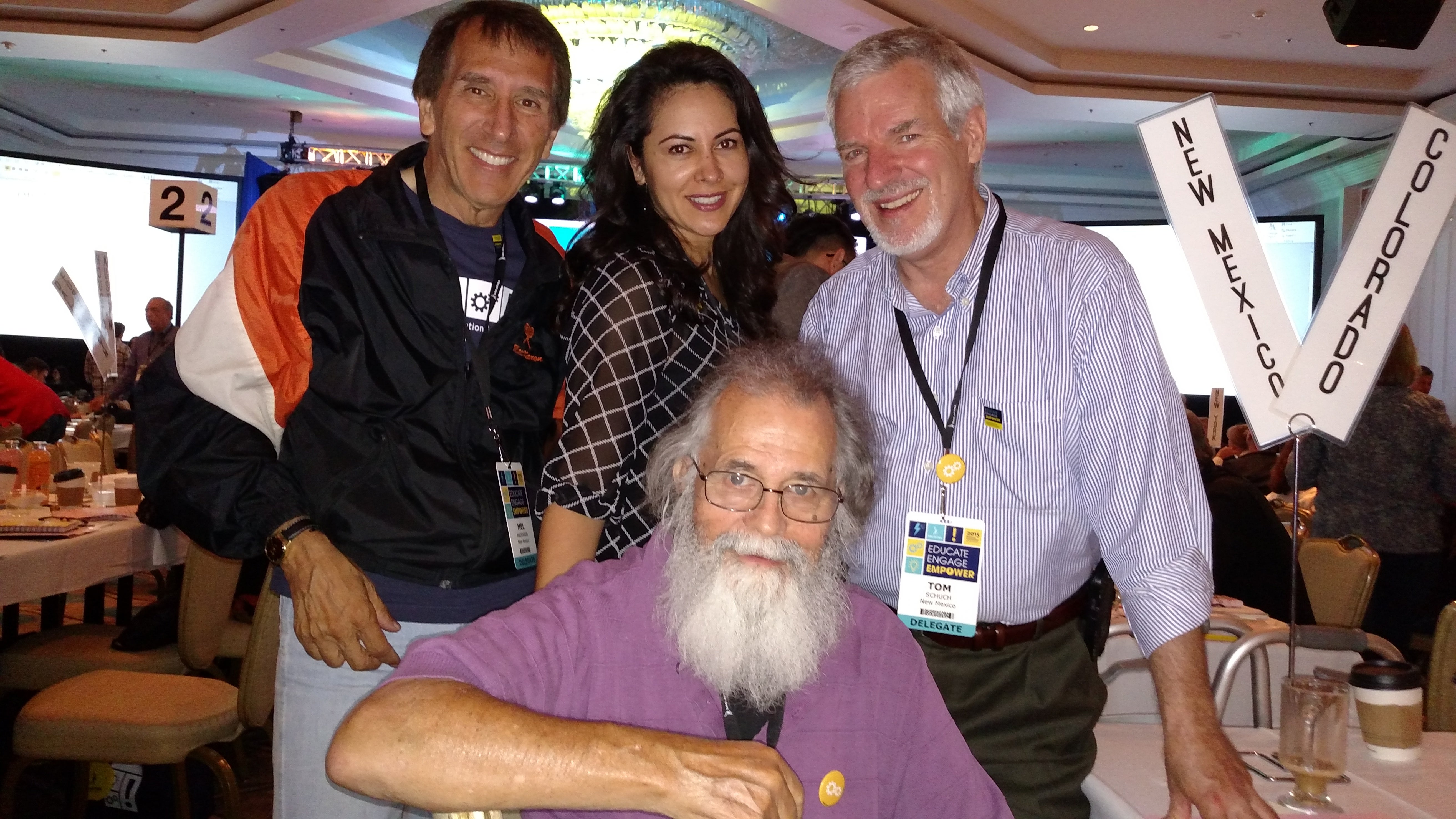 From left, New Mexico delegates Mel MacKaron, Diane Villegas, Roy Costley and Tom Schuch at the national convention.  
The National Board met both prior to and after the convention. On Oct. 1, Roy Costley represented you as he has so capably for over 20 years. I filled in at the meetings on Oct. 6 and 7. Much of what we do at those meetings is confidential, but here are a few highlights:
• Membership, both locally and nationally, is growing at a higher-than-expected rate. This tells me that SAG-AFTRA is still the gold standard for actors, our validation as professionals.
• We announced national committee appointments, which included New Mexico members, me among them, on several committees. (As a side note, I know New Mexico has many members of wide-ranging talents and expertise. Please consider joining both local and national committees.)
• Things are moving forward with the Commercials Contract Wages & Working Conditions process.
• We announced a new music video agreement and several audiobooks agreements with some big players (a good opportunity for actors also working in the voiceover field). Also, contracts were negotiated with four stations (none of them in New Mexico) in the area of news and broadcast. Locally, we find it desirable to organize broadcasters, too, although there are significant obstacles we will need to overcome. That said, if you are working in that field, help us out.
• Both the AFTRA H&R and SAG-Producers P&H are in good financial shape as we work toward merging these plans.
• Finally, we are making concerted efforts in organizing, particularly in three areas: commercials, interactive and Spanish language.
So, as you can see, a lot is going on. But there is one final bit you need to know: After 20 years, New Mexico National Board member Roy Costley has decided to step down. Roy has been a vital force in keeping the voice of the smaller locals in the forefront and, pre-merger, received one of the most distinguished awards a SAG member could: the Howard Keel award. He will stay on the local board as an active member and will continue his national committee work, but I will be taking his place on the National Board. I have a good working relationship with representatives from all locals and will continue to speak for you. I'm sure Roy will give guidance as the need arises. So you should be in good hands.
Thank you for supporting your union, be involved if you are not and go get some work.
Educate. Engage. Empower
By Diane Villegas
SAG-AFTRA New Mexico Local Board Member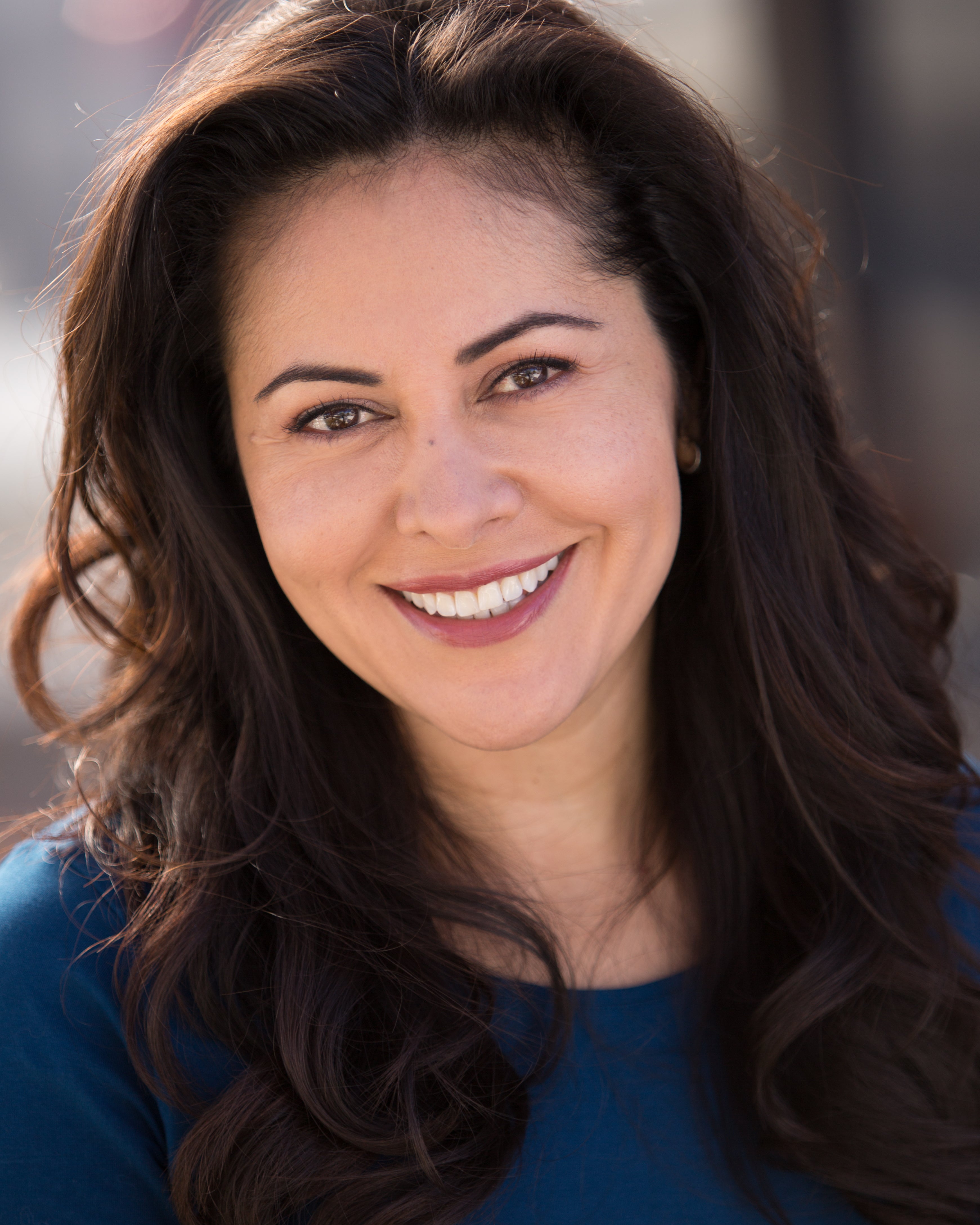 Just over a year ago, I (finally!) earned my SAG-AFTRA card and, like many actors in New Mexico, I felt like I had achieved a special actor status or somehow had been invited to be a part of the "cool kids'" club. It was almost like I had been legitimized in pursuing my passion for acting. It was a great feeling and I am sure that most of you had a similar feeling when you became members. 
There seems to be this myth that when you become a SAG-AFTRA member, you suddenly have tons more auditions and bookings and much larger paychecks. If that happened for you, fantastic! For the majority of us, this isn't the case. So, it really struck me that so many New Mexico actors are focused on getting their card and I wonder if they really know what it means to be a union member? 
Honestly, I fell into this group as well, so I felt compelled to learn more. I decided to attend a local SAG-AFTRA meeting and through a series of being-at-the-right-place-at-the-right-time events, I was fortunate enough to attend the SAG-AFTRA National Convention in Los Angeles this past October. In one word, it was awesome!
Imagine spending three days with a few hundred people that share the same passion as you; people from all areas of the industry, some who have built lifelong careers in acting; people that are driven to make the profession better for all actors; people that are really working to make a difference in this industry. Yeah, I found my tribe — it was that amazing. Not only did I leave LA with great new friendships, a ton of information and a deep sense of pride in being a SAG-AFTRA member, I left with a deep desire to bring the passion and drive I felt at that convention back to New Mexico.
My original intention in going to the convention was to learn more and share all my new knowledge with other New Mexico actors. Now, I think what I learned was how much I need to learn. The theme of the convention was "Educate, Engage, Empower" and it could not have been more appropriate. Not just for newbies like me, but with the merger of SAG and AFTRA and the changes associated with that, the theme applies to the veterans as well.
Needless to say, attending the convention was a massive eye-opener and game-changer for me. My personal goal for 2016 is right in line with the convention theme. I will strive to educate myself on the issues our union is dealing with for us and share the information as widely as possible. I will become more engaged in becoming part of the movement and working toward solutions. 
Our New Mexico local has a fantastic group of people on the board and I hope to contribute to all of their efforts. But above all, I ask you to join me in my 2016 efforts to become more educated and engaged, for through these efforts, we all become more empowered. Attend a meeting, join a committee or simply share your thoughts with the board members. This union is for you and together we have the power to make the changes that really matter.
Have a great 2016!
Are you ready for 2016?
Marc Comstock
SAG-AFTRA New Mexico Local Board Member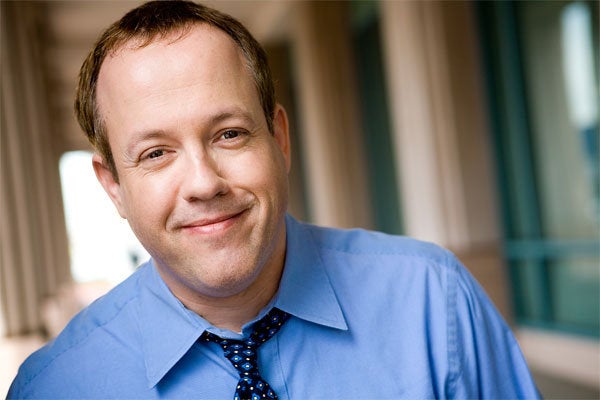 New Year's resolutions are more than just putting dreams and desires on paper. To achieve your goals, you must work out a plan. We can't just expect to lose 10 pounds and not work out or eat right.
The same can be said for our acting goals. Of course we all want to work more, but our profession requires more than just a desire to do that: We need auditions and opportunities. Since these opportunities can ebb and flow, what can we do in between to still feel like we are moving toward our goals? Simply put, be ready for when those opportunities come. Here are some proactive things you can do:
• Meet with your agent. Make sure you are on the same page with headshots, identifying your "brand" and career goals.
• Create. Write and shoot your own union projects — not only can we do this on our phones, SAG-AFTRA has contracts that work for all budgets. Here's a link to the Production Center where you can view samples of all the contracts and watch tutorials on how to become signatory.
• Further your education. Find a class that challenges you and pushes you. Keep flexing those muscles.
• Get more involved in your union and use the resources it has to offer: Do you know about the live-streamed events through the SAG-AFTRA Foundation? 
• Sign up for A Call to Arts, our union's effort to mentor the next generation of storytellers through volunteerism and service.
• Use local resources and keep up on the "biz" side of show business. 
• Time to quit fast-forwarding through those commercials and watch the work some of your peers are doing. This could be a big boost to our career paths. The timing is great because it also ties in with SAG-AFTRA's Best in the Biz campaign to keep commercial work under SAG-AFTRA contracts. To find out more, visit Best in the Biz.
• Meet with your fellow actors. Nothing's better than chatting with your peers. We get what you are going through, we will keep you motivated and we love to brainstorm.
These are just a few things you can do in 2016. So be ready and have a GREAT 2016!
Member Spotlight: Local Board Member Frances Lee McCain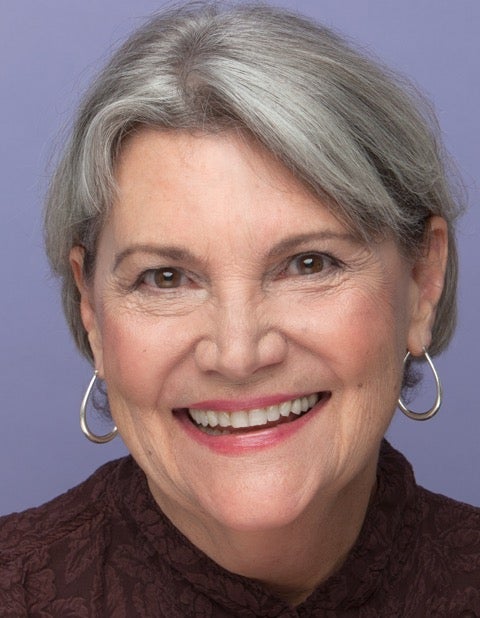 Shortly after relocating to Albuquerque in 2010, I began my involvement with our local New Mexico (then) Branch of SAG by responding to a memberwide invitation to attend a brainstorming session for theatrical/television wages and working conditions in the market. It was there I learned some of the unique features of filmmaking in New Mexico and felt the urge to give back to a union that had taken care of me for over four decades.
I filled a vacancy on the board about three years ago and haven't looked back! It's been a fruitful and exciting time for our union and its members: The merger is truly a game-changer, and one I had voted for each time it came up for a vote. I worked extensively in both film and TV under the various contracts and felt firsthand the need for consolidation of our practices and resources.  
The use of the New Media Contract is providing opportunities for students, budding filmmakers and artists of all experience to grow within a union that cares about quality of work, living wages and the health and welfare of its members.  
Since joining the local SAG-AFTRA board, I have also become a member of New Mexico Women in Film, which I see as a natural extension of our interests in working for the marketplace equality of all creatives. I also intend to be involved with education and outreach for our union, and I serve on a number of local SAG-AFTRA committees.
My one regret is that I did not become active within the union earlier. I can't stress enough the rich education and networking experiences available to our membership by engaging with local and national committees and board opportunities. I urge you all to step up and join us as you familiarize yourselves with the history and benefits of this fine and venerable institution whose sole mission is to work for you!
Agents Give the Inside Scoop at Film Fest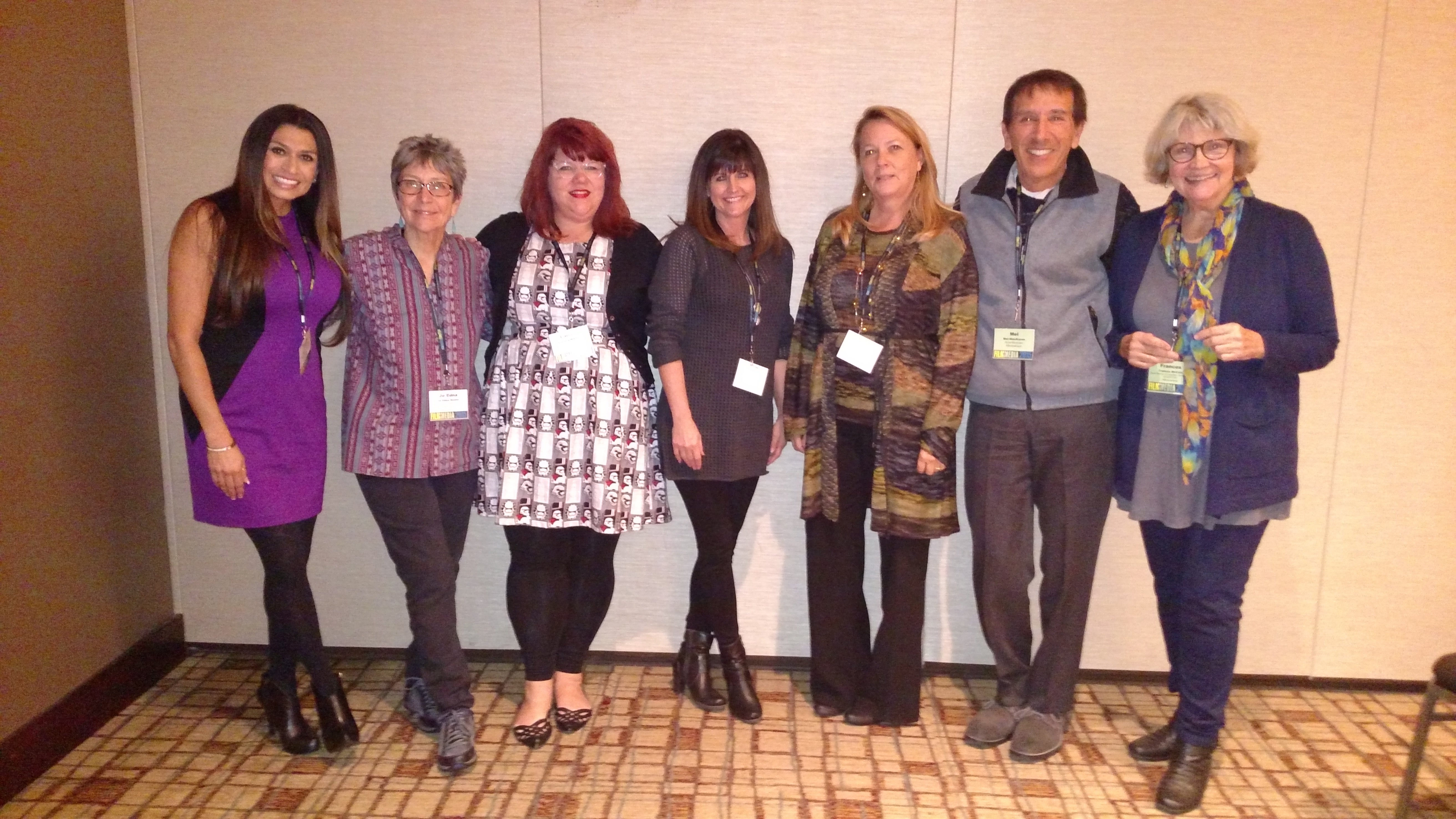 From left, Xochitl Cerda, SAG-AFTRA's senior manager, professional representatives; Casting Director Jo Edna Boldin; talent agents Carissa Mitchell, Jody Black and Lynette O'Connor; National Board member and Local 1st Vice President Mel MacKaron; and member Frances McCain. 
In late October, the New Mexico Film office hosted the Film & Media Industry 2015 Conference. This three-day event provided a great opportunity for local filmmakers, producers, vendors, crew and actors to learn more about the resources available to them in the market. A variety of presentations and networking events covered all aspects of the industry. One of the highlights from the conference was the SAG-AFTRA New Mexico Franchised Talent Agencies panel. Casting Director Jo Edna Boldin led the discussion with the three local SAG-AFTRA-franchised agencies and Xochitl Cerda, SAG-AFTRA's senior manager, professional representatives. Topics included the role of talent agents in the casting process, what it means to be SAG-AFTRA-franchised and what the appropriate protocol is for actors during the casting process.
Welcome Recent New Members and Transfers
New Members: Ramsey Scott, Lisa Lucas, Augusta Allen-Jones, Jahan Khalili, Frank Sandoval, Howard Ferguson, Cory J. Broussard, Ruth A. Ward, Matt Timmons, Jordan Rivers, Lucas Hogue, Liam Ruggles, Heather Gonzales, Eric Martinez, Conrad Dahlstedt, Filippo Guardione, Saneh T. Boothe, John Nussbaumer, Justin Marmion, Brennan Foster, Megan Pribyl, Santiago Campos, Benjamin Hall, Miles Hall, Jackie Carter Jones, Andy Kastelic, Lalo Flores, Matthew Van Wettering, Bau T. Duong, Isaac Vallie-Flagg, Kyle Segura, Aurora Antonio, Annittra Atler, Julia Harris, Clay M. Space, Victoria Pham-Gilchrist, Orchid Kim Phan, Le Hai Dang, Julian Bonfiglio, Ramona King, Victoria Walker, Chuck Kauffman, Adonis H. London, Douglas Christian, Allie Sundstrom, Jim Sea, David Devereaux, Harrison Sim
Transfers in: Lynn Sellers, Ross Clay, Jonelle S. Anderson, Douglas C. Metzger, Scot Henderson Jones, Doris Hargrave, Carolyn Wickwire, Jack Forcinito, Laura Trew, Patrick Gozur, Conrad R. Padilla, Brian McLain, Norm Lee, Victor Montoya, Beverly Sartain, Bobby Andrew Burns, David Tollardo