The Official E-Newsletter of the Hawaii Local
SAVE THE DATE
The annual general membership meeting is taking place Monday, Aug. 31. Stay tuned for details.
CALL TO ARTS
Answer President Barack Obama's A Call to Arts by mentoring a young person — or someone young at heart — interested in the arts. It's easy to share your experiences with the next generation of storytellers. Join your fellow members and partner groups to achieve the goal of 1 million mentor hours. Click here to register today.
HAWAII AGENTS
ADR Model & Talent Agency   
45-1123 Kamehameha Hwy., Suite D
Kaneohe, HI  96744
Agent: Ryan Brown
Phone: 888-902-3414
Fax: 888-337-3454
Website
Kathy Muller Talent & Modeling Agency
619 Kapahulu Ave., Penthouse
Honolulu, HI  96815
Agent: Kathy Muller
Subagent: Joy Kam
Phone: 808-737-7917
Fax: 808-734-3026
Email
CONTACT YOUR LOCAL
Brenda Ching
Executive Director
949 Kapiolani Blvd., Suite 105
Honolulu, HI  96814
Phone: 808-596-0388
Fax 808-593-2636
Email
President's Report
Aloha Brothers and Sisters,
With the biennial national and local elections, exciting and challenging times are before us!
Here are the 2015 Hawaii Local election results. All candidates ran unopposed and a balloted election was not required this year. Special thanks to members of the Elections Committee for their service.
I am extremely proud to be a part of this fine group of talented individuals. The new Local Board includes incumbents and new members committed to maintaining our national reputation for professional integrity and for promoting Hawaii's diverse talent to create expanded employment opportunities in all media. The new board will be seated by Aug. 20. With your kokua, we will work to insure our continued unity, credibility and work opportunities.
The production of non-union commercials has grown not only locally, but nationally as well. The new board will be joining our members in an initiative supported by the Commercial Performers Committee to recapture this important work. We'll take the lead in showing what we can do to help grow work opportunities on legitimate SAG-AFTRA commercials. The online toolkit offers solid resources to achieve the goal. 
The board will also build on its accomplishments to date: general membership meetings, new member orientations, conservatory workshops, ACM table reads and student films, golf days, Sundance Short Film Lab, HIFF Casting workshops, SAG Awards parties, and membership in national forums such as the national convention and Local Presidents Forum.
In the coming months, we are planning some exciting events. Stay tuned for details. I also want to acknowledge the fine work of Outreach Committee members Jean Simon, Brian Kasai and Gloria Woodruff.
Also on the home front, conservatory offerings continue to be well attended; the most recent audition workshop was conducted by Scott Rogers in April. Our second Golf Day in May was another success that promises to be an established fixture in the future. Special thanks to Leanne Teves and committee members Curtis Jackson, Eric Thrisk and Deborah Glazier for their excellent work.
Finally, we are currently blessed with hosting the shooting of 20th Century Fox's Mike and Dave Need Wedding Dates for two months here on Oahu. The project not only affords our members with substantial work opportunities, it also will have a major positive economic impact on our local economy.
The state of our national and local union is good and growing. It is an honor to be a part of this moment in our 82-year history and counting!
In solidarity,
David C. Farmer, President
National Board Member Report
Dear Members,
The union has started several national campaigns that I am very proud of. The Task Force on Education, Outreach and Engagement has been established and has already begun to engage, inspire, educate and empower SAG-AFTRA members across the country through direct member-to-member outreach and engagement to build a powerful alliance of engaged members dedicated to solidarity, unity and activism on behalf of their union and their fellow members. Initial activities have included on-site local membership meetings, coordinated local events, academic outreach, film and television set visits, and broadcast station visits and digital and print communications materials to be developed and distributed across the country.
Another initiative SAG-AFTRA is taking a leading role in is the Fair Play Fair Pay Act, now being brought before Congress. By supporting this legislation, we are consolidating the power of thousands of musicians and music-lovers in supporting bipartisan legislation to reform music licensing and make sure music creators receive fair pay for their work.
The act requires fair pay on all types of radio, ending the FM radio loophole that lets FM radio play artists' music without paying the artist (unlike SiriusXM and Pandora), and stops digital services' groundless refusal to pay artists for airplay of music made before 1972. Tell Congress to stand up for fair pay for music creators. Click here.
Other national initiatives include:
• The Best in the Business campaign to combat the increase in non-union commercial production by helping to increase the number of union commercials.
• A Call to Arts, for which President Obama has called on SAG-AFTRA and the American Film Institute to reach out to young people pursuing careers in the cinematic arts.
It's exciting and rewarding to see that our merged union is beginning to use its newly increased clout to improve working standards for our industry.
Scott Rogers
National Board Member
Conservatory Report
By Scott Rogers, Conservatory Chair
These are some opinions on actor training:
 
"Study, find all the good teachers and study with them, get involved in acting to act, not to be famous or for the money. Do plays. It's not worth it if you are just in it for the money. You have to love it."
— Philip Seymour Hoffman
 
"More than in any other performing arts the lack of respect for acting seems to spring from the fact that every layman considers himself a valid critic."
— Uta Hagen
 
"I've been training as an actor for six years … I absolutely trained."
— LL Cool J
 
"You know, back in acting school they always teach you, 'Make bold choices and look for activities that are interesting.'"
— Mickey Rourke
 
"It's difficult, if not impossible, to get away with anything false before the camera. That instrument penetrates the husk of the actor; it reveals what's truly happening — if anything, if nothing. A close-up demands absolute truth. It's a severe and awesome truth."
— Elia Kazan
 
And the following is an anecdote on just how much training is used on set today:
A few years ago, I got a call from an actor who used to train with me. She was calling from the set of Indiana Jones & the Crystal Skull. She was shooting the climactic scene in the movie with Harrison Ford and Cate Blanchett and several others. She was whispering into her cellphone, "Scott, I have to know something! I'm watching Cate Blanchett prepare to shoot this scene and … well … I mean, is she doing an acting exercise? She's smelling and I think licking the crystal skull! Why?"
I explained that she was doing a method acting object exercise. But the real point is that she was using her training on the set of a major motion picture and that, even though it's a comic-strip type of movie, she was giving it her all. And it shows! Watch the scene where she sees the crystal skull and gives up her life to try and reach it. Look at the desire in her eyes. Nothing fake or comic-strip about it. She's trained (in both method and Meisner) for years, as have Daniel Day-Lewis, Johnny Depp, Al Pacino, Robert DeNiro, Dustin Hoffman, Philip Seymour Hoffman and pretty much every other great actor.
There must be a reason. Train now so you can work tomorrow.
Golf Day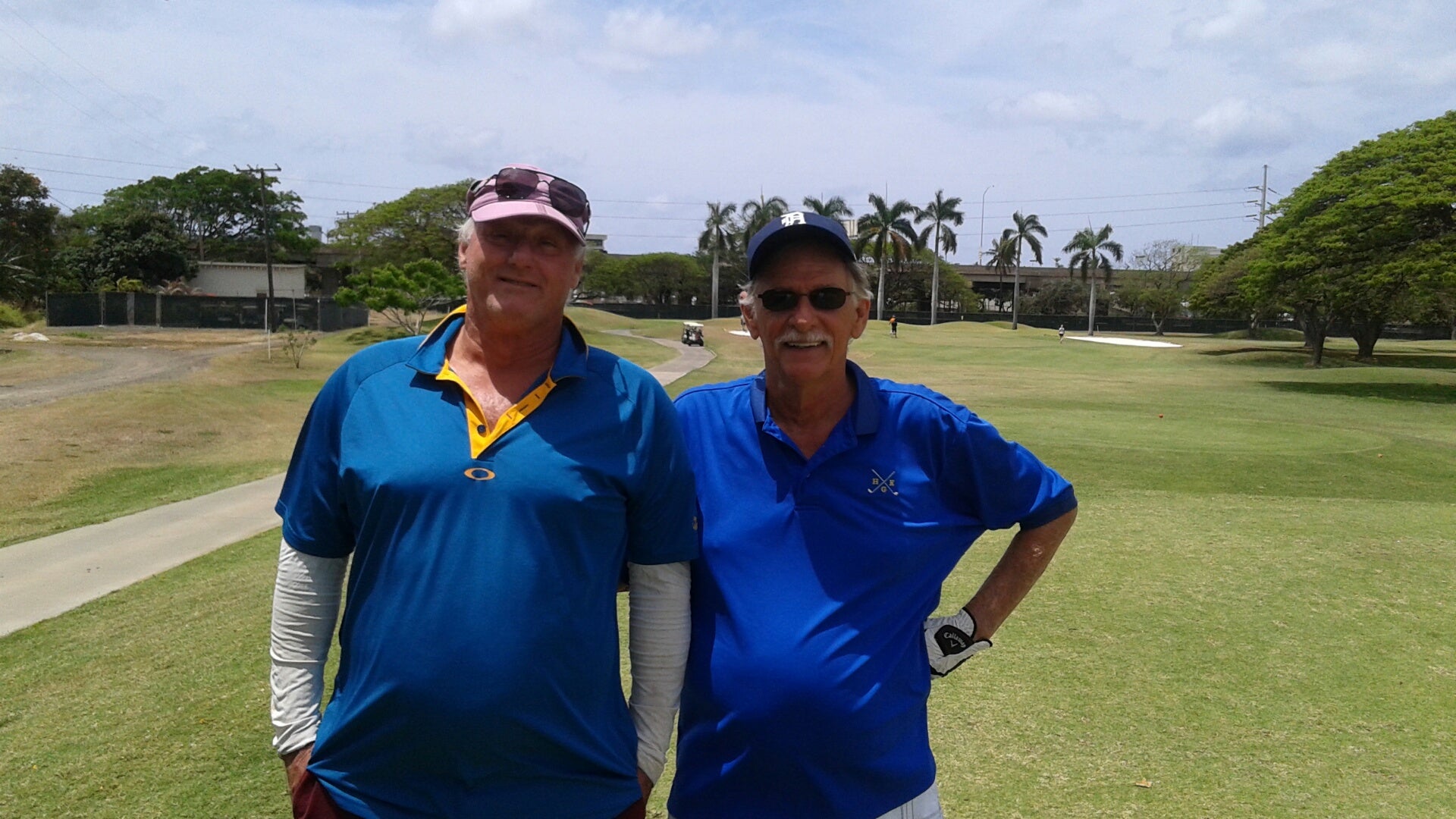 Members Allen Cole and Patrick Gilbert reconnected at our local's May 11 Golf Day on the Navy Marine Course. They first met in acting classes at UH-Manoa.
Breakfast with Mazie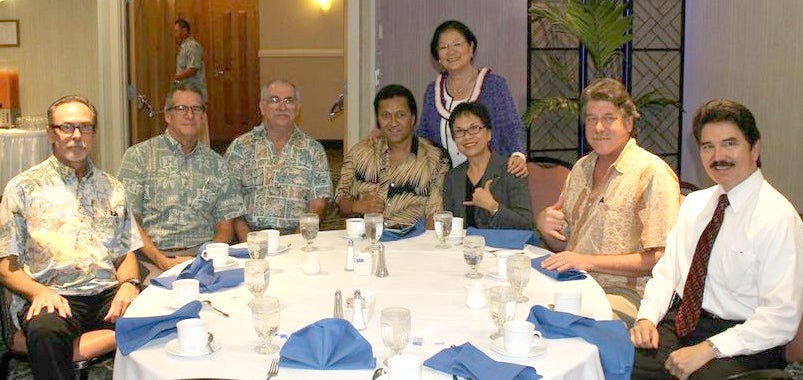 Board member Charles Uyehara, right, and Executive Director Brenda Ching, third from right, joined other union leaders at the Hawaii State AFL-CIO breakfast with Sen. Mazie Hirono on March 30.