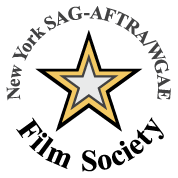 Last Chance to Register Online for the
New York SAG-AFTRA/WGAE Film Society 2016-2017 Season
Hurry and sign up today!
Online registration for the 2016-2017 season of the New York SAG-AFTRA/WGAE Film Society will only be available through Wednesday, Oct. 5th. Following the 5th, only paper applications with checks/money orders will be accepted.
Online film society registration is available at SAGAFTRA.org/nyfilmsociety for payment with a credit card (credit card payment is only available with the online application). You must be logged in to SAGAFTRA.org to register online. Not registered? Click here to create an account.
NEW YORK FILM SOCIETY / ONLINE APPLICATIONS
****ONLY MEMBERS WHO ARE CURRENT WITH THEIR DUES, PAID THROUGH OCT. 31, 2016 CAN REGISTER FOR THE FILM SOCIETY***
Please log into https://www.sagaftra.org/welcome with your username and password.
Put your mouse over 'Locals.'
Select 'New York.'
On the left hand side of the page, click 'New York Film Society.'  Scroll down to the bottom of the page and follow the instructions.
Please make sure your mailing address listed is correct, as this is where your film society ID card will be mailed. If it is not correct, click the 'edit my information' button below the button that says 'submit.'
On the next page, click 'pay your fee.'
Enter your credit card information on the next page. Then, confirm your payment. Click 'confirm' only

one

time and please be patient while your payment is processed. If you click confirm multiple times your credit card may be charged for every time you click. The last page is a receipt that you can print for your records.
While online registration with a credit card is strongly encouraged, should you want to download a paper application and mail in a check, click here for a printable application.
Get your season pass and join your fellow SAG-AFTRA members for the best screening series in town.
Questions? Call (212) 287-1448 or email nyfilmsociety@sagaftra.org 
For assistance logging in to the website click here to contact Web Help.