AFTRA—the people who entertain and inform America have been moving forward for 70 years
For 70 years, professional actors, journalists, dancers, singers and royalty artists, announcers, hosts, comedians, disc jockeys, and other performers across the media industries—including television, radio, cable, sound recordings, music videos, commercials, audio books, non-broadcast industrials, interactive games, internet, and other digital media—have been moving forward together with the American Federation of Television and Radio Artists. Here are some of the events and milestones that helped define AFTRA: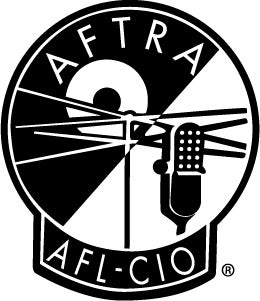 1935
Congress passes the National Labor Relations Act.
1937
Independent efforts by radio performers in Los Angeles to create a Radio Actors Guild and in New York to form a Radio Equity are combined to establish the American Federation of Radio Artists. On August 16, 1937, the Four A's—the Associated Actors and Artistes of America—grant a charter to the new union, with 400 members in two Locals. Chicago, the center for "soap opera" production, quickly follows New York and Los Angeles with performers forming their own Local. By December, AFRA has more 2,000 members covering almost 90% of all radio artists in key broadcast cities.
Eddie Cantor is elected first National President; Emily Holt appointed first Executive Secretary.
1938
With the support of radio stars Eddie Cantor, Edgar Bergen, Jack Benny, Bing Crosby, and others, AFRA members negotiate the first collectively bargained agreement on a national scale with NBC and CBS. After four days and nights of negotiation, the Basic Network Sustaining Agreement is signed on July 12, 1938, and establishes a wage increase of 125%, and union security for radio talent; the first national convention is held in St. Louis.
1939
After only two years in existence, AFRA covers 70% of live radio broadcasting through collective bargaining agreements.
1940
AFRA conducts its first strike in Cincinnati. AFRA and SAG initiate discussions of merger.
1941
AFRA members negotiate the first Transcription Code, providing for programs recorded for later broadcast, and build cost of living increases into contracts.
1946
George Heller succeeds Emily Holt as National Executive Secretary.
1947
With the end of World War II, Americans seek out new forms of entertainment as television and phonographs gain popularity—and work opportunities expand for AFRA members; the Labor Management Relations Act (Taft-Hartley) is passed by Congress over President Harry Truman's veto. The law restricts rights of labor unions
1950
With jurisdiction over television performers in dispute, the Four A's creates the Television Authority on April 16, 1950, which negotiates the first network television contract in December.
1951
The goal of a resolution from the 1947 National Convention is finally realized as AFRA negotiates the first Phonograph Recording Code for singers with the major recording labels.
 
1952
On September 17, 1952, the Television Authority and AFRA merge to create a new union: the American Federation of Television and Radio Artists.
1954
In a bold negotiation move, AFTRA members propose a single-demand strategy for the Network Television Code—the creation of a pension and welfare plan funded entirely by employer contributions. Rejecting counter demands for cutbacks, AFTRA holds firm and eventually wins the industry-first benefit package. The AFTRA Pension and Welfare Plan—which later becomes the AFTRA Health and Retirement Funds—is negotiated into others agreements.
1956
Early television agreements had been based on live performances, but by the mid-1950s, videotape improved to the point where programs could be broadcast repeatedly. AFTRA members negotiate the first-ever formula for payments for replay of performances, which becomes the basis for residuals and syndication throughout the television industry; As the World Turns debuts as a 30-minute television daytime drama.
1958
AFTRA negotiates foreign residual payments for members.
1959
Daytime drama star Virginia Payne is elected President of AFTRA. She is the first woman to serve as president of a national entertainment union; the Labor Management Reporting and Disclosure Act (LMRDA) is passed by Congress.

1960
AFTRA and Screen Actors Guild members conduct first joint negotiations on television commercials.
1965
WINS-AM introduces all-news radio programming.
1967
AFTRA members call the union's first national strike on March 29, 1967, after negotiations breakdown over staff announcer contracts at owned-and-operated stations in New York, Chicago, and Los Angeles and over first-time contracts for "newsmen" at networks and owned-and-operated stations. Since AFTRA adhered to a bargaining principle that no general agreement exists until all Codes and Contracts are acceptable, the 13-day strike involves all 18,000 members in more than 100 locations across the country. Agreement is reached on the outstanding issues at 8:05 pm, EST, on Monday, April 10, 1967—just in time to allow broadcast of the annual Academy Awards program live from the Santa Monica Auditorium. It established the first staff newspersons contract for network correspondents at ABC, CBS and NBC.
1968
The first issue of AFTRA Magazine is published.
1974
A challenge by William F. Buckley to AFTRA's union shop agreements for news broadcasters fails as the U.S. Supreme Court declines to review the case.
AFTRA and SAG members jointly negotiate the contract covering primetime dramatic programming on the major television networks for the first time.
1975
AFTRA negotiates the first PBS contract.
1977
Chicago member Joe Slattery becomes the first AFTRA National President from a local other than New York or Los Angeles; AFTRA urges passage of federal law requiring radio stations to pay recording artists when their talents are appropriated by stations for profit. AFTRA members tell Congress, "The only reason radio stations play music is to get people to listen to commercials." Legislation fails, but AFTRA continues to work on this issue, and it is revived in 2007.
1978
In only the second national strike in AFTRA's history, AFTRA and SAG members strike the advertising agencies and national advertisers over the jointly-negotiated Commercials Contracts.
 
1980
AFTRA and SAG members strike primetime television to win a formula for performer participation in profits from sale to videocassettes and pay TV; Bill Hillman because the first newsperson to be elected AFTRA National President.
1981
While a merger of AFTRA and SAG has been proposed and considered many times since 1937, the two unions enter into a formal agreement to join together to benefit performers. The so-called "Phase 1" Agreement goes into effect, calling for a number of jointly-negotiated, ratified and administered contracts.
AFTRA becomes the target of a lawsuit by Tuesday Productions, a San Diego-based non-union jingle house, which brings anti-trust charges against the union for attempting to organize performers. A jury award for triple damages of $12 million to the company drives AFTRA into Chapter 11 bankruptcy in 1982. After a financial settlement by AFTRA and SAG (which is also party to the suit), AFTRA emerges from Chapter 11 in 1983 and begins to rebuild.  The verdict and the settlement uphold the unions' right to order members not to work for employers who refuse to enter into collective bargaining agreements.
1982
AFTRA and AGMA initiate merger discussions. A merger does not happen.
1984
The Cosby Show debuts under an AFTRA contract; AFTRA negotiates its first staff contract with safety protections for employees using video display terminals.

1985
AFTRA negotiates a contract covering cable broadcasts of Grand Ole Opry; John Hall succeeds Sanford Wolff as National Executive Secretary.
1986
A strike against network television is averted when companies back off demand that AFTRA news broadcasters assume sweeping technical duties.
1987
AFTRA celebrates its 50th anniversary; the National Board implements the No Contract/No Work rule; the first American Scene Award is present at the AFTRA Convention in St. Louis.
1988
The federal district court in Texas sides with AFTRA represented reporters, producers, directors and assignment editors at KDFW-TV, ruling they are entitled to overtime under Fair Labor Standards ACt; AFTRA and SAG strike the advertising industry for 18 days to establish new cable compensation formula. In 1990, the appeals court upholds the decision, awarding more than $250,000 in overtime and penalties to KDFW employees.
1989
AFTRA members vote to establish bi-ennial conventions.
1990
The Klein Study recommends a reorganization of AFTRA, which is approved by the National Board.
1993
As part of a coalition of recording artists, singers, musicians, and others, AFTRA members work with Congress to enact the Audio Home Recording Act of 1992—and later the Digital Performance Right in Sound Recordings Act of 1995 and the Digital Millennium Copyright Act of 1998. All three laws grant a performance right in sound recordings for a wide range of digital uses including home recording and distribution by internet, cable, and satellite. AFTRA helps develop mechanisms to assure payments to recording artists from the collection and distribution of royalties established by the laws.
1994
AFTRA members negotiate the first Interactive Media Agreement to cover performances in videogames.
1995
Member earnings under the Sound Recordings Code breaks $100 million.
1996
Congress passes the Telecommunications Act, opening the door for massive ownership concentration in the broadcast sector.  Within six years, Clear Channel Communications holdings rise to more than 1,200 radio stations nationwide.  Clear Channel goes from being a completely non-AFTRA company to one of AFTRA's largest signatory employers in broadcast.
1997
AFTRA signs agreement with Nickelodeon to cover performances on the cable TV network. This first system-wide agreement sets a model for assuring union standards for jobs on cable television. With each renegotiation of the contract, wages and benefits improve; the 60th anniversary convention is held in Philadelphia; AFTRA.com is unveiled.
1999
AFTRA negotiates the first contract with Metro Traffic after a lengthy organizing drive; a referendum on merger of AFTRA and SAG fails to pass.
2000
AFTRA and SAG members stage six-month strike against advertisers to gain improvements in basic cable and internet commercials and preserve established residual formulas; the one-hour dramatic series 100 Centre Street debuts on A&E under an AFTRA contract.
2001
John Connolly is elected AFTRA National President, succeeding Shelby Scott, the longest serving president in the union's history.
2002
AFTRA begins a campaign to organize Spanish-language broadcasters in Chicago, which is successful; agent regulations are re-negotiated for the first time in 44 years; AFTRA and SAG initiate discussions to discuss jurisdictional conflict.
2003
In a referendum on the merger of AFTRA and SAG, AFTRA members support consolidation by more than 75%, while SAG members fall two percentage points short of the 60% affirmative vote needed to unite the two unions; The National Convention is held in Nashville; Members ratify a new, successor Sound Recordings Code, which includes an innovative arrangement that guarantees access to basic AFTRA health plan coverage for all AFTRA-covered royalty artists who are under exclusive contract to a label.
2005
With the digital distribution of programming by Apple iTunes and the video iPod announced in October, AFTRA joins with other entertainment unions in calling for ongoing dialogue with employers to ensure fair and proper compensation for performers' work.
At the National Convention, delegates pass key constitutional amendments. The first eliminates the requirement that the national office is headquartered in Manhattan, providing for the relocation of AFTRA to Los Angeles. The second reduces the size of the National Board from its current 116 to 73 plus elected officers.
2006
AFTRA helps lead the campaign against relaxation of media ownership rules by the Federal Communications Commission. Through 2007, AFTRA elected leaders, members, and staff testify at numerous hearings held throughout the country and send letters to the FCC opposing consolidation of media ownership.
AFTRA and SAG members agree with the advertising industry to examine performer compensation models for commercials appearing on television, radio, and internet, as well as the growing array of existing and yet-to-be-developed media. The study will help inform negotiations of the Commercials Contracts when the current two-year extension agreement expires October 28, 2008.
 
2007
Roberta Reardon is elected AFTRA National President; more than 40 productions for internet and other new media have been covered by the AFTRA Electronic Media Agreement that sets union standards for jobs. The new contracts are part of an overall effort to expand job opportunities for professional performers into the digital realm.
2008
AFTRA receives its direct charter with the AFL-CIO in February 2008. This places AFTRA on an equal footing with other AFL-CIO unions. President Reardon is named for a second consecutive year to the Hollywood Reporter's Power 100 Women in Entertainment list.
2009

AFTRA and SAG members overwhelmingly approve new three-year successor commercial agreements; the 62nd National Convention convenes in Chicago; President Reardon is elected to a second term; members approved a landmark agreement to cover performers working on audiobooks produced by Audible.com. Later in the year, additional audiobook agreements are approved for John McElroy Productions, Mind Wings Audio and Highbridge Audio; members approved a new 15-month Interactive Media Agreement with videogame employers.
2010
AFTRA's top five national officers publish an open letter in AFTRA Magazine calling on union members to create a vision for a new union for enteratainment and media professionals; AFTRA and SAG successfully negotiate new primetime TV/Theatrical contracts.
2011
The AFTRA National Board approves a resolution formally authorizing AFTRA leadership to work with SAG on the Presidents' Forum for One Union Listening Tour, to further explore merger of the two unions; the board later approves the appointment of the AFTRA New Union Committee to work with the SAG Merger Task Force, as well as a Mission Statement; the first Group for One Union meeting takes place at the National Labor College in Silver Spring, Md.; members approve a new Non-Broadcast Corporate/Educational contract; AFTRA partners with other leaders in the entertainment and media industry in the Creative America campaign to fight digital theft; members ratify a new Interactive Media Agreement which includes the first-ever cloud gaming fee paid to performers; the 63rd National Convention convenes in Seattle; President Reardon is elected to a third term
2012
The Group for One Union (G1) meets for 10 days in Los Angeles to create a new constitution and merger agreement to be sent to membership for approval. Ballots go out in February to members of SAG and AFTRA to vote on whether the two unions should merge. On March 30, 2012, members overwhelmingly approved a merger of the two unions. SAG-AFTRA is born.