SAG-AFTRA mourns the loss of Hugh Gordon Stoker. Stoker was born in 1924 in Gleason, TN, and began his music career at the age of 15 playing piano on WSM radio. After a stint in the Air Force, he returned to Nashville, and in 1949, joined the Gospel quartet , The Jordainaires , first as a piano player then as the group's tenor. Following a concert in Memphis the group was approached by a then unknown singer named Elvis Presley, who asked them to be his backup singers  if he was ever signed to a major label. True to his word, Elvis would use the group on nearly all of his recordings for the next 14 years. The Jordanaires would also perform on recordings by Patsy Cline, Loretta Lynn, Red Foley, Hank Snow and countless others. In 2001, the group were inducted into both the Country Music and Gospel Music Hall of Fames.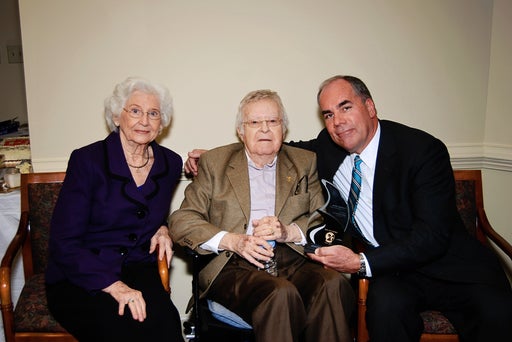 Stoker joined AFTRA on May 2, 1957 and after performing in New York on a union show saw the disparity between the wages and working conditions of the singers in New York and those working in Nashville. Upon his return to Nashville, and with the help of Bud Wolf of New York, Stoker was instrumental in the founding of the Nashville Local in 1961. Stoker served as a Local Board member and president throughout the years. In 2011, Stoker was awarded the AFTRA Nashville Lifetime Achievement Award for his contributions to the Nashville Local. Stoker is survived by his wife of 61 years, Jean, his two sons, Alan and Brent, daughter Venita and daughter-in-law Jeanne, as well as five grandchildren and one great-grandchild.

Stoker is pictured here with his wife and Asst. National Executive Director of Sound Recordings/Nashville Local Executive Director Randy Himes.