The Official E-Newsletter of the New Mexico Branch
WELCOME NEW MEMBERS
Robert L Benedetti, Juliet Lopez, Alesandra Stephan, Atheria, Antonio Leyba, Julia Minesci, Yvonne P Mangrum, Beth Persky, Tina D. Valle, Sierra Pater, Christian Di Salvo, John Winton, Bernardo Saracino
IMPORTANT NUMBERS
SAG West Region Executive: Tamara Decker
(505) 268-2127
tdecker@sag.org
SAG New Mexico Branch Executive Director: Julie Crane
(720) 932-8193
jcrane@sag.org
SAG New Mexico Branch Office (mailing address only)
117 Bryn Mawr Dr. SE, Suite 44
Albuquerque, NM 87110
SAG General Information
(800) 724-0767
SAG Online
SAG.org and SAG.org/branches/new-mexico
SAG Theatrical Contracts (to check on SAG production status)
(323) 549-6869
SAG Residuals Department
(323) 549-6505
SAG Membership Services Department
(323) 549-6757
SAG Pension & Health
(800) 777-4013
sagph.org
SAG/AFTRA Federal Credit Union
(800) 826-6946
aftrasagfcu.org
SAG Foundation
(323) 549-6708
sagfoundation.org
AFTER HOURS
If you are on set and need immediate assistance, please call (323) 954-1600
JOINT BARGAINING APPROVED BY SAG
Meeting in a videoconference plenary in Los Angeles and New York on March 13, the Screen Actors Guild National Board of Directors approved 78 percent to 22 percent a joint bargaining agreement with AFTRA for the negotiation of successor agreements for the contracts covering theatrical motion pictures and primetime dramatic television. The AFTRA National Board of Directors previously approved joint bargaining at its meeting February 27.

The motion: "It was moved and seconded that the National Board of Directors approves the Joint Bargaining Agreement for the Television/Theatrical Contracts and instructs staff and counsel to finalize the language of the Agreement substantially in the form presented."

Guild President Ken Howard said, "I applaud the board's action. Bargaining together is a smart decision and voting up this agreement clearly serves the best interests of all SAG members. I'm grateful to the board and look forward to working with our partners at AFTRA toward a successful negotiation."

Added Guild National Executive Director and Chief Negotiator David White, "This is a positive step that delivers a significant benefit to our members. There is no disputing that we are stronger together and joint negotiation of these contracts makes sense for both our organizations."

SAG and AFTRA representatives will meet in the coming days to finalize and execute the joint bargaining agreement. The agreement largely tracks the agreement used for the successful 2009 joint negotiation of the Commercials Contracts and includes the provisions of the existing AFL-CIO facilitated No Raiding/Non-Disparagement Agreement between Screen Actors Guild and AFTRA.
SAG CREATES PERFORMANCE
CAPTURE COMMITTEE
Screen Actors Guild's National Board has just created a National Performance Capture Committee. The creation of the committee stemmed from a meeting of performers who have experience with this type of work. The meeting, organized by the TV/Theatrical Standing Committee and Contracts Department staff, provided these performers with a forum to discuss the effects performance capture will have on the work of actors and SAG contracts going forward.

The National Board appointed Woody Schultz as national chair of the committee. Schultz has extensive experience in this area, including work on films such as Beowulf, The Polar Express and Avatar.

Performance capture is the process of recording actions and emotions of human actors, and using that information to animate digital character models in 2D or 3D computer animation. Though not necessarily a new technology, performance capture is evolving and has recently garnered much attention due to the success of films such as Avatar and A Christmas Carol.

Schultz and the rest of the committee hope to raise awareness about this important area of work and will investigate and give voice to the unique concerns and experiences of those members rendering performances across all media that are recorded using performance capture technology.

Wages and Working Conditions caucuses will be held soon for the upcoming TV/Theatrical Contract negotiations in the fall. We encourage all SAG members who work in performance capture to share their experiences and concerns with the committee.
SAG.ORG UPGRADES
ONLINE EXPERIENCE

Our website has improved once again. More content-packed and user-friendly, the recent upgrades to SAG.org help you get what you need immediately, while keeping pace with the technology that the world uses to communicate.

News and Knowledge Right Away

With a refreshed home page design, the news that matters most to you is positioned front and center. Be up-to-the-minute on SAG National Board decisions that may affect your life as a working actor, learn about changes to your contract, plan to attend upcoming panel discussions and networking opportunities that could help you land work, and receive member alerts that protect your interests by warning against scams or other career pitfalls. We take away the uncertainty that you'll miss out by making this information the first thing you'll see.

Volumes of Video, Courtesy of SAG TV

In addition to a featured video at the top of the new SAG.org home page, you're also one click away from the improvements to the SAG TV section of the site, which includes access to our always growing archive. You can search content by subject matter groupings, based on your interests. Convenient icons even give you a preview of what you'll see, and a new expanded video viewer allows for high-quality widescreen viewing.
Easy Access to SAG's Social Networks

SAG knows the importance of social networking to you. As another new convenience, you can follow us on Facebook, Twitter, RSS and with a new iPhone app. Simply click the icons on the left side of the home page.

Producers' Center – One-Stop Convenience

Meeting your needs is important, and so is meeting the needs of our employers. After all, improving their online experience makes it easier for them to create work for Guild members! Everything a producer needs to work with SAG is available in one place in our new Producers' Center. There, anyone who wishes to make any kind of SAG project, for any platform, can find all of the resources needed to do so. Rate sheets, sample contracts, FAQs and more – it's all conveniently accessed via the home page.

Tell Us What You Think

All of these changes would not be possible without SAG National Executive Director David White's commitment to enhance the union's communications capabilities to match or exceed industry standards, the vision of our Guild Website Subcommittee and feedback from our members.
Let us know your thoughts at sagcommunications@sag.org.
DUES REMINDER
If you haven't done so already, please pay your dues today. If you are not an active, paid-up member in good standing, you may not be able to vote in Guild elections or contract referenda or be eligible to serve on the council or committees. You also must be paid to date to register on iActor, the Guild's online casting program, which is now being used by casting directors nationwide. If you have any questions regarding your dues, please contact the Cashiers Department at (800) SAG-0767, prompt 2, or (212) 944-6243.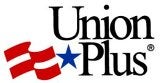 UNION PLUS PROGRAMS
FOR HARD TIMES

As a Screen Actors Guild member, you always can rely on Union Plus to provide great benefits, rain or shine. But in challenging economic times, these discounts and programs can be even more valuable.

Credit counseling: All SAG families can get free credit counseling services, budgeting advice and no-fee debt management and bankruptcy counseling benefits. Call (877) 833-1745.

Prescription discount: SAG members can get a free online prescription discount card to save on out-of-pocket prescription costs here.

Financial education: Union Plus offers a host of resources with tips, tools and calculators to get you on the right track. They include UnionDebtHelp.org and UnionPlusRetirement.org.

Foreclosure prevention: If you're worried you might lose your home, call the Union Plus Save My Home Hotline at (866) 490-5361 any time, day or night, to avoid foreclosure.

Scholarships: Click here to see how Union Plus helps you afford the education and training working families need to get ahead.
Branch President's Message
by William "Bill" Sterchi
I'm happy to report on lots of good news in this spring newsletter. Our industry has survived this year's very real threat to our NM Film Incentives. Although we need to continue to be vigilant in protecting this important program, it appears to be safe for at least another year. Thank you to the NM SAG members who participated in the many activities during the recent legislative session including the reception for legislators, Film and Media Day events, lobbying efforts and reaching out to your own legislators.  I also offer my sincere thanks to Jon Hendry and his staff, the NM Federation of Labor and our own Tamara Decker for their long hours and commitment to this process.
Robert Redford and Governor Bill Richardson with the State of New Mexico are moving forward with their collaboration to create a "Sundance in New Mexico." The initiative called Milagros at Los Luceros, will expand training opportunities for Native Americans and Hispanics interested in filmmaking, the arts and the environment. The Santa Fe Studios project is on track to "Build Green to Make Green" and film and television production in New Mexico seems to be picking up. I believe this will now be a busy year with lots of work opportunities for New Mexico SAG performers.
The SAG Awards Viewing Party on January 23 was a resounding success! A festive crowd of actors and industry partners came together to watch SAG members honoring our own. The SRO crowd enjoyed lots of door prizes, awards and special guests including Steven Michael Quezada and RJ Mitte from Breaking Bad. IATSE Local 480 provided a red carpet, searchlight and even chips and salsa to help ensure that a good time was had by all.
We have signed an overall School Student Film Agreement with CNM's Workforce Training Center film training program, allowing NM actors to work on all student film projects in this popular program. This is a major achievement that creates more opportunities for us to gain experience, obtain content for reels and promotions, network with the film community and work with the next generation of NM filmmakers. A big thank you to Julie Crane and Grubb Graebner for their persistent efforts in making this happen.
Up next is the first NM SAG Business of Acting Conference and Spring General Membership Meeting that will take place on April 16-18 at the Hilton Garden Inn in Albuquerque. In addition to providing valuable tips, tools and resources necessary for succeeding in this challenging business, the intent of the conference is to provide "straight talk" to all NM actors on how to become consummate professionals in our market. It will also be another fun networking opportunity and NM members in good standing can attend any or all events for free. I hope to see you there.
In the meantime, I continue to welcome your ideas, comments, and concerns and can be reached at NewMexicoPresident@sag.org
The New Mexico Branch of Screen Actors Guild Presents: The Business of Acting Conference 2010
April 16-18, 2010
Hilton Garden Inn, Albuquerque Uptown
Join us for the first Screen Actors Guild Business of Acting Conference in New Mexico. Hosted by the SAG New Mexico Branch, the Conference includes a Friday night industry mixer, as well as valuable break-out sessions and a panel discussion all day Saturday. Sunday is "SAG only day" featuring a working actors panel, New Mexico's Busiest Actors Tell All.
SAG Business of Acting Schedule
Friday, April 16
5:30-8:30 p.m. Industry Mixer and Vendor Fair, Exhibit Hall
Cash Bar & H'ors d'oeuvres. Complimentary admission to all members of the film industry.
Saturday, April 17
Meeting Room 1:
9-10 a.m. Working with SAG
10:20-11:50 a.m. The Casting Process
11:50-1:20 p.m. Lunch Break
1:20-2:50 p.m. Marketing Yourself
3:10-4:10 p.m. Protecting Yourself
Meeting Room 2:
9-10 a.m. Protecting Yourself
10:20-11:50 a.m. Marketing Yourself
11:50-1:20 p.m. Lunch Break
1:20-2:50 p.m. The Casting Process
3:10-4:10 p.m. Working with SAG
4:15-5 p.m. "Happy Hour," Exhibit Hall
6:30-8:30 p.m. Evening All-Star Panel, Rooms 1 & 2
Confirmed Saturday panelists include: Tony Mark (Producer, The Hurt Locker); Alton Walpole (Line Producer, Crazy Heart); Thom Eberhardt (Director, Captain Ron); Kaaren Ochoa (First AD, Appaloosa) and New Mexico casting directors, Jo Edna Boldin, Marie Kohl, Kathy Brink and Angelique Midthunder.
The cost for Saturday for non-members is $20 for the day (cash only), free to SAG members in good standing.
Sunday, April 18
Noon-1:30 p.m. New Mexico's Busiest Actors Tell All
Panelists include: Chris Browning (Terminator Salvation, Felon, 3:10 to Yuma), Lora Cunningham (The Book of Eli, Passion Play, United States of Tara) and David House (Breaking Bad, Paul, Easy Money)
The hotel is offering a $79 room rate for those attending the Conference. Please call 505-944-0380 and ask for the SAG Business of Acting Conference rate.
NM SAG is accepting applications for exhibitors - e-mail tdecker@sag.org for a prospectus.
Questions? E-mail Tammy Decker at tdecker@sag.org
Legislative Report: A Letter from Lisa Strout, Director, New Mexico Film Office to the NM Film Community
Dear Everyone:
First and foremost, my heartfelt thanks to all who have dedicated themselves to the legislature these many weeks. As we all know, it has been an incredibly difficult year, and the endless hours that many of you spent at the Capitol and your hard work is foremost on my mind as this session comes to an end. There is so much appreciation from this office and the industry at large for Local 480s efforts - continuing to do virtually all of the heavy lifting for the entire industry. And to those who are outside of 480 that always step up: NM SAG is always present and willing to show up on a moment's notice - as is the newly formed New Mexico Post Alliance - you are all equally appreciated.
Some may wonder, Where was the NMFO this session? We were wisely advised to stay away unless absolutely necessary. This was a year when the Film Office represented the governor's firm stance to protect this industry: A stance that made us a lightning rod. That being said, we spent our time gathering and analyzing data - from every possible angle - combating faulty arguments and information, and finding new avenues to get the truth and the facts across to our legislators and to the people of New Mexico. At the end of the day, we all have the same agenda keeping everyone working, keeping our families safe, and ensuring a healthy future ahead.
And, it is important to recognize the extraordinary amount of hard work that goes on behind the scenes, where the final decisions that affect us all are made. The Governor, Eric Witt and others on the 4th Floor have fought to the death this session on behalf of each and every one of us, and the thousands of New Mexicans who depend on this industry. Their work does not get much attention, nor is that their intention. But it is important not to dismiss or undermine the power that is behind you, that has made your wellbeing a top priority. This is not the case in any other state in this country.
My counterparts from around the world constantly remind me how lucky we are to have an administration that is not afraid to stand up for labor, for the working man and woman, and for this industry.
The months ahead will bring a lot to bare. Where are we heading? What happens in the next administration? What are the national and global trends? And where does NM stand in the "big picture" over the long haul? We have about enough time to take a single breath and then jump right back in it again.
But for the moment, as lots of you go to get much needed and deserved rest, know that we are thinking of you and sending our endless thanks.
With respect and appreciation,
Lisa
New Mexico's SAG Awards Viewing Party
It was a dark and stormy night. The wind whipped the Screen Actors Guild banner clinging to the adobe wall of the Uptown Sports Bar & Grill in Albuquerque, New Mexico. The red carpet (donated by IATSE Local 480) situated under the banner was soaked by sleet and snow.
However, there was a beacon in the darkness. A spotlight (also a gift of IATSE) beckoned, throwing up a signal in the sky to all members of the New Mexico Film Industry to find their way to that soggy carpet.
At the end stood professional photographer John Maio, snapping photos of party-goers, only slightly-disheveled by the elements. Fashion ran the gamut of New Mexico casual to full-on glittering glamour. At one point, there was even a Channel 7 news camera capturing the excitement of the arrivals area.
Due to the cold, dallying on the carpet was rather out of the question. Once inside, though, guests were welcomed by New Mexico Branch Council members. Here they had a chance to drop off their contributions to the overflowing Roadrunner Food Bank barrel. Professional TNT/TBS ballots to "guess the winners" of the Screen Actors Guild Awards flowed.
Tables were lavishly decorated, thanks to the generosity of Council member Karen Cotter. Gold and black balloons, film canisters painted gold and decorated with the SAG logo, and sparkly confetti made the atmosphere rival the Hollywood celebration (well, okay, almost).
The huge restaurant and bar area soon became standing-room-only. Restaurant staff scrambled to set up banquet tables between pool tables. Almost 200 attendees, including SAG members, producers, directors, agents and casting directors, chatted, snacked on chips and salsa (again provided by Local 480) and waited patiently for a place to sit and watch the simulcast of the Awards on the enormous screens surrounding the restaurant.
During commercial breaks, NM SAG President Bill Sterchi announced winners of various door prizes, including SAG Awards bags, hats and notebooks. He also presented plaques to two former Council members, Harriet Levine and past-President Rosalia de Aragon, commemorating their service to the New Mexico Branch.
In the midst of this frenzy of activity, RJ Mitte and Steven Michael Quezada, cast members of the hit show Breaking Bad, walked in and waited with their posse - just as patiently as everyone else - for a place to sit. Mr. Quezada even got up on stage and provided some great comic relief, before thanking the staff and Council of SAG NM and encouraging members to become more involved.
During the commercial break after the show's official In Memoriam presentation, Mr. Sterchi took a moment to pay tribute to several members of NM's film community who we've recently lost: Casting directors Shari Rhodes and Gwyn Savage and long-time SAG member Michael Lloyd.
The official festivities concluded with the announcement of the winner of the contest to guess the SAG Award winners. Producer/director Janet Davidson took the honors and carried away a package of official SAG Awards gifts.
The evening wasn't over, however. Several SAG members took to the stage to enchant the audience during Showbiz Karaoke; we've got some talented singers as well as actors in New Mexico!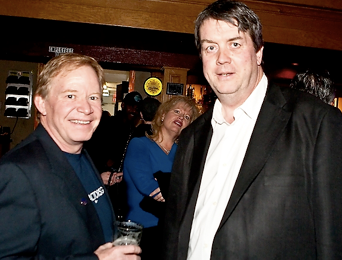 NM SAG Branch President Bill Sterchi and IATSE Business Agent Jon Hendry.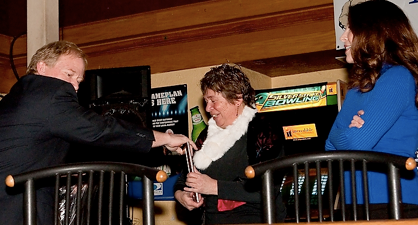 Bill Sterchi recognizes former NM SAG Branch President Rosalia de Aragon and former Council Member Harriet Levine.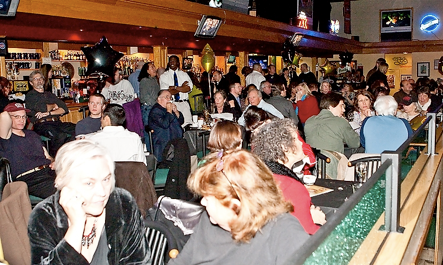 The capacity crowd enjoys the festivities.
It was a fantastic night, and was made possible by the following:
Uptown Sports Bar & Grill
Josh Zapata, Esther Zapata and their fabulous staff
Our friends at IATSE Local 480 and Jon Hendry
Roadrunner Food Bank and Christina Berlin
John Maio
National SAG Staff:
Kathy Connell
Caroline Bolter
Linda Dowell
Laura Beedy Ritchie
Marcia Fishman
Pam Greenwalt
Damon Romine
Hope Barkan
Donna Reed
Eric Williamson
And of course, our fabulous NM Council and SAG Awards Committee:
Bill Sterchi
Mel MacKaron
Paul Blott
Robyn Reede
Roy Costley
Marilyn Morgan
Karen Cotter
Donna Trone
Cliff Gravel
Cynthia Straus
Stephen Eiland
Benjamin Glenday
Mike Miller
For a look at photographer John Maio's video of the event:http://vimeo.com/8951880
Questions Regarding this Newsletter?
Contact New Mexico Branch Executive Director Julie Crane
(720) 932-8193
jcrane@sag.org