The Official E-Newsletter of the SAG-AFTRA New York Local
SAVE THE DATE
SAG-AFTRA New York Host Committee's Holiday Open House takes place Thursday, Nov. 30, at 1900 Broadway.
NEW YORK LOCAL OFFICE
1900 Broadway, 5th Floor
New York, NY 10023
(Between 63rd and 64th streets)
(212) 944-1030
Click here to email the New York Local
Follow us on Twitter: @sagaftrany
Facebook: /sagaftrany
24 Hour Safety Hotline: (212) 517-0909
Fitting Farewell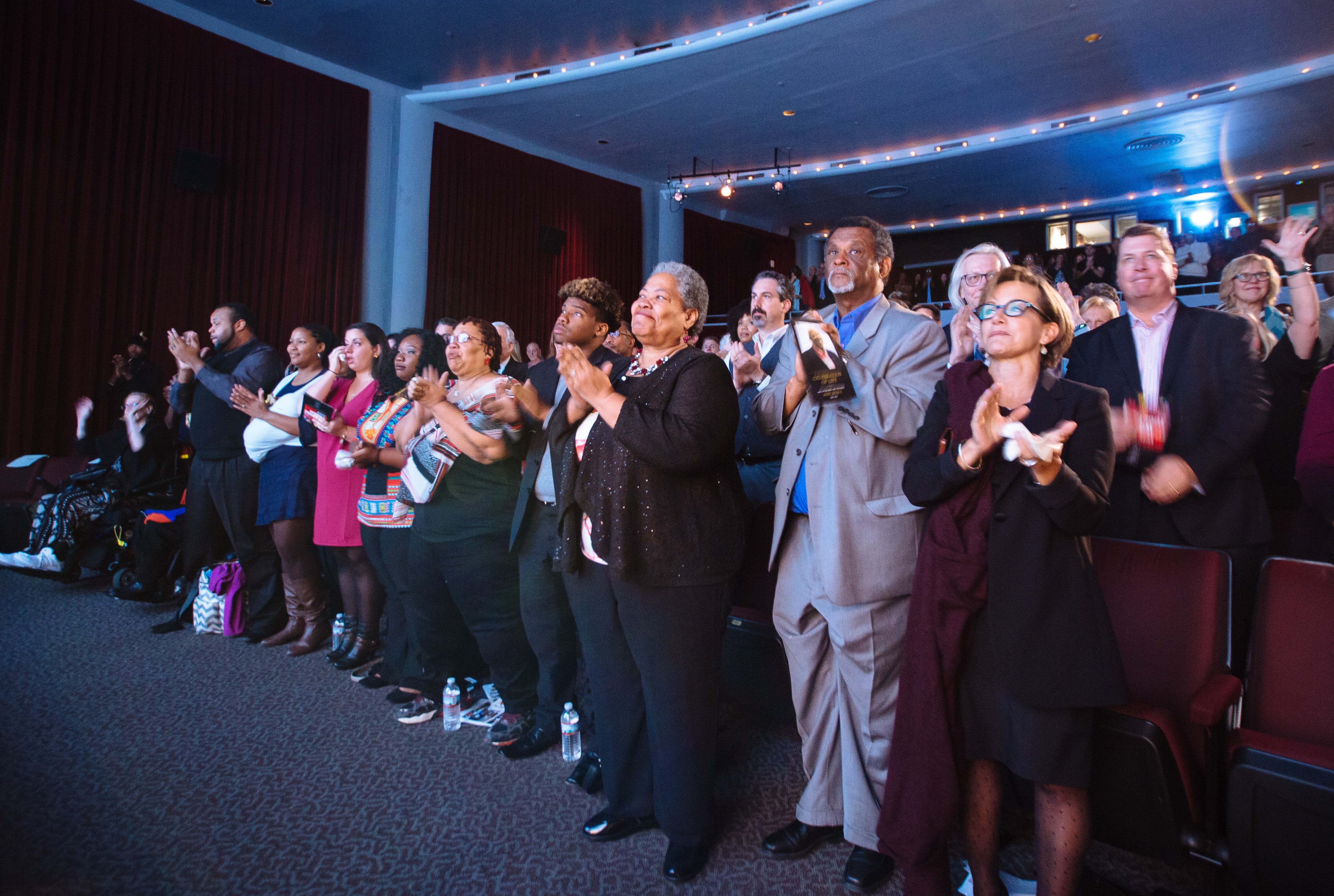 President Gabrielle Carteris, Mike Hodge's family and a packed house at the DGA Theater give a final standing ovation to the late beloved New York Local president. Photo by Margarita Corporan.
Friends and family, members and staff came together at the DGA Theater on Oct. 17 for a celebration of life for New York Local President Mike Hodge, who passed away Sept. 9. President Gabrielle Carteris, EVP Rebecca Damon and National Executive Director David White spoke on behalf of SAG-AFTRA, remembering Hodge's passion, patience and gentle perseverance during his years of union service. Karen Hodge Thomas, Hodge's sister, recalled her brother's devotion to family and his joy in helping others. Members of a cappella group Sweet Honey in the Rock reminisced about his early days as an actor and performed two songs that brought cheers from the audience.
Damon Assumes N.Y. Local Presidency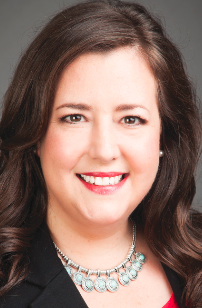 Rebecca Damon was unanimously appointed New York Local president at the New York Local Board meeting on Nov. 2. In addition to her local role as New York Local president, Damon also serves as SAG-AFTRA executive vice president, the union's second-highest office, after being re-elected to a two-year term on Oct. 6.
New York Board member Ezra Knight was appointed 1st vice president, the position Damon vacated upon becoming president. National Board member Jay Potter was appointed to fill the vacant spot on the New York Local Board.
"I served alongside [late New York Local President] Mike Hodge from the moment I became a board member. He was a dear friend, a cherished mentor and a stellar leader. Being selected by the board to serve as New York Local president in the wake of his passing is more than an honor; it's a tremendous responsibility. Mike's legacy of protecting and fighting for New York members will guide me as I take on this important work," said Damon. 
Said SAG-AFTRA President Gabrielle Carteris, "I congratulate Rebecca Damon on her appointment as New York Local president. Her deep commitment to the membership and her dedication to the union are hallmarks of her leadership. I have no doubt she will continue to expand on that extraordinary service in this new role."
A champion for workers' rights, Damon's leadership includes working to strengthen New York's right of publicity law for the benefit of all members. She is a recipient of the Irish Echo Connecting America Award and SAG-AFTRA New York Local's Joseph C. Riley Award.
Damon is also a vice president of the SAG-AFTRA Foundation, an educational, humanitarian and philanthropic nonprofit organization. She is the primary elected liaison for Foundation programming in New York and oversaw creation of the Robin Williams Center for Entertainment and Media in Times Square. 
NYC Enacts Salary History Ban 
Performers and talent agents should be aware of the New York City Salary History ban that went into effect Oct. 31. Public and private employers will no longer be able to ask a job applicant (or their current or former employers) about their salary or benefits during any stage of the hiring process. However, performers and their agents will still be able to voluntarily state and leverage their own salary history, so long as the agent has secured permission from the performer to do so. The salary history ban is an effort to end the cycle of inequity and discrimination in the workplace that keeps women and people of color underpaid for equal work. To learn more about this law, please see the NYC Human Rights' Salary History Law page. 
NGP Presents Social Media Seminar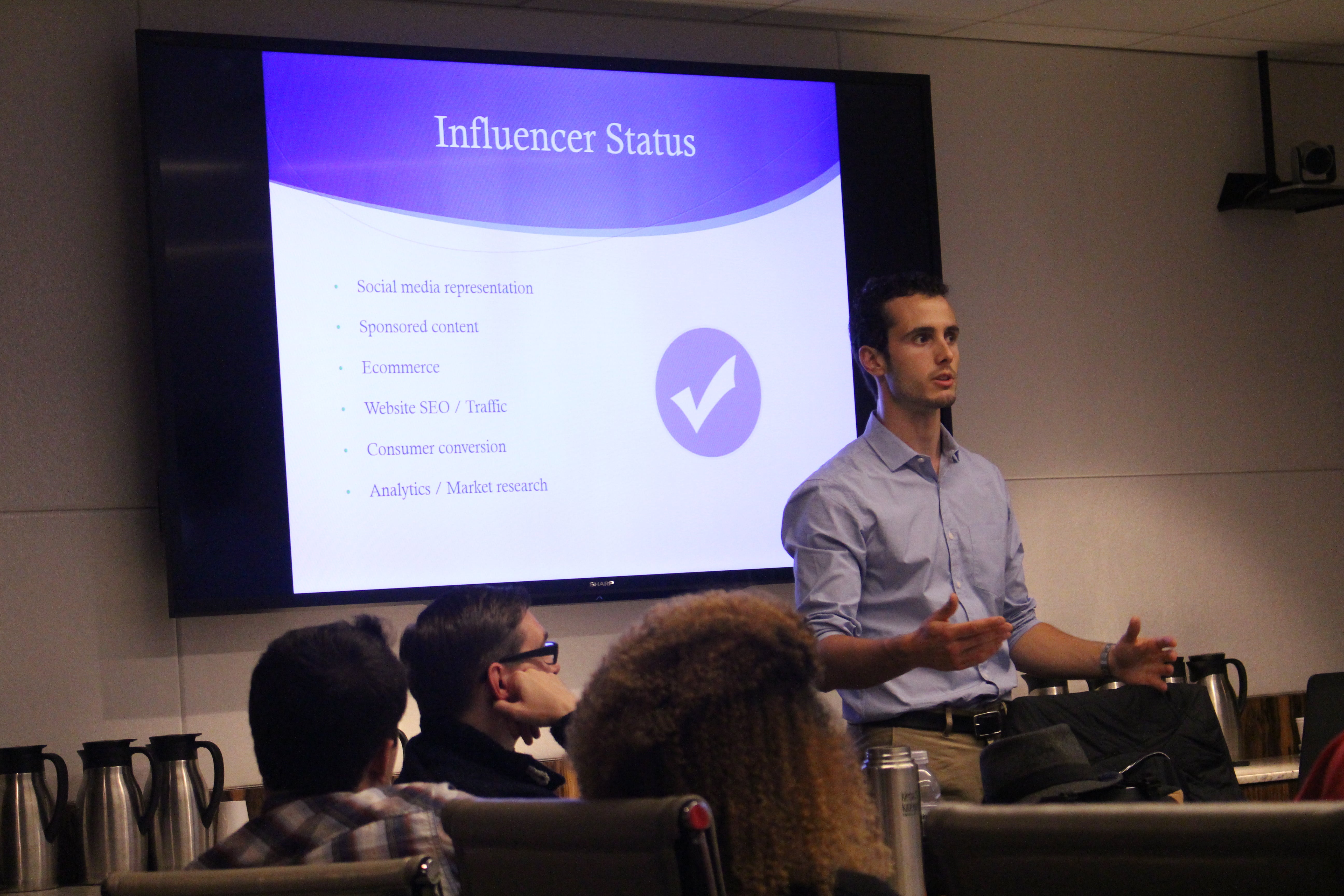 On Thursday, Oct. 19, the NextGen Performers (NGP) Subcommittee of the Member Organizing Volunteer Efforts (MOVE) New York Committee presented Social Media for Entertainers in the Ken Howard Boardroom. Taught by The Social Media Advantage founder Ryan Walker (pictured), the class taught members how to grow and develop a beneficial social media presence and incorporate it into their daily lives.
MORE Partners with Miami Local for Special Event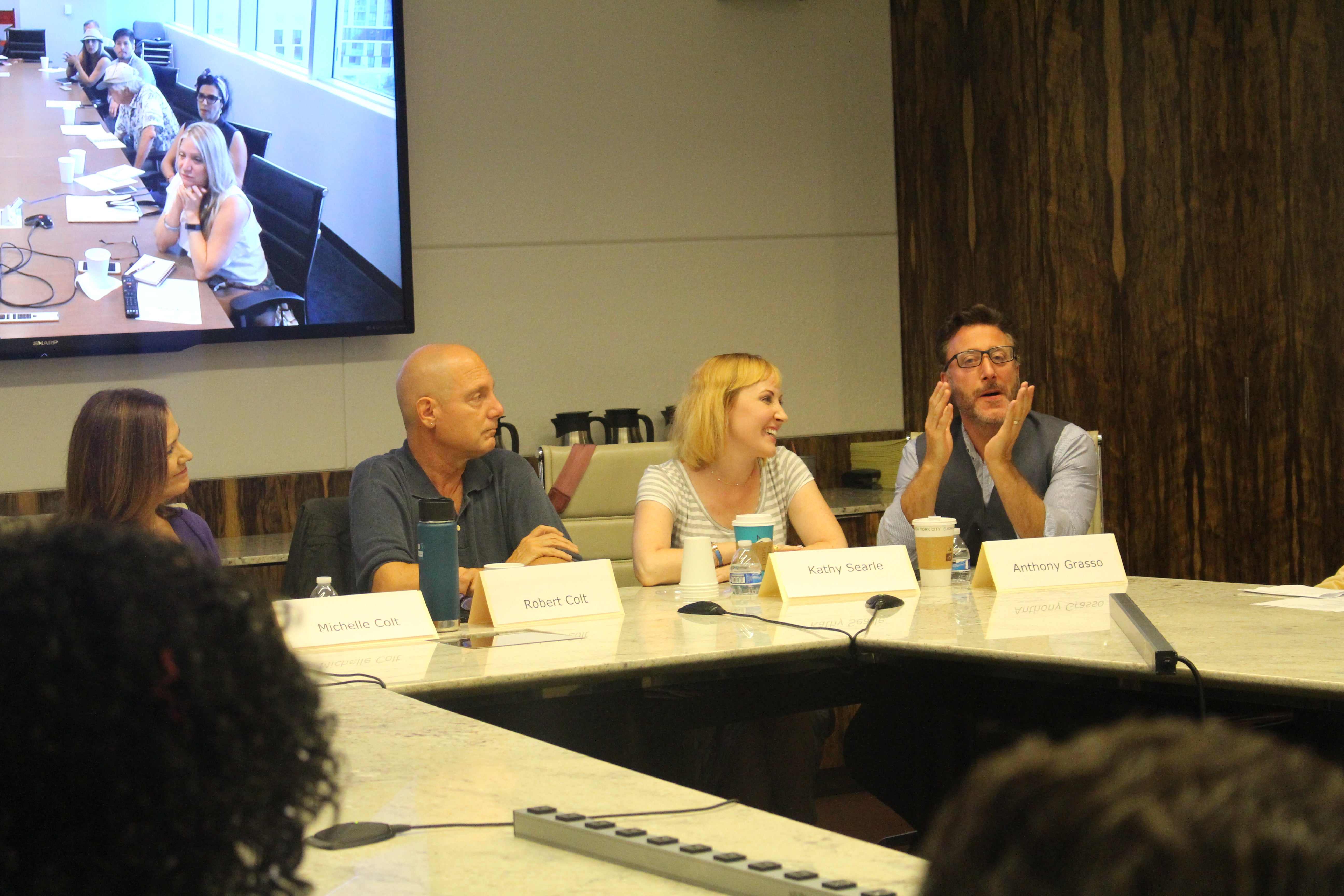 From left, Michelle Colt, Robert Colt, Kathy Searle and Anthony Grasso
On Wednesday, Sept. 27, the Member Outreach, Relations and Education (MORE) Committee presented The Inside Game and Outside Game of Industry Success. The panel, hosted by Robert and Michelle Colt of Inside Game, featured a panel of special guests, including actor and comedian Kathy Searle; actor, acting teacher and headshot photographer Anthony Grasso; actor and acting teacher Harry O'Reilly; and casting director and teacher David Cady. Panelists offered their insights into how performers can succeed in the industry.
The MORE Committee partnered with the Miami Local for this event, videoconferencing with members who were in attendance at the Miami office. Members from both locals were able to listen to the speakers' stories and ask questions of panelists.
Keeping Up with #AdsGoUnion: The Commercials Organizing and Recapture Initiative
A lot has been happening with the #AdsGoUnion campaign during the last few months. SAG-AFTRA membership, staff and our industry partners have been working together to make big gains. Here are some of our recent accomplishments:
• Based on information submitted to AdsGoUnion@sagaftra.org, we turned six significant non-union commercials into union spots, creating more than 30 principal jobs for SAG-AFTRA members.
• Met with more than 100 talent agents nationwide, reinvigorating vital relationships so we can face this challenge as partners.
• Engaged with casting directors in L.A. and N.Y. to get invaluable perspective and feedback. 
• Strengthened relationships with our sister unions DGA, IATSE and the Teamsters.
• Hosted industry roundtables with representatives from ad agencies and payroll companies, talent agents and casting directors to get a broad view of the industry and promote direct, honest communication among industry stakeholders. 
• Participated in New York City's Advertising Week. Took part in the State of the Industry conversation, had members and staff attend informative seminars and kept our brand in front of decision-makers. 
• Reached out to content creators, their agents/managers and the Internet Creators' Guild to discuss branded content and digital advertising in the influencer space.
• Continued our dynamic pre-member outreach in L.A. and N.Y.
• Created new regional codes that will make it easier for advertisers to hire our members in smaller markets.
• Jointly created with the industry a Low Budget Digital Waiver for commercial productions of $50,000 or less. This waiver helps ad agencies retain clients for digital work and creates more work opportunities for members.  
To learn more, email AdsGoUnion@sagaftra.org.
Digital Commercials Waiver
As part of our efforts to recapture non-union work, particularly among low budget digital commercial productions, SAG-AFTRA is now offering a waiver for commercial digital low budget productions. This waiver will offer relief to ad agencies that are losing clients to non-signatory ad agencies on digital work, enabling them to retain these clients and employ professional performers in this expanding sector of the industry. While rates under the waiver are negotiable, this organizing effort will secure more work for our members, provide contributions toward health and pension benefits and allow us to develop a strong foothold in this area.  
The waiver applies solely to new low budget digital commercial productions with budgets of $50,000 and under. Any digital commercial with a budget over $50,000 is still covered by the existing terms and conditions of the Commercials Contract and paid at not less than the minimums set under the Internet or New Media provisions. If you have questions, call (212) 827-1454.
Read the FAQ here.