The Official E-Newsletter of the SAG-AFTRA New Orleans Local
SCENE TO SCREEN: LIT BY LIGHTNING
The SAG-AFTRA New Orleans Conservatory presents our first Scene to Screen event. Local Board member George Sanchez has adapted his novel Lit by Lightning for the screen. An actor returns to New Orleans to investigate his father's suspicious death. His quest takes him from the docks to an Irish Channel bar to a Bourbon Street drag show. A beautiful blonde stage manager complicates his task.
A table reading by SAG-AFTRA New Orleans Local members will be held in the Pink Room (immediately to the right as you enter the library) of the Milton H. Latter Branch of the New Orleans Public Library (5120 St. Charles Avenue) at 5:30 p.m. on Wednesday, Jan. 4, 2017. The roles will be read by members attending, with nontraditional casting likely. Members may contact Artemis Preeshl by email if you are interested in participating in this event or need more information about it. Enter "Lightning" in the subject line.
REGISTER WITH THE SAG-AFTRA FOUNDATION FOR ONLINE WORKSHOPS
An ongoing reminder: Have you registered with the SAG-AFTRA Foundation? Have you created your Casting Access Online profile and uploaded your headshot and resume? Check the Foundation's website for more detailed information. It is a great opportunity and it is free!
2015-2017 NEW ORLEANS LOCAL BOARD
Diana Boylston – President
Charles Ferrara – Vice President
Frank Peter Boimare III - Secretary
Robert Bennett
Ritchie Montgomery
Artemis Preeshl 
George J. Sanchez
Olga Wilhelmine
You can contact any of your board members by sending an email stating which board member you're trying to reach and we will contact you.
National Cares and Your Local Has Your Back!
A Note From Our Local President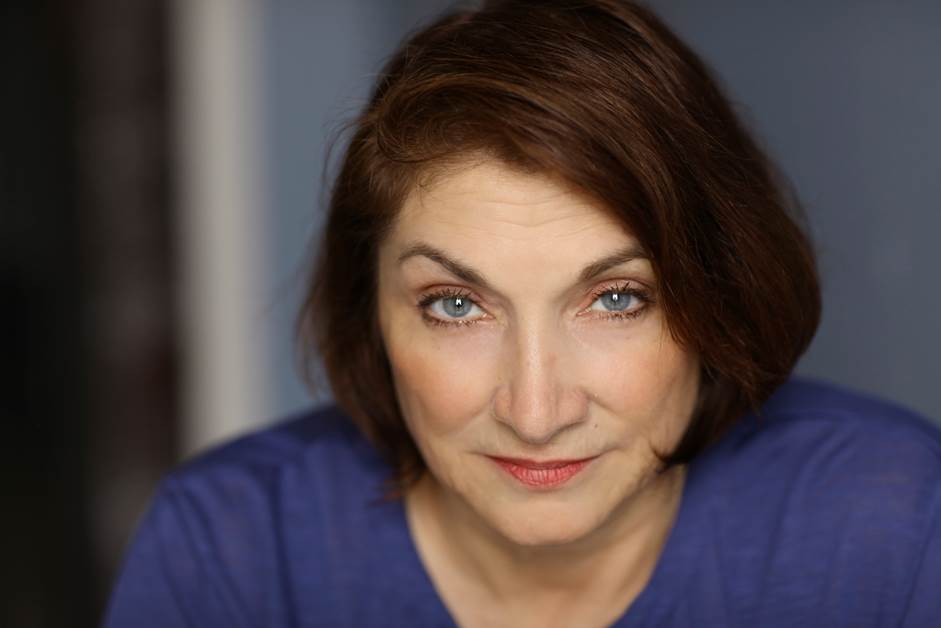 Our New Orleans' Local was featured on page 74 in the Fall 2016 SAG-AFTRA magazine. "Community is key in our local and this was a chance to effect change and connect; two things we value here" was the quote. The article told the story of our local's enthusiastic efforts to carry out the "Cash and Cans" food drive for Second Harvest in response to the flooding in Louisiana.
President Gabrielle Carteris and National Executive Director David White got to witness some of that "community and connection" when they joined us at our annual membership meeting held at the Loews Hotel in New Orleans on Oct. 17.
"It was the best union meeting ever!"; "I got so much information I can use from [Louisiana Film Entertainment Association President] Robert Vosbein on the progress with our tax incentives"; "Real talk and personal stories by Gabrielle and David set this meeting apart" — these were just some of the comments from members leaving the packed room after the meeting.
I attended an annual President's Forum meeting in L.A. a few days before our membership meeting, so I was on the same flight to New Orleans with David and Gabrielle. Talking with them in L.A., on the flight and accompanying Gabrielle to set visits the following day, I shared a lot of "real talk and personal stories" about you, your concerns and your needs. Your local has your back!
I was seriously impressed by what I observed in these exchanges with Gabrielle and David: They asked questions, like "When did this happen?", "How long before it was resolved?" and "What would you like to see instead?" Even more importantly, they listened to what I shared with them. 
At the meeting, members told them what we are doing to keep work going in this market. David praised Shirley Tregre, who explained how after refusing to work on a non-union set, she turned the job into a union job by explaining the New Media Agreement option to the producer. Gabrielle posed by the poster of Protocol: New Orleans, an episode from a SAG-AFTRA new media series with actor/producer Mark Terry, Cherrae L. Stuart and Randal Gonzalez.
Gabrielle told the members about the progress that SAG-AFTRA is making on a national front to fight potential age discrimination in casting. The union lobbied to help convince California Gov. Jerry Brown to sign AB 1687, a law that will help prevent age discrimination in film and television casting and hiring. As of Jan. 1, 2017, IMDb Pro and similar "employment referral" sites will have to remove ages or birth dates if performers are subscribers and request the site to do so. On a personal note, she shared the story of how the Beverly Hills, 90210 producers told her that they would not have hired her to portray a high school student if they had known her true age when she first auditioned.
Actions speak loudly! Gabrielle and David were determined to visit New Orleans and hear from you personally. We are certainly glad they did!
In solidarity,
Diana Boylston
New Orleans Local President
2016 Annual Meeting
The 2016 Annual Meeting of the New Orleans Local was held on Oct. 17 at the Loews Hotel in downtown New Orleans. SAG-AFTRA President Gabrielle Carteris, National Executive Director David White and LFEA President Robert Vosbein were our special guests.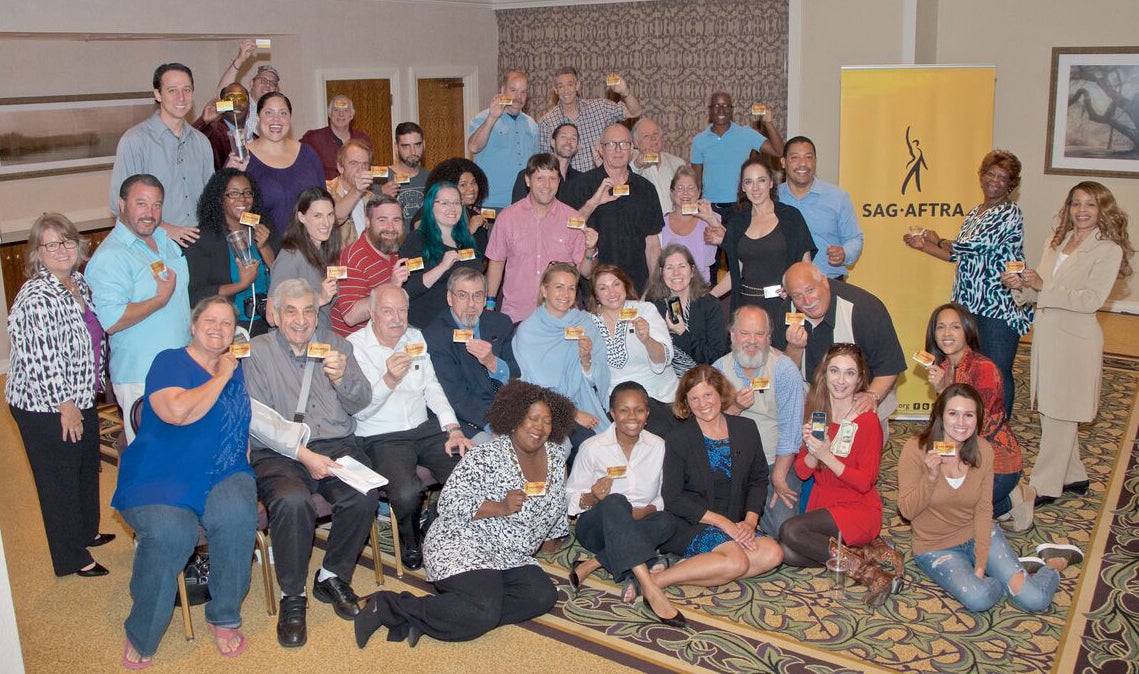 New Orleans Local members show their cards at the 2016 annual meeting. Photo by Gene Franques.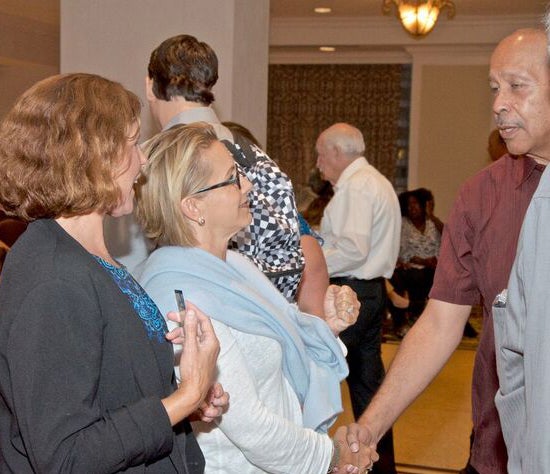 SAG-AFTRA President Gabrielle Carteris shakes hands with member Lance Nichols. Photo by Gene Franques.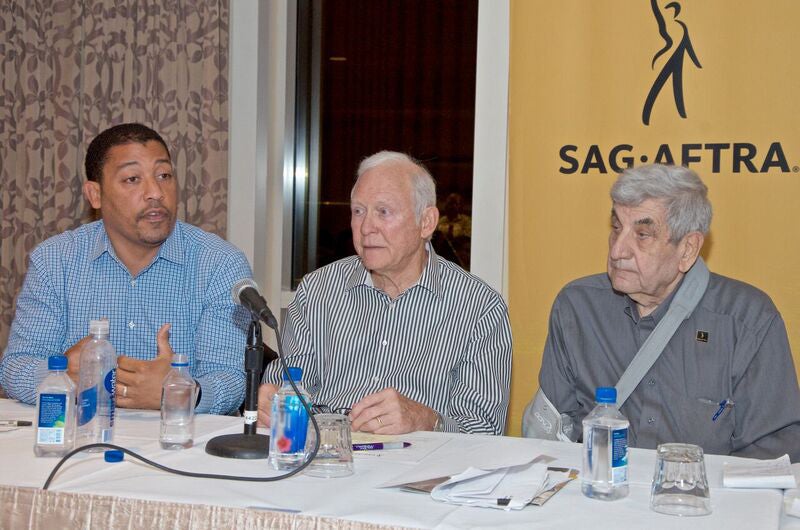 SAG-AFTRA National Executive Director David White, LFEA President Robert Vosbein and Local Board Vice President Charles Ferrara answer members' questions. Photo by Gene Franques.
SAG-AFTRA NOLA Partners with the LFEA
The SAG-AFTRA New Orleans Local is excited to partner with the Louisiana Film Entertainment Association (LFEA) in 2017 on an industrywide initiative to help stabilize the film industry in Louisiana and expand work opportunities for SAG-AFTRA members. The work LFEA does to educate and advocate for film incentive legislation is critically important to accomplishing these goals, and we need your help.
We will be hosting an educational forum through our local conservatory to help members better understand the LFEA's work. Your livelihood can be impacted by the work we do together on this campaign, so we encourage all actors to get engaged and involved during the upcoming legislative session. Every voice counts!
LFEA membership is currently free to individuals. If you are not already a member, go to the LFEA's website today and sign up. Watch for more details coming soon and plan to get involved!
SAG-AFTRA NOLA Christmas Party Tomorrow Night
The New Orleans Local will sponsor a Christmas Party at the Rendon Inn (4501 Eve St., New Orleans, LA 70125) on Dec. 13 from 7-10 p.m. The party is open to all film industry people, and we encourage everyone who attends to wear an ugly Christmas sweater to the event. SAG-AFTRA will provide appetizers. The Rendon Inn will offer a special price on steaks and sell Abita beer and wine at half price. Following the tradition of giving back to our local community that we began earlier this year, we will collect new toys to be distributed by a local toy drive. Each person who brings a toy will get one free beverage. Click here for a map.
Magnificent Seven Cast Members 
New Orleans Local Board member Ritchie Montgomery recently appeared in Magnificent Seven (as Gavin David) and asked several of the cast members to pose for a photo at the premiere in New York City on Sept. 19. Film is alive and well in our local!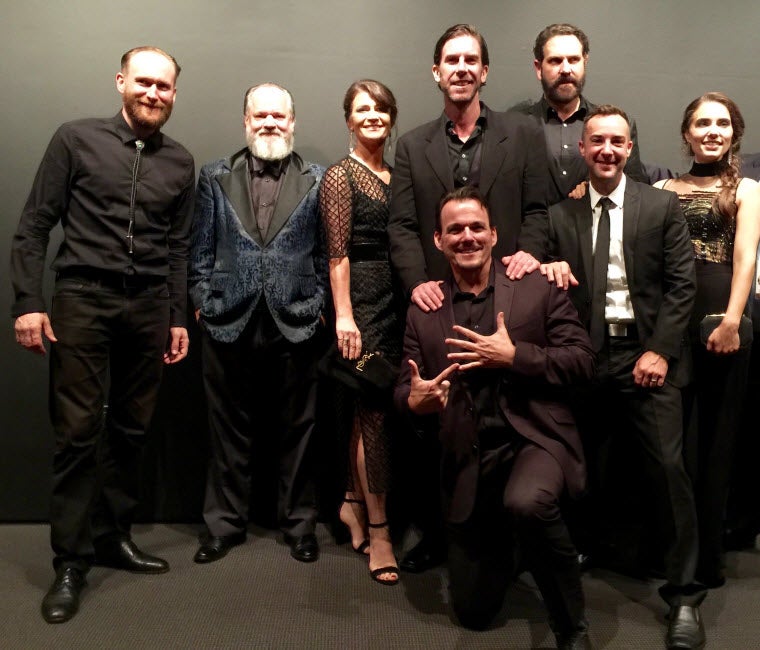 From left, Magnificent Seven cast members Mark Ashworth, NOLA Board Member Ritchie Montgomery, Carrie Lazar, Clint James, Sean Boyd (kneeling) David Kallaway, Billy Slaughter and Alix Angelis. Photo by Debbie Wilson.
VASTA Australian Accent, Speech, and Poetry Workshop
The Voice and Speech Trainers Association (VASTA) Australian Accent, Speech and Poetry workshop will feature Jennifer Innes, an Australian voice and accent teacher, from 9 a.m.–5 p.m. on Sunday, Feb. 5, 2017 (location TBA). The workshop is open to actors, professional voice trainers, members of VASTA and theater professionals who are not yet VASTA members. The regular admission fee is $35, but VASTA, SAG-AFTRA and AEA members, retirees and students pay a discounted rate of $25.
This workshop will provide instruction about voice and accent techniques in Australian accent and poetry, Fitzmaurice Voicework and Lessac voice techniques, and regional networking.
This workshop is made possible in part by the VASTA Membership Engagement grant.
Members may contact Artemis Preeshl at neworleans@sagaftra.org if you would like to register for this workshop or need more information about it.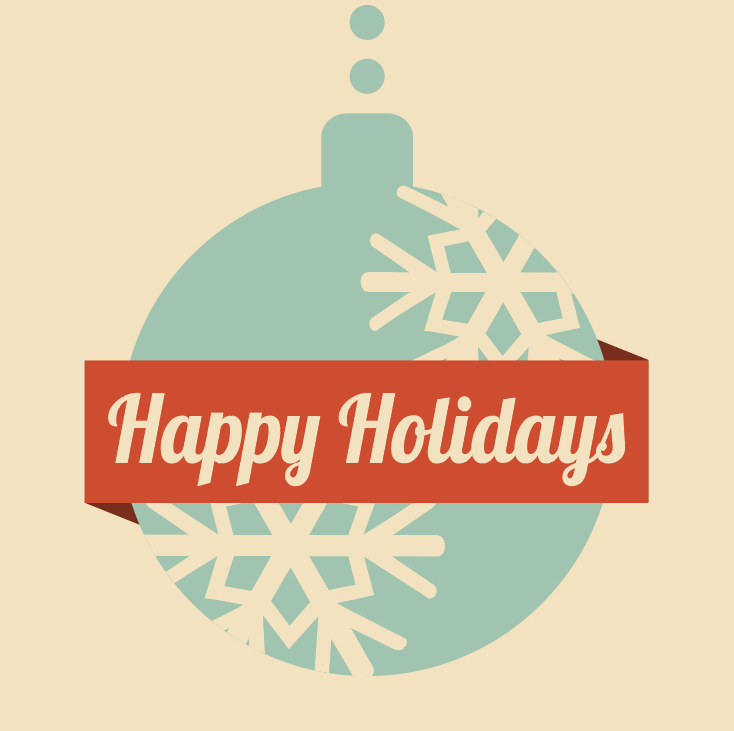 Graphic: Thinkstock