The Official E-Newsletter of the SAG-AFTRA New Orleans Local
WELCOME NEW MEMBERS 
Brooks Bartram
Terri Battee
Sean Boyd
Martin Bradford
Erika Michelle Coleman
Rhonda Johnson Dents
Dusan Dukic
Michelle Elaine
Shelby Faciane
Harold Gene Franques
Jimmy Gonzales
Kelvin Harrison
Michael W. Hoban
Jason Kirkpatrick
Zackary Kutcher
Rhonda G. Laizer
Ethan Lee
Larry D.E. McGhee
Leesa D. Pate
Kanisa Phanonphone
Lindsey G. Smith
Oliver Stark
Betty Varnado
Natoya Wayne 
Welcome! A Note from Our New Local President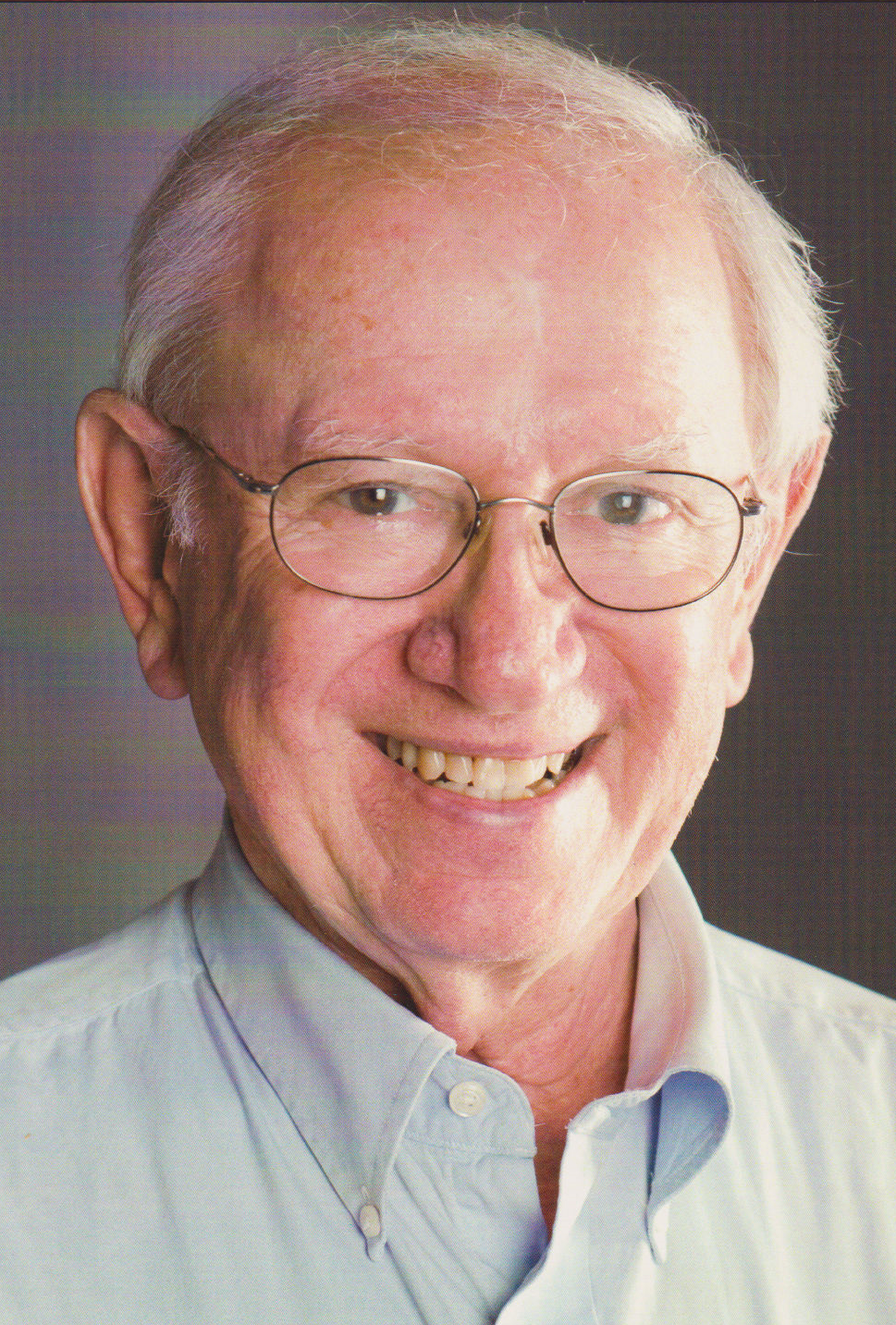 Photo by Todd Voltz
As the new president of our SAG-AFTRA New Orleans Local, I want to first welcome our new members. I would especially like to give a shout-out to the group of broadcasters who have joined this year substantially increasing the SAG-AFTRA presence at our Stations and in our market. Thanks to New Orleans Broadcast Director Herta Suarez and other members of the broadcast support team, Jennifer Peat and Tom Higgins, for their successful efforts!
I want to introduce you to our two new board members: Olga Wilhelmine and Robert Bennett. They join Charles Ferrara, Frank Peter Boimare III, George Sanchez, Ritchie Montgomery, Artemis Preeshl and yours truly to represent the SAG-AFTRA members of Louisiana and Mississippi.
I would like to acknowledge the outstanding contributions of our outgoing Local President Diana Boylston and Local Board member Lorraine Leblanc. It will be hard to fill their shoes! They have played major roles in our local and SAG-AFTRA, and we thank them for all of their hard work.
And last, but certainly not least, I would like to acknowledge the hard work and patience of Linda Dowell, our SAG-AFTRA assistant national executive director, locals. What would we do without her knowledge and talents? Thank you so much, Linda!
Finally, I want to thank you for letting me represent you and our local at the second SAG-AFTRA National Convention in early October. It was a great learning experience. There were great speakers, revelations of exciting prospects for the future — faster processing leading to faster receipt of residuals, big strides toward merging the health plans, etc. — and so much help from the national staff. They really oiled the machine! (George, one of our convention delegates, fills in a lot of details in his article later in the newsletter.)
John Wilmot
SAG-AFTRA New Orleans Local President
News and Paraprosdokians: Notes from Our National Board Member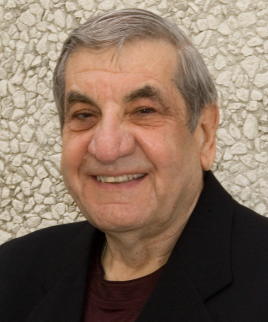 As you are probably aware, we are in the midst of preparing for commercials contracts negotiations. The current contract expires on March 31, 2016. The local W&W Negotiating Committee never did materialize, probably because this is not the primary contract our members work under. If you would like to explore being on a future Commercial W&W Committee or would like to participate in this process in the future without joining the committee, please send your contact information and  ideas to neworleans@sagaftra.org.
We are in the negotiation phase of the Interactive Media Agreement. The strike authorization referendum passed by a 96.52-percent margin. This does not mean that there will be a strike; it simply authorizes the Negotiating Committee to initiate a strike if it feels a strike is necessary.
Many benefits are available to SAG-AFTRA members, even if you do not qualify under the health or pension plans. A few of the benefits and contact sources are as follows:
• AT&T Wireless savings: Visit UnionPlus.org/ATT for coupons and local stores (use FAN# 3508840).
• Mortgage program: Will help make mortgage payments if you are out of work. Call 1-800-848-6466.
• Entertainment discounts: Call 1-800-565-3712 for discounts on theme parks, movie theaters, zoos, museums, etc. Use ID No. 744387769.
• Medical bill help: Experts will negotiate on your behalf to reduce costs or set up reasonable payment plans. Visit UnionPlus.org/Bill Negotiator.
A sampling of interesting paraprosdokians:
• Where there's a will, I want to be in it.
• To steal ideas from one person is plagiarism. To steal from many is research.
• I didn't say it was your fault, I said I was blaming you.
• You do not need a parachute to skydive. You only need a parachute to skydive twice.
• I used to be indecisive. Now I'm not sure.
That's all for now. See ya next time!
Fraternally yours,
Charles Ferrara
National Board Member and Local Vice President
Ed. Note: "A paraprosdokian is a figure of speech in which the latter part of a sentence or phrase is surprising or unexpected in a way that causes the reader or listener to re-frame or re-interpret the first part. It is frequently used for humorous or dramatic effect. For this reason, it is extremely popular among comedians and satirists." (Source)
Membership Meeting a Big Success
More than 75 members visited Second Line Stages on Nov. 16 to participate in the annual membership meeting. Newly elected Local President John Wilmot made introductions and kicked off the business. National Board member Charlie Ferrara provided a report on the recent national convention. Assistant National Executive Director, Locals Linda Dowell gave an update on contracts and responded to members' questions about the state of the industry and the local. Olga Wilhelmine discussed goals for the new Outreach Committee she and Diana Boylston will be spearheading. The meeting featured a conversation with casting directors Elizabeth Coulon and Ryan Glorioso, moderated by George Sanchez. Elizabeth asked that we remind members this is the final week to purchase Film Louisiana T-shirts. They are available here, with a portion of the proceeds benefitting Louisiana Film & Entertainment Association.  
The services noted herein are provided as an informational service to SAG-AFTRA members and are administered by entities independent of SAG-AFTRA. Any questions must be handled by the provider. This information is not intended to serve as an endorsement by the union nor is any warranty or guarantee implied.
The 22nd Annual Screen Actors Guild Awards

Second SAG-AFTRA Convention Shows Progress
By George Sanchez
Convention Delegate
The marked differences between the first and second SAG-AFTRA conventions were evident from the outset. Numbers were the same. The sense of purpose was the same. The sense of union was palpable.
We all knew that there would be a change in operation and outlook once we merged. The first convention at the Marriott in 2013 showed us in transition as we adapted our outlook and operations to our new reality. Not that there was friction, but there were challenges as we attempted to work through the past to reach a new future.
The Sheraton Universal site of the 2015 Convention held no ghosts from the past. The confidence and relaxation of our leaders were matched by the collegiality of the delegates. While there were differences concerning the proposed constitutional amendments, discussion was brief and to the point: All of the amendments were passed with overwhelming majorities. A similar efficiency was displayed concerning the 32 proposed resolutions. The Constitutional Amendment and Resolution Committee, the committee tasked with screening submissions prior to the presentation, demonstrated a willingness to work with delegates to offer resolutions consonant with the constitution. Delegates were cooperative in altering or withdrawing submissions. Of the 32, a few were ruled out of order and another few were withdrawn. The others were submitted to the convention for a vote. Though they did not all pass, the lack of animosity was notable.
The current issue of our national publication, SAG-AFTRA, will provide further details.
More important than the daily workings of the convention were the strides we have made since the merger:
• The union has realized operating surpluses for the two prior fiscal years;  
• The number of new members is growing;
• Residuals are being paid more promptly;
• There has been significant progress toward the merger of the health funds; and
• A prudent reserve of funds is being built.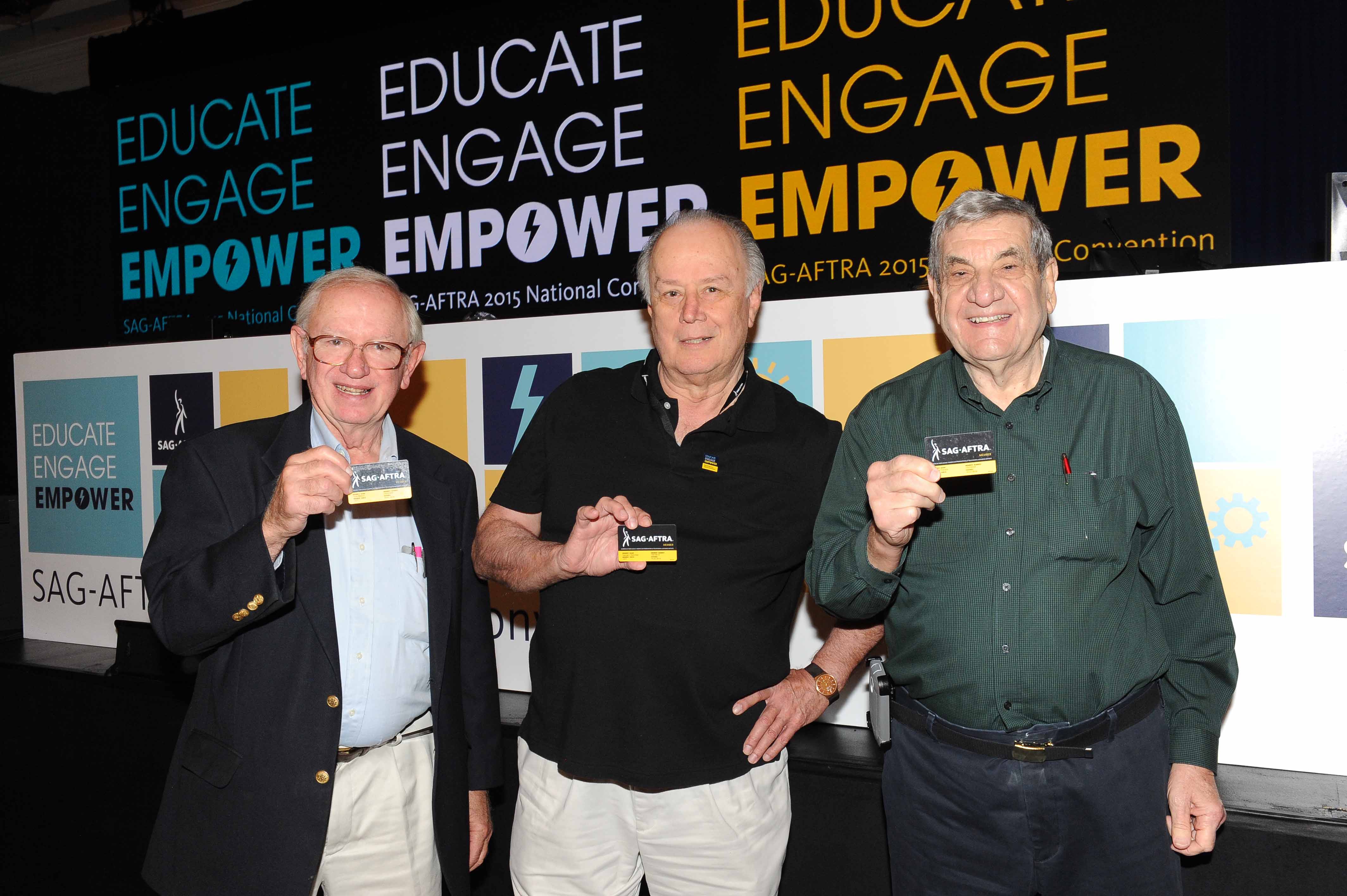 From left, John Wilmot, George Sanchez and Charles Ferrara at the national convention.
Additionally, our members have worked under contracts totaling $1 billion in the past two years.
The focus of the convention, however, was not on the past. It focused on the future. The three-part theme of the convention was Educate, Engage and Empower. 
The need for these goals was best demonstrated by the presentations of National Executive Director David White and writer/producer Linda Obst, the keynote guest.
Our industry is changing dramatically. Linda, in a dynamic and funny conversation, reminded us that box office has not fueled production for many years. DVD sales were where profit was to be found. Streaming services by Netflix, Hulu, Amazon Prime and the like have almost killed DVD sales. Movies are no longer made for home consumption but for the international market. The demographic is not 18-30-year-olds, but what will sell in Asia, the Middle East, Latin America, and Europe. This is why blockbuster super hero films are the dominant product. Producers know they will sell. Mid-range and smaller films are increasingly going to TV. The cable channels and streaming services, not the local movie houses, are where we will find our work in the future.
The world is going digital. Interactive media and audiobooks are the biggest areas of growth for performers. These markets will not come to us. It is up to us to organize them. One small example of this that happened at the convention was when each delegate was asked to record a message for Droga5 to thank them for being a leader in digital ads and express our excitement at working with them in the future. Click here for more.
We were all asked to show support for members working in digital media by posting these messages on social media: #performancematters and #iAmOnBoard2015. You can keep up to date with developments in these markets by signing up to receive notices at sagaftra.org/interactive. There are a number of things each member can do to further the aims of our union:
• Fight for more union commercial work by signing the statement of support at sagaftra.org/bestinthebiz;
• Upload photos and videos and share your story at sagaftra.org/mystory or tweet them using the tags: @sagaftra #sagaftramember #mystory; and
• Support recording artists by supporting the Fair Play Fair Pay Act of 2015 and joining the action at musicfirstcoalition.org.
These acts will serve to engage and empower. There is one further effort we can make by joining the President's Task Force on Education, Outreach & Engagement to support the A Call to Arts initiative. You can demonstrate your support by pledging 10 hours of mentoring in the arts before Dec. 31. Start an A Call to Arts account at sagaftra.org/acalltoarts.
If you are uncomfortable with this level of involvement and do not feel you can engage in these activities, you can still do your part to advance the SAG-AFTRA cause simply by showing your SAG-AFTRA card. It was not handed to you. You earned it. You deserve it. And you deserve the power of united action.
George Sanchez is a longtime member of legacy AFTRA and legacy SAG and a local board member of SAG-AFTRA.
Louisiana and Mississippi Studios
We created a list of studio resources in the Louisiana and Mississippi area which can be found here on the New Orleans Local page on the website. If there are other tools you feel may be helpful to you or other SAG-AFTRA members, let us know at neworleans@sagaftra.org.