The Official E-Newsletter of the SAG-AFTRA New England Local
2015-2017
NEW ENGLAND
LOCAL BOARD
Michele Proude – President
Tom Kemp – VP, Actor/Performer
Vic Ramos – VP, Broadcaster
Ellen Colton – Secretary
Douglass Bowen-Flynn
Frank Cacciola
Doug Cope
Rod Fritz
Russ Gannon
Garo Hagopian
Paul Horn
Andrea Lyman
Mike Macklin
Peter McSwiggin
Bill Mootos
Karen Scalia
Chuck Slavin
A.G. Wilde
Executive Director's Report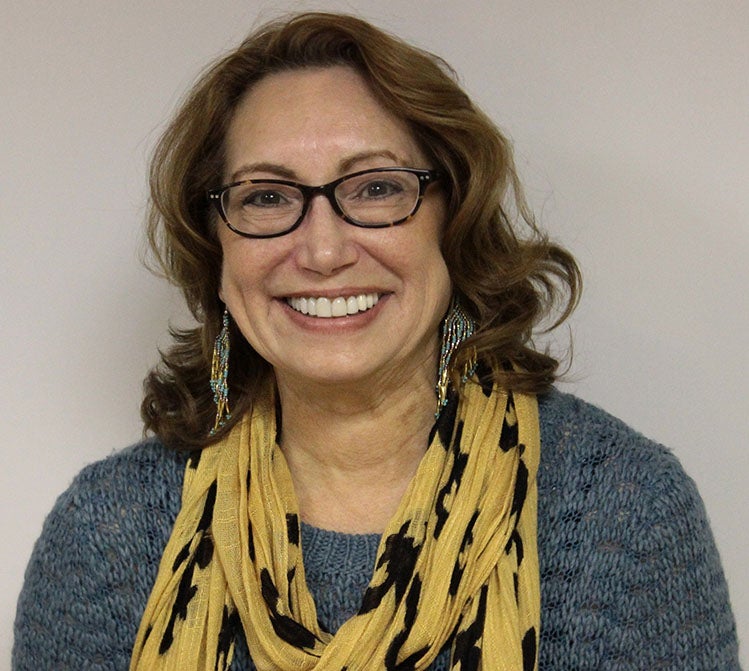 Happy spring to all members in Connecticut, Maine, Massachusetts, New Hampshire, Rhode Island and Vermont!
We continue to closely monitor developments concerning the film tax incentive in Massachusetts and neighboring states, as well as so-called "right-to-work" legislation proposed in our local. Together with the Massachusetts Production Coalition and sister industry unions, we constantly educate legislators about our industry and the benefits it brings to our local economy. Our members have been fierce advocates and always do us proud at the statehouse. Watch for the next call to action, but don't wait. Feel free to educate your own legislator today about what this opportunity means to you and your family. Your efforts make a difference!
In solidarity,
Susan G. Nelson
Executive Director
On Location
Four full-feature films are currently shooting in New England: The Burning Woman, Daddy's Home 2, Proud Mary and Who Do You Think Would Win?
Tip of the Newsletter
One of the best ways to catch the eye of a casting director is to get a new headshot. Industry experts warn, if your picture no longer looks like you or if it is 10 years old or more, you may be missing opportunities. 
SAG-AFTRA Health Plan Launched
The SAG-AFTRA Health Plan successfully launched on Jan. 1. 
Plan Highlights include:
• Two coverage tiers: Plan I and Plan II.
• Earnings requirement for Plan I coverage at $33,000.
• Earnings requirement for Plan II coverage at $17,000.
• Family coverage under both Plan I and Plan II.
• Mental health and substance abuse coverage offered in both Plan I and II.
• Medical and hospital provider network through Anthem Blue Cross.
• Comprehensive dental coverage offered through Delta Dental.
• Prescription drug benefits administered by Express Scripts.
• Vision benefits in Plan I through Vision Service Plan.
Detailed information about the new plan's benefits, eligibility and premiums, as well as answers to frequently asked questions are available at sagaftrahealth.org.
New England Co/Ed Contract Waiver
It's easier than ever to use SAG-AFTRA professionals: SAG-AFTRA has developed a new way to make hiring union performers on corporate/educational and non-broadcast productions a breeze. Not only do producers get more flexibility when using SAG-AFTRA performers, they'll have access to new, simplified rates available in the New England market for the first time.
Flexible Hiring: Producers can choose a cast composed of both union performers and others in any manner they like. SAG-AFTRA rates are only paid to the professional performers that are hired. This also gives members opportunities to use the waiver to flip Co/Ed projects from non-union to union.
Faster Production: Producers can get the work done quicker and better with a SAG-AFTRA narrator by using new reduced rates for multiple voiceover productions that take place in the same session. Talented SAG-AFTRA performers can get the job done in less time and add polish and professionalism to the productions.
Simplified Rates: Now there's no need to navigate the re-use rate structure. There's a single, reduced supplemental use rate for all Co/Ed projects, which includes basic cable, non-network TV, theatrical, foreign markets, sale/rental to industry and integration/customization use.
Easy Payment: Corporate/Educational projects can easily be processed through a talent paymaster service. 
Where to start? Contact the local at (617) 262-8001 or at newengland@sagaftra.org 
Conservatory Examimes New England Co/Ed Waiver
An upcoming Conservatory on the local's new Co/Ed Contract Wavier will be at the New England office on May 8 from 7–9 p.m. Staff and members will explain the components of the waiver and explain how the waiver can be used to access new work. Please RSVP at newengland@sagaftra.org with your legal first and last name, along with your SAG-AFTRA ID. 
Broadcast Report
By Vic Ramos
Broadcast Vice President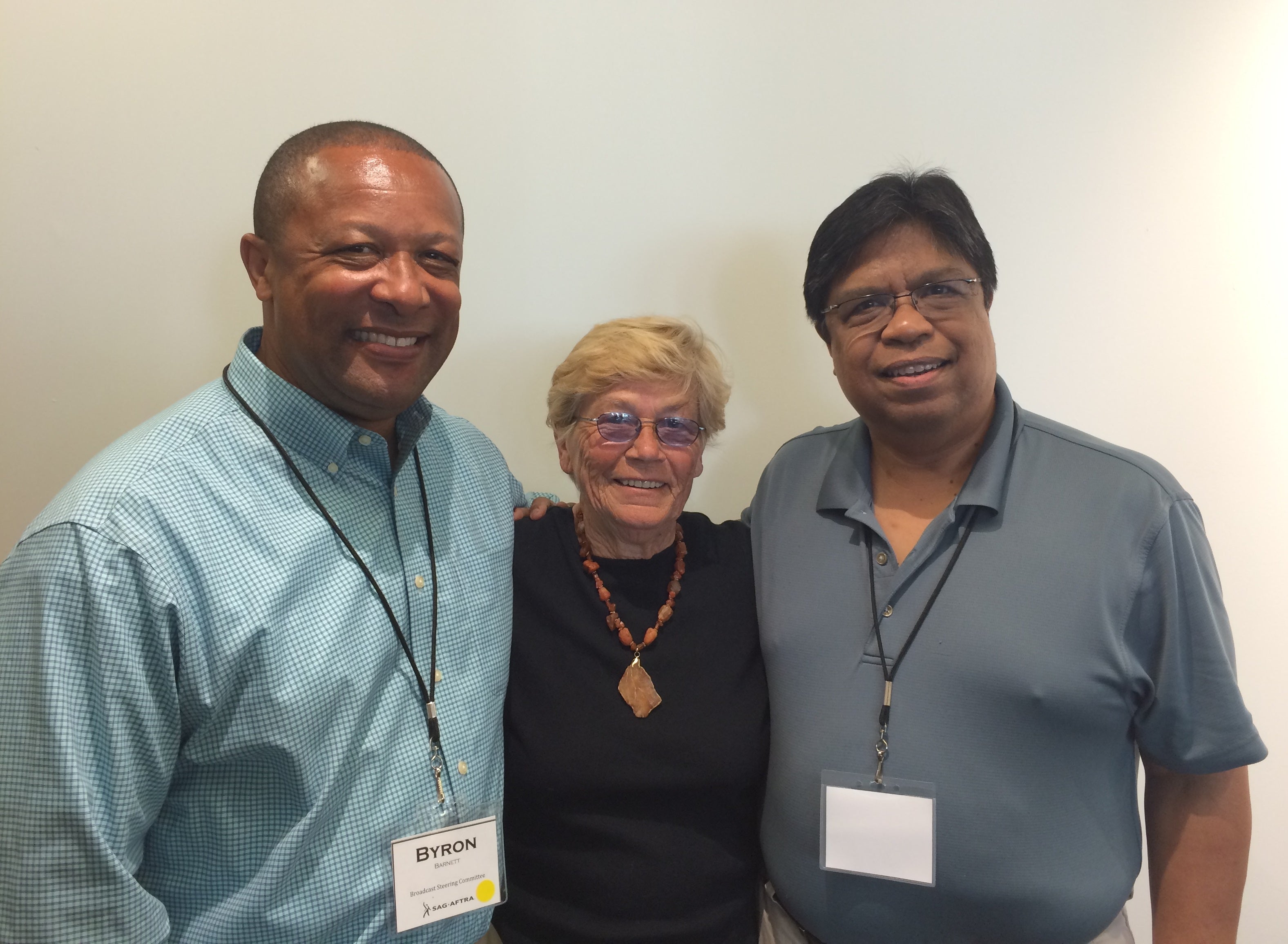 National Broadcast Steering Committee members Byron Barnett, Shelby Scott and Vic Ramos represent the New England Local at the October 2016 BSC meeting. 
I am pleased to report that for the first time in 16 years, the New England Local has a new broadcast bargaining unit. The news producers and associate producers of WFSB-TV voted 13–1 to be represented by SAG-AFTRA. They join their on-air colleagues in enjoying the right to bargain with management for the benefits and protections a union contract will provide. 
Several contacts at New England stations were approved in the last year, including WCVB-TV, WTIC AM/FM, WTNH-TV, WFSB-TV, WGME-TV and TTWN. The local is currently negotiating all of our CBS stations in Boston — both TV and radio — which includes WBZ-TV, WBZ-AM, WODS-FM and WBMX-FM.
CBS Radio recently set up a national traffic service across the country. Negotiations between CBS and SAG-AFTRA were fast and furious, with a new national contract in place as of March 2017. The New England Local is pleased to welcome several new broadcast members working under this national contract in Boston and Farmington, Connecticut.
The National Broadcast Steering Committee met three times over the last 12 months to address common broadcast issues faced across the country. Topics included keeping journalists safe in the field, First Amendment rights and the rise in social media as a source of news. Since merger five years ago, more than 20 broadcast shops have been organized by SAG-AFTRA, including NPR, Minnesota Public Radio and several local Spanish-language broadcast stations in L.A. and Chicago. The union also organized performers at Telemundo, marking the first time in 60 years that a group of performers at a major TV network has voted to unionize with SAG-AFTRA. 
On April 8, the New England Local hosted the second in a series of broadcast shop leadership training workshops. More than a dozen on and off-air members from CBS Traffic, TTWN, WBMX-FM, WBZ-AM, WBZ-TV, WCVB-TV and WHDH-TV participated in the session that covered the key roles of shop stewards, station assessments, organizing and outreach.
Finally, 2016 saw a couple of long-time Boston broadcasters and SAG-AFTRA members retire. Last May, WCVB-TV reporter Jack Harper put down his microphone after 34 years in Boston television. Whether it was a snowstorm or reporting on the tragedy of 9/11, Jack made viewers feel the emotion of the story. Jack follows WBZ-TV producer Rob Gati, who retired after 37 years. Rob's ability to adapt to the changes of broadcast news has allowed him to help tell stories from desegregation to the Boston Marathon bombings. In addition to his responsibilities as a producer, Rob served as shop steward and is a former local board member going back to legacy AFTRA.
Local Welcomes SAG-AFTRA President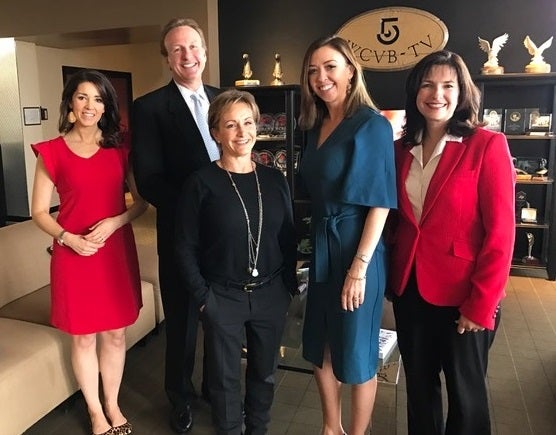 SAG-AFTRA President Gabrielle Carteris and New England Local President Michele Proude met with broadcast members at WCVB-TV on April 3. From left, Emily Riemer, Anthony Everett, Carteris, JC Monahan and Proude. 
SAG-AFTRA members gathered for our annual meeting on April 3 at the Boston Park Plaza Hotel. Members networked during the social hour before Local President Michele Proude opened the meeting with introductions and a year-in-review. Director, Contracts & Member Services Jessica Maher and National Director, News & Broadcast Tom Higgins offered a production report and broadcast report respectively. New England Local Executive Director Susan Nelson explained the union's upcoming board elections and union service opportunities. National Board member Bill Mootos outlined the major initiatives of the National Board and introduced the meeting's featured guest, SAG-AFTRA President Gabrielle Carteris. 
Members were treated to a special presentation about the new SAG-AFTRA mobile app, which features a residuals tracker, production listings, news and events, rates and contracts, and deals and discounts. Earlier in the day, Carteris visited with a number of broadcast members at WCVB-TV.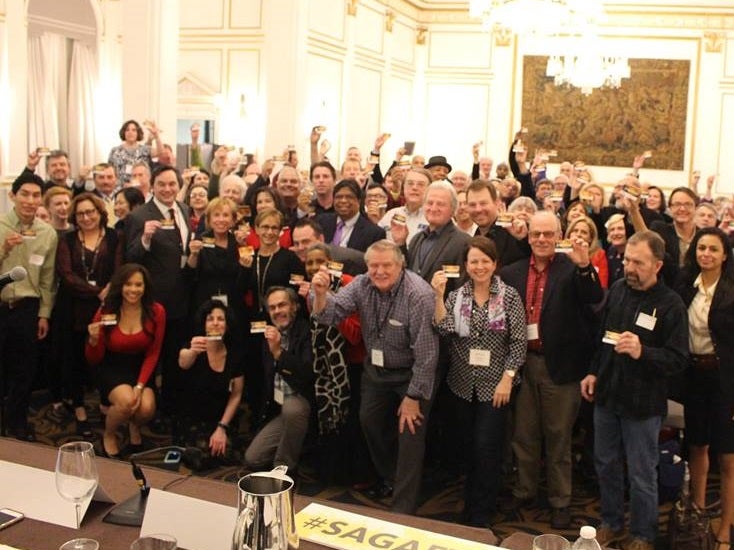 SAG-AFTRA President Gabrielle Carteris and over 125 members proudly show their cards at the 2017 New England annual membership meeting on April 3 in Boston.
BookPALS Inspire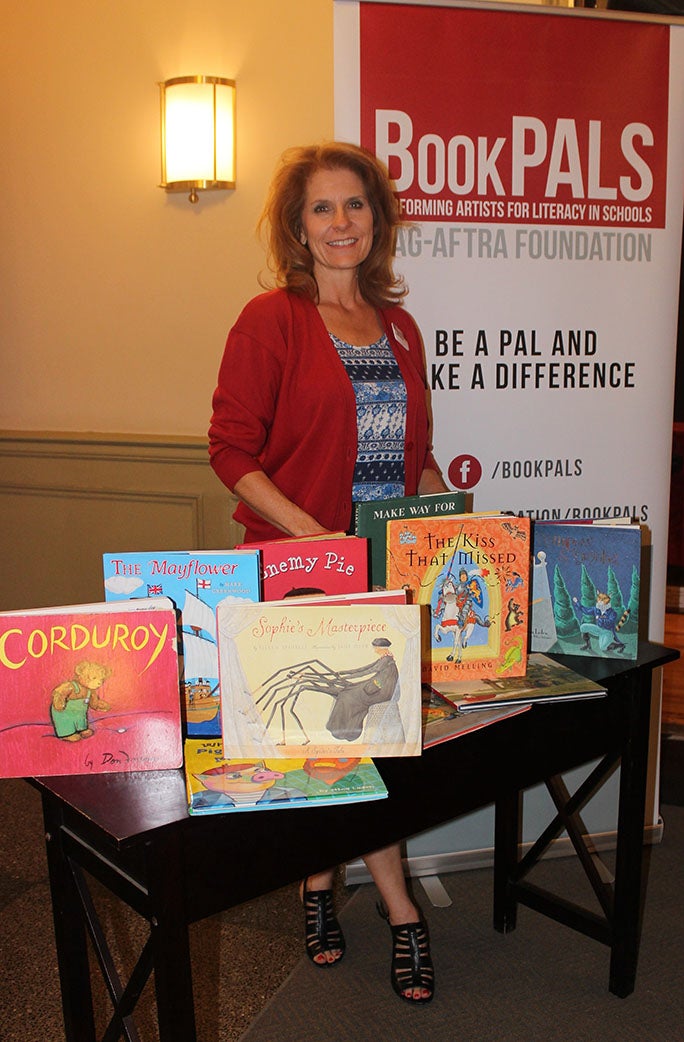 Beverly van Joolen, New England literacy program manager, staffs a BookPALS information table.
Discover the power of one. Share just one hour, one day a week in a Title 1 school near you and inspire a child to read, to use their imagination and to love words as much as you do. BookPALS is a unique literacy program sponsored by the SAG-AFTRA Foundation that brings in artists and broadcasters to read to children. Not only does the program promote literacy and expose children to wonderful literature told by gifted storytellers, but BookPALS allows performers and broadcasters to be part of something big and bright in their own communities. Being a reader gives as much to the artist as it brings to the children. Elementary schools up and down New England have placement opportunities for BookPALS volunteer classroom readers. 
Register now for fall. No experience in the classroom is necessary. BookPALS will train you, place you and support you all the way. To apply or for more information, follow the Literacy link to BookPALS at sagaftra.foundation or contact Beverly van Joolen, New England literacy program manager at bhvjoolen@sagaftra.foundation. 
New England Celebrates the SAG Awards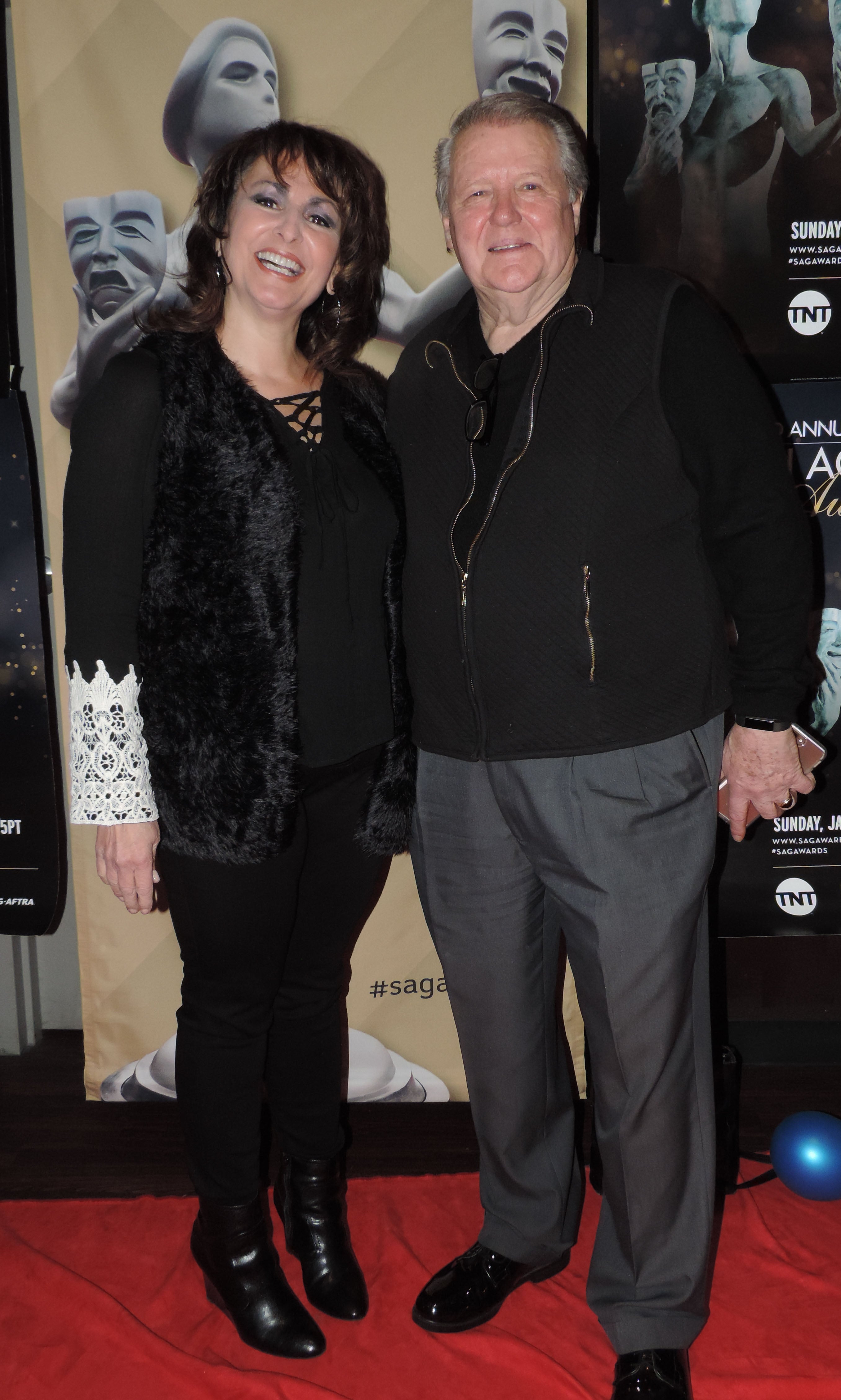 Boston Casting's Angela Peri and Local Board member Peter McSwiggin pose on the red carpet at the New England SAG Awards viewing party on Jan 29. 
The New England local kicked off 2017 with a very successful SAG Awards live viewing party on Jan. 29 at Laugh Boston. Nearly 150 members and guests partied and watched the 23rd annual awards show. Guests came together for the red carpet program, which included food, fun, camaraderie, a scoring-card game and prizes. Locally made film Manchester by the Sea was honored with four SAG Awards nominations, including Outstanding Performance by a Cast in a Motion Picture. The film, which was shot on the North Shore of Massachusetts, featured 500 local background actors and 40 local actors in principal roles. 
Learning Opportunities Expand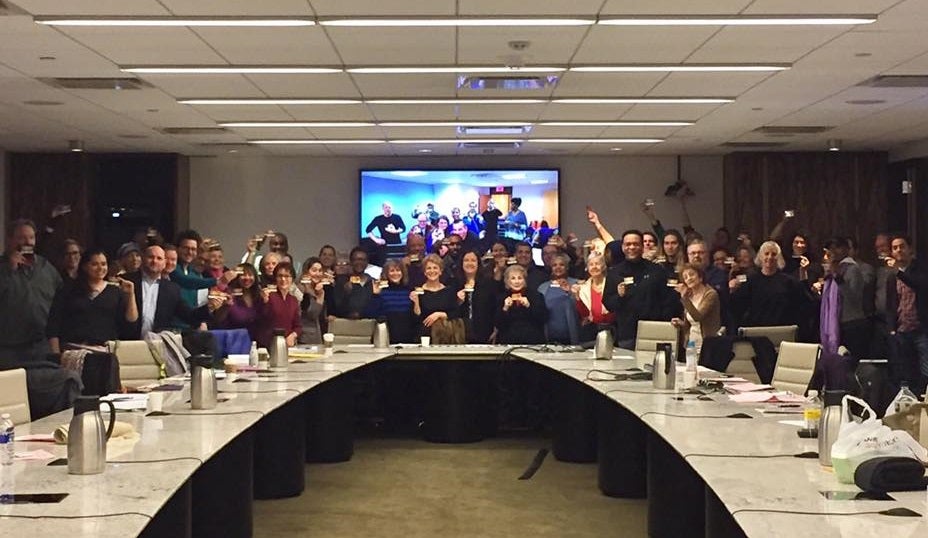 New York and New England Members (via videoconference) show their pride at the Jan. 18 joint local conservatory Tax Returns and the Working Actor with Sandra Karas. 
Contact Your Local
SAG-AFTRA New England
20 Park Plaza, Suite 822
Boston, MA 02116
Tel. (617) 262-8001 
Fax (617) 262-3006 
newengland@sagaftra.org
Hours: Monday – Friday, 9 a.m. to 5 p.m.
Susan G. Nelson, Executive Director 
Tom Higgins, National Director, News & Broadcast
Jessica Maher, Director, Contracts & Member Services
Ellen Stoolmacher, Manager, Membership & Local Administration
Ben Winthrop, Business Representative
Jalika Conteh, Administrative Coordinator
Brianna Ingemi, Intern