The Official E-Newsletter of the SAG-AFTRA New England Local
CAST AND CREW 
2015-2017 New England Local Board
Michele Proude – President
Tom Kemp – Vice President (Actor/Performer)
Vic Ramos – Vice President (Broadcaster)
Ellen Colton – Secretary
Frank Cacciola
Karen Scalia
Doug Bowen-Flynn
Rod Fritz
Russ Gannon
Garo Hagopian
Paul Horn
Andrea Lyman
Mike Macklin
Peter McSwiggin
Bill Mootos
Vic Ramos
Chuck Slavin
A.G. Wilde
Staff
Executive Director Susan G. Nelson 
National Director, News & Broadcast Tom Higgins
Director, Contracts & Member Services Jessica Maher
Manager, Membership & Administration Ellen Stoolmacher
Business Representative Ben Winthrop
Administrative Coordinator Jalika Conteh
LOCATIONS
Three feature films are currently shooting in New England: Patriot's Day, Stronger and Thoroughbred.
Advocacy Day is May 9
Join us at the statehouse on Monday, May 9, for a critical day of action and advocacy to keep film and TV jobs in Massachusetts. Beacon Hill needs to hear from you! It is now more important than ever that SAG-AFTRA members attend this event and send a clear message to the Massachusetts Legislature that films made in Massachusetts equals good jobs for the people of Massachusetts.
Advocacy Day schedule:
9 a.m.: Sign-holding around perimeter of statehouse
10 a.m.: Registration begins in Gardner Auditorium
11 a.m.: Speaking program in Gardner Auditorium
Noon: Visit state legislators' offices 
Please RSVP to SAG-AFTRA Business Representative Benjamin Winthrop at benjamin.winthrop@sagaftra.org. SAG-AFTRA T-shirts will be distributed outside the statehouse to SAG-AFTRA members on a first come, first served basis. 
Share this event with your network and on social media. We need a large turnout at the statehouse to make our industry's voice heard! Advocacy Day on May 9 is a critical piece of our campaign to preserve and protect the film and TV incentive program. Last-minute participants are always welcome!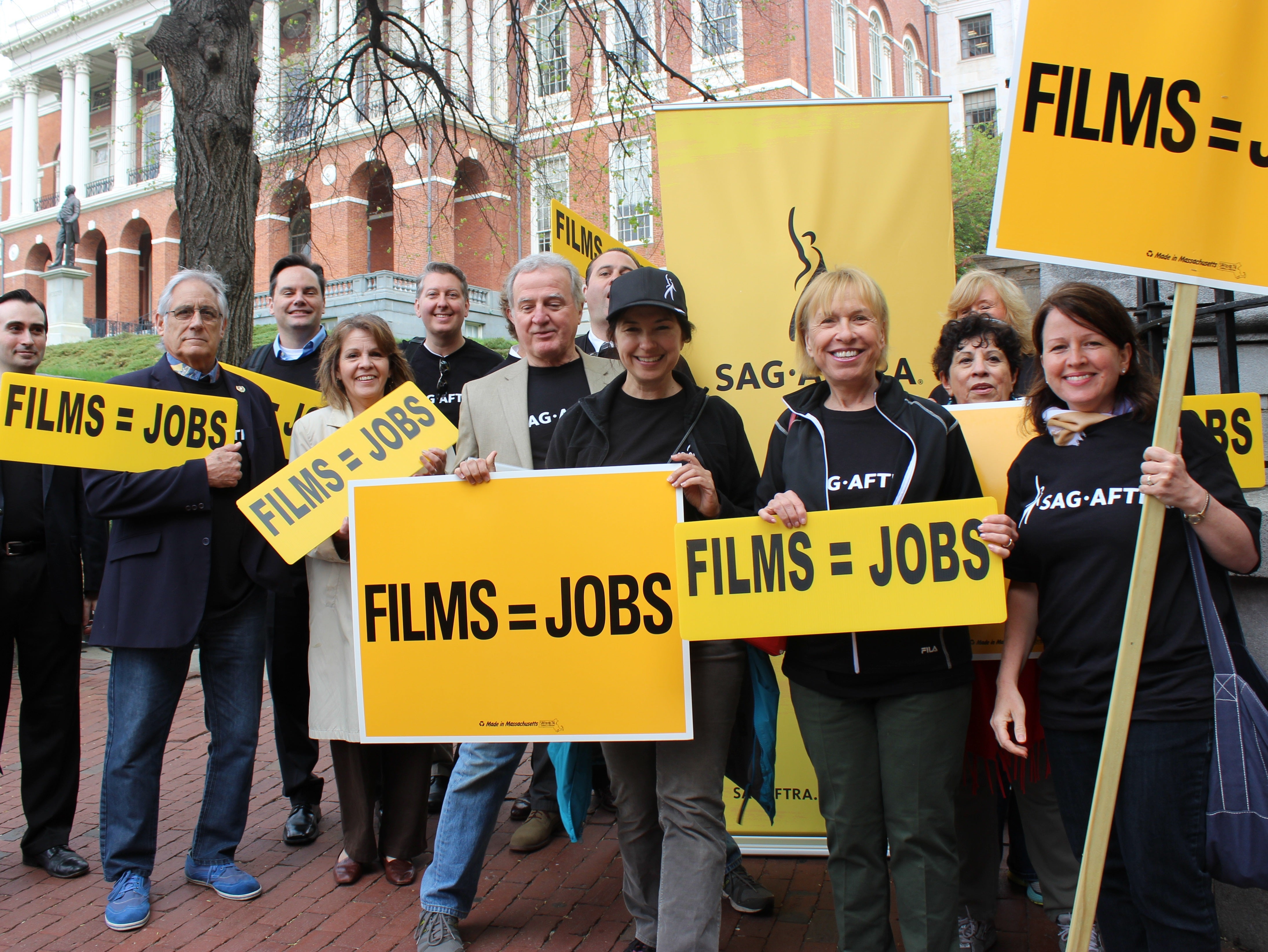 Members and board members show strong support at the 2015 Advocacy Day.
Gabrielle Carteris Elected President in Historic Vote
Filling the late SAG-AFTRA President Ken Howard's vacant office was at the top of the agenda when the National Board gathered at SAG-AFTRA Plaza on April 9. The board elected Gabrielle Carteris by acclamation to fill out the remaining 15 months of Howard's term and elected Rebecca Damon to serve as executive vice president -- meaning for the first time the top three SAG-AFTRA officers are women. Click here for more.

Performer Report 
Last year was a very successful year for the New England Local. From Feb. 2 to Dec. 8, 17 TV and full-budget film projects filmed in the region. Some 253 local actors were hired in principal roles and 1,138 local background actors worked over 7,400 days on set. The local welcomed 81 new performer members.
A waiver to the Corporate/Educational Agreement was approved by the Local Board in March and is currently being reviewed by national staff and committee members. Once it is approved, members will receive communication on local organizing and implementation strategies as well as notice of informational meetings.
The Best in the Business Commercials Organizing and Recapture Initiative comes to New England May 4, when SAG-AFTRA Commercial Strategist Gary Saxe will be at the New England office from 7 to 9 p.m. to meet with members, casting agents and producers. Please RSVP at newengland@sagaftra.org for this update on the union's efforts to expand commercial work. 
A workshop highlighting the benefits, contract requirements and signatory process for the low budget agreements will be offered on May 26 at the Boston Center for Adult Education. This workshop will cover the hows and whys of the various low budget agreements. The event is open to producers as well as members.
Local event and casting information can always be found on the New England page of the SAG-AFTRA website. Please also check out our e-blast! Make sure the Local has your email so that you can receive up-to-date information about events and opportunities.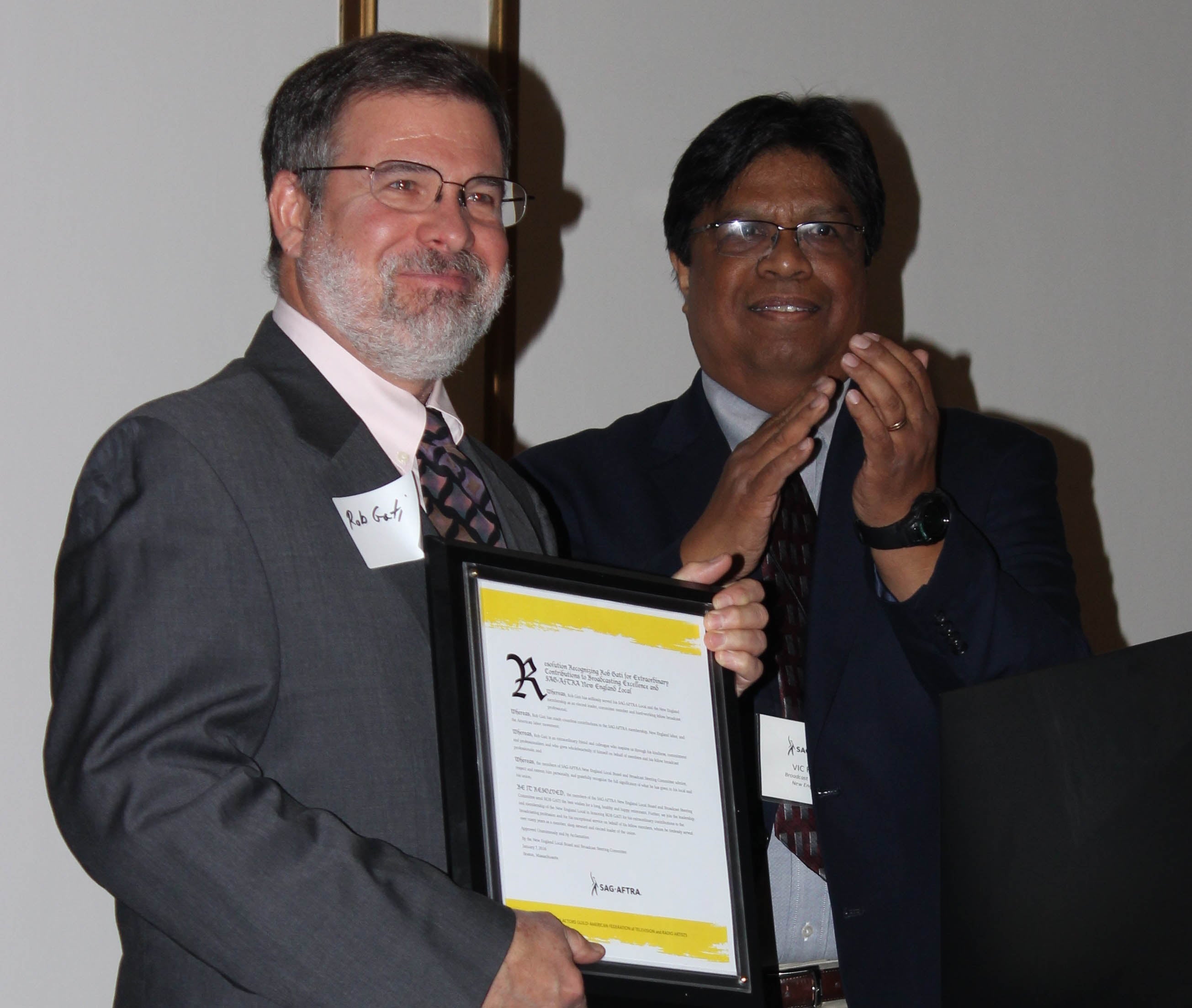 Rob Gati, WBZ-TV producer, accepts an award for his 37 years of extraordinary contributions to broadcasting excellence from Local Vice President Vic Ramos during the April 4 annual meeting.
SAG-AFTRA Annual Meeting Recap 
More than 75 SAG-AFTRA members weathered the spring snow for our annual meeting on April 4 at the Boston Park Plaza Hotel. Local President Michele Proude opened the meeting with brief remarks and introductions, followed by a presentation honoring WBZ-TV Producer Rob Gati for his 37 years of service to the SAG-AFTRA Local and the New England membership as an elected leader, committee member, shop steward and hardworking broadcast professional. National Board member Bill Mootos provided a report on the National Board and Vice President Tom Kemp honored SAG-AFTRA's late President Ken Howard. Director of Contracts & Member Services Jessica Maher and National Director, News & Broadcast Tom Higgins offered a production report and broadcast report respectively. Local Executive Director Susan Nelson explained the core functions of the union and recapped the past year, noting the election of a new board, the annual convention in Los Angeles, a new member orientation, a broadcast shop leadership training, the SAG Awards viewing party, the conservatory program, audition critiques, Studio 822 and a SAG-AFTRA Foundation-sponsored program with casting directors from New York. 
In addition to these presentations, the annual meeting featured a panel discussion moderated by Nelson on saving Massachusetts film jobs with coalition partners Joe Giannino, principal of Government Relations Group; David Hartman, director of the Massachusetts Production Coalition; Chris O'Donnell, business manager of IATSE Local 481; and Charlie Stefanini, principal of Charles Stefanini Consulting.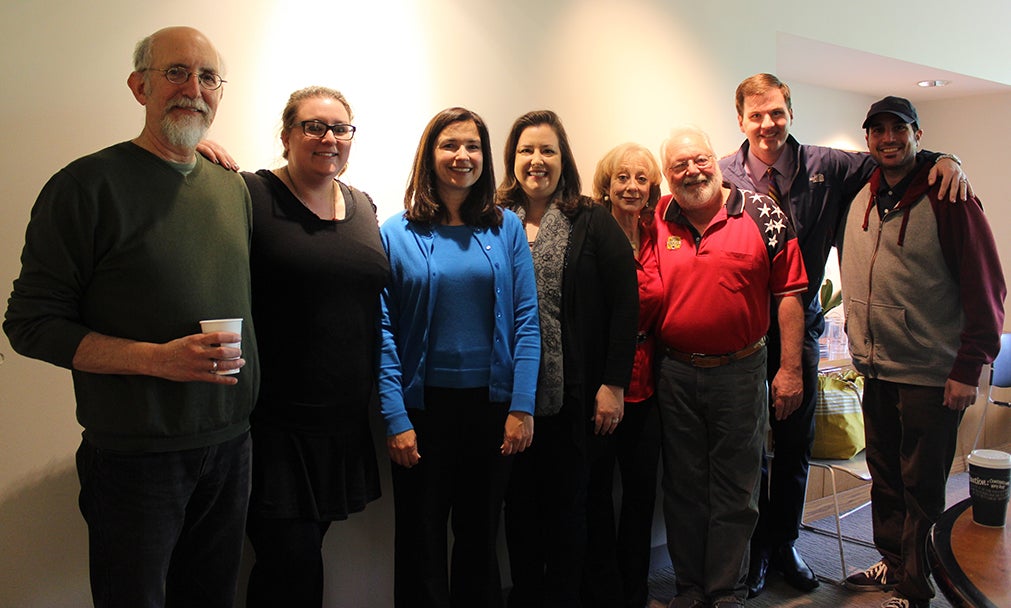 Executive Vice President Rebecca Damon and National Board member Ellen Crawford, members of the President's Task Force on Education, Outreach and Engagement, and Local President Michele Proude meet with broadcast members at WBZ-TV/AM. From left, Doug Cope, Nichole Davis, Proude, Damon, Crawford, Rod Fritz, Jim Armstrong and Chris Fama.
Broadcast Report
The past 12 months have been busy for the New England Local. Contracts were settled for WGME-TV (Portland), WVIT-TV (Hartford), WHDH-TV (Boston) and TTWN (Boston). Prior to that, contracts were settled for WBZ radio and TV, the largest union stations in our local, with three contracts in total. Gains made included new weight limits on equipment carried by TV reporters, a new radio stipend for planned streaming of newscasts, and increased employer contribution to AFTRA Health & Retirement. Negotiation Committee Member Rod Fritz called the talks "surprisingly smooth and amicable on both sides." Fritz also noted, "This is the way talks should go for every negotiation." Negotiations continue at WODS-FM and WBMX-FM in Boston, as well as at WFSB-TV in Hartford and WTNH-TV in New Haven. Contracts for WCVB-TV (Boston) and WTIC-AM/FM (Hartford) are out of negotiation and expected to be approved by the Executive Committee of the SAG-AFTRA National Board on May 19.
In 2015, the Local Broadcast Steering Committee organized a Personal Services Contracts seminar led by Mary Cavallaro, SAG-AFTRA chief broadcast officer. Members learned about negotiating individual PSCs, provisions to understand, and how the union can help. In December, the Local BSC organized a shop steward/leader training led by National Director, News & Broadcast Tom Higgins and New England Executive Director Susan Nelson. The training covered duty of fair representation, Weingarten rights, grievances and arbitration. Both events attracted broadcast members from across New England. Please contact the local office if you have a training idea or issue to discuss. 
Last, but certainly not in the least, reporter safety continues to be on the forefront of journalists' minds. SAG-AFTRA and the National Broadcast Steering Committee have launched the Safety4Media campaign, a resource for safety tips and information, including a confidential way to report safety issues on the job. Please check out Safety4Media.org and follow us on Twitter @safety4media.
Vic Ramos
Broadcast Vice President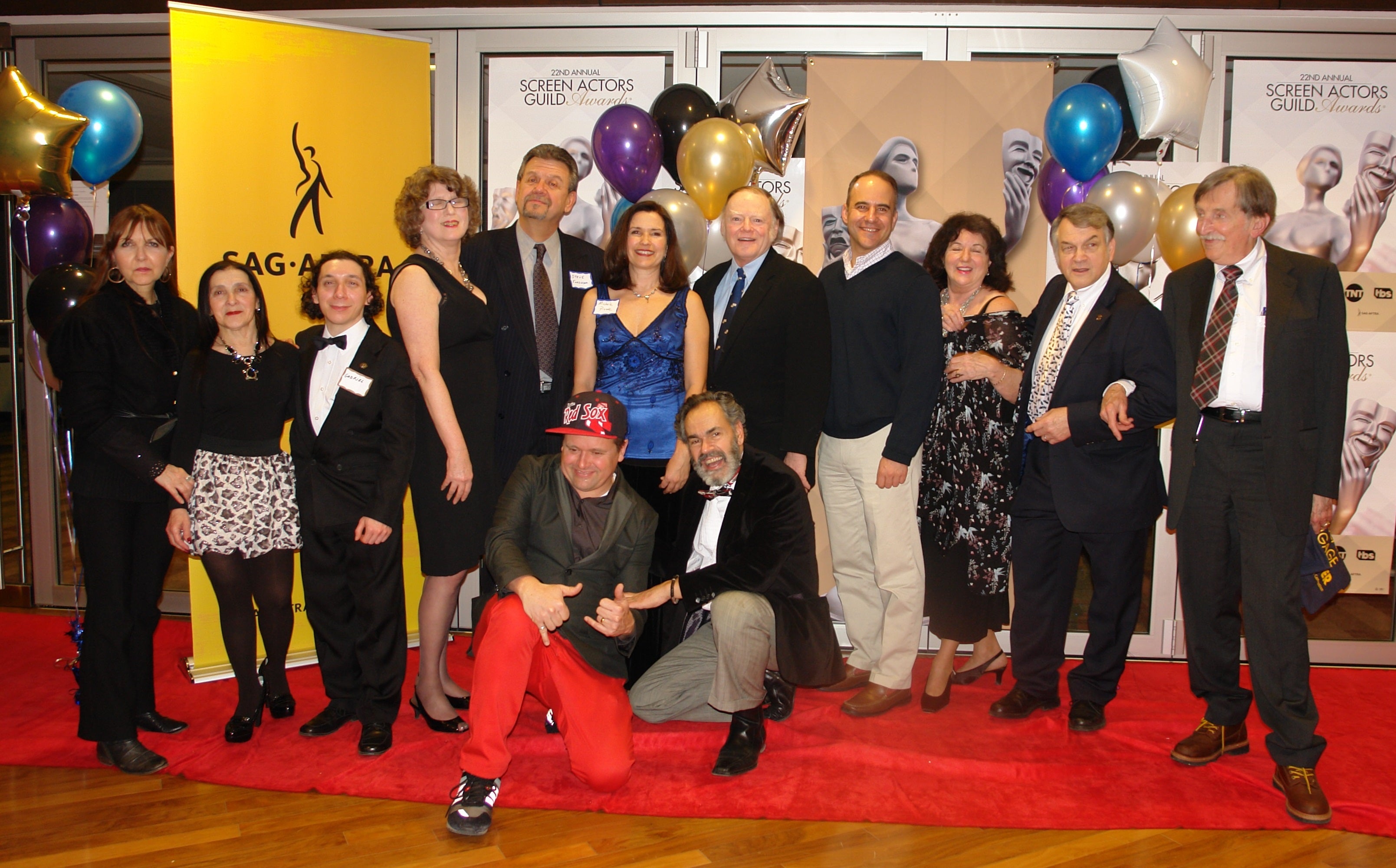 Spotlight cast members celebrate! Back row, from left, Diana Rice, Jean Ricker, Gabriel Ricker, Dale Appel, Stephen Fordham, Michele Proude, Richard O'Rourke, William Levin, Elaine Victoria Grey, Al Cialella, and Robert J. La Trémouille. Front row, from left, A.G. Wilde and Frank Cacciola. Photo by Don Warnock.
Spotlight Takes Home the Actor
The New England Local kicked off 2016 with another successful SAG Awards viewing party on Jan. 30. More than 100 members partied at the Carpenters Union Hall and enjoyed an endless hot and cold buffet, claimed raffle prizes, took photos on the red carpet and cheered the diverse winners. The celebration culminated when Spotlight took the actor for Outstanding Performance by a Cast in a Motion Picture. The film chronicles the five-month investigation by The Boston Globe's Spotlight Team into the cover-up of systematic sexual abuse of children within the Catholic Church. The film, which was shot around Boston, including the South End, Dorchester and Roxbury, featured over 300 local background actors and 25 actors in principal roles.