The Official E-Newsletter of the SAG-AFTRA Nevada Local
LETTER FROM THE EDITOR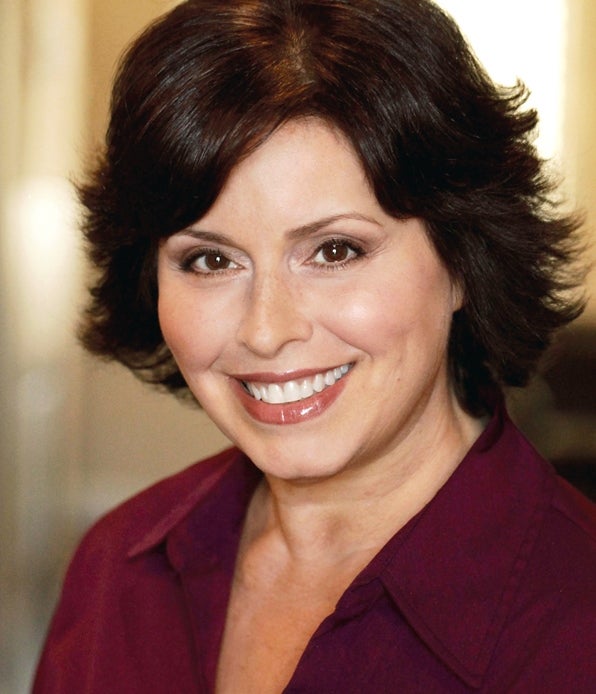 By Dee Drenta
Nevada Local Board Member
As a relatively new union member, I am pleased to have been asked to be the editor of our local's newsletter. I plan to use my decades of sales and marketing experience to complement the efforts of my fellow union brothers and sisters by contributing to our great state of Nevada in every way possible. I will always welcome and encourage all members to share ideas and experiences as content for consideration in our publication. It is my passion that our newsletter be positive and impactful.  
I have learned immensely through my mistakes and successes in my career as an actor and voice talent. It is vital to respect and support that we are each doing the very best we can at any given moment on our individual paths. I believe our state will flourish even greater as our devotion to our crafts continues evolving, individually and collectively. My personal goal is to remain open and welcoming to all in our industry by helping to educate, empower and encourage.
2015-2017 NEVADA LOCAL BOARD
Arttours Weeden – President
Kim Renee – Vice President
Rick Rockne – Second Vice President
Mary Ann Hebinck - Secretary
Guy Chapman
Dee Drenta
Scott Mirne
Heart Shapré
Bobbie Wolff
Click here to email us. For service and support information, click here.
A Message from the Nevada Local President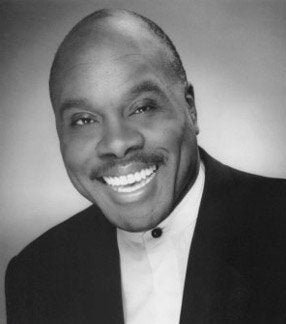 By Arttours Weeden
As president of the SAG-AFTRA Nevada Local, I want to assure you your local board works very diligently to make sure we're always representing the voice of the members. It has been an honor and a privilege to be able to serve our members at the local level.
When taking meetings to talk about what's required to make it better for the actors coming into the business, I always make sure to provide a better understanding of what it takes to obtain their SAG-AFTRA membership. I take pride in being hands-on with the young and young at heart. You are never too young or too old for this business.  
Thanks to all of you who were able to join us for the spring membership meeting on May 1 at Teamsters Local 631. We were fortunate to hear from two of the union's leaders, Secretary-Treasurer Jane Austin and National Board member Abby Dylan. It was a great opportunity for Nevada members to ask questions and learn more about their union.
Jane provided an update on various issues of national concern and spent time talking with those in attendance about the challenges they face living in a right-to-work (for less) state. 
Abby spoke passionately on behalf of the President's Task Force on Education, Outreach & Engagement (PTEOE) and delivered a powerful message: Just by being here, you are already leaders.
I had the good fortune to personally attend the Las Vegas Black Film Festival, which took place April 28 - May 1. The event took place at the beautiful Sun Coast Hotel & Casino, surrounded by 81 fabulous holes of championship golfing. I had the opportunity to sit on a panel with other judges for the actor's showdown event. I met a host of new people and was able to give them information about SAG-AFTRA Nevada that they may not have known, including that with the right guidance and diligence it's possible to accomplish your dreams and make it in this business.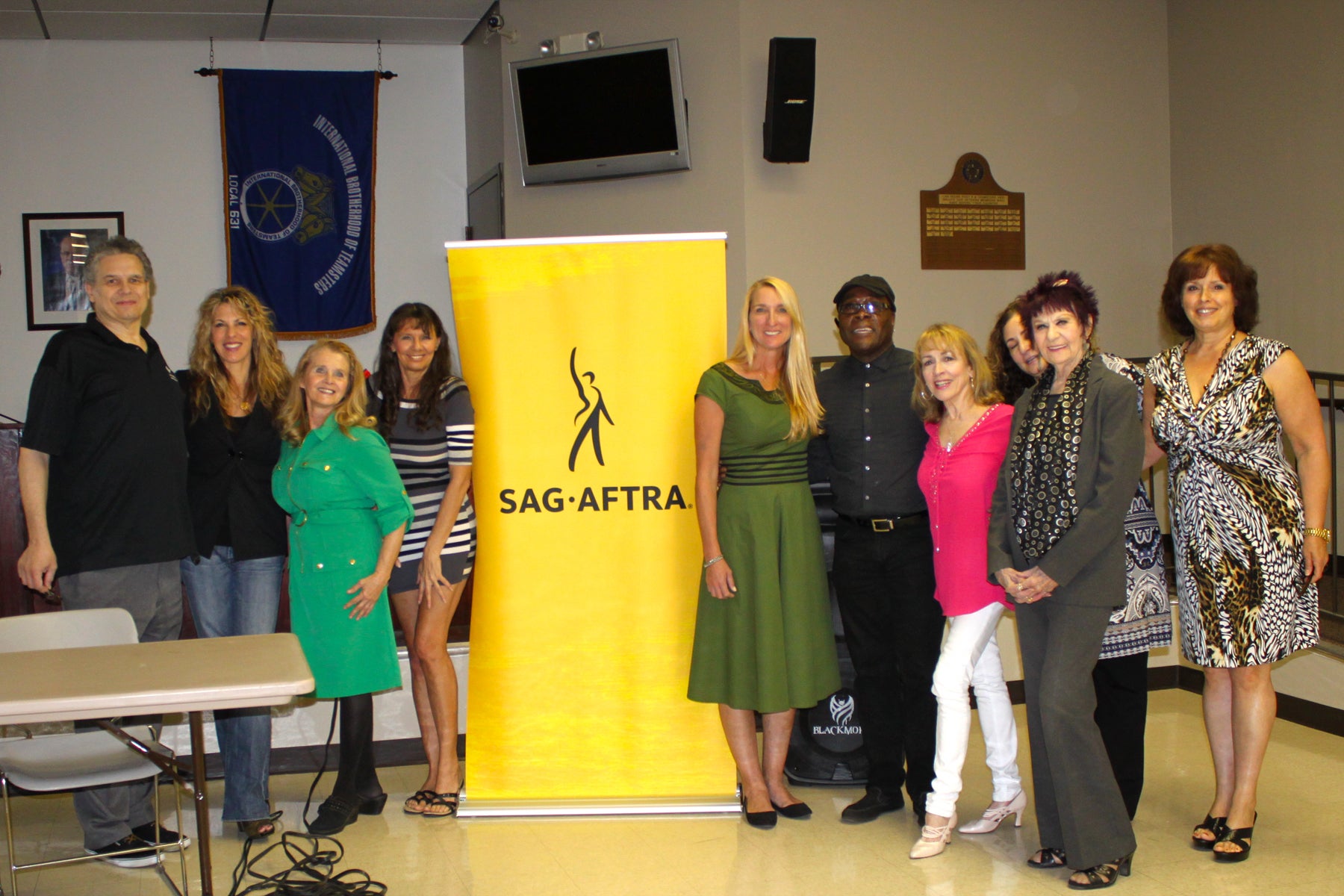 Secretary-Treasurer Jane Austin, National Board member Abby Dylan and the board. 
National Board Member's Report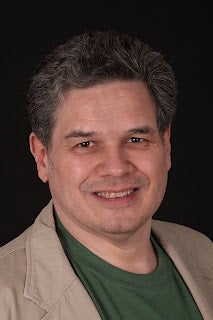 There is an old adage that bad news comes in threes. We had our trifecta in less than two months this spring.
Ken Howard, Patty Duke and Bill Schallert all left this earth with solid union and humanitarian legacies. 
On March 23, it came as a shock to most of the National Board and the membership when we lost SAG-AFTRA President Ken Howard. Ken ran for president of the Screen Actors Guild against strong opposition twice, battling for merger, a merger he championed and later oversaw as the new union's first president and, eventually, as SAG-AFTRA's first elected president. It was no easy feat. This was the third attempt at merger in my tenure representing Nevada on the National Board. 
It was a sacrifice for both unions to build for the future, and as a working actor Ken knew merger was needed if the current membership and future generations were to prosper as performers. I knew him personally and professionally. We worked closely. His loss hit me hard. He is missed. And as a 6-foot-4 performer myself, to know a man who towered above me in more ways than one (Ken was 6-feet-6-inches) and shared my passions for musical theater, dogs and the rights and future of all talent, he leaves a hole in the universe of acting and in those passionate about their fellow performers. We miss you, Ken.
On March 29, we lost former SAG President Patty Duke. She was a dedicated unionist and a hard-working, Oscar-winning actor, and a strong advocate for mental health, having herself lived with bipolar disorder. I was proud to be a member of our union under her leadership. I only met her a few times, but know from those who worked with her that she stood up for television performers' rights to earn a living. She fought hard against the spread of so-called "right-to-work" and the erosion of unionism in America. Anna Patty Duke Pearce was president from 1985 to 1988.
William Schallert left us May 9. Most memorable in his role as the father of a fellow future Screen Actors Guild president on The Patty Duke Show, he served as the Guild's president from 1979 to 1981 and was active on the board during much of my tenure on the union board in the '90s and early 2000s. Mild-mannered but with strong views, he fought for working actors and for the future for all actors. When he passed at age 93, he was fully aware of all the changes that had occurred in our professions over his lifetime and the rapid changes ahead of us. 
The passing of three presidents over such a short period of time has me looking back at SAG, AFTRA and SAG-AFTRA and all they do for the membership. Our union leaders have often sacrificed their careers for the betterment of members and to create a strong, now fully merged union.
We need to evangelize for unions, all unions. We owe it to them, to those who gave up careers, lost revenue, risked being fired in all professions just to stand up for basic health, safety, living wages and realistic hours.
We know Nevada. We know Las Vegas. There's great potential here. Let's discourage our union brothers and sisters from working "off the card" on non-union projects in violation of Rule One of the membership rules. If non-union producers can get top professional talent to work for less, there is no incentive for them to become union. Let's also convince our non-union "SAG-AFTRA-eligible" brothers and sisters to join our great union, so that together, united, we can earn more work, higher wages and all the benefits of being union.
We owe it to the three presidents we lost and to all of those who fought so hard and gave up so much for us to have what we take for granted today.
We owe it to ourselves to continue the trend set under SAG-AFTRA of stronger contracts built for the future, organizing of areas that have become increasingly non-union or even anti-union, and building out membership of qualified professional performers.
Support the conservatory, attend union meetings and talk-up SAG-AFTRA every chance you get.
Holding my union card high in solidarity,
Art Lynch  
Gabrielle Carteris Elected President
Filling the late SAG-AFTRA President Ken Howard's vacant office was at the top of the agenda when the National Board gathered at SAG-AFTRA Plaza on April 9. The board elected Gabrielle Carteris by acclamation to fill out the remaining 15 months of Howard's term and elected Rebecca Damon to serve as executive vice president — meaning for the first time, the top three SAG-AFTRA officers are women. Click here for more.
Conservatory Update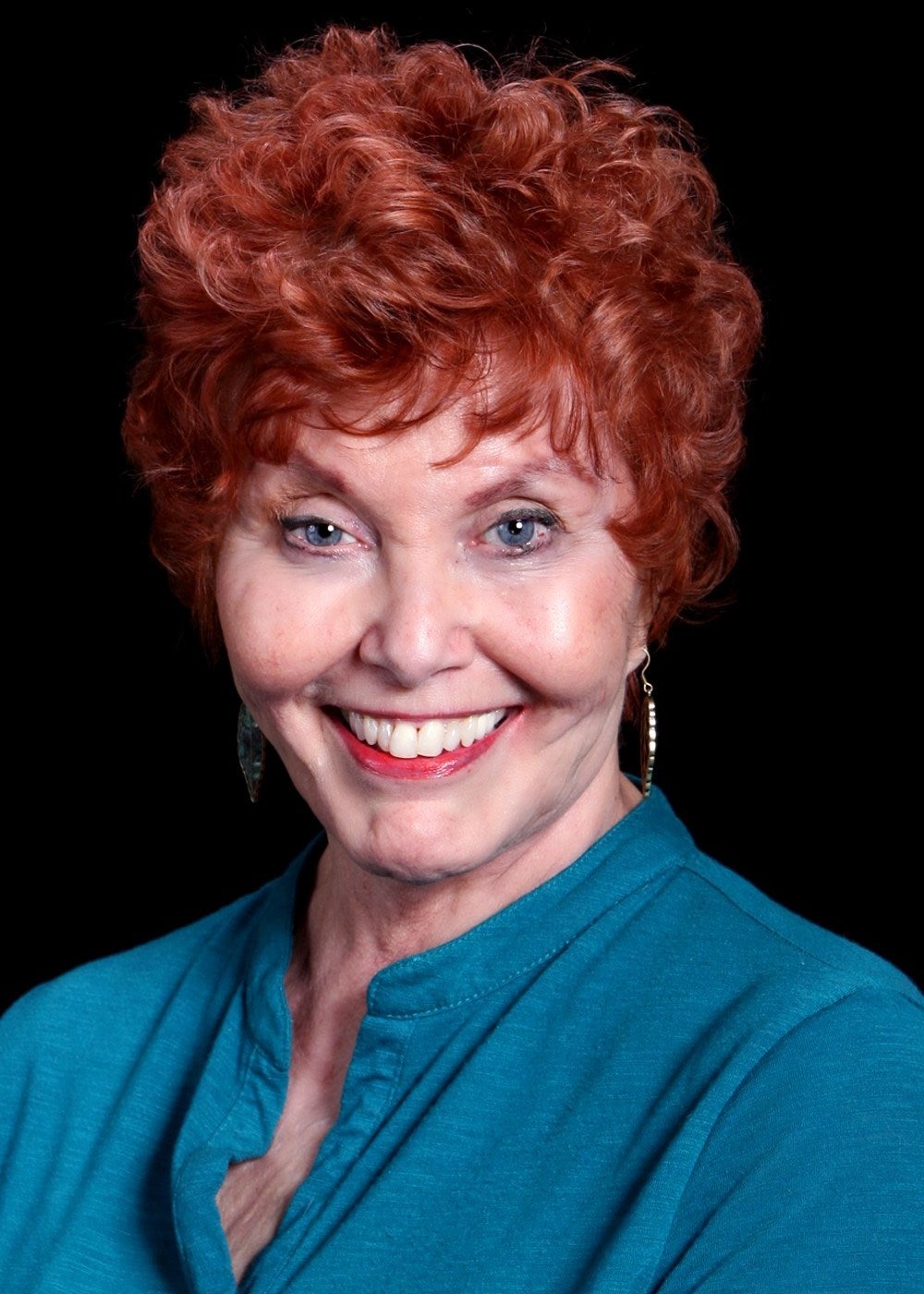 By Barbara Grant
SAG-AFTRA Nevada Conservatory Chair
I am sure you've heard the words "You must continue studying to be considered a serious actor!" The most successful actors always continue to hone their skills throughout their careers. This field is not for the squeamish or those fearful of rejection. It's for those who have a desire to know themselves on the deepest levels so as to bring their very best to every audition, callback and job by becoming better and better every single day. 
As chair of the SAG-AFTRA Nevada Conservatory, I am proud to say how fortunate we are to host some of the most incredible professionals in the business from all parts of the country who share priceless information, all with a generous spirit of "paying it forward." I anticipate continuing to provide at least six conservatories annually.
The exciting part is that our membership is only $40 annually for union members, and we are fortunate to welcome non-union (pre-union) members for only $80 annually! If you haven't already, give yourself a most cost-effective career boost by joining our conservatory and discovering your own pearls of wisdom. 
Remembering Ken Howard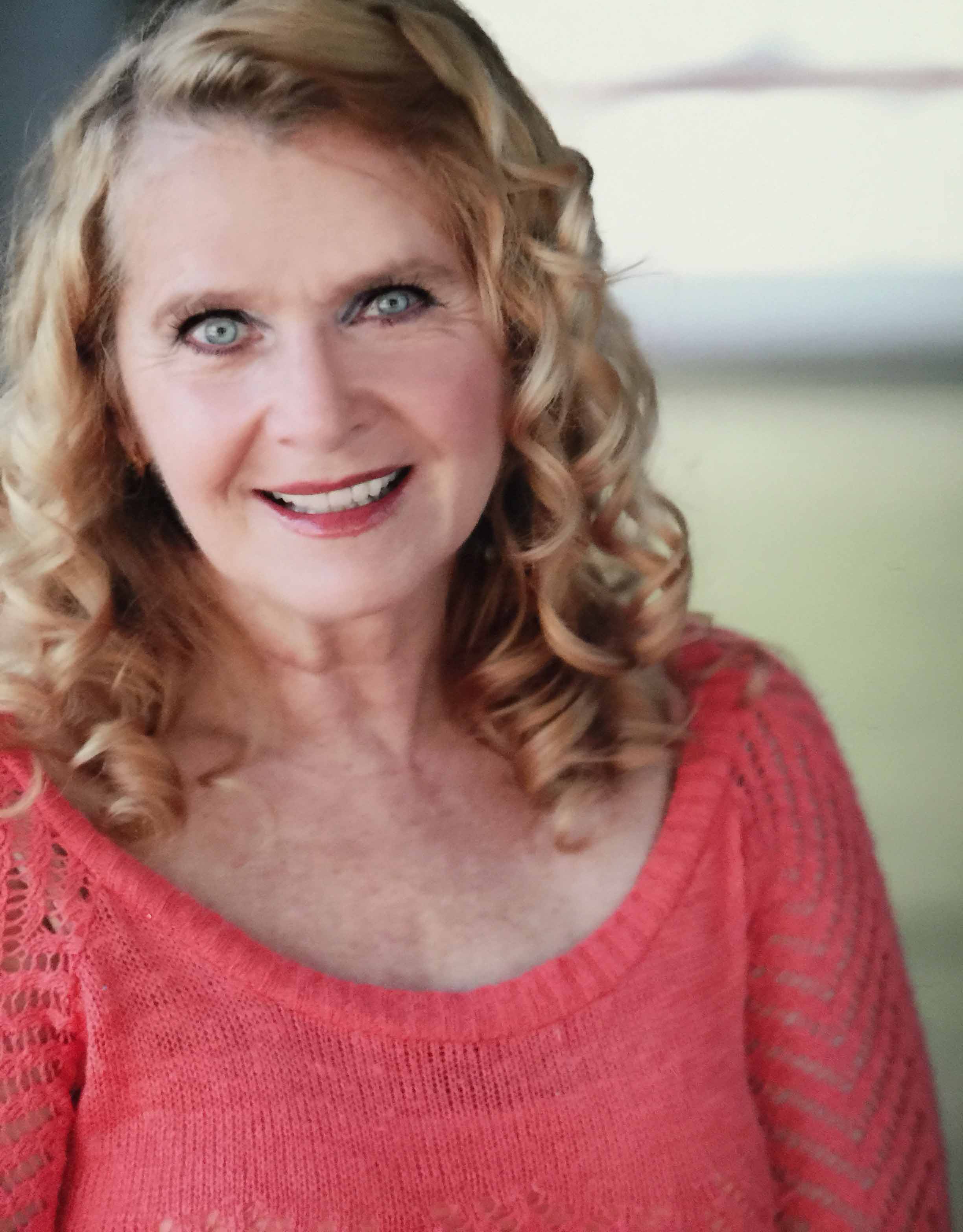 By Kim Renee
Nevada Local Vice President
It was so enlightening to hear all the wonderful stories about Ken Howard in the national boardroom. One that stuck in my heart was told by a member whose son had been attending the same college as Ken and decided to drop out. Ken took the young man to lunch and asked him to go back to school and graduate. He was forever grateful to Ken for that. 
It is so sad we don't know all about people until they are gone. So learn about your friends. Find out something special about someone you know. Don't wait until they are gone.
Welcome New Members and Transfers
New Members: Michael E. Edwards, Allison Kyler, Waltriessa De Leon, Stephane Fiossonangaye, Danny Latham, Martin David Andrew, Harmony Santana, Jennifer Ruth Arden, Aaron Strong, Travis Lance Sosa, Eryn Pablico, Heather Mehudar, Kevan Moezzi, Fik-Shun, David S. Braxton, Grant Townsend
Transfers In: Oksana Baiul, Lisa Foiles, Michelle Murlin, April Winchell, Chrystal Gibson, Jacqueline Heston, Ginger Guerra