The TenneScene - June 8, 2009
June 8, 2009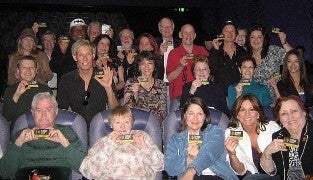 Members show their pride at Regal Green Hills Cinema.
FROM THE NASHVILLE BRANCH PRESIDENT
By Mike Montgomery

I hope the beginning of summer finds you all well and ready to enjoy warm weather and the benefits of our new Commercials and hopefully our new TV/Theatrical Contracts. Thank you to everyone who voted and showed their support. Both were hard-fought negotiations with real gains for our membership. The Commercials deal, negotiated with AFTRA, is recognized as one of the best in our history. While the TV/Theatrical Contract will mean real gains for us, most importantly it puts us back on schedule to be able to negotiate our next contract in conjunction with our sister unions AFTRA, WGA and DGA.

I would like to thank everyone who attended our "Night at the Movies" annual membership meeting at the Regal Green Hills Cinema in April. This is one of the most successful and best-attended meetings in recent memory. Cheeseburger Charley's was tasty, the meeting spirited and informative and the film, That Evening Sun, sublime. Our workshop on using the SAG Low Budget Contracts was very well attended on Friday and should lead to more union work opportunities for the membership. A huge thank you goes to the NAFF for the theater, the film and the festival discounts they offer to all Nashville SAG members. And as usual we must thank our wonderful staff from the Miami office, Leslie Krensky and Julie Balter. They make all things possible.

We discussed having a workshop on commercial audition techniques with wardrobe and makeup tips in the near future. It's still in planning but may be slightly delayed due to some staff reductions nationally and in the Miami office. Unfortunately, that's now become the rule instead of the exception, and we all hope this downturn won't last much longer.

So if you find yourself with a lazy hazy day, explore and join iActor or call your member of Congress and tell them to lend their support to our film incentives. Go to a yard sale, take a class, take a hike, check for ticks and don't wear white at dusk or the mosquitoes will eat you alive. Be happy and safe.
SAG TEAMS UP WITH FILM FEST
Nashville members are always seeking innovative ways to connect with each other and the local industry. As an example, by partnering with the Nashville Film Festival, members eagerly showed up to walk the festival's Opening Night red carpet en route to their annual SAG membership meeting. In addition, NAFF hosted a members-only premier screening of the Tennessee-lensed film, That Evening Sun, starring Hal Holbrook and Dixie Carter. The evening was rounded off by a networking mixer and the festival's opening night party. At the meeting, members addressed critical issues, including the upcoming contract referendum, strategy for increasing state film incentives and interest in a potential merger between SAG and AFTRA.

"I believe this was one of the most successful and productive membership meetings we've ever held," said Nashville Branch President Mike Montgomery. "The atmosphere was wonderful and food and film were great. A HUGE thank you goes to NAFF; without them this wouldn't have been possible."

Members and producers returned to NAFF the next day for a SAG Low Budget workshop. Clay Stafford, an established local producer/director who worked frequently with SAG's PBS agreement, is now signing the Ultra Low Budget agreement for the film Jordan's Run. "Working with SAG has been a pleasure," he said. "It's a win-win situation for everyone."

The Nashville Branch looks forward to an ongoing partnership with NAFF and we encourage members to support their unique venue for SAG independent films.
HANNAH MONTANA ROCKS—AND SO DOES TENNESSEE
By Angela Fox
Nashville Branch Council Member

My husband and I were invited to attend a Nashville screening of Hannah Montana: The Movie for local cast and crewmembers who worked on the film last year. As a member of Screen Actors Guild's Nashville Branch, I worked on the film myself and the experience surpassed many I've had on sets in New York and Los Angeles. While it was fun to see my own work on screen, it was even better to see that the film itself is a winner. It's a Disney film in the tradition of that studio's classic 1960s family films—but with a modern musical twist. Call it Hannah meets Hayley Mills, by way of Tennessee.

For not only is Hannah Montana an enjoyable film, it's also a Valentine to our state. Every location sparkles, showcasing the wide variety of scenery found in Middle Tennessee. The rolling green hills of Williamson County never looked lovelier and the beautiful Victorian farmhouse outside Franklin, which serves as the "home" of Hannah's grandmother in the film, would make anyone want to move here. Columbia's town square (playing the role of the fictional Crowley Corners) and the Smiley Hollow event venue in Greenbrier, where several concert and dance scenes were filmed, also shine. Even the scene set in a swanky Beverly Hills shoe store actually was shot right here in Cool Springs.

The film also highlights the talents of Tennessee's film community. Several local SAG actors have roles in the film and literally hundreds of local citizens are featured as extras in the concert and dance scenes. Dozens of crewmembers also worked on the film in every technical capacity.

Director Peter Chelsom and Executive Producer David Blocker were at the screening, as were many of the local cast and crewmembers. Perry Gibson, executive director of the state film office, and other officials also were there. Both Blocker and Chelsom addressed the capacity crowd and lavished praise on everyone who worked on the film locally.

As the final credits rolled, it struck me that Gov. Phil Bredesen and our state legislature should use our 15 minutes of fame as the state where Hannah Montana was shot to attract more film and television projects. We lose a lot of this business to Louisiana and North Carolina because of the superior financial incentive package they offer film companies. In fact, we almost lost Hannah to both those states but, fortunately, Tennessee's own film incentive program tipped the balance in our favor.

Our initial investment in state-funded film incentives has paid off big time, but we must keep the momentum going. We need to renew funding for the film incentive program. We need to promote and expand it. We need to offer the same kind of tax credits and perks that other states do, realizing these incentives are recouped a hundred times over from the revenue a film pumps into the local economy. Remember that it's not just actors and crew who make money when something is filmed here. Big films spend big bucks locally on everything from food and lodging to construction materials and transportation. In fact, when you have a film like Hannah Montana in your state, it's like having a mid-sized company relocate here for several months. And in these challenging economic times, making movies is one of the few recession-proof businesses out there. Then there's the impact of tourism—if even a fraction of the millions of people around the world who see Hannah Montana decide to visit Tennessee, well, you do the math.

Tell your state legislator and the governor to renew funding for the film incentive program. It will bring more film and television projects to Tennessee and pay for itself in a Hannah Montana-minute.
AFTRA AND SAG MEMBERS RATIFY COMMERCIALS CONTRACTS
Members of the Screen Actors Guild and American Federation of Television and Radio Artists overwhelmingly have approved new three-year successor agreements to the 2006 Screen Actors Guild Television Commercials Contract and the 2006 AFTRA Television and Radio Commercials Contracts .

The memberships of AFTRA and SAG voted 93.84 percent in favor of the new agreements. Approximately 132,000 members of the unions received ballots, of which 28 percent returned them. The final vote was certified by Integrity Voting Systems, an impartial election service based in Everett, Washington.

The new agreements cover performers working in commercials made for and reused on television, radio, the Internet and new media. The unions estimate the three-year increase, which is retroactively effective to April 1, will generate more than $108 million in member earnings, including approximately $24 million in increased contributions to the SAG Pension & Health and AFTRA Health & Retirement plans. The total combined value of the AFTRA and SAG contracts is projected at more than $3 billion over the three-year term of the agreement for working performers, including actors, singers, dancers, choreographers, stunt persons and extras.

The unions also successfully established the first payment structure in commercials for the Internet and new media. The unions affirmed their jurisdiction over commercial work made for the Internet in 2000, and new media formats in 2006. The new payment structure goes into effect in the third year of the contract.

Additionally, the new contracts contain an agreement outlining terms for a pilot study to test the gross rating points model of restructuring compensation to principle performers, as proposed by Booz & Co. The two-year pilot study will be conducted by a jointly retained consultant engaged by the unions and the industry. The study is expected to be paid for by grants from Screen Actors Guild-Industry Advancement and Cooperative Fund and the AFTRA-Industry Cooperative Fund.
47 ARTISTS FOR EMPLOYEE FREE CHOICE ACT
While many people associate actors with fame and glory, the truth is, a union contract is the only reason many performers can support their families. That's why Screen Actors Guild supports the Employee Free Choice Act. All workers, regardless of their field, deserve the freedom to bargain for a contract for a better life.

To spread this message, 47 artists joined together with the AFL-CIO and members of other entertainment unions to create "Artists4WorkersChoice." This is an amazing collection of Oscar, Grammy, Emmy and Tony Award winners and nominees, sitcom stars, character actors, musicians, comedians and Broadway performers.

All are union members. All support the Employee Free Choice Act and say so in this new video.

This is not a red state issue. This is not a blue state issue. It's a workers' issue.

Please watch the video. Share it with your family, friends and through social networking. And, just as importantly, contact your U.S. senators and representative in Washington D.C. here, and ask them to support the Employee Free Choice Act.

Together, we can make America's economy work for working people.

A special thank you goes out to all the actors, editors, writers and crew members who made this video possible, including members of the following unions:

• Actors' Equity Association
• American Federation of Musicians
• American Federation of Television and Radio Artists
• Directors Guild of America
• International Alliance of Theatrical Stage Employees, Moving Picture Technicians, Artists and Allied Crafts of the United States, Its Territories and Canada
• Screen Actors Guild
• Writers Guild of America, East
• Writers Guild of America, West
SAG'S DOCUMENT LIBRARY
Looking for a claim form? Want to check the details of any of the Guild's agreements?

If you are registered at SAG.org and logged in, you'll find everything you need to do business with SAG—quickly and efficiently. It is all in one place. The Document Library is your one stop for forms and performer handbooks. Go there now by clicking here.
SAG FOUNDATION STANDS READY TO HELP
The Screen Actors Guild Foundation enhances the lives of actors by investing in programs that help them in their professional endeavors. The foundation's financial assistance, catastrophic health, educational and literacy programs reflect the concerns and interests of SAG members as well as their desire to "give back" to their communities. The SAG Foundation is independent from SAG but offers substantive services to Guild members, free of charge. For details, visit SAGFoundation.org or call (323) 549-6708.
PRODUCTION UPDATE
To find out about productions scheduled to film in Tennessee, click here to connect to the Branch home page. Remember, you must register with the SAG website to access this exclusive members-only information.
THE NASHVILLE BRANCH GIVES A WARM WELCOME
New Members
McKenzie Applegate, Steve Willis Butler, Chance, Jack Hoke, Elizabeth Cali Moore, Chord Overstreet, Chuck Wagner, Tony Williams

Transfers
Jacqueline Allison, Nicholas Andrew, Sam Assaid, Blake Avis, Christine Lee Bauer, Amy Bebout, Christopher Lee Bennett, Elizabeth Bostwick, Jackson Bostwick, Julie Chung, Timothy Craig, Anthony Darren, Steven L. Davis, Jesse Dean, Phyllis A. George, Rachael Gillam, David Grow, Ester Harvey, Garry Hearne, Amy Hess, Lee Beth Kilgore, Ryan C. King, Joe Koons, Christopher J. Mccarron, Tania Mejia, Rick Montana, Booke , A. Moreno, Cheryl Morrow, Oliver Morton, Paddy O'Nolan, T. Austin Olah, Barbara Oliva-Rodriguez, Jennifer S. Paige, Joan Riordan, James Short, Noush Skaugen, Ken Strunk, Lauren Ashley Taylor, John Richard Todd, Christopher Walberg, Peggy Walton-Walker, Jonathan D. Wolff, Andrea Yager