December 10, 2008
BRANCH PRESIDENT'S MESSAGE
By Mike Montgomery

As 2008 comes to a close, Screen Actors Guild finds itself in a unique position to face the rapidly changing future of the entertainment industry. We have not yet come to an agreement with producers on motion picture, television and new media issues. SAG now will launch a full-scale education campaign in support of a strike authorization referendum. Stay tuned and stay informed. Plans are currently in the works for joint Commercials negotiations to be conducted with AFTRA sometime in the new year. Discussion continues on the committee level to find new and innovative ways to make our contracts more accessible to producers while creating more work opportunities for actors across the board, from student film to major motion pictures. And our newly elected National Board hopes to forge a new spirit of harmony and cooperation.

Our Tennessee film incentives were a resounding success, as motion pictures were filmed in all three divisions of the state, topped by Hannah Montana, which was lured from Louisiana to the beauty of Middle Tennessee. If you are so inclined, feel free to drop your state representative a line reminding them of these successes and the economic reward reaped by local communities, businesses and your fellow Tennesseans. By maintaining a simple pool of money, the state is able to attract a clean industry that weaves itself immediately into the local economy and requires no infrastructure investment on our part. During these challenging times, it's a win for Tennessee.

Happy holidays to you all!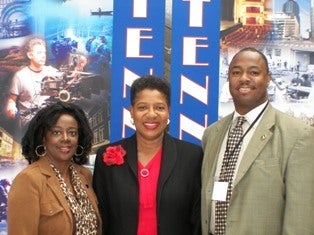 SAG Business Representative Ruth Paul
with Tennessee State Reps. Brenda
Gilmore,and Joe Towns Jr .
FILM FESTIVALS, PANELS AND LOW BUDGET WORKSHOPS

SAG was on the scene for two flourishing film festivals in Tennessee. South Region Executive Dave Fazekas attended Indie Memphis to conduct a low budget contracts workshop and encourage union employment under these contracts. The festival, now in its 11th year, draws from Memphis' rich cultural history to connect filmmakers from across the country. The city, which currently ranks on MovieMaker magazine's Top 10 list of most film-friendly cities, has early roots in independent film that go back to Jim Jarmusch's Mystery Train in 1988. Francis Ford Coppola, Milos Forman, Robert Altman and Sydney Pollack all have shot major features in Memphis—as well as natives Craig Brewer (Hustle & Flow) and Ira Sachs (Forty Shades of Blue), who won the Sundance Audience and Narrative Jury Awards respectively. During the festival, Fazekas caught up with Brewer, as well as several prior low budget signatory producers who are interested in returning to Tennessee this year. 

The International Black Film Festival of Nashville, now in its second year, is evolving into a significant showcase and education source for the African-American film community. We welcomed the opportunity to introduce ourselves to emerging and established filmmakers. Business Representative Ruth Paul conducted a low budget contracts workshop and participated on the panel "The Dream Team: Building an A-List For Your Film." Paul also met with Festival Honorary Chair Debbie Allen, Tennessee State Reps. Brenda Gilmore and Joe Towns Jr. and SAG members Tyler Williams (Everybody Hates Chris) and Boris Kodjoe (Soul Food).

Both festivals were widely attended and SAG is always eager to reach out to the local industry and to meet up with local members.
AFFT PROMOTES TENNESSEE FILM EMPLOYMENT
Several months ago the Screen Actors Guild Nashville Branch became a proud partner of The Association for the Future of Film & Television. The mission of AFFT is as follows:
To affect legislation in the state of Tennessee that benefits the film, television and video production industries and those associated with it.
To inform and educate those in the film, television and video production industries about proposed, active or unsuccessful legislation affecting the industries.
To promote the common interests of the industries at the legislative level.

AFFT now has more than 200 members across Tennessee and interest is growing along with the enrollment. Executive Director Jan Austin advised that the AFFT Political Action Committee should be up and running in the early months of 2009 and will be celebrated with a kick-off bash and fund-raiser in Nashville. Stay tuned for more information. Please visit the AFFT website at AFFTTennessee.org and join in to work on behalf of the film and television industry in Tennessee.
IN MEMORIAM
Nashville Mourns Country Music and Screen Stars

Two Nashville SAG members of note passed away this September. Both Jerry Reed and Charlie Walker were celebrated stars of country music and the big screen. Reed, 71, was a larger-than-life personality who worked with Burt Reynolds in several Smokey and the Bandit movies and alongside Adam Sandler in The Waterboy. As a singer, Reed had a string of hits that included "Amos Moses," "When You're Hot," "East Bound and Down," "She Got the Goldmine (I Got the Shaft)" and "The Bird." He was voted 1970 instrumentalist of the year by the County Music Association and garnered several Grammy awards. 

Walker also was an acclaimed artist and a Grand Ole Opry member. He started his music career with the Cowboy Ramblers and later was ranked as one of the top 10 country music disc jockeys. When he returned to music, his smash hit "Pick Me Up on Your Way Down" sold millions. As an actor, Walker portrayed Hawkshaw Hawkins in the movie Sweet Dreams, which starred Jessica Lange as Patsy Cline.

The Nashville Branch will greatly miss these two talented members who inspired audiences and artists alike.
PRODUCTION UPDATE
The Guild has been contacted by the following productions about becoming signatory to one of the Screen Actors Guild collective bargaining agreements. Please be advised these producers may not have completed the signatory process at this time. It is the responsibility of each member to confirm that each producer has signed the applicable contract before making an agreement to render services. Failure to confirm the signatory status before rendering services may lead to disciplinary charges being filed. If you have any questions, please contact the office at (800) SAG-0767, option 5.

Tennessee
Last Highway – Theatrical
Thunderville, LLC
Location: Nashville, TN
Start Date: To be determined
No casting information available

Alabama – no productions at this time

Arkansas – no productions at this time

Georgia

Running Out of Angels – Low Budget
Y2K Productions, Inc.
Location: Atlanta/Savannah, GA
Start Date: To be determined
No casting information available

Sam's Story – Theatrical
Golden Shadows Entertainment, Ltd
Location: Atlanta, GA
Start Date: October 21, 2008
No casting information available

Mississippi - no productions at this time

North Carolina

Jailhouse, The – Ultra Low Budget
3 L Productions, LLC
Location: Wilmington, NC
Start Date: November 4, 2008
No casting information available

No Limits – ULB
Elevating Entertainment, LLC
Location: Charlotte, NC
Start Date: To be determined
No casting information available

Hope's Wish – Theatrical
Dean River Productions, Inc
Location: Charlotte, NC
Start Date: January 15, 2009
No casting information available

South Carolina – no productions at this time

NOTE: Because access to our update is restricted to SAG members in good standing only, we ask your continued cooperation in maintaining the confidentiality of its contents. Therefore, please refrain from sharing this update, or forwarding e-mailed updates to anyone.
WELCOME NEW MEMBERS AND TRANSFERS
New Members
Martie Maguire, Natalie Maines Pasdar, Emily Robison and Terry Stone

Transfers
Shari Arnold, Judson Chalkley, Scooter Timothy Downey, Jimmy Flynt, Tanakorn Hunhaboon and Kimberley LaMarque
MEMBER PERK: PHOTO DISCOUNTS
Nashville members now can receive discounts on headshots and other photo packages from two local photographers. Please contact the following studios for further information. To take advantage of these savings, just let them know you are a SAG member.

Carla Christina Contreras
(615) 353-7271
www.acelebrityexperience.com

Hatcher & Fell Photography
(615) 255-4420
www.hatcherandfell.com

NOTE: Questions about photos offered on the linked websites must be handled by the providers. The Guild does not endorse any of these services.
SAG AWARDS NEWS
Nominations for SAG Awards will be announced on December 18. Ads in newspapers are for current SAG Theatrical Motion Picture Nominating Committee members only. Once nominations have been announced, studios will make decisions on how to make nominated films available to the entire SAG active membership. For more SAG Award updates, please visit SAGawards.org.
iActor: ONE CLICK COULD CHANGE YOUR CAREER
Simple, functional, convenient and free, iActor—SAG's revolutionary online casting directory—is an essential career and production tool. iActor is the only online casting directory that exclusively features SAG members and automated Station 12 cast clearance.

Available to all casting directors working on signatory productions, iActor allows casting professionals to search through members' headshots, résumés and media by any combination of terms, such as gender, ethnicity, special skills or credits.

By creating their résumés and adding their headshots, SAG members will be at the fingertips of the industry's top casting professionals. Members even can use the service to e-mail résumés to casting directors directly, any time of the day or night. To sign up, simply log on to SAG.org. It could change your career.
SAG FOUNDATION SCHOLARSHIPS
Apply today to find out whether the Screen Actors Guild Foundation can help you or a family member with your education or career transition. The 2009 John L. Dales Scholarship application for eligible SAG members and children of members is available now at SAGFoundation.org. Click on Scholarships to view eligibility requirements. There are two types of scholarships, Standard and Transitional, and the application deadline is March 16, 2009. For more information, contact Davidson Lloyd at
(323) 549-6649 or dlloyd@SAG.org.

The Screen Actors Guild Foundation is a humanitarian, educational and philanthropic organization that offers substantive assistance to Guild members and the greater community through its programs. For more information, or to make a charitable donation, please visit SAGFoundation.org.
I AM PWD CAMPAIGN
The Performers With Disabilities Tri-Union Committee of Screen Actors Guild, the American Federation of Television and Radio Artists and Actors' Equity Association announced the launch of a major disability rights campaign to increase the visibility and equal employment opportunities for actors, broadcasters and sound recording artists with disabilities throughout the entertainment and news media—I AM PWD (Inclusion in the Arts & Media of People With Disabilities). The announcement was made October 6 at news conferences in Los Angeles, New York and Washington, D.C., to coincide with National Disability Employment Awareness Month.

Florida Branch President and Co-chair of the Guild's National Performers with Disabilities Committee Steve Gladstone observed, "The struggle for inclusion for performers with disabilities is not unlike the struggle for civil rights in the 1960s. Because we exist on our sidewalks, in our grocery stores, back alleys, court rooms, dance halls and in lovers' triangles, we belong on our big and small screens. We are ordinary folks who are assumed different, but indeed the same as anyone else."

Robert David Hall, national chair of the Tri-Union Performers with Disabilities Committee, said, "I'm fortunate to have a good career as an actor and creative artist. The normal struggles any performer faces, however, are complicated tenfold by our industry's reluctance to include people with disabilities in the full landscape of entertainment. In the 21st century, media is the world's common cultural environment. Society's values and priorities are expressed and reflected in film, television, theatre, news and music. If you aren't seen and heard, you are invisible. People with disabilities are largely invisible within the arts and media landscape. I AM PWD will awaken the general public to the lack of inclusion and universal access for people with disabilities by uniting with a network of industry, labor, community and government allies."

SAG's National President Alan Rosenberg says, "Screen Actors Guild is committed to inclusion of all actors, and will work tirelessly to advocate and seek visibility and equal employment opportunities for performers with disabilities, as they are an integral part of the diverse landscape of the Guild membership and the American Scene."

AEA President Mark Zimmerman says, "Actors' Equity acknowledges that the growth and vitality of our collective industry is dependent upon the principles of equality, diversity and inclusion, and wholeheartedly endorses the I AM PWD campaign. The Theatre should, and must, reflect the true diversity of our society."

"Our responsibility as union members is to challenge any and all roadblocks to inclusion and access in the workplace," says AFTRA President Roberta Reardon. "AFTRA has led the fight against all forms of discrimination on so many fronts throughout our history and I am proud to be part of this important day in announcing this landmark disability rights campaign. Now is the time to stand together to combat discrimination and truly integrate our brothers and sisters with disabilities into the promise of the American Scene."

The mission of the Tri-Union PWD Committee is to serve as the means to enhance the status and promote the advancement of performers with disabilities; nurture members' knowledge and skills; improve members' professional careers through the sharing and dispersing of information; promote the profession as a whole; further the understanding of the profession and foster understanding and respect for the disabled performers within; develop and improve working standards; and assist in the continuing development of ethical standards for practitioners in the industry.

Over the course of the three-year I AM PWD campaign, the group will reach out to the entertainment and media industries, the general public, political and legislative leaders and to national and global civil rights, labor and community allies in an effort to urge the entertainment industry to open up equal opportunities for disabled performers.

Interested allies are urged to join the I AM PWD network of supporters by signing up at IAMPWD.org.



CHECK YOUR BACKSIDE: ACT AS ONE
Check the back side of your Screen Actors Guild membership card, and you'll see the most important rule by which SAG members must abide. Rule 1 states that no member shall work for or agree to work for a producer who is not signatory to the appropriate SAG agreement. Starting January 1, 2009, Rule 1 will be vigorously enforced in new media.

New media means the Internet, cell phones, PDAs and any other technology that may be invented in the future. That means every time you work on a project intended for new media, you need to be covered by a union contract. Being covered by a SAG contract right from the start is a good thing because in new media, you never know where you'll find an audience or how successful a project may become.

We can provide more information and answer your specific questions at organizingnewmedia@sag.org or (323) 549-6777.

The 2002 worldwide expansion of Rule 1, now known as Global Rule 1, produced nearly $500 million in SAG member earnings and $23 million in contributions to SAG pension and health funds. When actors stick together, we all win. Setting standards in new media will be challenging and only can be accomplished with member solidarity.

Act as one!
UNCLAIMED RESIDUALS: GET YOUR MONEY!

Screen Actors Guild is facing a dilemma: getting performers or their heirs to collect their unclaimed residuals. A surplus of unclaimed residuals sits unable to be sent out. Although the Guild knows to whom these funds belong, it can't send the checks to these performers, in most cases because the Guild doesn't have the correct mailing information for the residuals recipients. Some residuals checks belong to nonmembers or one-time actors, many of whom aren't even aware that they have residuals coming to them. In an effort to reduce this surplus, the Finance Committee is embarking on a marketing campaign to get the word out to possible residuals recipients. The campaign, called "Get Your Money," will reach out to SAG members and non-SAG members through internal publications and online campaigns. If you would like to see whether you have residuals owed to you, visit www.SAG.org/GetYourMoney. Enter your name and "Get Your Money!" Have questions or want to speak with a residuals representative? E-mail residualtrust@sag.org, or call (800) 205-7716
or (323) 549-6535.
Visit thesagshop.com for the latest in must-have, union-made merchandise. Buy gifts and accessories that demonstrate your good taste and your union pride.
HOW TO CONTACT US
Have a question about contracts, talent agents or your dues status? Need to file a claim? The South Region Office is ready to assist.

Contact Us
Telephone: (800) SAG-0767, option 5
E-mail: lkrensky@sag.org
Fax: 800) 844-5439
Mail: Screen Actors Guild
7300 North Kendall Drive, Suite 620
Miami, FL 33156-7840
---
For address changes, removals, and misdeliveries, please follow the procedures at:
http://www.sag.org/Content/Public/Email_OptOut.htm