The Official E-Newsletter of the SAG-AFTRA Michigan Local
2015-2017 MICHIGAN LOCAL BOARD
Eric Wydra – President
Nicole Hakim Yohn – First Vice President
Jo-Jo Shutty-MacGregor – Second Vice President
Phil Elam – Third Vice President
Shane Carson – Secretary
Dan Lemieux
Jacqua Scott 
Peter Tocco
Nancy Wagner
A Message From the President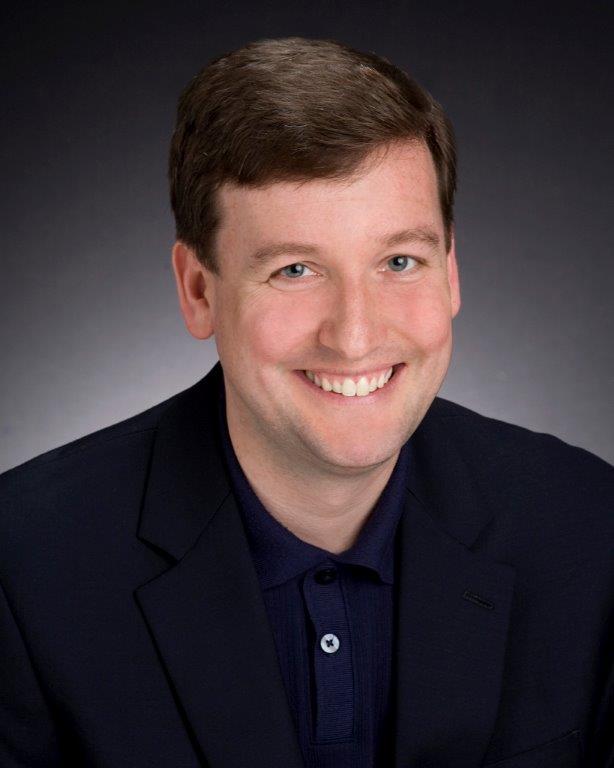 Happy Spring, SAG-AFTRA Michigan Members!   
As much as the winter was relatively mild around here, it is still nice to have warmer weather and the thoughts of outdoor shoots and broadcasts. I recently had the opportunity to attend a Coffee Connection in Grand Rapids. I thoroughly enjoyed meeting some West Michigan members, discussing issues affecting them and learning more about the audiobooks industry. We had a great discussion, and I was extremely impressed at their passion and dedication to this industry we all work in. I look forward to meeting more members at future Coffee Connections. 
Click here to read more
Words From the National Board Representative
Hello My Union Brothers and Sisters,
One of the things that impresses me most about SAG-AFTRA is the staff's ability to constantly explore new ways to reach out and get information out to members. The new SAG-AFTRA app — that I am sure you have heard of — speaks to that. If you haven't had a chance to check it out, please do. It's a great way to stay in the know with what is happening with your union. I love the feature that allows me to look at all the production that is taking place or will take place in my Michigan Local. Lots of actors do a poor job of keeping track of money they are owed. That's why I also find myself using the residual tracker. This is a great way to see when a check was mailed to you for a project you worked on. One time recently, I used the residual tracker on the app and discovered a check that the union mailed, but that I never received. Needless to say, the app made it very easy for me to catch this mistake, which was quickly resolved. Before the app was available, you had to call a phone number to see if you had any money owed to you. How many of us ever did that? If you take your craft seriously, then download the app. It's free! And it's only going to get better.
See you on set,
Peter Tocco
National Board Representative
The Dr. Seuss Birthday Celebration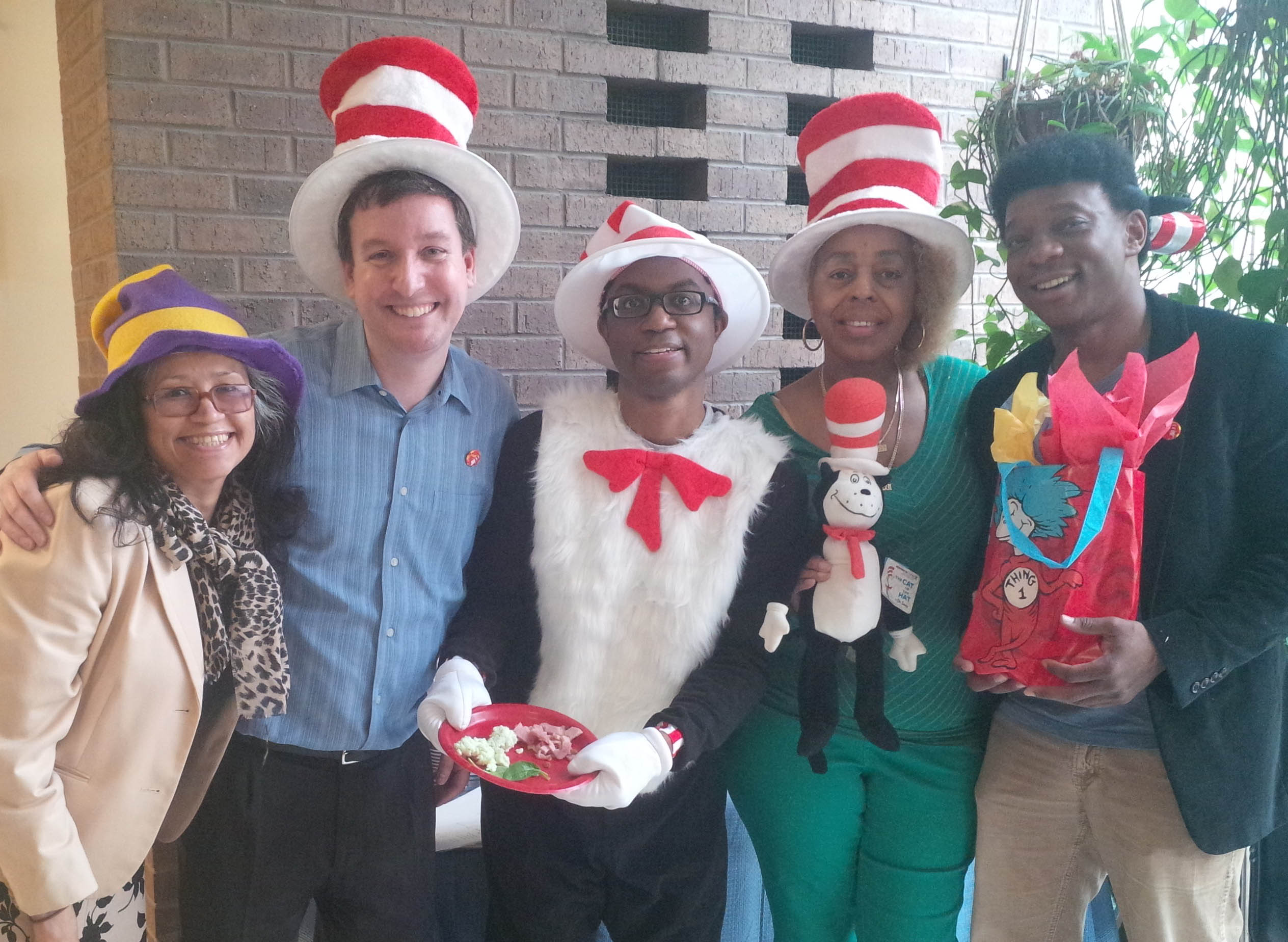 Local President Eric Wydra and other members at the Dr. Seuss celebration  
Coleman A. Young Elementary School was all about Dr. Seuss on Thursday, March 2, when Michigan's SAG-AFTRA members arrived in celebratory bliss in honor of the famed author's birthday. Green Eggs and Ham was the focal point, as the dish of the same name was served to about 70 excited second-graders that morning. The students helped us along, as many recited the persistent tale of Sam I Am, at times in a unified chorus.  
Several repeat performances were requested by the school coordinator, principal for kindergarteners and special ed students. It was a joyful and heartfelt morning that was complete with the assistance of local SAG-AFTRA member P.J. Edwards, appearing as the Cat in the Hat. Thanks also go to Jacqua Scott, Eric Wydra and Aida Munoz for their excellent participation.
Fun learning, reading and a good time was had by all.
Phil Elam
Third Vice President, Michigan Local Board
SAG Awards Viewing Party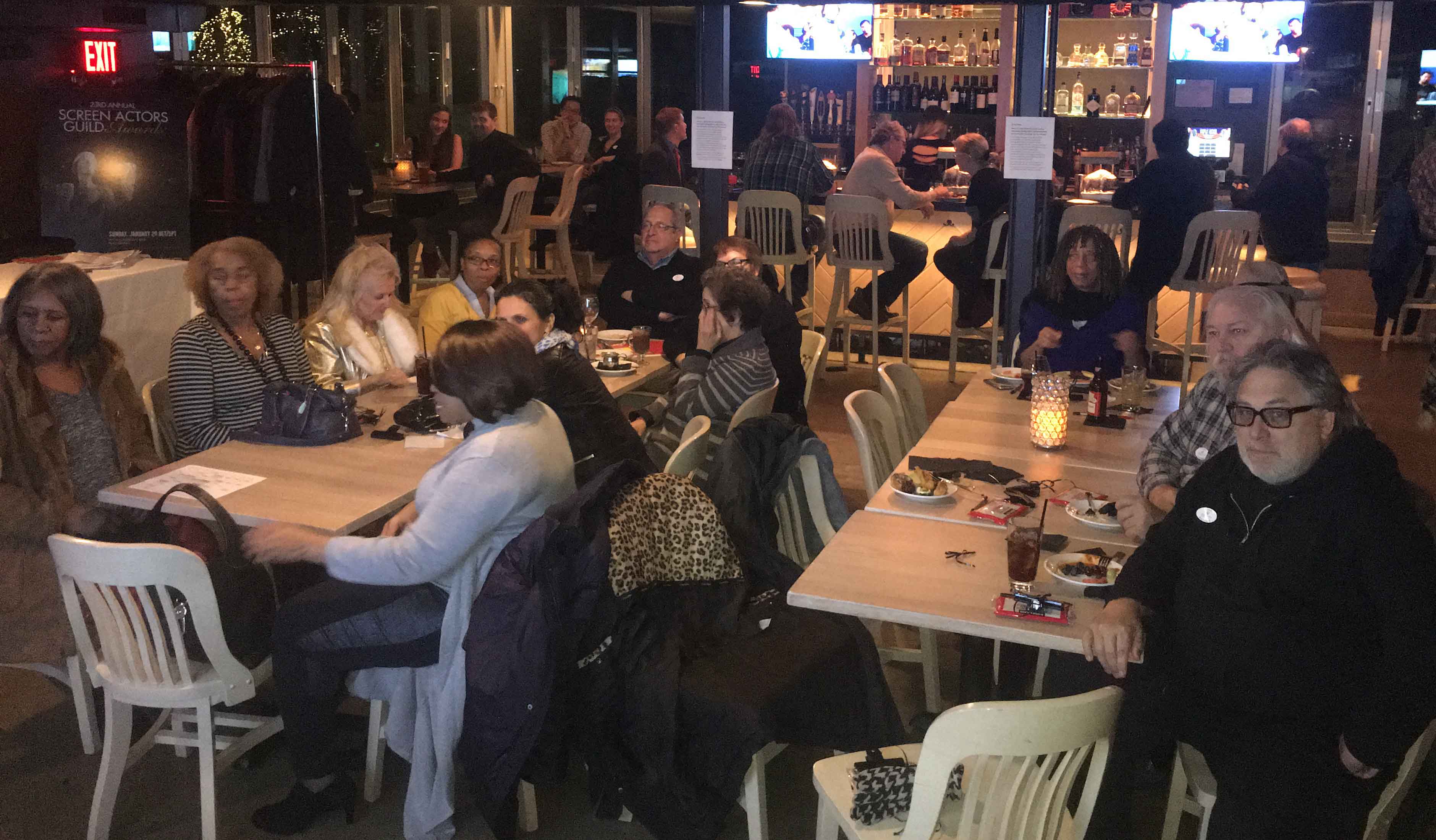 The SAG Awards viewing party 
On Sunday, Jan. 29, the SAG-AFTRA Michigan Local held the annual SAG Awards viewing party at the Triple Nickel restaurant in Birmingham, Michigan. 
With a private dining room that was filled to near capacity, the attendees for this event were treated to great food, wonderful service and an awesome atmosphere. Attendees felt that the SAG Awards show was especially entertaining this year, and they loved the choose-the-winners contest and prizes. Special thanks go to the very accommodating staff at the Triple Nickel.
Michigan's official 2017 SAG Awards viewing party was an enormous success!  
Coffee Connection in Royal Oak
By Shane Carson
Secretary, Michigan Local Board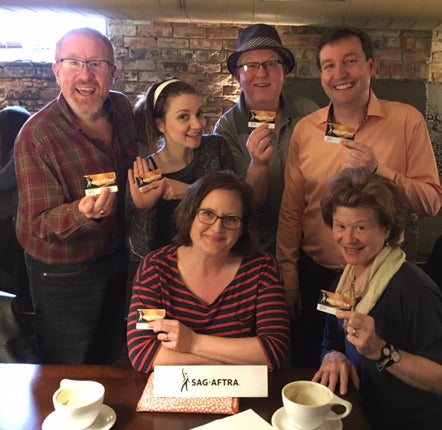 Members show their cards at a Coffee Connection. 
On Tuesday, March 7, the Michigan Local held a members-only Coffee Connection meeting at Atomic Coffee in downtown Royal Oak, Michigan.
There were eight energetic members present for the day's meeting. During the meeting, we discussed several topics, including requests for a self-taping workshop and an "actor bootcamp" workshop that would examine things like social media profiles, what to look for in selecting agents and managers, types of headshots and more.
Tuesday's session lasted for about an hour and a half and was full of useful bits of information that benefitted us all. As chair of the Local's Coffee Connections, I look forward to more meetings with our members.
We are professionals. We are SAG-AFTRA!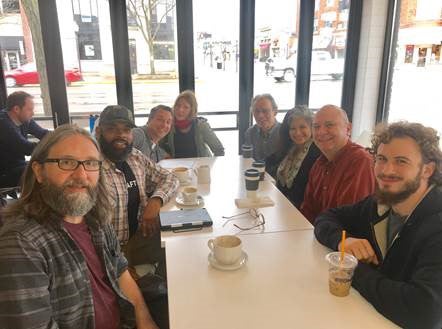 Members at a Coffee Connection