The Official E-Newsletter of the SAG-AFTRA Michigan Local
2015-2017 MICHIGAN LOCAL BOARD
Jayne Bower – President
Nicole Hakim Yohn – First Vice President
Jo-Jo Shutty-MacGregor – Second Vice President
Eric Wydra – Third Vice President
Shane Carson
Phil Elam
Jacqua Scott 
Patricia Sweeting
Peter Tocco
Nancy Wagner
CONTACT US
For service and support information, click here.
Message from the President
Hello SAG-AFTRA Michigan members!
This has been an inspirational quarter for our local. I want to thank our Local Board members who have tirelessly worked on your behalf to make our union stronger here in Michigan, throughout the Midwest and across the country.
The SAG-AFTRA Michigan Local was represented on the National Commercials Contract Negotiating Committee by our National Board member, Peter Tocco. That committee guided some very tough negotiations toward a new contract that was ratified overwhelmingly by the membership.
Your SAG-AFTRA Michigan Local Board is forging new relationships with educational institutions and working with staff to encourage and ensure that when work is secured, it is union work. Whether we are packing hundreds of pounds of food for the community at a membership meeting or simply speaking to a classroom full of future members, SAG-AFTRA Michigan is fueled by people power. And we could always use more! We welcome your ideas, your energy, your solidarity and your involvement.
Jayne Bower
President, Michigan Local
Report from the National Board Representative
Hello My Performance Friends,
I'm sure you have all heard by now that the SAG and AFTRA health plans have been given the green light to merge. This is wonderful news, as earnings can now be combined from both legacy unions into one union health plan. More of our members will be able to qualify for health care coverage. The new plan will be similar to the SAG Plan with two tiers (Plan I and Plan II), both of which will provide family coverage at all qualifying levels.
This historic merger of the health plans was only made possible by merging legacy SAG and AFTRA into one union in the first place. The boards of trustees of the health plans deserve all the credit here. They have heard the membership. And although the trustees would have liked to have merged the plans sooner, they overcame all the obstacles that were put in the way and got the job done. Now that the merger of the health plans is underway, the focus can shift to the pension plans. Stay tuned.
Please make sure you read all of the detailed information that will be coming your way in the near future. The new health plan goes into effect on Jan. 1, 2017.
I hope you all are enjoying summer. Remember, they now shoot 10 television shows in the Chicago area. It might be a good time to get a Chicago agent or ask your agent here to submit you for projects in the Windy City.
See you on set,
Peter Tocco
Gabrielle Carteris Elected President
Filling the late SAG-AFTRA President Ken Howard's vacant office was at the top of the agenda when the National Board gathered at SAG-AFTRA Plaza on April 9. The board elected Gabrielle Carteris by acclamation to fill out the remaining 15 months of Howard's term and elected Rebecca Damon to serve as executive vice president — meaning for the first time the top three SAG-AFTRA officers are women. Click here for more.
Engagement at the Annual Meeting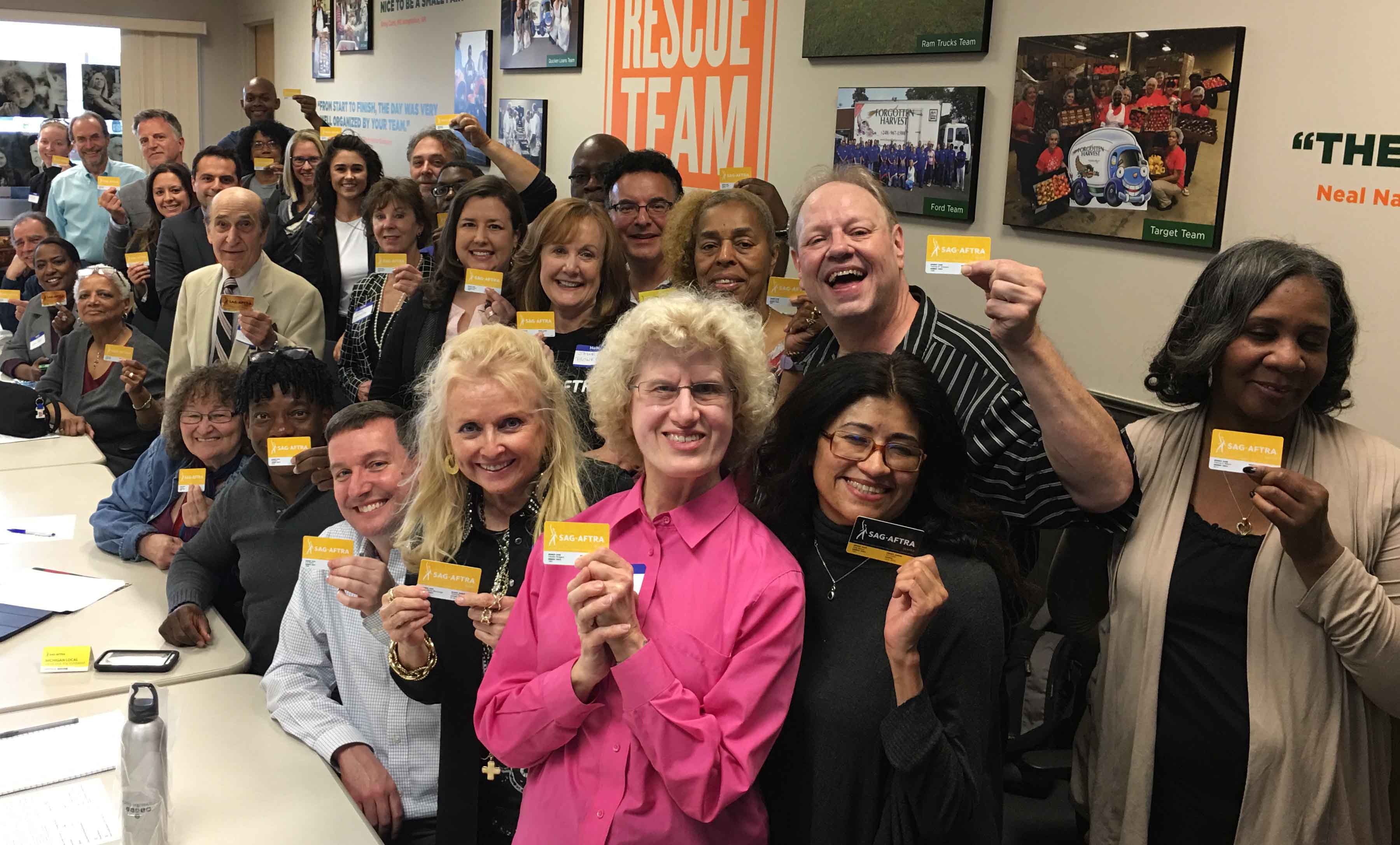 Members proudly show their cards at the annual membership meeting on April 25.
On Monday, April 25, the SAG-AFTRA Michigan Local Board held our annual membership meeting at the Forgotten Harvest headquarters in Oak Park, Michigan. Forgotten Harvest is a perishable food rescue operation that delivers viable and healthy food throughout southeastern Michigan. 
The theme for this year's meeting was Education, Outreach and Engagement. With a crowd of nearly 40 SAG-AFTRA members, the meeting was bursting with creative energy and helpful commentary. Members gathered together for the 5:45 p.m. registration time. Next up was the 6 p.m. dinner meeting, followed by a 7 p.m. community volunteer activity. The events concluded around 8 p.m.
Our special guest speaker was Rebecca Damon from New York City. Rebecca is the executive vice president of SAG-AFTRA, and is also a member of the President's Task Force on Education, Outreach and Engagement. Several of the Local Board members, as well as the general membership, shared a healthy Q&A session with Rebecca regarding some of the topics that have come up recently for our union.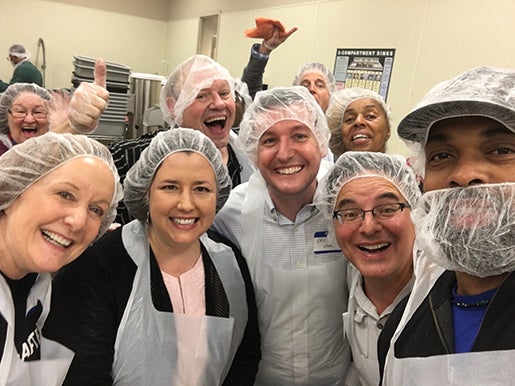 Executive Vice President Rebecca Damon joined members to pack food.
For our community volunteer activity, the event attendees helped to bag and prepare Cheese-Its that were to soon be delivered to a local soup kitchen or other similar organization. By the end of the evening, the membership had bagged over 800 pounds of usable food. Way to go!
The event was such a success that the Local Board is considering making the community volunteer activity a regular theme for future membership meetings.
Our thanks go out to all who participated and helped make this event such an enjoyable and memorable evening!
In solidarity,
Shane Carson
Board Member-at-Large
A Call to Arts from Eighth-Grade Students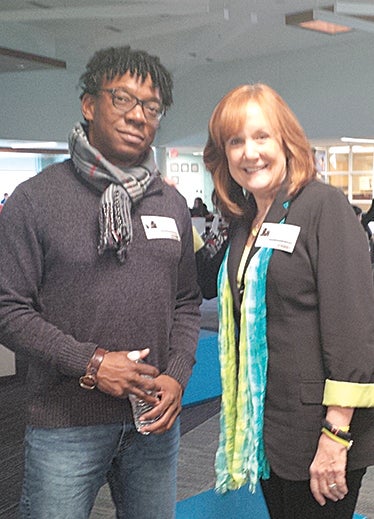 Local Board member Phil Elam and Local President Jayne Bower
SAG-AFTRA Michigan Local Board members are always looking for ways to cultivate future generations in various outreach programs. One recent endeavor that focused on this objective took place the Hillel Day School. It was the Michigan Local's answer to the A Call to Arts initiative.
The eighth-grade students at Hillel were studying the works of William Shakespeare. In order for them to better understand the play Julius Caesar, students were asked to develop a radio or television broadcast on the murder of Julius Caesar. 
SAG-AFTRA broadcasters and actors were invited to participate on a panel to give pointers as to what it would take to maximize the presentation of their original news stories.  
Local President Jayne Bower, SAG-AFTRA Director of Locals Administration Marcia Fishman and actor and board member Phil Elam served on the panel and were impressed with the creative and enthusiastic student participants. The time and preparation that each Hillel Day School student put into their broadcast showed that the potential future crop of SAG-AFTRA members is strong in the state of Michigan.
Phil Elam
Michigan Board Member