The Official E-Newsletter of the SAG-AFTRA Michigan Local
2015-2017 MICHIGAN LOCAL BOARD
Jayne Bower – President
Nicole Hakim Yohn – First Vice President
Jo-Jo Shutty-MacGregor – Second Vice President
Eric Wydra – Third Vice President
Shane Carson
Phil Elam
Jacqua Scott 
Patricia Sweeting
Peter Tocco
Nancy Wagner
Message from the Local President
Last year was a banner year for SAG-AFTRA Michigan, as our local stepped up our campaign — as outlined by President Ken Howard — to "educate, engage and empower" members across the state. Over the past year, the SAG-AFTRA Michigan Local has offered members numerous opportunities to hone and enhance their skills at workshops featuring industry giants in voice acting, audiobooks, commercials, live announcing, casting and animation. We were proud to welcome the SAG-AFTRA Foundation to Michigan to produce one of the daylong workshops.  
The SAG-AFTRA Michigan Local was enthusiastically represented at Detroit's annual Labor Day parade. We were also well represented at the SAG-AFTRA 2015 National Convention in Los Angeles. In addition, our Coffee Connections continue to serve as a national model. Empower yourself! Look for one at a coffee house near you in 2016. 
Jayne Bower
President, Michigan Local
Words from the National Board Representative
My Fellow Members,
As we look back on 2015, I can say that our Michigan Local has had some setbacks when it comes to work, but we have also enjoyed some success stories as well. Yes, the film incentive is gone for now. One day I hope it will return, but let's not dwell on the past. Moving forward for 2016, your Michigan local will be exploring ways to get more advertisers to film their commercial spots in our great state. Recently, some of your local board members as well as local IATSE members and representatives from the Michigan Film Office met to discuss that very topic. Too soon to tell if this will pan out, but the fact that the film office was willing to meet and talk about the topic is a good sign.  
More good news followed at the end of 2015 with the announcement that significant progress had been made toward the merger of the health plans of SAG and AFTRA into one health plan. Hopefully, this will make it a bit easier for some members to qualify for health coverage. And finally, many of our members enjoyed working on the latest Pure Michigan campaign set to air later this year nationally. Avalon Films, which produces these commercials, is committed to using Michigan talent for all of the spots. Our local has honored this great studio in the past for staying true to hiring Michigan actors first! Keep them on your radar; they are a wonderful company to work for. 
As we push forward into 2016, I hope all of you work more than you did last year. Our profession is never easy. We move forward on talent and a belief in ourselves. Remember, anyone can call themselves an actor, but only a few can call themselves SAG-AFTRA actors. Those of you who work in this business as union performers know exactly what I'm talking about.
See you on set!
Peter Tocco
Special Events at the Michigan Local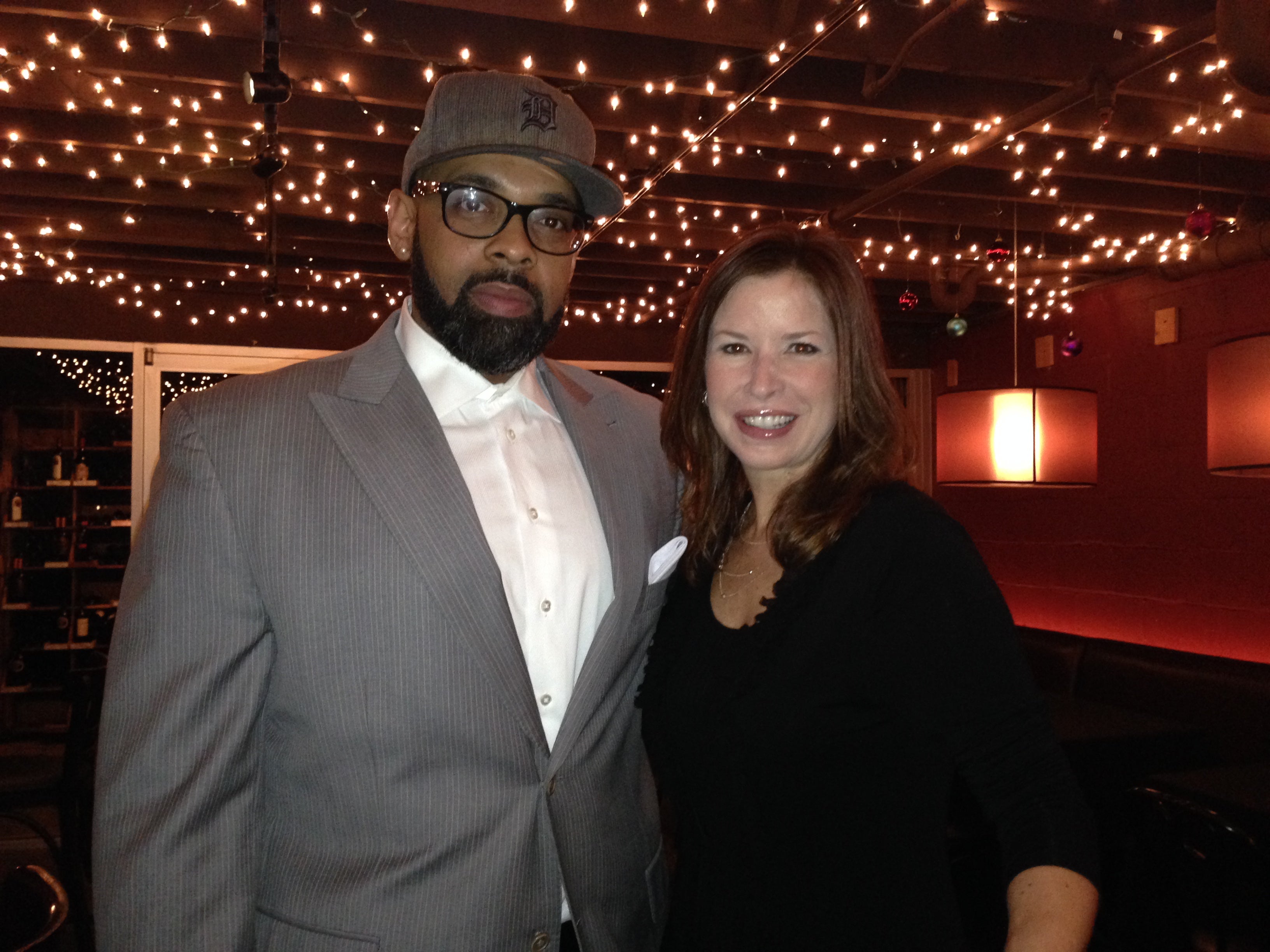 Members Shane Carson and Amy Lange at the Broadcast Holiday Party on Dec. 17
Members enjoyed two very special events over the past few months.
On Oct. 17, the SAG-AFTRA Foundation paid a visit to Detroit, and members experienced some of the best workshops ever. Two very beneficial Casting Access workshops were offered with Chicago's Claire Simon and New York's Scott Wojcik. There were also two stunning workshops conducted by Paul Liberti, who also traveled in from New York. Members could choose one or both of his voiceover training workshops on audiobooks and animation. All in all, members proclaimed that when it came to workshops in Michigan, these were "the best ever!"
Michigan broadcast members celebrated the December holidays with a party on Dec. 17 at the Bastone Restaurant and Brewery in Royal Oak. While gathering in a room all to themselves, attendees partook in delicious appetizers, tasted unique beers and toasted to each other's joy of the holiday and upcoming New Year. The gala was enjoyed by all.
Convention: One Delegate's Experience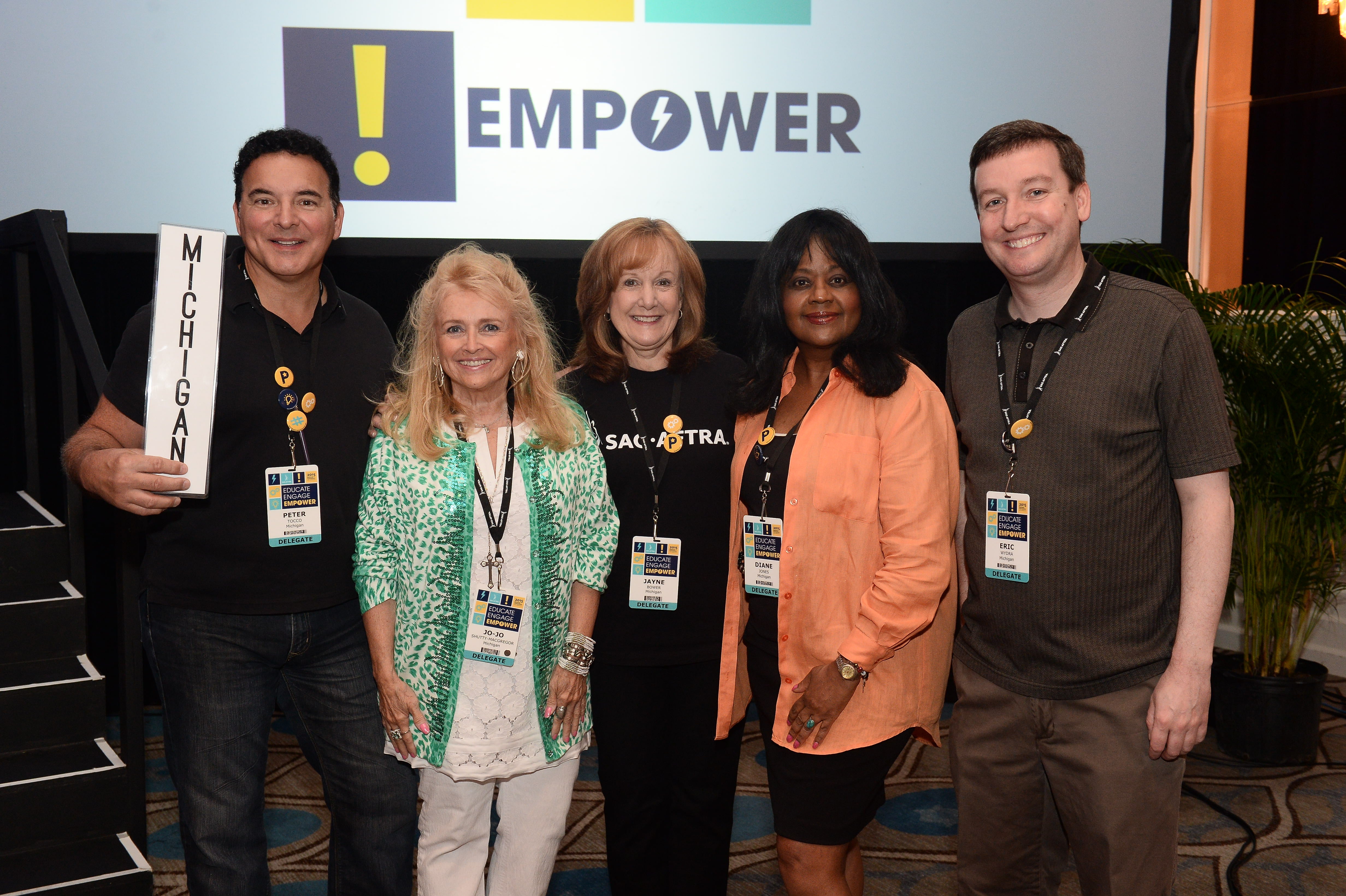 Michigan Local convention delegates, from left, Peter Tocco, Jo-Jo Shutty-MacGregor, Jayne Bower, Diane Jones, Eric Wydra
By Eric Wydra
Third Vice President, Michigan Local   
I had the privilege of representing the Michigan Local as a delegate to the second SAG-AFTRA National Convention in Los Angeles in October. The theme this year was Educate, Engage and Empower, and 400 of us gathered together from Oct. 1–4. Breakout sessions were held one afternoon and I chose to attend the session titled Labor Economics in the Media Business. As a practicing CPA, the economics portion of the title appealed to me, and I looked forward to being "educated" by David Viviano, SAG-AFTRA's chief economist.
David's presentation focused on two main topics: the impact of the Internet on media and entertainment and on economic inefficiency and how the media spending "arms race" impacts employment and the compensation of talent. As we all know, the Internet has allowed audiences to easily access content that appeals to them. Services such as Netflix and Amazon Studios, as well as online radio and streaming services, have provided a greater opportunity for the exhibition of content. The increase in the production of niche-audience content has increased the number of roles available for actors, but has also resulted in a shorter product lifecycle and less opportunity for performers to earn back-end payouts. So, although the Internet has been a net job creator for SAG-AFTRA performers, its impact in terms of compensation has been minimal. As audiences consume their entertainment via cable, the Internet and streaming services, the DVD market collapsed. The shorter shelf life for content and the collapse of the DVD market has resulted in lower average residuals per job.
Another changing part of the media landscape is advertising and commercials. With the ability to watch TV online or on DVR, there is strong evidence that viewers are avoiding watching commercials. The return on investment for commercials is currently unclear. Despite all of this, spending on TV advertising continues to rise. This increase in spending is due to competition (the "media arms race"). Even though the outcome is unclear, companies are afraid to abandon traditional TV advertising in case their competitors benefit by continuing to produce commercials. The result is great for performers, and employment in commercials continues to rise and session fees and residuals continue to increase in the commercial space.
David's session was extremely interesting and I found myself "engaged" throughout the entire 90 minutes. As I sat there listening, it dawned on me that many of us in Michigan are still disappointed that the film incentives are officially over. However, this session indicated that performer compensation in commercials is growing. I would like to "empower" each and every SAG-AFTRA Michigan Local member to get involved and help to increase union commercial production in the state of Michigan. Efforts are already underway to increase commercial production here, but it will take many of us speaking as one powerful voice to help make this happen.
Working Together to Empower and Protect Performers 
Jo-Jo Shutty-MacGregor
Second Vice President, Michigan Local
I had the privilege of attending a fascinating workshop as a delegate to this past convention. The topic was global engagement.
Panelists represented the International Federation of Actors, Equity UK, SAG-AFTRA and the AFM & SAG-AFTRA Intellectual Property Rights Distribution Fund .
We learned that in the past 10 years, with so many companies moving their bases of operations overseas, it has become vitally important and necessary for international organizations, performers unions, collecting societies and other organizations to work together to ensure that performers are protected and compensated wherever they work — and wherever their work is used.
The topics discussed included: 
• How the union can help performers be less vulnerable and more aware of how to handle situations around the world;
• Why performers need the union to be their voice in global situations;
• How the union helps keep performers informed on fair pay and play, copyrights and royalties;
• How the union continues to push and go after ancillary or residual payments in all countries; and
• How the union is there at all hours to ensure the safety of all performers.
There was much discussion about how broadcast reporters and news correspondents need to be protected while on assignment around the world, especially in these ever-increasing times of crisis.
The bottom line: SAG-AFTRA continues to try and achieve a better outcome for union members here and around the world to make sure that everyone is treated fairly and kept safe. All union members need to be better educated on global engagement, and with the guidance of SAG-AFTRA, work together now and in the future to make performers' lives better and their compensation and treatment fairer — no matter where they're working!
Precision Driver or Stunt Driver?

Have you seen the term "precision driver" used on a commercials contract? What about "performance driver?" These terms are not found in the SAG-AFTRA Commercials Contract and should not be used because it can affect your future residuals.
There are only two terms that should be used: stunt driver or vehicle driver. Everyone knows what stunt driver means, but what does vehicle driver mean? A vehicle driver is hired when the level of driving requires skill but not stunt work. Any time a driver is engaged as either a stunt driver or vehicle driver, they must be hired on an Exhibit A-1 Employment Contract. Again, the terms precision driver and performance driver should never be used for a Commercials Contract.
Residuals are due to a stunt driver or vehicle driver when any of the stunt driving guidelines are met and such driving remains in the commercial as exhibited.
When any of the following conditions occur, a vehicle driver shall qualify as a stunt performer:
a) When any or all wheels leave the driving surface;
b) When tire traction is broken, i.e., skids, slides, etc.;
c) Impaired Vision — when the driver's vision is substantially impaired by:
  i. Dust or smoke;
  ii. Spray (when driving through water, mud, etc.);
  iii. Blinding lights;
  iv. Restrictive covering of the windshield;
  v. Any other conditions restricting the driver's normal vision;
d) If the speed of the vehicle is greater than normally safe for the condition of the driving surface, or when other conditions such as obstacles or difficulty of terrain exist or off-road driving other than normal low-speed driving for which the vehicle was designed occurs;
e) When any aircraft, fixed-wing or helicopter, is flown in close proximity to the vehicle creating hazardous driving conditions;
f) When an on-camera principal performer is doubled because the level of driving skill requires a professional driver, the driver double shall qualify as a stunt performer. This would also apply to doubling of passengers for the safety of the on-camera principal performer.
g) Whenever high speed or close proximity of any vehicle creates conditions dangerous to the driver, passengers, film crew, other people, or the vehicle;
h) When working in close proximity to pyrotechnics or explosives;
i) When driving in other than the driver's seat or blind driving in any form.
While the advertising industry has agreed to send a bulletin to their folks about correcting the usage of incorrect terms, members also need to do their part in making sure correct terms appear on their contracts.
If you have any questions involving commercial driving, please feel free to contact Jeremy Marasigan in the Los Angeles Commercials Department at (323) 549-6858 or jeremy.marasigan@sagaftra.org, or Angelica Criscuolo in the New York Commercials Department at (212) 827-1540 or angelica.criscuolo@sagaftra.org.