The Official E-Newsletter of the SAG-AFTRA Miami Local
CONTRIBUTORS
Susana Carrillo
Dave Corey
Karen Espinosa
David Fazekas
Steve Gladstone
Linda Isrel
Ruth Paul
Herta Suarez
Thomas-Corey Members' Studio Lab Training Sessions
The SAG-AFTRA Miami Local is again offering training sessions to SAG-AFTRA members who wish to learn how to operate a camera, as well as how to edit auditions and send them to agents and casting directors. We are scheduling these training sessions twice a month for members to choose the day that works best for them. For details, click here. 
Miami Community Leaders and Telemundo Talent Celebrate the SAG-AFTRA Election Victory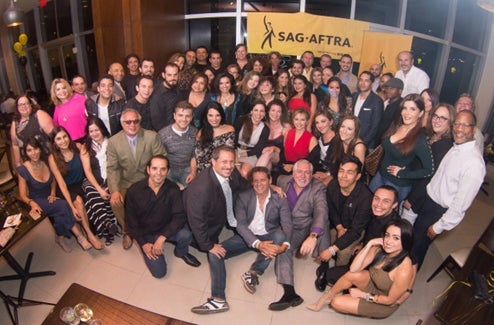 Newly organized Telemundo workers. Photo by Yoshmar Manrique
On March 9, SAG-AFTRA joined community leaders and Telemundo performers to celebrate the victory of their organizing campaign. The campaign concluded with election results of 91–21 in favor of being represented by SAG-AFTRA. This victory is a historic and critical step in ending the double standard that has existed for decades between Spanish-speaking performers who work at Telemundo and performers that work on English-language programing at NBC, which owns Telemundo. The new bargaining unit will cover actors, stunt performers, singers and dancers working on scripted programs produced by Telemundo in the United States.
From The Miami Local President
Acting and Plan B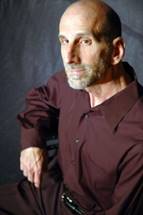 By Steve Gladstone
I recently listened to an interview with Ray Romano and was struck by his rise to artistic and economic success. He had been a moderately popular stand-up comedian for several years and finally got his five minutes on the David Letterman show. A week later, after The Late Show gig, Letterman's producer called him at home on a Saturday and told him that David wanted to create a series around him. Click here to read more.
From the Miami Local Executive Director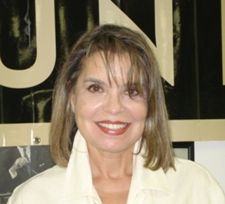 By Herta Suarez
The amazing success of the NLRB election, in which Telemundo performers voted to be represented by SAG-AFTRA, is one of the union's most impressive achievements since merger — and it took place right here in the Miami Local. With 81 percent of those who voted casting their ballots to be represented by SAG-AFTRA, we have entered for the first time into the world of Spanish-language television at the scale of a major television network. Click here to read more.
Sean Pratt's Audiobooks Workshop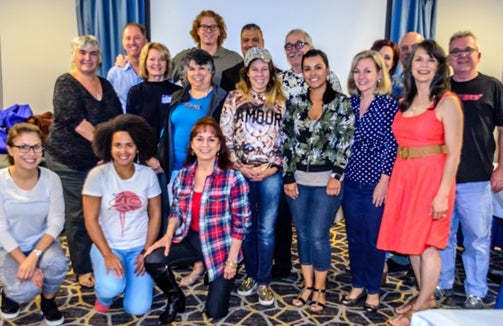 The audiobooks workshop was popular with Miami members.
On March 18 and 19, the SAG-AFTRA Conservatory was visited by Sean Pratt (SAG-AFTRA/AEA), a working actor for three decades. Click here to read more.
Annual Presidents Day Picnic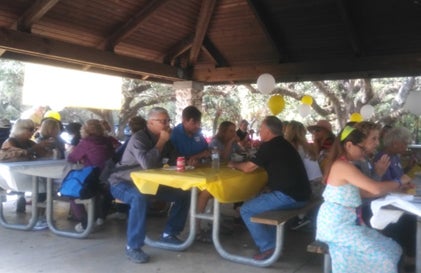 Members at the picnic
On Feb. 20, Miami Local members, family and friends enjoyed the day at our annual Presidents Day picnic at Greynolds Park. Everyone had fun in the great outdoor atmosphere and nice weather, while enjoying camaraderie with colleagues and savoring the picnic luncheon, grilled on site, as well as an impromptu trivia session.
Celebrating the SAG Awards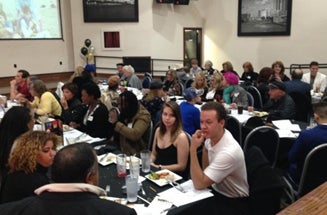 Members and guests in Hollywood, Florida, enjoy the evening at the 23rd Annual SAG Awards viewing party. 
SAG-AFTRA members had a great time watching the 23rd Annual SAG Awards show and sharing the evening with friends and invited industry guests on Jan. 22. Viewing parties took place at Dave & Busters in Hollywood, Florida, and at An Tobar in Orlando, Florida. While enjoying dinner and refreshments, everyone cheered for their favorite actors as the awards show honored the year's top performances throughout the night. 
Annual Informational Meeting in Orlando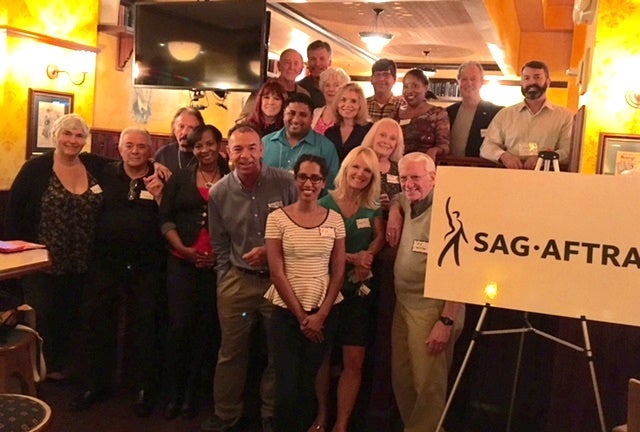 SAG-AFTRA members and staff at An Tobar before the informational meeting in Orlando.
The Miami Local held an informational meeting in Orlando on Dec. 12, 2016. This meeting is held once a year to share with Central Florida SAG-AFTRA members reports and updates that were presented at the annual membership meeting. A mixer sponsored by local was held at the An Tobar prior to the informational meeting.
Bowling Party in Orlando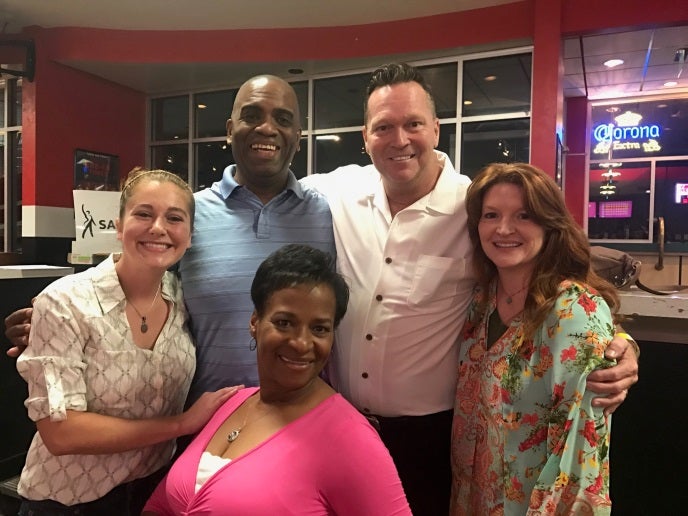 Members had a great time at the bowling party. 
On April 1, Central Florida members knocked down some pins at the first-ever bowling party in the Miami Local. Admission was free to members and included appetizers. Most everyone bowled, but some members in attendance came just to hang out with their fellow members and have a good time. 
Education and Outreach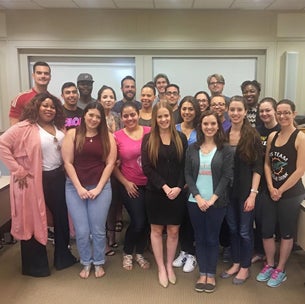 On April 19, SAG-AFTRA business representatives Karen Espinosa and Jessica Vazquez held a presentation and Q&A session for Florida International University law students. the event was hosted by Associate Professor of Law J. Osei Tutu and the vice president of the Entertainment, Arts and Sports Law Society, Ashley Mapp.
Outreach at Miami-Dade College North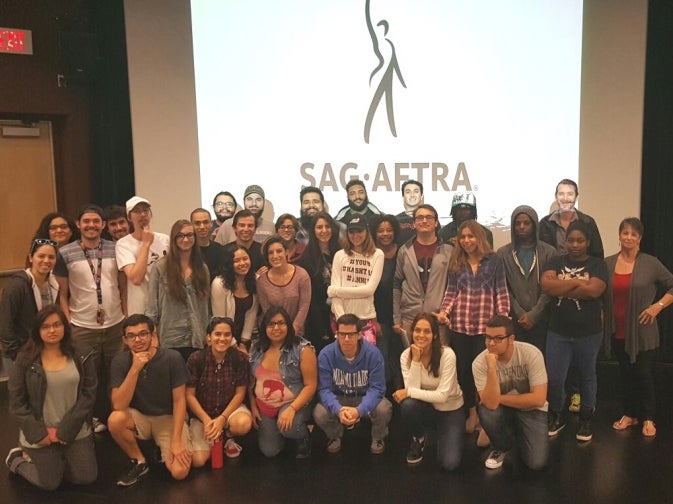 In November, SAG-AFTRA Business Representative Linda Isrel visited the students of Cinema and Interactive Media at the Miami-Dade College North Campus to make a presentation about producing under SAG-AFTRA contracts.  
Nitty Gritty Dirt Band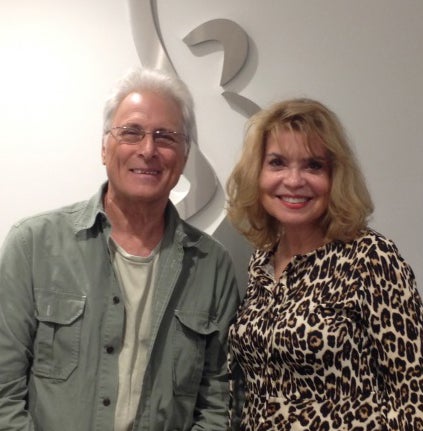 The Nitty Gritty Dirt Band's Jimmie Fadden and Miami Executive Director Herta Suarez 
Jimmie Fadden of the Nitty Gritty Dirt Band — a Miami Local member — made an impromptu visit to the Miami Local office and greeted staff there. Click here to read more.
Announcements
Production updates are now posted and updated on a weekly basis on the Miami Local webpage for the benefit of members. Members can now check the listing of productions that are in the process of signing or that have completed signing signatory paperwork to produce under a SAG-AFTRA contract within the jurisdiction of the Miami Local. These updates do not include commercials. Click here to see productions.
You can also follow local production through the SAG-AFTRA mobile app. Click here for more.
Stay Connected 
Visit SAG-AFTRA's website at sagaftra.org to: 
• Pay your dues
• Update your contact information
• Get the latest union news
Are you getting Foundation notices?
It is necessary that you register with the SAG-AFTRA Foundation at sagaftra.foundation in order to receive event notices. 
Join BookPALS: An Audience Needs You!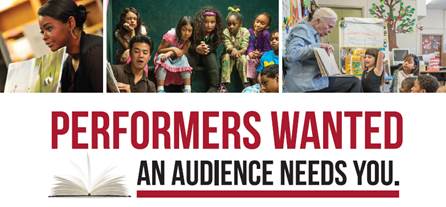 BookPALS (Performing Artists for Literacy in Schools), a signature literacy program of the SAG-AFTRA Foundation, is looking for union performers to become volunteer readers for children in Title I public elementary school classrooms. Click here to read more.

Union Plus offers discounts to union members, including savings on AT&T wireless. AT&T is the only nationwide unionized wireless carrier, employing nearly 150,000 employees from the Communication Workers of America. With the AT&T wireless discounts through Union Plus, you can:
• Save 15 percent on the monthly service charge of qualified wireless plans (excludes unlimited plans).
• Save 20 percent on select accessories. 
• Get the $25 activation fee waived on select devices.
• Qualify for up to $250 in rebates from Union Plus when you switch to AT&T or upgrade to a new smartphone using a Union Plus credit card.
Plus, when you choose AT&T, you also can take advantage of other savings offers, like $0 down on new smartphones, a $650 switcher credit and more.
You can access more information about this and other benefits at unionplus.org.  
Important Websites
SAG-AFTRA Federal Credit Union
AFTRA Health & Retirement Funds
Union Privilege/Union Plus Benefits