The Official E-Newsletter of the SAG-AFTRA Los Angeles Local
WAGES & WORKING CONDITIONS
SAG-AFTRA is gearing up to negotiate the TV/Theatrical Contracts that expire June 30, 2017. As part of the process, the union needs to hear from you. 
Known as the wages and working conditions process, or W&W for short, a series of meetings are being held in SAG-AFTRA's James Cagney Boardroom in Los Angeles and nationwide. This is the most direct way that ALL members can influence and have a voice in the contract negotiations. The negotiating committee and staff use information and observations gathered from these W&W meetings to understand what contract provisions are most important to members and what might need to be modified. Click here to read more.
L.A. Local President's Message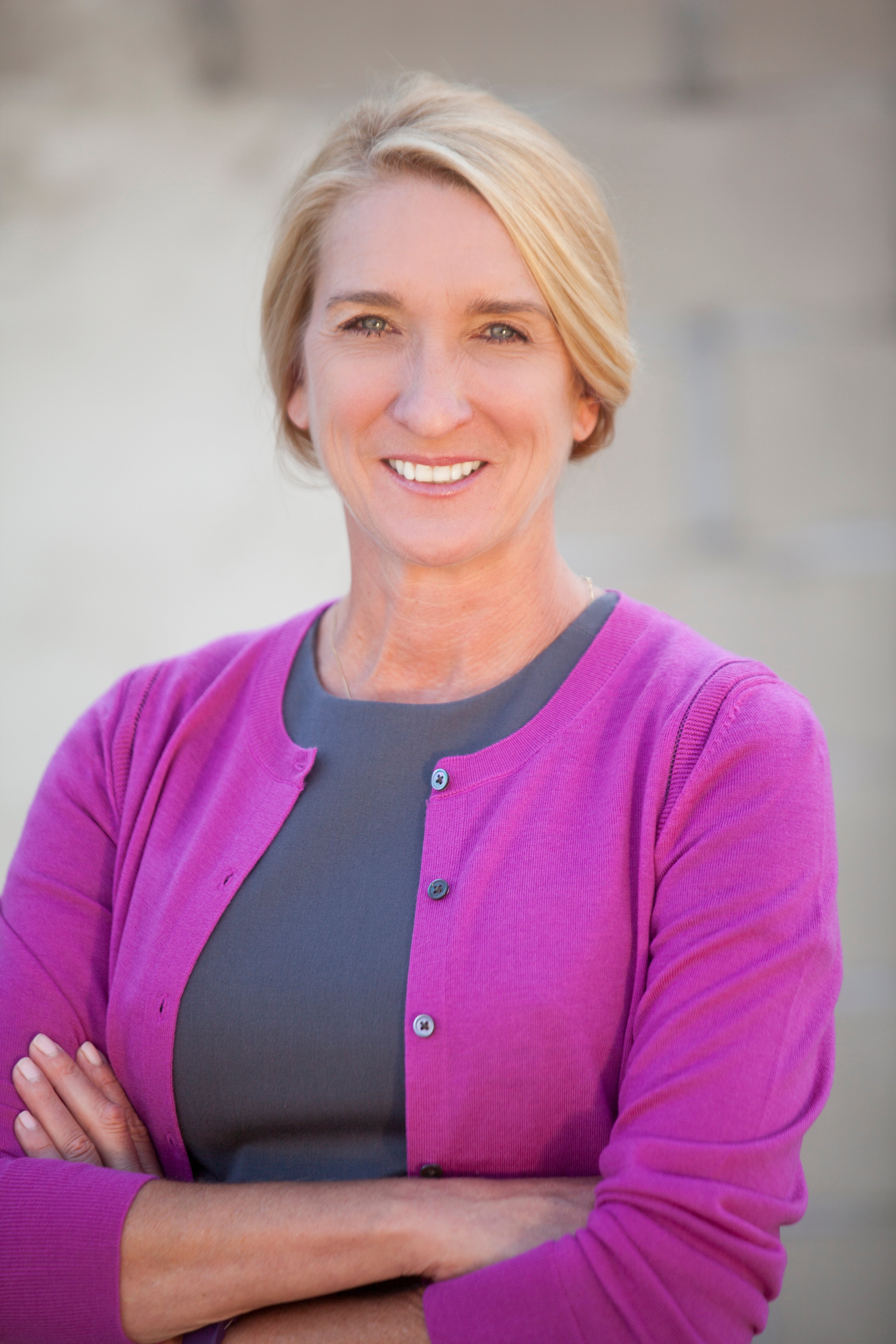 It is hard to believe, but another summer is over. It is time to reflect over the past months and focus on the year ahead. 
It has been a year since members voted for me as their national secretary-treasurer and the Los Angeles Local president. I take your confidence and trust very seriously. Over the past 12 months, I have attended many member meetings, caucuses, events and programs to engage and converse with various constituents to hear concerns and opinions about SAG-AFTRA. I have learned much during this time and I plan to continue this practice in the upcoming year. Working with the Local Board and chairs, my goal is to shape a cohesive elected leadership that forwards our strength and contracts and brings valuable programs and events to our local members. It has been very rewarding to watch attendance numbers grow at the Los Angeles Local events and see our members engage and take advantage of what their union offers. Click here to read more.
Governor Signs IMDb Age Bill
California Gov. Jerry Brown has signed a new law that will allow actors to request to have their birthdates removed from IMDb Pro and other commercial online entertainment employment providers that charge a subscription fee.
SAG-AFTRA President Gabrielle Carteris has been working to get the bill passed as means to combat age discrimination in the industry, and encouraging SAG-AFTRA members to join the fight. Thanks to the efforts of members like you, the campaign was a success. Click here to read Carteris' statement and here to read FAQs about the new law.
SAG-AFTRA and the Television Academy Co-host Dynamic & Diverse
Television showed its diversity stripes at the fourth annual Dynamic & Diverse event hosted by SAG-AFTRA and the Television Academy.
The invitation-only cocktail celebration was held Aug. 25 at the Academy's brand-new Saban Media Center in North Hollywood to celebrate the Emmy nominees, talent and industry leaders who continue to create inclusive television and advocate diversity in casting.
SAG-AFTRA President Gabrielle Carteris; Secretary-Treasurer and L.A. Local President Jane Austin; Jason George, chair of the SAG-AFTRA Diversity Advisory Committee; and Associate National Executive Director Mathis Dunn joined Television Academy Chairman Bruce Rosenblum and Television Academy Diversity Committee co-chairs Hayma "Screech" Washington and Rickey Minor to toast the crowd. They pointed out that while this year's slate of nominees was the most diverse in the Emmy Awards 68-year history, there is still much to be done to ensure that entertainment programming truly represents the multicultural fabric of America. Click photo below for slideshow.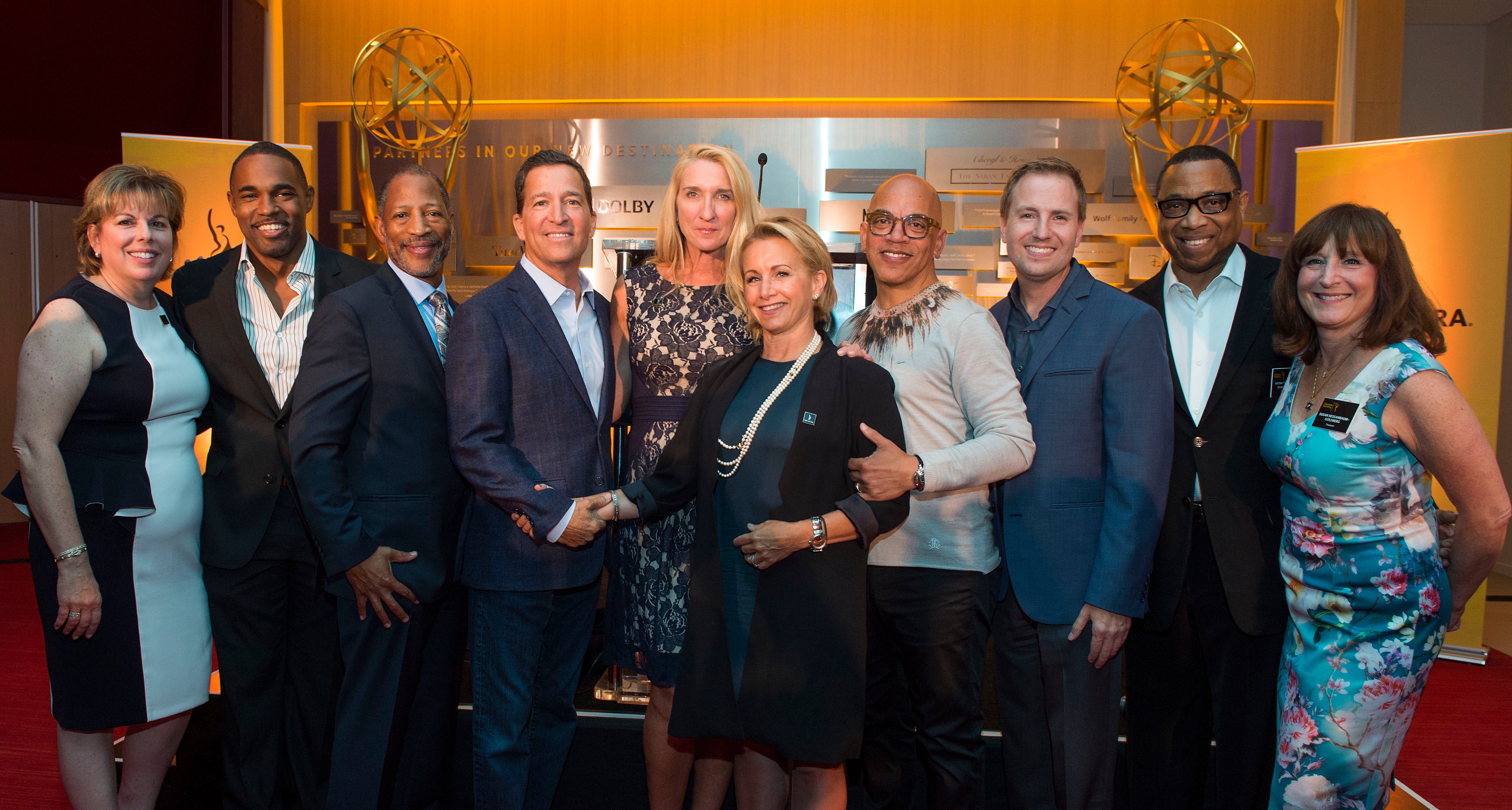 Los Angeles Local Executive Director Ilyanne Morden Kichaven, SAG-AFTRA Diversity Advisory Committee Chair Jason George, Associate National Executive Director Mathis Dunn, Television Academy Chairman Bruce Rosenblum, Secretary-Treasurer and L.A. Local President Jane Austin, President Gabrielle Carteris, Television Academy Diversity Committee Co-Chair Rickey Minor, Television Academy President and COO Maury McIntryre, Television Academy Diversity Committee Co-Chair Hayma Washington, and Television Academy Treasurer Susan Nessanbaum-Goldberg. 
Background Actors: Front and Center! 
First in a series of articles featuring SAG-AFTRA departments.
Since the very early days of cinema, audiences around the world have focused their gaze upon their favorite stars with barely a thought of those surrounding them.  
Imagine the infamous chariot race in Ben Hur if Charlton Heston alone was riding a chariot and not accompanied by the 15,000 background actors in the scene. Or if only 20 actors were seen in the funeral scene of Richard Attenborough's legendary Gandhi, instead of the 300,000 mourners portrayed by background actors. 
Indeed, background artists are an integral and indispensable asset in films, television series and commercials. Click here to read more.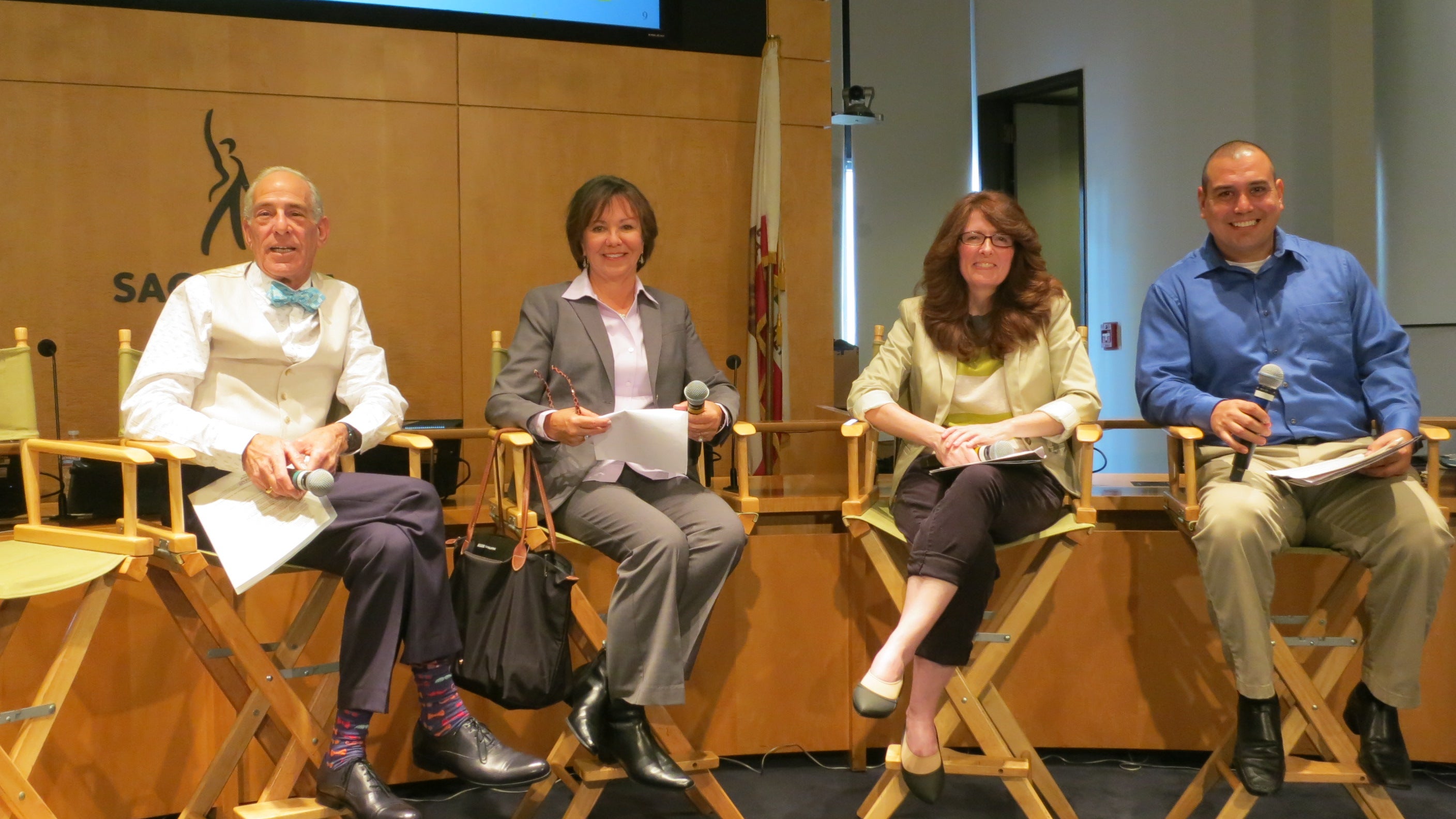 From left, Background Actors Education & Outreach Committee members Rick Markman, Linda Harcharic, Samantha Hartson and Vincent Amaya
Carteris Addresses Labor Federation Convention
ELLEN CRAWFORD ELECTED EXECUTIVE COUNCIL VP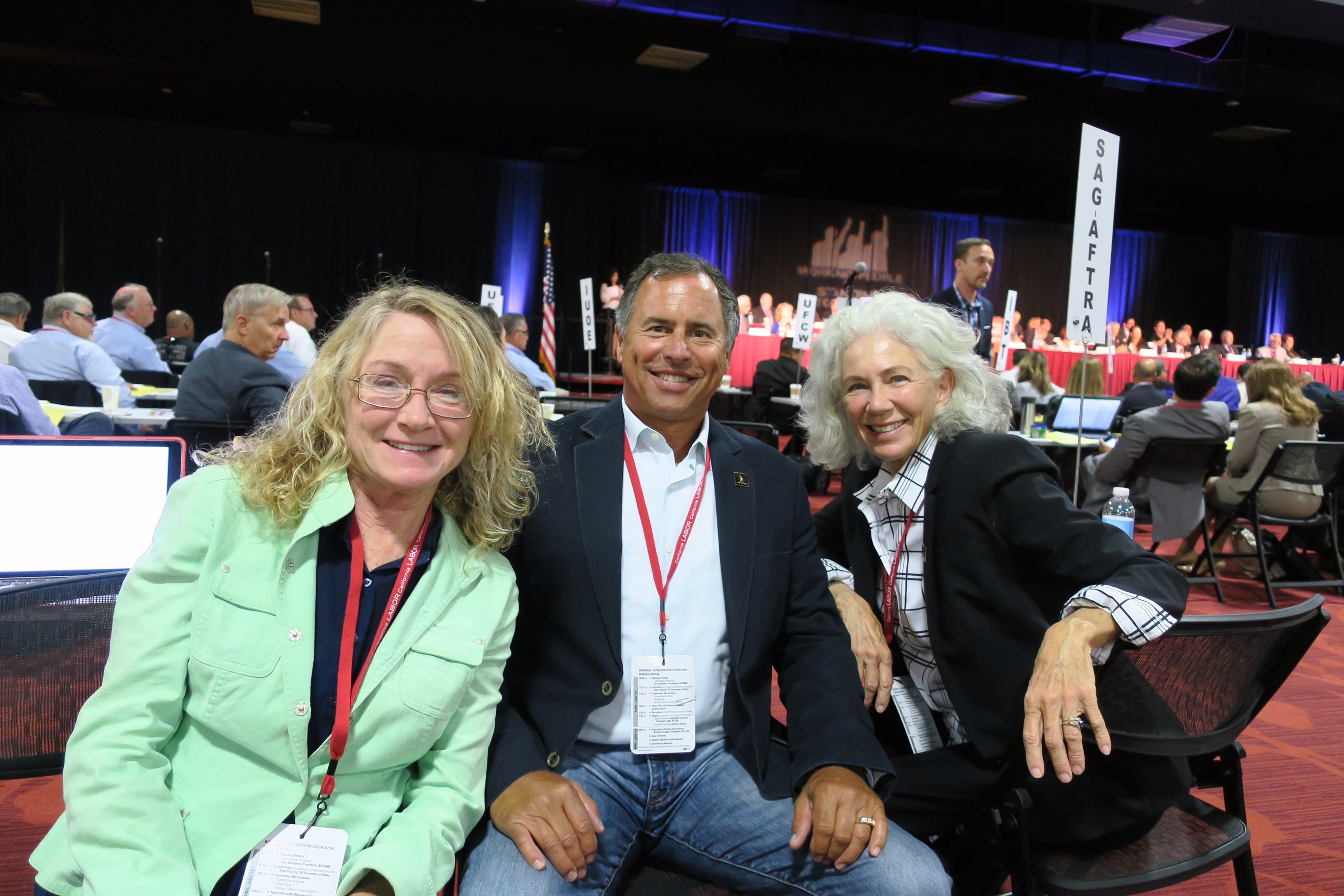 From left, San-Francisco-Northern California Local President Kathryn Howell, San Diego Local's National Board member Don Ahles and Los Angeles Local Board member Jane Daly
Made up of more than 1,200 AFL-CIO and Change to Win unions representing 2.1 million union members in all sectors of the economy, the California Labor Federation held its biennial convention in Oakland, California, July 12-13. SAG-AFTRA was front and center, well represented by President Gabrielle Carteris; Los Angeles Second Vice President and National Board member Ellen Crawford; National Board members Don Ahles, Jane Daly and San Francisco-Northern California Local President Kathryn Howell; and San Francisco-Northern California Local Board members Marie Shell and Ann Fields. 
As the keynote speaker for the opening night dinner, SAG-AFTRA President Gabrielle Carteris gave an impassioned and personal speech, honoring the legendary activist Dolores Huerta of United Farm Workers, who received the Federation's prestigious Lifetime Award. "When I look at you, I see decades of hard, hard work and the joys and sorrows of a lifetime spent in the trenches fighting for workers. Thank you for your leadership and your courage, for being a warrior and raging against inequity, for standing strong for justice and for never giving up the fight," said Carteris.
Click here to read more.
California Productions Honored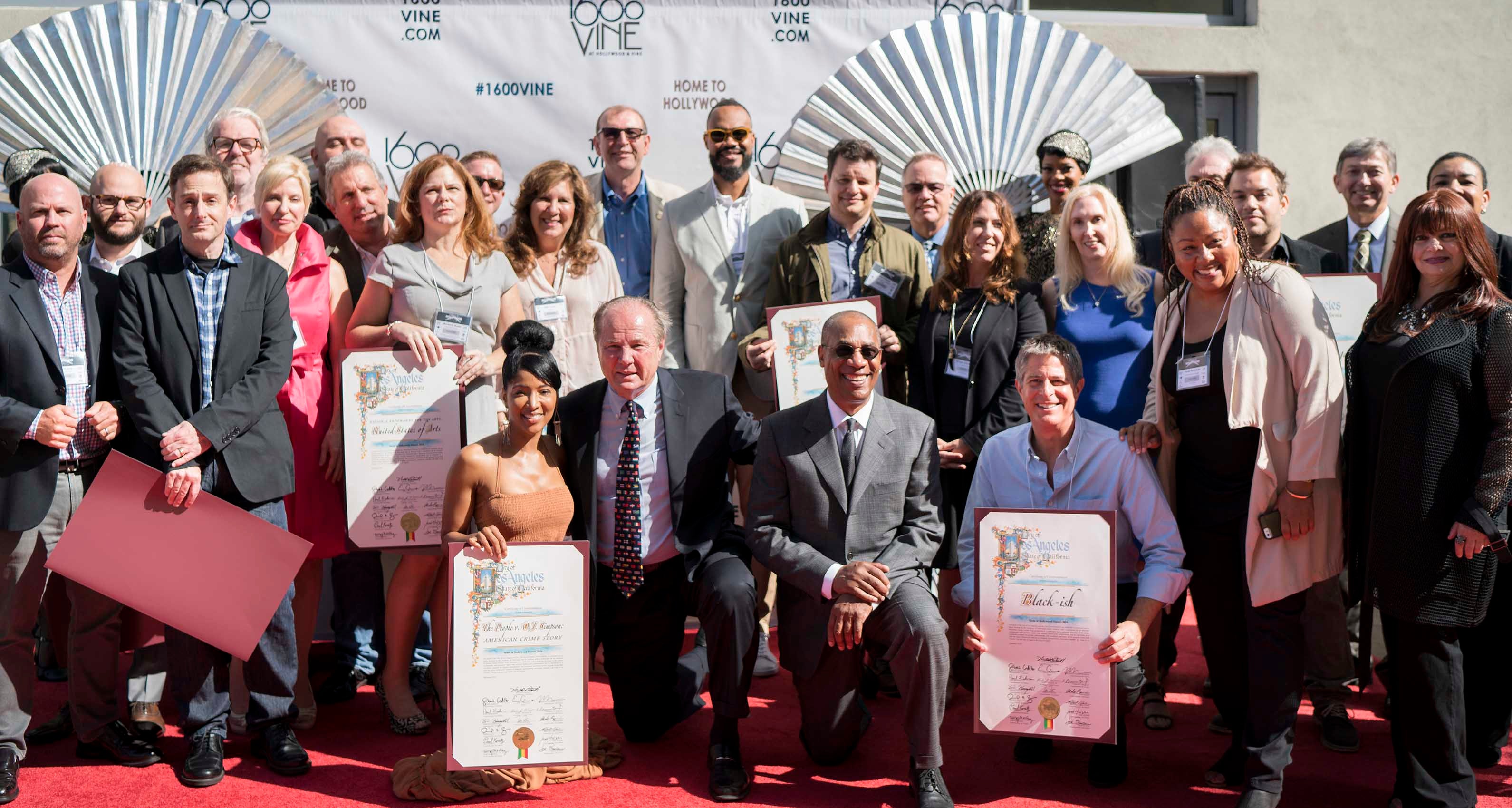 Former Los Angeles City Councilman Tom LaBonge and host Joe Morton joined by the 2016 honorees. Photo by Riley Jamison. 
Amid a substantial increase in local television production, Los Angeles City Councilman Mitch O'Farrell and SAG-AFTRA member and Emmy Award-winning Scandal star Joe Morton presented the 2016 Made in Hollywood Honors for television Sept. 7.
Launched in 2011, the Made in Hollywood Honors recognizes both Oscar and Emmy-nominated projects produced in the Golden State. This year's list of 18 Emmy-nominated TV projects represents a wide range of categories, including Limited Series, Variety Sketch Series, Comedy Series, Variety Talk Series, Children's Program, Television Movie, Animated Program and Short-Form Nonfiction or Reality Series. Click here to read more.
Annual Summer Intensive at the SAG-AFTRA Conservatory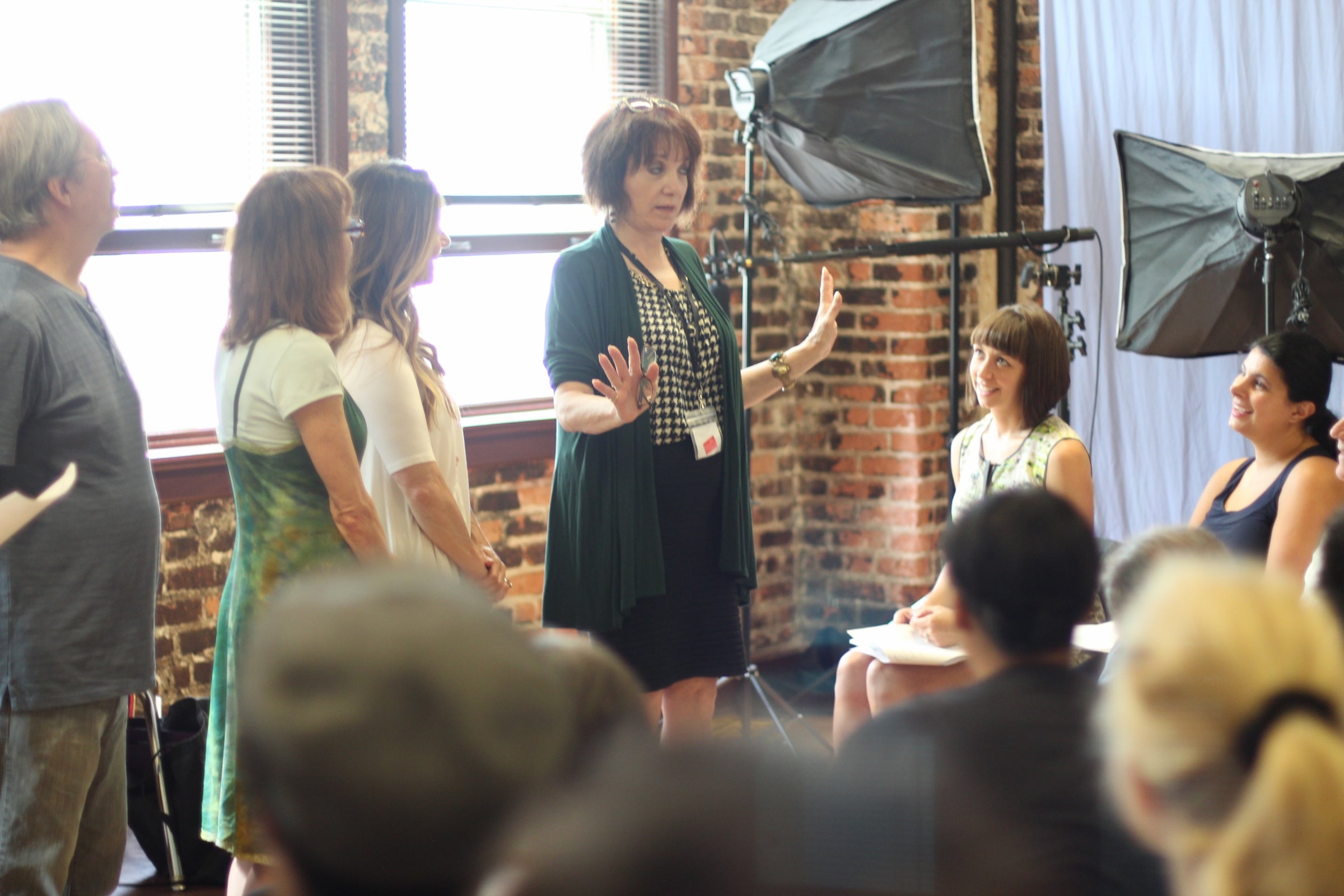 Conservatory Committee member Lee Garlington, center, and Conservatory members Lisa Dee and Maggie Parto
"Working from the Inside Out" was the theme this year for the 40th anniversary of the SAG-AFTRA Conservatory 2016 Summer Intensive, and it was a resounding success, with reservation lines ringing off the hook. Committee Co-Chair Michael D. Cohen shared, "For me, the theme resonates with the need for us as actors to know ourselves, to know our instrument and how it works so that we can tap into a greater range of expression and bring more color to our auditions and roles." One member also added, "As an actor, you have to know what is going on in the inside to be able to have an effective output. There were so many good reminders of things that need to start with me before the marketing, the classes and the auditions." Click here to read more.
NextGen Performers Summer Mixer
NextGen Performers (NGP) focuses on programming for SAG-AFTRA's emerging generation, encouraging young performers to get involved with their union by engaging with other members through social media, community outreach and special events such as the annual Summer Mixer. This year's Summer Mixer was held at the newly re-launched Sandbox in Hollywood on Tuesday, Aug. 30. The event was again co-hosted by NewFilmmakers LA, a nonprofit created to showcase the work of — and connect — indie filmmakers from around the world. 
The highlight of the evening was celebrity host Lucas Grabeel (Switched at Birth, High School Musical), who shared his journey and experiences in Los Angeles as an actor and proud member of SAG-AFTRA. With over 250 attendees, members mixed and mingled the night away with a red carpet, video games, photo booth and skee ball, while enjoying complimentary appetizers and cocktails.
Speakers for the event also included President Gabrielle Carteris; Secretary-Treasurer and L.A. Local President Jane Austin; National Vice President, Los Angeles Clyde Kusatsu; L.A. 2nd Vice President and MOVE L.A. Committee Chair Ellen Crawford; Board member and NGP Subcommittee Chair Ben Whitehair; NGP Committee member Kyle McCauley; and NewFilmmakers LA Executive Director Larry Laboe. NextGen Performers is a subcommittee of SAG-AFTRA's MOVE Committee. 
For updates on future events, resources for performers, and much more, join the NGP mailing list by sending an email to NextGen@sagaftra.org, and find them on Facebook, Twitter and Instagram. 
Click below photo for slideshow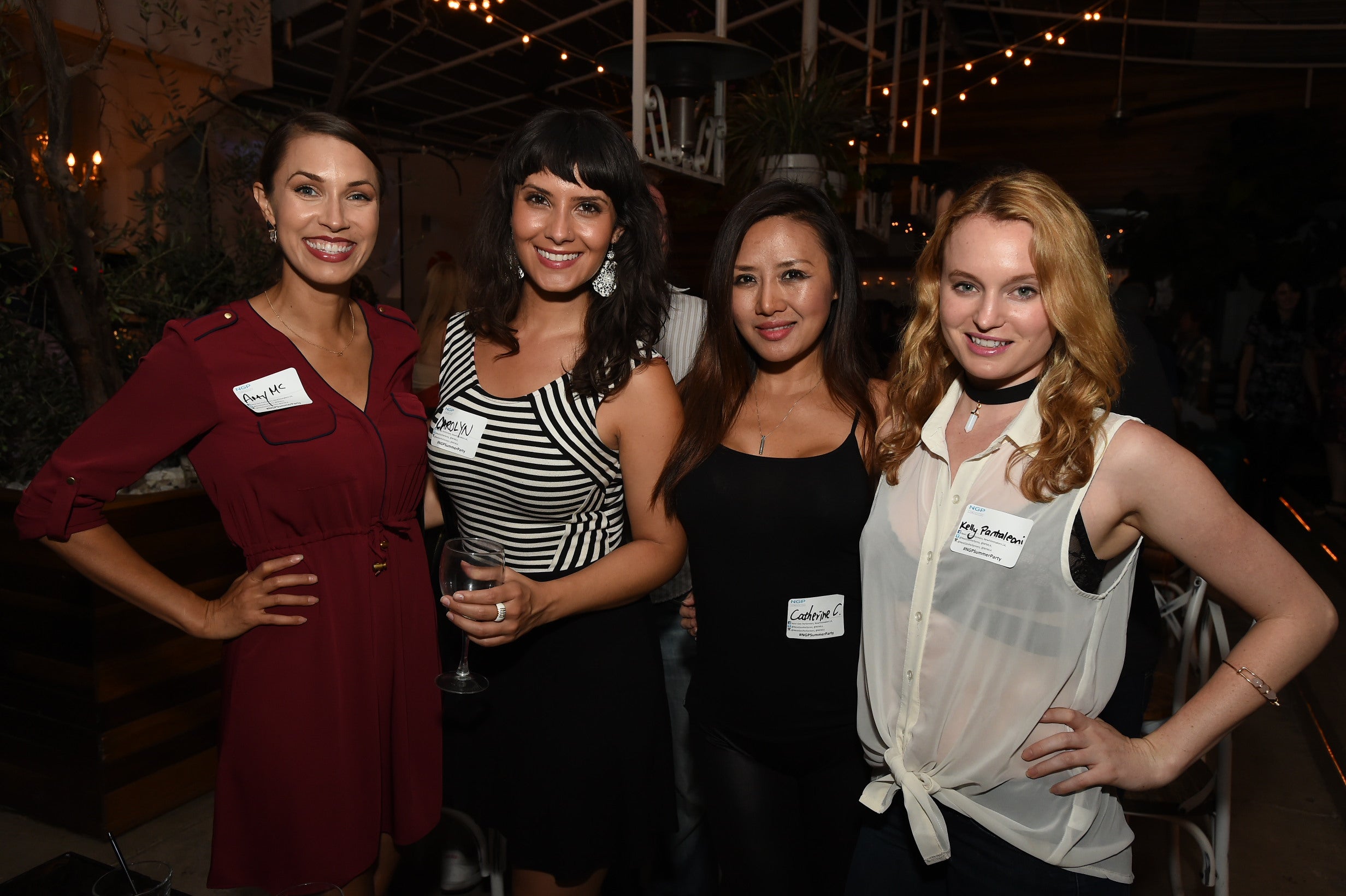 NGP/ NFMLA Summer Mixer guests. Photo by Matt Petit. 
Digital Hollywood Experience Conference
SAG-AFTRA National Performance Capture Committee Chair Woody Schultz, Los Angeles Board member Cupid Hayes and SAG-AFTRA Chief Economist David Viviano participated in The Digital Hollywood Experience Spring Conference at the Skirball Center in Los Angeles in May. 
Featured on the CG Humans: Integration of the Virtual Character in Film, TV, VR and Games panel, Schultz and fellow participants considered the role of computer-generated humans in varying forms of entertainment and explored how CG characters are created, manipulated and integrated into myriad platforms. The panelists discussed the technologies used to create CG humans and the challenges facing developers, programmers, storytellers and performers in bringing their creations to life.     
A frequent speaker on media distribution and monetization, as well as on the influence of technology as a tool for diversity and empowerment, Hayes participated on two panels: Women & Original Content: From Internet Video and Advertising to TV and Film and Women Leading the Digital Charge from Content Creation to Distribution.
Viviano, who oversees SAG-AFTRA's Office of Media & Labor Economics, shared his insight on the evolving economic trends in media production and distribution on a panel titled Hollywood and the Digital Consumer: How Technology, Content and Services Establish the Next Level of Consumer Entertainment Experience.
Digital Hollywood debuted in 1994 and is among the leading trade conferences in its field with over 15,000 top executives in the film, television, music, home video, cable, telecommunications and computer industries attending various events each year. The next Digital Hollywood Conference will be in October.
Carteris Honored by Jewish Labor Committee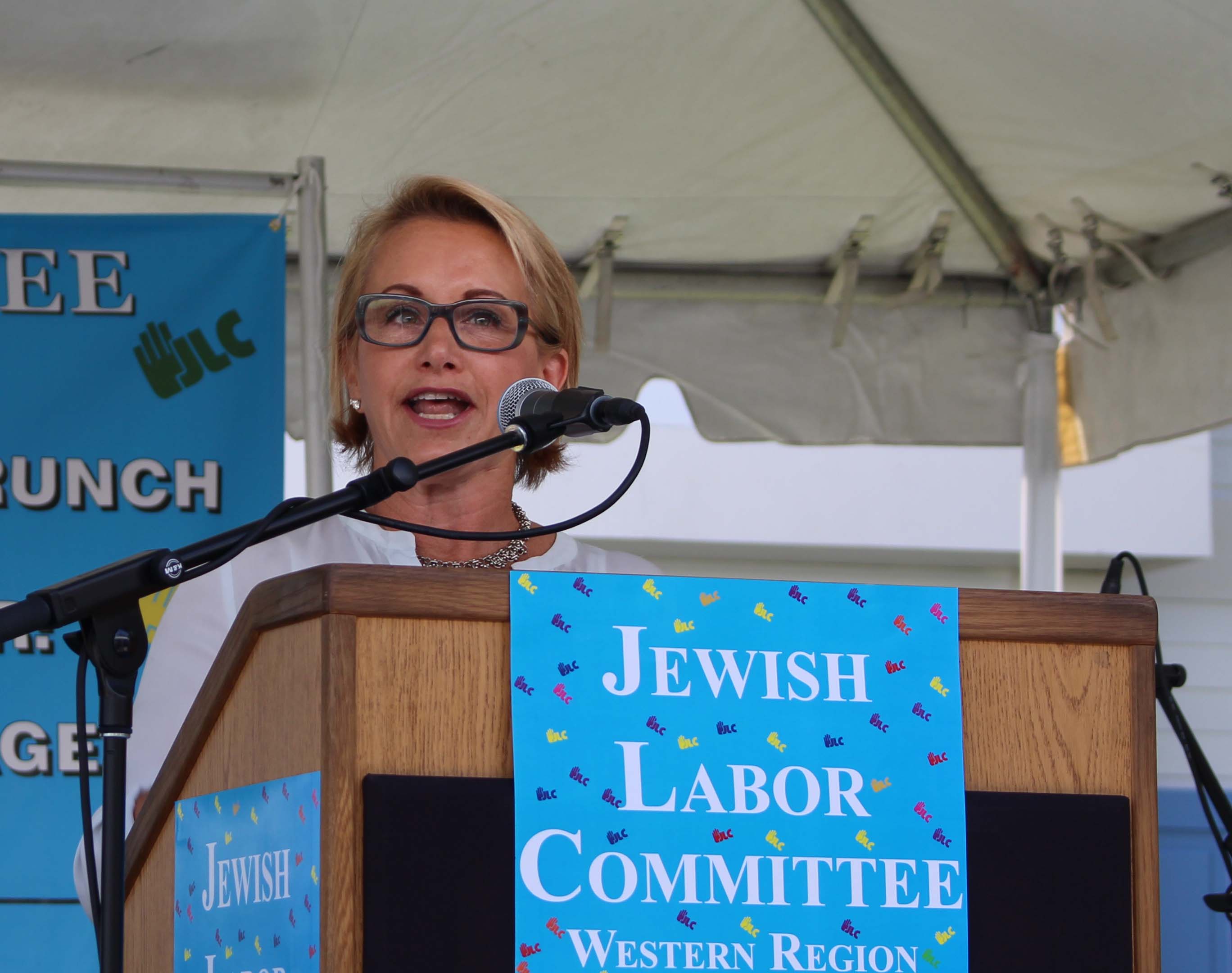 Gabrielle Carteris
SAG-AFTRA President Gabrielle Carteris was honored by the Jewish Labor Committee Western Region with the Elinor Glenn Leadership Award at its annual brunch on Aug. 28 at the CBS Studio Center, Radford Lot in Studio City, California. The award was presented by Los Angeles Mayor Eric Garcetti. Click here to read more.
Looking Back to Another Era for Opportunities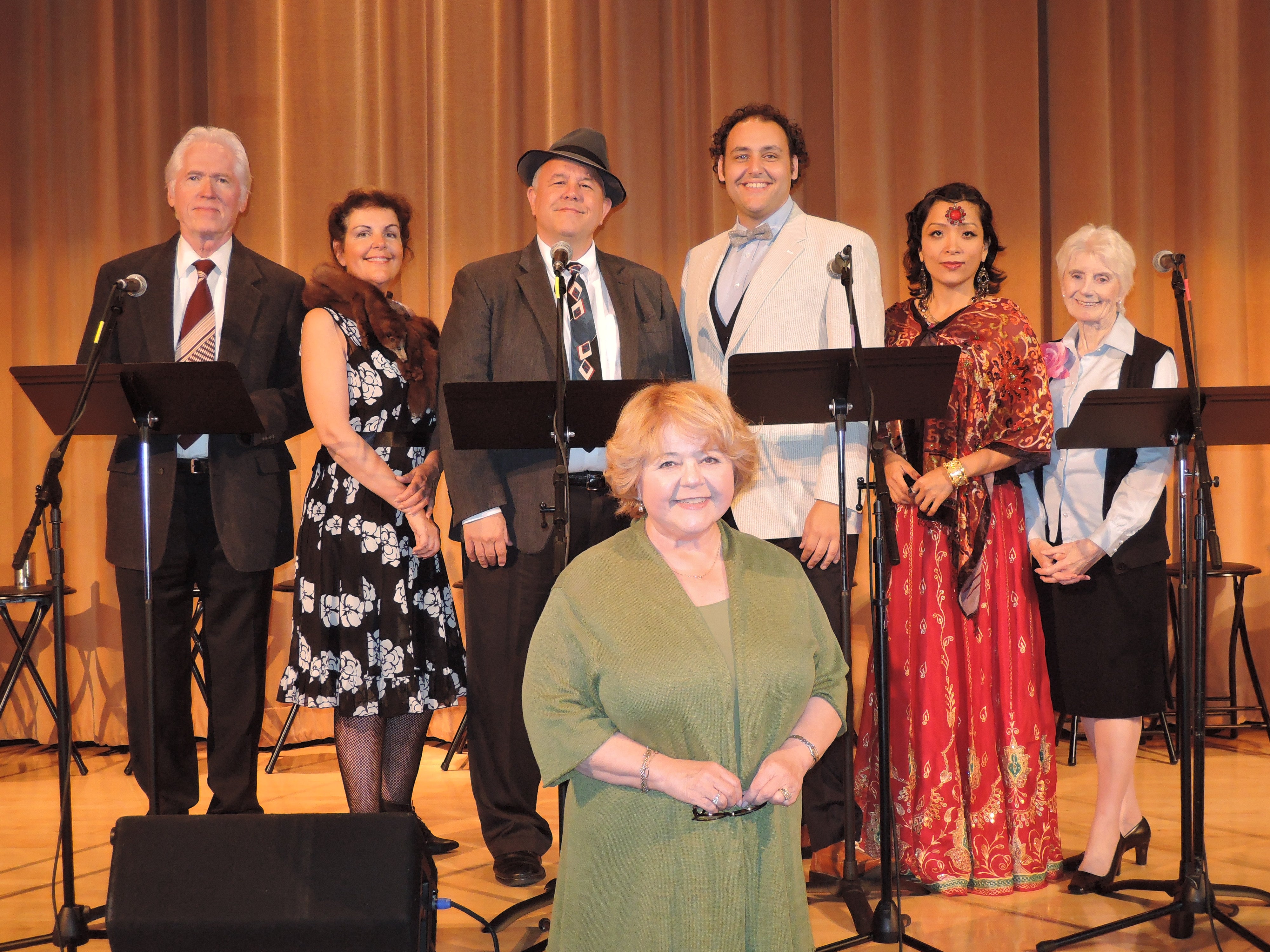 From left, The Fat Man cast members Ian Patrick Williams, Nancy Wilson, Bob Joles, Nicholas Mongiardo-Cooper, Petra Lo and Kay D'Arcy with director and Radio Plays Committee member Patrika Darbo (front) on June 16.
The SAG-AFTRA Radio Plays Committee has had a busy few months, with more in the works for year's end. Originally created by the AFTRA Seniors' Caucus in 2010 as a tribute to AFTRA's most senior jurisdiction, the Los Angeles SAG-AFTRA Radio Plays Committee produces four events each year. Founded by David Westberg, the committee and a troupe of dedicated actors have presented more than 40 re-creations of classic radio scripts, complete with sound effects, commercials and, often, live musical accompaniment. Click here to read more. 
Producing Your Indie Project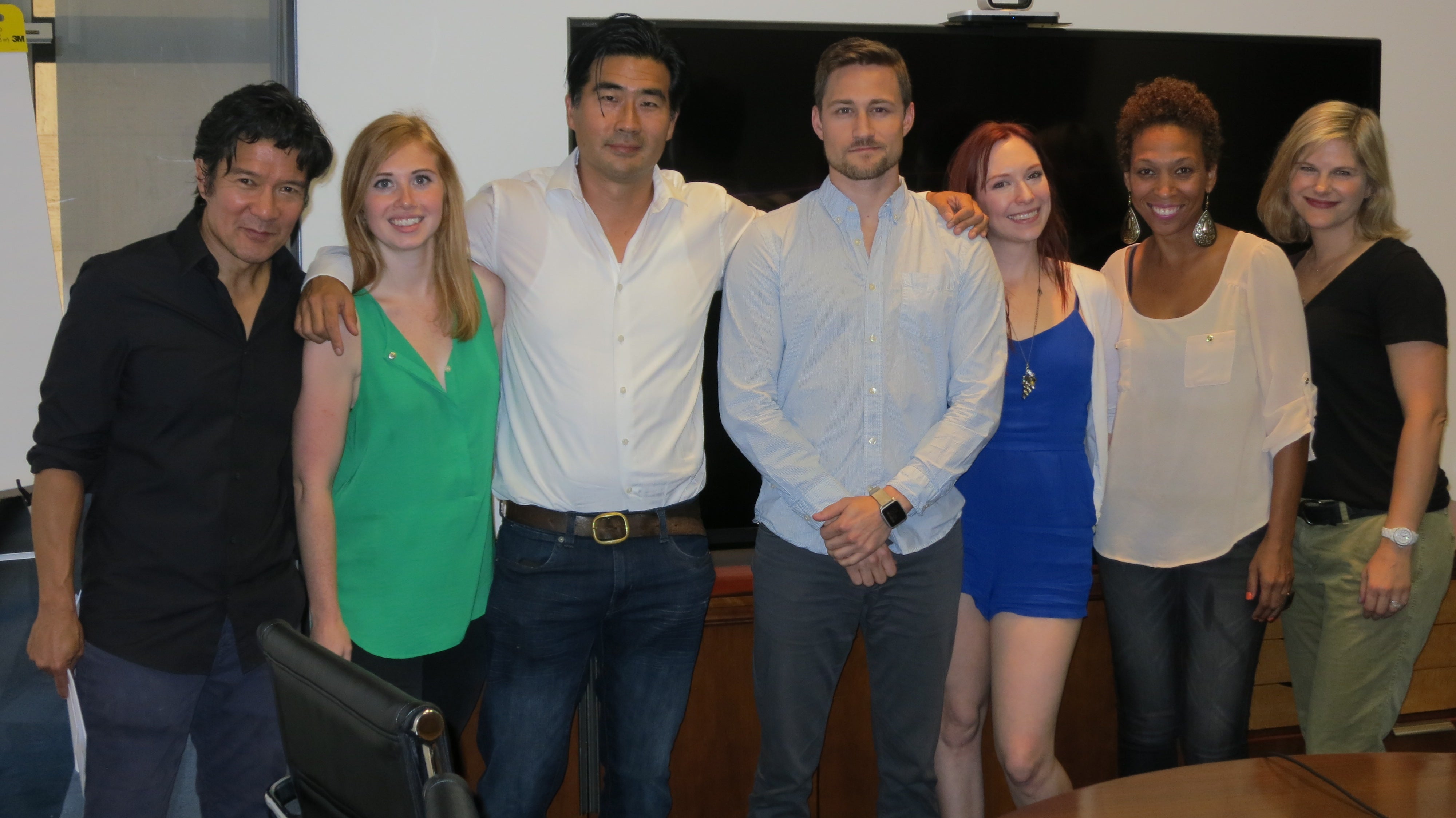 From left, MOVE L.A. committee member and moderator Tohoru Masamune, SAGindie Coordinator Amanda LaFranco, actor-director Ryun Yu, actor-writer-director-producer Brendan Bradley, actor-writer Kate Hackett, actor-writer-producer Saadiga Kamille, and actor-writer-director Rachel Avery
Actors no longer need to wait to be cast in the right part. Technology now allows performers to cast themselves by producing their own projects. As the process can often be overwhelming, the MOVE L.A. committee presented a panel of emerging filmmakers that shared their own journey of conceptualizing, developing, producing and distributing their indie "masterpieces," describing the steps that will help members create their own content and have it seen by the right people. Panelists included a variety of filmmakers that successfully produced short films, features and their own web series.
The event on Aug. 4 began with clips and trailers of the projects, followed by panelists discussing how their projects originated and were developed, funded and completed. Panelists included actor-writer-director Rachel Avery; actor-writer-director-producer Brendan Bradley; actor-writer Kate Hackett; actor-writer-producer Saadiga Kamille, SAGindie Coordinator Amanda LaFranco and actor-director Ryun Yu. The panel was moderated by actor Tohoru Masamune.
LaFranco explained the role of SAGindie as an intermediary between producers and SAG-AFTRA. She described how easy the signatory process can be, and explained the benefits of becoming signatory. According to LaFranco, the New Media Contract allows for negotiation of salaries, the Short Film Agreement allows for deferred pay, and the Ultra Low Budget Agreement has minimum rates at $125 a day. All of these provisions showed the audience that going union will allow them to work with professional actors but still keep costs down. To download contracts, click here.
The panel also offered advice for film financing through various funding sources such as crowdsourcing.
For more information on upcoming MOVE L.A. programs, click here. For more information on SAGindie, click here.  
Ilyanne Morden Kichaven Recognized in L.A. Business Journal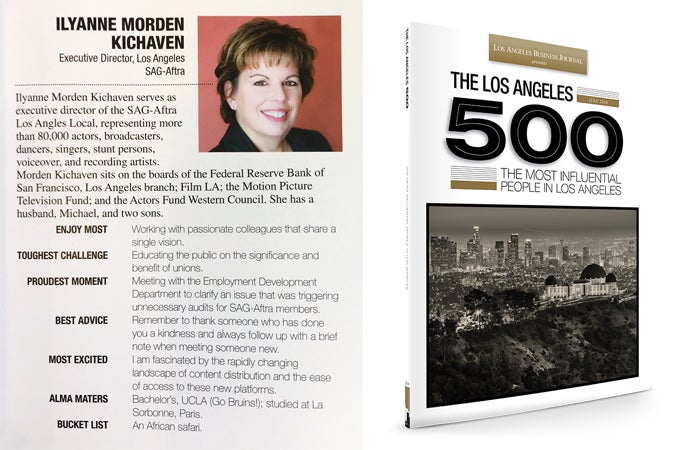 SAG-AFTRA's Los Angeles Local executive director, Ilyanne Morden Kichaven, was named one of the 500 most influential people in Los Angeles by the L.A. Business Journal in its inaugural The Los Angeles 500 list. The directory of the city's most influential people who shape the business and social fabric of the region was published in August. Chronicling the business community in Los Angeles for four decades, the Journal's directory is a "guidebook to the people who make an impact," describes publisher and CEO Matthew Toledo. Click here to read more.  
Professional Representation All-Day Seminar
Continuing to build on its goal of increasing interaction with SAG-AFTRA performers, the Professional Representatives Department staged its inaugural all-day agency seminar with members. This series of meetings began early morning on the East Coast, where our New York team walked members through all the intricate and sometimes confusing documents that they often sign in their relationships with their agents. 
Agency Forms 101: Everything You Need to Know about the Agency Documents Approved by Your Union began the event in New York and was immediately followed by a much larger bicoastal event moderated out of the Los Angeles Office, titled General Services Agreements: What Every Member Should Know before Signing this Contract. Afterwards the L.A. P.R. Team hosted its own Agency Forms 101 seminar for an entirely new group of member-participants.
This series of events, consisting of six-and-a-half hours of valuable content disseminated to members, was a tremendous success. The professional representatives national team on both coasts interacted with more than 325 members in one day. They also distributed surveys to all participants to learn how to make these types of events more responsive to their needs. Based on the completed surveys, members gave SAG-AFTRA high marks on its initiative, dedication to member service and provided content. "The message we heard was overwhelmingly positive," stated National Director/Senior Counsel, Professional Representatives Zino Macaluso. "Members left our events more informed, entertained and more connected to their union than before they walked in. Given the success of this event, we plan on staging more of them in the near future."  
For more information about the SAG-AFTRA Professional Representatives Department, click here.
Senior Resource Day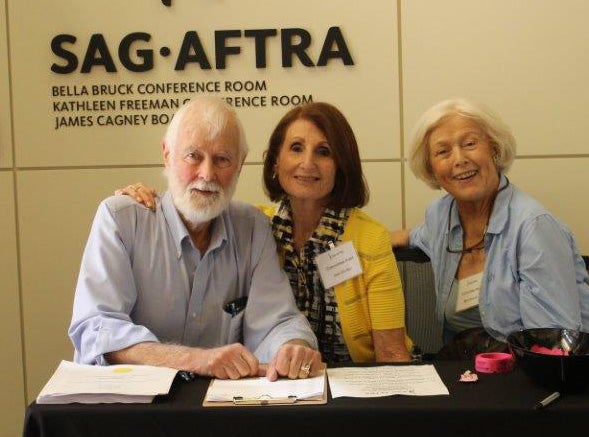 Los Angeles Local Seniors Committee members David Westberg and Joan Del Mar with Los Angeles Local Seniors Committee member and Los Angeles Local Board member Mimi Cozzens
Los Angeles Local senior performers were in the spotlight on Aug. 17 at Senior Resource Day, Golden Tips for Golden VIPs, held at SAG-AFTRA Plaza. Hosted by the SAG-AFTRA L.A. Local Seniors Committee, nearly 100 members attended the daylong event filled with presentations and discussions on topics of interest to those age 50 and above. The day began with a morning presentation by the SAG-AFTRA Motion Picture & Television Fund, during which members were given an overview of eligibility, accommodations and costs for MPTF's residential living communities like the Wasserman Campus. There were also presentations on staying fit and the health and social benefits of volunteering. Next, casting director Jeremy Gordon, Breakdown Services' Blair Hickey and SAG-AFTRA members L. Scott Caldwell and Jackie "Pink Lady" Goldberg engaged in a lively panel discussion on continuing, expanding and jumpstarting your career. L.A. Local Senior Committee Chair David Westberg served as the moderator. The day ended with a presentation by The Actors Fund on staying creative as a means to build and expand your personal community. All in all, the message of the day was to live your best life at every age.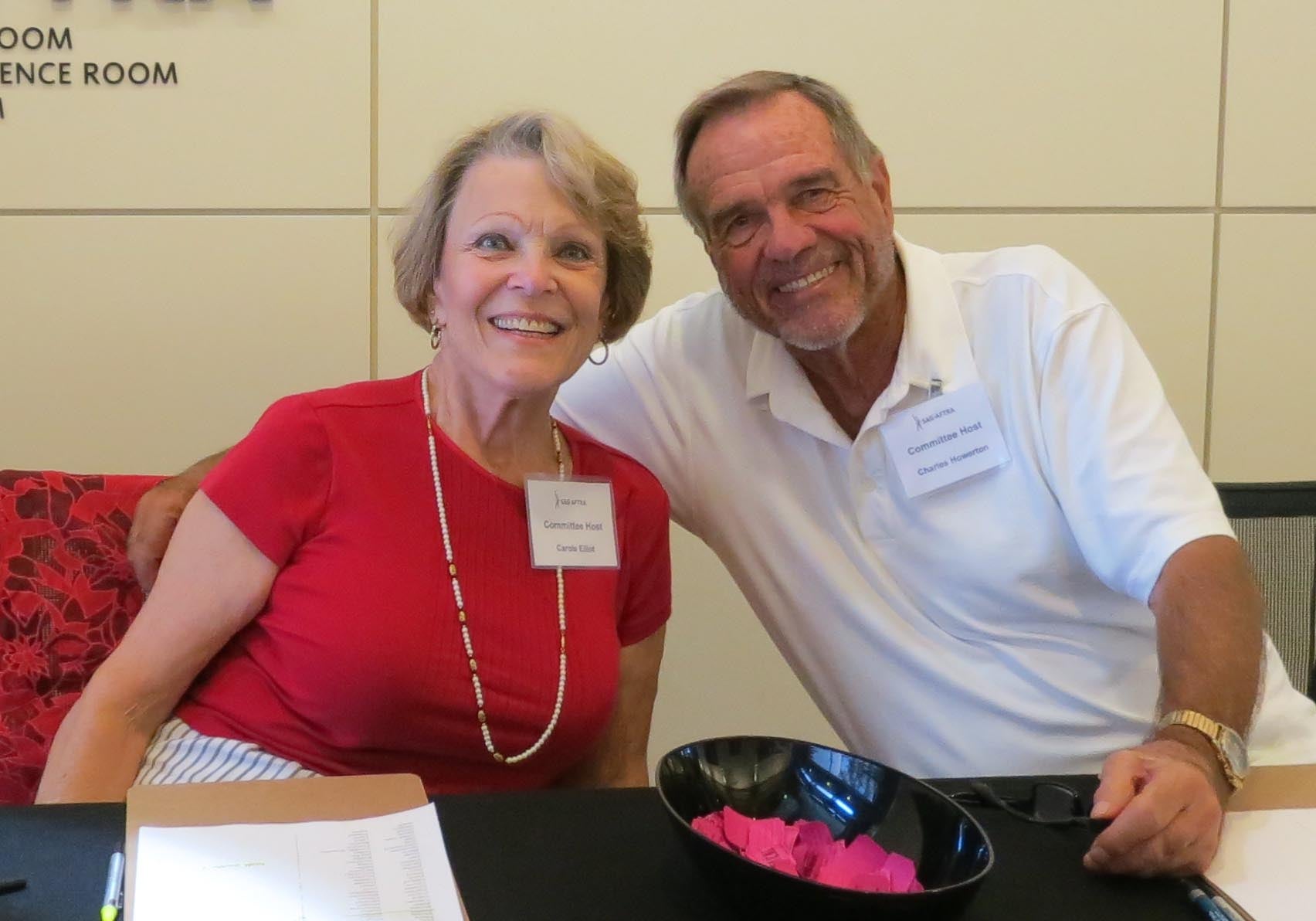 Los Angeles Local Seniors Committee member and Los Angeles Board member Carole Elliot, left, with Los Angeles Local Seniors Committee member Charles Howerton
MOVE L.A. Members in Action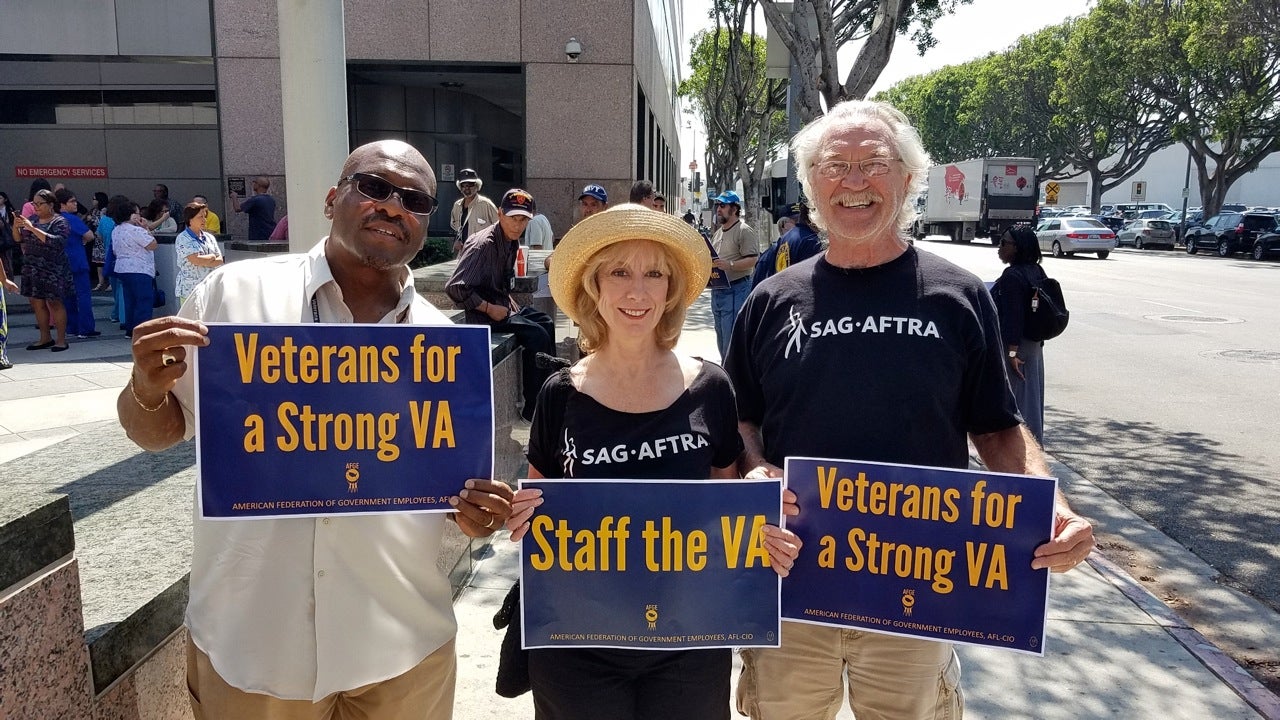 MOVE L.A. members joined SAG-AFTRA L.A. Military Personnel and Family Services Committee members and American Federation of Government Employees on Aug. 30, to urge lawmakers to oppose efforts to shut down VA hospitals. From left, New Directions Veterans Choir member George Hill, MOVE L.A. Chair and Los Angeles Local 2nd Vice President Ellen Crawford and MOVE L.A. committee member Mike Genovese.
MOVE is a non-partisan, member-driven committee dedicated to supporting the initiatives of SAG-AFTRA and positively influencing the lives of actors and performers. Through trainings, forums and events, MOVE provides member education, organizes to create more union employment and strengthen existing contracts, and promotes union solidarity within the labor community.
The MOVE L.A. committee, chaired by Los Angeles 2nd Vice President Ellen Crawford, supports various labor projects and programs all over Los Angeles. Click the photo above to view a slideshow of what the committee has been up to lately.
SAG-AFTRA Members Help Change Lives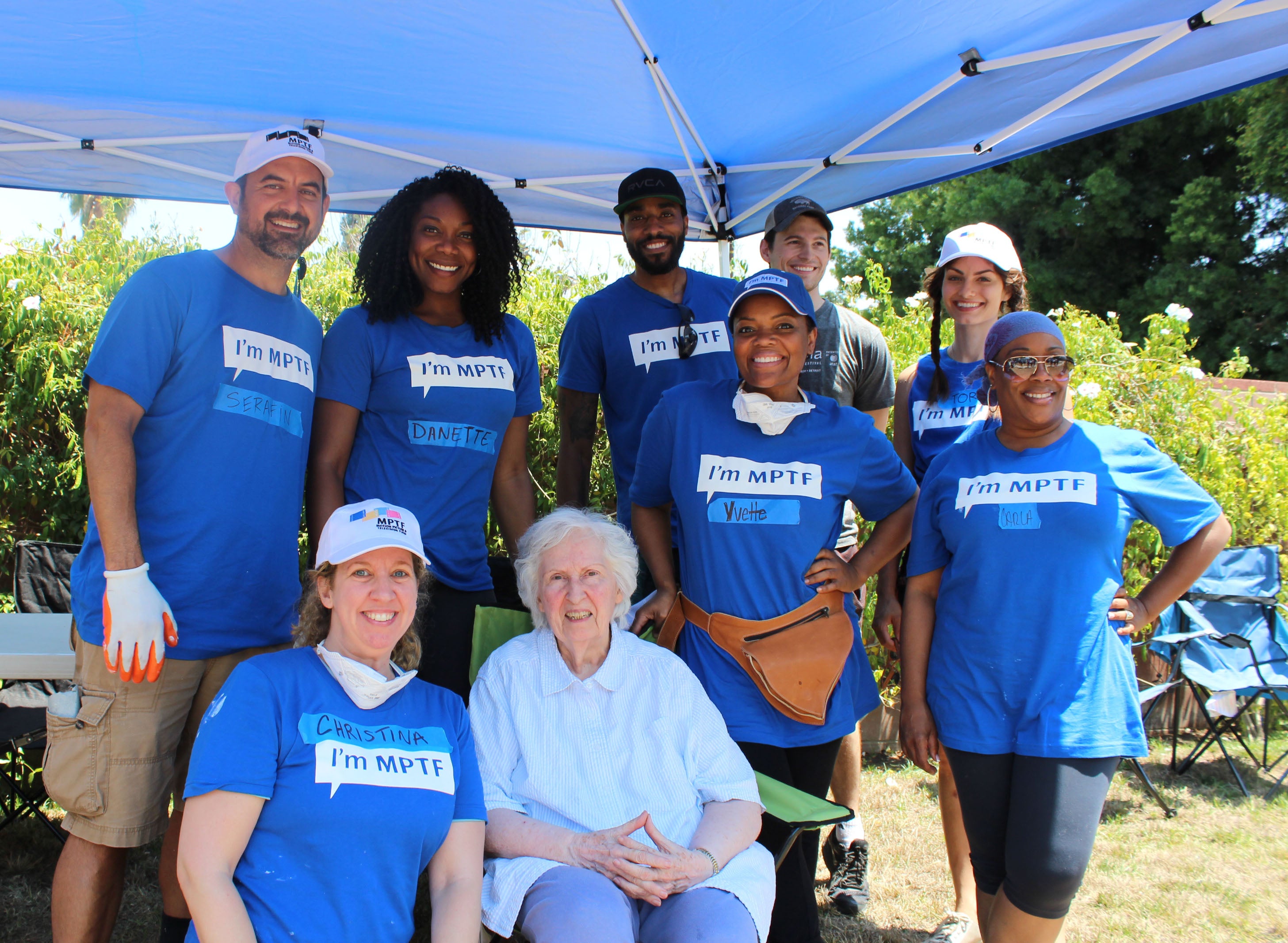 Back row, from left, SAG-AFTRA member volunteers Serafin Falcon, Danette Wilson, Jameel Saleem, Bryan Dechart, Tori Taranova. Front row, from left, Christina Piazza, Lila Waters, Yvette Nicole Brown, Carla Renata. Photo by Ben Cowitt.
In an outpouring that embodies the true spirit of "taking care of our own," more than 70 volunteers from the entertainment community, many from SAG-AFTRA, came together June 25 to improve the safety and upgrade the home of Lilah, an 84-year-old SAG-AFTRA member.  
Keeping seniors living at home longer, more comfortably and independently is the core mission of the Motion Picture & Television Fund's Home Safe Home program, which provides free home safety evaluations and free or low-cost modifications for homes. Home Safe Home doesn't address only physical safety issues; it can help older adults improve their quality of life through more independence, socialization and an improved psychological outlook.
"The very first project I organized by myself made me realize how much we change lives," stated Kym Hall, project coordinator, who established the Home Safe Home project. "We walked into an elderly gentleman's house and the floor caved in. By the time we were done, his house was a home again."
The program began in 2006 with less than a half-dozen assessments conducted annually. That number has grown to 200 per year and Home Safe Home recently reached a significant milestone with the completion of its 1,000th home assessment. The success of the program would not be possible without the hard work and caring hearts of volunteers from the entertainment community who show up to lend a hand, volunteers like SAG-AFTRA member Yvette Nicole Brown.
"MPTF has been sowing good seeds into the lives of entertainment industry members for 95 years now," said Brown while working on the renovation project in June. "They believe in showing up and giving back when and where it's needed. I'm honored to be one of those lending a hand."
For more information about Home Safe Home and volunteer opportunities, visit MPTF's website or call (323) 634-3866.