The Official E-Newsletter of the Los Angeles Local
KNOW YOUR RIGHTS!
The best way to compete in the world of entertainment and news media is to be a prepared, well-trained and informed professional. Learn from these real-world experiences, understand your rights and take action. Our Know Your Rights! informational brochure covers discrimination and harassment, pre-employment inquiries, breakdowns and auditions, accessibility, contracts knowledge and more. Click here to learn more about your rights.
WORKING FOR YOU!
As a union representing approximately 160,000 entertainment and media professionals, SAG-AFTRA offers a wide range of benefits and protections. Learn more by taking a moment to review our Working For You! brochure available on our website. This informational tool covers everything from membership and benefits to support and education.
A Message from Local President Jane Austin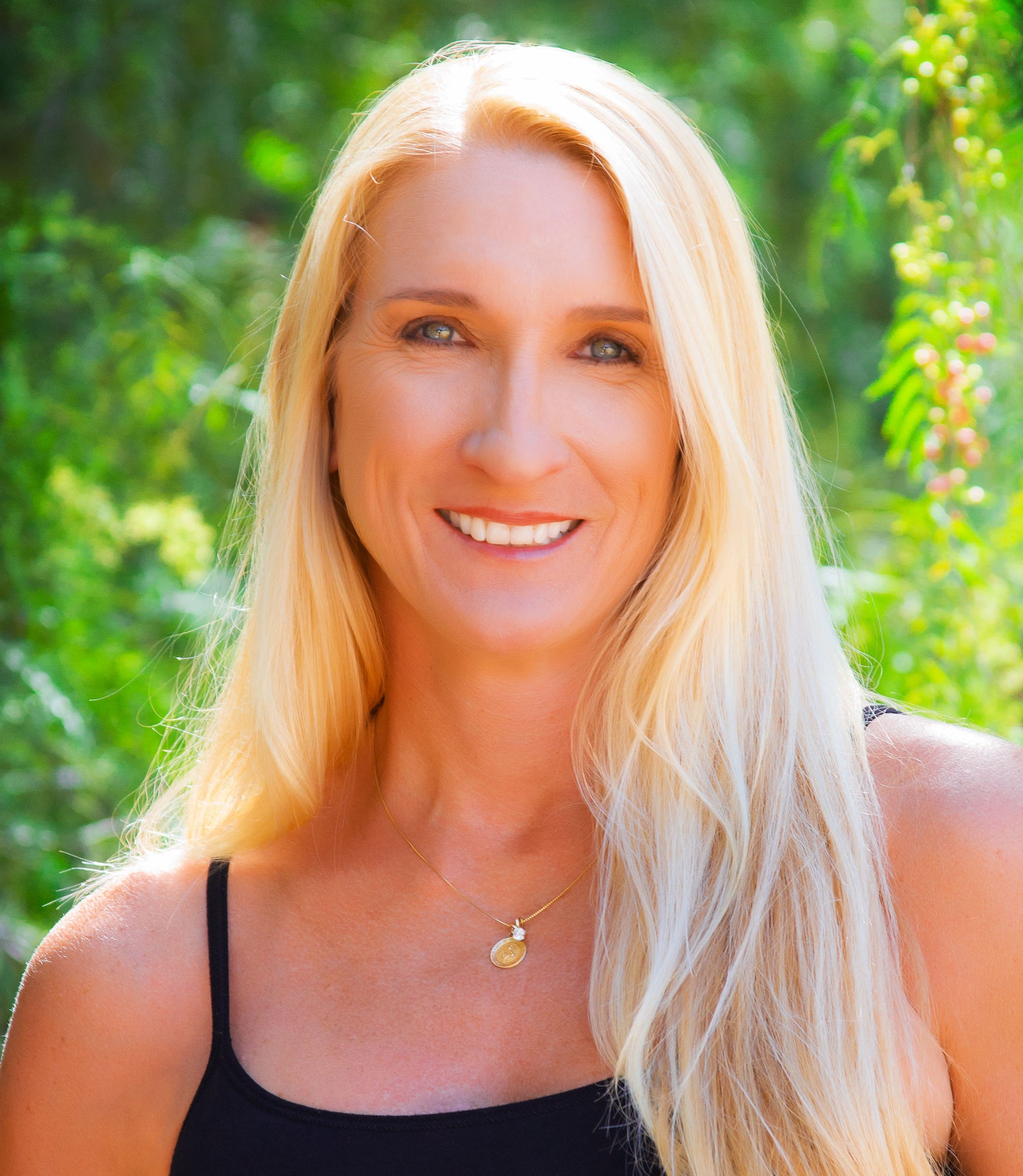 First, thank you to everyone who voted in this year's election. I am honored to be elected the new president of SAG-AFTRA's Los Angeles Local as well as national secretary-treasurer. Congratulations to President Ken Howard on his re-election and my fellow elected leaders on their re-election and election. I also want to extend appreciation to Clyde Kusatsu for the great job he has done during the past two years.
These next two years bring great promise. I am looking forward to working with the newly elected Los Angeles Local Board, First Vice President Esai Morales, Second Vice President Ellen Crawford and staff. This is an exciting time for our union, but there is much more work to be done.
As your newly elected president, I will strive to educate and engage members. Together with the board and other elected leaders, I will promote transparency between the union and its members and will work hard to protect all of our rights as SAG-AFTRA members. My style of communication is clear, concise and to the point, as we all have busy lives and responsibilities. Expect my letters to be just that: clear, truthful and to the point. I believe members of this union need and deserve information, transparency and inclusion, and it will be my job to deliver.
In solidarity,
Jane Austin
Introducing Your Newly Elected Officers
The SAG-AFTRA national and Los Angeles Local election ballots were tabulated on Aug. 20 with the results revealed on the same day. Members nationwide elected two of the union's top-ranking officers, re-electing Ken Howard as president and Jane Austin as the new secretary-treasurer. In addition to her position as secretary-treasurer, Jane Austin was also elected president of the Los Angeles Local. Esai Morales was elected as L.A. Local First Vice President and Ellen Crawford is the Second Vice President. Click here to see the election results. Click here to see a list of the new Los Angeles Local Board.
The union's executive vice president and seven vice president positions from geographic areas and work categories will be elected by delegates at SAG-AFTRA's biennial convention, which takes place in Los Angeles on Oct. 1-4. We congratulate all newly elected and re-elected board members and we appreciate those who have previously served.
Film Tax Incentives Return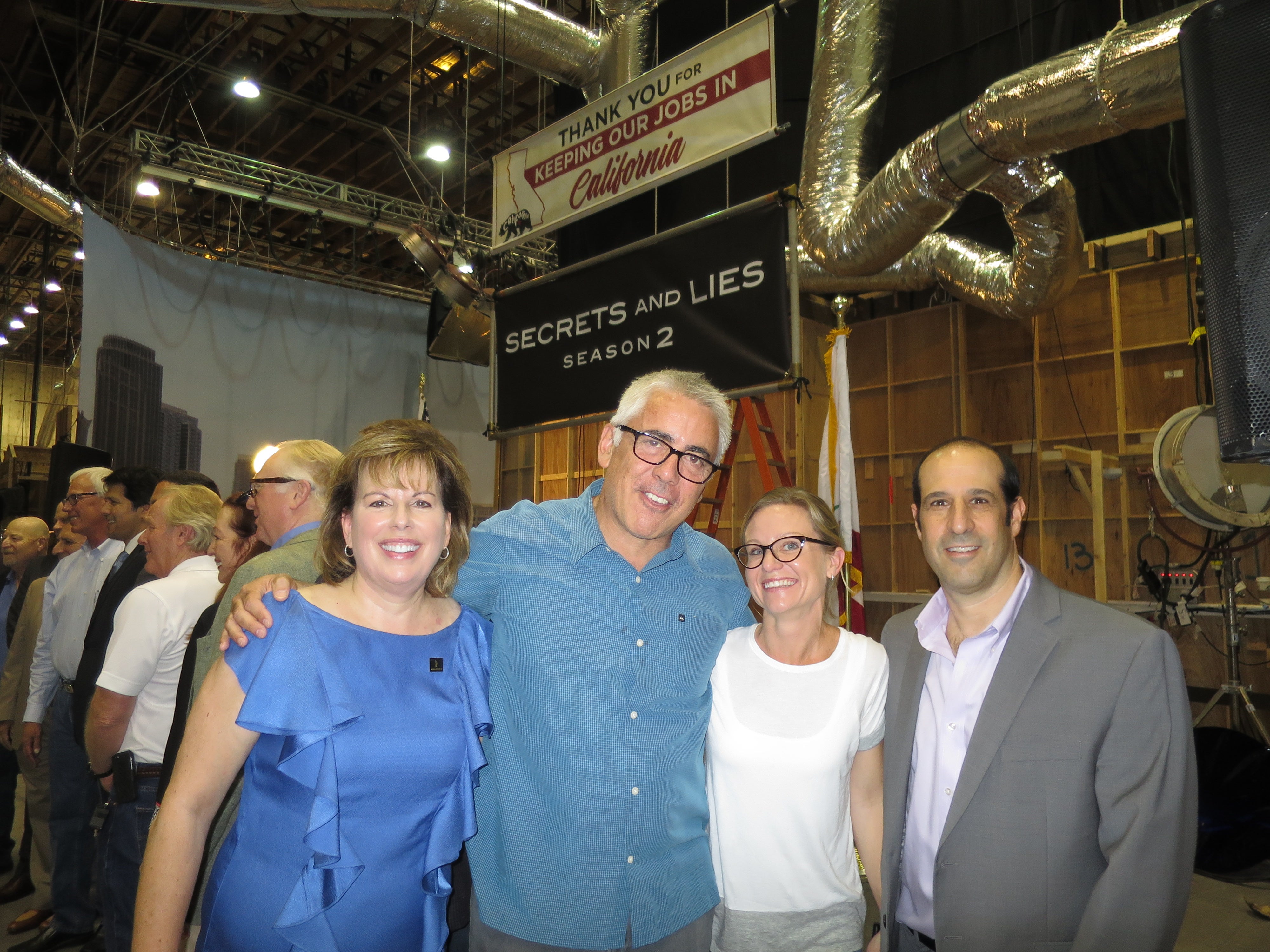 From left, SAG-AFTRA L.A. Local Executive Director Ilyanne Morden Kichaven; former SAG-AFTRA National and L.A. Local Board member and Secrets and Lies co-executive producer and director Adam Arkin; former SAG-AFTRA National and L.A. Local Board member and Secrets and Lies production staff member and actor Michelle Dunker; and SAG-AFTRA Deputy General Counsel William Bensussen.
Entertainment industry leaders and professionals gathered at Paramount Studios on Aug. 13 to celebrate the move of ABC's Secrets and Lies to Hollywood from North Carolina. Labor and industry leaders, legislators and others held a press conference to mark the implementation of the $330 million Film and Television Tax Credit Program, and thanked proponents of the legislation. Secret and Lies moved to California in its second season; it employs 300 cast and crew members.
It is one of 11 television productions to receive the first allocation from the Film and Television Tax Credit Program and one of four to relocate from other states. These 11 productions are expected to create thousands of jobs while generating an estimated $216 million in wages for below-the-line cast and crew and $544 million in direct in-state spending.
Friends of Rabin Honor Howard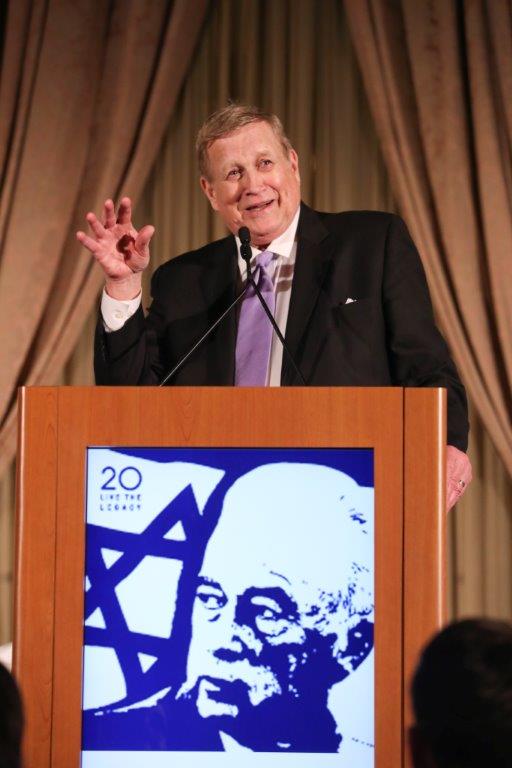 SAG-AFTRA President Ken Howard speaks at the ceremony. Photo: International Brotherhood of Teamsters
The American Friends of Yitzhak Rabin honored SAG-AFTRA President Ken Howard and others at a special ceremony and gala dinner at the Millennium Biltmore Hotel in Los Angeles on July 9. Howard received the Yitzhak Rabin Legacy Award for the key role he played in bringing to fruition the merger of SAG and AFTRA, as well as for his work mentoring young people who are seeking careers in the media and entertainment industries.
Also recognized at the event was Randy Cammack, president of Teamsters Joint Council 42, who was presented the 2015 Yitzhak Rabin Leadership and Public Service Award.
The event drew several other notable speakers, including Los Angeles Mayor Eric Garcetti; David Siegel, Consul General of Israel in Los Angeles; and Yuval Rabin, son of late Israeli Prime Minister Yitzhak Rabin.
The American Friends of Yitzhak Rabin is a nonprofit organization that supports educational programs and initiatives that reflect Rabin's legacy.
Remembering the Watts Rebellion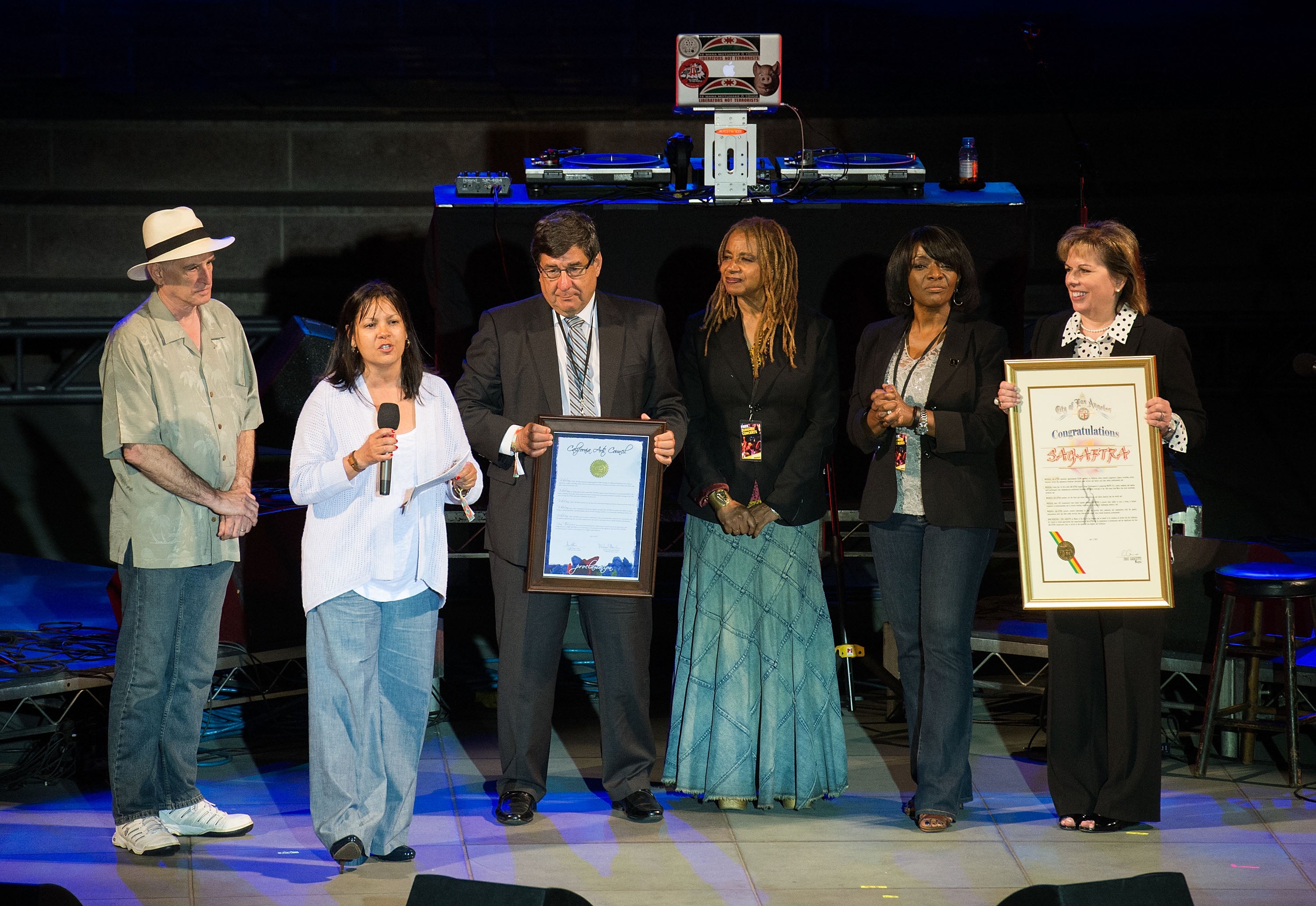 From left, Grand Performances Executive Director Michael Alexander; SAG-AFTRA National Broadcast Director Anna Calderon; broadcasters Dave Lopez, Margaret Prescod and Beverly White; and SAG-AFTRA L.A. Local Executive Director Ilyanne Morden Kichaven accept proclamations honoring the union. Photo: Valerie Macon
The South Los Angeles Watts Rebellion of 1965 was a milestone of the civil rights movement. In commemoration of this event, the SAG-AFTRA L.A. Local and the L.A. Broadcast Steering Committee partnered with Grand Performances' Los Angeles Aftershocks Series to host a July 10 event in downtown Los Angeles. WATTS50 was an evening of socially conscious music, curated by hip-hop showcase Lyricist Lounge. More than 1,500 guests gathered to reflect on the riots that began 50 years ago on Aug. 11. The evening discussion focused on the cultural aftermath of the riots, encompassing reflections of past and current race relations in L.A. and in our nation.
SAG-AFTRA broadcasters, including KPFK's Margaret Prescod (host of Sojourner Truth), KNBC Channel 4's Beverly White and KCBS Channel 2's Dave Lopez, recounted their experiences during the riots and their effects on the Los Angeles community. The broadcasters joined SAG-AFTRA National Broadcast Director Anna Calderon and L.A. Local Executive Director Ilyanne Morden Kichaven to accept two proclamations during the Grand Performances event, one presented by the California Arts Council and the other from L.A. Mayor Eric Garcetti. The proclamations recognized SAG-AFTRA's commitment to broadcasters and the role that the union's broadcasters play in serving the Los Angeles community.
Lyricist Lounge's DJ Anthony Marshall, hip-hop duo Dead Prez and Jimetta Rose were among the performers who presented music and spoken word about the historic events. Pacifica Radio Archives' on-the-ground footage served as source material during performances throughout the evening.
Unifying the L.A. Dance Community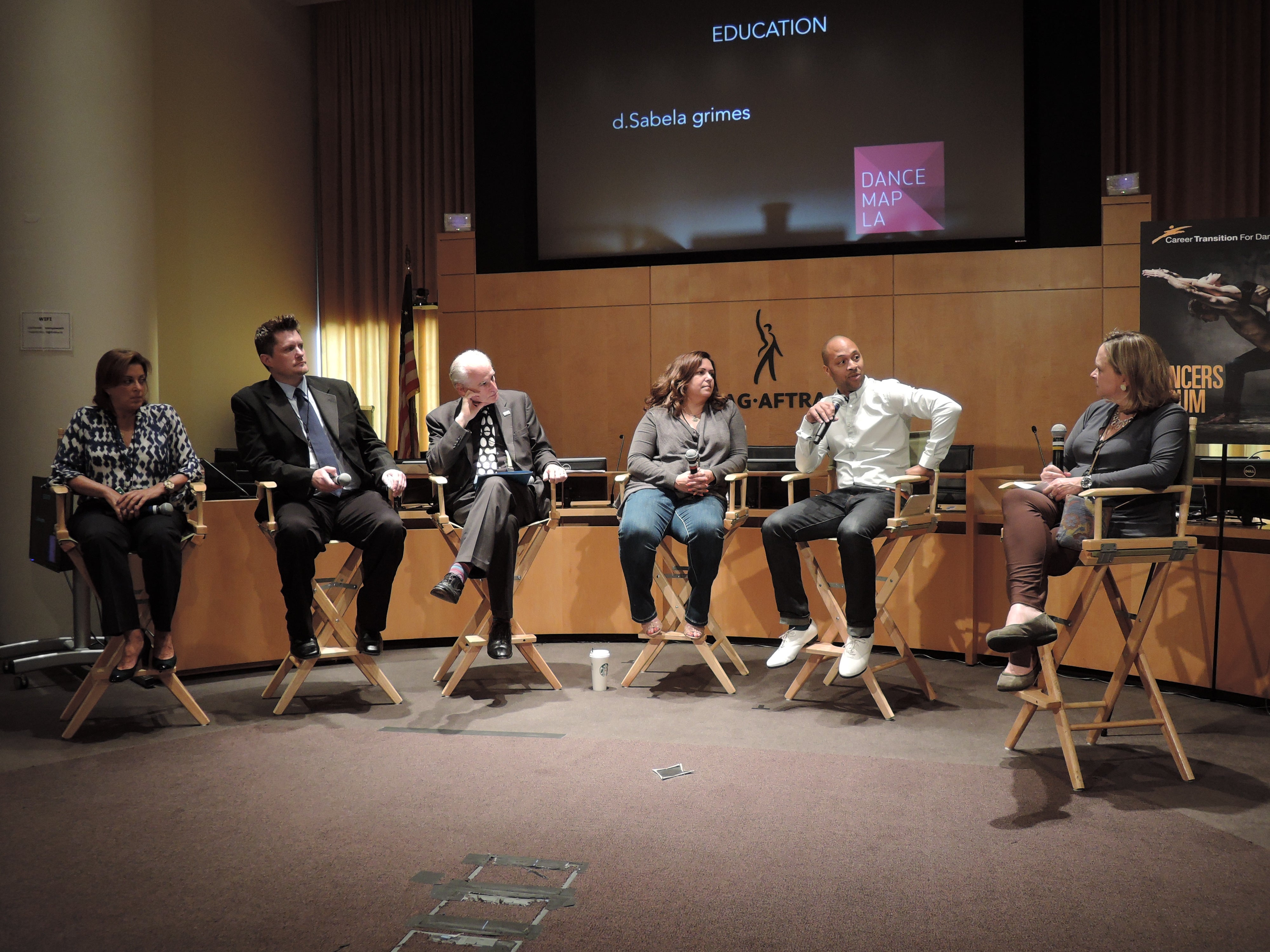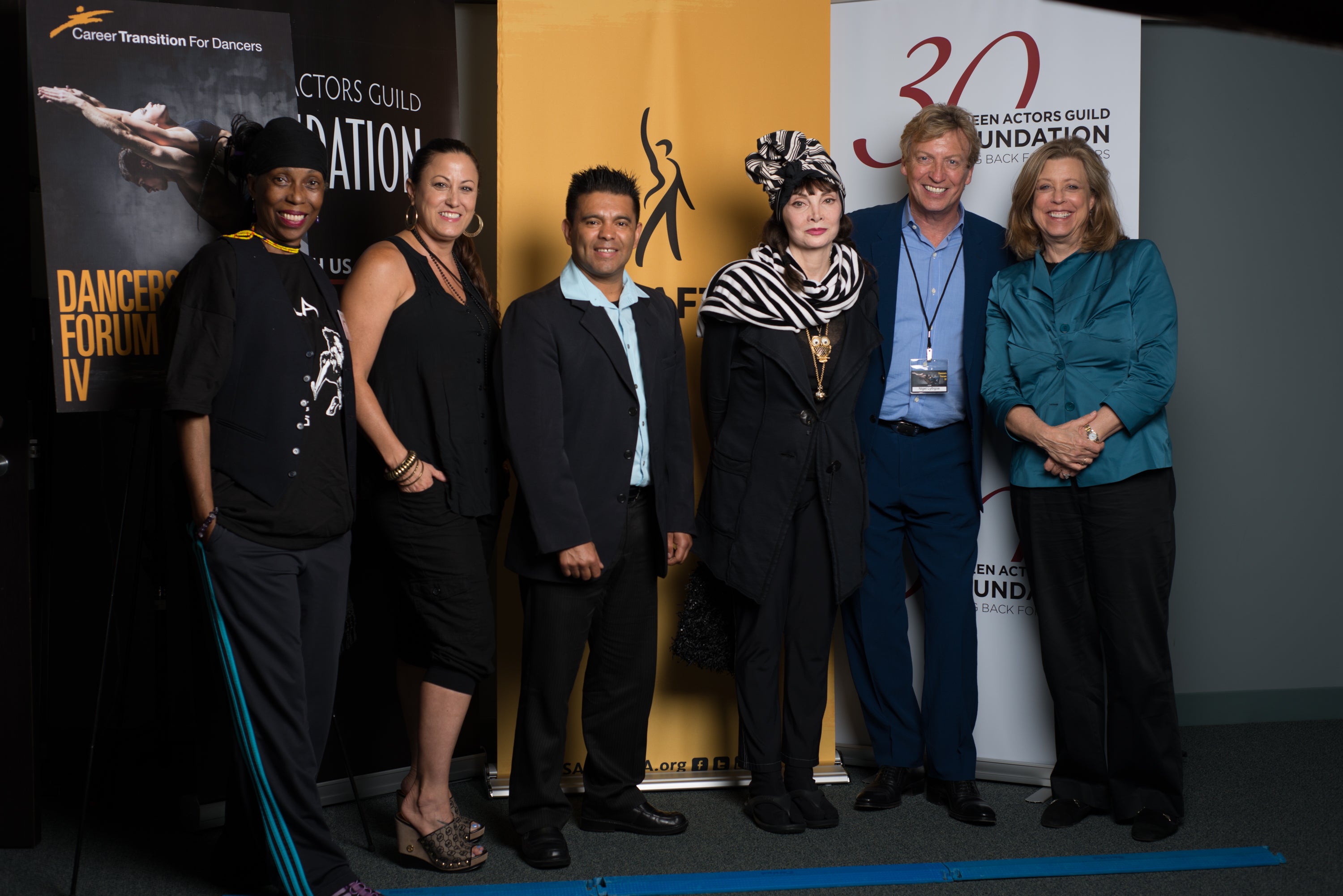 At left, day panelists, from left, agents Julie McDonald and Jim Keith, Grand Performances Executive Director Michael Alexander, choreographers Liz Imperio and d.Sabela grimes, and moderator Sasha Anawalt. At right, from left, evening panelists Lula Washington, founder and artistic director of Lula Washington Dance Theatre; Tina Landon, Emmy Award nominated creative director and choreographer; Julio "Lil" Cesar Rivas, original B-boy pioneer and founder of First Hip Hop School of the Arts; Toni Basil, choreographer, director, producer and filmmaker; Nigel Lythgoe, executive producer of So You Think You Can Dance; and Laura Zucker, executive director of Los Angeles County Arts Commission. Photo: Luke Fontana for the SAG Foundation
Visibility is power. This was the recurring theme of the Dancers Forum IV on July 23 at SAG-AFTRA headquarters in Los Angeles. Organized by the Career Transition for Dancers in partnership with SAG-AFTRA, the SAG Foundation and DanceMapLA, the Dancers Forum dedicated a full day to stimulating a deeper understanding of the dance community, specifically in L.A.
The day workshops and panels were dedicated to focusing on DanceMapLA survey results. Conceived by Douglas McLennan and Sasha Anawalt, DanceMapLA is a project of USC Annenberg School of Communication and Journalism, and was designed to help identify, measure and inform the L.A. dance community with relevant news and data. Led by specialists in the varied disciplines, the results of the DanceMapLA survey opened up discussion before dividing attendees into groups.
Low wages is one of the major ongoing issues in the dance world and the issue was addressed by participants and panelists. The survey showed that 15 percent of the DanceMapLA survey respondents earn nothing for their work, while less than half reported that they earn about $5,000 per year. Read all the results here.
After the day workshops concluded, an evening panel took place at the SAG Foundation's Actors Center, where panelists shared stories and discussed how the dance world has evolved. Moderated by Sasha Anawalt, the head of DanceMapLA and director of arts journalism programs at USC, panelists included Toni Basil, Tina Landon, Nigel Lythgoe, Julio "Lil" Ceaser Rivas, Lula Washington and Laura Zucker.
Being Transgender in Hollywood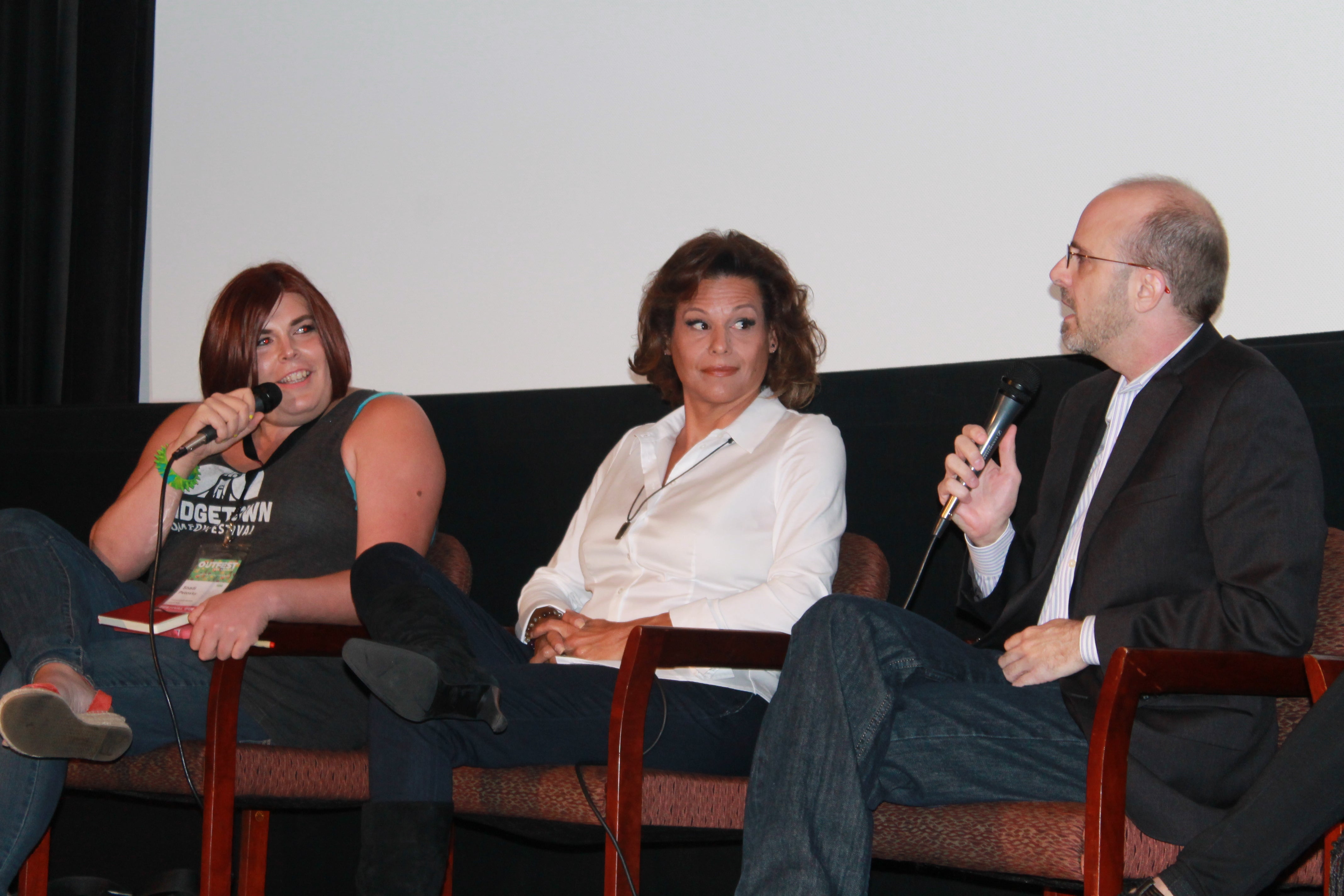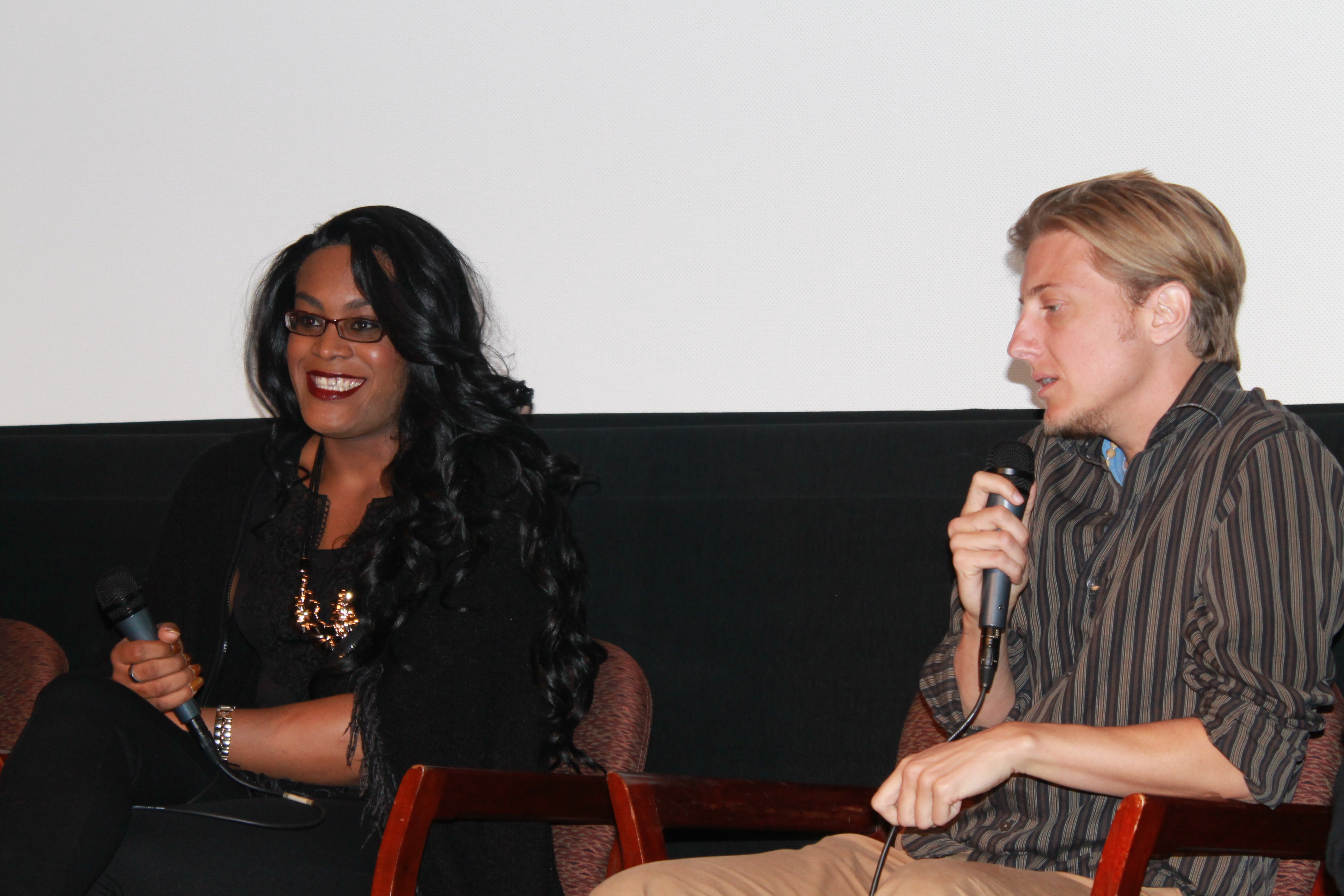 At left, from left, writer and executive producer Shadi Petosky, actor Alexandra Billings and GLAAD Director of Transgender Media Nick Adam. At right, actors Mya Taylor, left, and Scott Turner Schofield.
The SAG-AFTRA LGBT Committee and the EEO & Diversity department hosted Transgender Hollywood, a panel discussion at the Outfest Los Angeles film festival on July 18 at the Directors Guild of America. The panel included actors Alexandra Billings (Transparent), Scott Turner Schofield (Bold and the Beautiful), D'Lo (Sense8) and Mya Taylor (Tangerine), along with GLAAD Director of Transgender Media Nick Adams. It was moderated by writer and producer Shadi Petosky. The lively and funny conversation examined transgender representation in reality shows, news pieces, television shows and popular magazines. Topics included everything from how to find an agent, career longevity in the industry, trans-friendly production sets and the advantages and disadvantages of the current spotlight on transgender people.
Commercials Contracts Books Released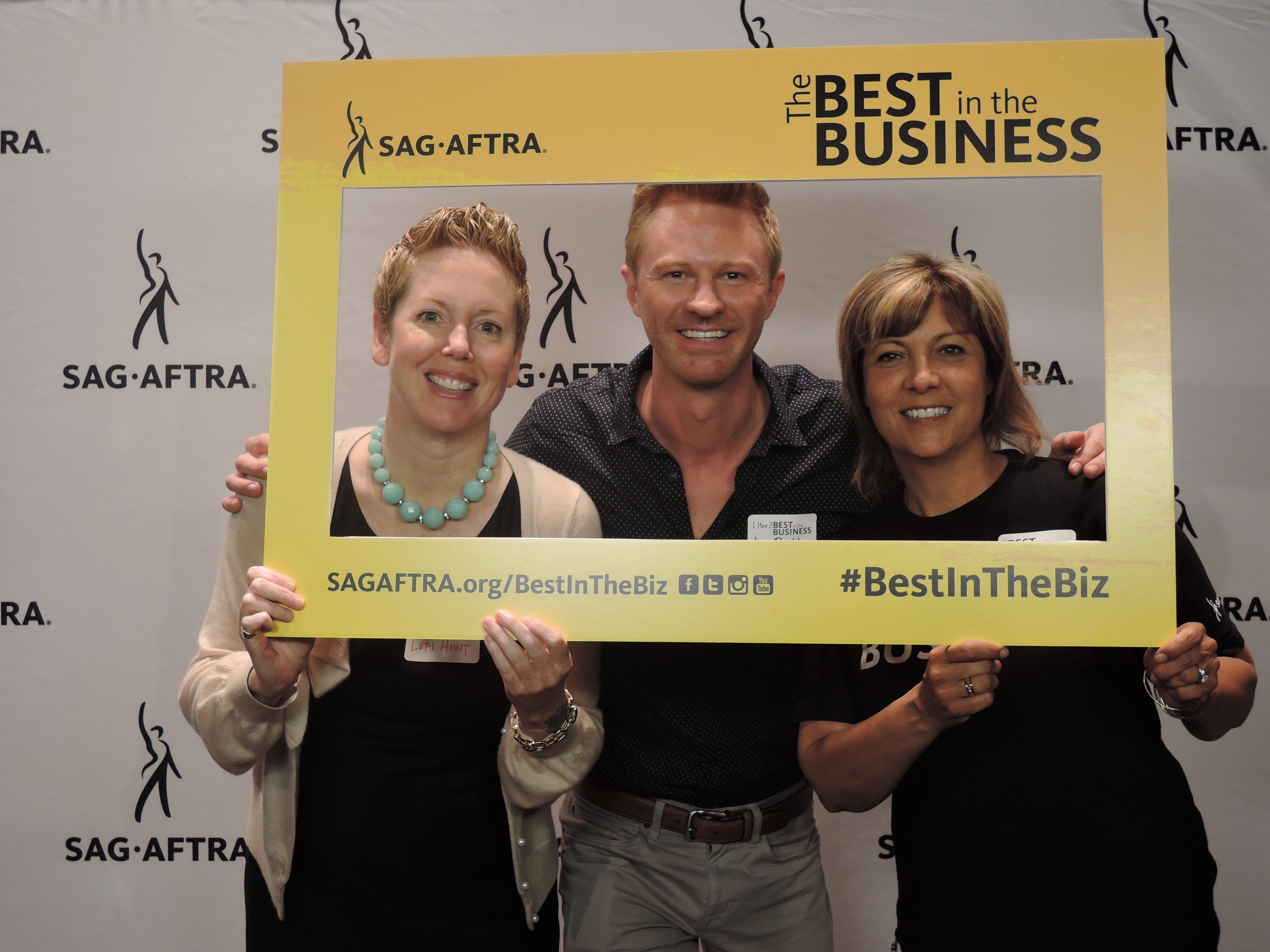 SAG-AFTRA National Commercials Contracts Director Lori Hunt, Deutsch Inc. Business Affairs Manager Loy Rackley and SAG-AFTRA Commercials Contracts Manager Beth Haynes.
Production companies, advertisers, talent agencies and all others involved with hiring and representing the "best in the business" were in attendance at SAG-AFTRA's Commercials Contracts Books Open House on June 25 at the L.A. Local. Hosted by the Commercials Department, SAG-AFTRA announced the launch of the newest edition of the Commercials Contracts book. The new books now include the first printed contract under the merged unions and have been edited to include the memorandum of agreement revisions. Between the morning and afternoon open houses held at L.A. headquarters, more than 100 industry representatives stopped by the event to pick up their copies and to meet with SAG-AFTRA staff. As a nationwide event that was held at other locals on the same day, the gathering was a part of outreach efforts to maintain and build industry relationships with the people who are committed to working with the "best in the business."
Radio Players Present Drama Classics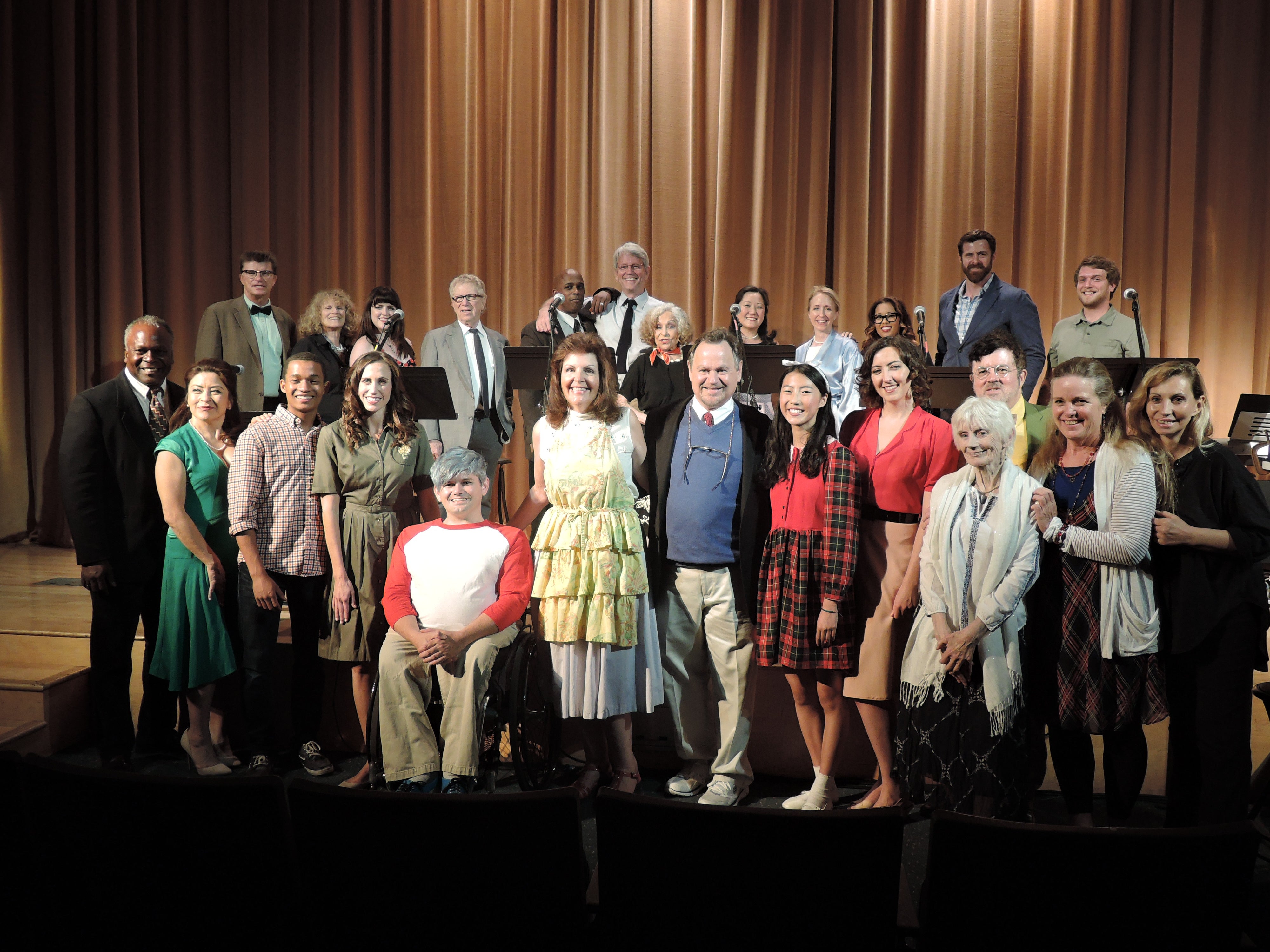 Dragnet and Father Knows Best casts
The SAG-AFTRA Radio Players presented two classic shows and commercial jingles on June 25 at the Autry National Center of the American West. Approximately 200 audience members watched as the performers presented the pilot episode of Father Knows Best and Dragnet: The Big Father.
One of the most influential early crime drama series, Dragnet originally starred Jack Webb as Sergeant Friday. It aired as a radio show from 1949 to 1957 and on television from 1952 to 1959. Father Knows Best was a popular radio and television series about the "all-American" family, the Andersons. With the pilot episode first airing as an audition in 1948, the series' popularity grew and it went on to win six Emmy Awards, running until 1963.
Members Observe Medicare Anniversary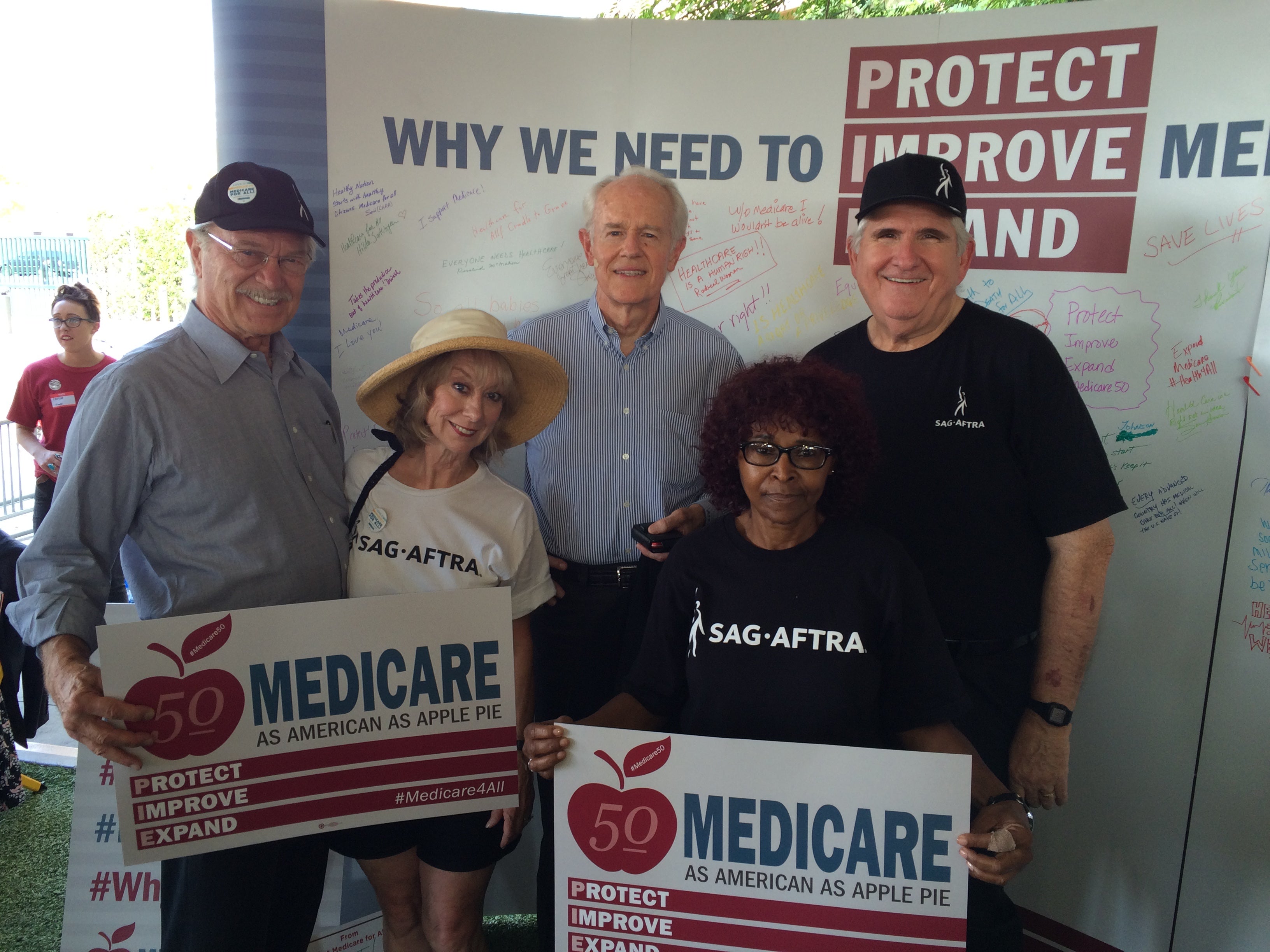 MOVE Committee member Michael Genovese; SAG-AFTRA L.A. Local Second Vice President and MOVE Committee Chair Ellen Crawford; and former National and L.A. Local Board members Mike Farrell, Ron Morgan and Evelyn Stokes show support at the Medicare rally.
In 1965, before Medicare was passed, nearly half of the elderly in the United States lacked health insurance coverage. Today, just 2 percent of those over 65 are uninsured. July 30 marked the 50-year anniversary of the signing of the Medicare and Medicaid Act — two vital and successful social service programs. SAG-AFTRA members rallied alongside patients, caregivers, providers, policy makers and neighbors at the Los Angeles Trade Technical College to celebrate Medicare's first 50 years with the hope of strengthening, protecting and expanding it for decades to come.
Learning to Improv with Second City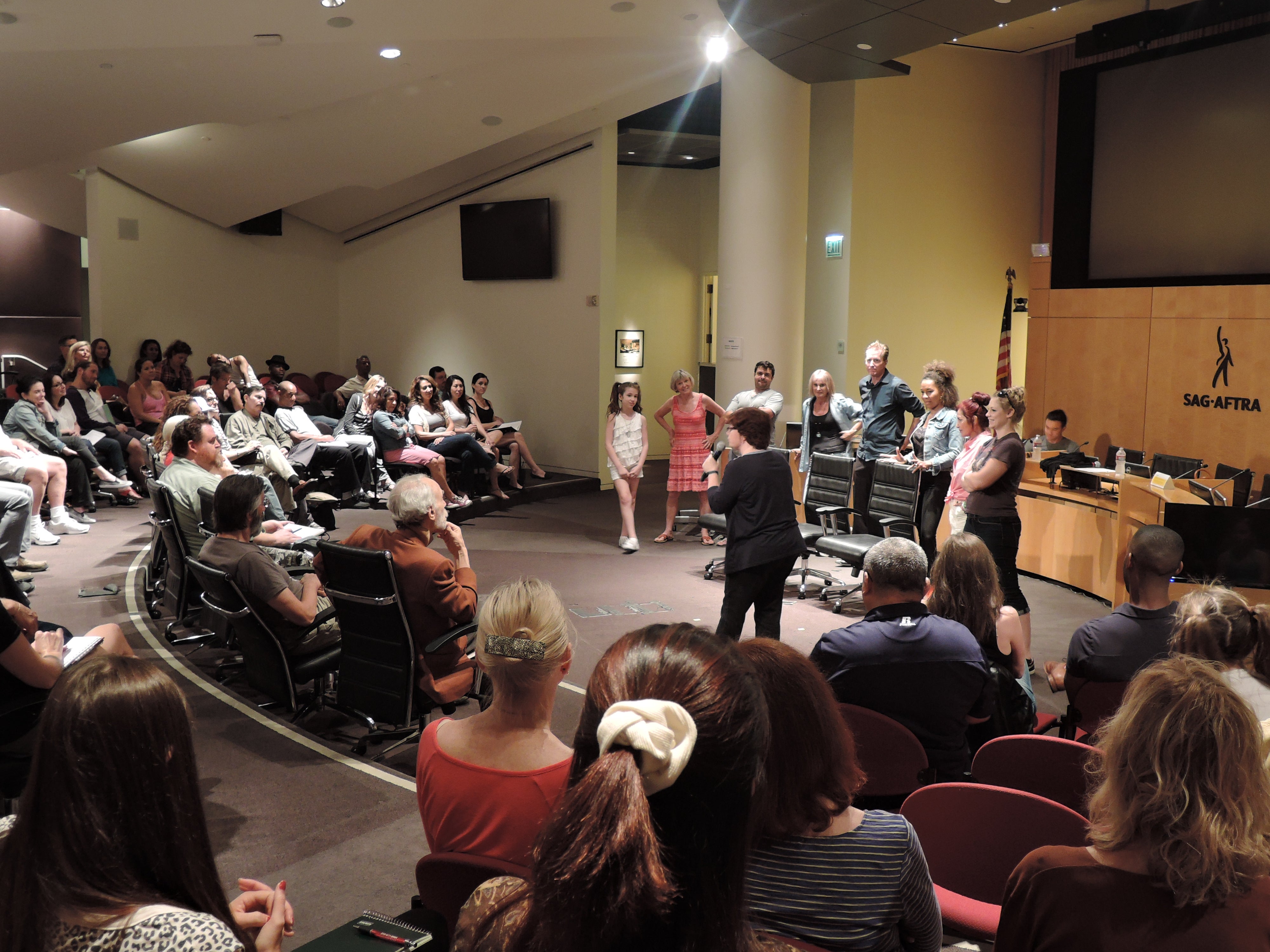 Second City guides members through interactive exercises.
Members learned the ropes of improv on July 30 at the L.A. Local in the fourth of a series of workshops presented by the Second City Training Center. Second City has been performing and teaching improv for 55 years and is commonly referred to as the Harvard of comedy. In the two-hour workshop, Second City taught more than 100 members the fundamentals of improv through interactive games and exercises. As is often said in the improv workshops, "You don't need experience, just the willingness to explore your creativity."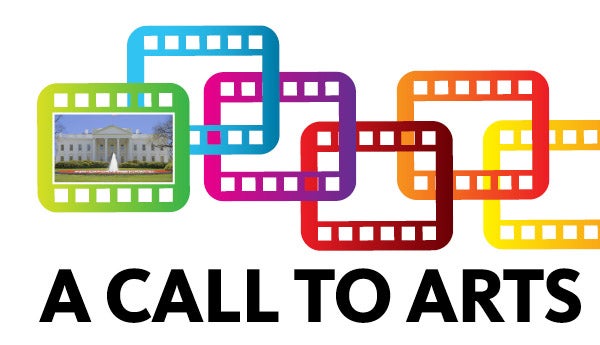 President Barack Obama has called upon SAG-AFTRA and the American Film Institute to reach out to young people pursuing careers in the cinematic arts. In collaboration with industry colleagues and partner organizations, including universities, colleges, non-governmental organizations, associations and unions, this national effort aims to generate a million hours of mentoring across the country over the next three years.
The SAG-AFTRA President's Task Force on Education, Outreach and Engagement is incorporating A Call to Arts into its national education and outreach campaign, reaching the union's 160,000 members and tens of thousands of pre-members and students across the country.
Join the initiative by registering at sagaftra.org/acalltoarts.
Before You Call the Los Angeles Local
As SAG-AFTRA's largest local, we are here to answer our members' questions and help you along the way. We want to help you as quickly and efficiently as possible, and these are some of the ways you can help us serve you better.
1. Choose The Right Office
The union is separate from the health plans. If you have questions about your health and retirement or pension plan, you should call either AFTRA Health & Retirement Office at (800) 562-4690 or SAG Producers Pension & Health Office at (818) 954-9400. Some Los Angeles events are sponsored by the SAG Foundation. For information regarding a Los Angeles SAG Foundation event, please call (323) 549-6708.
2. Talk to the Machine
When you call SAG-AFTRA, you will first be connected to an automated menu. Please be patient and listen to the options. It can be faster than waiting to speak with a live operator, who may be assisting other members. If you are directed to voicemail, the person you need to speak to may be on another call or away from their desk. Please leave a voicemail message. We will return your call.
3. And … Action!
OK, now that you are speaking to a live person, the operator will need to know the following:
•    That you are a SAG-AFTRA member
•    What department or person you want to speak to
•    If it is about a job, whether you worked principal or background
4. Which Department?
Which department do you need? Most calls we receive relate to one of the following, and there is a department for each one:
•    A job done under a SAG-AFTRA contract
•    Dues/membership status
•    Agents/managers
•    Residuals
•    Something else? Ask an operator
Calendar of Events
Tuesday, Sept. 15
Background to the Foreground: TV/Theatrical and Daytime Casting. 7–9 p.m. Hosted by the MOVE committee and moderated by SAG-AFTRA National Director of Specialty Performers Terri Becherer, this event will feature a panel of background casting agents. Panelists will discuss the casting process for the various TV, theatrical and daytime contracts that SAG-AFTRA has in place, from registration and booking to working the job. Additionally, valuable contract information will be available at the event. Click here for more information.
Monday, Sept. 21
Los Angeles Local Open Board Meeting. 6–10 p.m. The SAG-AFTRA Los Angeles Local Board opens its meeting to members for observation. As part of the policy passed to allow all future board meetings to be open, this will provide members the opportunity to see their local board at work. Space is limited. Reservations are required and will be accepted on a first-come, first-served basis. All members who would like to attend must be in good standing, affiliated with the L.A. Local and willing to comply with observation procedures. More details to follow on the L.A. Local website.
Wednesday, Sept. 23
The Actors Fund – What's My Ability? 11 a.m.–1 p.m. Are you an entertainment professional who is now living with a disability? Are you hoping to discover or renew your identity and purpose? Interested in enhancing your health and happiness? Searching for a listening ear, affirmation, understanding and connection? The Actors Fund will be offering a support group for people living and dealing with disabilities. For more information, click here.
Thursday, Sept. 24
SAG Foundation – Independent Feature Screening Series: Land of Leopold. 7 p.m. Check-in begins at 6:30 p.m. Leopold Rawlins is a troubled drifter suffering from a bad past and worse present. Living in and out of prison and out on the streets, Leopold is deemed insane by the state and sent to the Milton Way House. Searching for redemption, Leopold uncovers new unlikely friends and an adventure that tests his limits. Click here for more information and to RSVP.
Thursday, Oct. 1
The Actors Fund – Budgeting: Nuts and Bolts. 1–3 p.m. This monthly drop-in workshop focuses on helping you start tracking your income and expenses in a way that makes sense for artists and creative professionals who don't always earn and spend the same way each month. You will learn how to stop guessing and really get specific about the ways in which money moves in and out of your life. Click here for more information.
Wednesday, Oct. 7
Member Orientation. 1-4 p.m. Please join us for member orientation. If you have not been to an orientation before or would like to learn about the services provided by SAG-AFTRA, this meeting is for you. Orientation explains what it means to be a member of SAG-AFTRA, logging your hours on set, your relationship with your agent, residuals and more. For more information, click here.
Wednesday, Oct. 14
The Actors Fund – The Art of Interviewing. 10 a.m.–12:30 p.m. This is a motivating and interactive workshop that brings your creativity into play while exploring techniques that will work for you throughout any interviewing experience. Feel empowered as you develop researching, communication and active listening skills that come together during the interviewing process. Click here for more information.