Member Discount to the Fiction/Non-Fiction Blowout
Start:
04/22/2017 - 10:00am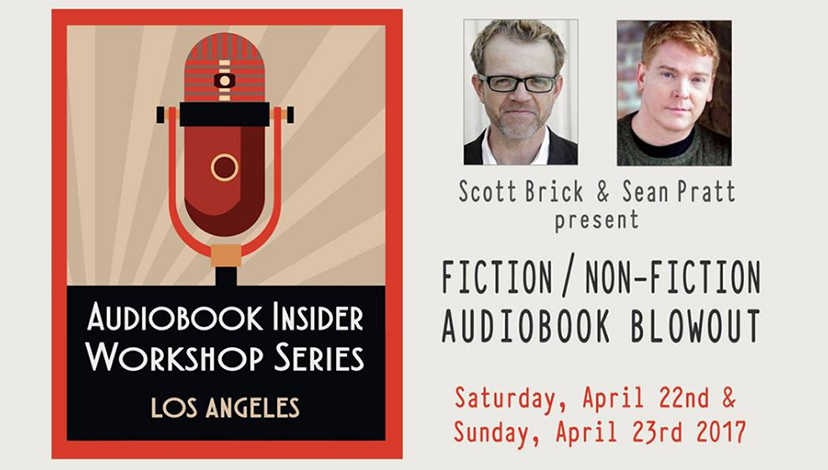 Member Discount to the Fiction/Non-Fiction Blowout
Scott Brick and Sean Pratt – two of the most sought-after audiobook narration coaches in the nation, with over 1700 titles between them – team up for the first time to bring you the most comprehensive, genre-crossing audiobook narration workshop in the industry.
When: 10 a.m. – 5 p.m., Saturday, April 22 and Sunday, April 23
Where:  Salami Studios
10733 Magnolia Blvd.
North Hollywood, CA 91601
They will be assisted by Christina Rooney, one of Penguin Random House's top directors, and Jeffrey Kafer, accomplished narrator and business consultant. The workshop is designed to meet you at your current skill level and to propel you to the next rung on your career path, upping your game to meet the challenge of a changing industry. Sean and Scott will offer instruction and coaching in the areas of both fiction AND nonfiction; Christina will focus on audiobook casting and how to get you beyond publishers' front doors; and Jeffrey will cover the world of ACX and marketing.
Whether you're a newcomer or a stone-cold pro, join us in the studio and be ready to conquer any title, anywhere!
Attendees may join in person or online. SAG-AFTRA members receive a 20 percent discount.
In person: The workshop attendee fee is $595 each day, or $995 for BOTH days.
Online: Attend the weekend sessions via the web for $199 each day. While online participants won't be able to read or be directed, you can nevertheless interact throughout the day and ask questions through our moderator to get feedback. Online students will receive login credentials after registration and payment has been confirmed. 
Space is limited.
Registration: For more information and to register, visit https://www.facebook.com/events/276398692809352/. Don't forget to say that you are a SAG-AFTRA member. Be ready to provide your SAG-AFTRA ID number.
The products and services noted herein are provided as an informational service to SAG-AFTRA members and are administered by entities independent of SAG-AFTRA. Any questions must be handled by the provider. This information is not intended to serve as an endorsement nor is any warranty or guarantee implied.