The Official E-Newsletter of the Houston-Austin Local
TEXAS STAFF - NEW PEOPLE, NEW HORIZONS
Your SAG-AFTRA staff in Texas has seen many changes since merger, but one thing remains the same: our commitment to serving the membership and growing the business. We are a dedicated team of professionals covering Texas, Oklahoma and Arkansas, and we are happy to welcome our newest addition to the team, Jeff Robertson. Many of you already know us. If you do not, we hope you will drop us a line and say hello.
Trish Avery
Executive Director
Houston-Austin Local
(214) 363-8300, ext 2    
TJ Jones
Executive Director
Dallas-Fort Worth Local
(214) 363-8300, ext 4
Jeff Robertson
Business Representative
Texas Locals    
(214) 363-8300, ext 3
Sheila Cooper
Administrative Assistant
Texas Locals
(214) 363-8300
We are also privileged to have the wit and wisdom of SAG-AFTRA senior staff member Linda Dowell in the Dallas office. Linda is the assistant national executive director of locals, and works closely with all of the 25 locals around the country.
Our mailing address is: 15110 Dallas Parkway, Suite 440, Dallas, TX  75248. 
WE WELCOME THESE MEMBERS TO THE HOUSTON-AUSTIN LOCAL
New: Suzanne Balling, Edrick Browne, Christopher Campos, Maria Campos, David Christopher, Karrie Cox, James Hamrick, Elbert Hill, Brian B.J. Jones, Jacob Kilgore, Brandon Makovy, Shondra Marie, Louis Moncivias, Michelle Rendon, Jesse Santiago, Katlynn Smith, Shawna West, Jenniann Woody, Lawrence Young and Niko Zayne
Transfers: R.K. Azulay, Tony Bottorff, Brandon Buddy, Dustin Dennard, Jennifer Dorsey, Mark Dorsey, Jacqueline Effenson, Marissa Gutierrez, James LaMarr, Lakshmi Prasanna Manchu, Alia Maria, Elie Massarra, Arthur H. Penahllow, Matt Rustowicz, Stephanie Marie Stoyanoff, Roman Teska and Dana Walsh
CURRENT TEXAS PRODUCTION ACTIVITY
To view current production activity in Texas, click here.
SAG-AFTRA Houston-Austin Local, helping keep members informed and employed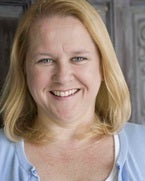 Livin' the Sweet Anime Life
By: Michelle Robinson
SAG-AFTRA Houston-Austin Local Co-President
Talk about an eye-opening experience! I had one of the most fun days ever … would you believe I walked around a giant, costume-filled convention center in San Antonio at the San Japan Anime Convention? I will say that I knew a teeny-tiny little bit of what anime was all about, but boy, was I surprised! 
This all started when my eldest child decided, in her best older-teenage wisdom, that she wanted to accompany her buds from school to this anime convention. Granted, she was just at one in The Woodlands. Well, in this momma's wise decision-making prowess, I said she could go. After rethinking the whole "teens in a car on a long road trip," I had to re-evaluate the trip. I decided to drive them to the convention myself. Maybe go to it, maybe not, depending on how I felt that day. San Japan, look out!
Upon arrival at the convention center, I spoke to the "man in charge," Matt Zeisler, who was able to get me two passes into the convention. He was really nice and made us all feel welcome, especially me, the biggest novice in the group. We walked around, going to the different panel presentations and generally having a ton of fun. Who knew anime geeks could have so much fun?
In case you don't know much about anime, I shall now inform you thus. Anime started in Japan around the early '60s and came into the United States in the late '70s and early '80s. These were shows like Gatchaman and Captain Harlock, and then came the shows called Voltron and the creation of "new" series like Robotech. The point of an anime group is to discuss the genre, watch the shows and promote anime in a local setting, and broaden the Japanese cultural understanding. Along those lines, you must know about manga, which is a "comic" series that was created in Japan and conforms to a style developed in Japan in the late 19th century. It's a long, complex prehistory in earlier Japanese art. Kind of "artsy-fartsy," to some people. Not me, of course. I am anime's biggest and newest fan!
In the midst of our walking journey around the anime convention, I got to see all the people dressed in their costumes … this is called "cosplay." The "actors" decide which character they'd like to portray and find a suitable (and hopefully cheap and similar costume) and then dress as the character. This can range from an entire head-to-toe coverage with makeup to a simple vest, hat or shirt to give the viewer an idea of who they're portraying. Interesting. Very interesting. I was quite impressed with the thought and care that went into these creations. You can tell that a lot of work went into these "cosplay" costumes.
On Sunday, we went to an official autograph-signing from some of the most popular characters in anime and gaming. Imagine my surprise when I discovered two voiceover artists had flown in from Seattle and were part of SAG-AFTRA! I was able to meet and hang out with the one and only Ellen McClain and her husband, John Patrick Lowrie, who happens to be the co-president of the Seattle Local. Talk about a surprise! You just never know who you'll meet (or see) at one of these things. John's got a book out called Dancing with Eternity and I got to meet some of their fans. Boy, if looks could kill, I'd be a dead duck! I decided, for my own safety, to talk to Ellen and John for only a little while, so the fans could get their pics and books signed. Better safe than sorry!
In conclusion, I would like to thank the anime world for allowing me into it, if only for a little while. It's an interesting life and one that I think I'll look into … occasionally!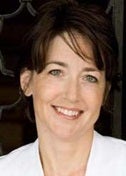 Happy Birthday, SAG-AFTRA!
by Dee Dawson
National Board member, Houston-Austin Local
Wow, what a difference a year makes. At this time last year, this union did not even exist; today it is the largest performers union in the world. At this time last year, we were not "we" but were SAG and AFTRA, standing each alone and sometimes at odds with one another. At this time last year, after many starts and stops through the decades, and after much shed blood, sweat and tears, these two great and storied unions stood on the precipice of their unknown futures and made a leap of faith — together. At this time last year, the two unions became greater than the sum of their parts by becoming one.
Someone once said that "you have to let go of what you are before you can become who you are meant to be." It is no easier for organizations to do this than individuals. But greatness is created in daring greatly. SAG-AFTRA is a brand-new organization built on a foundation of daring greatly; an organization of which you can be proud to be a member. 
On SAG-AFTRA's first birthday we are charging ahead full throttle with negotiations of the union's biggest contracts — the commercials contracts. As a new union, the days of our negotiating partner's ability to "divide and conquer" is gone; we are one; one not only in common goals and ends to be achieved, but in the literal sense as well. There is no SAG. There is no AFTRA. There is only SAG-AFTRA, a strong and courageous union. There is only us; and you are an integral part of SAG-AFTRA. 
We are on a great new journey that began with a courageous leap, and it only gets better from here. Happy first birthday, SAG-AFTRA! I can't wait to see what year two brings ... 
Do You Work Commercials?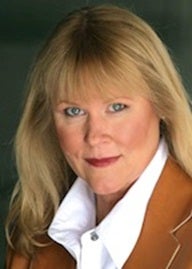 by Suzanne Burkhead
National Board Member and Vice Chair, Committee of Locals
The new union is negotiating its first major contract: Commercials. This will be the successor to SAG and AFTRA's Commercials contracts and AFTRA's Radio Commercials contract. I am pleased to be an alternate on the Negotiating Committee, representing small locals. I was in New York in February and March for the negotiations with the Joint Policy Committee, which represents advertising agencies and advertisers.
Following numerous Wages & Working Conditions meetings across the country, the committee and negotiators examined every proposal submitted, including those from the Texas locals, and came up with a final list of proposals that will benefit members across the country. The National Board approved the proposals at their last meeting on Feb. 2.
The Commercials contract is very important to us in Texas, representing major earnings for our members. I will fight to protect our contract, while looking ahead to an ever-changing industry to protect our rights in the future.
I look forward to updating you when the negotiations are concluded.
Jack Matthews Gets 2013 TXMPA Business Leader Award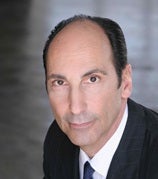 By Hector Garcia
It was my pleasure to present Jack Matthews the first-ever TXMPA Business Leader Award at this year's DFW SAG Awards Viewing Party in a segment also seen in Houston and Austin. This gesture allows us to publicly cement a relationship that has gone largely unnoticed by the entire industry for the better part of 20 years.
Matthews, a Canadian developer who has been actively creating large real estate projects in the North Texas area since the early 1990s, first became an ally to the industry by allowing his properties to be used as locations for Walker: Texas Ranger, the CBS series. Over the years, his assistance grew to include additional locations, housing, production offices, casting offices and warehouses for production companies.

In addition to the Walker series, he then also assisted Walker, Texas Ranger: Trial by Fire, the CBS movie. Other projects include The Good Guys and Lone Star from FOX, Chase from NBC, and GCB from ABC. A few big-budget films and many independent films, commercials, music videos, print shoots and musical recording projects have benefited from his company, or its association with other companies, such as Omni Hotels and Resorts, and NYLO Hotels.
An enormous boost to production in North Texas came when The Good Guys needed to relocate its production center and offices. An old warehouse owned by Matthews in the South Side on Lamar area was pulled into use, with some public funds supplied by the City of Dallas, and soon we had the beginnings of a film studio only minutes from downtown Dallas. The South Side Studios continued to flourish and became a major draw as the City of Dallas fought to attract TNT's new show Dallas.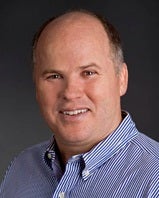 Jack Matthews
With Dallas here for its second season, South Side Studios is booming. Not only is it a soundstage, but now it is a working studio with production offices, casting, wardrobe, hair and makeup, electrical, carpentry and transportation services, all in a secure location. Many of the cast and crew are able to stay in housing at nearby South Side on Lamar or in hotels that Jack Matthews built, The Omni Dallas Hotel downtown and NYLO Dallas South Side.
If you worked on any of these shows, or even auditioned for them, you benefited from the work of Jack Matthews. He and his company Matthews Southwest continue to support production because Matthews believes that in creating urban fabric, the arts are a necessary component. When arts are present, otherwise boring and uninspiring places can come to life. Artists create an atmosphere that cannot be falsified. This, in turn, pushes more production into place.
Dallas Assistant City Manager A.C. Gonzalez, who often has to field issues related to economic development, said, Jack "has been the critical difference in making possible the recent growth of the industry here."
I find that generally, as an industry, we tend to look inward for support. We approach the same groups, organizations and individuals when getting a project or event off the ground. I propose that we remember the symbiotic relationship we built with Jack Matthews and begin looking for other community leaders who can support production with their own abilities, and who will benefit from working with productions here.
This is the challenge for us all in Austin, Houston, Dallas and throughout Texas: To identify key people outside our own industry, and partner with them to increase jobs and strengthen production in the state.
The more we reach beyond our immediate circle of industry people, the easier it will be to hear those wonderful words, "Roll camera!"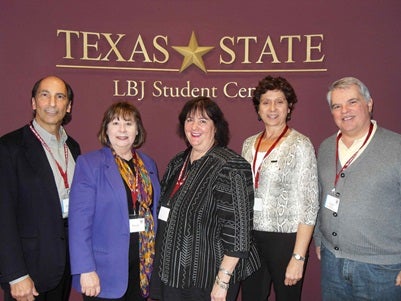 From left, Hector Garcia, Trish Avery, TJ Jones, Carlina Rodriguez, Alan Albarran
Focus on Latino Work in Texas
Texas welcomed SAG-AFTRA Director of Spanish Language Industry Relations Carlina Rodriguez in February. Performers and staff attended a Latino media mixer in Dallas and felt a true sense of community in sharing industry information with performers and producers. SAG-AFTRA representatives then travelled to San Marcos and presented SAG-AFTRA information at the 4th International Spanish Language and Latino-Media Oriented Conference in San Marcos.
Back to One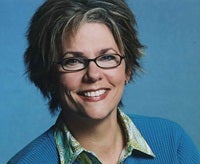 by Reis Myers McCormick
"Stephen Tobolowsky. Stephen Tobolowsky. Where have I heard that name before?" His book, The Dangerous Animals Club, has some interesting answers from the general public: a serial killer? A porn star? Or Stephen's personal favorite, a physicist who recently discovered something about time? You know you know him, but from where? Our waiter in Dallas was kicking himself. "It's the voice, man! I know you're a movie star! I just saw you this week! It was a movie I own! Don't tell me, man!" Turns out it was Wild Hogs, one of his 120 or so movie appearances listed on IMDb. The New York Times and USA Today place him at No. 9 of the folks you are most likely to see in a movie or TV show. Wow. The best of all worlds: working constantly, minus the tabloid headaches.
Balancing marriage, parenting, writing, teaching and acting, Stephen's advice to newcomers is to say yes in life. "Only one in a hundred times will it lead to a date rape drug and your organs being sold on eBay. Play for free. Shoot for free. Work begets work, and it's about networking. You don't know who's going to be the next Spielberg." For the same reason, he is a huge advocate of staying in class whether you need it or not. "I was given that advice. When I first came to L.A. I found a class I could afford. On the first day, someone was looking for a replacement for a production. I auditioned. A week later we opened and casting directors came. To this day, one of them still calls me in. If a student film comes up and I am free, I still say yes. It leads to good things."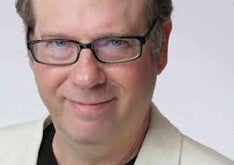 Stephen Tobolowsky
About his wildly successful on-camera career, his auditioning philosophy is pretty clear: Control what you can control. "You can't control anything in that room except how much you have prepared. You cannot show all your talent or experience in the audition, only your confidence. And confidence comes from preparation. Be on time, know your stuff, be pleasant, work quickly. My main message when I'm auditioning is, 'you have lots of things to worry about on this shoot. You're not going to have to worry about me.'"
As for creating a character: "It all starts with the script. If possible, read the entire script in a quiet setting. This way you can experience it as the audience will. Then, in every part I play, I'm looking for a little anchor I know is true. Not all the lines resonate immediately. But one or two moments you go, 'Oh, I know what that is.' Then finding the truth of your whole character is like walking on a frozen lake. You move in bigger and bigger circles until you reach land."
What if we don't have the luxury of reading the whole script? "If that's the case, then make sure you know these two important questions about your character: What is my greatest hope, and what is my greatest fear? You want to show the writer that you know the part better than they do, to make them say, 'I never thought of that'. You're bringing the truth of who you are, not bringing yet another stereotype to life."
"In your down time, between jobs, keep reading great plays. Drill these characters from literature into your head to keep your chops sharp. A 20-year-old girl can use Shakespeare's Falstaff in her Two Broke Girls audition!"
On maintaining a strong family unit in this crazy business: 1) "Keep nannies out of the picture! A third adult just gives the kids someone to leverage against the parents." And he's had great luck taking his kids to the occasional audition and set. "Having a child does not have to be a wall. It can be a bridge." 2) He and actress Ann Hearn have made their 24-year marriage work with the commitment to experience life together whenever their schedules can merge. For example, she's taking the opportunity to travel across the country with Stephen on his book tour.
RMM: So, who's been really great to work with?
ST: There are so many! Susan Sarandon, Meryl Streep — Mel Gibson gave me great advice on fatherhood.
RMM: Who would you like to work with?
ST: Steve Carell.
RMM: I just saw your crooked FBI character get blown away this week on Justified (FX). Too bad you can't come back.
ST: Ah, You never know!
RMM: Are you kidding? I watched you die!
ST: But this is Hollywood.
He's probably right. And when they do call, Stephen Tobolowsky will say YES.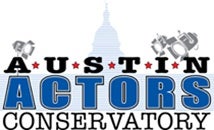 Austin Actors Conservatory New Year!
by Pamela Weaver, AAC Chair
Austin Actors Conservatory kicked off the New Year in January by hosting the 2013 SAG Awards Viewing Party in Austin. Industry professionals and the Austin community came together at Spiderwood Studios in support of our newly merged union and to honor outstanding performances in television and film, with all proceeds benefitting TXMPA. With a red carpet and photographers, door prizes for best dressed, live auction and ballot winners, the evening was filled with laughs; rubbing elbows with directors, filmmakers and producers; and awesome food and drink specials in celebration of our industry.
The Austin Actors Conservatory (AAC), created in 2008, has been a real benefit to our members in Central Texas. Since its inception, AAC has consistently produced a wide array of educational seminars for the advancement of both our membership and the broader community of actors, providing networking opportunities and workshops that have included agent, casting director and acting teacher panels, and one-on one auditioning workshops with casting directors Beth Sepko, Karen Hallford, Sally Jackson and Divisek Casting. In 2012, workshop highlights included a one-on-one workshop with Sherry Thomas (Bialy-Thomas Casting), Los Angeles-based casting director for The Walking Dead, Breaking Bad and Vegas; voiceover techniques; conversations with major industry players; a tutorial on HD makeup application; informative workshops on New Media; and presentations debunking the myths of using SAG contracts.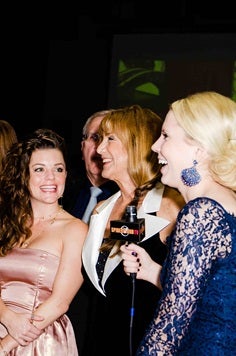 From left, Mindy Raymond, Joe Houde, Pamela Weaver with Spiderwood TV reporter at the SAG Awards viewing party.
The event and workshop lineup for 2013 will continue to provide excellent resources to the Austin community, including Los Angeles-based actor-teacher-author of One Less Bitter Actor – The Actor's Survival Guide, Markus Flanagan. Back by popular demand, voiceover actor and demo producer extraordinaire Bettye Zoeller will concentrate on audiobook narration in April. In May, an event sure to be of great interest and benefit to not only AAC members but also the greater Central Texas acting community, will be an informative workshop of How to Work Union in a Right-to-Work State. Coming in June, Just Shoot Yourself virtual auditions. Texas actors are experiencing a boom in casting requests from locations such as New Orleans, Albuquerque and Atlanta. This workshop will teach techniques and best practices for professionals doing self-directed submissions on tape, without costing an arm and a leg. Our popular Script to Screen program returns in July with a staged reading of a screenplay yet to be determined. So, if you're a screenwriter, please send your submissions to Sheila Cooper for consideration.
An Afternoon of Casting Directors will be our featured event in August. Already booked for November are two sessions — Social Media 4 Actors: one for beginners and one for the advanced, with Los Angeles guru Ben Whitehair. More guest teachers and artists are already in the works to take us through the end of 2013.
SAG-AFTRA members may join the conservatory for $25 annually with the cost of most workshops being free or a nominal charge. If you are on the fence about joining the conservatory, these workshops alone will be an adjunct to your career budget.
We are truly blessed in Austin to be surrounded by filmmakers, musicians, crews, producers, directors and an indomitable amount of talented actors. We are preparing our acting community with the tools necessary to work in the careers we have chosen for ourselves, as more and more film production comes to Texas. Our motto: Create homegrown industry opportunity and bring more business to members!
AAC is now looking to add committee members with event and marketing backgrounds. If you live in Austin and are interested in participating, please contact Sheila Cooper. All AAC events are subject to change. For a current list of AAC Events, click here.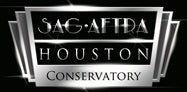 The SAG-AFTRA Houston Conservatory is Here!
by Mykle McCoslin
The SAG-AFTRA Houston Conservatory kicked off its 2013 year early and in style with the SAG-AFTRA Houston Conservatory Soiree held on Sept. 26 at the beautiful Empire Lounge at the Marque, Citycentre. It was a packed house with more than 125 guests in attendance and it was the largest SAG-AFTRA event to date. Actors, writers, producers, directors, agents and Houston's entertainment industry showed up dressed to impress to help launch the conservatory. Free conservatory memberships were given to the runners-up in our Best Dressed male and female prize of the night, and it was a great evening to celebrate all the exciting things the conservatory is bringing to Houston.
As a teaser, the conservatory offered a workshop titled On Your Mark, on Nov. 17. Local photographers, videographers and demo reel experts were on hand to inform our members and fans of current trends in headshots, demo reels and actor slates, as well as simple formatting of resumes. Although many of the actors attending were just starting out, SAG-AFTRA Houston Conservatory gave voice to the importance of being a union member and creating viable work.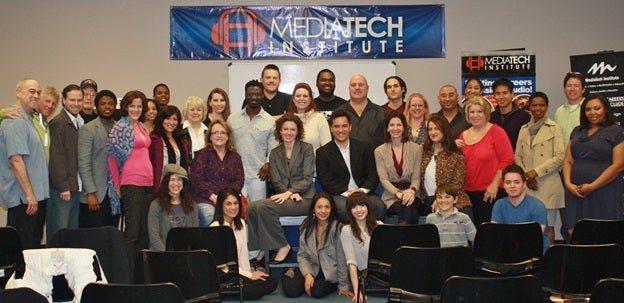 More than 40 people attended the Houston Conservatory Franchised Agent's Panel in February.
Our 2013 workshops include a franchised agents panel, a cold-reading workshop with Casting Director Dolores Jackson, a high-def makeup workshop with Victoria Callaway, voiceover and virtual audition workshops, a producers panel, and audio prompting workshop — just to name a few. 
Membership to the Houston Conservatory is $25 a year for SAG-AFTRA members. Conservatory members attend the workshops for free, with occasional nominal fees for traveling workshop presenters. A full calendar of events and an application to join the Houston Conservatory can be found here.
The SAG-AFTRA Houston Conservatory is a group of committed SAG-AFTRA members dedicated to providing unique and relevant educational workshops, seminars, readings and creative opportunities for Texas talent. Our mission is to provide professional training and industry networking opportunities that will help raise the level of professional talent, create locally produced industry opportunities and develop more work in Texas. 
It's time for you take advantage of what the SAG-AFTRA Houston Conservatory has to offer and join today!
Women in Film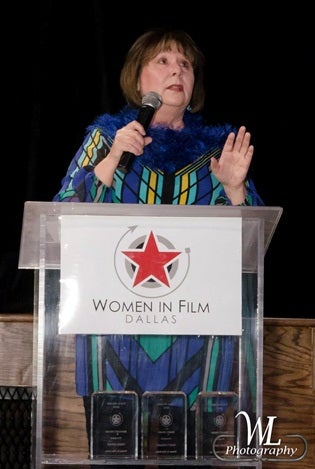 The Topaz Award was established by Women in Film Dallas in 1987 to honor distinguished Texas women and men who, through their own vision, have made outstanding contributions to the film and television industry. Trish Avery, Houston-Austin executive director, was presented the Topaz Advocacy Award for her work on behalf of SAG-AFTRA and the Texas Motion Picture Alliance. Photo by William Lamoreaux Photography.
SXSW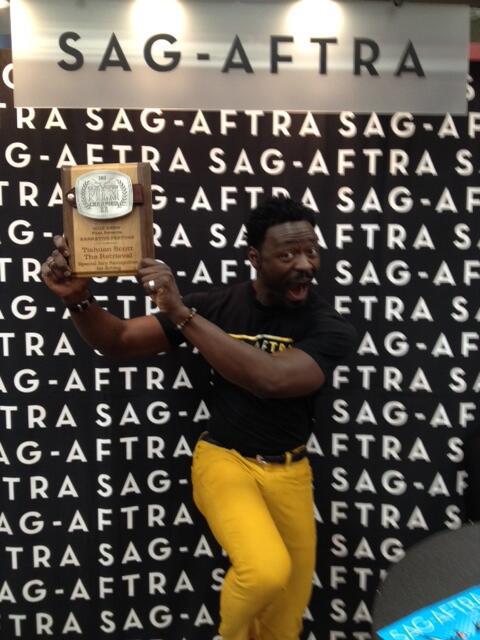 The SXSW Film Festival debuted 58 SAG-AFTRA films and one spectacular performance by local member Tishuan Scott. The 2013 SXSW jury chose Scott to receive its Special Jury Recognition for Acting for his performance in the moving Civil War-era film, The Retreival. Congrats, Tishuan!