South Texas Pipeline - May, 5, 2009
May 5, 2009

COUNCIL APPOINTS NEW PRESIDENT AND NATIONAL BOARD MEMBER
Our industry is full of changes and unexpected replacements. The Houston Branch Council leadership is no exception. Regrettably, Jim Huston, the much beloved Houston Branch president and National Board member, has taken an unexpected leave from his leadership role.
The Houston Council is quick to celebrate the tremendous contributions Jim has made to the industry and community at large. They recognize Jim's thoughtful, professional leadership throughout South Texas and invite other members to join them in thanking Jim for his many years of service.
In order to keep the Branch growing as the new state incentives go into effect, the Council has focused on filling Jim's positions as quickly as possible. On March 27, the Houston Council appointed Council member Robert Nelson to both the president and National Board positions for the Houston Branch.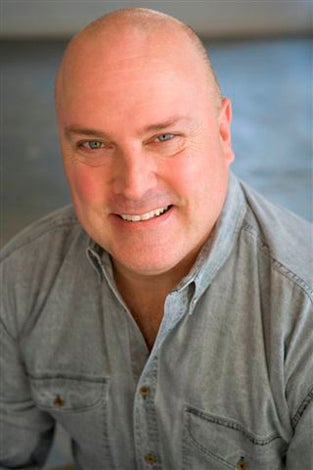 Robert Nelson

Robert Nelson has worked in film, television and stage for a number of years and has been a member of SAG since 2006. "Filling Jim's shoes is a tall order," he says. "But our Council and members are ready to continue the work as Texas production grows. Our Branch members stretch from Houston to Austin, San Antonio to Corpus Christi, and I am dedicated to helping them have a significant voice in the national boardroom. A strong branch membership between the coasts means a strong union for all of us. I look forward to meeting my fellow members. Like me, I hope they are ready to roll up their sleeves and get ready for the next evolution in our industry."

Robert Nelson can be reached at HoustonPresident@sag.org.

SAG NATIONAL BOARD APPROVES CONTRACTS
The SAG National Board recently voted to accept the negotiated TV/Theatrical and Commercials contracts, thus paving the way for the general membership referendum. Ballots for each of the contracts will be mailed in the next few weeks.

**Informational Meeting**
An informational meeting regarding the Commercials Contracts will be held on May 8, 1:30–3 p.m., at Rainbow Lodge, 2011 Ella Blvd, Houston, TX 77008.

Members are invited to attend to discuss the new contract details prior to completing their ballots.

SCRIPT TO SCREEN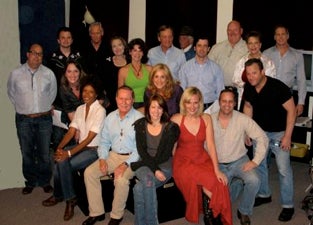 Austin Conservatory Script to Screen Team
for A Feather in the Rain, which was read on March 30. From left to right back row: Tom Booker, Shane Wells, Richard Dillard, Melinda DeKay, Bonnie Isaac, Paul Ehrmann, Doran Ingrham, Chris Haro, Bert Kinyon, Paige Bishop, Gabriel Folse. Next Row: Rebekah Maddux, Pamela Weaver, Steve Bilich. Seated: Kathryn Smith McGlynn, David Mooney, Laura Clifton, Merrie Nell Spence, John Cann.

Thanks to Jim Huston, the Script to Screen program was an idea that leapt off the page, onto the stage, while making its way to the screen. For over a year now, the Script to Screen Team has successfully performed LIVE film script reads from WGA writers before industry audiences in order to support the development of new projects and casting. The Stand In by Michael Clossin and Shane Mallory was performed at Stages Theater in January. Interest in the Script to Screen program has expanded to Austin through the Austin Conservatory where Alex Cord's Feather in the Rain was performed on March 30.

**Save the Date**
The next Script to Screen reading for Austin is Shady Creek on May 31 at Picture Box Studio.
The next Script to Screen reading scheduled for Houston is Clayton on June 15 at Stages.

Script submissions by WGA writers are accepted at any time through electronic submission. If you are interested in becoming a part of the Script to Screen Team, please forward your headshot and resume to tavery@sag.org. Casting is completed a couple of weeks in advance of each read with one or two rehearsals.

THE AUSTIN CONSERVATORY SPREADS ITS WINGS
Committed SAG and AFTRA members in the Austin area are working hard to develop workshops and events that will increase industry awareness and provide educational opportunities to the professionals living in that area. Since its inception in 2008, the Austin Conservatory has hosted the SXSW Armadillo Day with SAGindie, iActor and New Media components; a Building the Biz Workshop with expert production panelists; two iActor workshops and a Script to Screen read at the State Theater. Committee Chair, Pamela Weaver will be meeting with the Conservatory Committee to complete their 2009 agenda very soon. If you are interested in getting involved, please contact tavery@sag.org.

MEMBERSHIP MEETING AT RAINBOW LODGE
More than 60 members showed up to celebrate, educate and network at the membership meeting in January. The following are some images from the event: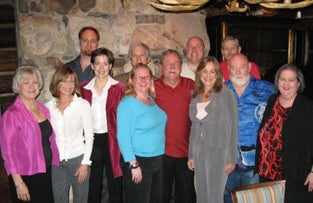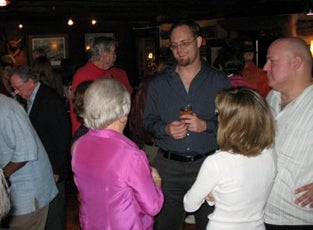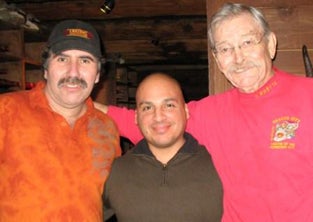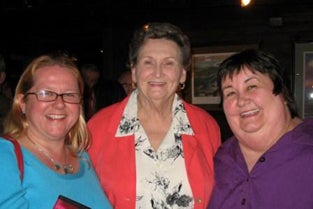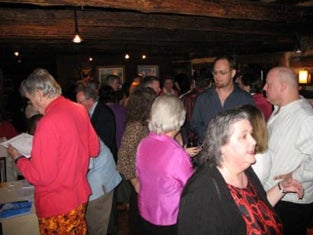 'BUILDING THE BIZ' WORKSHOP IN AUSTIN
Austin members met at Tillery Studios for a "Building the Biz" Workshop on April 5.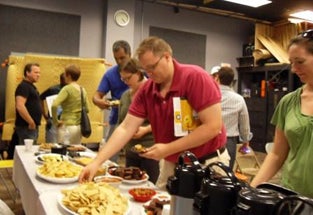 Austin members at Tillery Studios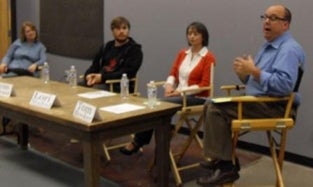 Linda Dowell, Bryan Poyser, Lori Madrid and Tom Booker

Tom Booker moderated the panel of experts: Lori Madrid, a line producer, UPM and now the director of operations at Spiderwood Studios; Bryan Poyser, a producer-writer-director and director of artist services for the Austin Film Society; and Linda Dowell, SAG Regional Branch Division executive director.

TXMPA DOES IT AGAIN!


Governor Perry stands with film incentive supportersDon Stokes,
Bob Hudgins, Robert Rodriquez, Sen.Bob Deuell and Garry Brown.
On April 23 Gov. Rick Perry signed H.B. 873 into law. This bill increases the level of production incentives in Texas and is designed to create more work opportunities for film, television and the video gaming industries. With more than 30 states seeking industry incentive packages ranging from 15 to 40 percent, it was imperative that Texas increase its incentive package in order to stay competitive. "The entertainment industry is an essential part of our economy. $1.2 billion dollars have been brought in over the past 10 years. That's real money," says Perry. The Texas Motion Picture Alliance has been essential in its efforts to create legislation in favor of the moving image industry and consists of people in all departments and at all levels of the industry. SAG members need to make sure their voices are heard. Go to www.txmpa.org and join or renew your membership.

SAG ARMADILLO DAY AT SXSW
The 2nd annual Armadillo Day at SXSW welcomed back national staff from SAGindie, New Media and iActor for their informational workshop. This industrywide event for members, non-members, agents, casting directors and producers included information and networking at 501 Studios. The panel consisted of Darrien Gipson, national director of SAGindie; Bob Jensen, manager of the SAG National New Media Department, Steve Graham, national director of Digital Marketing (iActor); and Nayla Wren, SAG lead organizer and moderator for the event. The group relayed general information on the ease of using SAG contracts for smaller film projects, the growing use of iActor across the nation and the latest trends of "hyphenates" (e.g., actor-producers) in new media.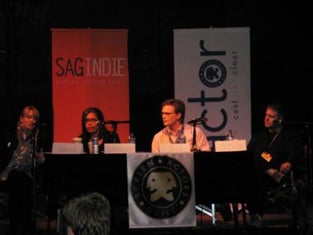 SAG experts Nayla Wren, Darrien Gipson,
Bob Jensen and Steve Graham conduct the
2nd annual Armadillo Day in Austin.

The SAG booth at the SXSW Film Festival Trade Show was a frequent stop for festival-goers interested in learning how they can improve their product. And of course the SAG LED badge illuminator provided by the New Media Department was a SXSW swag hit – so much so that the news made it into L.A. Weekly!


WELCOME TO OUR NEWEST BRANCH MEMBERS
NEW MEMBERS: Kendhal D. Beal, Dan C Corley, Sue Rock, William O. Perkins, Bruce Whitfield

TRANSFERS: Sherry Adamo, Lori Lea Armstrong, John Bastien, Linda Bousquet, Kristin Bryant, Michael Bullard, Shavonne Conroy, Michael Dalmon, Tarissa Day, Jamison Driskil, Daniel Dyer, Gregg Engle, Rachel Epstein, Kyle Flood, Forrest Fountain, Justin Gant, Kayce Glasse, Chaz Griffin, Ron Hayden, Michelle Heitzler, Nathan Hejl, Joel Heyman, Chris Hlozek, Billy Ray Johnson, Carol Dixon Jones, Aristotle Kilpatrick, Bert Kinyon, Robin Lavalley, Wendy Louise, Koda Madison, Chester Maple, Jessie K McDonald, Karen Miller, R Lee Miller, Markus Pacal, Zhivago Paul, Dennis A Pratt, Mindy Raymond, Michael A Rende, Sue Rock, Felix Sabates, Laura Segura, Carter Shackelford, Jim Spalding, Merrie Nell Spence, Amy TallChief, Dwayne A Thomas, Amelia Turner, Derrick Wayne


CURRENT TEXAS FILM PRODUCTION ACTIVITY
The Guild has been contacted by the following productions about becoming signatory to one of our collective bargaining agreements. These producers may not have completed the signatory process at this time. It is the responsibility of each member to confirm each producer has signed the applicable contract before making an agreement to render services. Failure to confirm the signatory status before rendering services may lead to disciplinary charges being filed. If you have any questions, please contact the office at (800) SAG-0767.

A Dark Secret – Low Budget
30 Days, LLC
Location: Houston
Start: 6/15/09

The Basement – Ultra Low Budget
T.L.P., LLC
Location: Dallas
Start: TBD
Casting: Shawn Griffith

Between Kings and Queens – Ultra Low Budget
Janitqueen Film Productions, Inc.
Location: Austin
Start: 5/1/09
Casting: Ashleigh Hartz

Bram Stoker's Vampire Diaries Renfield – Ultra Low Budget
Poison Apple Films, LLC
Location: Houston
Start: 5/25/09
Casting: Philip Nichols, Jr.

Broken Promise, A South Texas Story – Ultra Low Budget
Que Tal Productions, LLC
Location: Brownsville/Mercedes
Start: TBD
Casting: Eddie Howell

C.A.B. – Low Budget Modified
Location: TX, AZ & CA
Start: 5/16/09
Casting: Tom Proctor

Carried Away – Ultra Low Budget
Carried Away, LLC
Location: Fort Worth
Start: TBD

Cheech & Chong: Light Up America – TV Documentary
Cheech & Chong Concert Movie, LLC
Location: San Antonio
Start: 5/11/09
Casting: Bob Fisher

The Fifth Column – Ultra Low Budget
Rob Gladstone
Location: Houston
Start: 6/1/09

Heaven's Rain – Theatrical
Heaven's Rain, LLC
location: Oklahoma City, Amazon Rain Forest
Start: 5/11/09
Casting: Cole Payne

Iron Horses
Curveball Films, LLC
Start Date: 8/1/09
Location: Austin, TX

The Last Flight of the Champion – Theatrical
Omnipulse Entertainment
Location: Houston
Start: TBD
Casting: Ezra Venetos

The Letter H - Theatrical
Casting: Rodney Acevedo
GCP Film, LLC
Start Date: 6/01/-9 – Wrap: 7/01/09
Location: El Paso & Houston, TX

Love and The Texas Sky – Low Budget Modified
Dust Bowl Pictures
Location: Austin
Start: TBD
Casting: Corey Allen Jackson

Maybe, Maybe No – Ultra Low Budget
Red Raider Films, LLC
Location: Wylie, TX
Start: 6/12/09
Casting: Ryan Paige

Minority Western - Ultra Low Budget
FAD Productions
Start Date: 12/30/09
Locations: AZ & Dallas, TX

Nerveracker
Troublemaker Studios
Start Date: June 2009
Location: Austin, TX
Casting: Beth Sepko

Player's School – Ultra Low Budget
Nexus Entertainment & Greg Carter
Start Date: TBD
Location: Houston, TX

Under The Influence – Low Budget
Just Make It Happen, LLC
Location: Little Rock, AR & Upstate NY
Start: 5/14/09
Casting: Donna McKenzie

Walk Away Joe – Theatrical
WAJ Productions, LLC
Location: Dallas, Los Angeles
Start: 5/18/09

STAY IN TOUCH
We hope you're enjoying your SAG e-newsletter. It's designed to be a pipeline connecting Screen Actors Guild members from Houston to the Rio Grande. Send your comments, questions and suggestions for topics to Branch President Robert Nelson at HoustonPresident@sag.org or Trish Avery at tavery@sag.org.