The Official E-Newsletter of the SAG-AFTRA Hawaii Local
BOARD MEMBERS & STAFF
David Farmer, President
Charles Uyehara, Vice President
Jean Simon, Secretary
John Nordlum, Board Member
Lisa Romano, Board Member
Colin Fong, Board Member
Leanne Teves, Board Member
Andrea Sikkink, Board Member
Scott Rogers, National Board Member
Brenda Ching, Executive Director
Contact Your Local
We moved into a new space in the same building. Our room number is 106.
949 Kapiolani Blvd., Suite 106, Honolulu, HI 96814
(808)596-0388
Local President's Message
Aloha Brothers and Sisters,
Exciting news on the national front: After a 15-year effort by your union, Telenovela performers, including actors, guest stars, dancers and stunt workers at the Spanish-language TV network Telemundo overwhelmingly voted to unionize with SAG-AFTRA. This brings to a close a protracted dispute between our union and NBCUniversal, the owner of the network. The balloting process began Feb. 7 and successfully concluded four weeks later with 81 percent of eligible voters choosing to unionize.
Miami-based Telemundo, which was acquired by NBCUniversal in 2001, is the largest employer of Spanish-language performers in the United States, providing work for hundreds of actors on its programs. SAG-AFTA argued that NBCUniversal maintained a double standard by providing fair pay and benefits to its English-language performers, while denying the same rights to Spanish-language performers.
Click here to read more.
National Board Report
Aloha,
On Jan. 20, I attended the Executive Committee meeting for three hours, followed by the COL (Committee of Locals) meeting for another four hours. The majority of the Exec Com business was confidential, but much of the action was decided in the National Board meeting, so I will report on what happened there. The same is true for the COL meeting, so I will report on that in the same way.
Click here to read more.
Legislative Committee Report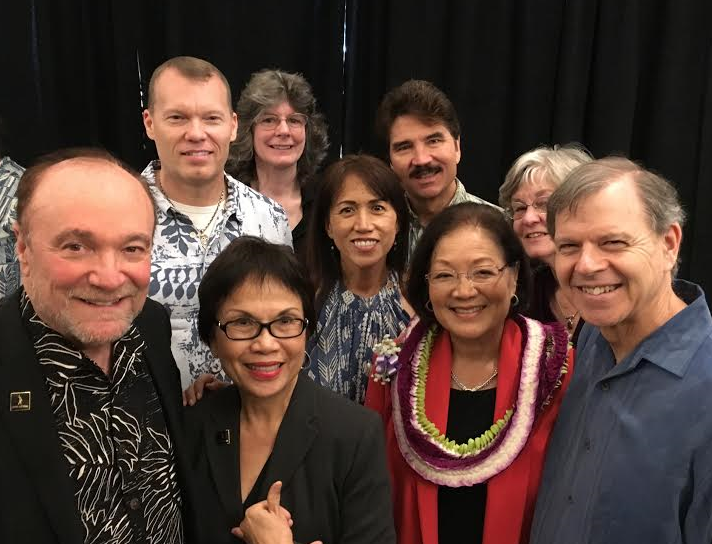 Breakfast with Sen. Mazie Hirono. Photos by Charles Uyehara.
By Charles Uyehara
Vice President & Chair, Legislative Committee
In case you were not aware, Hawaii offers a tax incentive to TV and motion picture companies that shoot here on the islands. More productions equals more work for actors, crew and drivers.
However, Hawaii competes not only with Los Angeles, but with the entire world to attract productions. Click here to read more.
Communications Committee Report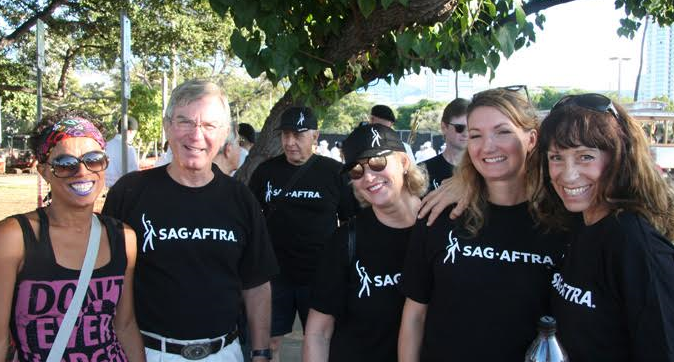 Gathering for the MLK Parade at Magic Island. Photo by Steve Lowery.  
The local's activities started off strong and united. We, along with the state AFL-CIO, other unions and community groups, marched down Kalakaua Avenue to honor Dr. Martin Luther King Jr. and his legacy on Jan. 16. Over 30 members and friends walked proudly, wearing our union hats and T-shirts, waving SAG-AFTRA signs and holding our banner. Our voices were heard as we chanted, "What we do and why we do it." It was day of solidarity and demonstrating why unions matter. Click here for more photos from the march
Conservatory Committee Report
Since there were rumors of productions coming to Hawaii, I decided to start off the New Year with an audition workshop in January. It was well attended and the participants took part in an extended Q&A and completed exercises both on and off camera. We will continue to have audition workshops, as they are critical for actors to feel comfortable with the process. 
The Conservatory Committee met and discussed the types of workshops we'd like to offer in the coming months. We reviewed the criteria for workshop instructors and made a few adjustments. There was discussion about expanding the workshops to include non-union performers (at a substantially higher price), but no decision was made at this time.  
Hawaii continues to see new productions arriving, including ABC's Next, so knowing and growing your craft is vital in order to nail auditions. See you in class!
Scott Rogers, Chair
Fun at the Hawaii Local SAG Awards Viewing Party
By Leanne Teves
The SAG Awards viewing party of the Hawaii Local was held at the Ko'olau Ballrooms on Jan. 29. Over 40 members and guests came together to take in the red-carpet program and the 2017 SAG Awards live, which took place at the Shrine Auditorium in Los Angeles. Fun, food, community building, door prizes and a scoring card game made for a memorable event. See you all next year! Click here to see more photos.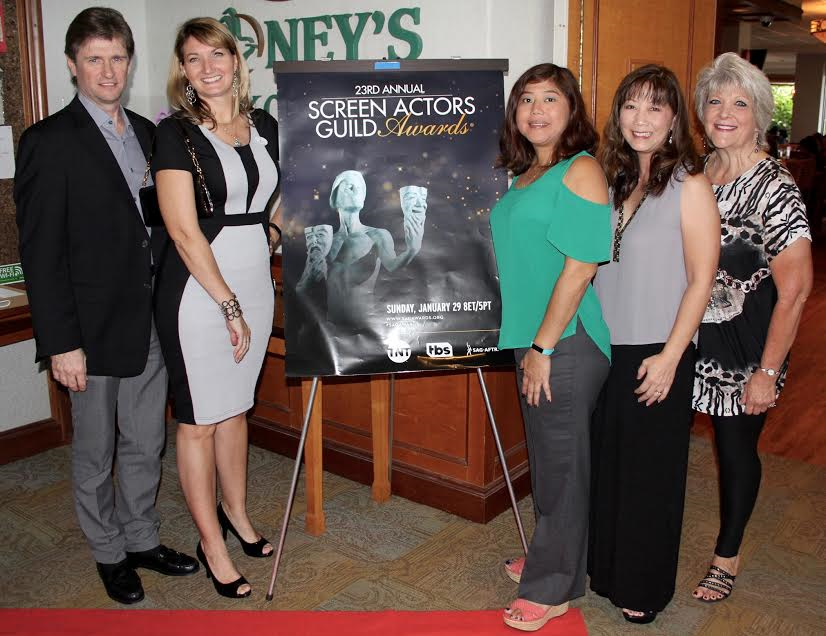 Photos by Faith Fay and Leanne Teves.
Background Committee Update
By Leanne Teves
Committee Chair
The Background Actors Committee met on Jan. 23 to begin planning its next event. Similar in purpose to the Artists in the Park event that took place on June 25, 2016, at Kapiolani Park, the committee is looking forward to putting together "Artists in the House!" Stay tuned for more information.
Save the Date
General membership meeting on Monday, May 15 in Studio 909. Details to follow.