The Official E-Newsletter of the SAG-AFTRA Hawaii Local
SAG AWARDS – SAVE THE DATE
We are in the planning stages of having our third SAG Awards viewing party on Saturday, Jan. 30, 2016, from 1 to 5 p.m. More details to follow.
SAG-AFTRA HAWAII LOCAL
Local Staff
Brenda Ching, Hawaii Local Executive Director
Address
949 Kapi'olani Blvd., Suite 105 
Honolulu, HI 96814 
Tel. (808)596-0388
Fax (808)593-2636 or 
(800) 305-8146
For email. click here.
HAWAII LOCAL BOARD
David C. Farmer – President
Charles Uyehara – Vice President
Jean Simon - Secretary
Colin Fong
Rebecca Maltby
John Nordlum
Lisa Romano
Leanne Teves
President's Report
Aloha Brothers and Sisters:
The big news was the SAG-AFTRA 2015 National Convention in L.A. Oct. 1-4, with its theme of Educate, Engage, Empower. Our Hawaii delegation included Becky Maltby, Lisa Romano, Jean Simon, myself and Scott Rogers, our National Board member. Local Executive Director Brenda Ching also attended staff meetings.
Among many memorable events was David White's powerful national executive director's report, exhorting us to develop new muscles to meet the challenges of the brave new world of emerging and future technologies.
The union's campaign to organize performers working in commercials for Droga5, a digital advertising agency, continues apace. Sign the petition and spread the word on social media.  
As a member of the Local Presidents Forum consisting of presidents from all 25 locals including L.A. and New York, I learned of exciting new initiatives for our consideration, such as Nashville's Student Film Contest.
In addition to national officers' elections, Hawaii is represented on 13 national committees, including Asian Pacific American, Media, Background, Committee of Locals, Conservatory, Dancers, Disciplinary Review, Fi-Core, Member Review, Native Americans, Organizing, Professional Representatives, SAGindie, and Stunt & Safety. 
On the topic of constitutional amendments, the convention approved Amendment 2015-CA-02: Reduce "Good Standing" Eligibility Requirement to Six Months for Most Offices. It required automatic amendment for local officer and board member eligibility provisions in our local constitution. It provided that we could elect to retain the existing 12-month good-standing eligibility requirement. Your board declined to do so, so the liberalized "good standing" applies here in Hawaii.
Locally, we had a well-attended annual membership meeting Aug. 31, which featured an inspiring talk by guest speaker Georja Skinner, chief officer, Creative Industries Division, state of Hawaii, Department Of Business, Economic Development & Tourism, about the many exciting initiatives in which her office is engaged. 
Our members have been active doing table reads at UH's Academy of Creative Media, volunteering for the Hawaii Public Radio semi-annual fundraiser and speaking at public school career days. We even managed to have another golf outing.
At our Nov. 11 membership mixer, we were honored with special guests from the national office, and plans are afoot to have a SAG Awards Viewing Party on Jan. 30, again at Honey's.
Future projects being discussed include the Student Film Contest, the Commercials Organizing and Recapture Initiative, and fashioning a better method by which our members are exposed to casting directors and producers.
These are exciting times nationally and locally for our union. I urge you to stay involved to assist in the important work that remains ahead.
In solidarity,
David C. Farmer
SAG-AFTRA Hawaii Local President
National Board Member Report
I attended the second SAG-AFTRA National Convention in Los Angeles Oct. 1-4. The four-day convention brought together member delegates from across the country to conduct business and work to advance the union and its mission. In closing remarks, SAG-AFTRA President Ken Howard applauded delegates for their service to members, congratulated the newly elected leadership and thanked staff for their work in putting on a successful convention. 
The next biennial SAG-AFTRA convention will take place in 2017.
Following our four-day convention in Los Angeles, the SAG-AFTRA National Board of Directors met Monday and Tuesday in Los Angeles. In addition to other actions, the board set dates for the Commercials Wages and Working Conditions (W&W) process, which commenced Oct. 19 and concluded on or about Nov. 20.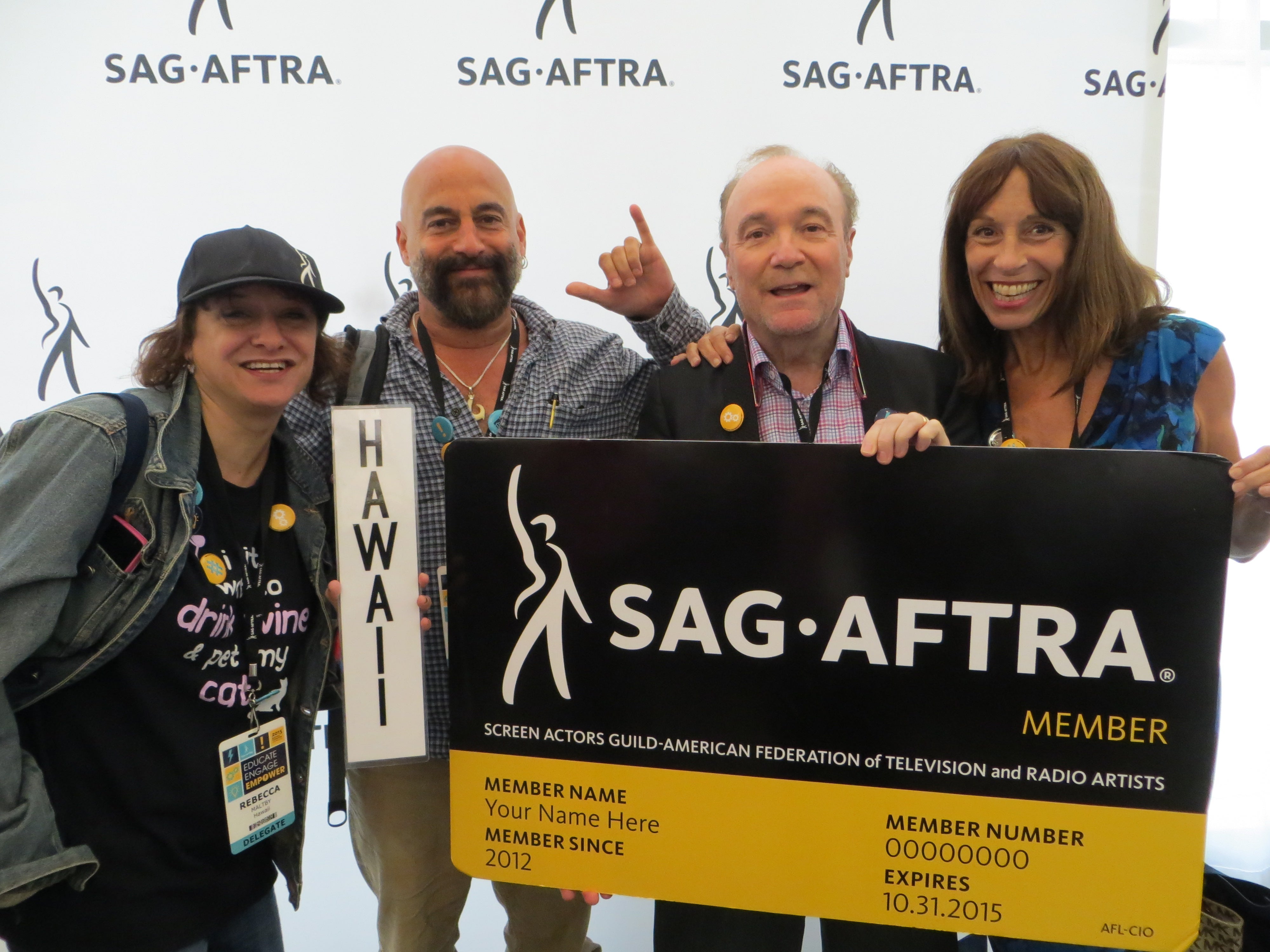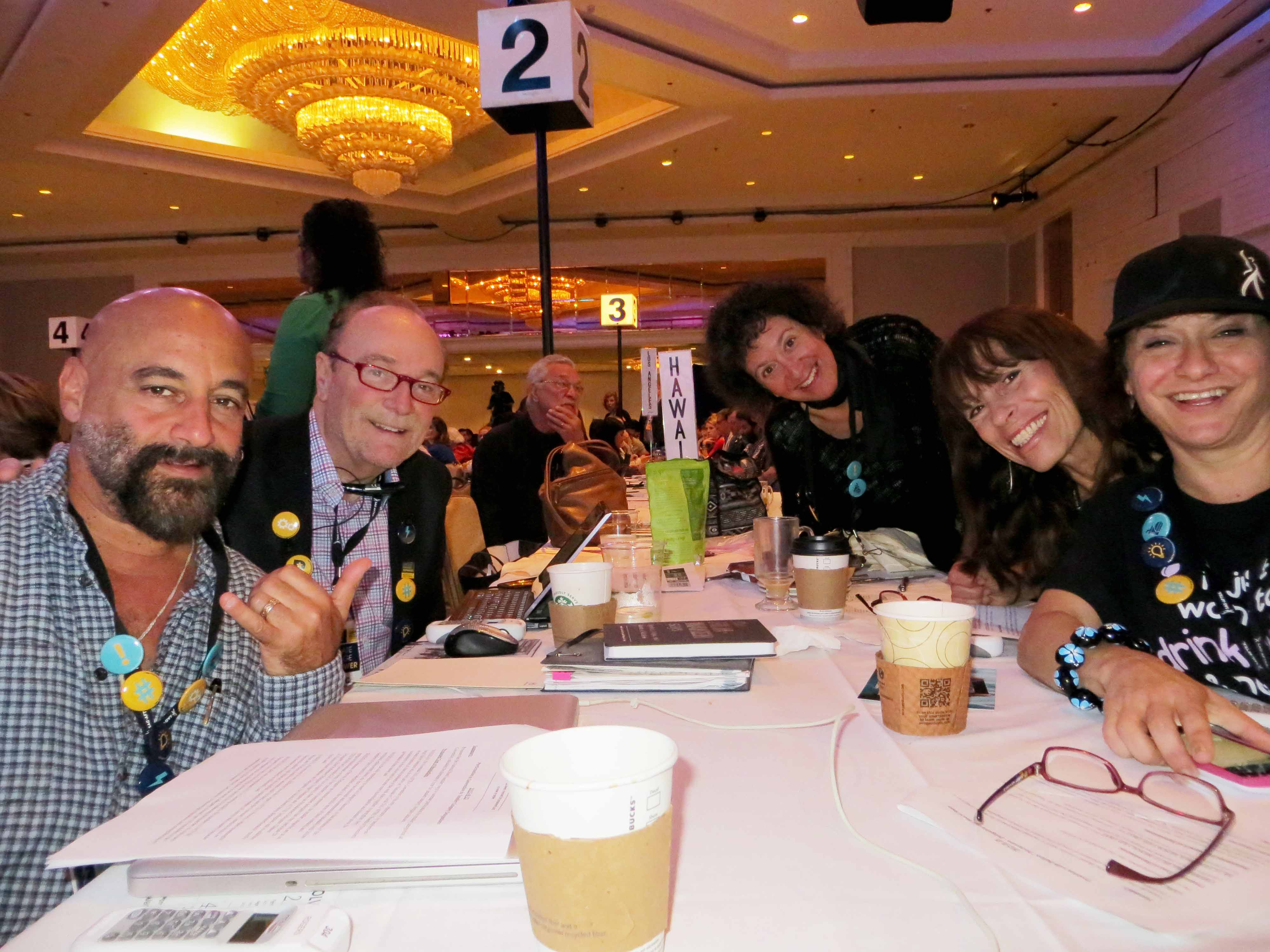 Top, from left, Hawaii delegates Becky Maltby, Scott Rogers, David Farmer and Lisa Romano at the SAG-AFTRA National Convention in Los Angeles. Above, delegates Rogers, Farmer, Jean Simon, Romano and Maltby at work in the convention hall.
The National Board approved the appointment of chairs to its various committees and reviewed and acted upon several administrative and governance matters. I was pleased to be named to several national committees and honored to have been elected as an alternate on the Executive Committee — the first Hawaii member ever to be chosen for this important and powerful committee. I was also selected by President Howard to co-chair the National Conservatory Committee.
The National Board received reports including:
President's Report
President Ken Howard provided a report highlighting activities at the union's second biennial convention. Howard praised Executive Vice President Gabrielle Carteris and Secretary-Treasurer Jane Austin on their convention speeches and applauded National Executive Director David White for his operations report.
Howard also thanked Chief Operating Officer and General Counsel Duncan Crabtree-Ireland for his work coordinating and managing the union's second biennial convention.
National Executive Director's Report
National Executive Director David White provided an operations overview to the board and outlined the union's strategic initiatives, institutional focus and core functions on contract-related activities, administration and support. Joined by Chief Economist David Viviano, White reported on membership trends, earnings and claims resolved. 
White also thanked the members and staff for their work on the union's second biennial convention.
Finance Report
The board received a confidential finance report from Secretary-Treasurer Jane Austin and Chief Financial Officer Arianna Ozzanto. Austin and Ozzanto reported that fiscal year 2016 first quarter results are on plan and tracking to budget.
Contracts Report
Chief Contracts Officer Ray Rodriguez provided a negotiations update.
Legal Report
Chief Operating Officer and General Counsel Duncan Crabtree-Ireland reported on the union's successful foreign royalties program.
Organizing Report
National Director of Organizing Steve Sidawi reported on the union's organizing activities including an update on the commercials organizing and recapture effort and confidential reports on other priority actions underway.
Professional Representatives
National Director, Professional Representatives, Zino Macaluso reported on recent activity in his department.
Local Conservatory Report
Since our recent elections, Local President David Farmer has chosen new committee chairs and populated our local committees, including the Conservatory Committee. I would like to thank him for re-appointing me to continue as chair of our active Conservatory Committee! We have some new blood and some returning committee members. I want to thank all who volunteered to serve on all of our local committees. The work of our union is done in large part through the volunteer efforts of our committees. Mahalo nui loa for giving back and for your service to our union! 
In solidarity,
Scott Rogers
Jin, Chin and Beyond 
A Sit-Down with Producer, Director & Actor Daniel Dae Kim 
Interview by Charles Uyehara, Hawaii Local Vice President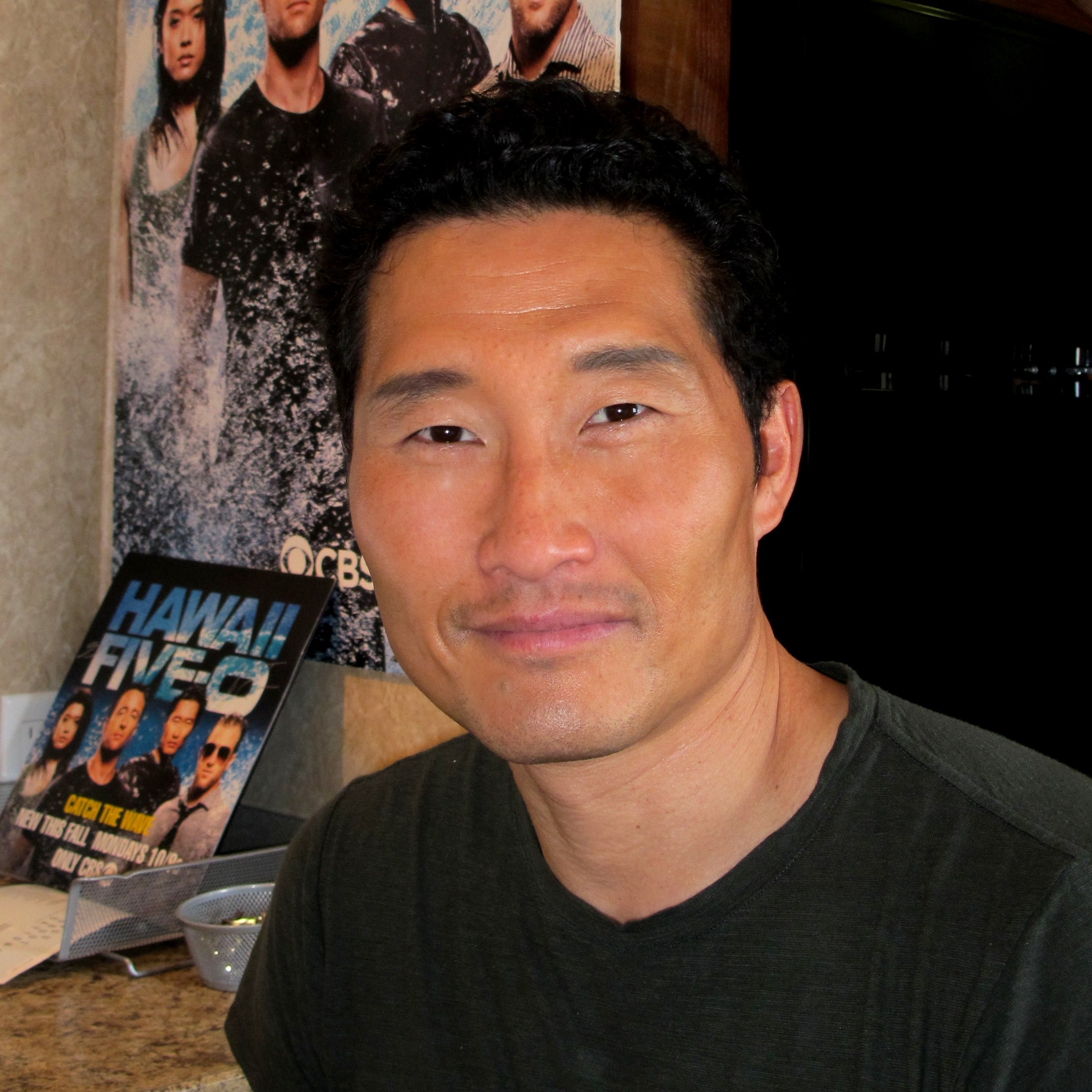 Daniel Dae Kim. Photo: Charles Uyehara
Not many people know that actor/director/producer Daniel Dae Kim is a member of the SAG-AFTRA Hawaii Local and keeps informed through our newsletters. 
In his sixth season of Hawaii Five-0, Daniel continues his string of creating multifaceted and stereotype-breaking roles.  
Born in Busan, South Korea, and raised in New York and Pennsylvania, Daniel received his training at New York University's Graduate Acting Program, where he earned a Master's degree in fine arts. Daniel's film career began in earnest with roles in The Jackal, For Love of the Game, The Hulk, Spider-Man 2 and The Cave, as well as the Academy Award-winning Crash. On television, Kim received critical acclaim for his role as Jin Soo Kwon on the epic TV series Lost. His guest-starring roster includes roles on CSI, ER, 24, Seinfeld and The Andromeda Strain, among numerous others. In gaming, he is the voice of Johnny Gat in Saints Row. Daniel is currently starring as Jack Kang in the Divergent series, Insurgent and Allegiant. In theater, he previously headlined at London's world-renowned Royal Albert Hall as the King of Siam in the iconic production The King and I.
In addition to his career onscreen, Daniel recently expanded his industry work to include development and producing. In January of 2014, he signed a first-look development deal with CBS Television Studios, the first of its kind with an Asian-American actor. With his new company, 3AD, he and his team are currently creating original content for both television and film.  
Though he spends time in Los Angeles and New York, Daniel spends most of the year in Hawaii for CBS and his philanthropic community work.
I sat down for an interview with Daniel to discuss how he prepares for his role as Chin Ho Kelly on the current CBS hit drama series Hawaii Five-0. We discussed what local actors can do to improve performance and preparation for when the cameras start rolling.  
Daniel spoke fondly of former board member and co-star Dennis Chun, whose father, Kam Fong, played the original Five-0 character. "Dennis has been a great resource in sharing memories of his father and the original Five-0 production," Daniel said. "I'm glad that he's on the show; he serves as a bridge between the current and original version." 
Then we talked about some of the issues that are foremost for actors: getting hired and working.  
Q: What are the most recurring challenges that you see local actors face on set? 
A: Nervousness. It's complicated, because every actor has a very unique personal history, so you cannot use a one-size-fits-all approach. What you can do is make sure that the actor has everything he needs to be comfortable and has a safe, secure environment to do their work. Hawaii Five-0 tries to provide that. The cast usually does not go over the scene prior to shooting and there may not be a rehearsal. They are expected to deliver their lines on take one, and if you do not have the experience and are nervous, it's going to take you five, six, seven takes to do the scene. Anything further than that becomes a problem because of the tight schedule. We've had to replace our fair share of actors who could not handle the task that was given them.     
Q: What advice would you give to those actors?   
A: My first bit of advice would be to take a minute before you step on the set and find a place in your mind where you're relaxed, comfortable and confident. So regardless of what chaos you see happening around you, you're in a place where you can work and do your best. I've seen a fair share of both local and non-local actors come in, be nervous, lock up and freeze. When that happens, generally they will spiral downwards and descend into a place where they are not able to work because their brain locks up. You need to be able to stop for a second, go away, collect yourself and breathe! I can't emphasize that enough, because so many actors stop breathing when they're in that state.  
Q: Any advice on learning lines?   
A: If I were a guest actor coming on Hawaii Five-0, I would read the script once for the plot and then a second time to see what my character does. When you make sense of the plot, story and what your character does in relationship to the story, then you can start to understand what your character wants and how your character services the show. After that, start memorizing your lines using whatever technique is best for you. I personally will just walk around the house reading my lines over and over trying to get a sense of what the rhythm of the words are and what my character wants, then after that, it's just repetition. It helps me to understand the ideas, as opposed to memorizing the words.  
Q: What is your advice to local actors trying to make a full-time career in acting? 
A: I think whether or not it's acting, playing the violin or learning how to hula, you will not get better if you do not work on your craft, and in your field. It doesn't necessarily mean that you have to be in lessons all the time. Your mind has to be focused on what you want to achieve, so as an actor you should be willing to take any and every job that comes your way, whether it's a student film, something on YouTube, or creating your own material and, of course, doing theater. Theater is the foundation. No job should be beneath you when you start. Anytime, anywhere that you get to practice your craft, you should take it. 
Q: A lot of local actors do background work. Do you think it hinders their career in any way?   
A: Not here in Hawaii. For an actor to understand how a big-budget production operates, background work provides valuable knowledge. Understanding the rhythm of the day, call times, how they shoot, camera angles, everything. If you're a local actor working as background, there is a wealth of information to learn just being on set.  
Q: What would be the qualities of your ideal on-screen partner? 
A: Preparedness, generosity and playfulness. These three things can lead to the chemistry that makes a good scene. Prepare for the worst. At the end of the day, you are responsible for your own performance. When people watch the show, they are not going to say the actor gave a poor performance because he had a poor screen partner. They're just going to say he was not a very good actor.   
Members Represented at Hawaii Local Events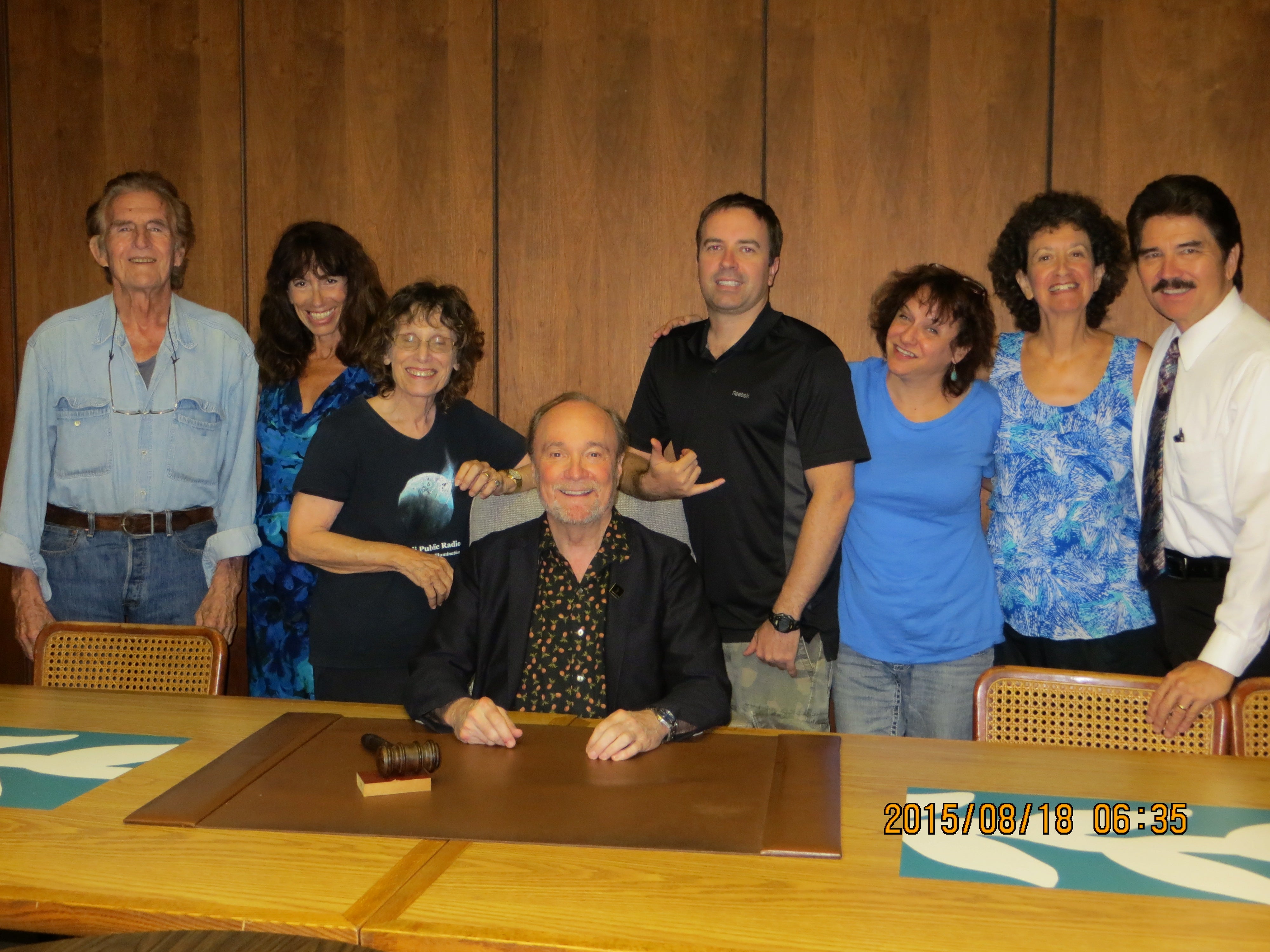 Top, members bid aloha to board members Joyce Maltby, third from left, and Rolf Burton, fifth from left, at the Aug. 17 board meeting. Above, new members, transfers and franchised agents at the member orientation on July 14 at Studio 909 in Honolulu.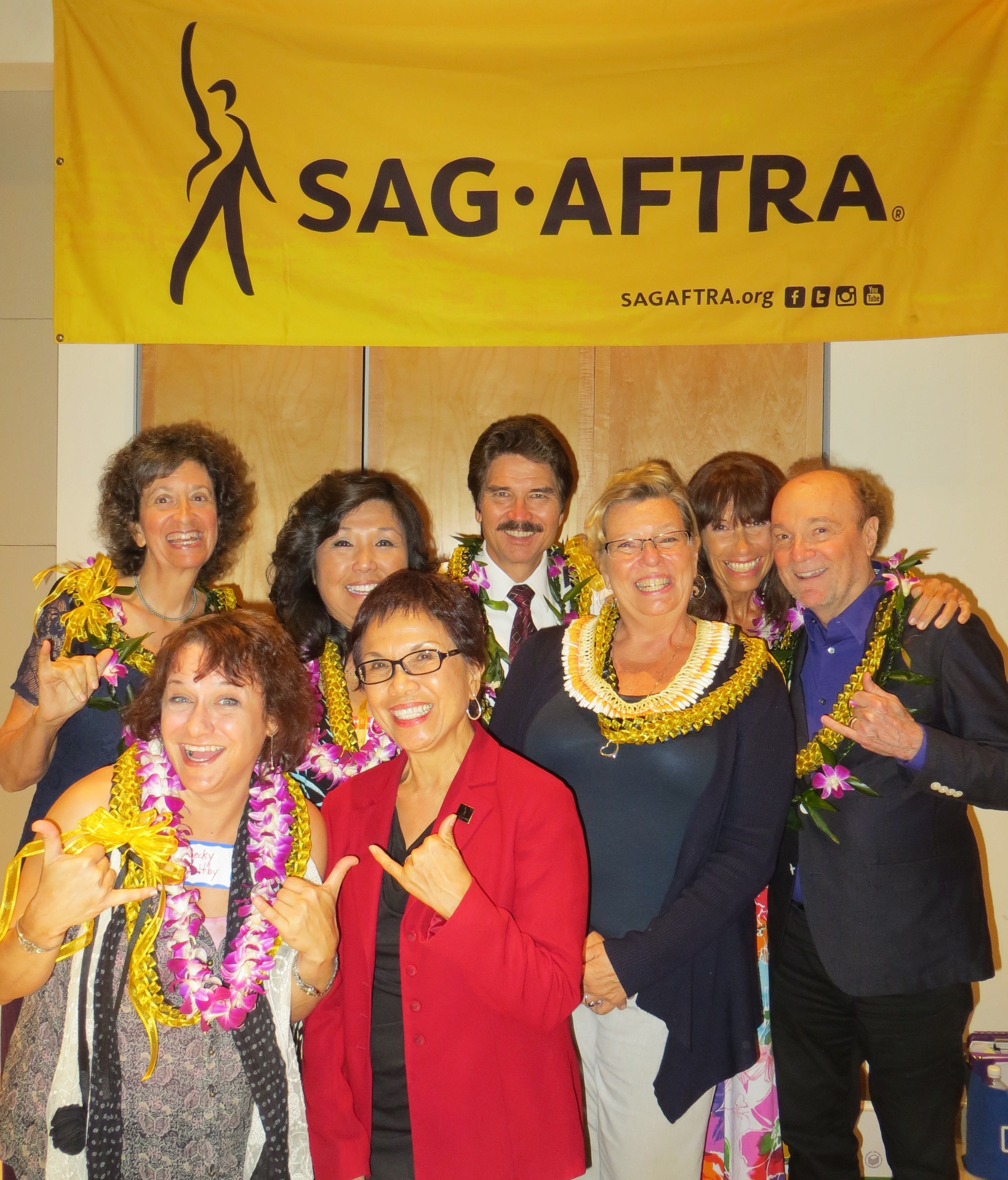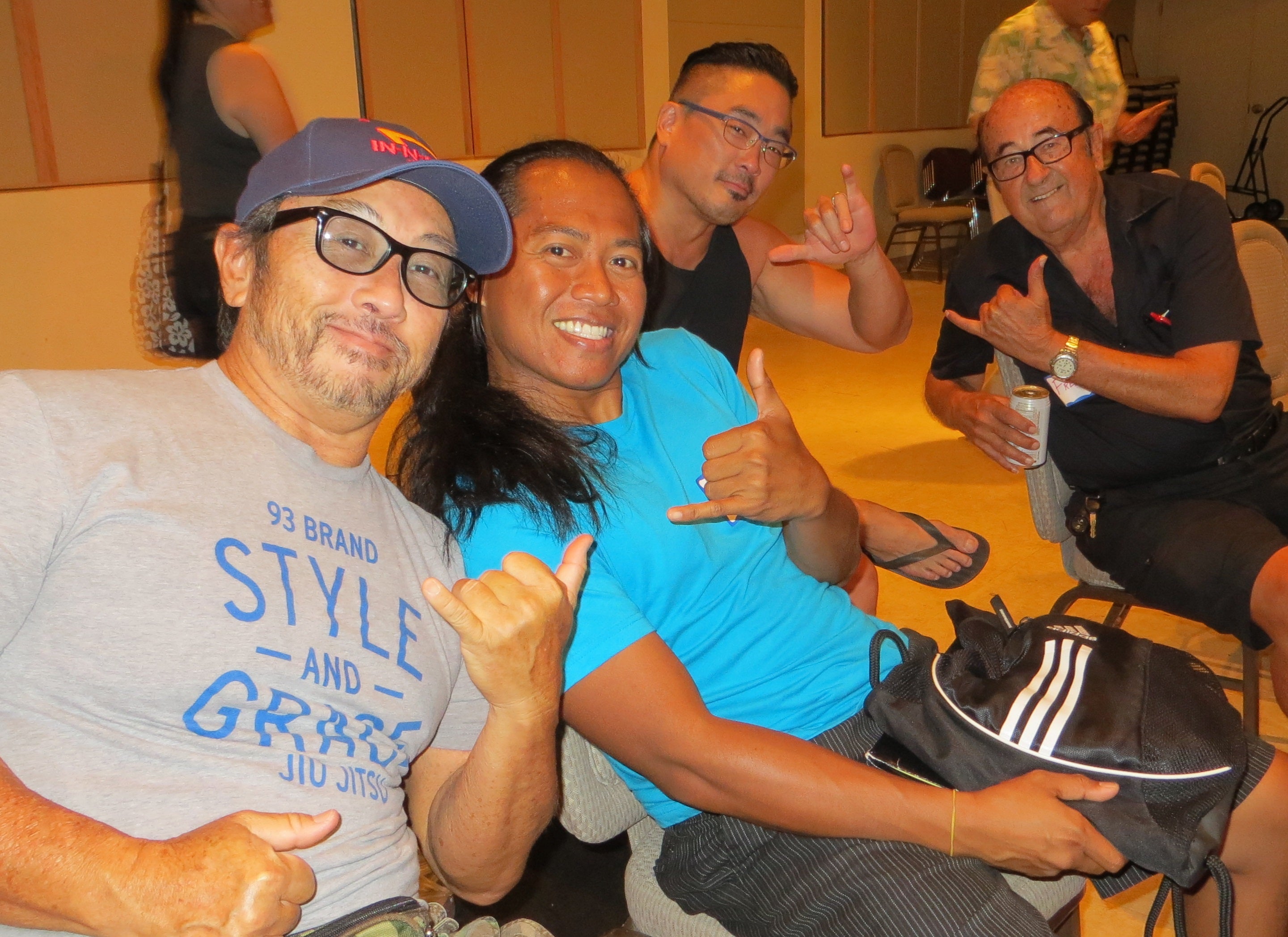 Top, members and staff ham it up with guest speaker Georja Skinner, third from right, at the annual membership meeting Aug 31. Above, members Joji Yoshida, Edison Eororita, Garrett Sato and Fred Ball have a good time at the annual general membership meeting.