The Official E-Newsletter of the SAG-AFTRA Hawaii Local
WOMEN'S COMMITTEE REPORT
by Pam Larson, Chair
The Women's Committee's project scheduled for September is on temporary hold, awaiting the National Finance Committee's green light to submit a funding request for the project. However, mainland SAG-AFTRA enthusiasm and support remains strong for this event. We have been contacted by the Florida and L.A. Locals, as well as other supporters who are looking forward to our event.
An update of the status of this event is currently being sent to Hawaii members who have volunteered as speakers and participants.
CONSERVATORY REPORT
by Scott Rogers, Chair
As chair of the Hawaii Local Conservatory Committee, I am pleased to report we've had a good year thus far. Our guest teachers this year include L.A. acting coach Iris Klein and CBS VP Fern Orenstein. Finishing off the year is Jeanne Rogers, teaching a continuation of her popular imagination class, "Imagination and Meisner's Emotional Preparation" (she was trained by Sanford Meisner personally) and, since we have two series shooting here and several films coming in, I'll be teaching an audition clinic and an acting on-camera class.
As co-chair of the National Conservatory Committee, I can report that our national committees are reforming under the SAG-AFTRA banner and getting to work! The National Conservatory Committee is in the process of scheduling its first meeting under SAG-AFTRA in order to support the efforts of our assorted and diverse Local conservatories. I firmly believe that during the course of the next year we will see great strides in providing ongoing training for our members nationwide!
MARK YOUR CALENDAR
We will be marching on Monday, Jan. 21, 2013, in the Dr. Martin Luther King Jr. Holiday Parade.
Parade route: Ala Moana Beach Park to Kapiolani Bandstand. Meet at 8:45 a.m. at Ulu Malu near the canoes at Ala Moana Beach Park.
HAWAII LOCAL OFFICE
949 Kapiolani Blvd., Suite 105
Honolulu, HI 96814
(808) 596-0388
email Brenda Ching
Local Board Officers:
Rolf Burton, Co-President & National Board member
Glenn Cannon, Co-President
Lynne Halevi, Co-Vice President
Scott Rogers, Co-Vice President & National Board member
David Farmer, Co-Secretary/Treasurer
Kevin Lye, Co-Treasurer
Jean Simon, Co-Secretary
Board members:
Zulma Aguiar
Regina Bailey
Dennis Chun
Katherine Cleveland
Sally Davis
Colby Haines
David Isei
Pamela Larson
Becky Maltby
Marc McClelland
John Nordlum
Richard Rodrigues
Lisa Romano
Charles Uyehara
Executive Director:
Brenda Ching 
Co-President's Message: Glenn Cannon
Successful efforts to bring both unions together to function as one have been the primary focus of the national and Local boards these first few months following the merger. I am pleased to say that the current Local Board is making excellent progress toward that aim. Particularly want to note the hard work of Scott Rogers, our conservatory chair and legacy SAG National Board member, and Rolf Burton, co-president and legacy AFTRA National Board member. Efforts are underway for a Local constitution. Extremely helpful in this task, among others, are David Farmer and Kevin Lye. All board members are actively participating in committees.
I am currently recovering from major surgery, but I am involved with the Local, and I am hopeful I will be fully functioning by the end of the year.
Glenn Cannon, Co-President
Co-President's Report: Rolf Burton
Greetings SAG-AFTRA members:
This has been a great year for union actors. With the merger, we are stronger than ever against the giant companies that control our industry. Local actors are working, going to classes and being rewarded with principal roles. Currently, we have two prime-time network shows filming on Oahu: Last Resort on ABC and Hawaii Five-0 on CBS. If you haven't worked, now is the time to send in your current resume and headshot. They need local background and principal actors. Several background actors from the pilot of Last Resort were upgraded to principal roles.
Membership meeting/mixer: 
On Aug. 1, 150 members attended the excellent membership meeting/mixer with CBS executives: Vice President of Casting Fern Orenstein; Vice President, Diversity and Communications Tiffany Smith-Anoa'i; and Arts Education Director East/West Players Marilyn Tokuda, who gave an extensive diversity talk and advised local actors on what makes a good headshot. Additionally, Fern explained how the process works at CBS when casting actors. The membership enjoyed this opportunity to speak informally with Fern, Tiffany and Marilyn and to submit their headshots and resumes. Many members commented how it was one of the best membership meetings we've had.
Thank you to the members who volunteered to help set up and clean up. Also, thank you to SAG-AFTRA national staff and SAG-AFTRA Hawaii Executive Director Brenda Ching for organizing the event.
Commercials contracts negotiations:
In addition to the difficult task of completing the merger between SAG and AFTRA, we are currently preparing for the national commercials contracts negotiations. The Hawaii Local Board established a Wages & Working Conditions Committee. The committee members are David Farmer, Becky Maltby, Lisa Romano and Jean Simon, and I am serving as chair. The committee will submit its recommendations to national for consideration in the upcoming negotiations.
Hawaii's first-rate scenery, a diverse pool of skilled actors and affordable tax incentives continue to showcase Hawaii and its diversity on the global stage.
Keep up the good work!
Rolf Burton, Co-President
National Board Report: Scott Rogers 
Your National Board has been working extremely hard to merge two large and unique unions into one powerful force. And, at the same time, focusing on our main priority — negotiating our labor contracts! 
 
Good news on that front: We have completed negotiations on our first-ever music video contract! This historic contract covers performers in music videos for the first time. We are also in the midst of our first major W&W (Wages & Working Conditions) process, for our commercials contracts. (Co-President Rolf Burton chairs our Local Commercials W&W Committee). The commercials contracts will be our first major contract negotiation as SAG-AFTRA. The Theatrical/Television Contract negotiations will follow. It truly is an exciting time for our new union!
 
Since our last newsletter, I attended the July plenary meetings in L.A. At the meetings, the National Conservatory Committee was resurrected, and Ron Morgan from L.A. and I were named co-chairs. There was lengthy discussion about the budget. There was a presentation and discussion on the World Intellectual Property Organization (WIPO) Treaty on audiovisual performances. The treaty would protect the rights of performers when their work is portrayed or distributed in other countries. Forty-eight countries signed the treaty in Beijing, and more are expected to sign. Thirty countries must now ratify the treaty for it to enter into force. There was a resolution to encourage the trustees of the SAG P&H and AFTRA H&R to merge the plans, and the National Executive Committee was granted authority to approve amendments to the Local constitutions.
Visit our brand-new website at SAGAFTRA.org to get the latest news — like our exciting new insurance options for members! Our next national plenary is set to take place Oct. 27 and 28 in Los Angeles. I'll report back to you in our next newsletter on what we accomplish.
Casting Spotlight: Brent Anbe, background casting director, Hawaii Five-0
by Charles Uyehara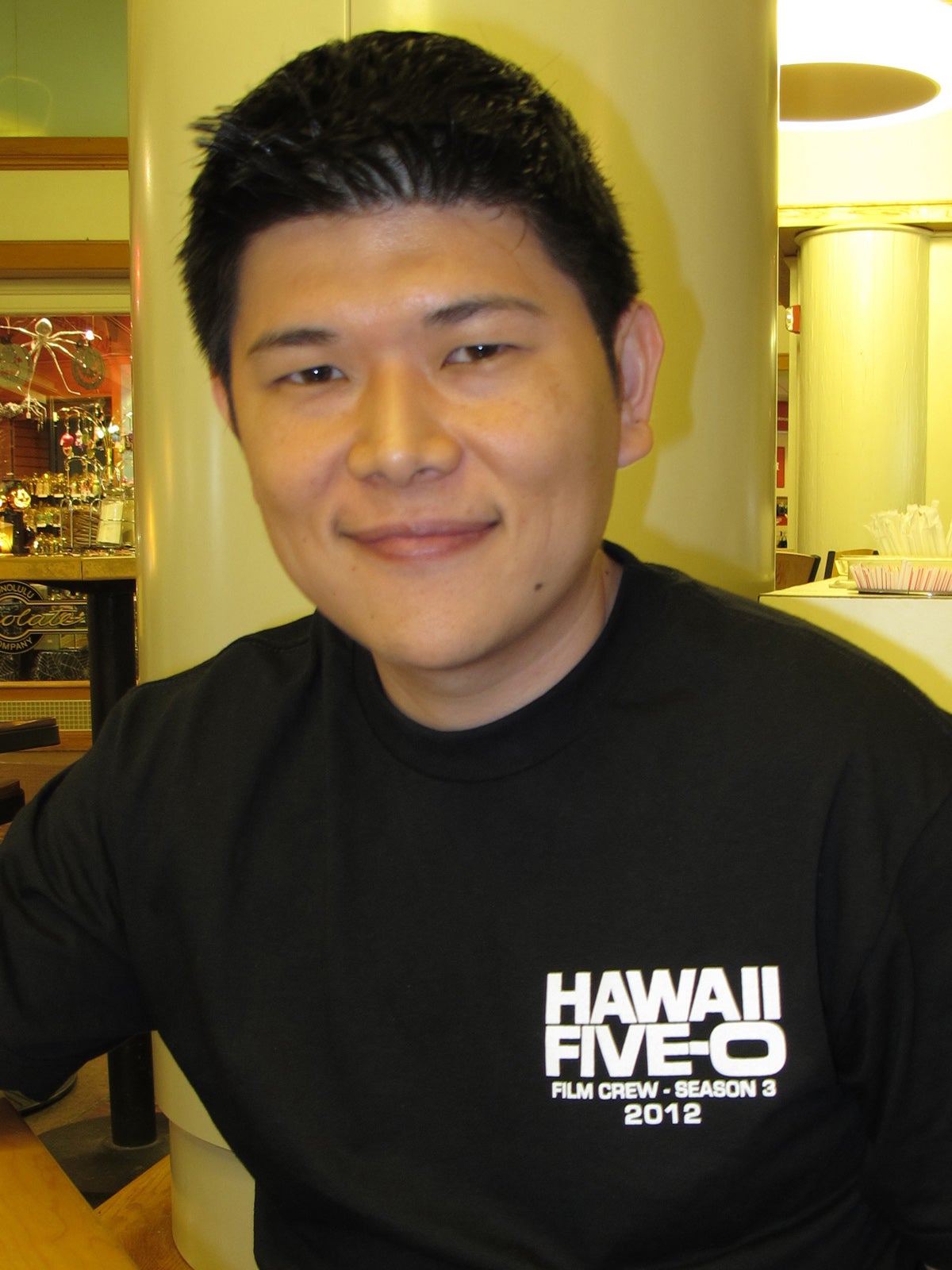 Brent Anbe
Brent is a local boy who graduated from McKinley High School. He received his degree from the University of Hawaii in Communications. In 2004, when Lost, North Shore and Hawaii came to Hawaii, Brent was one of the new staffers added to the Hawaii Film Office. In 2010, local casting director Laurie Foi hired Brent to be her casting assistant on the new ABC-TV program Off the Map. Brent credits Laurie for being a great mentor. Following Off the Map, Brent was hired as the local casting director for The River. Brent subsequently went on to work for Hawaii Five-0.
Hawaii Five-0 background casting process
Principal roles are cast by Rachel Sutton and background by Brent, Lan Deal and Johanna Bautista. Each department has its own talent pool. However, there are actors who are in both files. When a new script is received, Brent compiles the list of scenes where background actors are needed. After meeting with the assistant director, the background breakdown is given along with the budget, which dictates how many background actors can be hired. For featured background actors, photos are selected and given to the director and the producer for final selection. Brent looks for diversity unless the script calls for something specific. 
Inside the actor's file
Front and center is your photo taken by the Five-0 staff, along with your information sheet showing contact info, height, weight, etc. If a resume and headshot are submitted, they are added to the file. However, casting looks at their own photo first because they can trust it is a true representation of how people look. Nothing is digitized for use on the computer.
How are actors categorized?
Brent has three files that he works from. The first file contains union background actors, the second one has non-union background actors, and the third file has actual police officers, firefighters, EMTs, nurses, etc. Each of these files is broken down into what the casting directors determine are the actors' "portrayable" ethnicity and age range. Note: The casting directors determine your portrayable age range.
Casting sources
If he needs specific people, like football players, Brent will look to outside sources. He goes through people he personally knows to arrange contacts. He does not use social media sources such as Facebook or Hawaii Actors Network to search for talent.
Union talent
Brent wants to hire union members. They are reliable, professional and know the process. However, budget drives everything. Hawaii Five-0 is an AFTRA legacy show that by contract is required to have 21 covered background performers, including stand-ins.
Background versus principal work
If your ultimate goal is securing a principal part, let the casting office know. They will add the tagline "do not feature" to your information card. This means you won't be cast in a scene showing your face front and center. Hawaii is a small community, and Brent and Rachel are aware of the actors who are aspiring and training in their craft. Brent believes acting is a craft, and that you can't just do it once a year to keep in shape. He also believes that doing background work is beneficial because it exposes you to the way things work on the set.
 
Brent's pet peeves about background actors
It really bothers him when background actors don't respect the set, the crew or other background actors.
Casting Spotlight: CBS Vice President, Casting Fern Orenstein in Honolulu
by Charles Uyehara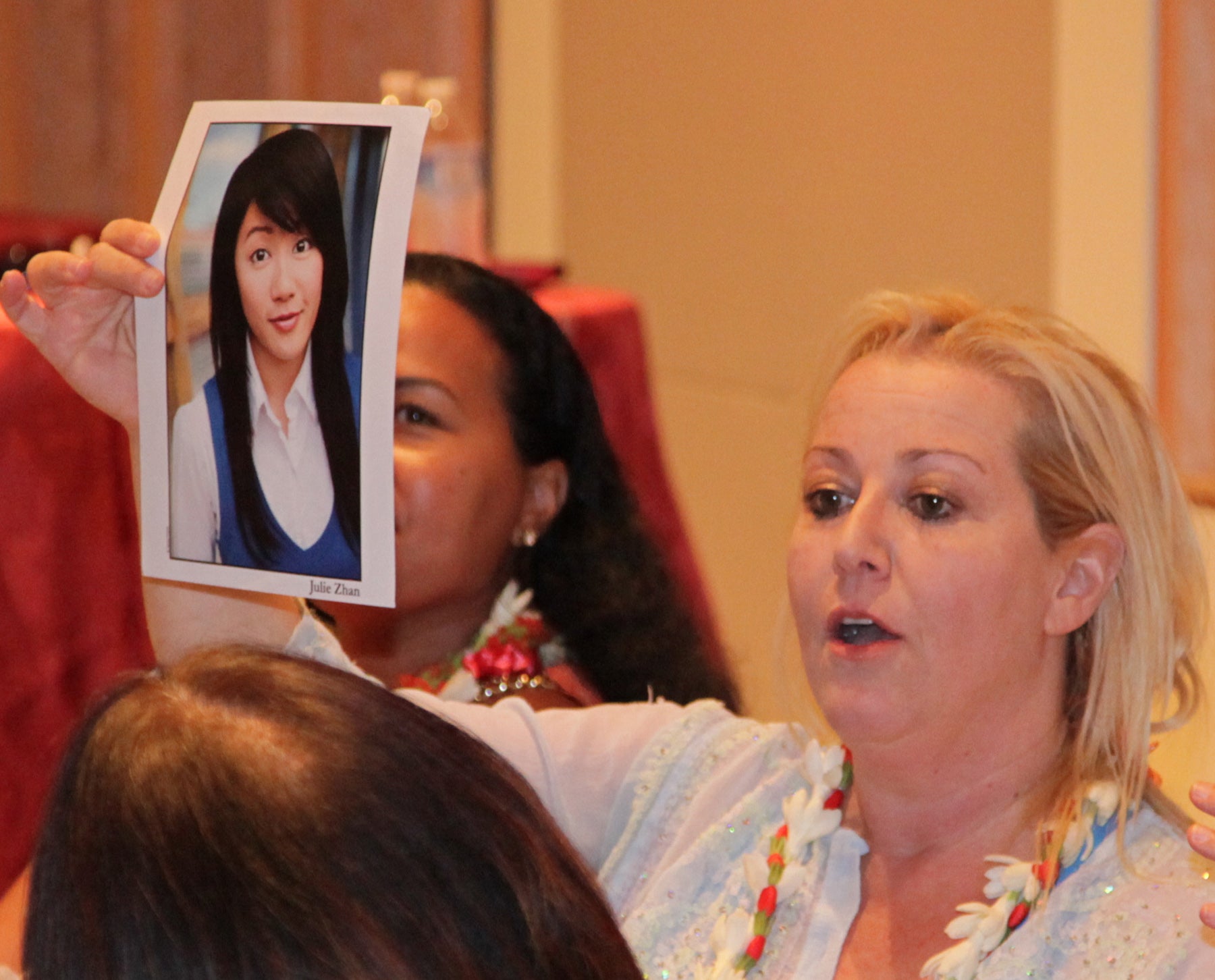 Fern Orenstein
On Wednesday, Aug. 1, SAG-AFTRA members in Honolulu had a rare opportunity to meet with and hear from Fern Orenstein, vice-president of casting at CBS. Although the event was about "diversity in casting," the topic most discussed was improving the odds of "getting the call." She provided great insight on how TV shows get cast, along with many tips on how to improve actor submissions.
The Process
Fern explained that when casting a role, the casting director will determine what kind of actor is needed by reading the script breakdown, which offers three key pieces of information: character "type," i.e. nurse, detective, senator, etc.; the character's name; and the character's age. Most casting directors then have their assistants select from the data file seven or eight people that match the breakdown specifications. The hard-copy submission is not what casting directors usually look at. They see thumbnail-sized images, which are displayed 45 on a page. They only look at the thumbnails at this time, not the resume, so your photo has to "pop." 
Photos
Fern could not emphasize enough how important your photo is. She feels it is really the best information, even before your resume, that casting directors have about you. It is important to make sure your photograph is current, ideally less than a year old. Play up your strong points. If you feel comfortable walking in and booking the role of a cop, then gear your photos toward the performance of that part, but do not wear a costume. Your photo should have the "essence of a cop." Be subtle. Have two to three different photographs that you feel reflect roles you strongly fit. An "essence of" image may be suitable to get you four or five jobs with just that one shot. The problem with many photo submissions, Fern said, is that the actor sees himself one way and everyone sees him another. Too many people, she said, see themselves as glamorous. Your photo should represent what everyone else sees when they look at you. Ask others to give you an honest opinion of what type of roles they think you could play. And don't submit composites. The photographs will be too small to show up in thumbnail form on a computer screen.
Reels
If you submit a reel, make it no longer than a minute and a half. Anything longer, no one will be watching it.
Member Spotlight: Jeff Cadiente, Stunt Coordinator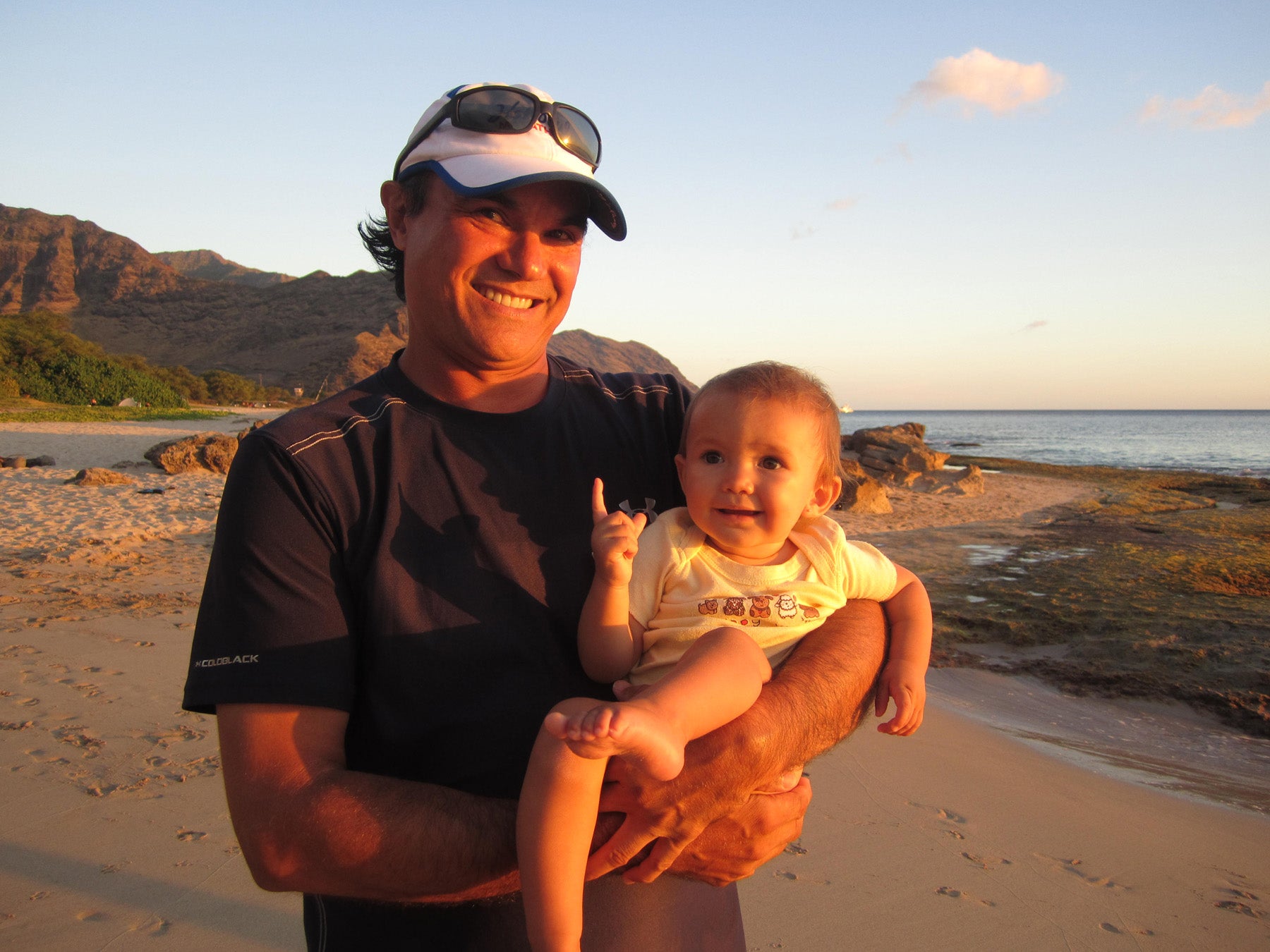 Jeff Cadiente and his daughter Jaycee.
Hawaii Five-0 stunt coordinator Jeff Cadiente received his seventh consecutive Emmy nomination this past July. This nomination was in the Outstanding Stunt Coordination category for the Oct. 3, 2011, episode 203 entitled Kame'e. The stunt involved Jeff Haberstat, as Steve McGarrett, skydiving over Mokuleia to rescue an unconscious falling U.S. Navy SEAL who had been pushed from a plane.
Cadiente's work on the show was recognized previously with a nomination for the first season's May 8, 2011, episode in which Danny Williams was exposed to neurological poison. He also received nominations for his work on the television show 24.
Congratulations Jeff!
Agency Corner
Franchise: Currently, Hawaii has only two SAG-franchised agents. Although the two unions have merged, agency regulations continue to be administered separately until such time as SAG-AFTRA renegotiates a sole contract covering all agents working within its jurisdiction.
Commissions: The following applies to both SAG and AFTRA franchised agents.
No commissions shall be payable on the following, no matter where you live:
• Travel expenses, living expenses or per diems
• Reimbursement for travel, mileage, wardrobe, special hairdressing, etc.
• Penalty payment, i.e., late pay, meal period violation, forced call. Rest period violations, etc.
• Extra (background actor) work, unless negotiated at scale plus 10 or greater.
If you are employed through any union agency, your compensation shall be net, except for deductions or withholdings that may be required by law or by the union contract. The producer, not you, is to pay the agency fee for securing your employment, and you cannot be required by the producer to pay the agency fee directly or indirectly.
Please be advised that if you work under a SAG or AFTRA-approved special agreement, contact your local union office to determine rules of "commissionability." You are encouraged to familiarize yourself with the printed union guides that provide details or check online.
Member Q&A
We encourage you to let us know your questions.
1. What is the number of union background actors hired for a show?
Answer:
a. West Coast Zone: The minimum number of covered background actors (excluding swimmer, skaters and dancers, but including stand-ins) is 21. Stand-ins are included in the count of covered background actors in long-form television programs (i.e., mini-series). One stand-in per day is excluded from the count of covered background actors in half-hour and one-hour programs. This number covers all units working that day.
b. No one who is currently on the producer's payroll or any of the producer's hiring, cast or payroll agencies will be engaged or utilized as a background actor in any program for which they also render services.
2. Are residuals commissionable on television work?
Answer: Yes, in many instances, subject to the limitations in the respective Legacy SAG or Legacy AFTRA agency regulations. If you have a question about what is commissionable, do not hesitate to contact your local union office for guidance. It is important to note, however, that in Hawaii your agent would have to negotiate scale plus 10 in initial compensation in order to collect its fee on original employment. 

3. How many union jobs do I need to join the union?
Answer: Minimum of three union-covered background jobs or one union-covered principal job.
Important: We Don't Want to Lose Track of You
Keep us up to date with your current contact information. If your email address is not listed with the Hawaii Local, you are not getting the latest news on productions, conservatory workshops and what's going on. If you have changed your email address, please send us your new one so we can keep you informed.
Important Phone Numbers & Websites
SAG Pension & Health: (800) 777-4013, sagph.org
AFTRA Health & Retirement: (800) 562-4690 aftrahr.com
General Information: (800) 724-0767
SAG-AFTRA Website: sagaftra.org
SAG-AFTRA Production Center: sagaftra.org/ProductionCenter
AFTRA-SAG Federal Credit Union: (800) 826-6946, aftrasagfcu.org
SAG Foundation: (323) 549-6649, sagfoundation.org
AFTRA Foundation: (212) 863-4315, sagaftra.org/AFTRAfoundation
SAG-AFTRA Membership Mixer on Aug. 1, 2012 with CBS Executives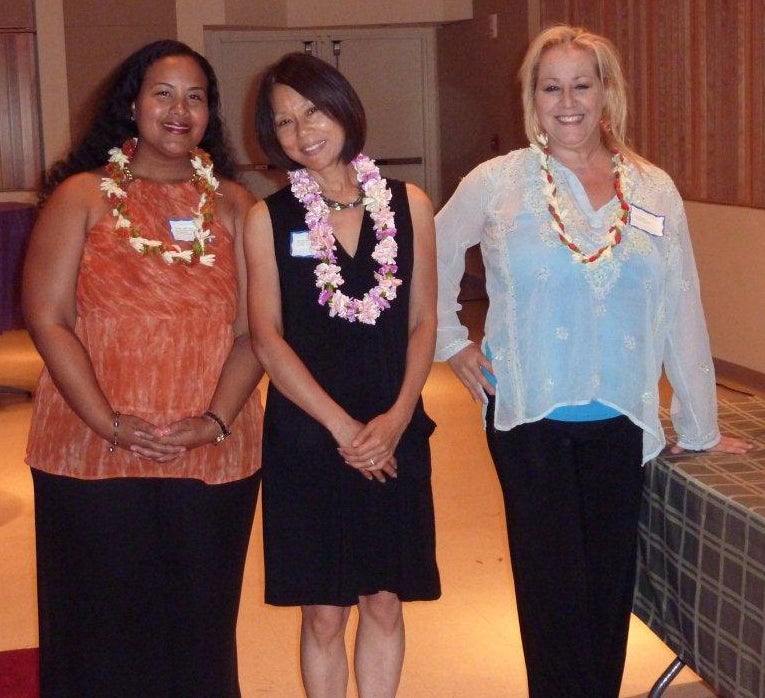 CBS Vice President, Diversity and Communications Tiffany Smith-Anoa′i; Arts Education Director East/West Players Marilyn Tokuda; and CBS Vice President of Casting Fern Orenstein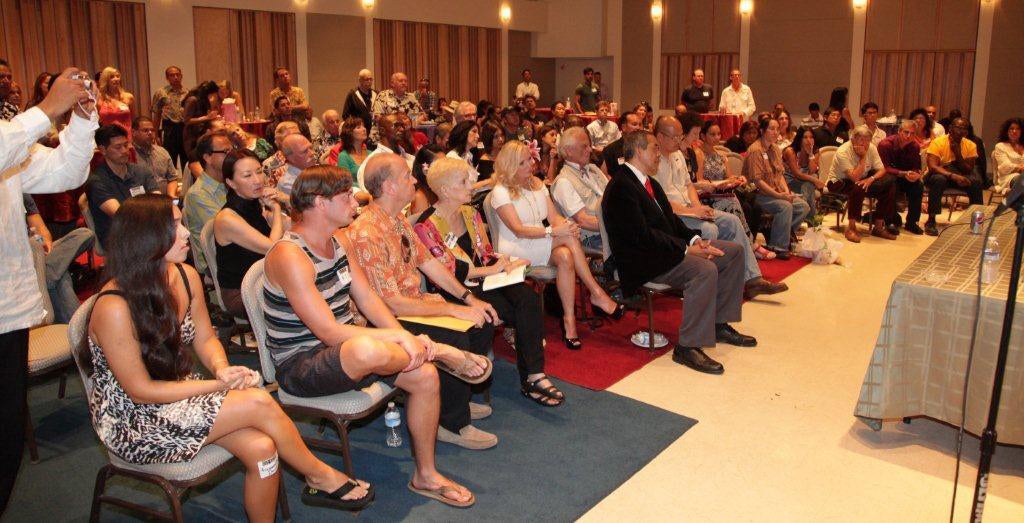 The audience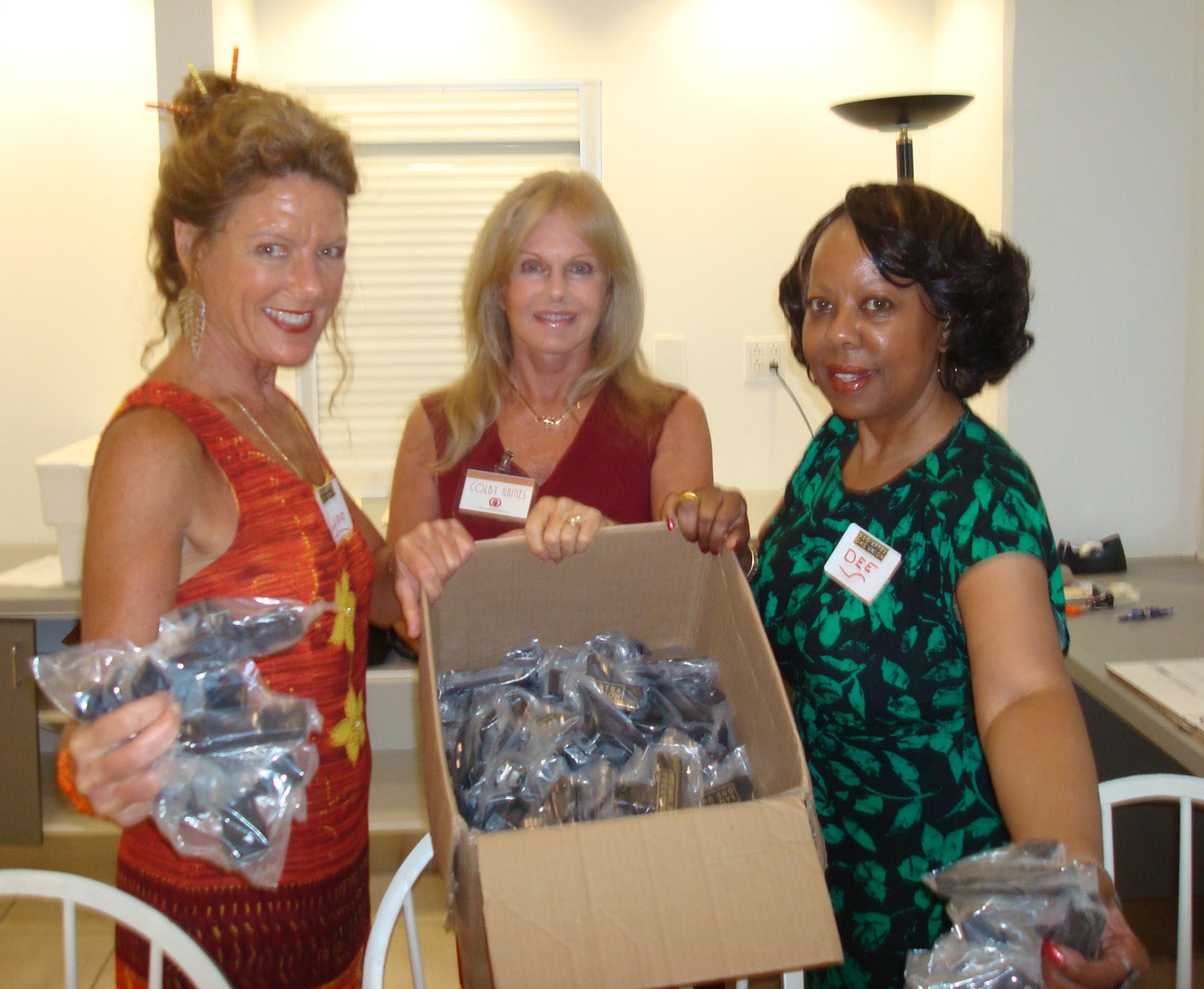 Lynn McRee, Colby Haines and Dee Rogers help set up SAG-AFTRA's August mixer.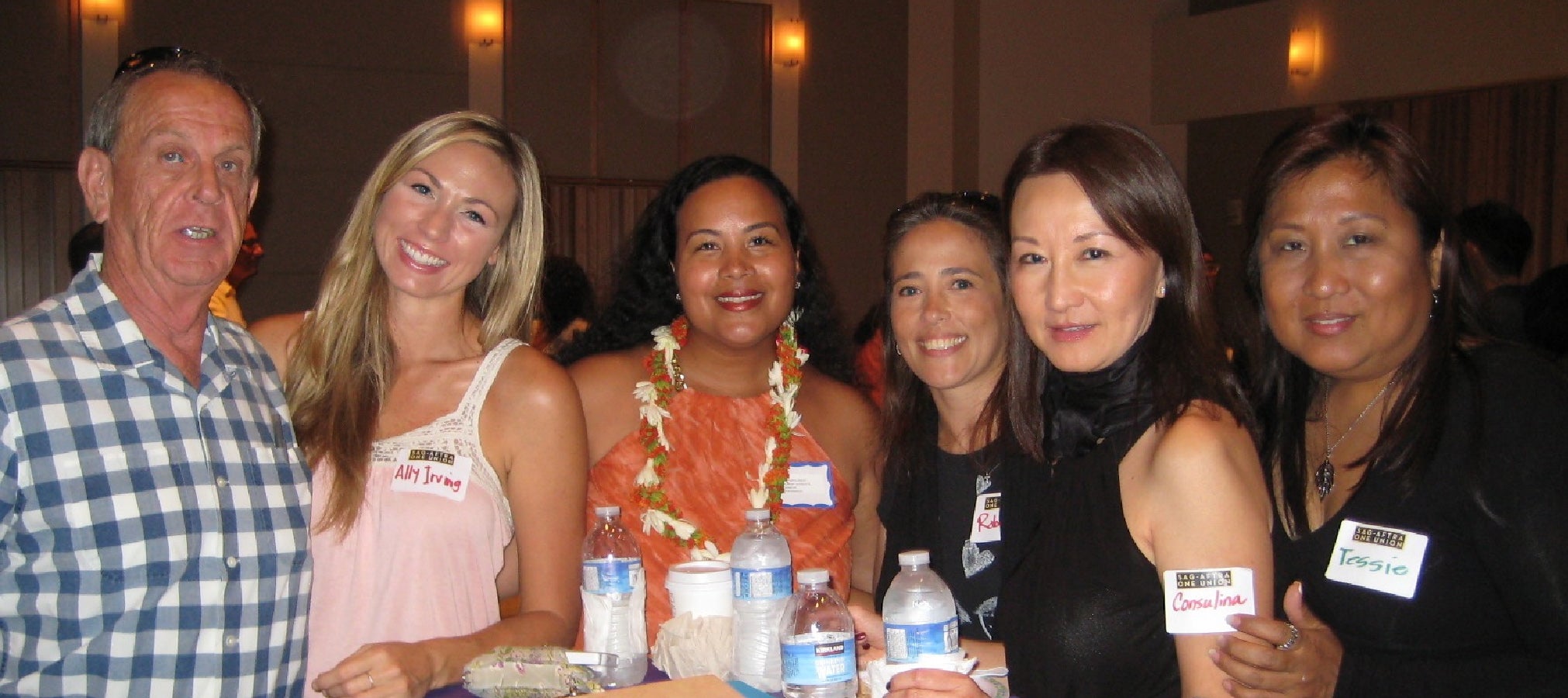 Members at mixer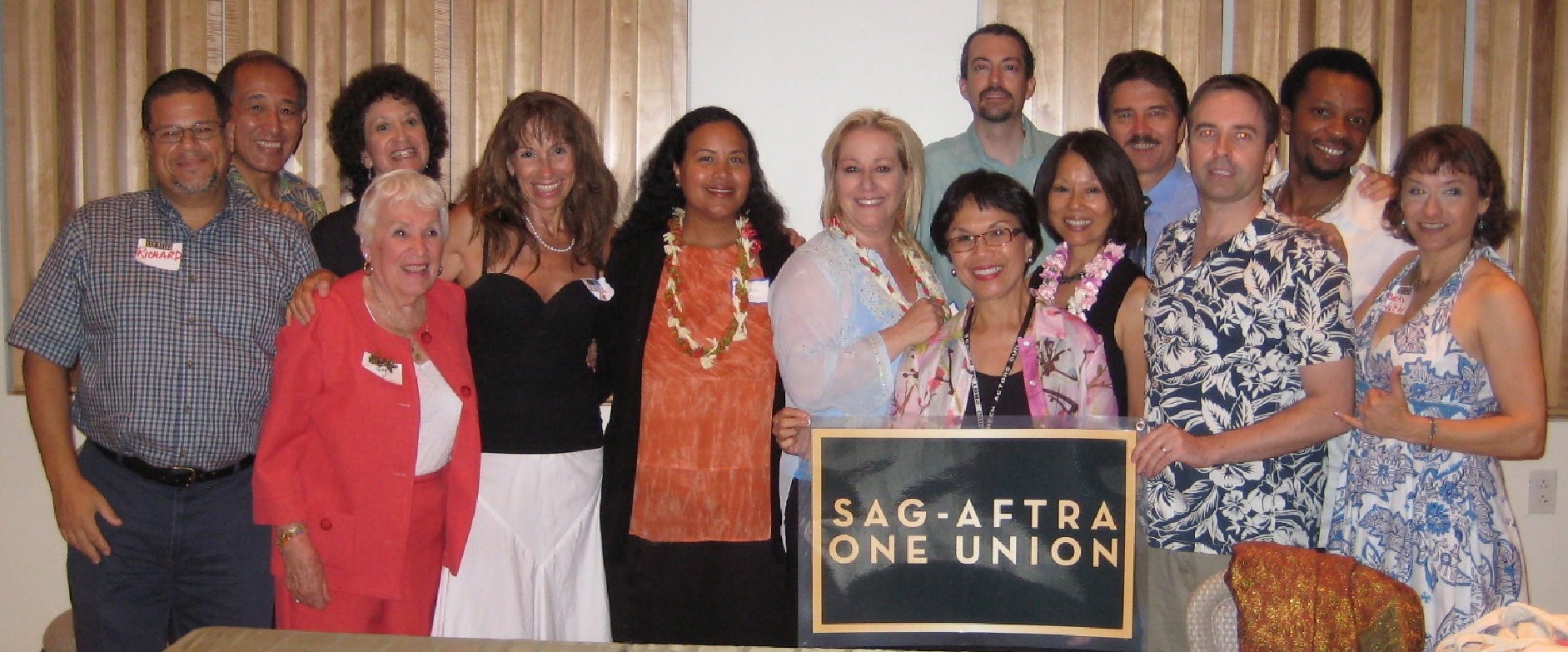 Mixer guests, staff and board members