The Official E-Newsletter of the Hawaii Branch

NATIONAL BOARD SEEKS
ENGAGEMENT WITH AFTRA

Screen Actors Guild National Board of Directors voted January 31 to seek engagement with AFTRA in a joint bargaining agreement for negotiation of the Television/Theatrical Contract. Approved 82 to 18 percent, the resolution states:

"It was moved and seconded that in light of SAG's historically productive negotiating partnership with AFTRA, the SAG National Board of Directors directs President Ken Howard and National Executive Director David White to seek engagement with AFTRA in a joint bargaining agreement for negotiation of the Television/Theatrical Contract, under the terms of Phase One, modeled on the agreement used successfully in the 2009 Commercials Contract negotiations. President Howard and NED White shall bring a recommendation to the National Board at the earliest opportunity."

Screen Actors Guild President Ken Howard said, "I am very pleased with the vote and thank the Board for their leadership and foresight on this important issue. I so appreciate the Board's cooperative spirit in this discussion and throughout the day, and feel confident that our Guild is moving in the right direction."

In other actions, the National Board voted unanimously to create a National Performance Capture Committee to address the unique concerns and experiences of members who render performances that are recorded using "performance capture" technology across all media, and to advise the Guild on all matters pertaining to work in this rapidly growing area.

The board also approved 83 percent to 17 percent the unanimous recommendation of the finance committee to authorize the extension of existing initiation fee reductions in targeted markets across the country and to have the Guild's Joint Strategic Planning Committee and Finance Committee review the initiation fee structure nationwide.

For more details from the meeting, click here.





FREE ONLINE BUSINESS
OF ACTING SEMINARS

Screen Actors Guild Foundation and Screen Actors Guild continue to present weekly "business of acting" LifeRaft Live Stream events to Guild members across the nation at no charge, via live video stream on the Internet.

LifeRaft provides career-enhancing knowledge to actors by way of panel discussions with seasoned industry professionals. The innovative Live Stream program lets you participate online every Tuesday, 6-8 p.m. Pacific, through April 27, 2010.

To participate in these programs online, simply visit the SAG Foundation LifeRaft Live Stream show page here. All LifeRaft Live Stream events are available for later viewing here as well.

You'll be able to submit your questions to panelists and moderators during the events by e-mail or you may tweet your questions at #LRLS. Guild members are encouraged to register with the SAG Foundation in order to receive e-mail updates.

DALES SCHOLARSHIP
APPS AVAILABLE

Just one of the non-profit foundation's many free programs offered to assist, educate and inspire Guild members in their careers, lives and communities, the John L. Dales Scholarship Fund has helped qualified Guild members and their children reach their educational potential by providing more than $6 million in scholarships for study at accredited institutions of higher learning.

Two types of scholarships are available. Standard scholarships benefit eligible members and children of eligible members for college education. Transitional scholarships are designed to assist SAG members seeking further education to change careers.

Dales Scholarships are awarded specifically toward education at accredited and licensed universities, colleges, junior colleges, adult specialty schools or trade/vocational schools. Printable applications, as well as further details including eligibility guidelines, are currently available by clicking here. Submissions must be postmarked no later than March 15, 2010, to qualify.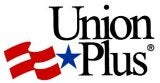 UNION PLUS PROGRAMS
FOR HARD TIMES

As a Screen Actors Guild member, you always can rely on Union Plus to provide great benefits, rain or shine. But in challenging economic times, these discounts and programs can be even more valuable.

Credit counseling: All SAG families can get free credit counseling services, budgeting advice and no-fee debt management and bankruptcy counseling benefits. Call (877) 833-1745.

Prescription discount: SAG members can get a free online prescription discount card to save on out-of-pocket prescription costs here.

Financial education: Union Plus offers a host of resources with tips, tools and calculators to get you on the right track. They include UnionDebtHelp.org and UnionPlusRetirement.org.

Foreclosure prevention: If you're worried you might lose your home, call the Union Plus Save My Home Hotline at (866) 490-5361 any time, day or night, to avoid foreclosure.

Scholarships: Click here to see how Union Plus helps you afford the education and training working families need to get ahead.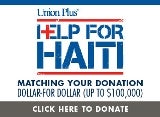 Save the Date
General Membership Meeting
When:  Monday, March 15, 2010, 7-9 p.m.
Where: Studio 909 (located next door to the Musicians Union Bldg.), 949 Kapio'lani Blvd., Honolulu, HI
• Business Agenda

• Guest Speaker: Dana Hankins, Independent Filmmaker/Producer

• Light Refreshments
To RSVP: bching@sag.org or call the office at (808) 596-0388, then press 1#
Branch President's Report
By Glenn Cannon

My fellow SAG members: It is a pleasure to note that we are experiencing some of the best start-of-year activity in terms of work that we've had in recent memory. (See list below.) Almost all of it is feature films, which clearly underscores that Hollywood has definitively realized the value of Hawaii as a location to shoot the entire project, something that has not happened very often in the past.

Of course, we will still have films coming in to shoot for a few days only, but having motion pictures coming in here to film the entire project is particularly demonstrative of  the trust producers/studios now have in the SAG actors here and the professionalism of Hawaii's IATSE members as well. I'm delighted to note that Alexander Payne, who will direct The Descendants, starring George Clooney, has come here multiple times. Shooting begins in March, and he has begun to talk with and audition Hawaii actors who might fill principal roles. And finally, it appears the pilot for a new Hawaii 5-0 is in the works to be filmed here. With reasonable luck, the series also will be located in our state.

Hawaii is hot, ladies and gentlemen!

2010 SAG productions that are coming or already have filmed:

Lost, television series, continues through April
Hereafter, feature, completed
Capitol One, national commercials, completed
Soul Surfer, feature, currently filming on Oahu
The Chase, Japan drama, starts in March for one week
The Descendants, feature, starts in March
The Pretend Wife, feature starts in April
Pirates of the Caribbean 4, feature, no start date
Battleship, feature, no start date
National Board Member Report
By Scott Rogers

After attending our National Board meeting in Los Angeles, I felt both relieved and encouraged. What a change from the meetings of last year! The meeting was run by President Ken Howard in a timely, professional manner.

You may have noticed that many of the TV pilots so far this season are going AFTRA instead of SAG. Not surprising, considering the unrest of the last year, but now that things are settled down between SAG and AFTRA, we're hoping we can address this trend. We voted on several issues, such as resuming joint negotiations with AFTRA, which we voted in favor of by more than 80 percent! I think we were all surprised and impressed when we completed all of the business on our agenda and adjourned our meeting two hours EARLY! It looks like SAG is moving forward again as we prepare for what we hope will be a fruitful TV/Theatrical Contract negotiation with AFTRA by our side.
---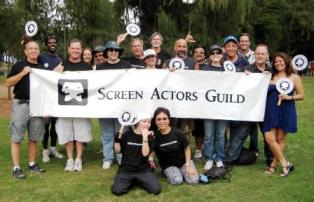 Members and Hawaii Branch Executive Director Brenda Ching (bottom right) gather to display the SAG banner.
SAG Members March in Annual MLK Parade
By Becky Maltby

"Screen Actors Guild Hawaii—saving you from boredom for 25 years!" Young SAG Hawaii member Mickey Graue shouted out the impromptu slogan along the route of the 2010 Martin Luther King Jr. parade through Waikiki on January 18, drawing laughter from the crowd as he and fellow members marched in spirit of this year's theme, from the words of Dr. King himself: "We may have all come on different ships, but we're in the same boat now."

Wearing new SAG Hawaii T-shirts—get yours at the Branch office—local members maintained a hearty presence throughout the parade despite the absence of Teddy Wells, our ever-exuberant parade route cheerleader from years past. Teddy was up ahead portraying the man himself, MLK, and later delivered the famous "I Have a Dream" speech at the Waikiki bandstand during the unity rally in Kapio'lani Park, for which several members stayed on to enjoy. Join us next year!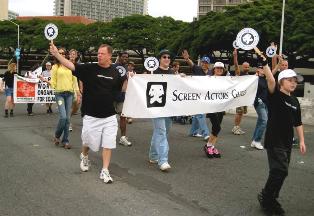 Members march in MLK spirit.

---
ALL ABOARD iActor 3.0
Casting Database Now Simpler, Faster
Screen Actors Guild has announced new enhancements to the iActor online casting database (iactor.org). The new features enable actors to create profiles that reflect their talents more accurately than ever. The upgrades also make talent searches more focused and easier, a significant benefit for casting agents, producers, new media developers and others needing to cast their projects.

The enhancements are geared toward providing actors with the ability to further personalize their online profiles to better capture their unique attributes that will influence the casting decision. They also improve the functionality of the site by reducing the number of steps needed to perform common tasks. The enhancements include:

Profile enhancements
• Improves published resumes by providing both PDF and HTML formats for more flexibility
• Offers additional options for actor body type, ethnicity and special skills
• Adds description fields for "voice quality" and "sound-alikes" to voice-over resume
• Adds a new integrated media slideshow
• Updates options for gender
• Adds the ability to create custom credit types for more control and flexibility

Functionality enhancements
• Adds drag-and-drop functionality throughout the site for superior ease of use
• Allows the ability to include a mini headshot on printed resume
• Allows the ability to update business contact numbers within iActor
• Combines "Actors to Locate" with iActor search to provide results for all SAG members
• Adds the ability to publish multiple resumes to public sites
• Changes the way languages are selected; adds options for proficiency and accents or dialects
• Allows additional cross-platform interfaces to share data with third-party casting services

For more information, visit iactor.org or e-mail info@iactor.org.
Branch and University Co-Host Table Readings
Screen Actors Guild and the University of Hawai'i Academy of Creative Media have joined together to provide another great way for SAG members to hone their craft through table readings. The readings afford members the opportunity to read new scripts and act in roles in a "cold reading" situation. For screenwriters, it is a chance to hear their work read by professional actors. Additionally, should these scenes at some point go before the camera, actors have another opportunity to do what they love – perform well written material. 

When: 9-11:45 a.m., Thursdays, April 1, 8, 15, 22 and 29

Where: University of Hawai'i, Manoa Campus

To sign up, e-mail your headshots and resumes to Joel Moffett at: moffett@Hawaii.edu. Joel will contact you directly with more details.
Hawaii Franchised Agents
ADR Model and Talent Agency
875 Waimanu Street, Suite 607
Honolulu, HI  96814
Agent: Ryan Brown
Subagent:  Nazarene Anderson
Phone: (808) 596-2524
Fax:  (808)  597-8259
E-mail: ryan@adragency.com
Kathy Miller Talent & Modeling Agency
619 Kapahulu Avenue, Penthouse
Honolulu, HI 96815
Agent: Kathy Muller
Subagent:  Joy Kam
Phone: (808) 737-7917
Fax:  (808) 734-3026
E-mail: info@kathymuller.com
Member Orientation
If you are a new member or are new to the Hawaii Branch, you will want to attend a member orientation meeting on one of the following dates:

Thursday, March 18, 4 p.m. at the SAG office

Tuesday, April 13, 3 p.m. at the SAG office

Thursday, May 13, 11 a.m. at the SAG office

RSVP to  bching@sag.org or call the office at (808) 596-0388 to register.
E-mail Address
If you are not listed with SAG, you are not receiving the latest news on productions and what's going on. If you have changed your e-mail address/contact information, please send us your new information.