The Official E-Newsletter of the Georgia Branch
JOINT BARGAINING APPROVED BY SAG

Meeting in a videoconference plenary in Los Angeles and New York on March 13, the Screen Actors Guild National Board of Directors approved 78 percent to 22 percent a joint bargaining agreement with AFTRA for the negotiation of successor agreements for the contracts covering theatrical motion pictures and primetime dramatic television. The AFTRA National Board of Directors previously approved joint bargaining at its meeting February 27.

The motion: "It was moved and seconded that the National Board of Directors approves the Joint Bargaining Agreement for the Television/Theatrical Contracts and instructs staff and counsel to finalize the language of the Agreement substantially in the form presented."

Guild President Ken Howard said, "I applaud the board's action. Bargaining together is a smart decision and voting up this agreement clearly serves the best interests of all SAG members. I'm grateful to the board and look forward to working with our partners at AFTRA toward a successful negotiation."

Added Guild National Executive Director and Chief Negotiator David White, "This is a positive step that delivers a significant benefit to our members. There is no disputing that we are stronger together and joint negotiation of these contracts makes sense for both our organizations."

SAG and AFTRA representatives will meet in the coming days to finalize and execute the joint bargaining agreement. The agreement largely tracks the agreement used for the successful 2009 joint negotiation of the Commercials Contracts and includes the provisions of the existing AFL-CIO facilitated No Raiding/Non-Disparagement Agreement between Screen Actors Guild and AFTRA.

SAG CREATES PERFORMANCE
CAPTURE COMMITTEE

Screen Actors Guild's National Board has just created a National Performance Capture Committee. The creation of the committee stemmed from a meeting of performers who have experience with this type of work. The meeting, organized by the TV/Theatrical Standing Committee and Contracts Department staff, provided these performers with a forum to discuss the effects performance capture will have on the work of actors and SAG contracts going forward.

The National Board appointed Woody Schultz as national chair of the committee. Schultz has extensive experience in this area, including work on films such as Beowulf, The Polar Express and Avatar.

Performance capture is the process of recording actions and emotions of human actors, and using that information to animate digital character models in 2D or 3D computer animation. Though not necessarily a new technology, performance capture is evolving and has recently garnered much attention due to the success of films such as Avatar and A Christmas Carol.

Schultz and the rest of the committee hope to raise awareness about this important area of work and will investigate and give voice to the unique concerns and experiences of those members rendering performances across all media that are recorded using performance capture technology.

Wages and Working Conditions caucuses will be held soon for the upcoming TV/Theatrical Contract negotiations in the fall. We encourage all SAG members who work in performance capture to share their experiences and concerns with the committee.
SAG.ORG UPGRADES
ONLINE EXPERIENCE

Our website has improved once again. More content-packed and user-friendly, the recent upgrades to SAG.org help you get what you need immediately, while keeping pace with the technology that the world uses to communicate.
News and Knowledge Right Away

With a refreshed home page design, the news that matters most to you is positioned front and center. Be up-to-the-minute on SAG National Board decisions that may affect your life as a working actor, learn about changes to your contract, plan to attend upcoming panel discussions and networking opportunities that could help you land work, and receive member alerts that protect your interests by warning against scams or other career pitfalls. We take away the uncertainty that you'll miss out by making this information the first thing you'll see.
Volumes of Video, Courtesy of SAG TV

In addition to a featured video at the top of the new SAG.org home page, you're also one click away from the improvements to the SAG TV section of the site, which includes access to our always growing archive. You can search content by subject matter groupings, based on your interests. Convenient icons even give you a preview of what you'll see, and a new expanded video viewer allows for high-quality widescreen viewing.
Easy Access to SAG's Social Networks

SAG knows the importance of social networking to you. As another new convenience, you can follow us on Facebook, Twitter, RSS and with a new iPhone app. Simply click the icons on the left side of the home page.
Producers' Center – One-Stop Convenience

Meeting your needs is important, and so is meeting the needs of our employers. After all, improving their online experience makes it easier for them to create work for Guild members! Everything a producer needs to work with SAG is available in one place in our new Producers' Center. There, anyone who wishes to make any kind of SAG project, for any platform, can find all of the resources needed to do so. Rate sheets, sample contracts, FAQs and more – it's all conveniently accessed via the home page.
BE CONNECTED

We hope you're enjoying your SAG e-newsletter. It's designed to connect all Screen Actors Guild Georgia Branch members.

Send your comments, questions and suggestions for topics to Branch President Wilbur Fitzgerald georgiapresident@sag.org or Branch Executive Melissa Goodman at mgoodman@aftra.com.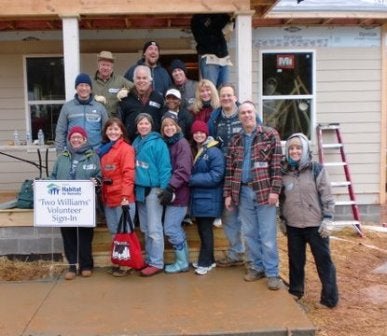 SAG and AFTRA members pause for a group grin after the Habitat for Humanity construction.
From the Branch President
By Wilbur Fitzgerald

It was a dark and stormy night . . . Well, not exactly, but it was a nasty rainy day in January when an impressive group of SAG and AFTRA members applied their construction skills to a Habitat for Humanity house in Atlanta. Following the proud tradition of volunteering and giving back to the community, a stalwart group of union performers spent the better part of a cold Saturday working on the latest "Two Williams House" being constructed in memory of Annette Stillwell's late husband Bill and late son Willie. Our beloved Annette and her sister Lisa Smith helped direct the efforts of the volunteers as they installed interior insulation, applied outside siding, and went up and down ladders doing any number of other related construction activities to this house in progress.  

A few weeks ago I attended the dedication ceremony for this completed house, and Annette conveyed her heartfelt thanks to our members who not only gave of their time but also made monetary contributions toward the construction of this beautiful new home.

There will be many more "Two Williams Houses" planned for future Habitat builds, and I encourage all of you to join in the effort to honor Annette and her family. The Stillwell family has played an important part of our acting community for more than 30 years in Atlanta by casting thousands of our union members in commercials, movies and other productions. A big round of applause to all who continue to volunteer their time and efforts for such life affirming projects such as "The Two Williams House."

Have you started to notice more and more movie and television productions around the state?  Maybe you've been auditioning and getting booked on some of the new projects already underway in 2010. Once again Georgia is experiencing unprecedented growth in the production of films, television shows, commercials and music videos.  Out of all the locales that offer some kind of production tax incentives, Georgia now ranks consistently in the top five states considered for producing a movie or television pilot or series.

Just to give you a snapshot of the Georgia production that occurred in 2009, there were qualified production expenditures of $716.7 million in film and television, $23.8 million in commercials, and $1.6 million in music videos.  By comparison, there was $294.7 million for film and television production in 2008, and 2010 expenditures are expected to exceed those made in 2009.  In 2009 Georgia experienced a record number of productions around the state:  14 major studio features, 12 independent films, 36 TV movies or series and a significant amount of commercial production.   

As part of all this new production growth that resulted from the 2008 tax incentive law, we are now hearing about plans for new studio facilities around the state as well as the development of other support services and facilities. I have maintained a watchful eye on the Georgia Legislature this year, and so far there have been no proposals that would undermine the growth we are experiencing in the production community. To borrow a campus slogan from Faber College in the movie Animal House, i.e., "Knowledge is Good," I would have to say the word around the campus of state government during this tight budget year is "Production is Good."  

We hope the state continues to understand how important movie and television production is to the overall economic impact to Georgia. I and many others in the production community remain vigilant to keep our tax incentives in place as we once again become one of the top choices for production outside of Hollywood and New York.

With all the new productions scheduled for Georgia this year, it is my hope that our SAG members will experience many good opportunities to work in films, television shows and commercials. Let's put forth our best efforts as we prepare for auditions and go before the cameras. I encourage all of you to join a class or maybe even start a class in order to stay at the top of your game.  

Here are some notes I made from a recent audition class I took from my acting teacher in New York that might prove helpful to you in a call back situation:
•    See if you can get some notes or guidance for the next audition from the director or casting director.
•    If you can't get that, continue in the same direction, but make your choices deeper, more personal and more specific.
•    Wear the same thing if it helps you, but don't be afraid to wear something different if your interpretation has advanced. If you can't tell, do your preparation and go to your closet. See what feels right.
•    Do the work, do the work, do the work. Being less than prepared is a good way to soothe your ego if you don't get the part, but it's a lousy way to build a career.
•    It's a subjective business, so don't take it on if you don't get a part. Chances are, it has nothing to do with what you can control. Control the things you can: your level of preparation, your commitment and concentration.
•    For those few minutes in the callback, it's your baby. Make it your own.

And let's always remember to remind our fellow performers about the important role Screen Actors Guild has played in the lives of professional talent by improving the wages and working conditions of all actors.  We grow a stronger union by bringing more performers into our fold, and there is no better way to do that than by sharing your story as a proud union member when you're out there working.
As The First Quarter of 2010 Comes To an End
By Debra Nelson
National Board Director

The first quarter of 2010 ends on a very positive note as the SAG National Board voted to approve a joint bargaining agreement with AFTRA for the upcoming TV/Theatrical Contract Negotiations. The agreement will follow the traditional guidelines and principals of Phase One, along with terms agreed upon during Joint 2009 Commercials Contracts negotiations. A key component of the new TV/Theatrical Joint Bargaining Agreement will once again be a non-disparagement clause, which calls for stiff financial penalties for violations.

There's a saying about failing to learn from the mistakes of the past and being destined to repeat them. The membership cannot afford another two years of negotiations or millions of dollars in lost wages. So I'm hopeful that we have indeed learned a valuable lesson from the last negotiations. More importantly, I have confidence in the leadership of National Executive Director and Chief Negotiator David White and our president, Ken Howard. Both see the necessity and benefit of improving relations with AFTRA. Both understand industry trends, the impact of technology on the industry and the reality of the economic times we face. And I feel confident that both will bargain in good faith while negotiating the best contract possible for members of the Guild.

I should have more specifics to report regarding the negotiating process (W&W committees, timelines, goals and priorities, etc) following the April plenary. I also expect to call upon your participation in the W&W process soon thereafter.

Your participation is also encouraged in other areas, including the SAG Foundation's LifeRaft events on streaming video. For years, we've complained that Branch members have not had equal access to events designed to enhance our careers. But technology has opened the door for members to have access, and we need to step through it and take advantage of the programs if we want them to continue to be made available.  So the next time you receive an e-mail about a webinar or streaming video, be sure to mark your calendars and log in to learn.

The end of the first quarter also marks the end of another qualifying period for pension and health eligibility. Are you pursuing earnings under every contract available? The Low Budget Film Contract? The SAG Commercials Contract (both principal and extra terms)? I've often heard members say that they won't work as extras anymore, for example. But consider two things before you turn down work. Falling just a couple of hundred dollars short of the earnings requirement for benefits (the equivalent of just one SAG extra job) could cost you thousands in P&H benefits – leaving you and your family without medical coverage for the following year. And believe it or not, those coveted upgrades do happen.  Take for example member Helen Ingebritsen, who said yes to working as an extra on a Georgia Lottery commercial in December and was upgraded to a principal. Working as an extra under the Commercials Contract paid off for her and her family in a big way.

So let your agent know that you are willing to work the contract. You'll be glad you did.

The start of the second quarter means April 15 is just around the corner. Don't forget that one of the companies offering members a discount on their services as part of our Give Us A Break Program is Georgia Bookkeeping. The company specializes in tax preparation and payroll for small businesses and the self-employed. Members get a 15 percent discount on their services. Make sure you get all of the deductions you're entitled to as a self-employed actor. Contact Tommie Whitaker at (770) 977-9829.

If your plans call for new headshots or duplication of your existing headshots, membership entitles you to a discount on both. Our friends at The Pixel Pusher offer 15 percent off photo reproduction services. Contact The Pixel Pusher at (404) 781-1111. Members receive 10 percent off a new headshot with Teryl Jackson Photography. Contact Jackson at (770) 218-6138.

Visit SAG.org for a list of companies nationwide that offer discounts to union members. Note: All Deals & Discounts are administered by entities independent of SAG. Questions about each offer must be handled by the providers. The Guild does not endorse any of these services.
Share Your New Media Work Experiences
Have you taken the New Media Work Experience Survey yet? If not, then we need your input.

With your participation, this survey will deliver the most current snapshot of the Guild's involvement in new media entertainment. The resulting data will be crucial to identifying the effects of the TV/Theatrical Contract ratified in 2009 and to informing the next round of negotiations, slated for October.

This brief multiple-choice survey is completely anonymous. It also includes opportunities to elaborate on your work experiences, should you wish.
Don't delay. Log in at SAG.org today and click on the Member Survey box to get started. Your responses will be invaluable in the next Wages and Working Conditions process!

Questions? E-mail us at newmedia@sag.org.