The Official E-Newsletter of the Georgia Branch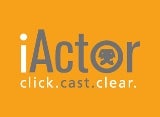 ALL ABOARD iActor 3.0

Online Casting Database Now Simpler and Faster
Screen Actors Guild has announced new enhancements to the iActor online casting database (iactor.org). The new features enable actors to create profiles that reflect their talents more accurately than ever. The upgrades also make talent searches more focused and easier, a significant benefit for casting agents, producers, new media developers and others needing to cast their projects.
"We recognize that the modern casting process has been refined over many decades, and our goal is to extend the best features of time-tested casting methods into the online space," said Steve Graham, national director of digital marketing for SAG. "We're committed to refining iActor on an ongoing basis to support its functionality and position as a go-to source for the entertainment industry."
"iActor is part of an ongoing effort to utilize technology to better serve our members and our industry partners," said David White, national executive director of SAG. "We will continue to refine our approach and find ways to upgrade the experience, which adds value to the casting process and provides another useful tool for actors to have in their toolkit."
The enhancements are geared toward providing actors with the ability to further personalize their online profiles to better capture their unique attributes that will influence the casting decision. They also improve the functionality of the site by reducing the number of steps needed to perform common tasks. The enhancements include:
Profile enhancements
• Improves published resumes by providing both PDF and HTML formats for more flexibility

• Offers additional options for actor body type, ethnicity and special skills

• Adds description fields for "voice quality" and "sound-alikes" to voice-over resume

• Adds a new integrated media slideshow

• Updates options for gender

• Adds the ability to create custom credit types for more control and flexibility

Functionality enhancements
• Adds drag-and-drop functionality throughout the site for superior ease of use

• Allows the ability to include a mini headshot on printed resume

• Allows the ability to update business contact numbers within iActor

• Combines "Actors to Locate" with iActor search to provide results for all SAG members

• Adds the ability to publish multiple resumes to public sites

• Changes the way languages are selected; adds options for proficiency and accents or dialects

• Allows additional cross-platform interfaces to share data with third-party casting services

iActor is Screen Actors Guild's proprietary online casting database, populated exclusively by SAG members. Launched in 2007, the online resource provides industry professionals with automated Station 12 clearance, detailed actor resumes and multimedia files. It is provided as a free service to all SAG members and is accessible by the industry at no charge. For more information, visit iactor.org or e-mail info@iactor.org.
2010 NEGOTIATIONS:
YOUR INPUT IS CRUCIAL
Every new year is filled with possibilities, and although SAG doesn't have a crystal ball that can foretell the future, it does have the next best thing, and that's information.

Specifically, SAG will have three unique tools to add to its current body of research to inform next year's TV/Theatrical negotiations: the Wages and Working Conditions process, member survey results and industry financial reports.

Early TV/Theatrical negotiations are scheduled to begin October 1, 2010, and run through November 15, 2010. If no agreement is reached in 2010, the June 30, 2011, expiration date will remain in effect.

Wages and Working Conditions

According to SAG contracts staff, Wages and Working Conditions committee meetings (the process where member committees around the country formulate proposals for possible inclusion in the final proposal package) should take place across the country beginning in either May or June of next year. The National Board will set dates for the Wages and Working Conditions process, likely in April of next year.

"We are eager to hear from you. Share your experiences and make your concerns heard," says David White, the Guild's national executive director and chief negotiator. "Such feedback is essential to our negotiations process." Information from meetings will include the individual needs of performer groups.

New Media Work Experience Survey

Additional feedback will be gleaned through methods like the Guild's New Media Work Experience Survey, currently available here for members to take. You can do it today!

Industry Financial Reports

Finally, hard numbers from producers will be available to SAG negotiators for the first time. The terms regarding initial compensation and residuals for work produced specifically for new media were of specific interest in the last round of negotiations. As a result of the 2009 ratified contract, SAG negotiators will have access to industry deals relating to the use of covered pictures in new media.

"Information is crucial, so the more we learn, the better we can advocate for members," says Ray Rodriguez, SAG's deputy national executive director for contracts."
National Board Report
By Debra Nelson

Happy New Year! It's the end of another year and a good time to reflect on the past 12 months to learn from our mistakes as well as our successes.

Yes, as SAG members we certainly had our share of both external and internal obstacles this past year. But let's focus on the positive things that came out of it all as we look forward to making 2010 a better year for everyone. For example, out of all the internal bickering came increased member participation in lots of ways, including involvement in contract negotiations, increased attendance at various caucuses, increased voter turnout and more. And that, my friends was a good thing.

The SAG National Boardroom headed in a more positive direction this fall with the election of Ken Howard as the new national president of the Guild and Amy Aquino as the new secretary-treasurer. Many of the more prominent members who, in the past, were too busy or for whatever reason chose not to become involved in Guild activities and politics suddenly became very active and vocal about the problems we were facing.  As a result, there are many new faces in the National Boardroom ready to move the organization forward. They are united in the best interest of members, regardless of where they live.

The Commercials Contract negotiations finally concluded with gains in rates across the board for members working all areas of the contract. David White returned to the Guild as interim NED and proved to be a driving force in rebuilding our strength at the negotiating table for this and future contract negotiations. Still, in October, his hiring as permanent NED was met with resistance from a small minority, but ultimately was approved. I was proud to serve on the Negotiating Committee as one of the representatives from the RBD and even more proud of the work we accomplished on your behalf.

The Regional Branch Division's annual stand-alone meeting was held here in Atlanta this past June. It was the perfect time for the Georgia Branch to host the meeting, as we celebrated Edith Ivey, recipient of the first ever Howard Keel Award for her service to members. We also honored Steve Fried for his many years of dedication and service as head of the RBD and 3rd vice president of the Guild. Elected as the new 3rd vice president was David Hartley-Margolin from Colorado, who has also been a steady fixture as a leader of the RBD for many years. Again, we thank the many local members who volunteered their time to make the RBD meeting such a huge success that it's still being talked about today. As always, the Georgia Branch set the bar high for Branches considering hosting the meeting in the future.

Finally, I cannot end my report without giving my personal thanks to Mike Pniewski for all that he has done for not only the Georgia Branch, but the entire Guild. It has been my pleasure to work side by side with you for so many years in so many different capacities.  We've made a good team, my friend, and I will miss you in the National Boardroom, but I am pleased you will remain on the local SAG Council, for your wisdom is invaluable.

And now, I extend a hearty welcome to our newly elected SAG Georgia Branch President Wilbur Fitzgerald. Wilbur already has accomplished much for Georgia members through his work on the tax incentive. I look forward to our new team and feel confident we will be able to accomplish lots more for the membership.

And I thank each of you for the confidence you place in me by allowing me to continue to represent the Georgia Branch.

Have a wonderful holiday and a happy and prosperous new year!
Branch President's Report
By Wilbur Fitzgerald

First, I would like to say a few words of thanks to my predecessor, Mike Pniewski. For the past eight years, Mike has served our Guild with passion, intelligence and dedication. When Mike arrived in Georgia with his family a number of years ago, he was already a well known, established actor who was making a living in episodic television, feature films and commercials. As our local SAG president, Mike was an outspoken leader and served on the national level by working on numerous committees and was elected as the chair of the Regional Branch Division.  Mike brought significant attention and SAG  resources to the Georgia Branch at a critical time in our union's history. A big round of applause goes out to Mike Pniewski as I step to the stage to serve as your new president of the Georgia Branch of Screen Actors Guild.

As I begin my term, I ask you this question: Why are you a member of Screen Actors Guild?

Because we live in a "right to work" state, we are well aware of our choice regarding union membership. We all know actors who are SAG-eligible but have decided to continue as non members in order to work non-union. While any performer has the right to make that choice, most actors whose work I admire are SAG members in good standing. Along with the choice to become a professional actor comes the responsibility to work on developing your craft, adhering to professional standards of conduct, and improving wages and working conditions for fellow performers. We have all heard stories about those non-union jobs where the pay was lousy and the working conditions were dreadful.

For most of us who take the profession of acting seriously, we began early setting our bars high by joining Screen Actors Guild and other performers unions as soon as we became eligible. As your president, I will make every effort to strengthen our organizing efforts by spreading the good word about union membership, and I ask for your help in this process. I am encouraged by the new atmosphere in our national boardroom, and I hope we can begin a new era with our communications between SAG and AFTRA.  I can only imagine how much we can strengthen future contract negotiations if we bring new members into the fold and come to the bargaining table arm in arm with AFTRA.

I also want to say a few words about the current level of movie and television production in Georgia. As most of you know, Georgia has some of the most competitive tax credit production incentives in the United States. I have been involved in this tax incentive effort since 2007, and I will continue to work closely with the state as well as with the Georgia Production Partnership to maintain and strengthen Georgia's position as a "film friendly" location. The Georgia Film Office recently reported on fiscal 2009 being the highest on record for production investment in the state of Georgia. More than $591 million in production investment translates into more than $1 billion in financial impact for the state. Fiscal 2010 is expected to be yet another record year. I anticipate this robust production climate in Georgia will mean many new job opportunities for our members. I encourage you to do good work and spread the word about Georgia's growing reputation as the production capitol of the South. This year our members have shown up in box office hits like The Blind Side and Zombieland, and will be in future releases such as Life As We Know It, The Last Song, The Crazies, The Conspirator, The  Joneses, Get Low, Five Killers and I Can Do Bad All By Myself. Tyler Perry's studio continues to put our members to work on his television shows House of Payne and Meet the Browns. As the list of new productions grows in the days ahead, I look forward to seeing our members working on movie and television sets all across the state.
Back To Basics For A Better Audition…
A while back some local casting directors gave their input on a few "dos and don'ts" for a good audition. Since it never hurts to repeat sound advice, we thought we'd share a few of their thoughts and (paraphrased) comments once again.

Talent waiting to audition should be spending their time preparing. Loud conversations in the waiting area are disruptive and show a lack of professionalism. Actors who do this on several occasions are less likely to be called in again.

TIP: Take the personal conversations outside, but don't make them have to come looking for you.

Coming to an audition without enough headshots is a no-no. So is arriving with a headshot in one hand and a resume in the other and asking for a stapler.

TIP: Always have two-three headshots/resumes with you. You never know how many will be requested.

I might see several dozen or even a hundred or more actors during auditions. I really don't want to shake hands with that many people, especially during cold and flu season.

And I really don't want to smell a hundred different colognes either.

TIP: Don't attempt to shake hands unless the casting director, director, producer, etc., offers their hand first. Simply say hello, hand the person your headshot if taking it in yourself and take your mark. And save the cologne for date night.

Bringing someone in because they have the look I want for a particular role, only to have him or her arrive looking nothing like the headshot is aggravating and it's a good way not to be requested again.

TIP: A current headshot is a basic requirement of the profession that you simply can't do without if you want to be successful. Does your headshot look more like your old yearbook photo? Is your haircut drastically different or your hair a totally different color? Was your picture taken five years ago, or maybe 25 pounds ago? Then it's time to invest in your career and get a new headshot now.


UNION PLUS PROGRAMS
FOR HARD TIMES

As a Screen Actors Guild member, you always can rely on Union Plus to provide great benefits, rain or shine. But in challenging economic times, these discounts and programs can be even more valuable.
Credit counseling: All SAG families can get free credit counseling services, budgeting advice and no-fee debt management and bankruptcy counseling benefits. Call (877) 833-1745.

Prescription discount: SAG members can get a free online prescription discount card to save on out-of-pocket prescription costs here.

Financial education: Union Plus offers a host of resources with tips, tools and calculators to get you on the right track. They include UnionDebtHelp.org and UnionPlusRetirement.org.

Foreclosure prevention: If you're worried you might lose your home, call the Union Plus Save My Home Hotline at (866) 490-5361 any time, day or night, to avoid foreclosure.

Scholarships: Click here to see how Union Plus helps you afford the education and training working families need to get ahead.