The Official E-Newsletter of the Detroit Branch
JOINT BARGAINING APPROVED BY SAG

Meeting in a videoconference plenary in Los Angeles and New York on March 13, the Screen Actors Guild National Board of Directors approved 78 percent to 22 percent a joint bargaining agreement with AFTRA for the negotiation of successor agreements for the contracts covering theatrical motion pictures and primetime dramatic television. The AFTRA National Board of Directors previously approved joint bargaining at its meeting February 27.

The motion: "It was moved and seconded that the National Board of Directors approves the Joint Bargaining Agreement for the Television/Theatrical Contracts and instructs staff and counsel to finalize the language of the Agreement substantially in the form presented."

Guild President Ken Howard said, "I applaud the board's action. Bargaining together is a smart decision and voting up this agreement clearly serves the best interests of all SAG members. I'm grateful to the board and look forward to working with our partners at AFTRA toward a successful negotiation."

Added Guild National Executive Director and Chief Negotiator David White, "This is a positive step that delivers a significant benefit to our members. There is no disputing that we are stronger together and joint negotiation of these contracts makes sense for both our organizations."

SAG and AFTRA representatives will meet in the coming days to finalize and execute the joint bargaining agreement. The agreement largely tracks the agreement used for the successful 2009 joint negotiation of the Commercials Contracts and includes the provisions of the existing AFL-CIO facilitated No Raiding/Non-Disparagement Agreement between Screen Actors Guild and AFTRA.

REMEMBER COFFEE AND CASTING

Have we heard from you about Coffee and Casting?  It's the Detroit Branch's innovative effort to assist SAG members with iActor.  iActor is the Guild's free online casting service that allows members to create and publish resumes, headshots, audio and video. Casting directors use iActor to search and source talent. Having the Michigan members sign up on iActor is especially important because the Michigan film incentive package has brought new theatrical work to the state.

The design of Coffee and Casting is to have member-to-member iActor training with mutually convenient times and coffee shop locations. One experienced member can train up to three novices while drinking coffee in a relaxed atmosphere. It is the hope that an easy and pleasant experience will increase the number of iActor participants. If you wish to participate in this important activity, please respond to mfishman@sag.org.

SAG CREATES PERFORMANCE
CAPTURE COMMITTEE

Screen Actors Guild's National Board has just created a National Performance Capture Committee. The creation of the committee stemmed from a meeting of performers who have experience with this type of work. The meeting, organized by the TV/Theatrical Standing Committee and Contracts Department staff, provided these performers with a forum to discuss the effects performance capture will have on the work of actors and SAG contracts going forward.

The National Board appointed Woody Schultz as national chair of the committee. Schultz has extensive experience in this area, including work on films such as Beowulf, The Polar Express and Avatar.

Performance capture is the process of recording actions and emotions of human actors, and using that information to animate digital character models in 2D or 3D computer animation. Though not necessarily a new technology, performance capture is evolving and has recently garnered much attention due to the success of films such as Avatar and A Christmas Carol.

Schultz and the rest of the committee hope to raise awareness about this important area of work and will investigate and give voice to the unique concerns and experiences of those members rendering performances across all media that are recorded using performance capture technology.

Wages and Working Conditions caucuses will be held soon for the upcoming TV/Theatrical Contract negotiations in the fall. We encourage all SAG members who work in performance capture to share their experiences and concerns with the committee.
SAG.ORG UPGRADES
ONLINE EXPERIENCE

Our website has improved once again. More content-packed and user-friendly, the recent upgrades to SAG.org help you get what you need immediately, while keeping pace with the technology that the world uses to communicate.
News and Knowledge Right Away

With a refreshed home page design, the news that matters most to you is positioned front and center. Be up-to-the-minute on SAG National Board decisions that may affect your life as a working actor, learn about changes to your contract, plan to attend upcoming panel discussions and networking opportunities that could help you land work, and receive member alerts that protect your interests by warning against scams or other career pitfalls. We take away the uncertainty that you'll miss out by making this information the first thing you'll see.
Volumes of Video, Courtesy of SAG TV

In addition to a featured video at the top of the new SAG.org home page, you're also one click away from the improvements to the SAG TV section of the site, which includes access to our always growing archive. You can search content by subject matter groupings, based on your interests. Convenient icons even give you a preview of what you'll see, and a new expanded video viewer allows for high-quality widescreen viewing.
Easy Access to SAG's Social Networks

SAG knows the importance of social networking to you. As another new convenience, you can follow us on Facebook, Twitter, RSS and with a new iPhone app. Simply click the icons on the left side of the home page.
Producers' Center – One-Stop Convenience

Meeting your needs is important, and so is meeting the needs of our employers. After all, improving their online experience makes it easier for them to create work for Guild members! Everything a producer needs to work with SAG is available in one place in our new Producers' Center. There, anyone who wishes to make any kind of SAG project, for any platform, can find all of the resources needed to do so. Rate sheets, sample contracts, FAQs and more – it's all conveniently accessed via the home page.
Tell Us What You Think

All of these changes would not be possible without SAG National Executive Director David White's commitment to enhance the union's communications capabilities to match or exceed industry standards, the vision of our Guild Website Subcommittee and feedback from  our members.
Let us know your thoughts at sagcommunications@sag.org.
DUES REMINDER

If you haven't done so already, please pay your dues today. If you are not an active, paid-up member in good standing, you may not be able to vote in Guild elections or contract referenda or be eligible to serve on the council or committees. You also must be paid to date to register on iActor, the Guild's online casting program, which is now being used by casting directors nationwide. If you have any questions regarding your dues, please contact the Cashiers Department at (800) SAG-0767, prompt 2, or (212) 944-6243.

Message from the Branch President
By Peter Tocco

Let's talk about agents. I believe that we need them in this market. They help shape our careers, advise on what we need to do to better ourselves in a competitive industry, and when we get booked on a job, they process all the paperwork, negotiate our rate and give us the details of the job. They do all this and more and all they ask is a 10 percent fee. So you can imagine my surprise when I met with one of our local agents and they informed me that they are owed long-overdue commissions that many of our actors have not paid.

I cannot express the importance of paying your commissions in a timely manner. Agents look to these commissions to pay their day-to-day operating expenses, and if they cannot pay their expenses, then they cannot stay in business. If they go out of business, then that hurts all of us. Your Screen Actors Guild union holds their commission to 10 percent; not a lot of money to pay your agent. If you are not sure if you owe any money, simply ask them if you do. And if members are not paying their commissions, then our SAG staff can step in and ask that the agents are paid.
I personally have my checks go directly to the agent so they can take their commission and send me the rest. This involves no work on my part. Please, let's do our part and help our agents by sending them the commission they deserve. Remember, if they go out of business, 10 percent of nothing is nothing.
Coming Together
By Ed Kelly
National Board Representative

One of my most daunting days as a unionist was being in the Century Plaza Hotel in Los Angeles when the leadership of AFTRA marched into the room in unison to announce from our own microphones that under the current SAG leadership, AFTRA could not bargain a new contract under Phase One (an agreement to do just that). There was a very clear message that there was something terribly wrong at the top. But going forward, I hope that we are truly recognized as a national union, without distinctions of what types of actors are more valuable than others. Actors may do background work, voice acting, large principal theatrical roles or stunts. There may be different pay scales, but there should be no class distinctions.

Those who recently recognized SAG as a national union stepped up to challenge the status quo and attempted to do what so many actors want, cement a strong relationship between SAG and AFTRA that may eventually result in merger.  It appears that under the leadership of President Ken Howard and Secretary-Treasurer Amy Aquino, seeds for such a movement are starting to take root. In fact, at the National Board of Directors meeting on March 13, 2010, by 78 percent to 22 percent, the following motion was approved:

"It was moved and seconded that the National Board of Directors approves the Joint Bargaining Agreement for the Television/Theatrical Contracts and instructs staff and counsel to finalize the language of the Agreement substantially in the form presented."

There are many complex and weighty affairs to work out. SAG and AFTRA are like a couple that has been through a rough patch and are now in therapy where trust must be re-established. But I have never felt better about our prospects.

There is a "trains running on time" agenda and the importance of a "national" union is being taken seriously by many.  SAG and AFTRA are your unions. Step up. Take a stand. Get involved. The challenge has never been more important than it is now for these unions. The livelihoods of the next generation of middle class actors are at stake. Live, love, learn, but above all – leave a legacy.

And to the Detroit SAG council members, I could not be more proud of your cooperation, your selflessness and your hard work for, and consideration of, the next generation of Michigan talent.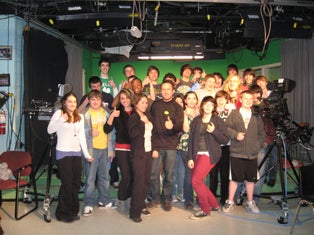 Councilor Ele Bardha and films students at Dearborn High School give thumbs up to SAG-assisted programs for youth.
Planning and More Planning
By Marcia Fishman
Detroit Branch Executive Director

It seems that I've been involved with a lot of very important planning sessions. First, my fellow SAG staff members have been working on a strategic plan to organize non-members. If we dry up the talent of the non-union performers, then producers will have more incentive to sign their projects to union contracts. To that end, the Detroit SAG Council also had a strategic planning session. Councilors were incredibly creative with ideas of how to capture new SAG members.  Such ideas included providing special programs for youth, who might be future members or signatories, and meeting with members of other performance unions.

Recently, I was invited to participate in a "Skills Alliance" planning session with other members of the film community. This meeting took place at the Cadillac Place Governor's Office in Detroit, and the meeting was facilitated by Richard Jewell, manager of workforce development for the Michigan Film Office.  Several in attendance were people directly involved with video game and animation productions.
Finally, during the week following the Skills Alliance meeting in Detroit, the game and animation producers joined me in a strategic planning meeting of our own.  Our tax incentive package incentivizes video games, so we all shared the vision that Michigan might eventually become a hub of game design and production.  This small group created objectives and action steps for the future.  I hope to report great progress on all of our plans in the very near future.
SAG Awards Viewing Party in Grand Rapids
In an effort to introduce SAG to the film community of the west side of the state, the Detroit Branch hosted its SAG Awards viewing party in Grand Rapids. The party was held at a popular downtown grill that played the award show on four televisions. SAG provided appetizers, door prizes and ballots for partygoers to have their own voting contest. In attendance were SAG members and aspiring members, producers, and film school and film office staff members. With a full house, the party was a success and members of the Grand Rapids community are eager to assist in the planning of another viewing party next year.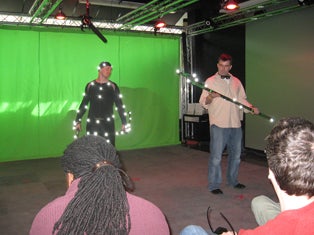 SAG member Nick Jarvis demonstrates motion capture moves as SAG member Dan Lemieux instructs the conservatory on performance capture techniques at Henry Ford Community College Virtual Theatricality Lab.
Announcing Our New Conservatory
By Nicole Hakim Yohn
Detroit Branch Vice President
Chairperson, Detroit Branch SAG Conservatory

I am very pleased to announce that the Detroit Branch now has its very own conservatory, which will extend to you more benefits through your SAG membership.  But it's even more than just another benefit. It goes to the very root of being an actor: developing, enhancing and solidifying the skills of our craft.  

With that in mind, we want to bring to you the classes that are most pertinent to you.  At each conservatory class we will, as a group, decide upon the subject matter for the following class.  In this way, the conservatory will truly be yours because it will give you exposure in areas of your choices of importance and interest.

Your conservatory's goals are many.  One is to enrich you as an actor through the advancement of your skills.  Another is to provide you with added opportunities of networking, i.e. through mutual support of fellow actors, while building upon relationships in the industry. We are very excited to have begun the Detroit SAG Conservatory and look forward to bringing you many new and exciting workshops.

About the Detroit SAG Conservatory
•    The conservatory is designed to expand the craft and business knowledge of the professional performer through participation in classes, seminars, workshops and special events. Although run under the auspices of SAG, no SAG membership dues are used for any conservatory activity.
•    Membership to the Detroit Branch SAG Conservatory is automatic upon the payment of at least one conservatory event per year.
•   You must be a Screen Actors Guild member in good standing to be a member of the conservatory.
Questions Regarding this Newsletter?
Contact Detroit Branch Executive Director Marcia Fishman at
(248) 351-2678, (800) SAG-0767, ext. 7, or mfishman@sag.org.