The Official E-Newsletter of the Detroit Branch
LOOKING BACK ON
THE INCENTIVES

By Marcia Fishman
Detroit Branch Executive Director
The year 2009 was the first full year with the present Michigan film incentive, Public Act 77. And during this past year, there has been continuous debate regarding whether or not the incentive package is a worthwhile venture for our state. Many have wanted to eliminate it or, at the very least, change it. And by the way, Public Act 77 still remains untouched since it passed in April, 2008.

There is one fact not up for argument.  The incentive package has definitely been worthwhile for members of the Detroit Branch of Screen Actors Guild. Forty two productions wrapped in 2009, and 29 of them were signed to a SAG contract. We are experiencing growth in our membership and new respect for SAG. Best of all, there is now a high national regard for the people of Michigan. Go to the Michigan Film Office website at michiganfilmoffice.org and read the positive comments by producers and directors (under "success stories").

Looking forward into 2010, I think of the song "Old Man River" and the words "keep on rolling along."  Let's continually work towards that goal.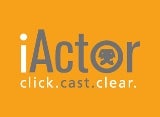 ALL ABOARD iActor 3.0

Online Casting Database Now Simpler and Faster
Screen Actors Guild has announced new enhancements to the iActor online casting database (iactor.org).

Profile enhancements
• Improves published resumes by providing both PDF and HTML formats for more flexibility
• Offers additional options for actor body type, ethnicity and special skills
• Adds description fields for "voice quality" and "sound-alikes" to voice-over resume
• Adds a new integrated media slideshow
• Updates options for gender
• Adds the ability to create custom credit types for more control and flexibility

Functionality enhancements
• Adds drag-and-drop functionality throughout the site for superior ease of use
• Allows the ability to include a mini headshot on printed resume
• Allows the ability to update business contact numbers within iActor
• Combines "Actors to Locate" with iActor search to provide results for all SAG members
• Adds the ability to publish multiple resumes to public sites
• Changes the way languages are selected; adds options for proficiency and accents or dialects
• Allows additional cross-platform interfaces to share data with third-party casting services

For more information, visit iactor.org or e-mail info@iactor.org.
2010 NEGOTIATIONS:
YOUR INPUT IS CRUCIAL
Every new year is filled with possibilities, and although SAG doesn't have a crystal ball that can foretell the future, it does have the next best thing, and that's information.

Specifically, SAG will have three unique tools to add to its current body of research to inform next year's TV/Theatrical negotiations: the Wages and Working Conditions process, member survey results and industry financial reports.

Early TV/Theatrical negotiations are scheduled to begin October 1, 2010, and run through November 15, 2010. If no agreement is reached in 2010, the June 30, 2011, expiration date will remain in effect.

Wages and Working Conditions

According to SAG contracts staff, Wages and Working Conditions committee meetings (the process where member committees around the country formulate proposals for possible inclusion in the final proposal package) should take place across the country beginning in either May or June. The National Board will set dates for the Wages and Working Conditions process, likely in April.

"We are eager to hear from you. Share your experiences and make your concerns heard," says David White, the Guild's national executive director and chief negotiator. "Such feedback is essential to our negotiations process." Information from meetings will include the individual needs of performer groups.

New Media Work Experience Survey

Additional feedback will be gleaned through methods like the Guild's New Media Work Experience Survey, currently available here for members to take. You can do it today!

Industry Financial Reports

Finally, hard numbers from producers will be available to SAG negotiators for the first time. The terms regarding initial compensation and residuals for work produced specifically for new media were of specific interest in the last round of negotiations. As a result of the 2009 ratified contract, SAG negotiators will have access to industry deals relating to the use of covered pictures in new media.

"Information is crucial, so the more we learn, the better we can advocate for members," says Ray Rodriguez, SAG's deputy national executive director for contracts."


CONTACT US

Marcia Fishman
Branch Executive Director
Screen Actors Guild
(248) 351-2678 or
(800) 724-0767
marcia.fishman@sag.org
Our Goals Can Be Simple
By Peter Tocco
Detroit Branch President

Hello my union friends. We came to the end of another year, and what a year it was! Here are some general accomplishments and how we can carry them forward into 2010.

We had a stellar year with the Theatrical Contract. Never have we had so many members work under this contract in one year. A number of producers have been very pleased with the talent, professionalism and overall "niceness" of our members. This next year we can continue to be positive ambassadors for both Screen Actors Guild and for the state of Michigan.

In 2009 new efforts were executed towards the organizing of new members. If the non-union member pool diminishes, producers will have fewer non-union choices and greater incentives to become signatories to our contracts. Going forward, we will step up our efforts to seek out new members.

Coffee and Casting began in 2009. It is a small grassroots program where members teach other members to join iActor. We now have practiced Coffee and Casting and are ready to spread out to new geographic locations.

More national committees and task forces were populated in 2009 by Detroit members than other years in quite a long time. I look forward to encouraging more members to become involved with SAG in the coming months. Whether on a national or a local level, we will show the country that we are a small Branch with big impact in our union.

The overall image of our Detroit Branch continues to improve and grow over the years, and this past year was no different. With respect, SAG staff and members work with legislators, other unions and any other initiatives that are significant to our Branch. During this new year, we should look for more positive ways to build our image – especially because we will probably be fighting Right to Work supporters before the 2010 election. We need to show that the unions and the people of the unions are an essential part of our community. Perhaps we will find new volunteer opportunities, or perhaps we will reach out to new community leaders.

And finally, in just looking forward, may you all have a healthy and happy new year!
Detroit Members Participate Nationally
By Ed Kelly
National Board Representative

I am now in my fourth year as your National Board representative, and I have proudly served with some incredible fellow National Board members.  But I am equally proud to see how many Detroit members have also volunteered and have been accepted on national committees and task forces.  I know each and every one of them personally, and I am confident that they will demonstrate our strong Michigan work ethic.

The following is our Detroit Branch representation:

Nicole Hakim Yohn is a member of the Conservatory Committee, and an alternate on the SAGIndie Committee.

Peter Tocco is a member of the National Agents Relations Committee (NARC), the Membership Application Review Committee (MARC), and the Voice-Over Performers Committee. He is a member of the Casting Online Task Force. Peter is also the North Region Branch president representative on the Regional Branch Division Executive Committee.

Diane S. Jones is a division co-chair of the Equal Employment Opportunities Committee, division vice chair of the New Technologies Committee, and division co-chair of the Young Performers Committee.

Kimberly Stump is an alternate of the Communications Committee and the Legislative Committee.

And I am serving on the Industrial and Education Negotiating Committee, the Screen Actors Inc. Task Force and the Disciplinary Review Committee.

I count 15 national positions held by our Detroit members. Wow! Kudos to all who volunteer their time as they tirelessly work on behalf of our illustrious union.
A Member in the Middle
By Kimberly Stump
Detroit Branch Council Member

I live in Lansing, but I work in both the Grand Rapids and greater Detroit areas. I therefore consider myself a member who lives in the middle of all the action. With all of the film work that has come to Michigan as a result of the incentives, the number of projects in our state has been unbelievable. Most of the work, however, seems to be in the eastern part of the state. Many have asked why.  Here's my opinion – an opinion from someone who bounces from one Michigan coast to the other.

We know that the east side has a long manufacturing industry history with automobile production. And we know that unions have been heavily tied to that industry. Thus, the commercials and industrial films that also have been tied to automobiles have predominately been produced with union contracts.  In comparison, the Grand Rapids area also has enjoyed a strong history of manufacturing industries, especially when it comes to furniture or household products. After all, the west side of the state has housed Steelcase, Herman Miller, Bissell, Whirlpool, Amway, Meijer and many more. Some of these companies have teamed with unions, but many have not. In essence, the majority of film work under union contracts has been produced on the east side of the state, not the west.

Now fast forward to the present, and we see how the theatrical film industry has grown. Production scouts are often impressed with all that Grand Rapids has to offer, but the area cannot offer a dense population of SAG members. Unquestionably, many want to see more film production there, so more SAG members are now needed. And speaking as someone who debated whether or not to join SAG when so much of the Grand Rapids work always has been non-union, I can firmly state that my choice to join was the right one. It took one major non-union job, a commercial, from which I received $300. They  used me for three years – and on an international basis. I realized then that no non-union job is worth the risk to my value and integrity.

The SAG Awards Viewing Party for the Detroit Branch will be in Grand Rapids this year. It is our hope that non-members and non-union producers will join us as we watch a show that brags the status of having a Screen Actors Guild membership card. Non-union actors might be incredibly talented, but there is a perception that SAG members are the true professionals. To anyone who might be in the Grand Rapids neighborhood on Saturday, January 23, please join us. Mingling with non-union talent can only be a good thing towards our membership growth on the west side of Michigan.

Below, please see a notice about the viewing party. I look forward to seeing my fellow members there.

SAG Awards Viewing Party
The Detroit Branch of Screen Actors Guild would like to cordially invite you, your family and friends to the Screen Actors Guild Awards Viewing Party!  
Saturday, January 23, 7  p.m.
Peppino's Downtown Grille & Pizzeria Sports Lounge
Downtown Grand Rapids
130 Ionia Ave SE
Grand Rapids, MI 49503
(616) 456-8444
Appetizers will be provided from 7 - 8 p.m. at Peppino's on the Upper Deck. No host bar.
You also will have the opportunity to purchase dinner.

• Four 40-inch televisions.
• Door Prizes.
• Mock Voting.
 
Don't miss the fun! It's a must-see event! RSVP not necessary, but appreciated to: marcia.fishman@sag.org.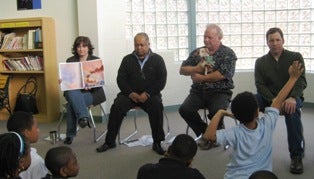 Nicole Hakim Yohn, Greg Russell, Steve Goldsmith, David Dailey Green and (being held) Rudolph the Dog
SAG Members Spread Holiday Cheer
Detroit Branch SAG members celebrate the holidays with Southfield Elementary School children on December 16. With the talent of SAG members, who are able to bring words to life in children's books, students enjoyed listening to two Rudolph stories: one about a reindeer and another about a dachshund. A real dachshund named Rudolph also joined the SAG members, bringing another dimension to this fun-filled afternoon.

When the stories were finished, the actors and kids talked about both Rudolph characters and why it was hurtful to be teased for being different from others. One third-grader remarked, "No one has the right to tease Rudolph or anyone else."