January 15, 2009

REMARKS FROM THE DETROIT COUNCIL PRESIDENT
By Peter Tocco

As most of you know, after extensive negotiations for the TV/Theatrical Contract and an attempt with a mediator, the Screen Actors Guild National Board of Directors agreed to request a strike authorization from its SAG members. A strike authorization would be approved if 75 percent or more of the voters say yes. As you may also know, the original request was to be sent out during the first week of January. That request was postponed.

Whatever happens with the negotiation process, it is my hope that our Detroit Branch members take the process seriously. Please read your mail from SAG and give careful considerations. And by all means, vote whenever the opportunity arises.

It is also my hope that we see better relations with AFTRA in the future. The Detroit SAG and AFTRA offices have a positive working relationship, and I would like to see that carried throughout the country so that a merger will one day be possible.

In the meantime, I cannot stress enough the importance of paying attention to the news from your union, attend any upcoming educational meetings and continue to participate in decisions that influence your future and the future of your brothers and sisters at Screen Actors Guild.


HOLIDAY ACTIVITES FOR DETROIT SAG
By Kimberly Stump
Detroit SAG member

On December 8, the members of Detroit SAG and AFTRA came together to celebrate the winter holiday at the AFTRA office atrium in Southfield.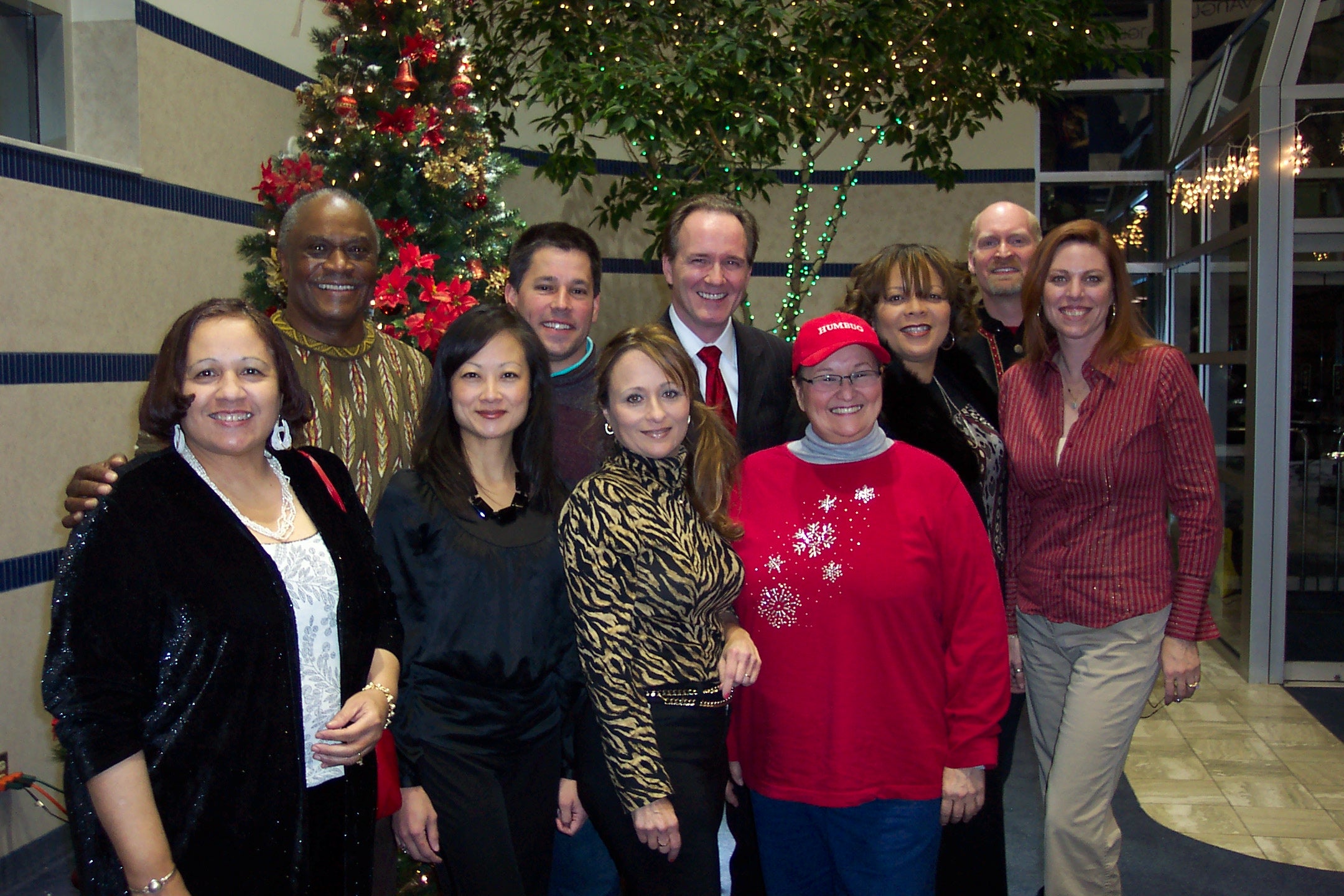 Rhonda Freya English, Judy Dery, Eric Anderson Bare,
Tiren Jhames, Ed Kelly, Aileen Uytuico, Anna Frusti,
Liz Graham, James Cowans and Dianne A. Rhodes

The festivities began with a beautiful spread of delicious food, followed by entertainment from our talented members. In attendance were SAG and AFTRA members, talent agents, staff members and friends of all. In the spirit of the season, food and clothing items were gathered as donations to local charities. Everyone had a great time.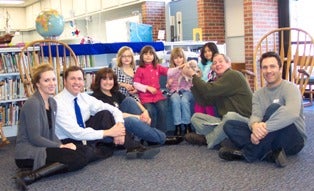 SAG members Kimberly Stump, David Dailey
Green, Nicole Hakim Yohn, Dana Gamarra,
Ele Bardha with Roosevelt School students
holding "Rudolph"

On December 15, SAG members demonstrated how books could be brought to life when they read in front of 50 first graders at Roosevelt Elementary School in Keego Harbor. As a holiday gesture and community effort, five SAG members read two Rudolph stories, one about the classic reindeer, and one about Rudolph the blind and deaf dachshund. Both stories demonstrated how animals were teased because they had different traits or disabilities, and how both animals became heroes because of their noses. The reindeer lit the dark for Santa, and the dog sniffed his way down a hole to save a little bird. With the help of a real blind and deaf dachshund named Rudolph (owned and trained by Marcia Fishman), the SAG members then led a discussion with the children, highlighting the ideas that a person and/or animal can be different and special, and that teasing is never good.

One student demonstrated her understanding of the stories as she asked another child, "I didn't make fun of him [the dog], did you?" And the other replied, "No, me neither. That's mean." The SAG members proved their talents and the students had a memorable experience.


MICHIGAN SAG AND AN AUTOMOBILE INDUSTRY IN DISTRESS
By Marcia Fishman
Detroit Branch Executive Director

The decline of the automobile industry has pervaded our media and dominated our thoughts. We are confronted with business and job losses, and the negative economic effects that follow. And such thoughts have spread throughout the country. When UAW President Ron Gettelfinger fought for a bridge loan, our SAG national president, Alan Rosenberg, graciously sent him a letter which stated, "Please know that we support the endeavors of you and the UAW."

So what do the problems of the auto industry mean for SAG members in Michigan? Our SAG members have depended on commercials and industry films that relate to cars since the late 1940s. The Detroit Branch was established in 1948 because of the need to assist with automobile commercials. This dependency on such work, however, does not necessarily translate into a diminished rate of Michigan SAG jobs. 

When auto sales are down, auto companies often step up their advertising.  Take this example: In order to spark sales during a time of recession, zero percent interest loans are offered. The auto companies and dealerships then turn to advertisements to get out that message and, voila, a SAG job is born. Our challenge lies in the location of that commercial production, i.e. in or out of Michigan.

More than ever, now is the time to bring work back to our state. When a Michigan company has the budget to produce a commercial and buy television time, we rack our brains with the question, "Why not film the production in Michigan?" Michigan SAG staff and members must tenaciously seek positive answers and solutions. The Detroit Branch is the oldest branch in the country, and it is here to stay.


FILM ACTIVITY IN MICHIGAN
The Guild has been contacted by the following productions about becoming signatory to one of Screen Actors Guild's collective bargaining agreements. Please be advised that these producers may not have completed the signatory process at this time. It is the responsibility of each member to confirm that each producer has signed the applicable contract before making an agreement to render services. Failure to confirm the signatory status before rendering services may lead to disciplinary charges being filed.

Titles and Theatrical Contract
ICD-10 — Low Budget
Armored — Theatrical
Seven Below Zero — Theatrical
The Cavern — Theatrical
The Falls — Theatrical
Public House — Theatrical
The Irishman — Theatrical
Every Trace — Low Budget
Knocking on Heaven's Door — Modified Low Budget
The Dock Porter — Theatrical
20% Fiction — Theatrical
Swimmers — Theatrical
Betty Anne Waters — Theatrical
Clock Tower — Theatrical
Right Angle — Theatrical
Stones Point — Low Budget
Chocolate — Modified Low Budget


IN MEMORIAM
Members of the Detroit Branch of Screen Actors Guild mourn the passing of one of its most active members, Randy Godwin. Randy was a familiar and friendly face, known for his roles in Frozen Stupid, Barn Red, Super Sucker, 61*, Escanaba in da Moonlight and Polish Wedding. It is our hope that his family finds comfort in memories of our dear friend, Randy Godwin.


DUES REMINDER
If you haven't done so already, please pay your dues today. If you are not an active, paid-up member in good standing, you may not be able to vote in Guild elections or contract referenda or be eligible to serve on the council or committees. You also must be paid to date to register on iActor, the Guild's online casting program, which is now being used by casting directors nationwide. If you have any questions regarding your dues, please contact the Cashiers Department at (800) SAG-0767, prompt 2, or (212) 944-6243.


UNCLAIMED RESIDUALS: GET YOUR MONEY!
Screen Actors Guild is facing a dilemma: getting performers or their heirs to collect their unclaimed residuals. A surplus of unclaimed residuals sits unable to be sent out. Although the Guild knows to whom these funds belong, it can't send the checks to these performers, in most cases because the Guild doesn't have the correct mailing information for the residuals recipients. Some residuals checks belong to nonmembers or one-time actors, many of whom aren't even aware that they have residuals coming to them. In an effort to reduce this surplus, the Finance Committee is embarking on a marketing campaign to get the word out to possible residuals recipients. The campaign, called "Get Your Money," will reach out to SAG members and non-SAG members through internal publications and online campaigns. If you would like to see whether you have residuals owed to you, visit www.SAG.org/GetYourMoney. Enter your name and "Get Your Money!" Have questions or want to speak with a residuals representative? E-mail residualtrust@sag.org, or call (800) 205-7716 or (323) 549-6535.


A MESSAGE FROM THE SAG FOUNDATION
Since 1985, the Screen Actors Guild Foundation has embraced its mission to assist, educate and inspire actors to their fullest career potential and to give back to the communities in which they live. While we are not a part of Screen Actors Guild, we are dedicated to serving its members.

From Board of Directors to staff to volunteers, the foundation's diverse makeup is a large component of this non-profit 501(c)3 organization's success. Governed independently of the Guild, the non-political, non-partisan foundation is a collective body bringing different personalities, attitudes and opinions together in service of actors who, like us, come from all walks of life.

Chances are that we've already helped you, or someone you know, with financial assistance in a time of crisis, scholarship monies, efforts we make toward children's literacy, time spent in the Actors Center (the only resource center of its kind in Los Angeles), or seminars, workshops and other career-informing events. In any case, please visit our website at www.sagfoundation.org to find out more about us.

Our work is rewarding, but not easy. Our programs and benefits are supported not by your Guild membership dues or fees but by grants, donations and our own fundraising efforts. Resources are limited, and times have been exceptionally hard. Our Emergency Assistance program, overtaxed by economic blows such as the recent Writers Guild strike which put countless actors out of work, has far exceeded its budget and the livelihood of the foundation as a whole is in delicate balance.

It takes an actor to understand an actor's struggle. Most of us at the foundation are actors, and by learning more about the Screen Actors Guild Foundation, we hope that you will gain a greater understanding of our work and what it takes to keep us going. Your tax-deductible donation can make a huge difference in the life of a fellow actor. You can donate online whenever you wish, make automatic monthly donations, or send us a check made payable to Screen Actors Guild Foundation. You can also think about residual checks, no matter what their size, which might benefit your peers by signing them over to the foundation as a charitable contribution.

Meanwhile, we also encourage you, as a SAG member, to think about the services we make available in support of your own career. Knowing, understanding and giving to the SAG Foundation is an investment not just in the foundation's livelihood, but in yours.

Screen Actors Guild Foundation
5757 Wilshire Blvd., Suite 124
Los Angeles, CA 90036
phone: (323) 549-6708
fax: (323) 549-6710


QUESTIONS REGARDING THIS NEWSLETTER?
Contact Marcia Fishman, Detroit Branch executive director at (248) 351-2678, (800) SAG-0767, ext. 7 or mfishman@sag.org.


---
For address changes, removals, and misdeliveries, please follow the procedures at:
http://www.sag.org/Content/Public/Email_OptOut.htm