The Official E-Newsletter of the Detroit Branch
DETROIT COUNCIL ELECTION

The Detroit Branch nominating committee nominated four incumbents to serve another two-year term on the Detroit branch council. Since they ran unopposed, the following people won by acclamation:
Ele Bardha
Laurie Logan
Kimberly Stump
Eric Wydra

We congratulate them and look forward to their dedication and service for this next two-year term.

NEW TECHNOLOGY:  Q & A FROM THE COMMERCIALS DEPARTMENT

Q:  I saw my commercial on an advertiser's Facebook page and I received payment for Internet use.  However, I can now access that same Facebook page from my iPhone. Should I also receive a new media use payment?

A:  The Facebook application on your iPhone obtains content through a web browser, so the use is still considered Internet use, even though you are viewing the content on your cell phone.  You would not receive a new media use payment for this. 

Q:  A magazine inserts a video chip into one of its issues. The video chip, when activated, plays a commercial. How is this paid?

A:  This is paid under the Commercials Contract as new media use. The concept is the same as a birthday card that plays a song when you open it, except that instead of an embedded tune, there is an embedded commercial with moving footage.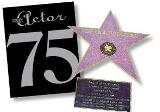 ILCA HONORS SAG
COMMUNICATIONS

Screen Actors Guild has been recognized for communications excellence by the International Labor Communications Association. The Guild won First Place in the International/ National Publications—Magazine category for issues of Screen Actor published last year, as well as Third Place in the Multimedia Campaigns category for the 75th anniversary multimedia campaign. The awards were presented in Pittsburgh earlier this month.

"This is a singular honor that places us at the very top of union communications and we are all quite proud of the achievement," said SAG Communications Executive Director Pamela Greenwalt, who will accept the award on behalf of SAG.

Credit for the 75th anniversary win in particular is due to the President's Task Force on the 75th Anniversary, chaired by former SAG President Kathleen Nolan; task force liaison and staff lead Kathy Connell, who oversaw many aspects of the effort; and all of the division executives and members who developed local and regional programs for the anniversary year.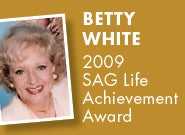 READ ALL ABOUT HER

Check out the next issue of Screen Actor magazine for an interview with Betty White, the 2009 SAG Life Achivement Award recipient. In mailboxes in November!






THE KINDNESS OF ACTORS

By Marcia R. Smith
Executive Director
SAG Foundation 

Generosity: nobility of behavior. 

A year ago the Screen Actors Guild Foundation in cooperation with the Screen Actors Guild Residuals Department began a campaign requesting that SAG members donate their small residuals to the SAG Foundation to support the many programs offered to members and their families.

In these difficult economic times, the response to this campaign has been inspiring. The SAG Foundation has received checks from one cent to $150. The checks come with notations  like: "It's not much, but here it is," "Why didn't you do this years ago," "I still feel connected to the business," and "I wish it were a million."

The checks come from members who have been acting for 50 years and those just starting their journey. There are names who are legends in the industry and those striving to become legends. The SAG Foundation receives residual donations from every state in the Union. All giving with the same purpose in mind.

Actors have a long history of giving: talent, performances, time, sweat, tears and even blood. Actors are always on the front lines of support, caring and giving. And once again, actors have answered the call to help other actors in need of financial support, health care benefits, children's literacy, community outreach and the simple gift of passing on their knowledge and experience to members beginning to establish their own careers in a highly competitive profession.

The Screen Actors Guild Foundation is profoundly grateful to all the SAG members who have expressed their nobility of behavior by donating their residual checks. We would also like to acknowledge the Residuals Department and the Finance Department for their cooperation in making this program possible.

You would be amazed at how the small (and not so small) amounts add up to the SAG Foundation being able to continue to provide assistance to SAG members and their families. With help from our friends, we continue to "pay it forward." 

Editor's Note: The SAG Foundation operates independently of Screen Actors Guild and relies solely on grants, donations and fund-raising efforts.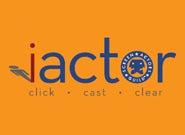 Remarks from the Branch President
By Peter Tocco
Hello my union friends! I wanted to briefly recap what a wonderful annual SAG membership meeting we had on September 12. I am doing this not only because it was exciting and worth mentioning, but because I want those who do not attend our annual meetings, to understand how interesting and important they can be.

At this past meeting, our members had a chance to learn acting methods that are needed for work in video game production, work that falls under the Interactive Agreement.

First, we heard about performance capture from Dr. George Popovich, director of the Henry Ford Community College Virtual Theatricality Lab. Performance capture is the process of recording movement and then using that movement or information to animate digital character models in 3-D animation. Dr. Popovich and his staff used visual arts to explain how motion capture is developed, and how it is then used for theater and film, including game designs.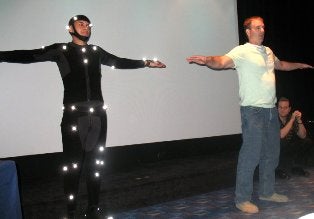 Andrew Cuschieri and Dan Lemieux (SAG member and
stunt performer) demonstrate performance capture.

Following this, we had a presentation from Thad and Pam Johnson, owners of Critical Moves, a Michigan motion capture company. They gave pointers on what performance capture producers look for in an actor, including the appropriate skills and attitude.

They also praised SAG members as true professionals, and stated, "It (good production) all starts with being a member of SAG." Production of video games has the potential to increase work for SAG members here in our state, so their presentation was very important.
  
Finally, our members learned firsthand, what they need to do to gain a competitive edge in the gaming market.  It was valuable information for all to hear. Dan Lemieux, a very experienced SAG stunt performer, spoke on "the day in the life of a performance capture performer." He also demonstrated some of the work.

So much information was given at this meeting and I couldn't help but think about all our members who could not attend. To those who were not there, you really missed a great opportunity. It would be in your best interest to try and make it to all of our SAG get-togethers. 

In addition to learning about what's happening in our guild on a local and national level, we always try to incorporate a speaker or workshop that will help further your career and give you the tools you need to better your craft. We also launched our conservatory, i.e. classes which will give our members an opportunity to hone their skills and learn more about the business.
 
Make sure you are a part of your guild by attending these events when they happen. Also make sure you are kept "in the loop" and notified when auditions, workshops, meetings and events occur. Call or e-mail Marcia Fishman and make sure we have all your contact information. Don't assume we do–call and make sure!

Our Detroit Branch is a very active one. We often introduce new ideas to others in the country.  Make sure you are one of its most active SAG members.
See you at the callback!
And Speaking of the Conservatory…

The Detroit Branch is now setting up a conservatory. A conservatory is a series of workshops, open only to SAG members in good standing. Conservatory members can make recommendations for the topics of interest.

The cost for membership will be $20 per year. A mailing regarding the new conservatory will soon be out to Detroit members, but if you wish to express your interest, please write to Marcia Fishman at marcia.fishman@sag.org.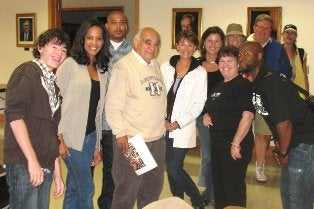 Eligible members gather at an informational meeting in Grand Rapids. Jordan Marie Carson (second from left) has since joined SAG.
Organizing in Grand Rapids -
It's A Good Thing
By Marcia Fishman
Detroit Branch Executive Director
The membership population of the Detroit Branch of Screen Actors Guild has historically concentrated in the northeast section of Michigan. This was, of course, due to the presence of the auto industry, which resulted in large volumes of commercial and industrial productions.  Today, however, much of that work has diminished.
The good news is that work under the Theatrical contracts in Michigan has increased after the tax incentive laws were passed. Now SAG projects have spread throughout the state, and many are being produced on the west side. Some of these films have been Tug, The Genesis Code, What If and now, What's Wrong With Virginia. The bad news is that SAG members on the west side of the state are few and far between.
I recently targeted the Grand Rapids area as a prime location to organize new members.  Many producers who wish to bring work to western Michigan are very concerned about the weak SAG population. If we had more members there, more theatrical work could be secured, while potentially bringing SAG commercial work to that area. And a growth in SAG work, no matter where in the state it occurs, will only increase the strength of the Detroit Branch.
Since April, I have travelled to Grand Rapids three times. These trips have included such activities as working with Compass Film Academy to help them use a new media contract, meetings with advertisers regarding bringing commercial work back to Michigan, familiarizing the west Michigan film community with SAG and the benefits that SAG membership can bring to the area, attending and participating in film festivals, and meeting with potential new SAG members.

During all of these efforts, there is one more role that I try to play up–the ambassadorship of a union representative. Residents of the Grand Rapids area do not often show strong support of unions, and this is always in the forefront of my mind. So if we can grow our SAG membership, increase our work possibilities and create positive attitudes towards our union, then organizing in Grand Rapids is a good thing.
'Coffee and Casting' - A Grassroots Report
"Coffee and Casting," the Detroit Branch's innovative effort to assist SAG members with iActor, was launched August 11. iActor is the Guild's free online casting service that allows members to create and publish resumes, headshots, audio and video. Casting directors use iActor to search and source talent. Having the Michigan members sign up on iActor is especially important because the Michigan film incentive package has brought new theatrical work to the state.
The design of "Coffee and Casting" is to have member-to-member iActor training with mutually convenient times and coffee shop locations. One experienced member can train up to three novices while drinking coffee in a relaxed atmosphere. It is the hope that an easy and pleasant experience will increase the number of iActor participants.
"When we originally formalized iActor training sessions with a very specific date and time, we had small attendance for a variety of reasons," remarked Detroit Branch Executive Director Marcia Fishman. "Many of the reasons related to availability of the member, the location of the training, etc. So we decided that the sessions should travel to the members, rather than the members travel to us."
Peter Tocco, Detroit Branch president and self-acclaimed techie, was the first trainer.  He worked with three members and, voila! – three new performers were signed on iActor.  "I think these member-to-member meetings are a great way to get to know SAG members in our community," he said. "This type of iActor training offers a wonderful venue in which our members can enjoy each other while furthering their careers."
If you wish "Coffee and Casting" to come to a neighborhood near you, please contact Branch Executive Director Marcia Fishman at marcia.fishman@sag.org.
A Councilor's Legislative Experience
By Bruce Kavaya
In late May I attended a weekend workshop unlike what we in the acting community would normally consider attending.  My friend and colleague Mark Gaffney, president of Michigan AFL-CIO, sent me an application to attend the Camp Millie two-day event.  Mark knew of my interest in perhaps entering some level of local politics.
Camp Millie is a course sponsored by The Justice Caucus, intended to teach people how to organize from start to finish, i.e. what it takes to run a campaign or help others in their process of seeking public office.  Camp Mille is named in honor of Millie Jeffrey.  In her 93 years, Millie was a champion of social and economic justice for workers, women and minorities.  Mille was co-founder of the National Women's Political Caucus and revered by activists nationwide.

During the two days, we were given many exercises in order to test our skills and abilities.  One of which was to write a letter to the editor of a newspaper on a subject you felt strongly about.  Following is my letter, unpublished, and the subject? Well, see for yourself.
Letter to the Editor
I am writing today to oppose all legislation and any effort to make Michigan a Right to Work (RTW) state. I urge all the people in Michigan to do their own homework regarding RTW, or as I and many others refer to it, Right to Work for Less.
The words themselves are intentionally misleading and suggest it as a pro-worker/pro-labor law.  On the contrary, it is the opposite. It is anti-labor/anti-union.
There are many negatives associated with a RTW state. Workers in those states have a greater rate of accidents or death than those on jobs in a union security state like Michigan. RTW states have lower wage averages, higher poverty levels and less access to health care.  If it were not for strong unions, we would not have worker safety laws or family medical leave acts, and we would not have a fair labor standards act, which established a minimum wage. Unions protect workers' rights.
Unions have, and continue to be, important to Michigan. They are not the cause of the current economic situation and manufacturing crisis. Good wages and benefits help our economy. Tell everyone in Michigan and state legislators that we don't need Right to Work in Michigan!