Your Screen Actors Guild National Board of Directors
Recommends a YES Vote on the TV/Theatrical Agreements.
For more information, visit the Screen Actors Guild Contract Center by clicking here.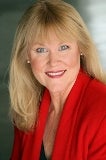 LET'S GET BACK TO WORK!
By Suzanne Burkhead
National Board Member

Now that the film incentives package has been passed by the Texas legislature, production in Texas may soon skyrocket. Let's be ready to work. I urge you to vote YES on the TV/Theatrical Contract. There never has been a better time to exercise your right to vote. Those of us who live and work in the Branches are an important component of the Guild. Send our message: Dallas/Fort Worth members are professional, qualified and able to determine for ourselves the value of our union contracts.
This contract contains real gains; that means real money for our members, especially in these challenging economic times.

Vote YES to:
• More than $105 million in gains over the contract's term;
• An increase in P&H to 15 percent—the highest in the industry;
• Aligning our contract expiration with the other unions for better bargaining power in the future; and
• NO WORK STOPPAGE=NO STRIKE.

What about new media?
• The same provisions as the Writer's Guild of America, Director's Guild of America and AFTRA;
• In effect only for the two-year contract term;
• Requires producers to open their books to show us the money earned; and
• Project MUST be union if a single covered performer is engaged.

What about residuals?
• YES paid on ad-supported streaming of move-over content;
• YES paid on all derivative content;
• YES paid downloads at two times the DVD rate; and
• YES prime-time ceilings increased.

What does a YES vote mean for Dallas-Fort Worth SAG members?
• Keep working;
• Keep union protections;
• Receive pay increases; and
• Labor stability puts us in a strong position to combat non-union.

Our negotiators fought hard to bring you the best deal possible. Your National Board voted April 19, 2009, to approve and recommend this contract to you. I stand with the majority of the National Board and recommend you to VOTE YES for your future! Don't delay—ballots must be received in the assigned post office box by 5:00 p.m. (PDT) June 9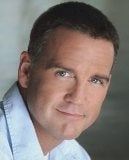 THE AGE OF THE HYPHENATE
By Brent Anderson
DFW Branch President

Our industry is changing faster than iPhone apps. Actors no longer feel as dependent on their agents for access to work and are learning the art of entrepreneurship. Changing distribution models and technology advances now make it possible for actors to become actor-producer-writer hyphenates, creating their own work and reaping more of the benefits. More and more of us are finding new ways of doing business as performers.

Of course, half of success is just showing up. Those who showed up at the May 17 membership meeting got real insight into the art of the actor-entrepreneur. D.C.-based award-winning actor/narrator Sheldon Smith shared his techniques on converting work and reaping the benefits of actor empowerment. Sheldon reminded us that savvy performers understand their place in the business model. He gave us insight on working directly with employer/producers, the simplicity of converting work and the ability to protect one's career while resolving the employer's issues.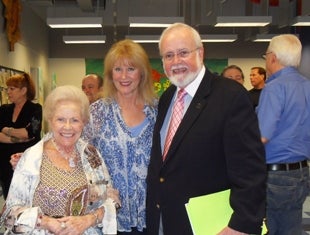 Ada Lynn, Suzanne Burkhead and Sheldon Smith

Our one-on-one producer visits with the producer headshot book and DVD already is reaping invaluable knowledge of the needs of our employers. Producers are surprised to see the depth of union talent in this area and appreciate the re-introduction to those they have not seen at recent auditions. Are you in the book? Contact Sheila Cooper at scooper@sag.org to verify we have your headshot and résumé included.

Members get together every third Thursday at Hector's on Henderson at 5:30 p.m. to network and brainstorm. Thanks to Sharron Garrison and ProACT, our educational workshops continue to grow. Plus our member ingenuity has come up with new SAG signs that are being distributed to area schools. We're busy, we're involved and we're committed to growing the business. If you're interested in getting involved, let me know. We'll get you connected.
TXMPA DOES IT AGAIN


Governor Perry stands with film incentive
supporters Don Stokes, Bob Hudgins, Robert Rodriquez,
Sen. Bob Deuell and Garry Brown.
On April 23, Gov. Rick Perry signed H.B. 873 into law. This bill increases the level of production incentives in Texas and is designed to create more work opportunities for film, television and the video gaming industries. With more than 30 states seeking industry incentive packages ranging from 15 percent to 40 percent, it was imperative that Texas increase its incentive package in order to stay competitive.

"The entertainment industry is an essential part of our economy. $1.2 billion dollars have been brought in over the past 10 years. That's real money," says Perry. The Texas Motion Picture Alliance has been essential in its efforts to create legislation in favor of the moving image industry and consists of people in all departments and at all levels of the industry. SAG members need to make sure their voices are heard. Go to txmpa.org and join or renew your membership
SAG ARMADILLO DAY AT SXSW
The 2nd annual Armadillo Day at SXSW welcomed back national staff from SAGindie, New Media and iActor for their informational workshop. This industrywide event for members, non-members, agents, casting directors and producers included information and networking at 501 Studios. The panel consisted of Darrien Gipson, national director of SAGindie; Bob Jensen, manager of national new media; Steve Graham, national director of digital marketing (iActor); and moderator Nayla Wren, SAG lead organizer. The group relayed general information on the ease of using SAG contracts for smaller film projects, the growing use of iActor across the nation and the latest trends of recently coined "hyphenates" (actor-producers) in new media.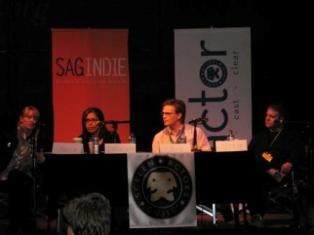 SAG experts Nayla Wren, Darrien Gipson,
Bob Jensen and Steve Graham conduct the
2nd annual Armadillo Day in Austin.

The SAG booth at the SXSW Film Festival Trade Show was a frequent stop for festival-goers interested in learning how they can improve their product. And of course the SAG LED badge illuminator provided by the New Media Department was an SXSW swag hit—so much so that it made it into the LA Weekly!
EMPLOYEE FREE CHOICE ACT
It's a free country, right? Free to exploit the worker, maybe. All across the nation, workers in all areas of life are struggling to cover the bills with shrnking paychecks and skyrocketing health care costs. But wait—aren't those CEOs making millions?

It's time the ones who create and produce the product get a fair shake. The national Employee Free Choice Act is designed to do just that. This legislation gives workers a fair and direct path to form unions through majority sign-up, help employees secure a contract in a reasonable period of time and toughen penalties against employers who violate their workers' rights.

It's time for a free country—the freedom to choose.

Click here to see what your fellow members have to say about the Free Choice Act.

SPEAKING OUT
By Catherine Glynn
Member

Just yesterday afternoon my agent called me with an audition, and as always I was very happy to be called in for a casting. I love knowing when I go out for auditions, if I get it, not only does it mean a nice paycheck for my day of work, it also means I'll be getting residuals when it airs.

Not 10 minutes later did I get a call back saying the producers didn't have the money for SAG actors, hence my audition was canceled. I couldn't help but think of all the actors who would go on that audition and simply take what they could get. Believe me, with the economy as it is these days, I empathize with the urge to simply take what I can get.

But if we, as individual actors, continually take what we can get without taking a stand for what we are worth, casting agents and producers will come to expect that of us as a whole.

I struggled with the issue of financial core vs. full membership—and after doing a Sears Christmas commercial, I decided it was time to figure it out. And I have to tell you that all of my agents, hands down, said go fi-core. With that resounding advice, I figured why not? Well, I can tell you why not…

I did three non-union commercials and one industrial during my stint as fi-core. It's been close to two years now, and one of those commercials still is playing both on television and on the website—with no hint of residual pay. And the industrial experience I had was a nightmare. I spent more than 10 hours on the set with only two breaks. And if that wasn't bad enough, several of the other actors were talking about how much they were making for coming in for only an hour. It was the same amount I was being paid for all 10 of my hours.

I continued to justify it with the fact that at least I was working. But the fact I was fi-core was like an itch that just wouldn't go away. It was something I never truly was comfortable with. Finally, when I made the decision to simplify my life and go exclusively with one agency, I got it straight. My agency made it clear that being a full member of SAG was the only way to go. Since signing with them, I haven't been on any non-union auditions. Do I miss it? No. I did a lot of running around for a long time, with small paychecks and endless runs without residuals. I also booked a national commercial that made a significant difference in my income for close to two years. In fact, it was triple the amount of money I made on all three commercials and the industrial I did during my tenure as fi-core.

As a full member of SAG, I am incredibly grateful to be part of a community that takes a stand for actors as a whole. We are worth so much more than we give ourselves credit for. Think about it—all the years of auditions, running around back and forth across town, the classes we have taken to hone our craft, those who have spent time earning a BFA and MFA—all that time and hard work should be accounted for, and that is definitely the case when you are a full member of SAG.

Take a stand for all you do as an actor and believe in the fact that when you land a national, regional or local spot, it will be worth all the non-union work put together. But lest I lead you astray and have you thinking it's just about money—believe me, it isn't—take time to reflect on the familial aspect of the union. Long lines of sisters and brothers have gone before us, paving the way so we can make a living doing what we love most. If we all stand for that, we will make it so.
WELCOME TO OUR NEWEST BRANCH MEMBERS
New Members: Martin Coleman Bowen, Dan C. Corley, Anna Jalkina, Leslie Lee, John Richards, Jon H. Ruffiner, Mark Salling, Preston Strother, Hanna Voss

Transfers: Jensen Ackles, Lori Lea Armstrong, Christopher Blaylock, Linda Bousquet, Grant Brittan, Gretchen Cleevely, Daniel Crosby, Madelaine Culp, Frederic Adam Doss, Brooke Elliott, Ciara Brooke Farrow, Chaz Griffin, Robert Grossman, Ron Hayden, Bobby Lee Hayes, Michelle Heitzler, James Scott Hess, Chris Hlozek, Joel L. Hudgins, Erick Huff, Keith James, Billy Ray Johnson, Aristotle Kilpatrick, Anna Lively, Thomas Long, Wendy Louise, Kevin P. Manning, Chester Maple, Steve Marshall, Joseph Scott Maselli, Gareth McClain, Scott Mechlowicz, R. Lee Miller, Alexandra Miniard, Gary Newton, Jill Noel, Aaron Norris, Chuck Norris, Rebecca Norris, Dennis Nowicki, Kimberly Patton, Wednesdea Phillips, Kelly Pino, Jay E. Raphael, Warren Rice, Hilary Richardson, Riziki, Tresha Rodriguez, Lee Rotholz, Wayne Rowe, Caroline Scott, Rise C. Stefani, Andrew Stevens, Robyn Stevens, Vance Strange, Jen Sweeney, Amy Tallchief, Ashley Trefger, Lindsey Trefger, Bruce Tuthill, Patrick Tuttle, William M. Vint, Meg Wade, Max Weitzenhoffer, James Robert West, Katie Ann Woods, Farrah Layne Wright
CURRENT TEXAS FILM PRODUCTION ACTIVITY
(This update is provided as a members-only service. Information is subject to change. Although these producers may have initiated signatory paperwork, always check with the office to make sure the project is fully signed before working.)

A Dark Secret – Low Budget
30 Days, LLC
Location: Houston
Start: 6/15/09

The Basement – Ultra Low Budget
T.L.P., LLC
Location: Dallas
Start: TBD
Casting: Shawn Griffith

Between Kings and Queens – Ultra Low Budget
Janitqueen Film Productions, Inc.
Location: Austin
Start Date: 5/28/09
Casting: Ashleigh Hartz

Beyond The Farthest Star – Modified Low Budget
Casting: Benjamin Dane
Pathlight Entertainment, LLC
Location: Dallas/Ft. Worth, TX
Start Date: 10/01/09

Broken Promise, A South Texas Story – Ultra Low Budget
Que Tal Productions, LLC
Location: Brownsville/Mercedes
Start: TBD
Casting: Eddie Howell

C.A.B. – Modified Low Budget
Tom Proctor
Location: TX, AZ & CA
Start: 5/16/09
Casting: Tom Proctor

Carried Away – Ultra Low Budget
Carried Away, LLC
Location: Fort Worth
Start: TBD
Casting: James Johnston

Cheech & Chong: Light Up America – TV Documentary
Cheech & Chong Concert Movie, LLC
Location: San Antonio
Start: 5/11/09
Casting: Bob Fisher

Dirty Red – Ultra Low Budget
Casting: Sandy Baumann
Poorchild Films
Location: Dallas, TX
Start date:2/28/09-Wrap Date: 6/01/09

The Fifth Column – Ultra Low Budget
Rob Gladstone
Location: Houston
Start: 6/1/09

Groceries – Ultra Low Budget
Languishing Productions, LLC
Locations: Dallas
Start Date: 6/15/09 – Wrap Date: 6/30/09

Heaven's Rain – Theatrical
Heaven's Rain, LLC
Location: Oklahoma City, Amazon Rain Forest
Start: 5/11/09
Casting: Cole Payne

ICD-10 – Modified Low Budget
ICD-10, The Movie,LP
Location: Richmond, TX & Michigan
Start Date: 2/13/09 – Wrap Date: TBD
Casting: Heather Nunn

Iron Horses – Low Budget
Curveball Films, LLC
Location: Austin, TX
Start Date: 8/1/09

Just Crazy Enough – Modified Low Budget
McNeese Media, Inc.
Location: Oklahoma City, OK
Start Date: 7/01/09

Kick the Can – Theatrical
Liz Destro
Location: Austin
Start Date: 6/01/09
The Killer Inside Me – Theatrical
KIM Productions, LLC
Location: Oklahoma City, OK & Lockhart, TX
Start Date: 5/11/09 - Wrap Date: 6/12/09

The Last Thanksgiving – Ultra Low Budget
TLT Productions
Location: Donna, TX
Start Date: TBD

The Letter H –Theatrical
Casting: Rodney Acevedo
GCP Film, LLC
Location: El Paso & Houston, TX
Start Date: 6/01/-9 – Wrap: 7/01/09

Love and The Texas Sky – Modified Low Budget
Dust Bowl Pictures
Location: Austin
Start: TBD
Casting: Corey Allen Jackson

Maybe, Maybe No – Ultra Low Budget
Red Raider Films, LLC
Location: Wylie, TX
Start: 6/12/09
Casting: Ryan Paige

Minority Western – Ultra Low Budget
FAD Productions
Locations: AZ & Dallas, TX
Start Date: 12/30/09

Mongolian Death Worm – Theatrical
Sweet Tater, LLC
Location: Dallas
Start Date: 6/22/09

Nerveracker – Theatrical
Troublemaker Studios
Location: Austin, TX
Start Date: June 2009
Casting: Beth Sepko

Player's School – Ultra Low Budget
Nexus Entertainment & Greg Carter
Location: Houston, TX
Start Date: TBD

Red, White and Blue – Ultra Low Budget
RWB Films, LLC
Location: Austin
Start Date: 6/14/09 - Wrap 12/01/09

A Secret Dark - Low Budget
30 Days, LLC
Location: Houston
Start Date: 6/15/09 - 7/25/09

Slant – Theatrical Short
Location: Austin
Start Date: 1/2/09 – Wrap Date: 6/6/09
Casting: Cori Woods

Under the Influence - Low Budget
Just Make It Happen, LLC
Location: Little Rock, AR & Upstate NY
Start Date: 6/22/09

Untitled Ana Zins Romantic Comedy – Ultra Low Budget
Ana Zins
Location: TX & CA
Start Date: 6/14/09

Walk Away Joe – Theatrical
WAJ Productions, LLC
Location: Dallas & Los Angeles
Start Date: TBD

Where's Dan? The Search for Dan Schneider – Ultra Low Budget
Locations: Huntsville & Conroe, TX
Start Date: TBD
WHAT'S THE BUZZ?
The Buzz is the official e-newsletter for the Dallas/Fort Worth SAG Branch. It's designed to keep members informed of current activities and events. Send your comments, questions and suggestions for topics to tavery@sag.org.