December 8, 2008
OUR RIGHT TO WORK
By Brent Anderson
Dallas/Fort Worth SAG and AFTRA President
and Suzanne Burkhead
SAG National Board Member

Most of us are aware of the Texas "right to work" law. We are constantly told by agents, casting directors and especially non-union actors that right to work means anyone can work a union job and not be a member of SAG or AFTRA. In addition, federal labor law allows non-members to earn union health and pension/retirement benefits without ever joining the union. Thus non-members reap all the benefits without ever having to pay for the privilege.

Something's terribly wrong with this picture.

One of our members recently raised some questions regarding the right to work law. He's a very bright guy and, after looking at the law, something caught his attention. The right to work law states that "a person may not be denied employment based on membership or nonmembership in a labor union." 

Interestingly enough, even federal law prohibits work being denied on the basis of union membership. The National Labor Relations Act specifically prohibits anyone being denied employment because of membership in a labor union.

That means no employer may refuse to audition an actor because of the actor's membership in SAG.

Our agents need to understand we have the right to apply for a job regardless of our decision to join other professional actors in a union. SAG Rule 1 does NOT prohibit a member from AUDITIONING for any job—signatory or non-signatory. Rule 1 only prohibits a union member from accepting employment without the producer becoming a signatory.

Simply put, employers must permit SAG members to audition even if they intend to produce their project without a union contract. In fact, once they take a look at ALL the talent available for a given role, producers often decide to put the work under a contract. That's their prerogative.

So we ask you—if union rules permit it, right to work law states it and federal law protects it, why are we not submitted on non-union auditions and given the opportunity to TURN THOSE JOBS UNION?

As union members and Texas residents, we have the right to work, too!

It is time to CHANGE things. The law is here to protect ALL OF US.

Here's what you can do.

Call/e-mail/physically visit as many Dallas/Fort Worth SAG and AFTRA members you know. Ask them what they think about right to work and all of the non-union auditions they never get to attend. Ask them if they LIKE the way things are.

If NOT, stand up and SHOW UP on Monday, December 8! This joint SAG/AFTRA membership meeting will mark a turning point for all of us.

There are always reasons not to go to a meeting (work, plays, Monday Night Football), but if you're not being restrained by either the police or a job contract, BE THERE. 

Find out about the legal recourse in terms of making sure that our right to audition regardless of union membership is implemented FAIRLY for ALL OF US. Hear about the Producers Head Book and demo DVD; the growth and use of iActor; the wide variety of flexible SAG and AFTRA contracts; the continuing growth of new media agreements; and the incredible job our local staff and member-representatives are doing to look after our interests on a national level.

It's time to stand up for OUR RIGHT TO WORK.

We welcome your e-mails. You can contact Brent Anderson at DFWPresident@sag.org. We hope to see you on December 8.

DFW CELEBRATES SAG'S 75 YEARS
This year marks the 75th anniversary of the Screen Actors Guild. The Dallas/Fort Worth Branch has been a part of the Texas landscape for 39 of those years.

The following are some images from the official DFW celebration on June 21: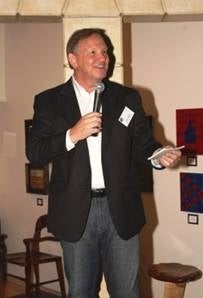 Honorary Host and Channel 8 celeb
Gary Cogill wows the crowd with
his knowledge of film history in Texas
and his experience as a SAG member
in Dallas/Fort Worth.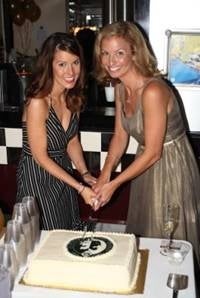 DFW 75th Anniversary Committee
Co-Chairs Liz Cardenas and
Mary Jean Bentley cut the cake.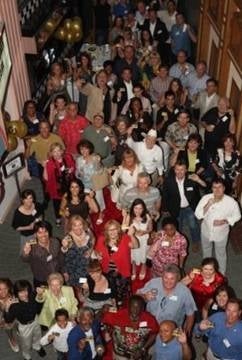 More than 150 members and guests
celebrate SAG's 75th at AMS Studios.

To see more pictures of the 75th celebration, visit Brad Barton's Event Gallery.

NOTE: Questions about photos offered on the linked website must be handled by the provider. The Guild does not endorse any of these services.

IVETT STONE, SAG FRANCHISED AGENT PASSES
Beloved agent Ivett Stone passed away this fall. A memorial celebrating her life will be held.

Memorial Service
Tuesday, December 9, at 8 p.m.
Unity Church of Grapevine
1650 Hughes Road
Grapevine, TX 76051
http://www.unitychurchgrapevine.org

Her husband, Phillip Haley, is asking Ivett's friends for pictures, music performances, stories and video help in preparation for the service. If you have something to contribute, please contact him at phaley5299@aol.com.

BUILDING THE BIZ IN TEXAS
ProACT recently hosted two events focusing on building the business in Texas. On October 27, area actors gathered to discuss the actor's role in building the business and came away with renewed energy to help them focus on their careers. Lisa Dalton moderated a panel of performers that included Kelly Jackson, Miranda Martinez, Naima Lett and Brent Anderson. As a result, ProACT has created a Facebook page to allow serious actors the opportunity to continue the discussion. You can contribute by going to ProACT in DFW Discussions.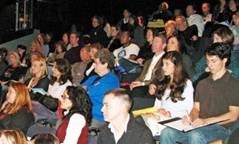 November attendees

On November 10, the actors returned to discover the agent's role in building the biz. Agents Jennifer Basjel, Joseph Chavez, Julie Holman, Suzanne Horne, Linda McAlister and Kim Trusty joined moderator Brent Anderson for candid conversation and timely information.

Linda McAlister, Jennifer Basjel, Mary Collins, Joseph Chavez,
Haley Esposito, Kim Trusty, Suzanne Horne and Julie Holman
ARE YOU CONNECTED?
By Patricia Pennington
SAG Member

Don't miss out on the wonderful opportunity to find work and make new and exciting connections for future acting jobs! You never know when an opportunity will present itself.

I posted my headshot and résumé on iActor and noted that I speak Spanish. 

Meanwhile, AFTRA was looking for members to work the Latin Grammys and reached out to our SAG staff to help. After a quick iActor search, staff notified me of the AFTRA opportunity for three days of work! Had I not been up on iActor, they would have passed me by and I would have missed not only work, but the opportunity to meet others in the industry who can influence future work. 

My results on iActor were simply rewarding, and I feel other SAG members can make real headway with their careers by posting a profile. 

What are you waiting for?

ON THE SET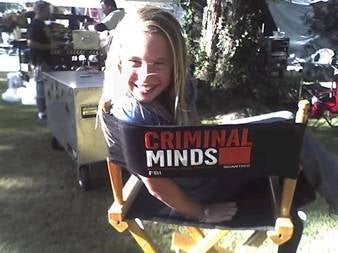 Dallas/Fort Worth SAG Member Evie Thompson gets ready for
her scenes on the set of the CBS series Criminal Minds.
DALES SCHOLARSHIP APPLICATIONS AVAILABLE
The 2009 John L. Dales Scholarship application for eligible SAG members and children of members is now available at the Foundation website, SAGFoundation.org. Click on Scholarships to view eligibility requirements. There are two types of scholarships: standard and transitional. The application deadline is March 16, 2009. For more information, please contact Davidson Lloyd at (323) 549-6649 or e-mail dlloyd@SAG.org.

BUSTING THE L.A. MYTH
By Lisa Dalton
SAG Member

It is such a delight for me to share this perspective for the oh-so fortunate actors in Texas! Many of you are bemoaning your lives here, feeling a bit victimized by the apparent limits of opportunity here in your home state. Before you go running off to the Mecca of LaLa Land, perhaps you might plumb the depths of opportunity in your own backyard.

Having lived in New York for 12 years, Los Angeles for 18 and Texas for two, I am excited to discover how many opportunities there are in this region for work, training and résumé development. When those opportunities are combined with quality of life conditions, those of you pining for Hollywood might arrive at a very different conclusion. Bottom line, where will you be most satisfied?

What do you want from your life? One hundred percent of your income from an acting career, a spouse/family, income security, great weather, breathable air, a house, fame, good health, stability? What is your overall objective?

If you are aware of what is truly most important to you, you might be happier, healthier and more successful. You might redefine "success" to include the life you are currently living.

Allow me to bust a few myths about Los Angeles as a better actors' life:

Some 99 percent of the people who move to LA to act soon find themselves working in some kind of "other job" to pay the bills, just like here. California bills are much higher than here. Thus, most actors who left their families and best friends behind find they can't afford to visit them.

Most LA actors are unrepresented or under-represented and get less than a dozen auditions for "paying" jobs a year, despite the incredible number of productions going on at any given moment. As many as 3,000 submissions are made for a one-line part.

Many actors have agents and managers who double submit, costing the actor 25 percent of what they do earn and twice as many pictures and résumés. After taxes and commissions, less than 50 percent goes to the actor. To avoid having to process 3,000 submissions for the small roles, many casting directors audition only actors they have met through paid casting director workshops. Like it or not, fair or not, those CDs simply don't have the time, staff and space, for example, to handle 21,000 submissions for seven smaller roles. Attending CD workshops is not a substitute for your regular acting class, so subtract those fees, time and travel from your life, too. Also add your mailings to the several hundred CDs you try to meet, because they are meeting thousands of actors yearly.

The idea of driving to Austin, Oklahoma or Shreveport may seem exhausting and costly, but when you go, your odds of getting cast are so much higher than an actor in Los Angeles. In fact, your odds of getting an audition in a big film are fantastic compared with LA, even if there are five films a year in the area. Often, the size of the role is larger than so-called "starter" roles in Los Angeles.

If you are truly clear on your goals and going to Los Angeles is for you, make sure you have your union memberships, a 2- to 3-minute demo of your on-camera work that is of broadcast quality, a long list of good play credits in good theatres and about six months' living expenses ($10,000). That plus a five-year business plan, including how you are going to support yourself, pay for your training and promotional needs and surround yourself with a great emotional support system is all you need.

You might redefine "success" to include the life you are currently living.

Perhaps a professional actor no longer is determined by a paycheck. Perhaps a successful acting career can be defined as one where you live near family, with a stable income, performing community theatre to appreciative audiences with earnest colleagues, act in independent films and get the occasional on-camera opportunity opposite a big star. You could live in better housing, with easier commuting, cheaper gas and more athletic, cultural and community events, closer friendships—and rack up more "real" credits right in your own backyard as well as retirement and health benefits.

Be clear on your true objectives for your life as a whole. Wherever you are, if you cultivate your love of acting, people will want to work with you and be your audience.



Lisa Dalton has been a SAG member since 1979. You can learn more about her at www.chekhov.net.

MEMBERSHIP MEETING AND BASH DECEMBER 8
Business never takes a holiday. Why not party and talk biz at the same time?

SAG and AFTRA Membership Meeting and Holiday Bash
When: Monday, December 8, 7–9 p.m.
Where: Dallas Children's Theater
5938 Skillman St.
Dallas, TX 75231
Attire: Dressy casual

WELCOME TO NEW MEMBERS, TRANSFERS
NEW MEMBERS: Clay Bunker, Reggie Bush, Janis Cravens, Steven Crowder, Drue Franklin, Joey Greco, Kelley Jeanne Johnson, Joe Jonas, Nick Jonas, Jeff Martin, Molly Moroney, Joel Pittman, Bill Poague, Manny Rubio, Did This, McIver Williams, John Yuan and Matthew Yuan.

TRANSFERS: Artie, Kimberly Adair, Timothy Fall, Michael J. Alan, Stacy Alley, Gemini Barnett, Jason Bonato, George Castle, Stacy Cunningham, Lane Davis, Chandra DeAlessandro, Lezlie Deane, Laura Galt, Clarence Gilyard, Jane Hall, Bobby Harwell, Gregory Hopkins, Faye Hunter, Lil JJ, Linda Kang, Billy Karen, Kit Kincannon, Jodi Wexler McQueen, Darwin Mitchell, Jamie Jo Mitchell, Johnny K. Morbit, Karlie Kristine Mossman, Monet Nishimura, Marilyn Olson, Ken Parker, Alexander Rodriguez, Vivian Schilling, Bryan Shy, Lynn Strelzin, James Tennison, Victoria VanRyan, Richard Ray Whitman and John Wilkerson

CURRENT TEXAS PRODUCTION ACTIVITY
(This update is provided as a members-only service. Information is subject to change. Although these producers may have initiated signatory paperwork, always check with the office to make sure the project is fully signed before working.)

The Chops – Ultra Low Budget
Steven Cortinas
Location: Houston, TX
Start Date: To be determined  

The Fifth - Ultra Low Budget
Black Cleo Productions
Start Date:12/13/08 - Wrap Date: 1/31/09
Location: Granbury, Burleson, Tolar  

Kalle King – Low Budget
Susie T. Entertainment
Location: Dallas, TX
Start Date: 11/23/08
Casting: Dianna Davis

The Killer Inside Me – Theatrical
KIM Productions LLC
Location: Lockhart, TX and Oklahoma
Start Date:1/19/09

Portion 71 – Ultra Low Budget
Manny Hernandez
Location: Ronia, TX
Start Date: To be determined

Rock & Roll Dreams of Duncan Christopher - Low Budget Modified
Duncan Christopher LLC
Start date: 11/14/08 - Wrap date: 12/15/08
Location: Dallas & Tulsa

Sweet Justice - Ultra Low Budget
American Film Werkz
Start Date: 12/4/08 - Wrap Date: 12/20/08
Location: Florida & Texas

Unbridled – Low Budget
Unbridled the Movie, LLC
Location: Brackettville & Jacksboro, TX
Start Date: To be determined

Year of the Rat – Low Budget Modified
Year of the Rat, LP
Location: Dallas, TX
Start Date: To be determined

WHAT'S THE BUZZ?
The Buzz is the official e-newsletter for the Dallas/Fort Worth SAG Branch. It's designed to keep members informed of current activities and events. Send your comments, questions and suggestions for topics to tavery@sag.org.

---
For address changes, removals, and misdeliveries, please follow the procedures at:
http://www.sag.org/Content/Public/Email_OptOut.htm