The Official E-Newsletter of the Dallas-Fort Worth Local
DFW CONTACT INFO
The Dallas-Fort Worth Local staff is your resource for information and support.
Your SAG-AFTRA Texas staff has seen many changes since merger, but one thing remains the same: our commitment to serving the membership and growing the business. We are a dedicated team of professionals covering Texas, Oklahoma and Arkansas. Many of you already know us. If not, we hope you will drop us a line and say hello. We are here to provide resources for members and producers.
Trish Avery      
Executive Director        
Dallas-Fort Worth Local   
(214) 363-8300, ext 2   
TJ Jones
Director of Outreach & Broadcast
Dallas-Fort Worth Local
(214) 363-8300, ext 4
Sheila Cooper   
Administrative Assistant     
Dallas-Fort Worth Local   
(214) 363-8300
Linda Dowell, Assistant National Executive Director Locals, also resides in our Dallas office and assists the locals across the nation.
Our mailing address is: 15110 Dallas Parkway, Suite 440, Dallas, TX 75248. 
Texas Production
Log in and click here to check the lastest production activity.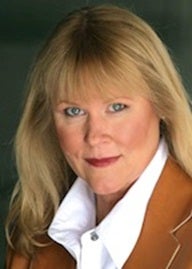 Do You Work Commercials?
by Suzanne Burkhead
National Board Member and Vice Chair, Committee of Locals
This spring, our new union negotiated a very successful commercials contract, which was overwhelmingly approved by the SAG-AFTRA membership in May. This contract covers all commercial work on TV, radio, the Internet and new media platforms. Our ability to successfully see wage and payment increases for members totaling $238 million in all categories is a measure of our success as one union.
The commercials contract is very important to us in Texas, representing major earnings for our members. Now that the national contract negotiations have concluded, Texas members and staff have been negotiating the Texas Regional Commercials Contract (TRC) to mirror the increases we received in the national contract.
Our local negotiations have now concluded and we are pleased to announce the acceptance of the new 2013 TRC with a wage increase of 6 percent and a P&H and H&R increase to 16.8 percent. Local industry partners in the Texas Policy Committee of Broadcast Relations and our National Executive Committee have approved the contract and the 2013 TRC is now in effect.
To review the 2013 Texas Regional Commercials Contract in its entirety, simply look under Agreements in the Commercials section of the online Production Center or give our local office a call. 
Welcome to the Dallas-Fort Worth Local
New: Akbar Abdul-Ahad, Ray Forrest Barrow, Christine Bently, J Si Chaves, Isaiah Clifton, West Gibson, Stephen Goodman, James Hayden, Kidd Kraddick, Big Al Mack, Corbin Mayberry, Tyler Norris, Jenna Owens, Kellie Rasberry, Immanuel Salas, Caden Sutton, Tristan Tierce, Jay Jay Warren
Transfers: Ken Albert, Avnit Arora, Daniela Bilotta, Stephen Brandt, Josh Burk, Jeff Burnett, Brad S. Clayton, Susan Carol Davis, Raine Davis, Derek Colin Elias, Laura Grant, Zach Hanks, Alexandra Hulme, Pamela Dee Jackson, Nieko Mann, Mandy Michelle Martin, Anjika McElroy, James M. Myers, Brandon Potter, Deidra Roper, Clifton Rubin, Chris Salcedo, Jeremy Schwartz, Sam Situmorang, Jenni Tooley, Randy Travis, Shannon Turner, McIver Williams, April Wood
Jack Matthews Gets 2013 TXMPA Business Leader Award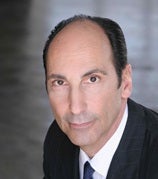 By Hector Garcia
Dallas-Fort Worth Local Board Member
It was my pleasure to present Jack Matthews the first-ever TXMPA Business Leader Award at this year's DFW SAG Awards Viewing Party in a segment also seen in Houston and Austin. This gesture allows us to publicly cement a relationship that has gone largely unnoticed by the entire industry for the better part of 20 years.
Matthews, a Canadian developer who has been actively creating large real estate projects in the North Texas area since the early 1990s, first became an ally to the industry by allowing his properties to be used as locations for Walker: Texas Ranger, the CBS series. Over the years, his assistance grew to include additional locations, housing, production offices, casting offices and warehouses for production companies.

In addition to the Walker series, he then also assisted Walker, Texas Ranger: Trial by Fire, the CBS movie. Other projects include The Good Guys and Lone Star from FOX, Chase from NBC, and GCB from ABC. A few big-budget films and many independent films, commercials, music videos, print shoots and musical recording projects have benefited from his company, or its association with other companies, such as Omni Hotels and Resorts, and NYLO Hotels.
An enormous boost to production in North Texas came when The Good Guys needed to relocate its production center and offices. An old warehouse owned by Matthews in the South Side on Lamar area was pulled into use, with some public funds supplied by the City of Dallas, and soon we had the beginnings of a film studio only minutes from downtown Dallas. The South Side Studios continued to flourish and became a major draw as the City of Dallas fought to attract TNT's new show Dallas.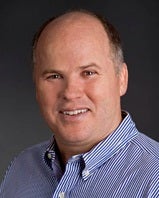 Jack Matthews
With Dallas here, renewed for season three, South Side Studios is booming. Not only is it a soundstage, but now it is a working studio with production offices, casting, wardrobe, hair and makeup, electrical, carpentry and transportation services, all in a secure location. Many of the cast and crew are able to stay in housing or in hotels that Jack Matthews built, The Omni Dallas Hotel downtown and NYLO Dallas South Side.
If you worked on any of these shows, or even auditioned for them, you benefited from the work of Jack Matthews. He and his company Matthews Southwest continue to support production because Matthews believes that in creating urban fabric, the arts are a necessary component. When arts are present, otherwise boring and uninspiring places can come to life. Artists create an atmosphere that cannot be falsified. This, in turn, pushes more production into place.
Dallas Assistant City Manager A.C. Gonzalez, who often has to field issues related to economic development, said, Jack "has been the critical difference in making possible the recent growth of the industry here."
I find that generally, as an industry, we tend to look inward for support. We approach the same groups, organizations and individuals when getting a project or event off the ground. I propose that we remember the symbiotic relationship we built with Jack Matthews and begin looking for other community leaders who can support production with their own abilities, and who will benefit from working with productions here.
This is the challenge for us all in Austin, Houston, Dallas and throughout Texas: To identify key people outside our own industry, and partner with them to increase jobs and strengthen production in the state.
The more we reach beyond our immediate circle of industry people, the easier it will be to hear those wonderful words, "Roll camera!"
Focus on Latino Work in Texas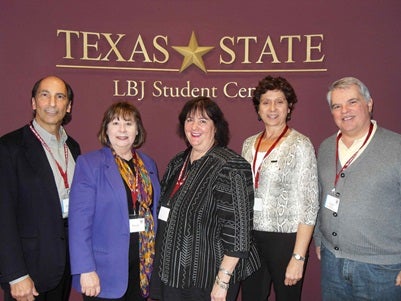 From left, Hector Garcia, Trish Avery, TJ Jones, Carlina Rodriguez, Alan Albarran
Texas welcomed SAG-AFTRA Director of Spanish Language Industry Relations Carlina Rodriguez this spring. Performers and staff attended a Latino media mixer in Dallas and felt a true sense of community in sharing industry information with performers and producers. SAG-AFTRA representatives then travelled to San Marcos and presented SAG-AFTRA information at the 4th International Spanish Language and Latino-Media Oriented Conference in San Marcos.
Oklahoma Photojournalists in the Midst of the Storm

Photos by Jacob Wallace
Jacob Wallace and Jon Englert of KFOR-TV started their week on May 19 covering a tornado that hit Lincoln County, Okla. Negotiating thrown vehicles and diverted paths, they finally set up their live shot for the 10 p.m. broadcast to report the damage in rural Oklahoma.
On May 20, Jacob and Norris Kyles were sent to Purcell to cover the southern face of a storm moving through Central Oklahoma. On the way, they stopped at the Moore Burger King, where the manager asked them if there would be another storm. They weren't sure, but were directed 30 minutes south, so it seemed the Burger King would be okay.
Just as the live picture from Purcell was set, they heard the storm had hit Moore. Returning to Moore was difficult and confusing — cars raced on the shoulders, abandoned vehicles and people hunkered under overpasses. The radio traffic and crew monitors told the story, but seeing the devastation in person was stunning. Although the Burger King had been spared, many people and businesses had not. Dazed families, first responders and a sobbing mother holding her child fought against the backdrop of a decimated neighborhood. 
Resilient broadcasters worked through difficult, emotional days covering the devastation of the people and places they hold dear. Although the damage estimate is more than $2 billion, the emotional cost for survivors and broadcasters is harder to calculate. As we have for the victims of Sandy, we send support to our union family and urge members to donate to the American Red Cross to help in the recovery efforts. Go to www.redcross.org or text 90999 to donate $10.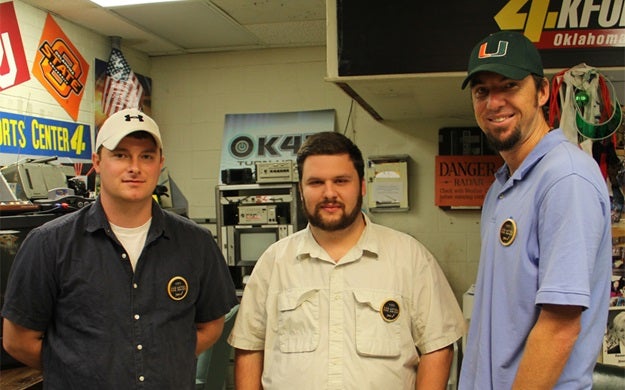 Damage from the tornado             From left, KFOR-TV's Jon Englert, Jacob Wallace and Joe Busch.
Back to One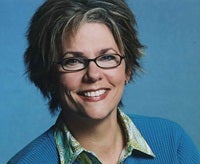 by Reis Myers McCormick
Dallas-Fort Worth Local Board Member
"Stephen Tobolowsky. Stephen Tobolowsky. Where have I heard that name before?" His book, The Dangerous Animals Club, has some interesting answers from the general public: a serial killer? A porn star? Or Stephen's personal favorite, a physicist who recently discovered something about time? You know you know him, but from where? Our waiter in Dallas was kicking himself. "It's the voice, man! I know you're a movie star! I just saw you this week! It was a movie I own! Don't tell me, man!" Turns out it was Wild Hogs, one of his 120 or so movie appearances listed on IMDb. The New York Times and USA Today place him at No. 9 of the folks you are most likely to see in a movie or TV show. Wow. The best of all worlds: working constantly, minus the tabloid headaches.
Balancing marriage, parenting, writing, teaching and acting, Stephen's advice to newcomers is to say yes in life. "Only one in a hundred times will it lead to a date rape drug and your organs being sold on eBay. Play for free. Shoot for free. Work begets work, and it's about networking. You don't know who's going to be the next Spielberg." For the same reason, he is a huge advocate of staying in class whether you need it or not. "I was given that advice. When I first came to L.A., I found a class I could afford. On the first day, someone was looking for a replacement for a production. I auditioned. A week later we opened and casting directors came. To this day, one of them still calls me in. If a student film comes up and I am free, I still say yes. It leads to good things."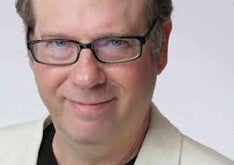 Stephen Tobolowsky
About his wildly successful on-camera career, his auditioning philosophy is pretty clear: Control what you can control. "You can't control anything in that room except how much you have prepared. You cannot show all your talent or experience in the audition, only your confidence. And confidence comes from preparation. Be on time, know your stuff, be pleasant, work quickly. My main message when I'm auditioning is, 'you have lots of things to worry about on this shoot. You're not going to have to worry about me.'"
As for creating a character: "It all starts with the script. If possible, read the entire script in a quiet setting. This way you can experience it as the audience will. Then, in every part I play, I'm looking for a little anchor I know is true. Not all the lines resonate immediately. But one or two moments you go, 'Oh, I know what that is.' Then finding the truth of your whole character is like walking on a frozen lake. You move in bigger and bigger circles until you reach land."
What if we don't have the luxury of reading the whole script? "If that's the case, then make sure you know these two important questions about your character: What is my greatest hope, and what is my greatest fear? You want to show the writer that you know the part better than they do, to make them say, 'I never thought of that'. You're bringing the truth of who you are, not bringing yet another stereotype to life."
"In your down time, between jobs, keep reading great plays. Drill these characters from literature into your head to keep your chops sharp. A 20-year-old girl can use Shakespeare's Falstaff in her Two Broke Girls audition!"
On maintaining a strong family unit in this crazy business: 1) "Keep nannies out of the picture! A third adult just gives the kids someone to leverage against the parents." And he's had great luck taking his kids to the occasional audition and set. "Having a child does not have to be a wall. It can be a bridge." 2) He and actress Ann Hearn have made their 24-year marriage work with the commitment to experience life together whenever their schedules can merge. For example, she's taking the opportunity to travel across the country with Stephen on his book tour.
RMM: So, who's been really great to work with?
ST: There are so many! Susan Sarandon, Meryl Streep — Mel Gibson gave me great advice on fatherhood.
RMM: Who would you like to work with?
ST: Steve Carell.
RMM: I just saw your crooked FBI character get blown away this week on Justified (FX). Too bad you can't come back.
ST: Ah, You never know!
RMM: Are you kidding? I watched you die!
ST: But this is Hollywood.
He's probably right. And when they do call, Stephen Tobolowsky will say YES.
Leadership and the Future

From left, Jeff Robertson, Hector Garcia, Suzanne Burkhead, Lisa Dalton, Jackie McCall, Reis McCormick, Sharon Garrison, Brent Anderson, Benjamin Dane
As we make our way through our technology-driven new world, we are reminded that technology cannot and will not replace the human touch. It's as if the instant we think such a thing, we are shown that the future is a partnership of information filtered through wisdom and experience molded by the best and brightest, and most effectively delivered with creativity and commitment.
Your SAG-AFTRA DFW Local Board is an example of the leadership that serves members with committee opportunities and outreach, while driving the future with creative contracts to protect members and embracing new technologies. 
At our retreat in April, the DFW Local Board re-examined how to best serve members in the future. One thing is certain, member involvement makes ALL the difference ... and that means you! Creativity from you means our programs can serve all members and your future. Our ever-changing industry requires the best and brightest (again, you) to be knowledgeable and prepared for new technology and new business opportunities to come.
Become a part of our leadership team and change your future! Let us know your interest by sending an email to Sheila Cooper at sheila.cooper@sagaftra.org or calling (214) 363-8300.
In Remembrance

 
Kidd Kraddick – broadcaster and hugely popular host on radio and TV provided national support and advocacy for children through his Kidd's Kids Charity Foundation.
Bonnie Gallup – actor, teacher and longtime Board member of the Houston-Austin Local began her leadership and advocacy for Texas actors in 1987.