The Official E-Newsletter of the Colorado Branch
2010 NEGOTIATIONS:
YOUR INPUT IS CRUCIAL

Every new year is filled with possibilities, and although SAG doesn't have a crystal ball that can foretell the future, it does have the next best thing, and that's information.

Specifically, SAG will have three unique tools to add to its current body of research to inform next year's TV/Theatrical negotiations: the Wages and Working Conditions process, member survey results and industry financial reports.

Early TV/Theatrical negotiations are scheduled to begin October 1, 2010, and run through November 15, 2010. If no agreement is reached in 2010, the June 30, 2011, expiration date will remain in effect.
 
Wages and Working Conditions

According to SAG contracts staff, Wages and Working Conditions committee meetings (the process where member committees around the country formulate proposals for possible inclusion in the final proposal package) should take place across the country beginning in either May or June of next year. The National Board will set dates for the Wages and Working Conditions process, likely in April of next year.

"We are eager to hear from you. Share your experiences and make your concerns heard," says David White, the Guild's national executive director and chief negotiator. "Such feedback is essential to our negotiations process." Information from meetings will include the individual needs of performer groups.

New Media Work Experience Survey

Additional feedback will be gleaned through methods like the Guild's New Media Work Experience Survey, currently available here for members to take. You can do it today!

Industry Financial Reports

Finally, hard numbers from producers will be available to SAG negotiators for the first time. The terms regarding initial compensation and residuals for work produced specifically for new media were of specific interest in the last round of negotiations. As a result of the 2009 ratified contract, SAG negotiators will have access to industry deals relating to the use of covered pictures in new media.

"Information is crucial, so the more we learn, the better we can advocate for members," says Ray Rodriguez, SAG's deputy national executive director for contracts."

THE POWER TO TRANSFORM

By Sheila Ivy Traister
Have you looked in the mirror lately only to see worry and uncertainty staring back at you? That's been the face most Americans have seen as we try to make sense of the mess we find ourselves in as a country and a nation among nations, all of whom are struggling to make sense of our current state of affairs.
When the world is crashing in around you, how do you as an artist find meaning in what you do? In whom you are? In what matters?
As an actor, I reflect on the fact that as a character in a story, whether it is a film, television show, play or any one of dozens of performance vehicles, I have the power to transform the moment and to uplift and enliven the human spirit. 
Through the exchange of ideas, dreams and fantasies, we have the power to create understanding where there has only been detachment, to usher in laughter where there have only been tears and to allow for healing where there has only been anger, pain and depression.
Throughout history, artists of all walks by way of music, poetry, plays, films, books, dance, the fine arts and more have challenged us to examine who we are and how it is we walk this life. Like the court jester who has an audience with the king, the artist has the ability through the realm of entertainment to cause us to question our behavior and the world we are creating. They can make us forget or remember, to want to try harder, to examine why, to not settle for, but instead challenge, existing paradigms and established modalities in order to usher in much needed change – be it within our our own selves or in the world around us.
Often it is simply the gift of making us smile for an hour or two so that we can forget the problems of the day in order to face tomorrow and the challenges it will surely bring with greater agility.
There is much beauty to celebrate in a world that appears to be crumbling around us. If we can find that in the gifts given us as performers, perhaps we can help others through the magic of our collaborations to do the same.
Let's look for the places within that unite us in our common cause to celebrate life and one another. Let's take up the challenge to be our best selves in the most difficult of times – even when our own work opportunities have dwindled under the weight of economic and political strife.
I do believe as artists we have an innate ability, akin to alchemy, to transform the mundane into magic. How will you as an artist, this very day, use your gifts to transform worry and uncertainty into a celebration of possibility and new dreams to create a new landscape for the year ahead?
Talent is a responsibility not to be taken lightly. Honor it and embrace the gift you are to this world and share it unselfishly. Then rejoice as you reap the rewards that will certainly come your way.
MEMBER DISCOUNTS
Have you been to the Member Benefits section of SAG.org? Well, you can get special discounts and offers by being a member of Screen Actors Guild. Services and products discounted include car rentals, auto purchases, airport parking, beauty/cosmetics, clothing and accessories, media subscriptions (like IMDb Pro), and copy, fax and mailbox services.
And if you didn't know, SAG is also affiliated with the AFL-CIO and you can enjoy their member benefits as well through Union Plus. Union member-only deals range from discounts on car service and rentals to entertainment and theme park savings. Union Plus, a program created by the AFL-CIO for union members, offers a broad range of discounted services. 

Your SAG Colorado Branch office also would like to start a special section of the newsletter for local Colorado discounts. If you have or know of a business that would like to offer a discount to SAG members, please send an e-mail to julie.crane@sag.org.

BRANCH CONTACT
INFORMATION

Do you have a question about contracts, talent agents or your dues status? Need to file a claim? Please contact the Colorado Branch Office.

Screen Actors Guild
Colorado Branch
1400 16th Street, Suite 400
Denver, CO 80202
(720) 932-8193
(800) SAG-0767, ext. 7
(720) 932-8194 (fax)
julie.crane@sag.org

AFTER HOURS

If you are on set and need immediate assistance, please call (323) 954-1600.
Colorado Branch President's Report
By John Singer

Happy holidays! A few updates I thought might be worth sharing…

2010 SAG Awards

Watch your fellow actors receive their well-deserved recognition during the 16th Annual Screen Actors Guild Awards airing on Saturday, January 23. It will be simulcast live on TNT and TBS at 6 p.m. Mountain time. For more information, log on to sagawards.org.

In preparation for the awards ceremony, Turner Classic Movies will pay tribute to Screen Actors Guild's Life Achievement honorees with a primetime marathon. TCM will pay tribute to five actors who have received one of the highest honors any film performer can achieve: the Screen Actors Guild Life Achievement Award. TCM's four-film presentation will take place in primetime on Friday, January 22 – the night before sister networks TNT and TBS present a live simulcast of the 16th Annual Screen Actors Guild Awards.

TCM's tribute will begin at 6 p.m. (Mountain) with the 1935 comedy short Tit for Tat, starring Stan Laurel, who became only the second actor to receive the prestigious Life Achievement Award in 1963. Next up, Jack Lemmon, who was honored by Screen Actors Guild in 1989, stars in the Neil Simon comedy The Out-of-Towners (1969). Sidney Poitier, honored in 1999, and Ruby Dee, honored in 2000, star in the dramatic adaptation of Lorraine Hansberry's play A Raisin in the Sun (1961). And, the night closes out with 1998 honoree Kirk Douglas in the suspenseful western Last Train from Gun Hill (1959).

James H. Ryan – In Memoriam

I am saddened to have to report that our long-time SAG council member, AFTRA Local board member and friend, Jim Ryan, passed away on October 24, 2009. Jim was an active model and actor and gave many, many hours over many years working to make the Colorado Branch of Screen Actors Guild a better union for all Colorado members. We will miss him dearly. Gifts in Jim's honor may be directed to Bonfils Blood Center.

Legislation

In early November, lawmakers listened to debate on the pros and cons of tax incentives. One economist stated "Tax incentives don't create more jobs or economic activity and frequently do the opposite." Currently, the state dishes out more than $2 billion in tax breaks to various businesses each year.

Gov. Bill Ritter has proposed in his 2010 budget to cut many tax incentive programs to help fund the state's budget deficit. His proposed cuts eliminate the sales tax exemptions for candy and soda as well as putting limits on a tax credit for people who purchase hybrid cars.

How does that affect SAG members? We have been trying for years to get the legislature to properly fund the Colorado Film Incentive program in order to attract producers and studios to do more filming in Colorado. Under our present program, we cannot compete with states like New Mexico and Louisiana, who have well funded, with proven results, the tax incentive programs that bring many films to their states. That means more work for actors in those states. It will be a difficult task to convince legislators to grant additional film incentives when they are in the process of eliminating tax incentives.

That said, we shouldn't give up the fight. The industry has many allies in the legislature – chief among these are Rep. Tom Massey and Sens. Dan Gibbs and Nancy Spence.

These legislators continue to be supportive and we should not waiver in our efforts to strategize on how to get some type of meaningful film incentive passed in the state. Keeping these legislative friends in mind, we encourage you to continue to communicate in a positive way with legislators.

Finally, the Colorado Branch Council along with the newly reformed local SAG/AFTRA Organizing Committee are planning several events in the coming year that should be informative, educational and fun:

• A "Business of Acting" symposium is being planned for spring of 2010. Ideas we are considering include educational seminars on topics such as the New Media Contract, auditioning techniques, agents, updating headshots/resumes, marketing techniques, interactive/gaming, books on tape and finances. We also hope to have a lot of industry networking opportunities. If you would like to get involved with the planning of this event, please e-mail Branch Executive Director Julie Crane at julie.crane@sag.org.

• SAG Conservatory. Although the Colorado Branch of the SAG Conservatory took a break over the past several months, we do plan on starting up again at the beginning of 2010. The first presentation will most likely focus on voice-over work. Watch your e-mail for details.

If you have any recommendations for teachers or future classes you'd like to see, please e-mail julie.crane@sag.org. All suggestions are welcome for consideration.

• "Everything You Ever Wanted to Know about SAG's Low Budget Film Agreements but Were Afraid to Ask": A Walk Through the Theatrical Contracts Process. This will be a theatrical contracts workshop for producers and others interested in finding out how to take the mystery out of working with Screen Actors Guild. In this workshop, we'll go step-by-step through contract summaries for all of the Low Budget Film Agreements (including Student and Short Film) as well as the New Media Agreement. Date TBD.

I encourage you to get involved. We're always looking for members to take part in committees and strategic planning. This is our union, and it takes the work of more than just the council to keep the ball rolling.

That's all for now....
Starz Denver Film Fest Honors SAG Actors
By Tom Lippi
We knew the 32nd annual Starz Denver Film Festival was going to be another great event when the premiere Precious - Based on the Novel 'Push' by Sapphire sold out in record time! The energy at this year's festival was unbeatable: With the festival featuring more than 200 films representing the work of filmmakers from all corners of the globe, approximately 80 film artists were in attendance to introduce their work to enthusiastic festival audiences. 
The actors were certainly at the forefront during this 10-day celebration, with special awards going out to two legendary performers and one relative 'newcomer': Hal Holbrook, Ed Harris and AnnaSophia Robb. Holbrook, who was presented the 2009 Lifetime Achievement Award, upon receiving this honor, stated that he wanted to thank his director, Scott Teems from That Evening Sun, for teaching him how not to protect the character – a valuable lesson for Holbrook, still going strong at 84.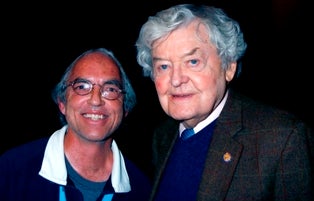 Tom Lippi with Hal Holbrook. Credit: Scott D. Smith


This teaches us all that you never stop learning the craft of acting. Holbrook noted, "I'd like to mention someone from my past, who taught me something very valuable. He taught me how to respect the profession of the actor…That's my teacher Ed Wright from Dennison University. He taught me that the profession is very important and it's very important that you serve the audience."
He added, "That's our job to help people understand who we are, and how we feel. I never did a movie until I was 40 years old. The camera can read your mind. You don't have to show the camera what you're thinking. On the stage, because of the huge distance, there is a sense of having to show the audience everything, but when you're in front of a lens like that, you don't have to show anything to see it. That was a great lesson to me. It took me 40 years to get it."
The SAGindie sponsored "An Evening with Ed Harris" paid tribute to a consummate actor's actor with a clips presentation and awards ceremony. Harris is currently starring in Touching Home, which was part of the festival. 
Fellow SAG members came out in droves to witness Denver Mayor John Hickenlooper bestow upon Harris the 2009 Mayor's Career Achievement Award for Acting. Harris, in front of a sold-out crowd at the King Center, remarked upon receiving the award, "I really enjoy what I do, I try to behave myself… I've been doing this for thirty years and hope to do it for another thirty. Thank you all for such a warm welcome."

After the clips ceremony, Harris spent an hour with the audience during a lively and informative Q&A. The session was moderated by fellow actor-producer-director and long-time friend, Robert Knott. Harris' first comment to the audience after seeing his body of work (presented through clips) was, "It's kinda trippy…watching that stuff…. When you do something that you love and that you care about, you hope to get better at it…." He also commented that, "As time goes by, years go by in the craft. I like to think I'm learning more. You get experience throughout life. If your work doesn't reflect your life, then there's something wrong in your life."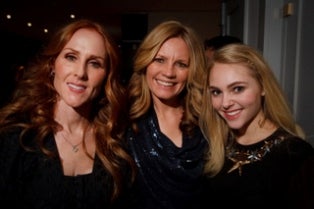 Sarah Siegel Magness (producer of Precious),
Britta Erickson (film festival director) and
Colorado Branch member AnnaSophia Robb
Credit: Steve Peterson/Denver Magazine


Finally, one of our Branch's younger members, AnnaSophia Robb, was awarded the 2009 Rising Star Award, which makes all of us proud because she is from Colorado. Robb, whose credits include Race to Witch Mountain, Bridge to Terabithia, Charlie and the Chocolate Factory and Because of Winn Dixie, maintains a busy schedule which often takes her away from the state, but she continues to show support for the Colorado film community and the Film Incentive Program.
The Starz Denver Film Festival ran November 12-22. A huge note of thanks to Darrien Michele Gipson from SAGindie for supporting the Ed Harris event and to Britta Erickson, Tom Botelho and everyone at the Denver Film Society for another great festival!
Colorado Branch Announces New Rates
for Regional Commercials Contract
The SAG Colorado Branch is happy to announce the ratification of the Colorado Limited Letter of Adherence for Commercials, available here. The new terms and conditions of our regional contract went into effect October 15, 2009, and will run concurrent with the National Commercials Contracts. Both are set to expire on March 31, 2012.
The pdf on our SAG.org Branch page is intended as a summary of frequently requested rates only and does not include group singers/dancers or hand models. For a copy of the Colorado Limited Letter of Adherence for Commercials digest or a complete listing of rates for commercials produced under the terms of this Regional Contract, please call the SAG office at (720) 932-8193.
Contracts Corner Tip of the Month
Our Screen Actors Guild contracts address what producers are to provide when performers travel. Those provisions may cover such things as transportation, travel time, room and meals—terms not ordinarily afforded to "local hires."  Although the provisions do vary according to the specific contract the producer signs with SAG, our contracts are intended to assure that performers are compensated fairly. Receiving anything less undermines our contracts.
Welcome New Members and Transfers In
New Members: Sarah Stettler, Nate Marquardt, Jackson Odell, Scott Sheely, Caitlin Rae, Chris M. Mann, Scott Takeda, Justin Boulet
Transfers In: Lala Vazquez, Chuck Novatka, Colin Day, Aimee Bell, Whitney Ferrell, Hanna Voss, Michelle Cameryn, Courtney Rose Tanning, Marie Wise, Andrew Burrows, Roger Manning, Frank Hopf, Larry Nunez, Mike Schone, E. Michael Collins, Gary Dean Pinkston, Bob Hite, Spencer Gardner, Robert Garretson, Ronald Channell, Brent Crawford, Rance McDougal, Bob Rafelson, Jane Lemon, Justin Campbell, Lloyd D. Ball, Maria Bailey, Kathleen Warfel, W. Scott Mason, Thom A. Smith, Gregg Baruch, Lawrence C. Daly, Dan Tyler, Cecily Smith, Joe Schloss, Joseph Abramo, Diane Kitayama Sankey, Tristan Gribbin, Mark B. Russell, Pearl B. Myers, Siena Canyon, Charlie Michaels, Rachel Beth Blaha, Rachel E. Jacobs