December 17, 2008
COLORADO BRANCH PRESIDENT'S MESSAGE
By John Singer
We won! Amendment 47, Colorado's so-called "right to work" initiative, is dead (at least for now).

The passage of Amendment 47 would have brought "right to work for less" to Colorado and significantly altered the role of unionism in the state. On November 4 the voters spoke, and what they said was they did not want Colorado to be a right to work state.

The measure, rejected 56 percent to 44 percent by Colorado voters, created a bitter $30 million battle between organized labor and business. At times, the campaign on right to work became very ugly, with television and radio ads that were downright nasty and outright lies.

The members of the Colorado Branch of Screen Actors Guild took an active role in the defeat of 47, both through outreach and education, and I salute all those who joined the Protect Colorado's Future Campaign.

I'd also like to acknowledge SAG's Right to Work Task Force for their support and our Policy and Strategic Planning Department (specifically Pamm Fair and Nancy Fox) for allocating a financial contribution to help pay for 47's defeat. Collectively, our efforts paid off and we are proud of our members for what we were able to accomplish.

We were triumphant this time, but we know the "right to work" proponents will never give up. They already are talking about other ways to weaken the unions. We can't let this happen, so as we look to 2009 I encourage you to get involved in your union: Attend membership meetings, join a committee and support the various events SAG sponsors throughout the year. If you would like to get involved, just e-mail me in care of Julie Crane at jcrane@sag.org.

We'll continue to use e-mail blasts to keep you informed and we'll reach members through the
e-newsletter on a quarterly basis. We'll also work on keeping the Colorado page of SAG.org updated with information on upcoming events and member benefits.
COLORADO BRANCH VICE PRESIDENT'S REPORT
By William McLain

Screen Actors Guild Colorado Branch President John Singer had been traveling extensively this fall and asked if I, as Colorado Branch vice president, could attend the Regional Branch Division Presidents Caucus, the RBD meeting and the National Board of Directors Plenary, which were held October 16–19 in Los Angeles. Since this was my first opportunity to attend a national meeting, I eagerly agreed.

The first meeting I attended was the Regional Branch Division Presidents Caucus on October 16. Aside from elections of caucus officers and Regional Branch Executive Committee members, which seemed pretty routine, the real fun began with a discussion of Branch officer communications with Branch members. Under current Guild policies, or was it practices (hard to tell since general counsel referred to both), Branch officers have no direct written contact with Branch members. All communication with members goes through the SAG National Headquarters in Los Angeles. No one at the meeting seemed to be familiar with those guidelines. Even more interesting, the caucus was informed that Branch officers were not allowed, due to privacy protection rules, to have access to members' contact information. A lively discussion ensued between various Branch presidents and the staff who attended the meeting concerning the practicality of this approach.

The caucus was followed by the RBD dinner meeting, which consisted of various reports being presented and a further discussion of the communications issues between Branch officers and Branch members. It was a long day, and the meeting did not adjourn until 10:30 p.m.

The meeting reconvened, after a continental breakfast, at 9 a.m. the following morning. There were more reports, election of officers and selection of committee members. Our own David Hartley-Margolin was elected unanimously as SAG's third vice president and head of the Regional Branch Division. This meeting lasted all day, through a working lunch and dinner and concluded after 10 p.m.

The National Board of Directors meeting began at
9 a.m. on the 18th. As an alternate to a Branch president, I was able to attend the meeting, but not participate, which was just fine with me. The meeting consisted of more reports, concentrating on the stalled theatrical contract negotiations, a working lunch and dinner, and then more reports. While the reports were being made, there was an undercurrent of discussions concerning the stalled contract talks, with one group wanting a strike authorization and another group wanting to go to mediation.

These side discussions, with numerous caucuses of the Hollywood Division, on the one hand, and the New York and RBD, on the other, went on all day Saturday and Sunday. Having been a lobbyist in Colorado for the last 30 years, I thought this was the most interesting aspect of the entire weekend. Finally, a compromise was accomplished, with
David Hartley-Margolin a voice of reason among others who were not so reasonable.

All in all, I am glad that John asked me to attend in his stead. I have a far greater understanding of my union and the many dedicated individuals who make up the leadership and staff as the result of my attendance.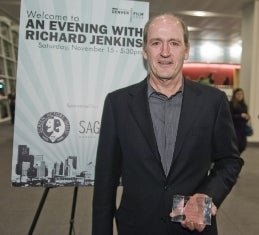 AN EVENING WITH RICHARD JENKINS
By Tom Lippi

As many of you know, the 31st Annual Starz Denver Film Festival took place this past month and once again proved to be a great success. SAGIndie and the Colorado Branch of Screen Actors Guild were fortunate to sponsor one of the festival's most anticipated events: "An Evening with Richard Jenkins," held at the Denver Newspaper Agency.

Festival Director Britta Erickson presented Jenkins with the 2008 Excellence in Acting Award on behalf of the festival, the Denver Film Society and the citizens of Denver. This was preceded by a clips program featuring highlights from his distinguished career and an audience Q&A moderated by The Denver Post film critic Lisa Kennedy.

Richard Jenkins has acted in more than 50 movies and is garnering serious Oscar buzz for his recent role in the highly acclaimed indie The Visitor. He briefly talked about his most recent project, Dear John, a romantic tale filming in South Carolina in which he plays the father of a young soldier who falls in love while on military leave.

Richard explained how he appreciates the intimacy film work can provide, which you don't always get in the theatre. "I love film. [It's hard to do on stage, but] in film the camera goes, 'I think I'm going to watch for a while, and let's just follow you (the performer) around and see what happens….' And maybe the camera will go right into the back room to that guy at the back wall and say 'let's see what this guy's life is like.' "

He further added that, "…I understood that you just had to live the lines and the camera would see it. You start to realize that the most important thing in film is the moment. Right there! And, if that's a lie, then it doesn't matter how well you read the lines."

He also noted that, "As an actor, there's the thing that you can't believe you share something with the rest of the world….that there's a common humanity….that you have something to offer….that you are enough. You can't believe it. You refuse to believe that you are all you've got. When you see it work, whether it's on stage or in film, when you do it, or live it…there's nothing like it."

Richard Jenkins is a member who has forged on and now great things are happening for him. This always makes the rest of us proud. We are all part of the team known as Screen Actors Guild.
EXECUTIVE DIRECTOR'S UPDATE
By Julie Crane

The Colorado filmmaking community needs your help in getting film incentive legislation passed. The Colorado Film Commission's Legislative Task Force and legislators from both sides of the aisle have been hard at work crafting the new performance-based film incentives bill and plan to introduce it in January when the 2009 legislative session begins.

If ratified, this comprehensive incentives package not only would bring more production to Colorado, but also would help our resident Colorado filmmakers stay here. Right now many have to leave town to make their movies and TV shows because they just can't afford to turn away from the incentives other states have to offer.

For you, as a performer, this will translate into more opportunity and more primary jobs. A strong incentives package also will help the state by stimulating the Colorado economy; it will increase the need for such essentials as hotels, rental cars, restaurants and construction, not to mention a host of ancillary goods and services.

Finally, a meaningful film incentive program will promote more tourism in the state of Colorado. The film business is a multibillion-dollar industry and Colorado should have a chance to bring in some of that revenue.

This bipartisan incentives bill gives tax credits to productions that spend a large portion of their budget in the state and use a majority of their talent and crew from Colorado. These types of incentives are effective in other states in the region, such as Utah and New Mexico. This bill is also a performance bill, which means the money allocated from general state funds will be spent only if a production actually is made here in Colorado and those in-state expenditures can be proven. So it's a win-win situation.

For more information about the Colorado film incentives legislation and the Film Commission's Legislative Task Force, please click here.

The Legislative Task Force is urging members of the acting and production community to contact their legislators and the governor's office directly to express support for performance-based film incentives. Be sure to be brief and polite and provide your name, address and phone number, along with an explanation of why this bill is important, when you call, e-mail or write a letter.

Gov. Bill Ritter can be reached by clicking here.

To find your district and state representatives, click here. Also, remember to get your friends, family and business associates to contact their local representatives as well.

Please feel free to call or e-mail me any time with questions regarding this incentives bill or any SAG-related issue at jcrane@sag.org, (720) 932-8193 or (800) SAG-0767, ext. 7.

Wishing you a happy, healthy and successful 2009. I hope to see you on 'the set.'…
SIGN UP FOR iActor TODAY

Why are there still so few Colorado members listed on iActor? It's free and it's for you. More and more casting directors and producers are using iActor for their productions. If you don't believe it, read on. This is a true story.

Jo Edna Boldin, CSA, recently shared the following iActor success story from New Mexico:

"I wanted to share an iActor success story with you. A few weeks ago I was looking hard to find an actor for a role on a TV series I was casting. The actor portrays a big, powerful, intimidating, crooked Mexican cop. The part required the performer be totally fluent in Spanish with no American accent. Not a small order for New Mexico, or even L.A.

"After looking at all of the submissions, I still had no solid leads. Then I thought of iActor. I put in the appropriate criteria, and there he was – Mike Moroff Burciaga. Mike lives in a very small New Mexico town which I hadn't even heard of, and he had no agency representation. I never would have found him without iActor.

"Not only did he book the role, but the director, who also happened to be one of the show's executive producers, told Mike that because of his brilliant performance, the crew would wrap an hour early.

"Thank you, iActor!"

Sign-up with iActor today at iActor.org. You may also get information and assistance at (323) 549-6451 or info@iactor.org.

And, while you are at it, check out the latest posts at SAG Talk.
CHECK YOUR BACKSIDE: RULE 1 IN NEW MEDIA
ACT AS ONE ON 01.01.09

Rule One in new media will be enforced starting in January, and is printed on the back of every SAG membership card: "No member shall work for a producer who is not a signatory to the appropriate SAG agreement."

SAG members also may work on new media projects if they are covered under an AFTRA collective bargaining agreement.

For more information or to talk to one of our new media specialists, e-mail us at organizingnewmedia@sag.org or call (323) 549-6777.
WELCOME TO NEW MEMBERS AND TRANSFERS
New Members: John Mahlow Lodico and Brian Paulette

Transfers In: Maureen Aldrin, Stephen C . Barry, John S. Campbell, Brett Coy, Nick Cubbler, Noelle Drake, Vanessa Garnick, Dan Hartman, Oliver Hendrickson, Mike Laffin, Lezzett, Kevin Matson, Carl Miranda, Kip Melbourne Ren, Marlo Tremain and Kris Wilson
A MESSAGE FROM THE SCREEN ACTORS GUILD FOUNDATION
Since 1985, the Screen Actors Guild Foundation has embraced its mission to assist, educate and inspire actors to their fullest career potential and to give back to the communities in which they live. While we are not a part of Screen Actors Guild, we are dedicated to serving its members.

From Board of Directors to staff to volunteers, the foundation's diverse makeup is a large component of this non-profit 501(c)3 organization's success. Governed independently of the Guild, the non-political, non-partisan foundation is a collective body bringing different personalities, attitudes and opinions together in service of actors who, like us, come from all walks of life.

Chances are that we've already helped you, or someone you know, with financial assistance in a time of crisis, scholarship monies, efforts we make toward children's literacy, time spent in the Actors Center (the only resource center of its kind in Los Angeles), or seminars, workshops and other career-informing events. In any case, please visit our website at SAGFoundation.org to find out more about us.

Our work is rewarding, but not easy. Our programs and benefits are supported not by your Guild membership dues or fees but by grants, donations and our own fundraising efforts. Resources are limited, and times have been exceptionally hard. Our Emergency Assistance program, overtaxed by economic blows such as the recent Writers Guild strike which put countless actors out of work, has far exceeded its budget and the livelihood of the foundation as a whole is in delicate balance.

It takes an actor to understand an actor's struggle. Most of us at the foundation are actors, and by learning more about the Screen Actors Guild Foundation, we hope that you will gain a greater understanding of our work and what it takes to keep us going. Your tax-deductible donation can make a huge difference in the life of a fellow actor. You can donate online whenever you wish, make automatic monthly donations, or send us a check made payable to Screen Actors Guild Foundation. You can also think about residual checks, no matter what their size, which might benefit your peers by signing them over to the foundation as a charitable contribution.

Meanwhile, we also encourage you, as a SAG member, to think about the services we make available in support of your own career. Knowing, understanding and giving to the SAG Foundation is an investment not just in the foundation's livelihood, but in yours.

Screen Actors Guild Foundation
5757 Wilshire Blvd., Suite 124
Los Angeles, CA 90036
phone: (323) 549-6708
fax: (323) 549-6710
JOHN L. DALES SCHOLARSHIP APPLICATIONS NOW ONLINE
The 2009 John L. Dales Scholarship application for eligible SAG members and children of members is available now at the Screen Actors Guild Foundation website, SAGFoundation.org. Click on "scholarships" to view eligibility requirements. There are two types of scholarships, standard and transitional, with an application deadline of March 16, 2009. For more information, contact Davidson Lloyd at (323) 549-6649 or dlloyd@SAG.org.


UNCLAIMED RESIDUALS: GET YOUR MONEY!
Screen Actors Guild is facing a dilemma: getting performers or their heirs to collect their unclaimed residuals. A surplus of unclaimed residuals sits unable to be sent out. Although the Guild knows to whom these funds belong, it can't send the checks to these performers, in most cases because the Guild doesn't have the correct mailing information for the residuals recipients. Some residuals checks belong to nonmembers or one-time actors, many of whom aren't even aware that they have residuals coming to them. In an effort to reduce this surplus, the Finance Committee is embarking on a marketing campaign to get the word out to possible residuals recipients. The campaign, called "Get Your Money," will reach out to SAG members and non-SAG members through internal publications and online campaigns. If you would like to see whether you have residuals owed to you, visit www.SAG.org/GetYourMoney. Enter your name and "Get Your Money!" Have questions or want to speak with a residuals representative? E-mail residualtrust@sag.org, or call (800) 205-7716 or (323) 549-6535.
SAG HOLIDAY GIFT SHOPPING — thesagshop.com
Visit thesagshop.com for the latest in must-have, union-made merchandise. Buy gifts and accessories that demonstrate your good taste and your union pride.
BRANCH CONTACT INFORMATION
Do you have a question about contracts, talent agents or your dues status? Need to file a claim? Please contact the Colorado Branch Office.

Phone: (720) 932-8193; (800) SAG-0767, ext. 7
Fax: (720) 932-8194
E-mail: jcrane@sag.org
Address: 1400 16th Street, Suite 400
Denver, CO 80202


---

For address changes, removals, and misdeliveries, please follow the procedures at:
http://www.sag.org/Content/Public/Email_OptOut.htm