The Official E-Newsletter of the Atlanta Local
LEND ME AN EAR
For nine years, the Bi-Union Radio Players have been volunteering their talents for the annual Lend Me an Ear night of old-time radio benefiting the Atlanta Community Food Bank. During that period, we have had nearly 100 diverse cast members. It really has helped us to become a cohesive group. 
There is much buzz in the entertainment world here in anticipation of the event. We actually know of at least one SAG-AFTRA-eligible actor who joined just to be able to perform in the show! In addition to bringing our SAG-AFTRA and local AEA members together for a good cause, it allows our brothers and sisters to hone their craft and expand their horizons, perhaps giving them the opportunity to do voices and characters not normally in their repertoire.
The great publicity the event always generates also helps brand the union as a community player, especially as we are higher profile now that we have so much work as a result of our tax incentives, which is really fantastic in a "right-to-work-for-less" state.
This year we are celebrating our 10th anniversary of Lend Me an Ear, and are hoping to secure the rights to something special: Orson Welles' The War of the Worlds, in honor of the 75th anniversary of its broadcast. This could prove to be another big boon for our organizing work here in Atlanta.
Read more about radio players in the Winter 2013 issue of SAG-AFTRA magazine. Click here to view it.
Barry Stoltze
Producer, LMAE
Co-National Board member
A Message from Co-President Wilbur Fitzgerald 
Recently, I took an informal poll of some of our local audition taping services in the Atlanta area, and I even checked with a few of these services in Los Angeles. I wanted to find out just how busy some of these services have been during the television pilot season. As we all know, the days of live auditions before a casting director have been altered dramatically, owing not only to the technology, but due to the short turnarounds that the industry now seems to demand. It is no longer typical for actors to have several days to prepare for an audition. The audition process for film and television now requires faster script analysis and shorter memorization times. Even in some cases of live auditions, actors have to walk in, sign a nondisclosure agreement, and are then handed the sides.
Now that's what you call a cold reading.
My polling of some of the audition taping services confirmed what I'd been hearing from many actors in Atlanta and Los Angeles. The better services are staying booked from early in the morning until late into the evening. Just yesterday, one of my friends told me he had to do a last-minute audition for a television show long after midnight so the file would be on the casting director's desk by 9 a.m.
Fortunately, my friend has been able to create a high-quality studio in her home and has the luxury of working anytime, provided she can find a willing reader. So what about the actors who may have several auditions in any given week or month? What serves as the most economical way to shoot a high-quality audition? This is an important question because we have also come to realize the self-taped video audition may serve as the only audition we have for a particular role. Many roles in television shows and feature films are being cast directly from the video auditions without any callback.
While it is always nice to get into the room with the director and producer so that the actor can have an opportunity to make a real connection with the decision-makers, those opportunities seem be happening less frequently.
With our individual acting performances, there are many different processes we use to achieve the desired results. I think the same holds true for the various ways we approach our video auditions. I encourage all of you to explore the best ways to shoot auditions by talking to other actors, looking at samples of the work being turned out by the various taping services and, if you do your videos at home, experiment with your lighting, sound and backdrop in order to reach the highest quality to showcase your work. A poor-quality video will only serve to diminish an otherwise solid performance.
If you need any additional incentive to pay more attention to the improving the audition process, then I refer you to the most recent Georgia production report from the state film office, which includes four full theatrical films and more than 12 television series, pilots and TV movies. 
In solidarity,
Wilbur T. Fitzgerald
SAG-AFTRA Co-President
A Message from Co-President Jon Hayden
It is hard to believe that it is almost one year from the date (March 30, 2012) we became SAG-AFTRA.
A lot has happened since our historic merger. Locals have combined and offices merged, staff and board members have worked tirelessly on issues concerning members' contracts, benefits and residuals — we are now the largest entertainment union, more than 165,000 members strong!
In our market, we have seen a record number of new members join since merger. With more work days than ever in our market, our members are working and building the careers and possibilities that come with success. 
More than 10 new pilots are casting and being shot this season in Atlanta. More nondisclosure agreements have been signed by actors on these major projects, just hoping for the green light to production here in the ATL!
And don't forget to work the perk: If you haven't signed up for Union Plus, go to unionplus.org and take advantage of great cost saving benefits. ALL because you are a union member!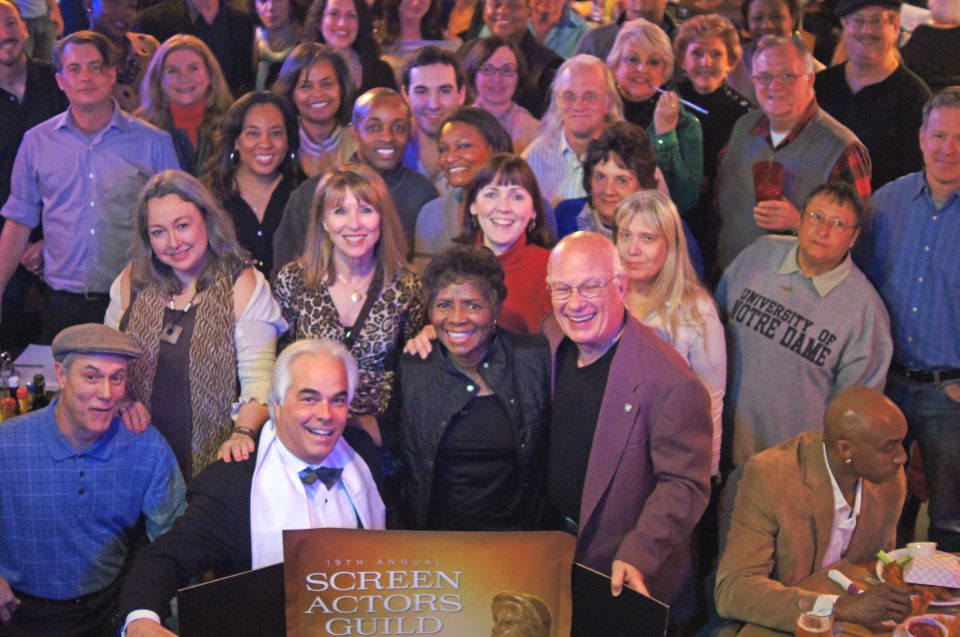 Fun at the SAG Awards viewing party
Our 19th Annual SAG Awards gathering was a big success at Manual's Tavern on Jan. 21. We raised more than $125 for the SAG Foundation and gave out more than $1,000 worth of door prizes. Member William Colquitt was our picks winner with nine correct actor picks! As your emcee, I had a blast and hope to see you next year.
Yours in solidarity in the ATL,
Jon Hayden
Co-President Atlanta SAG-AFTRA
Atlanta Local Re-Launches The Muriel Moore/Danny Nelson SAG-AFTRA Conservatory
In April 2012, the Atlanta Local of SAG-AFTRA revived its conservatory and named it in honor of two of the region's most beloved and accomplished members. The Muriel Moore/Danny Nelson SAG-AFTRA Conservatory hosts bimonthly events, alternating a speakers series with training workshops to enhance the craft and industry knowledge of union members in the region.
Clayton Landey serves as the chair of the conservatory and set about the task of providing opportunities for Atlanta actors to connect with and learn from the most sought-after casting directors, acting coaches and film/TV professionals in the region. Through his tireless efforts and the help of his committee, the conservatory has seen attendance of more than 900 at its workshops and speaker events in less than a year.
Even though he knew the conservatory effort would be a great benefit to members in the region, Landey admits that the success has exceeded his already lofty expectations. "There are so many success stories that are the direct result of connections and opportunities members have made specifically through the conservatory," said Landey.
"Our twin goals and mission statement, 'To grow community amongst the professional actors in our region and raise the level of professionalism in our marketplace' are met with every event."
Georgia film industry icon Shay Bentley Griffin was the first speaker at the inaugural event. Having been an agent, manager, casting director, producer and vice chairwoman of the Georgia Film and Entertainment Advisory Board, she shared her keen insight on the development of the industry in Georgia. Attended by a standing-room-only crowd, with many left on the waiting list, this kick-off event was the launch of a reinvigorated conservatory that has become so popular that events are often filled within 30 minutes of posting.
The speaker events bring highly esteemed industry professionals to provide their valuable knowledge about various areas of the business. Former agent and industry trailblazer Kathy Hardegree provided a detailed breakdown covering deal memos, contracts, forms and working conditions. Casting director Mark Fincannon shared helpful tips and encouraging words for auditions. Casting directors Alpha Tyler and George Pierre participated in one-on-one meetings with members. Producers Roger Bobb and Gideon Amir spoke about the growth of the industry in Georgia, their preference for using locally based actors, and their desire to only work with union professionals, even in this so-called "right-to-work" state. Industry professionals Deborah Richards (voiceover instructor and producer), Paul Amodio (photographer) and Tim Donner (acting coach and video audition specialist) shared a wealth of information on the technical aspects of their respective areas of expertise.
The workshops offer a wide array of instructors and techniques. Last year's workshops included Meisner technique with Rob Mello, commercial auditions with Ken Feinberg, monologues with Della Cole, and scene study workshops with Terry Vaughn, Mike Pniewski, Steve Coulter, George Watkins and Landey.
"We are unique in the country in that we are unfunded. Our efforts are completely volunteer run and all goods and services are donated so that all events are free to union members," said Landey. "The speakers, instructors and venues that we have used have been tremendously gracious in providing their services and spaces because they believe in our members and the value of union membership."               
As The Muriel Moore/Danny Nelson SAG-AFTRA Conservatory has grown, the spirits of its namesakes have been ever-present. Among those in attendance at a speaker event was Muriel Moore's granddaughter, who is now an actor herself. Legendary Atlanta director George Watkins began his acting workshop by showing the signature Cates Pickles commercial starring Danny Nelson, which Watkins directed.
In December 2012, the conservatory held an agent roundtable in conjunction with the Kennesaw State University Department of Theatre and Performance Studies. Local franchised agents in attendance included Sarah Carpenter of Atlanta Models & Talent, Mystie Buice of Houghton Talent, Jana VanDyke of The Jana VanDyke Agency, Rebecca Shrager of The People Store, Rona Burns of The Burns Agency, Christy Clark of Stewart Talent and Richard S. Hutchison of Richard S. Hutchison Management. With attendance of more than 145 people, the event was so popular with KSU theater students that they requested an informational union meeting, where Executive Director Melissa Goodman, former SAG National Board member/past SAG Georgia Branch President Mike Pniewski and Landey spoke to students about the value of union membership.
The first year of The Muriel Moore/Danny Nelson SAG-AFTRA Conservatory in Atlanta was a smashing success. And 2013 promises to be a continuation of that great run, with exciting speakers and workshops already lined up. Events are open to Atlanta members in good standing and are accessible through the conservatory Facebook page. For more information, contact Clayton Landey or Melissa Goodman at the SAG-AFTRA Atlanta office.